Updated on: July 6th, 2020
Wildlife photography is a genre that DSLR cameras have dominated for decades. Their robust design and reliable autofocus system, in addition to the vast lens selection, are just a few of the many characteristics amateurs or experienced photographers require in order to capture animals in their natural habitat.
In the last years however, mirrorless cameras have reached a new level of maturity, making them an interesting alternative for this challenging genre. With their compact design, improved performance, unique array of features and increasing number of telephoto lenses, wildlife photographers now have a fresh new set of tools to work with.
With this in mind, a number of questions naturally arise:
How good are mirrorless cameras for wildlife photography?
What concrete benefits do they bring and are there limitations to be aware of?
Last but not least, which systems or cameras perform best?
Four years ago, I started to practice this genre for several of my camera and lens reviews, analysing key aspects such as lens quality and autofocus performance. Now that I've gathered ample experience, I feel it is a good time to put this article out.
Important note: the article is "dynamic" meaning that it will receive updates after testing new equipment. If a newly announced camera fits the requirements, we will include useful information about it and update the article once we get our hands on it. The prices listed for each combo (camera + lens) are retail prices and don't take into account instant rebates, cash-back and other limited offers.
---
Ethics statement: All opinions expressed in this article are our own and based on real world experiences with each camera. We were not asked to write anything about these products, nor were we provided any compensation of any kind. Within the article, there are affiliate links. If you decided to buy something after clicking the link, we will receive a small commission. To know more about our ethics, you can visit our full disclosure page. Thank you!
---
TABLE OF CONTENTS

1. Article updates
2. Preface I: what makes a mirrorless camera good for wildlife photography
3. Preface II: Nikon D500, the one to beat for birds in flight
4. Olympus OM-D E-M1X
5. Sony A9 II
6. Fujifilm X-T3
7. Sony a6400
8. Panasonic G9
9. About other mirrorless cameras
10. Conclusion
---
Article updates
July 2020: note about the Olympus divestiture in the E-M1X section
January 2020: added feedback about the A9 II, A9 with firmware 6.0 and G9 with firmware 2.0
October 2019: added info about the A9 II, thoughts about the A7R IV in the "other mirrorless cameras" section
September 2019: lens lists updated
May 2019: replaced a6300/a6500 with the a6400, updated G9 section
February 2019: replaced E-M1 II with E-M1X, various prices updated
November 2018: replaced X-H1 with X-T3
July 2018: replaced X-T2 with X-H1 following our experience with the flagship Fujifilm camera. Added extra lens information in the A9 section. X-T2 and A7 III added to Other Mirrorless Cameras section.
March 2018: added shooting experience with the Panasonic G9. GH5 has been moved to Other Mirrorless Cameras section, A7r III has replaced A7r II
December 2017: I added my shooting experience with the Sony A9
---
Preface I: what makes a mirrorless camera good for wildlife photography
Before beginning, let's have a quick run through the various features I analysed in order to compile this list.
Autofocus: you can have the best camera in the world but if the AF lets you down while photographing a fast-moving animal, you will be disappointed. Single AF needs to be spot on, continuous AF needs to be reliable and we want additional useful settings as well.
Continuous shooting speed: the faster the burst rate, the higher the chance you'll capture the animal in the perfect position. Good buffer capabilities are a must as well.
EVF and Live View: electronic viewfinders offer many advantages but introduce short delays and lag time. In burst mode, some of them display the last picture taken while others keep a live view activated, which can make a big difference when following a fast subject.
Build quality and grip: a robust design with weather-sealing is important, as is a large grip to make the camera comfortable to use with longer lenses.
Battery life: swapping batteries takes a matter of seconds but when working in the wild, perhaps in not-so-great weather conditions, it is helpful to have a battery with a longer lifespan. An optional battery grip can be welcome too.
Lenses: one of the most, if not the most important topic. Because mirrorless systems are relatively new, there isn't as much choice as with DSLRs but some brands have more to offer than others.
I won't go in-depth about sensor and image quality as I believe that all the cameras I've mention here give you good enough results for this genre. Certainly the old rule applies – a body with a larger sensor can give you better dynamic range or high ISO performance – but I can safely say that I got good results with all the models listed here.
I will also mention video capabilities where applicable as this is a feature that can be interesting for photographers seeking a hybrid solution or curious to start doing some video in their favourite wildlife location.
---
Preface II: Nikon D500, the one to beat for birds in flight
Update: the D500 has been defeated! For the first time, two mirrorless cameras (A9 and A9 II) gave me a better score for birds in flight.
When I started to work on this article, I realised that the only way to make it truly fair was to include my experience with one of the best DSLRs designed for this genre. So I picked the flagship APS-C Nikon D500 with the recent Nikkor 200-500mm f/5.6 to see how much better the performance was in comparison to today's flagship mirrorless cameras.
I mainly concentrated on birds in flight, which is perhaps one of the most difficult subjects for your camera. I have no doubt that most mirrorless cameras can do just fine if the subject is static or moving slowly but a fast bird of prey is another story entirely.
First we have the continuous autofocus performance. My first set was rather disappointing: I used the 153 Points Dynamic Area and I got an average keeper rate of 56% (or 69% if I don't count the slightly soft images). Switching to 3D Tracking raised the result to 80% (95% if I include the slightly soft photos).
One of the main differences in comparison to most of the mirrorless cameras mentioned here is the low number of out-of-focus shots I got. I wound up with some soft results but very few images where the AF went completely wrong.
The second aspect is the optical viewfinder. I admit I had an easier time following the birds because of the zero lag between what was happening and what I was seeing.
The D500 has other interesting specifications that I appreciated but they don't necessarily bring an advantage over the mirrorless products I will analyse below:
Excellent ergonomics and ease of use
Dual memory card slot
10fps continuous shooting with AE/AF tracking
Good buffer capabilities
Good image quality with the 20MP DX sensor.
I chose the Nikkor 200-500mm f/5.6 because it is a recent lens and gives you an excellent range to work with (300-750mm equivalent). Of course the main advantage of the DSLR system is the vast choice of lenses at your disposal, not only from Nikon but also Sigma and Tamron. (The same thing can be said for Canon users.) To give you a few numbers, more than 24 telephoto lenses (300mm or longer) are available for the D500 and that is without counting kit lenses, all-purpose lenses and teleconverter options. The kit I tested would cost you around $3200 / £3000 / €3600 but you can find both cheaper and more expensive combinations.
The only real disadvantage of the Nikon gear is the extra size and weight. The D500 and 200-500mm kit remains reasonable and I worked hand-held the whole time but I definitely felt the difference in comparison to some mirrorless combos.
Check price of the Nikon D500 on
Amazon | Amazon UK | B&H Photo | eBay
Second-hand Nikon gear on
MPB US | MPB UK
---
Best Mirrorless for Wildlife: Olympus OM-D E-M1X
Micro four thirds system – 20MP sensor – 60fps (S-AF), 18fps (C-AF)
The E-M1X is the largest model in this selection and is also the one that has been designed for wildlife photographers more than any other. Olympus has showed a lot of commitment to this genre and after using the camera for a month, it only felt natural to put it at the top of our list.
The E-M1X has a built-in vertical grip (a first in the mirrorless segment) and its construction is unlike any other mirrorless product I've tried so far. It is very comfortable to use and has been designed to stand up to the most challenging weather conditions. Just holding it in your hand immediately gives you a very positive impression about its build quality and strength.
You may think that such a large camera defies the portability of the Micro Four Thirds system. However in practical terms, I haven't found such a big difference. Certainly the camera is heavier than the E-M1 II, but the lenses you use for wildlife remain the same size and weight. Using the E-M1X with the same telephoto lenses I used with the E-M1 II before didn't force me to upgrade my backpack, so in the end the difference isn't as big as you might think.
The update I appreciated the most on the E-M1X is the autofocus performance. It still uses 121 cross-type hybrid points like the E-M1 II but the re-designed algorithm brings a significant improvement to performance. For instance, it gave me a much better keeper rate for birds in flight – around 74%, or 91% if I include the slightly soft images.
The camera locks onto the subject very quickly and understands much better where it is even against a confusing background. Tracking is more precise because the camera analyses data from the images it just took and the live view. You can control the AF responsiveness and customise the AF Group Points. I'm also glad that Olympus has introduced a mid-sized 5x5 group. It proved very useful in my tests.
The E-M1X comes with an advanced algorithm that can detect different types of subjects. For now you can only choose three options (motorsports, planes and trains) but hopefully firmware updates will expand this to animals. The "plane" setting works well for birds as long as the background is clear enough (a blue sky for example).
The E-M1X features excellent continuous shooting speeds. For static subjects or scenes where you can pre-focus, you can shoot up to 15fps with the mechanical shutter or 60fps with the electronic shutter (focus is locked on the first frame). If you want continuous autofocus, the performance decreases to 10fps or 18fps respectively. Unfortunately you don't get a blackout-free live view as you do with the Sony A9 or Fuji X-T3.
The camera has a fast sensor readout so rolling shutter is well-controlled when using the electronic shutter. The Pro Capture mode lets you save up to 35 frames before you fully depress the shutter release button, which can help you catch the perfect moment. The buffer is excellent especially when using an UHS-II card.
The electronic viewfinder doesn't offer the best resolution by today's standards (2.36M dots) but it has a large magnification of 0.83x, a short lag of 5ms and a refresh rate of 120fps with progressive scan rather than interlaced. I don't deny that some extra resolution would have been welcome, but it remains a very good EVF that delivers a clear and consistent view of your scene even when tracking very fast subjects.
The built-in image stabilisation remains the best on the market (it has an even higher rating than the already stunning E-M1 II). In addition to the 5-axis sensor shift, you can use Sync IS to combine sensor and optical stabilisation with select lenses. It is the most reliable camera I've ever used for hand-held shooting, be it for stills or video.
The sensor shift technology allows you to take high resolution shots and the fast processing speed of the E-M1X makes it possible to do so hand-held, giving you a 50MP file with more details and colour resolution as well. For wildlife it is unlikely you'll be able to take advantage of it however: it does work at long focal lengths but any small movements will result in artefacts and a loss in resolution.
Speaking of video, the camera can record 4K up to 30p and 102Mbps, or Cinema 4K at 24fps and 237Mbps (variable). The quality is good but dynamic range and high ISO performance is not on par with other systems. Continuous AF is reliable and once again hand-held shooting makes this camera more interesting.
The E-M1X uses a modified sensor from the E-M1 II. You still get 20MP but the improved dynamic range when recovering the shadows is certainly welcome.
Concerning the lens selection, there are currently nine telephoto lenses that can suit the genre very well. There are different price points to satisfy different budgets:
Olympus 300mm f/4 Pro (600mm equivalent, 840mm f/5.6 with MC-14, 1200mm f/8 with MC-20, compatible with Sync IS)
Olympus 40-150mm f/2.8 Pro (80-300mm equivalent, 112-420mm f/4 with MC-14, 160-600 f/5.6 with MC-20)
Panasonic Leica DG 100-400mm f/4-6.3 O.I.S. (200-800mm equivalent)
Panasonic Leica DG 200mm f/2.8 O.I.S. (400mm equivalent, 560mm f/4 with DMW TC 1.4x or 800mm f/5.6 with DMW TC 2x)
Panasonic Leica DG 50-200mm f/2.8-4 O.I.S. (100-400mm equivalent, 140-560mm f/4-5.6 with DMW TC 1.4x or 200-800mm f/5.6-8 with DMW TC 2x)
Lumix G 100-300mm f/4.5-5.6 II O.I.S. (200-600mm)
Olympus 75-300mm f/4.8-6.7 II (150-600mm)
Olympus 12-200mm f3.5-6.3 (24-400mm)
Lumix G 45-200mm f4-5.6 II O.I.S. (90-400mm)
Coming later on: Olympus 150-400mm f/4.5 with built-in 1.25x teleconverter
Note: the Olympus 75-300mm is not weather-sealed. Pro Capture is limited to the H mode with Panasonic lenses. Sync IS (sensor + optical stabilisation) only works with Olympus lenses.
One of my favourite lenses is the Pana-Leica 100-400mm due to its extreme versatility and excellent optical quality. However to take full advantage of some features like Sync IS and Pro Capture, the 300mm f/4 PRO is the best choice, also because it provides a faster aperture at that focal length.
Olympus users have the possibility to adapt old DSLR Four Thirds lenses via the MMF-3 adapter. I haven't tested this particular combination with the E-M1X however. Also keep in mind that features such as Pro Capture are not compatible.
Why the E-M1X is an interesting choice for wildlife and bird photography:
superb build quality and handling
excellent autofocus performance
continuous shooting speeds up to 60fps and 18fps
the Pro Capture mode lets you save images before fully depressing the shutter release button
state of the art image stabilisation for stills and video
High Res shot hand-held
EVF with large magnification and 120fps progressive scan
weather sealing, dual SD card slot, excellent battery life
To consider:
the 20MP sensor has improved dynamic range but you won't reach the same kind of quality as larger sensors
Pro Capture works with Panasonic lenses in H mode only
it is a large investment if you want to work with the best lenses
the E-M1 II remains a smaller and more affordable option, and firmware 3.0 has improved the AF performance (not as good as the E-M1X but much better than before).
Olympus has recently announced its intention to sell its Imaging Business. We don't know yet what this means for the future of its cameras, but we think it's fair to mention it. You can read all about it in our dedicated article.
The math:
Best overall kit: E-M1X, M.Zuiko 40-150mm Pro, 300mm Pro and MC-14 ($7150 / £6080 / €6730)
Best kit with 1 lens: E-M1X, M.Zuiko 300mm Pro and MC-14 ($5850 / £5080 / €5530)
Versatile kit with 1 lens: E-M1X and Leica DG 100-400mm ($4600 / £4070 / €4440)
More affordable kit to begin with: E-M1X and Lumix G 100-300mm II ($3600 / £3300 / €3540)
Check price of the Olympus OM-D E-M1X on:
Amazon | B&H Photo
Second-hand Olympus gear on
MPB US | MPB UK
---
---
Best Mirrorless for Wildlife Photography: Sony A9 II
E-mount system – 24MP 35mm sensor – 20fps with C-AF, live view and no blackouts
If it were just a question of sensor quality and AF performance, the Sony A9 II would be my first choice. It has the best autofocus system of any mirrorless camera we've tried to date and in fact, it outperformed the Nikon D500 in terms of AF speed and accuracy.
With a keeper rate of 96%/99%, its phase detection system with 693 points has made the leap forward we were waiting for. The new real time tracking mode is the best we've ever tried and, while it doesn't work with birds, Eye AF for animals can be of use for many other subjects.
If a DSLR gives you the advantage of zero lag thanks to its optical viewfinder, the Sony A9 II goes a step further with its electronic shutter and live view with zero blackouts.
Thanks to its complex stacked sensor that includes an integral memory, the camera can process a huge amount of data simultaneously, bringing the electronic shutter performance to a whole new level.
The super fast sensor readout allows you to shoot up to 20fps with AF/AE tracking without any distortion (rolling shutter effect). More importantly, it can do this while maintaining a live view feed in the EVF or LCD screen. Since we're talking about an electronic shutter (so no mechanical curtains closing and opening in front of the sensor), you can shoot at 20fps with live view and no blackouts.
In depth:
To fully understand the advantage and experience the potential of this technology, you really need to try it with a fast moving subject. Birds in flight are ideal for this and tracking them has never been so easy.
When you start to follow the bird and capture a series of images, the live view in your EVF is maintained without any lag, interruption or delay whatsoever. In fact, in a moment of distraction, you might mistakenly start to record images were it not for the counter in the top left corner of the screen. This is why Sony gives you the option to activate a fake shutter sound and a blinking marker on the screen to remind you that the camera is shooting.
Stunning buffer capabilities (even when shooting RAW) and a state of the art EVF (3686k dots, 0.78x magnification and 120fps refresh rate) further improve the experience.
Another relevant feature to highlight is the full frame/35mm format sensor with 24MP that gives you excellent dynamic range and high ISO performance.
There is also 5-axis stabilisation which works with OSS lenses too (3 axes on the sensor + OSS) but the performance is inferior to that of the E-M1X. The camera has a dual SD card slot (no.1 is UHS-II compatible), a precise AF joystick, weather sealing and an outstanding level of customisation.
The menu system is much improved over previous Sony cameras as well. Finally, the battery is larger and improves the lifespan significantly, putting it close to DSLR territory despite the huge processing power employed by the camera.
The camera design has improved over the previous A9. The grip is more comfortable, the buttons are thicker and feel more precise to use, especially when wearing gloves. An optional battery grip is available.
The A9 II is the most expensive camera on this list with a body price of $4500. The cost increases considerably if you want the fastest telephoto lenses available. If you're happy with a slower zoom however, the price is competitive. Of course being a full frame camera, you don't get the same advantage concerning size and weight of the lenses, and for some this is an important factor to consider.
Speaking of lenses, Sony has increase the selection and there are now four specifically designed for wildlife: the FE 200-600mm f5.6-6.3 G, the 100-400mm f4.5-5.6 G Master, the 400mm f/2.8 G Master and the 600mm f4 G Master. They're all compatible with the TC 1.4x and TC 2.0x teleconverters.
The 100-400mm is excellent in terms of sharpness and autofocus speed (even with the TC on) but isn't cheap. The 400mm and 600mm primes cost over $10k. The 200-600mm is the least expensive option and the most interesting to me because it really brings down the cost compared to the other lenses. It also proved to be an excellent product concerning sharpness and AF motor.
Here are all the native lenses to consider, as of now:
Sony FE 400mm f2.8 GM (600mm f/4 with TC 1.4x, 800mm f/5.6 with TC 2.0x)
Sony FE 600mm f4 GM (840mm f/5.6 with TC 1.4x, 1200mm f/8 with TC 2.0x)
Sony FE 200-600mm f/5.6-6.3 G (280-840mm f/8-9 with TC 1.4x, 400-1200mm f/11-13 with TC 2.0x)
Sony FE 100-400mm f/4.5-5.6 GM OSS (150-600mm f/6.3-8 with TC 1.4x, 200-800 f/9-11 with TC 2.0x)
Sony FE 70-200mm f/2.8 OSS GM (98-280mm f/4 with TC 1.4x, 140-400mm f/5.6 with TC 2.0x)
Sony FE G 70-300mm f/4.5-5.6 OSS
Because the A9 II has a versatile phase detection system, you can also consider using DSLR lenses via compatible adapters. The AF performance remains good but the continuous shooting speed drops to a maximum of 10fps. Still it means the entire Canon, Sigma, Tamron and Sony A-mount catalogue is at your disposal. You still have the blackout-free advantage in the EVF but note that the performance can vary depending on which lenses and adapters you use.
Why the Sony A9 II can be an interesting choice for wildlife and bird photography:
the only mirrorless camera to truly match the AF performance of the best high-end DSLRs
the only mirrorless camera with a live view system that surpasses the performance of an optical viewfinder
up to 20fps with AE/AF tracking and no blackouts, the best for tracking birds in flight
great level of customisation
great battery life
weather sealing, dual SD card slot
now with a better selection of lenses
To consider:
very expensive if you want the fastest telephoto lenses
not the best solution if you are interested in 4K video as it lacks picture profiles and log gammas, which is a shame given the price.
if you can sacrifice the better grip and button design, the original A9 is now less expensive (and uses the same sensor / AF system)
The math:
Best kit: A9 II, 600mm f4 GM ($16500 / £15400 / €17500)
Second choice: A9, 200-600mm ($5500 / £5200 / €5600)
Check price of the Sony A9 II on
Amazon | B&H Photo | eBay
Second-hand Sony cameras on
MPB US | MPB UK
---
---
Best Mirrorless for Wildlife Photography: Fujifilm X-T3
X-mount system – 26MP APS-C X-Trans IV sensor – 20 or 30fps (C-AF), live view and no blackouts
The X-T3 inaugurated the fourth generation of X-series cameras. It offers the best performance of any X-series camera, but doesn't have the best ergonomics. Ideally, an X-H1 successor with the same technology as the X-T3 (plus image stabilisation) would be the optimal solution for this genre. For now, we have to focus on what's available, and while the X-T3 is not as comfortable to use as the X-H1 straight out of the box, it offers features that can't be ignored for wildlife photography.
First of all, the X-T3 introduces a more advanced autofocus system with 117 points (425 available in certain modes). More important, the phase detection points cover the entire width of the sensor rather than just the central portion. This means that when following a difficult subject that temporarily moves to the left or right side of the frame, there is a higher chance the camera will be able to continue tracking effectively.
Focus acquisition and the camera's ability to lock onto difficult subjects have both improved and the camera reacts more quickly and accurately when birds unexpectedly veer towards to you. The AF-C Custom Settings allow you to fine-tune the performance.
Second, we have the continuous shooting speeds. Not only can the X-T3 shoot up to 11fps with the mechanical shutter without the need for an optional battery grip, but it can also reach speeds of 20fps or 30fps with the electronic shutter. At 30fps there is a catch: the sensor is cropped by 1.25x and in my tests I found that in crop mode the camera occasionally fails to write the files correctly (a bug that doesn't seem to be fixed after firmware 3.10).
Still, you can shoot at 20fps with the full width of the sensor, and even better, all these speeds are available with live view and no blackouts, just like the Sony A9. It makes following a fast and unpredictable bird much easier than with the mechanical shutter which only shows the last image taken instead.
There is also a mode called Pre-Shoot, which like Capture Pro on the E-M1 II, allows you to save pictures before fully pressing the shutter release button. I haven't noticed any distortion when photographing birds, so I would say it is quite contained.
The 26.1MP BSI X-Trans IV sensor doesn't provide a substantial increase in image quality over the X-H1 or X-T2, but it remains excellent nonetheless with good dynamic range and high ISO performance. The 4K video quality on the other hand is a big step forward and includes 4K video recording up to 60fps in 10-bit, as well as a maximum of 120fps in 1080p.
The design is more compact than the other cameras mentioned here, especially concerning the front grip. With a large telephoto lens, you'll feel the need to add a grip extender, the optional battery pack or at the very least, a thumb rest.
The camera itself is very comfortable to use thanks to the many dials, AF joystick, touch screen, user-friendly menu system and the possibility to customise the camera to your liking. I just wish some of the buttons on the rear could be larger (for back-focusing for example). The viewfinder has more resolution and comes with a maximum frame rate of 100fps in Boost mode.
The battery remains the same as the previous generation of X-series cameras, so when used to its full potential, you'll need some spares. You can take 700 to 900 frames on a single charge, which isn't terrible, and there is a battery grip available that houses two extra batteries.
Then we have another important aspect which is the lens selection:
Fujinon XF 100-400mm f/4.5-5.6 (150-600mm equivalent, 210-840mm f/7.1-8 with TC 1.4x, 300-1200mm f/10-11 with TC 2.0x)
Fujinon XF 200mm f2 (300mm equivalent, 420mm f2.8 with TC 1.4x)
Fujinon XF 50-140mm f/2.8 (70-200mm equivalent, 105-294mm f/4 with TC 1.4x, 150-420mm f/5.6 with TC 2.0x)
Fujinon XF 55-200mm f/3.5-4.8 (82-300mm)
The most popular lens designed for wildlife is the XF 100-400mm f/4.5-5.6. It provides excellent sharpness, autofocus speed and optical stabilisation. There are two teleconverters that also work with the XF 50-140mm f/2.8 but to get the most reach, you need to use the TC 2.0x which decreases the fastest aperture to f/5.6. At that point, the 100-400mm becomes the better solution. The 55-200mm f3.5-4.8 is a decent lens but can feel a little short. Plus it doesn't have the fastest AF motor and lacks weather-sealing.
If you want a faster option, there is the new 200mm f/2 but it costs more. It comes with a newly designed 1.4x f2 teleconverter. The older TC 1.4 and 2x are not designed for lenses faster than f2.8 and Fujifilm warns that the optical quality won't be as good if you use one of those older versions on the 200mm. I hope they will release a new TC 2x f2 as well because it would give photographers better reach for wildlife. As of now, I'm not sure it is worth spending all that money unless the type of subject you photograph requires more reach than 400mm (equivalent).
Another thing worth mentioning is that while the camera is definitely lighter than a DSLR, the XF 100-400mm isn't any smaller than the Canon equivalent. So if you are considering switching over to Fujifilm to reduce the weight of your gear, keep in mind that there isn't a huge advantage when using certain telephoto lenses.
Why the Fujifilm X-T3 can be an interesting choice for wildlife and bird photography:
AF performance amongst the best
excellent image quality and high ISO performance
up to 20fps, or 30fps in crop mode, with live view and no blackouts
easy to use thanks to the various buttons, dials and touch screen LCD
robust build quality, full weather-sealing and dual SD card slot
To consider:
the flagship X-H1 has better ergonomics but inferior performance in terms of AF and burst speeds
excellent 4K video quality with more generous settings
the lens choice is limited and on the expensive side if you want the best optical quality
The Math:
Best kit: X-T3, XF 100-400mm ($3400 / £3000 / €3100)
Expensive kit: X-T3, XF 200mm f2 with new TC 1.4x ($7500 / £6750 / €7430)
Affordable kit to begin with: X-T3 and XF 55-200mm ($2200 / £2000 / €2100)
Check the price of the Fujifilm X-T3 on
Amazon | Amazon UK | B&H Photo | eBay
Second-hand Fujifilm cameras on
MPB US | MPB UK
---
Best Mirrorless for Wildlife Photography: Sony A6400
E-mount system – 24MP APS-C sensor – 11fps (C-AF)
Note: the more recent A6600 has an in-body image stabilisation, a larger grip and bigger battery, all welcome characteristics for this photography genre. I haven't tested the camera yet but the sensor and AF are the same as the A6400.
The Sony a6000 series isn't my favourite as far as ergonomics and ease of use are concerned. Certainly the small size of the body can be an advantage for other genres but when using larger lenses, you inevitably feel a lack of balance and find yourself wishing for a larger grip. It would also be nice to have more buttons and dials to control the most important settings.
That said, there are advantages worth considering. First is the price: the a6400 can be found for around $900 which is the cheapest option available on this list.
Then we have the autofocus system which, with its 425 phase detection points and updated algorithm, is on par with, if not better than other cameras on this list in terms of performance. My average keeper rate for BIF is around 80%-93%. The cameras offers useful settings for the AF areas, as well as the best real time tracking I've seen. And soon the camera will get EyeAF for animals, which we already tested on the A7 III and found really effective.
The continuous shooting speeds go up to 11fps or 8fps if you want live view (with blackouts). Though the viewfinder is smaller than those of the other cameras listed here, it compensates for this with good clarity and a fast refresh rate (120fps). The 4K video quality is excellent and there are lots of useful settings for advanced video makers but rolling shutter can be severe when panning quickly.
Amongst the negative things to point out, there is the short battery life and the lack of an official battery grip, although some third-party manufacturers such as Meike provide one (check our accessory list to find out more). The camera offers resistance against dust and moisture but isn't freeze proof.
Then we have the lenses. The best option among APS-C lenses is the new 70-350mm. The selection increases with the lenses designed for the Sony full-frame mirrorless system and you can benefit from the 1.5x crop factor. Here is the selection thus far:
FE 70-300mm f/4.5-5.6 (105-450mm equivalent)
E 70-350mm f/4-6.3 G (105-525mm)
FE 100-400mm f/4.5-5.6 GM (150-600mm, 210-840mm f/7.1-8 with TC 1.4x, 300-1200mm f/10-11 with TC 2.0x)
FE 200-600mm f/5.6-6.3 G (300-900mm, 420-1260mm f/8-9 with TC 1.4x)
FE 70-200mm f/2.8 GM (105-300mm, 147-420mm f/4 with TC 1.4x, 210-600mm f/5.6 with TC 2.0x)
E 55-210mm F4.5-6.3 OSS (82.5–315mm)
Here the best choice is the new 100-400mm G Master but like many Sony full frame lenses, it comes at a rather expensive price in comparison to other offerings which cancels out the advantage of a cheaper camera body. I used the FE 70-300mm with good results but it can feel too short in some situations. The new 70-350mm offers a bit more reach and is less expensive. The 200-600mm has the most versatile range but you have to consider its size and weight when mounted on a compact body like the A6400.
Thanks to its phase detection system, the camera can work with Sony A-mount and Canon EF-mount lenses when paired with a compatible adapter. I haven't tested this particular set-up with the a6400. On the a6300 and a6500, the AF performance was good but not as fast as with native E-mount lenses. In my opinion this is not a solution worth considering if wildlife is your main interest. The cameras becomes unbalanced when used with large and heavy lenses and at this point it makes more sense to consider a native DSLR system instead.
There is also an elephant in the room: multiple rumours and manager interviews have hinted at a possible high end APS-C camera from Sony in the near future. It that became a reality, this section could get updated once again. After all, a high end APS-C camera with better ergonomics and perhaps more technology from the Sony A9 would be an excellent choice for wildlife. Fingers crossed!
Why the Sony a6400 can be an interesting choice for wildlife and bird photography:
excellent autofocus performance and tracking
Eye AF for animals will be available via firmware update
excellent image quality
continuous live view up to 8fps
burst speeds up to 11fps with AE/AF Tracking
the cheapest option on the list
To consider:
ergonomics and ease of use are not its strongest point
battery life is short but you can find third-party battery grips
Sony lenses are more expensive in comparison to competitor brands
AF is good with adapted lenses (A-mount, EF-mount) but the combo feels unbalanced with most lenses
the A6600 is more expensive but has a larger grip, better battery life and 5-axis stabilisation
The Math:
Best kit: a6400, FE 100-400mm GM ($3400 / £3400 / €3600)
Affordable kit to begin with: a6400 and E 70-350mm ($1900 /£1700 / €1800)
Check price of the Sony a6400 on
Amazon | Amazon UK | B&H Photo | eBay
Second-hand Sony cameras on
MPB US | MPB UK
---
Best Mirrorless for Wildlife: Panasonic G9
Micro four thirds system – 20MP sensor – 60fps (S-AF), 20fps (C-AF)
The Lumix G9 is one of the largest and heaviest on the list and comes with a robust grip that feels like a natural extension of your hand. The body is very well-built and is completely weather-sealed. The shutter release button is a little too sensitive for my taste but others may prefer it that way.
There is a rich range of physical controls including 19 function buttons and an AF Joystick on the rear (although I wish the latter weren't so close to the EVF). The top LCD screen is very handy as a way of checking settings on the fly and the electronic viewfinder is excellent thanks to the high resolution of 3.68M dots, 120fps refresh rate and variable magnification (the highest being 0.83x). There are also dual SD card slots with UHS-II compatibility, and the battery life is very good.
The continuous shooting speeds go up to 12fps or 9fps with continuous AF when using the mechanical shutter. Switch to the electronic version and you can increase these speeds to 20fps (with AF/AE Tracking) or 60fps just like the E-M1 II and E-M1X. And just like the Olympus, you can use a mode similar to Pro Capture (called Pre-Burst) to save up to 15 images before fully depressing the shutter button. Bear in mind though that there is still some distortion due to rolling shutter. It is less noticeable for birds in flight but slightly worse than the sensor readout of the E-M1 II and E-M1X.
Up to 9fps, the G9 shows you a live view with blackouts. At higher speeds, it's the last image taken that is shown instead. Although this results in a delay between what you see and what is actually happening, shooting at 20fps does help you to track fast moving subject more effectively because the frame rate is really smooth.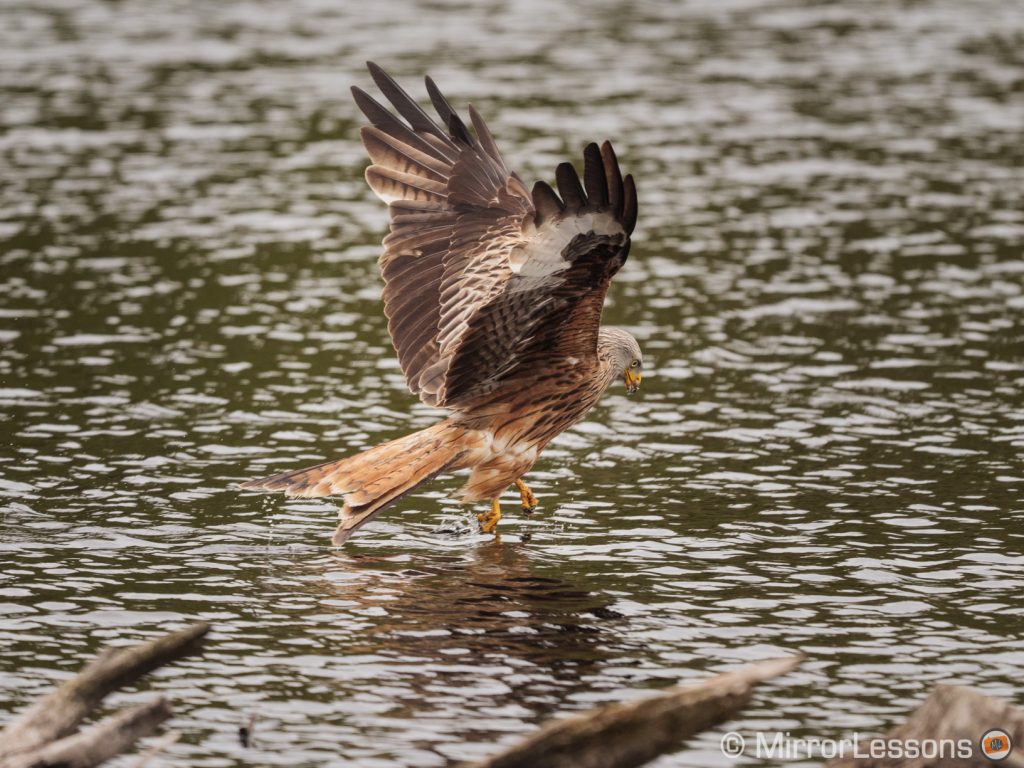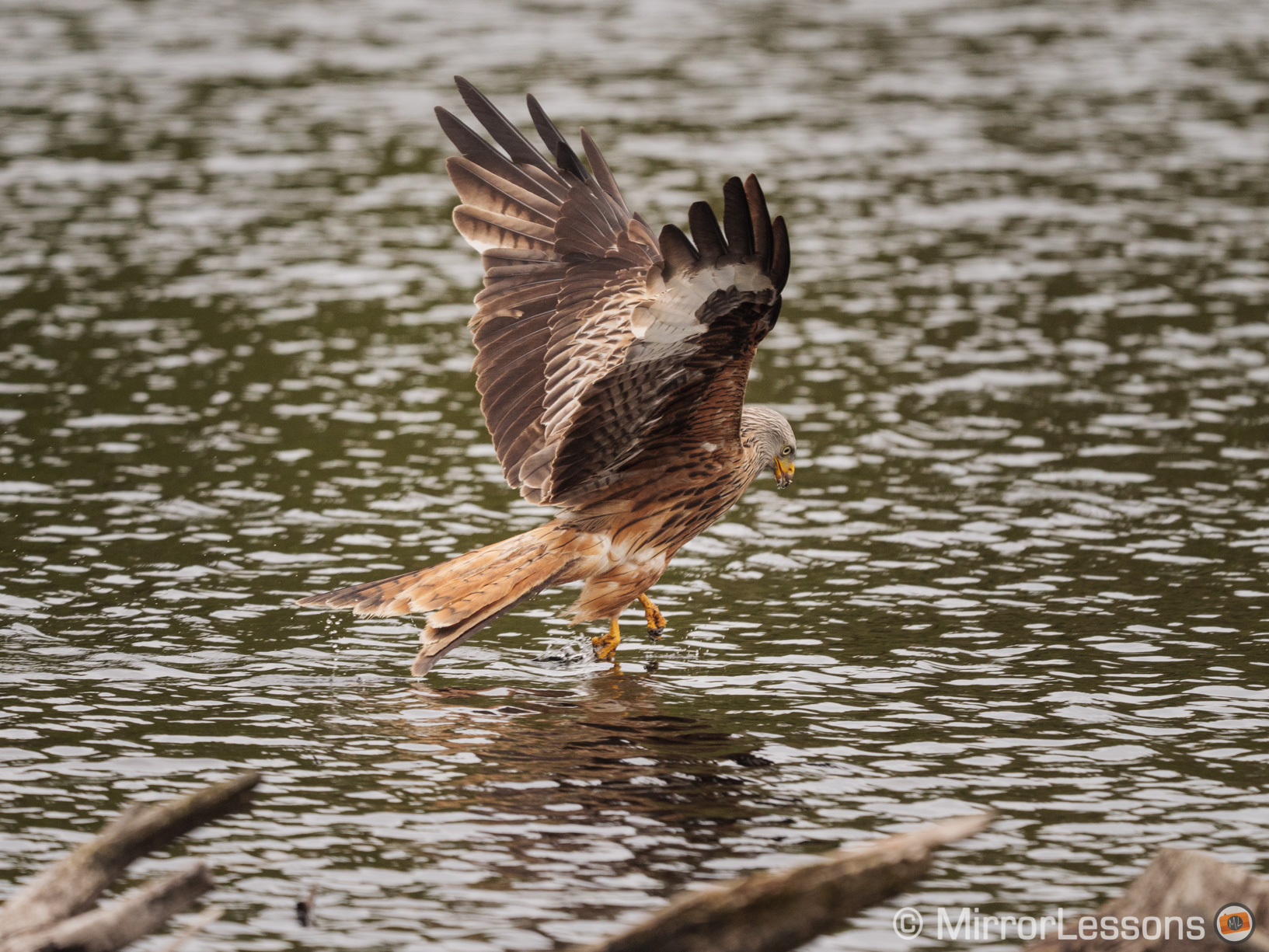 The buffer capabilities are not particularly good when shooting at these high bursts, but one alternative is to take advantage of the 6K/4K Photo mode, where you can record 6K/4K videos at 30fps and save any frame you want as an 18MP or 8MP JPG. And since the camera is in fact recording a video, there aren't any buffer limitations besides the usual 30 minute allowance per clip.
The G9 features in-body stabilisation with 5 axes on the sensor and Dual IS (sensor + optical stabilisation). It's the best Panasonic has ever designed in the Lumix range and comes close to the performance of the E-M1 II for both stills and video. The image quality is similar to the E-M1 II but the Lumix has an excellent JPG engine (better noise reduction and sharpness, warmer colours) if you like straight out-of-camera results.
Despite not being as advanced as the GH5 for video, the G9 still has some nice features on offer if you are interested in this genre for wildlife. It can record 4K up to 50/60p and offers slow motion capabilities up to 180fps in 1080p, although unfortunately you can't control the exposure manually. The quality is excellent thanks to the many colour profile improvements.
Below you can see a video taken in a recent trip to Scotland, all filmed hand-held with the Leica DG 200mm f2.8 lens and TC 1.4x.
In many ways, I would have loved to see this camera at the top of the list. It ticks all the boxes but does have one limitation that can't be overlooked: the autofocus.
The AF of the G9 excels in almost every way and in our in-depth comparison with the E-M1 II, we found it to be better in most situations except for birds in flight, or more precisely, birds flying against a busy background. There the DfD contrast detection technology still struggles more than phase detection. Panasonic has made some improvements via firmware (version 2.0 especially), but the performance remains behind its competitors.
The performance decreases even more if you shoot at 20fps with the electronic shutter, unlike the Olympus. This is why we put other cameras in front – their autofocus systems are simply better equipped for the most difficult of moving subjects. However, if BIF is not your main interest, the G9 could be exactly what you're looking for.
The lens list is very similar as that of the E-M1X:
Leica DG 100-400mm f/4-6.3 (200-800mm equivalent)
Leica DG 200mm f/2.8 (400mm equivalent, 560mm f/4 with DMW TC 1.4x or 800mm f/5.6 with DMW TC 2x)
Leica DG 50-200mm f/2.8-4 (100-400mm equivalent, 140-560mm f/4-5.6 with DMW TC 1.4x or 200-800mm f/5.6-8 with DMW TC 2x)
Olympus 300mm f/4 Pro (600mm equivalent, 840mm f/5.6 with MC-14, 1200mm f/8 with MC-20)
Olympus 40-150mm f/2.8 Pro (80-300mm equivalent, 112-420mm f/4 with MC-14, 160-600 f/5.6 with MC-20)
Lumix G 100-300mm f/4.5-5.6 II O.I.S. (200-600mm)
Lumix G 45-200mm f4-5.6 II O.I.S. (90-400mm)
Please note that the performance may not be as good with Olympus lenses because the DfD system is officially only compatible with Lumix/Leica lenses. In my personal experience with the G9, I found that the performance mainly decreased for birds in flight, whereas in many other situations, it performed much better. Another thing to keep in mind is that Dual IS is not compatible with Olympus lenses so you'll have to choose between sensor or optical stabilisation.
Why the Panasonic G9 can be an interesting choice for wildlife and bird photography:
up to 60fps or 20fps with continuous AF, 9fps with live view/blackouts
6K/4K Photo gives you 30fps/60fps without any buffer limitation
very good image stabilisation
complete weather-sealing, excellent build, good battery life, dual SD card slot and optional battery grip
Micro Four Thirds gives you the best selection of lenses
excellent video quality with slow motion options
To consider:
the autofocus struggles more for birds in flight or when shooting at 20fps with the electronic shutter
6K/4K Photo only gives you a JPG file
The math:
Best kit overall: G9 and Leica DG 200mm + TC 1.4x which is included ($4700 / £4200 / €3580)
Versatile kit: G9 and Leica DG 100-400mm ($3500 / £2850 / €2830)
Most affordable kit: G9 and 100-300mm II ($2350 / £2070 / €1930)
Check price of the Panasonic Lumix G9 on
Amazon | Amazon UK | eBay | B&H Photo
Second-hand Panasonic cameras on
MPB US | MPB UK
---
---
Best Mirrorless Camera for Wildlife: other products
Before wrapping up, I'd like to mention other cameras we've used for wildlife photography. We don't consider them the very best for the genre but some of them are less expensive while others have interesting characteristics. We also included models we discarded in favour of new ones.
Olympus OM-D E-M1 II
The OM-D E-M1 II was at the top of our list for a long time, but it has been replaced by the more recent OM-D E-M1X as the best option for wildlife. That being said, the E-M1 II remains an excellent choice given that it has the same burst speeds and buffer capabilities as its bigger brother, as well as a similar sensor and an obvious price advantage. With firmware 3.0, the AF has improved: it doesn't get to the same level of the X model but makes the camera a very interesting option if you have a more restricted budget.
Additional read:
Sony A7 III
The A7 mark III is the latest addition to Sony's full-frame series. Its autofocus system performs quite well and is not too far from the flagship cameras. It doesn't feature the blackout-free live view nor the 20fps speed of the A9 series, but it has an excellent 24MP BSI sensor, decent 10fps burst shooting, and the same long-lasting battery and design. It is half the price of the A9 II and this is why it deserves a mention here.
Sony A7R III / A7R IV
The high resolution full-frame sensors of the A7R III and IV not only gives you stunning dynamic range but also more room for cropping (the A7R IV works with 26MP in APS-C mode!). The hybrid AF system is improved and while it doesn't reach the same level as the A9, it is close. The maximum speed is 10fps (or 8fps with live view) with decent buffer capabilities.
Additional read:
Fujifilm X-H1
The X-H1 offers a larger grip and better ergonomics than other Fuji models which makes the camera more comfortable to use with large lenses such as XF 100-400mm. It has everything you need including two SD card slots. The continuous shooting speeds go up to 8fps, or 11fps with the optional battery grip.
The AF system isn't the latest generation but it remains more than valid for wildlife and birds in flight. I got very good results with it and I wouldn't hesitate to recommend the camera. There is however the X-T3 which costs less and is even faster. If Fujifilm decides to release an X-H1 successor with the same technology as the X-T3, it could become a killer camera for this genre.
Additional read:
Fujifilm X-Pro2
I got good results with the X-Pro2 since its AF system is the same as the one found on the X-T2. Furthermore, the optical viewfinder and its display options proved a good ally for BIF, mimicking the use of a red dot sight (more info here). I wouldn't recommend the camera for this genre primarily but if you are interested in Fuji gear, perhaps it could be an interesting back-up option.
Panasonic GH5
Before we had the chance to test the G9, the GH5 was on the main list. It doesn't reach the same level of performance with the electronic shutter but the camera remains an interesting alternative thanks its superior video capabilities. More than any other camera mentioned in this article, it is definitely the one I would choose for wildlife video work.
Panasonic G85
I had the chance to take wildlife pictures with various Panasonic cameras. They offer good stabilisation and have a robust build quality but the main limitation is the DfD AF system with BIF and fast subjects. It simply isn't as good as other cameras but for more static situations, they work well and you can take advantage of extra features like 4K Photo and the good video capabilities.
Nikon Z6, Z7 and Canon EOS R
Birds in flight (and other wildlife genres when I get the chance) have become part of my routine tests for most cameras, including the recent full frame mirrorless products from Canon and Nikon.
For now I've decided not to include them because there aren't any native telephoto lenses to go with them. You have to rely on adapters and DSLR lenses, and if wildlife is your main interest, then it makes more sense to look for a DSLR body. That being said, Canon and Nikon have been leaders in this field for many years so I'm curious to see what they will bring to the table for wildlife photographers in the future.
---
Conclusion
The truth is that DSLRs still rule if you are looking for the best autofocus performance and a wider selection of camera bodies and lenses for every need and budget. However it isn't the only camera system that can give you excellent results in this field anymore.
Products like the Sony A9 and A9 II have nothing to prove anymore when it comes to AF performance. They are reaching new heights when it comes to continuous shooting speeds, the electronic viewfinder and the shutter mechanism. In fact, all mirrorless brands are working hard to push the boundaries further than ever before.
Sony provides the best products when it comes to quality and speed. The lens selection has increased but can be pricey if you want the very best gear. That being said, I believe it's only a matter time before third party brands get on board.
Whether you already invested in a DSLR or are new to the genre, I feel that Micro Four Thirds remains one of the most interesting choice because of the reduced weight and size, wider selection of lenses and additional choice for people on a budget.
The E-M1X is the best choice for advanced users not only because of its improved autofocus, but also thanks to its high end flagship design which was previously missing from the mirrorless segment. The Panasonic G9 is an interesting alternative that costs less and does everything right except for the autofocus which can let you down in challenging situations. On a budget, it is better to take a look at the E-M1 II which recently received a big boost in AF performance thanks to firmware 3.0.
As for Fujifilm, the brand offers excellent autofocus capabilities and image quality but we still need more lenses for the system to be complete.
You may also like:
---