Updated on: December 5, 2017
Wildlife photography is a genre that DSLR cameras have dominated for decades. Their robust design and reliable autofocus system, in addition to the vast lens selection, are just a few of the many characteristics amateurs or experienced photographers require in order to capture animals in their natural habitat.
In the last two years however, mirrorless cameras have reached a new level of maturity, making them an interesting alternative for this challenging genre. With their compact design, improved performance, unique array of features and increasing number of telephoto lenses, wildlife photographers now have a fresh new set of tools to work with.
With this in mind, a number of questions naturally arise:
How good are mirrorless cameras for wildlife photography?
What concrete benefits do they bring and are there limitations to be aware of?
Last but not least, which systems or cameras perform best?
Two years ago, I started to practice this genre for several of my camera and lens reviews, analysing key aspects such as lens quality and autofocus performance. Now that I've gathered ample experience, I feel it is a good time to put this article out.
Important note: the article is "dynamic" meaning that it will receive updates after testing new equipment. If a newly announced camera fits the requirements, we will include useful information about it and update the article once we get our hands on it.
---
Ethics statement: All opinions expressed in this article are our own and based on real world experiences with each camera. We were not asked to write anything about these products, nor were we provided any compensation of any kind. Within the article, there are affiliate links. If you decided to buy something after clicking the link, we will receive a small commission. Don't worry – prices remain the same for you. To know more about our ethics, you can visit our full disclosure page. Thank you!
---
---
Article updates
December 2017: added shooting experience with the Sony A9; put it 2nd place.
---
Preface I: what makes a mirrorless camera good for wildlife photography
Before beginning, let's have a quick run through the various features I analysed in order to compile this list.
Autofocus: you can have the best camera in the world but if the AF lets you down while photographing a fast-moving animal, you will be disappointed. Single AF needs to be spot on, continuous AF needs to be reliable and we want additional useful settings as well.
Continuous shooting speed: the faster the burst rate, the higher the chance you'll capture the animal in the perfect position. Good buffer capabilities are a must as well.
EVF and Live View: electronic viewfinders offer many advantages but introduce short delays and lag time. In burst mode, some of them display the last picture taken while others keep a live view activated, which can make a big difference when following a fast subject.
Build quality and grip: a robust design with weather-sealing is important, as is a large grip to make the camera comfortable to use with longer lenses.
Battery life: swapping batteries takes a matter of seconds but when working in the wild, perhaps in not-so-great weather conditions, it is helpful to have a battery with a longer lifespan. An optional battery grip can be welcome too.
Lenses: one of the most, if not the most important topic. Because mirrorless systems are relatively new, there isn't as much choice as with DSLRs but some brands have more to offer than others.
I won't go in-depth about sensor and image quality as I believe that all the cameras I've mention here give you good enough results for this genre. Certainly the old rule applies – a body with a larger sensor can give you better dynamic range or high ISO performance – but I can safely say that I got good results with all the models listed here.
I will also mention video capabilities where applicable as this is a feature that can be interesting for photographers seeking a hybrid solution or curious to start doing some video in their favourite wildlife location.
---
Preface II: Nikon D500, the one to beat for birds in flight
When I started to work on this article, I realised that the only way to make it truly fair was to include my experience with one of the best DSLRs designed for this genre. So I picked the flagship APS-C Nikon D500 with the recent Nikkor 200-500mm f/5.6 to see how much better the performance was in comparison to today's flagship mirrorless cameras.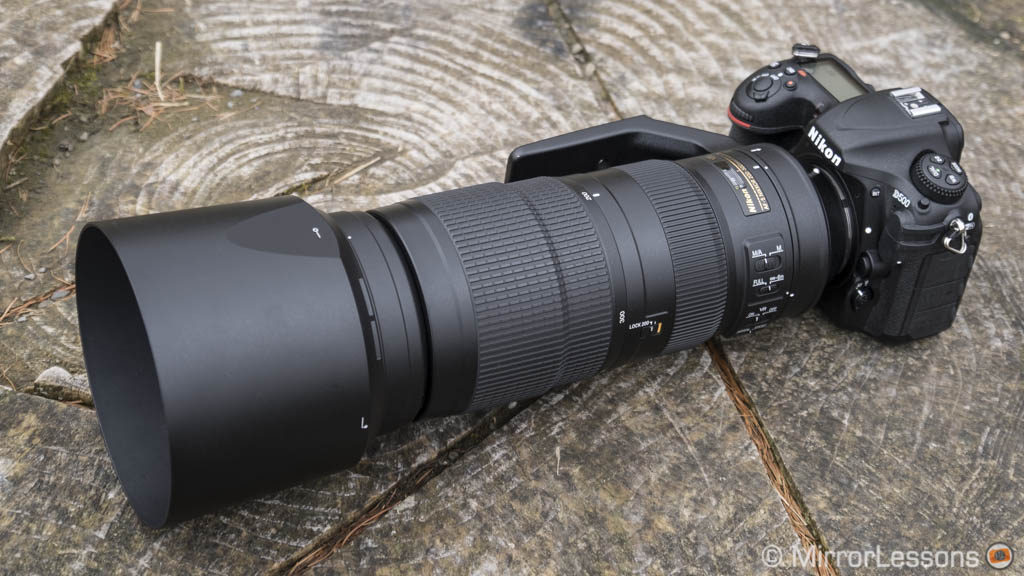 I mainly concentrated on birds in flight, which is perhaps one of the most difficult subjects for your camera. I have no doubt that most mirrorless cameras can do just fine if the subject is static or moving slowly but a fast bird of prey is another story entirely.
First we have the continuous autofocus performance. My first set was rather disappointing: I used the 153 Points Dynamic Area and I got an average keeper rate of 56% (or 69% if I don't count the slightly soft images). Switching to 3D Tracking raised the result to 80% (95% if I include the slightly soft photos). This is the best result I got at my beloved testing ground, the red kite feeding station in Bwlch Nant yr Arian near Aberystwyth.
One of the main differences in comparison to most of the mirrorless cameras mentioned here is the low number of out-of-focus shots I got. I wound up with some soft results but very few images where the AF went completely wrong.
The second aspect is the optical viewfinder. I admit I had an easier time following the birds because of the zero lag between what was happening and what I was seeing.
The D500 has other interesting specifications that I appreciated but they don't necessarily bring an advantage over the mirrorless products I will analyse below:
Excellent ergonomics and ease of use
Dual memory card slot
10fps continuous shooting with AE/AF tracking
Good buffer capabilities
Good image quality with the 20MP DX sensor.
I chose the Nikkor 200-500mm f/5.6 because it is a recent lens and gives you an excellent range to work with (300-750mm equivalent). Of course the main advantage of the DSLR system is the vast choice of lenses at your disposal, not only from Nikon but also Sigma and Tamron. (The same thing can be said for Canon users.) To give you a few numbers, more than 24 telephoto lenses (300mm or longer) are available for the D500 and that is without counting kit lenses, all-purpose lenses and teleconverter options. The kit I tested would cost you around $3200 / £2790 / €3700 but you can find both cheaper and more expensive combinations.
The only real disadvantage of the Nikon gear is the extra size and weight. The D500 and 200-500mm kit remains reasonable and I worked hand-held the whole time but I definitely felt the difference in comparison to mirrorless combos.
Check price of the Nikon D500 on Amazon | Amazon UK | B&H Photo | eBay
Used Nikon gear on MPB US | MPB UK
---
Choice #1: Olympus OM-D E-M1 mark II
Micro four thirds system – 20MP sensor – 60fps (S-AF) and 18fps (C-AF)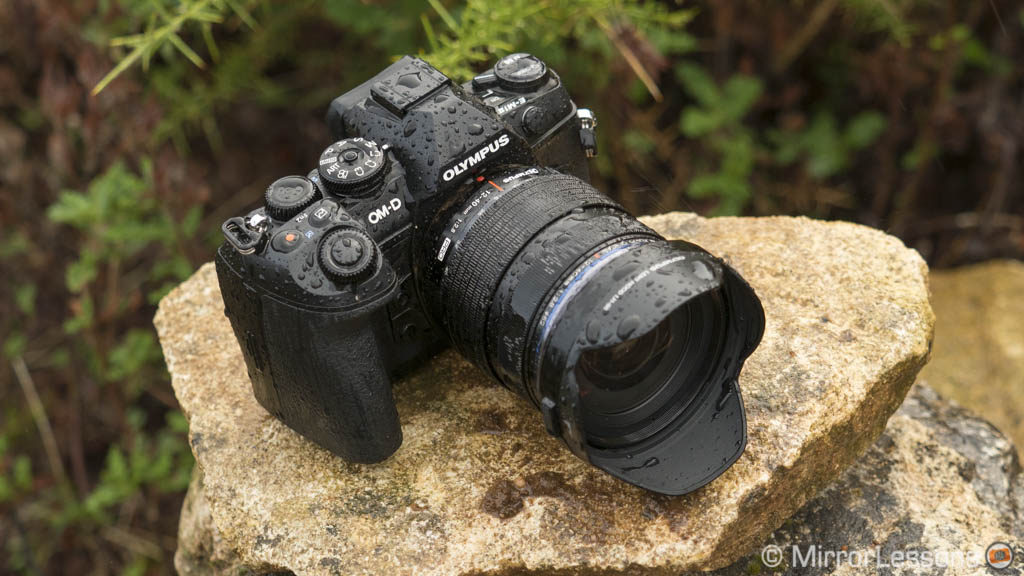 There are many reasons I picked the OM-D E-M1 II as my number one choice. There are very interesting specifcations to talk about but above all, it is a question of feeling.
Of all the flagship mirrorless cameras we've tested, the E-M1 II definitely feels the most like a camera designed for wildlife photography.
There is certainly room for improvement in a few areas but if we consider the overall performance and features it has to offer, it ticks all the right boxes.
First we have the compactness of Micro Four Thirds. Here, weight and size make a relevant difference, more than any other system. Add to this the stunning 5-axis sensor shift and Sync IS (sensor + optical stabilisation working at the same time with select Olympus IS lenses) and you have a camera that can be used hand-held 99% of the time.
The E-M1 II also features impressive continuous shooting speeds. For static subjects or scenes where you can pre-focus, you can shoot up to 15fps with the mechanical shutter or 60fps with the electronic shutter (focus is locked on the first frame). If you want continuous autofocus, the performance goes down to 10fps or 18fps respectively.
Thanks to the fast sensor readout, rolling shutter is minimal and wasn't a concern most of the time when using the electronic shutter. The Pro Capture mode lets you save up to 14 frames before fully pressing the shutter release button, which can help you to catch the perfect moment. The buffer is excellent and with an SD UHS-II card you can shoot at 15fps with RAW without losing any speed.
Then we have the electronic viewfinder that offers a fast refresh rate of 120fps, a good resolution of 2.36M dots and a very short lag time of 0.006s. The camera maintains live view up to 18fps with short blackouts.
Finally the E-M1 II features all the most important details a wildlife photographer can appreciate: full weather-sealing (including freeze-proofing), a dual SD card slot (the first is UHS-II compatible), lots of customisation and a large battery that is almost as good as a high-end DSLR. An official battery grip that houses two batteries is also available. The camera can record 4K video with good quality at low ISOs and the image stabilisation system does wonders for video too.
An example of how good the IS system is: below you can watch a video taken hand-held with the original E-M1, the 300mm Pro and the TC 1.4x teleconverter. The E-M1 II has an improved stabilisation system which means that you can get even better results than the already impressive footage below.
Is it the perfect choice then? Mostly, and the only thing that prompts me to write "excellent" rather than "perfect" is the autofocus system. Don't get me wrong – the new phase detection area with 121 cross-type points is an excellent step forward in comparison to the original E-M1. Indeed, it is currently the best AF you can find within the Micro Four Thirds range. However it isn't the best I've tested on a mirrorless camera. My keeper rate for birds in flight averages between 55% and 70% which means it is good enough.
I also wish Olympus could add more AF-Target groups to work with: as of now you can only choose between All, 9 or 5 points but something in between would be of help. AF+Tracking works when the bird is in the sky but can become confused with a busier background. The good news is that the brand is committed to improving the camera's performance via firmware updates. If they manage to improve the accuracy of the AF and add a few extra options concerning the AF area, there will be nothing left to nitpick.
Concerning the lens selection, there are currently seven telephoto lenses that can suit the genre very well and with different price points to satisfy different budgets:
Olympus 300mm f/4 Pro (600mm equivalent, 840mm f/5.6 with MC-14 1.4x teleconverter, compatible with Sync IS)
Olympus 40-150mm f/2.8 Pro (80-300mm, 112-420mm with the teleconverter)
Panasonic Leica DG 100-400mm f/4-6.3 O.I.S. (200-800mm)
Panasonic Leica DG 200mm f/2.8 O.I.S. (400mm equivalent, 560mm f/4 with DMW TC 1.4x or 800mm f/5.6 with DMW TC 2x)
Lumix G 100-300mm f/4.5-5.6 II O.I.S. (200-600mm)
Olympus 75-300mm f/4.8-6.7 II (150-600mm)
Lumix G 45-200mm f4-5.6 II O.I.S. (90-400mm)
Note: the Olympus 75-300mm is not weather-sealed. Certain features such as Pro Capture only works with Olympus lenses.
One of my favourite lenses is the Pana-Leica 100-400mm for its extreme versatility and excellent optical quality. However to take full advantage of some features like Sync IS and Pro Capture, the 300mm f/4 PRO is the best choice, also because it provides the fastest aperture at that focal length.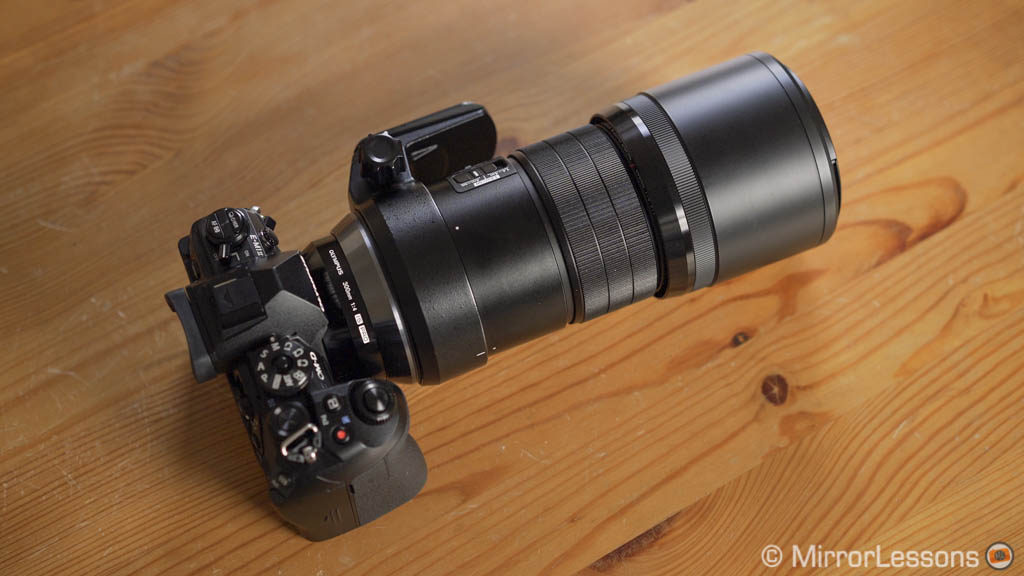 Olympus users have the possibility to adapt Four Thirds lenses as well (a DSLR product that is now discontinued). The AF remains good but won't be as fast as with native lenses and some features like Pro Capture aren't available.
Why the E-M1 II can be an interesting choice for wildlife and bird photography:
the Micro Four Thirds system is smaller and lighter
more than one lens to choose from in the Olympus and Panasonic catalogue (more to come)
stunning continuous shooting speeds up to 60fps and 18fps
the Pro Capture mode lets you save images before fully pressing the shutter release button
good 4K video quality
EVF with live view and short blackouts up to 18fps
state of the art image stabilisation for stills and video
excellent ergonomics and grip
weather sealing, dual SD card slot, excellent battery life, optional battery grip
To consider:
Good AF performance overall but not the best amongst mirrorless cameras
the 20MP sensor is excellent but can generate a little more noise at high ISOs
Pro Capture works with Olympus lenses only
The math:
Best overall kit: E-M1 II, M.Zuiko 40-150mm Pro, 300mm Pro and MC-14 ($6250 / £5530 / €6240)
Best kit with 1 lens: E-M1 II, M.Zuiko 300mm Pro and MC-14 ($4850 / £4330 / €4890)
Versatile kit with 1 lens: E-M1 II and Leica DG 100-400mm ($3800 / £3150 / €3520)
Affordable kit to begin with: E-M1 II and M.Zuiko 75-300mm II ($2450 / £2240 / €2490)
Note: you could replace the M.Zuiko 75-300mm with the Lumix G 100-300mm II for the affordable kit, though Pro Capture won't work.
Check price of the Olympus OM-D E-M1 II on Amazon | Amazon UK | eBay | B&H Photo
Used Olympus gear on MPB US | MPB UK
---
Choice #2: Sony A9
E-mount system – 24MP 35mm sensor – 20fps with C-AF, live view and no blackouts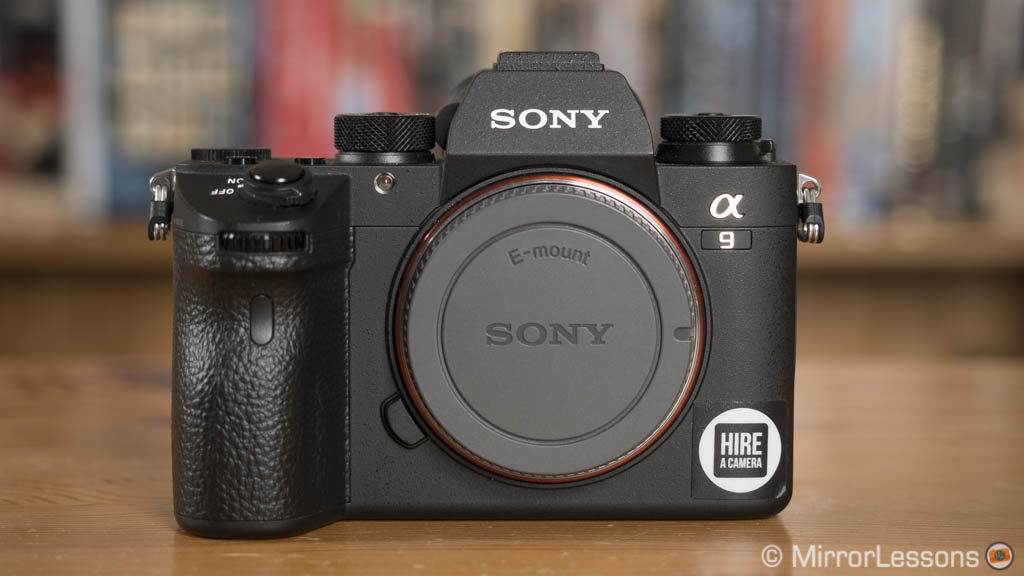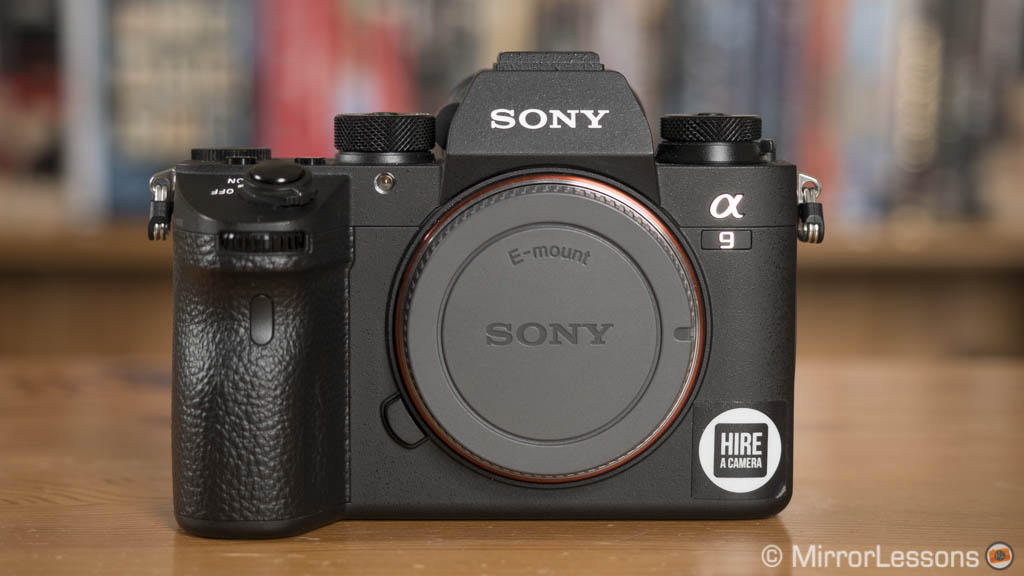 If it was just a question of sensor quality and AF performance, the Sony A9 would be my first choice. It has the best autofocus system of any mirrorless camera we've tried to date and in fact, is the only one on the list that matches the performance of the Nikon D500 in terms of AF speed and accuracy. With a keeper rate of 80%/95%, its phase detection system with 693 points closes the gap for good. But that's not all.
If a DSLR gives you the advantage of zero lag thanks to its optical viewfinder, the Sony A9 goes a step further with its electronic shutter and live view with zero blackouts.
Thanks to its complex stacked sensor that includes an integral memory, the camera can process a huge amount of data simultaneously, bringing the electronic shutter performance to a whole new level. The super fast sensor readout allows you to shoot up to 20fps with AF/AE tracking without any distortion (rolling shutter effect). More importantly, it can do this while maintaining a live view feed in the EVF or LCD screen. Since we're talking about an electronic shutter (so no mechanical curtains closing and opening in front of the sensor), you can shoot at 20fps with live view and no blackouts.
In depth:
To fully understand the advantage and experience the potential of this technology, you really need to try it with a fast moving subject. Birds in flight are ideal for this and tracking them has never been so easy.
When you start to follow the bird and capture a series of images, the live view in your EVF is maintained without any lag, interruption or delay whatsoever. In fact, in a moment of distraction, you might mistakenly start to record images were it not for the counter in the top left corner of the screen. This is why Sony gives you the option to activate a fake shutter sound and a blinking marker on the screen to remind you that the camera is shooting. Stunning buffer capabilities (even when shooting RAW) and a state of the art EVF (3686k dots, 0.78x magnification and 120fps refresh rate) further improve the experience.
Another relevant feature to highlight is the full frame/35mm format sensor with 24MP that gives you excellent dynamic range and high ISO performance. There is also 5-axis stabilisation which works with OSS lenses too (3 axes on the sensor + OSS) but the performance is inferior to that of the E-M1 II. The camera has a dual SD card slot (no.1 is UHS-II compatible), a precise AF joystick, weather sealing and an outstanding level of customisation. The menu system is much improved over previous Sony cameras as well. Finally, the battery is larger and improves the lifespan significantly, putting it close to DSLR territory despite the huge processing power employed by the camera.
Now, having praised the A9 so highly, you may wonder why I didn't put it at the top of the list. Here are my reasons.
First there is the price: the A9 is the most expensive camera on this list with a body price of $4500 (more than twice the price of an E-M1 II or GH5). There is a technological achievement to justify it, for sure, but many amateurs looking for a mirrorless solution are probably hoping to spend less. The counter argument is: if you want the best quality, it comes at a price.
Second, there is a flaw in the camera design. After three days of shooting with the 100-400mm G Master, I found that the native grip of the camera caused my index finger to feel a bit achy. There isn't enough space for the entire hand and when you deal with lenses of a certain size, it can become quite uncomfortable. Now of course an easy fix is to buy the battery grip, the smaller GP-X1EM grip or possible third party solutions. But this means adding extra costs, while a camera like the E-M1 II is just perfect on its own. It could be worth considering a monopod but at the same time, I didn't need one for the Nikon D500/200-500mm, which was bigger and heavier yet far more comfortable to work with hand-held.
Finally we have the lenses which is a more complex topic to deal with. If we look at the native FE selection first, there's only one lens to consider: the 100-400mm f4.5-5.6 G Master to which you need to add the 1.4x teleconverter to have a 600mm reach. It is excellent in terms of sharpness and autofocus speed (even with the TC on) but the bokeh can be quite nervous and unpleasant. Sony has a 400mm f/2.8 in the works but apparently we need to wait some time before it hits the market.
Here are the four native lenses to consider, as of now:
Sony FE 100-400mm f/4.5-5.6 GM OSS (150-600mm f/6.3-8 with TC 1.4x, 200-800 f/9-11 with TC 2.0x)
Sony FE 70-200mm f/2.8 OSS GM (98-280mm f/4 with TC 1.4x, 140-400mm f/5.6 with TC 2.0x)
Sony FE G 70-300mm f/4.5-5.6 OSS
Sony FE 400mm f2.8 GM (development announced, release in summer 2018)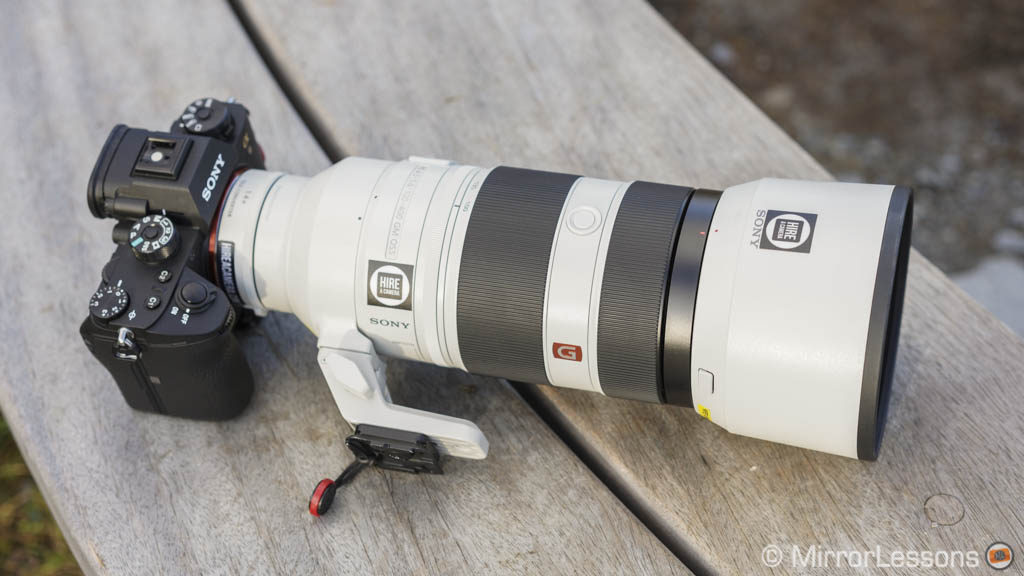 Because the A9 has a versatile phase detection system, you can also consider using DSLR lenses via compatible adapters. The AF performance remains good but the continuous shooting speed drops to a maximum of 10fps. Still it means the entire Canon, Sigma, Tamron and Sony A-mount catalogue is at your disposal. The question is: is it worth it?
You still have the blackout-free advantage in the EVF but you have to deal with large lenses designed for larger cameras than the Sony. Also note that the performance can vary depending on which lenses and adapters you use. My take is that if you already own DSLR telephoto lenses and want to start migrating to the Sony system, it's worth considering and you can complete the switch when there is a more interesting selection of native lenses. Otherwise it could be worth waiting a little longer, unless you feel the blackout free experience is worth the trouble.
Why the Sony A9 can be an interesting choice for wildlife and bird photography:
the only mirrorless camera to truly match the AF performance of a high end DSLR
the only mirrorless camera with a live view system that surpasses the performance of an optical viewfinder*
up to 20fps with AE/AF tracking and no blackouts, the best for tracking birds in flight
great level of customisation
great battery life
weather sealing, dual SD card slot
*: the Panasonic G9 has a similar blackout free feature that we haven't yet tested.
To consider:
an optional landscape or battery grip is needed to improve comfort with large lenses
the most expensive camera in the list
limited choice of native lenses for the genre, but there's the option of adapting DSLR lenses with good AF performance
not the best solution if you are interested in 4K video as it lacks picture profiles and log gammas, which is a shame given the price.
The math:
Best kit: A9, 100-400mm GM, FE TC 1.4x ($7550 / £7450 / €8540)
Check price of the Sony A9 on Amazon | B&H Photo
Used Sony gear on MPB US | MPB UK
---
Choice #3: Fujifilm X-T2
X-mount system – 24MP APS-C sensor – 11fps (C-AF)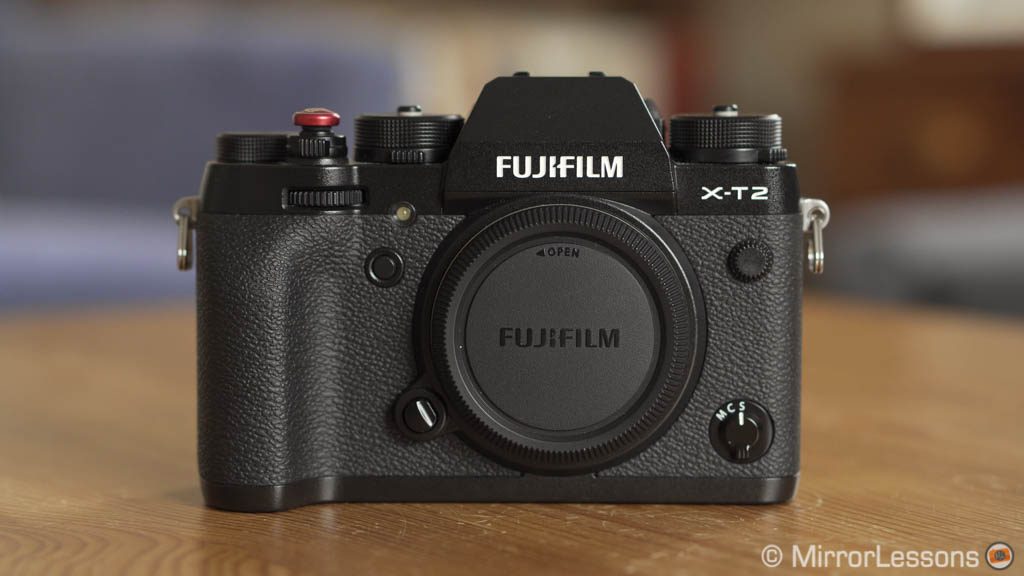 There is not a lot to complain about when it comes to the quality and performance of the Fujifilm X-T2. It has one of the best autofocus of all mirrorless cameras I've tested.
You can choose between a 7×13 or 13×25 grid but keep in mind that only the former is available when shooting in C-AF and high burst mode. It features useful focus areas like Zone AF and the in-depth AF-C Custom Settings allow you to fine-tune the performance according to the type of subject, which can make a big difference for birds in flight. My average keeper rate hangs between 70% and 80%.
The 24MP APS-C sensor gives you excellent image quality in terms of dynamic range and high ISO performance. You can also add to the equation complete weather sealing, a dual SD card slot (both are UHS-II compatible) and the optional battery pack that extends the continuous shooting speed from 8fps to 11fps (with C-AF). Note that the X-T2 can go as fast as 14fps with the electronic shutter but the rolling shutter effect can become annoying.
The camera is easy to use thanks to its numerous dials and focus joystick. It offers a good level of customisation as well. The battery life is good but not the best I've tested. You can take 800/900 images on a single battery charge. There is also a battery grip available that houses two more batteries. The 4K video quality delivers excellent colours and sharpness, although the video options are more limited in comparison to other cameras.
While the performance is excellent where it matters most (AF and IQ), there are different reasons why I didn't put the X-T2 at the top of the list.
First we have the grip which hasn't really been designed for big lenses. Thankfully you can work around this by attaching optional accessories but I still don't find it the most comfortable.
Second we have the EVF. Although it is wonderful in terms of clarity, magnification, lag (0.005s) and the refresh rate (100fps), the live view stops after 5fps. At 8fps or 11fps the camera displays the last picture taken instead which adds an extra delay.
Finally we have the most important aspect which is the lens selection:
Fujinon XF 100-400mm f/4.5-5.6 (150-600mm equivalent, 210-840mm f/7.1-8 with TC 1.4x, 300-1200mm f/10-11 with TC 2.0x)
Fujinon XF 50-140mm f/2.8 (70-200mm equivalent, 105-294mm f/4 with TC 1.4x, 150-420mm f/5.6 with TC 2.0x)
Fujinon XF 55-200mm f/3.5-4.8 (82-300mm)
Fujinon XF 200mm f2 (work in progress, 2018 release)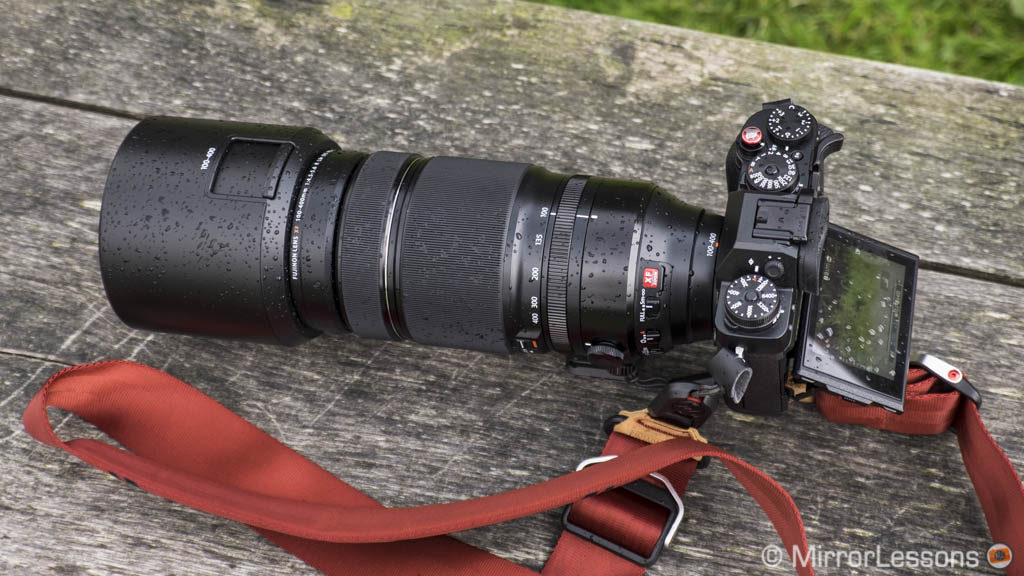 For now there is only one true lens designed for wildlife and that is the XF 100-400mm f/4.5-5.6. It is excellent concerning sharpness, autofocus speed and optical stabilisation but those who seek faster options or prime lenses need to wait for future releases. There are two teleconverters that also work with the XF 50-140mm f/2.8 but to get the most reach, you need to use the TC 2.0x which decreases the fastest aperture to f/5.6. At that point, the 100-400mm becomes the better solution. The 55-200mm f3.5-4.8 is a decent lens but can feel a little bit short, doesn't have the fastest AF motor and lacks weather-sealing.
Another thing worth mentioning is that while the camera is definitely lighter and more compact than a DSLR, the XF 100-400mm isn't any smaller than the Canon equivalent for example. So if you are considering switching over to Fujifilm to reduce the weight of your gear, keep in mind that the advantage is lost with some telephoto lenses.
Once the XF 200mm f/2 hits the market next year, it will probably become the best choice in terms of overall quality and its fast aperture will make it a great solution with the two teleconverters because you won't lose too much light.
Why the Fujifilm X-T2 can be an interesting choice for wildlife and bird photography:
excellent AF performance and very useful settings
good image quality and high ISO performance
up to 11fps with optional battery grip
good ease of use thanks to the various buttons and dials
full weather-sealing and dual SD card slot
To consider:
an optional grip would improve the handling with large lenses
live view only goes up to 5fps
the camera can go as fast 14fps with the electronic shutter but distortion is visible
excellent 4K video quality but lacks more advanced/pro settings
as of now the choice of lenses is limited
The Math:
Best kit: X-T2, XF 100-400mm and TC 1.4x ($3950 / £3180 / €3750)
Affordable kit to begin with: X-T2 and XF 55-200mm ($2300 / £2000 / €2320)
Check the price of the Fujifilm X-T2 on Amazon | Amazon UK | B&H Photo | eBay
Used Fujifilm gear on MPB US | MPB UK
---
Choice #4: Sony a6300/a6500
E-mount system – 24MP APS-C sensor – 11fps (C-AF)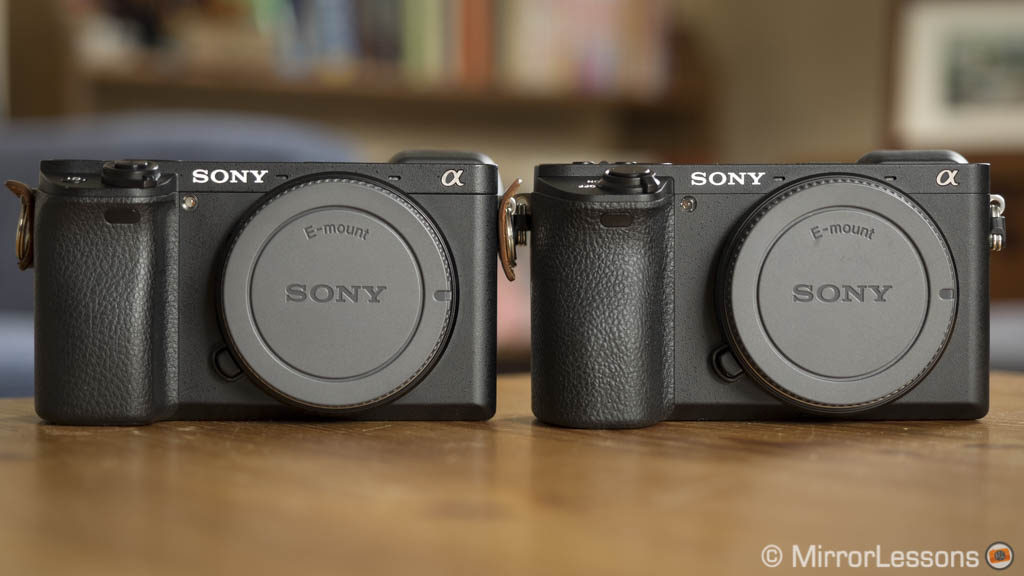 The Sony a6000 series isn't my favourite as far as ergonomics and ease of use are concerned. Certainly the size can be an advantage for other genres but when using larger lenses, you inevitably feel a lack of balance and wish for a larger grip, in addition to more buttons and dials to control the most important settings.
That said, there are advantages worth considering. First is the price: the a6300 can be found for around $1000 which is the cheapest option available on this list.
Then we have the autofocus system which, with its 425 phase detection points, is on the same level of the Fujifilm X-T2 in terms of performance. My average keeper rate for BIF is around 75%-85%. The cameras offer useful settings for the AF areas, as well as effective 3D tracking (Lock-On AF).
The continuous shooting speeds go up to 11fps or 8fps if you want live view in the EVF. Though the viewfinder is smaller than those of the other cameras listed here, it makes up for it with good clarity and a fast refresh rate (120fps). The 4K video quality is excellent and there are lots of useful settings for advanced video makers but rolling shutter can be severe when panning quickly.
The a6300 and a6500 are very similar in most respects including the excellent 24MP APS-C sensor but there are a few differences worth mentioning. First the grip on the a6500 is slightly more prominent. Second the buffer capabilities of the latter are much better than the a6300. Finally the a6500 features in-body 5-axis stabilisation but in our tests we found no concrete benefit when using OSS lenses.
Additional read:
Amongst the negative things to point out, there is the short battery life and the lack of an official battery grip, although some third-party manufacturers such as Meike provide one. The cameras offer resistance against dust and moisture but aren't freeze proof.
Finally we have the lenses. Sony hasn't released any new lenses for the E-mount APS-C system for three years now: the best option is probably the E 55-210mm which is also the cheapest lens but it doesn't offer the best optical quality nor the longest reach. The good news is that Sony has been putting lots of effort into creating new lenses for its full-frame mirrorless system. Because the mount is the same, you can benefit from the 1.5x crop factor. Here is the selection thus far:
FE 70-300mm f/4.5-5.6 (105-450mm equivalent)
FE 100-400mm f/4.5-5.6 GM (150-600mm, 210-840mm f/7.1-8 with TC 1.4x, 300-1200mm f/10-11 with TC 2.0x)
FE 70-200mm f/2.8 GM (105-300mm, 147-420mm f/4 with TC 1.4x, 210-600mm f/5.6 with TC 2.0x)
FE 70-200mm f/4 (105-300mm)
E 55-210mm F4.5-6.3 OSS (82.5–315mm)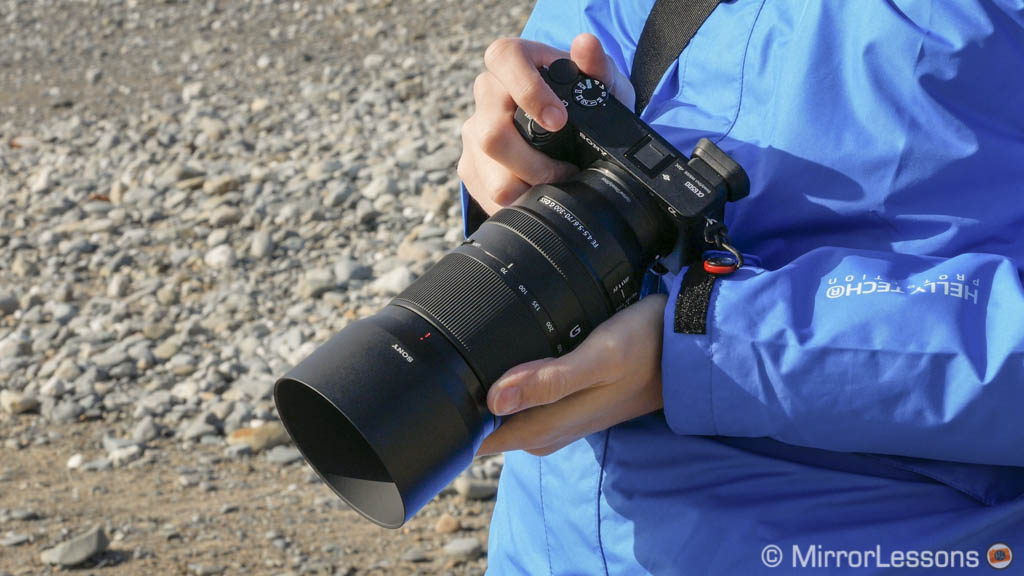 Here the best choice is the new 100-400mm G Master but like most Sony lenses, it comes at a rather expensive price in comparison to other offerings which cancels out the advantage of a cheaper camera body. I used the FE 70-300mm with good results but it can feel short in some situations.
Thanks to its phase detection system, the cameras work with Sony A-mount and Canon EF-mount lenses when paired with a compatible adapter. The AF performance is good but not as fast as with native E-mount lenses. I performed different tests but in my opinion, this is not a solution worth considering if wildlife is your main interest. The cameras becomes unbalanced when used with large and heavy lenses and at this point it makes more sense to consider a native DSLR system instead. There are a few exceptions such as the new Sigma 100-400mm f/5-6.3 which looks quite compact but I haven't tested it yet.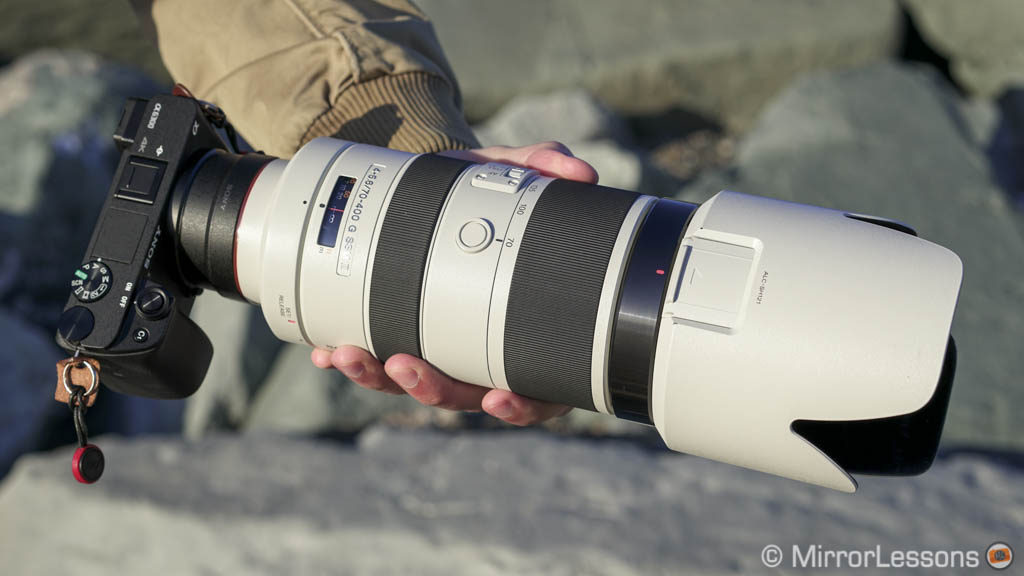 Why the Sony a6300 or a6500 can be an interesting choice for wildlife and bird photography:
great autofocus performance
excellent image quality
continuous live view up to 8fps
burst speed up to 11fps with AE/AF Tracking
both the a6300 and a6500 are the cheapest options on the list
excellent video capabilities
To consider:
ergonomics and ease of use are not their strongest points
battery life is short but you can find third-party battery grips
Sony lenses are more expensive in comparison to competitor brands
AF is good with adapted lenses (A-mount, EF-mount) but the combo feels unbalanced with most lenses
The Math:
Best kit: a6300, FE 100-400mm GM and TC 1.4x ($3950 / £3900 / €4400)
Affordable kit to begin with: a6300 and FE 70-300mm ($2000/£2050 / €2300)
Note: add $400, £550 or €590 for the a6500.
Check price of the Sony a6500 on Amazon | Amazon UK | B&H Photo | eBay
Check price of the Sony a6300 on Amazon | Amazon UK | eBay | B&H Photo
Used Sony gear on MPB US | MPB UK
---
Choice #5: Panasonic GH5
Micro four thirds system – 20MP sensor – 12fps (S-AF), 9fps (C-AF), 30fps to 60fps with 6K/4K Photo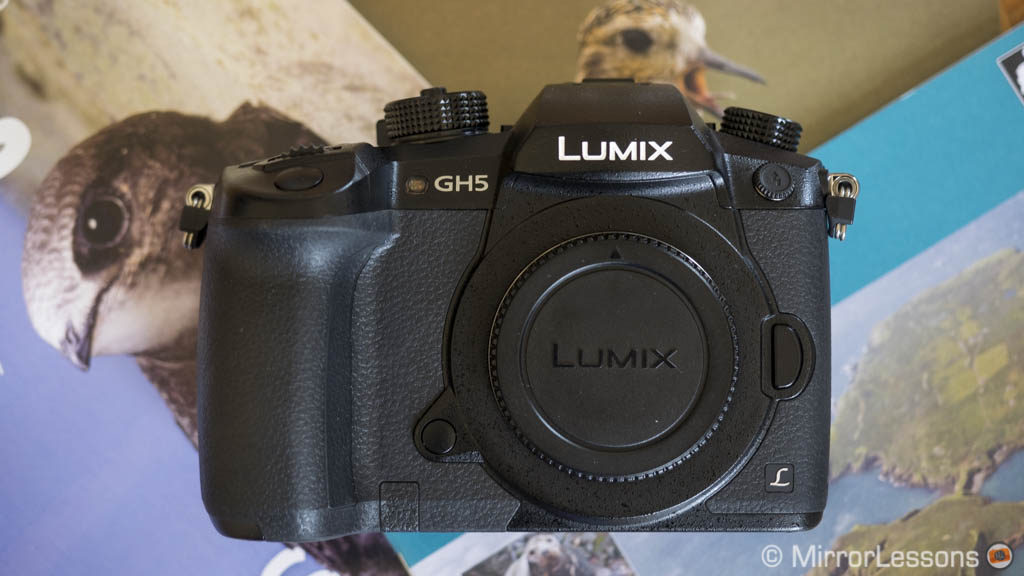 From an ergonomics point of view, the Panasonic GH5 is the camera that most resembles a DSLR and there is a good reason this type of design has been successful over the years. It features a solid and comfortable grip and is completely weather-sealed. There are lots of buttons, dials, an AF joystick and up to 20 function buttons (4 of them are virtual on the LCD screen). We find a dual SD card slot with UHS-II compatibility as well. Honestly it is one of the best mirrorless cameras I've ever tested when it comes to controls and ease of use. The battery life is also excellent.
The continuous shooting speed goes up to 12fps or 9fps with continuous AF and the buffer capabilities are excellent. The electronic viewfinder has the best resolution (3.68M dots) and a decent refresh rate (60fps). Live view is available up to 9fps. The image quality is very similar to the E-M1 II when it comes to dynamic range and high ISO.
The GH5 features in-body stabilisation with 5-axes as well. The performance is not as good as the Olympus camera but it delivers very good results. Combined with many Lumix lenses, you can take advantage of both sensor and optical stabilisation (Dual IS) which makes the camera usable hand-held with long focal lengths.
The Panasonic camera was designed with professional filmmakers in mind and I have no doubt that its stunning 4K and slow motion capabilities can make it a good companion for wildlife documentaries. At the time of publishing this article, I've already collected many video samples: the quality is really excellent and again the user friendly interface makes the experience really pleasant. Dual IS is effective for video as well. More than any camera mentioned in this article, this is definitely the one I would choose for wildlife video work.
The GH5 doesn't share the same continuous shooting speeds with full sized RAW files as the E-M1 II but it has an interesting alternative called 6K and 4K Photo. It takes advantage of its video capabilities to record a video clip at 30fps (6K) or 60fps (4K) and lets you save any frame you want (18MP with 6k and 8MP with 4K) in playback mode. If you select the Start and Stop mode you don't have any buffer limitations since the camera records a video. With the Pre-burst mode the camera saves 30 or 60 frames before and 30 or 60 frames after the shutter button is fully depressed. Similar to the Olympus Pro Capture mode, it raises your chances of framing the perfect moment in a very fast-paced situation.
The mode has some limitations that are important to be aware of. First because the picture is extracted from a compressed video file, you can only save a JPG image which means you won't have much flexibility in post. Second this mode uses the electronic shutter so distortion can appear in your image.
Thanks to all the excellent features described above, the Panasonic GH5 almost made it to the top of my list. It handles everything perfectly with one exception: birds in flight.
The GH5 features a new version of its DfD (Depth from Defocus) contrast detection technology with 225 points and the good news is that it is a relevant improvement over the previous generation (GH4, G85, G7, etc). In most situations where the subject is static or moves at a slow pace, you won't have any problems. However as soon as birds in flight and other fast-moving animals come into the picture, the camera struggles. I managed to capture good images but overall the keeper rate was poorer than any other camera on this list (between 40 and 55%). The main difference between it and other cameras that use phase detection AF is that it struggles to lock onto a moving subject and can easily misfocus or focus on the background instead. Backlit situations as well as scenes with less contrast can also challenge the camera.
That said, there is a great variety of AF areas to choose from and many settings to fine-tune the AF performance. With the right combination you can improve the results a little but overall they remain below the average of Olympus, Fujifilm and Sony cameras.
The lens list is the same as that of the E-M1 II:
Leica DG 100-400mm f/4-6.3 (200-800mm)
Leica DG 200mm f2.8 (400mm equivalent, 560mm f/4 with TC 1.4x, 800mm equivalent with TC 2.0x)
Lumix G 100-300mm f/4.5-5.6 II (200-600mm)
Olympus 300mm f/4 Pro (600mm equivalent, 840mm with TC 1.4x teleconverter)
Olympus 40-150mm f/2.8 Pro (80-300mm, 112-420mm with teleconverter)
Lumix G 45-200mm f4-5.6 II (90-400mm)
Olympus 75-300mm f/4.8-6.7 II (150-600mm)
Note: the DfD autofocus system of the GH5 doesn't work with Olympus lenses. The camera can still use all its autofocus options but the performance is slower and less accurate, especially with moving subjects. What's more, Dual IS isn't compatible with Olympus lenses.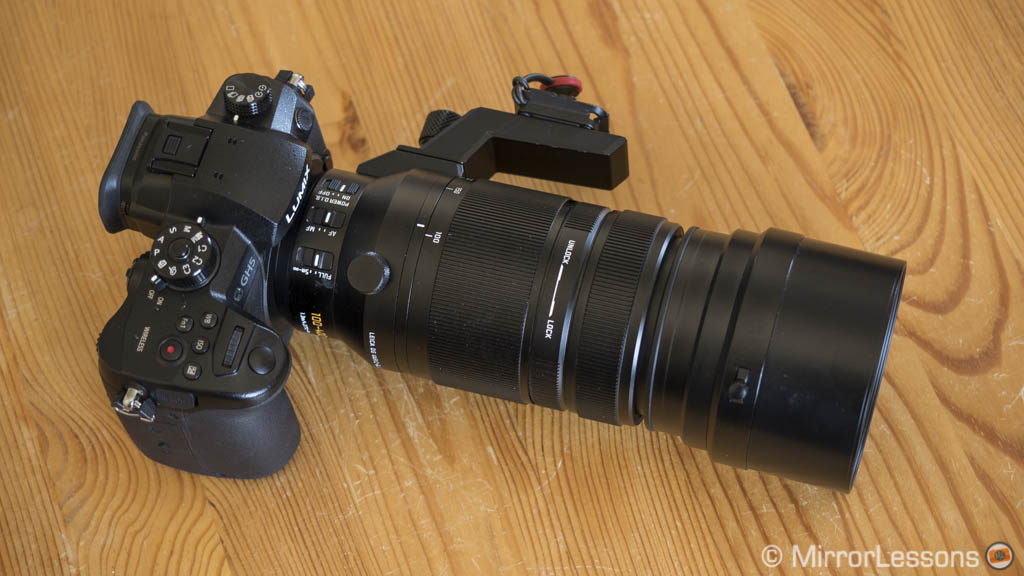 Why the Panasonic GH5 can be an interesting choice for wildlife and bird photography:
up to 9fps with continuous AF and live view
6K/4K Photo gives you 30fps/60fps and the option of pre-recording 30 or 60 frames
excellent image stabilisation system
full weather-sealing, great battery life, dual SD card slot, optional battery grip
Micro Four Thirds has the best selection of lenses of all mirrorless systems
professional video quality with tons of options including 180fps in 1080p
To consider:
the AF does a good job in most situations but struggles with fast subjects such as birds in flight
the AF performs best with Panasonic lenses
6K Photo allows you to save an 18MP JPG only (no RAW)
if you are not interested in superior video capabilities, there can be better options to consider
The Math:
Best kit overall: GH5 and Leica DG 100-400mm ($3800 / £3000 / €3480)
Affordable kit: GH5 and 100-300mm II ($2650 / £2270 / €2650)
Note: since the price of the GH5 and E-M1 II are almost identical, the calculations made before with the Olympus Pro lenses are valid for the GH5 as well. Remember that DfD AF and Dual IS are not compatible.
Check price of the Panasonic Lumix GH5 on Amazon | Amazon UK | eBay | B&H Photo
Used Panasonic gear on MPB US | MPB UK
---
Promising new releases
Sony A7r mark III
As you'll see further down, my experience with A7r II for BIF has been a good one despite the limited buffer and continuous shooting speeds of the camera. Its successor – the A7r III – promises a faster autofocus and better specs for the genre including double the speed at 10fps with AE and AF Tracking, more buffer memory, a higher resolution viewfinder and live view with blackouts up to 8fps. Granted the specs are not as impressive as those of the A9 but the advantage of the A7r III is its stunning 42.4MP sensor. Not only is it one of the best on the market, but it also gives you more room for cropping. We have one on pre-order and will definitely put it to test for wildlife photography.
Additional read:
Panasonic G9
The Lumix G9 is Panasonic's answer to the E-M1 mark II. It can shoot up to 60fps or 20fps with continuous AF and the electronic shutter. It comes with an updated version of the GH5's AF system and that is really the only test that will either promote or demote this camera for wildlife. If it performs like the GH5, then it's not completely ready yet. If it does better than the GH5, then it could be a serious competitor. Plus everything else on this Panasonic looks great including a massive viewfinder with 3,680k dots and 0.83x magnification, a larger front grip, a top LCD screen and a dual SD UHS-II card slot. We hope to try one soon!
---
About other mirrorless cameras
Before wrapping up, I'd like to take a moment to briefly mention some other cameras I've used for wildlife photography. I don't consider them the best option if this genre is your main priority but some of them can now be found for $1000 or less while others offer other advantages.
Olympus OM-D E-M1
I started to get more serious about wildlife and BIF while using the original E-M1 and testing the 300mm Pro lens. The AF doesn't lock as fast as the E-M1 II and is more inconsistent but if you aren't interested in fast moving subjects, it remains an interesting solution for those on a budget. It can shoot up to 9fps with live view, has excellent image stabilisation and is fully weather-sealed. Note that the camera is soon to be discontinued but you may still find deals online or on the second-hand market.
Additional read:
Panasonic GX8 and G85
I had the chance to take wildlife pictures with various Panasonic cameras. They offer good stabilisation and have a robust build quality but the main limitation is the DfD AF system with BIF and fast subjects. It simply isn't as good as other cameras but for more static situations, they work well and you can take advantage of extra features like 4K Photo and the good video capabilities.
Fujifilm X-Pro2
I got very good results with the X-Pro2 since its AF system is the same as the one found on the X-T2. Furthermore, the optical viewfinder and its display options proved a good ally for BIF, mimicking the use of a red dot sight (more info here). I wouldn't recommend the camera for this genre primarily but if you are interested in Fuji gear, perhaps it could be an interesting back-up option.
Additional read:
Sony A7r II
The 42MP full frame sensor of the A7r II not only gives you stunning dynamic range but also more room for cropping thanks to the higher resolution. The hybrid AF system is fast and reliable and it performed reasonably well with adapted DSLR lenses. However the maximum speed is just 5fps without live view and the buffer is short. It can work but the camera has mainly been designed for other things. A similar reasoning applies to the A7 II minus the higher resolution advantage.
---
Conclusion
The truth is that DSLRs still rule if you are looking for the best autofocus performance and a wider selection of camera bodies and lenses for every need and budget. However it isn't the only camera system that can give you excellent results in this field these days.
Products like the Sony A9 have already closed the gap in terms of AF performance and are reaching new heights when it comes to continuous shooting speeds, the electronic viewfinder and the shutter mechanism. In fact, all four mirrorless brands are working hard to push the boundaries further than ever before. They may not yet have a complete offering for wildlife photographers but it's only a question of time.
Whether you already invested in a DSLR or are new to the genre, I feel that Micro Four Thirds remains the most interesting solution because of the reduced weight and size, wider selection of lenses and additional choice for people on a budget.
Although Sony provides the best products when it comes to quality and speed, they are still lacking a little in terms of ergonomics and ease of use in comparison to the competition. The flagship A9 is also more expensive than any other mirrorless camera for this genre. The lens selection isn't bad but they can be pricey too.
As for Fujifilm, the brand offers excellent autofocus capabilities and image quality but we still need more lenses for the system to be complete.
You may also like:
---
---