Fujifilm established itself as one of the main mirrorless players back in 2013 with the release of the X-Pro1 and has since gone from strength to strength with popular models such as the X-T1, X-T2 and most recently, the flagship X-H1.
The main feature that sets the X-H1 apart from the rest of the Fuji family is the inclusion of in-body stabilisation, a feature it shares with many other high-end mirrorless models including Nikon's brand new Z6. However, unlike the X-H1 whose sensor is APS-C sized, the Z6 comes with a full-frame sensor.
Of course this isn't the only way in which they differ, so if you're curious to know more, keep on reading this comparison preview!
Nikon Z comparison previews:
Z6 vs Z7 – Z6 vs EOS R – Z6 vs A7 III – Z7 vs A7R III – Z6 vs A9
Z6 vs D750 – Z7 vs D850 – Z6 vs X-H1 – Z6 vs X-T3
What they have in common:
24MP resolution (24.5 on the Z6 / 24.3 on the X-H1)
0.5-inch OLED viewfinder with 3690k dots of resolution (X-H1 = 0.75x / Z6 = 0.8x magnification)
weather-sealed construction
five axis in-body stabilisation with 5 stops of compensation
first electronic curtain and electronic/silent shutter
4K video recording up to 30fps
ø3.5mm microphone input
WiFi and Bluetooth
HDMI (Mini Type C on the Z6, Micro Type D on the X-H1)
---
Ethics statement: the following is based on our hands-on experience with the Nikon Z6 and our two-week experience with the X-H1. We were not asked to write anything about these products, nor were we provided any other compensation of any kind. All opinions we express regarding these products are our own. Within the article, there are affiliate links. If you buy something after clicking one of these links, we will receive a small commission. To know more about our ethics, you can visit our full disclosure page. Thank you!
---
1. Mount and lenses
Camera mounts don't always make the list of star features but in the case we're talking about two different systems with different mount and sensor size so it is worth a mention.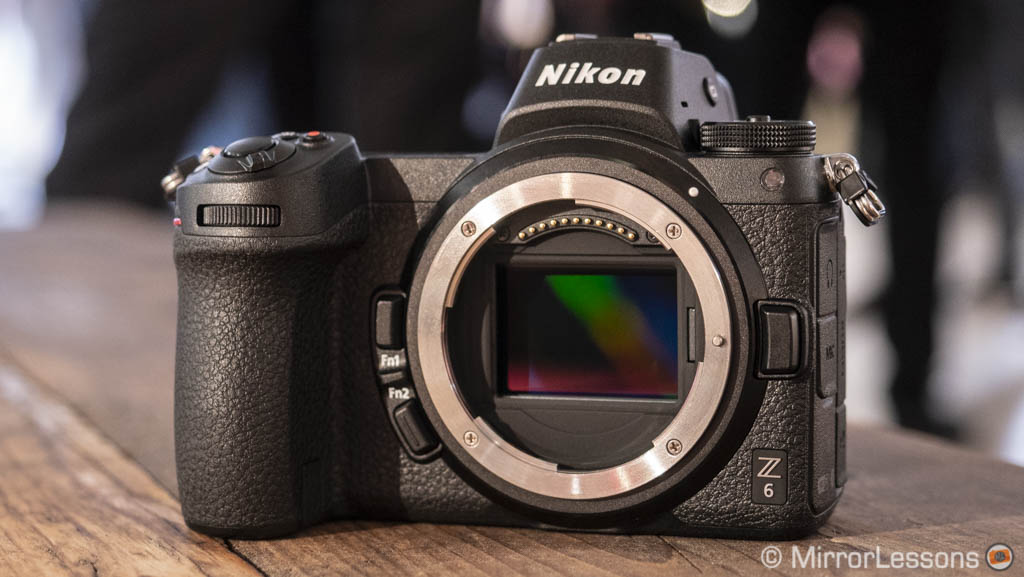 The new Z mount, with a diameter of 55mm, is larger than Nikon's old F-mount (44mm). The reason for the Nikon's extra large mount is simple: they want to prepare their cameras for the forthcoming arrival of advanced Z optics, many of which promise an aperture as fast as f/0.95. At the moment, there are just three native lenses for the camera – two primes (35mm f/1.8 S and 50mm f/1.8 S) and one zoom (24-70mm f/4) – but a Noct 58mm f/0.95 and five additional lenses are already in the works.
Naturally the X-H1 has a smaller mount since the sensor is smaller but it can be considered large in its class (44mm). The flange distance (sensor to mounting flange) is shorter on the Z camera however (16mm vs 17.7mm).
Also available for purchase with the Z6 is the new FTZ adapter which will offer full compatibility with 93 Nikkor lenses or partial functionality with more than 300 lenses. In the brief time we spent with this adapter, we found that it was quick and reactive and didn't cause the lens to hunt back and forth for the right focus point. Thanks to the adapter, current Nikon DSLRs users won't have to sell all their FX lenses straight away if they choose to switch to the Z6. Instead they can gradually replace their collection as Nikon expands the Z range.
The Fujifilm X series, having been around for over five years, now has a complete catalogue of high quality optics including a fast telephoto prime (XF 200mm f/2) and the most recent roadmap promises an XF 33mm f/1 prime due to arrive in 2019.
---
2. Sensor size and type
Along with having different sized mounts, the Z6 and X-H1 also have different sized sensors. The Z6 has a full-frame sensor with BSI (backside illumination) whereas the X-H1 has an APS-C X-Trans CMOS III sensor. Both have a resolution of approximately 24MP.

Larger sensors are advantageous when it comes to dynamic range and controlling noise but the differences aren't always as big as you might think. As always, we'll reserve judgement until we receive our sample of the Z6 and compare it directly to the latest Fujifilm models.
The X-H1 uses an X-Trans sensor whose irregular colour array prevents moiré from appearing. It also lacks a low pass filter. X-Trans RAW files require more powerful post-processing than Bayer files and the results can vary from software to software, which is one of the main caveats of the system for some. The Z6 has a low pass filter.

---
3. Memory card slots and type
When manufacturers first started designing mirrorless cameras, every model including those intended for more professional use featured a single memory card slot. However it didn't take long for professional photographers and advanced users to start campaigning for the dual memory card slots found on professional DSLR bodies, which is precisely what the Fujifilm X-H1 has. Both are SD slots, one of which is UHS-II compliant.
Strangely Nikon opted for a single slot on both its new Z models and what's more, it is an XQD type rather than the standard SD type. This decision caused something of an uproar amongst mirrorless users who consider this feature essential to their work.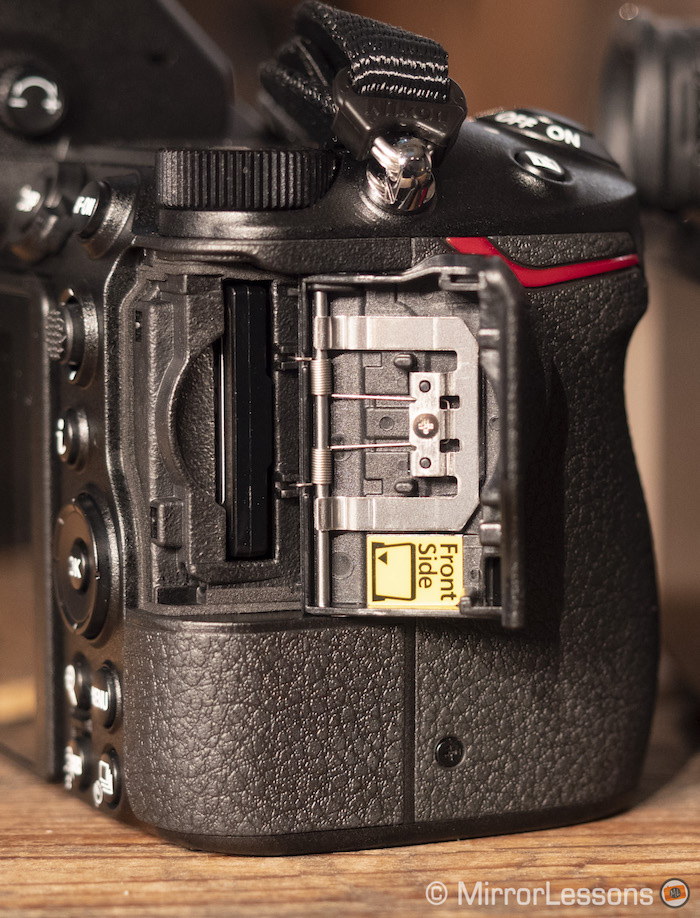 ---
4. Design
Memory card slots aside, there are also a few other design differences between the two cameras.
For starters, the Fujifilm has two stacked dials: one for shutter speed and metering and a second for ISO speed and drive modes. The Z6 by comparison has just one PSAM dial on the top plate, although Nikon has made amends by giving all native Z lenses a handy function ring that can be customised to change the aperture, manual focus or exposure compensation.

Interestingly the weight of the two cameras is very similar but on the whole, the X-H1 has marginally larger dimensions.
Nikon Z6: 675g | 134 x 100.5 x 67.5mm
Fujifilm X-H1: 673g | 139.8 x 97.3 x 85.5mm
Both cameras boast a range of useful buttons, many of which are customisable. They have twin control dials to adjust exposure, as well as an AF joystick on the rear to change the position of the autofocus point, and a hot shoe on top of the EVF.

Whereas both have a ø3.5mm microphone input, only the Z6 has a ø3.5mm headphone output as well. To gain access to a headphone output on the X-H1, you have to buy the dedicated vertical battery grip for the camera.
A useful control found on the Z6 is the still/video mode switch, while the X-H1 offers a handy focus switch on the front that lets you quickly jump between S-AF, C-AF and MF.
---
5. Rear monitor
Both cameras have a touch sensitive LCD monitor with a tilting mechanism to help you compose at awkward angles. There are however a few differences between them.
The first regards the tilting mechanism itself. Whereas the Nikon's screen can only tilt up and down, the X-H1 has a three-direction tilting screen that moves up, down and to the side for portrait shooting.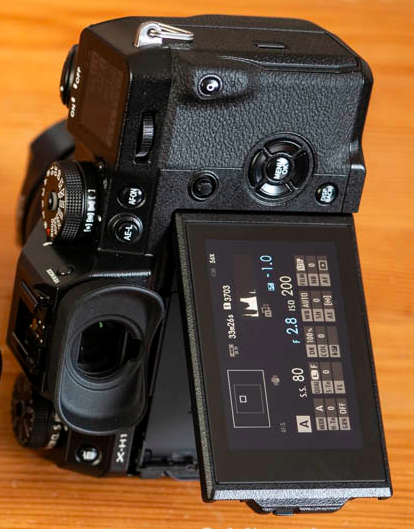 That being said, the Z6 has a larger screen (3.2-inches vs 3-inches) and much more resolution (2.1M vs 1.04M dots). Both cameras come with a separate screen on the top plate that displays your current settings.
On the Nikon, you can use the rear LCD to move the AF point, take a shot, navigate the menu and change settings. The Fuji allows you to move the AF point, take a shot and change settings in the Q menu.
---
6. Autofocus system
The Z6 features a hybrid autofocus system with 273 phase detection points organised across 90% of the sensor. It has a minimum sensitivity of -4Ev with an f/2 lens.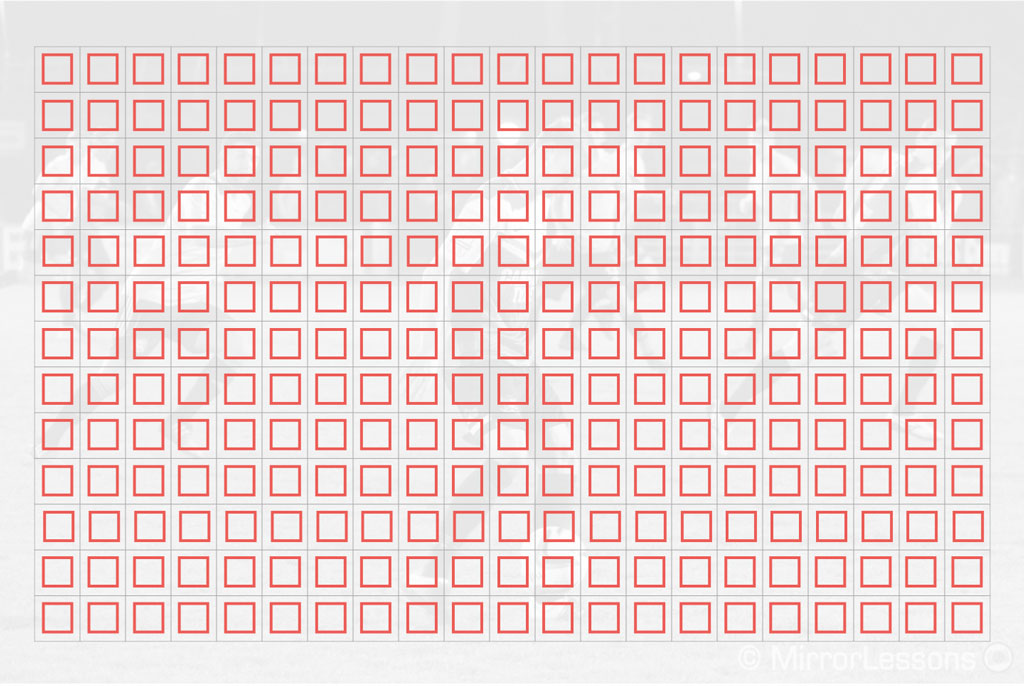 Our brief hands-on with the Nikon camera at the press event left us with a positive impression: the AF was quick and reactive, even when using the new FTZ adapter with Nikkor lenses. Face detection didn't always work properly however. Of course it is too soon to draw any final conclusions, especially since we were working with pre-production models, but we sincerely hope the performance will live up to that of other mirrorless models.
The X-H1 also uses a hybrid autofocus system but with 91 points that can be selected from a 13×25 grid (325 points) in certain shooting modes. The central points (49 or 169) are phase detection areas.
Both cameras allow you to manually customise the sensitivity and speed of the C-AF performance. The AF-C Custom Settings on the X-H1 allow you to configure three separate parameters (tracking sensitivity, speed tracking sensitivity and zone area switching) or choose between five presets designed for different types of moving subjects (accelerating/decelerating speed, ignore obstacles, etc.)
---
7. Continuous shooting speed and shutter speed
The X-H1 has a maximum continuous shooting speed of 8fps with the mechanical shutter, unless you boost the speed to 11fps by attaching the optional VPB-XH1 battery grip. To have live view with blackouts, you have to reduce the speed to 6fps. With the electronic shutter, you can reach 14fps with or without the vertical battery grip.
The Z6 can shoot at a maximum of 12fps with exposure locked on the first frame. If you want live view with blackouts, you need to reduce the speed to 5.5fps.
Then there is the maximum shutter speed: both can reach a maximum of 1/8000s but only the X-H1 is able to take advantage of the electronic shutter to increase it to 1/32000s.
---
8.  Buffer depth
According to the official specifications, the X-H1 has a buffer depth of 83 frames in JPG format or 33 in lossless RAW format. In our real world tests, we found that we could shoot an endless burst in JPG format but once we switched over to RAW, it slowed down to 5fps after 4 seconds, 3fps after 15 seconds and occasionally paused for 1 second to catch its breath.
Nikon hasn't revealed the buffer depth specifications of the Z6, but what we saw at the launch event didn't really impress us. The camera slowed down quickly after a few seconds even when shooting in JPG mode. That said, I'll reserve judgement for when I have a final copy of the camera in hand.
---
9. Video quality
Both the Z6 and X-H1 can record in 4K Ultra HD (3840 x 2160) at a maximum of 30fps. The Z6 has a bitrate of 100Mbps whereas the X-H1 goes up to 200Mbps. What's more, the Fujifilm can record in Cinema 4K (4096 x 2160) at 24 or 23.98fps.
In 1080p, the both cameras can record at up to 120fps for slow motion footage but once again the X-H1 offers a faster bitrate of 200Mbps.
Both cameras have a flat profile for video, called N-Log on the Z6 and F-Log on the X-H1. It is only available via HDMI on the Nikon camera.
The X-H1 records internally with an 8-bit 4:2:0 compression, and can output an 8-bit 4:2:2 signal via the HDMI port. The Z6 also records internal 8-bit video but it allows you to output 10-bit 4:2:2 to an external recorder.
The Fujifilm has a new Film Simulation Mode called Eterna, which is the first they've developed especially for video use. It is designed to give a cinematographic look to your footage thanks to its soft colours and tones. It can be used with the DR400% setting which gives an equivalent 12 stops of dynamic range and more room for colour grading.
Both cameras offer full pixel readout – the Nikon by using the entire width of the sensor and the Fujifilm by slightly cropping the sensor (1.17x).
---
10. Price
This final difference could easily be the deciding factor for many potential users of either camera.
At nearly $2000, the Z6 body is more than $300 more expensive than the X-H1. If you buy either camera in a bundle with a zoom, the price goes up to approximately $2750 for the Z6 (with the 24-70mm f/4) or $2850 for the X-H1 (with the XF 16-55mm f/2.8). The Z6 with the FTZ adapter on the other hand will set you back around $2150 and adding the vertical battery grip to the X-H1 will raise the price to $1950.
---
Conclusion
Nikon Z comparison previews:
Z6 vs Z7 – Z6 vs EOS R – Z6 vs A7 III – Z7 vs A7R III – Z6 vs A9
Z6 vs D750 – Z7 vs D850 – Z6 vs X-H1 – Z6 vs X-T3
In many of the most important ways, the Nikon Z6 and Fujifilm X-H1 are very similar. Both have a rugged weather-sealed body with excellent ergonomics, lots of buttons and dials and a very comfortable grip. In addition to 5-axis in-body stabilisation, they also share a hybrid autofocus system, a tilting LCD with touch sensitivity, a large and bright EVF, 4K video up to 30fps and WiFi/Bluetooth connectivity.
The main difference between the two is of course the sensor, which may be enough to sway your decision in favour of the Nikon camera if you're after the full-frame look. But to be fair to the Fujifilm camera, it delivers excellent image quality and has a tried-and-tested autofocus system, not to mention that it is more affordable and currently has a wider selection of native glass.
---
Check price of the Nikon Z6 on
Amazon | Amazon UK | B&H Photo
Check price of the Fujifilm X-H1 on