Update: the article now includes a summary of our complete comparison. Scroll down to check it out and to visit the full article!
Sony has become a reference on both the mirrorless market and the digital camera market as a whole thanks to the rise of the A7 series. Just recently the company became number one on the US full-frame market, which is a clear sign that the DSLR competition is falling behind.
Sony was also the only mirrorless brand to embrace the 35mm format up until now, if we exclude Leica whose SL and M systems are much more of a niche segment.
The first real response to Sony's A7 line-up came from Nikon in the shape of the Z6 and Z7, the company's first full-frame mirrorless cameras. Nikon's decision to release two identical-looking bodies instead of one was likely inspired by Sony whose A7 III and A7r III models share the same design and numerous features but house a different sensor.
In this article, we're going to take a look at the ten main difference between the popular A7 III model and the Z6 whose resolution and price point make it a direct competitor. But first, a quick list of what the two cameras have in common:
35mm format sensor
BSI (Back-illuminated) sensor with optical low pass filter
24MP of resolution (24.5 for the Z6, 24.2 for the A7 III)
ISO 100-51200 (pull 50, push up to 204800)
Five axis on-sensor stabilisation with 5.0Ev of compensation (CIPA standard)
first electronic curtain and electronic/silent shutter
4K video recording up to 30fps with full pixel readout
120fps in 1080p with in-camera slow motion capabilities
Wifi and Bluetooth
Mic input, headphone output, USB C port, HDMI (Mini Type C on the Z6, Micro Type D on the A7)
---
Ethics statement: the following is based on our hands-on experience with the Nikon Z6 and our long-term experience with the A7 III that we currently own. A complete comparison with the two cameras is now available here. We were not asked to write anything about these products, nor were we provided any other compensation of any kind. All opinions we express regarding these products are our own. Within the article, there are affiliate links. If you buy something after clicking one of these links, we will receive a small commission. To know more about our ethics, you can visit our full disclosure page. Thank you!
---
---
1. Mount and lenses
It's not surprising to find a different mount on each camera since we're talking about two different systems designed by two different companies. However the reason I'm starting with this topic is because there is a significant difference in the dimensions. In fact the new super-sized Z mount is the primary reason Nikon decided to produce a new mirrorless system in the first place.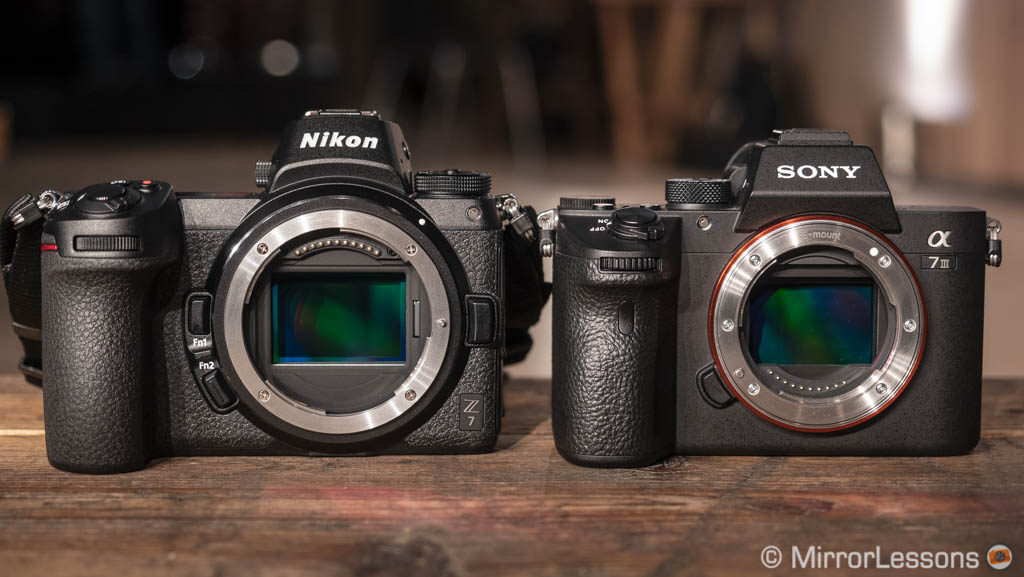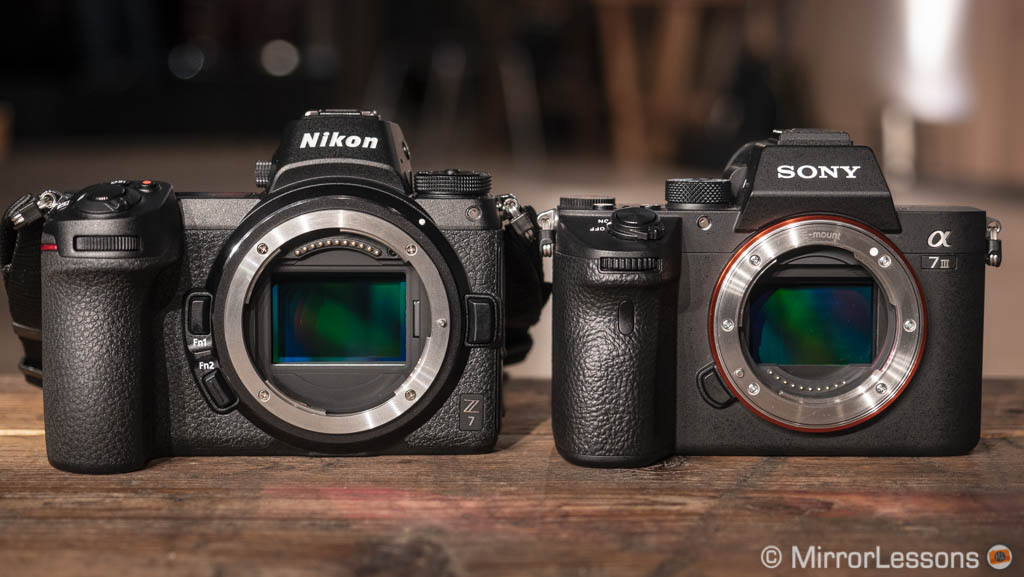 As you can see from the picture, the circle is larger on the Z6/Z7 bodies with a diameter of 55mm versus 46mm on the Sony E-mount. The flange distance (sensor to mounting flange) is 2mm shorter on the Z camera as well (16mm vs 18mm).
Nikon explained that the new mount will allow them to design a new generation of lenses with superior optical performance including a Noct 58mm f/0.95. The press team showed us the corner sharpness of an image taken with the Z 35mm lens at f/1.8 (fastest aperture) and the level of detail was indeed impressive.
Additional reading:
The lenses designed by Sony and Zeiss so far haven't disappointed, so what I'm really curious to know is how Nikon plans to push optical performance to a new level and to what degree this advantage will impact real world use. I'm also interested in seeing if Nikon will be able to keep the size of the lenses more compact. The Z 24-70mm f/4 is surprisingly small, whereas the 50mm f/1.8 is larger than the Sony equivalent. My guess is that it will vary from lens to lens and each individual optical design.
Curiously though, Nikon has also unveiled a 500mm f/5.6 DSLR telephoto which is really small for this type of lens. If Nikon is increasing its know-how on how to design smaller lenses without impacting the quality, then the Z system may certainly become very interesting indeed.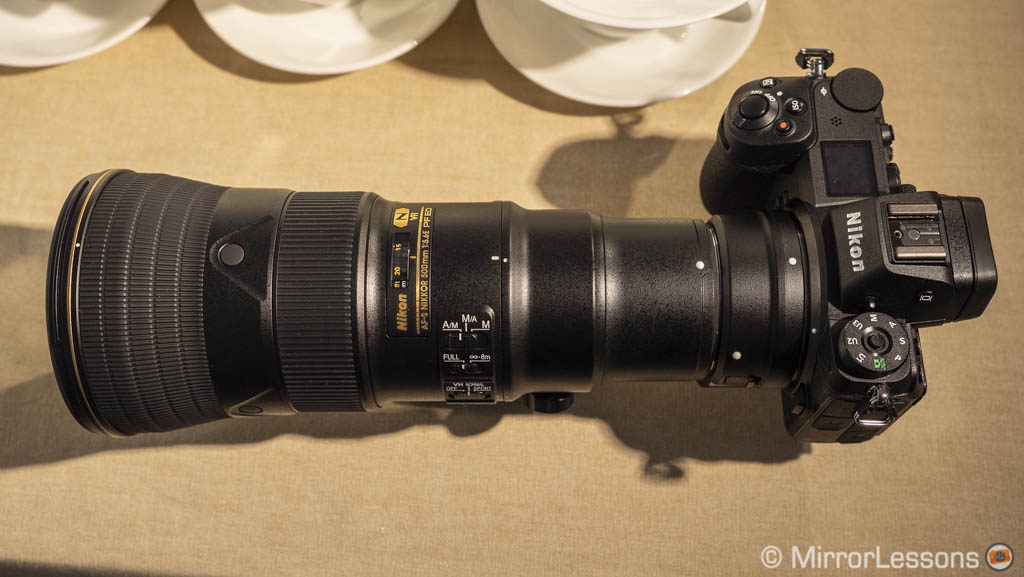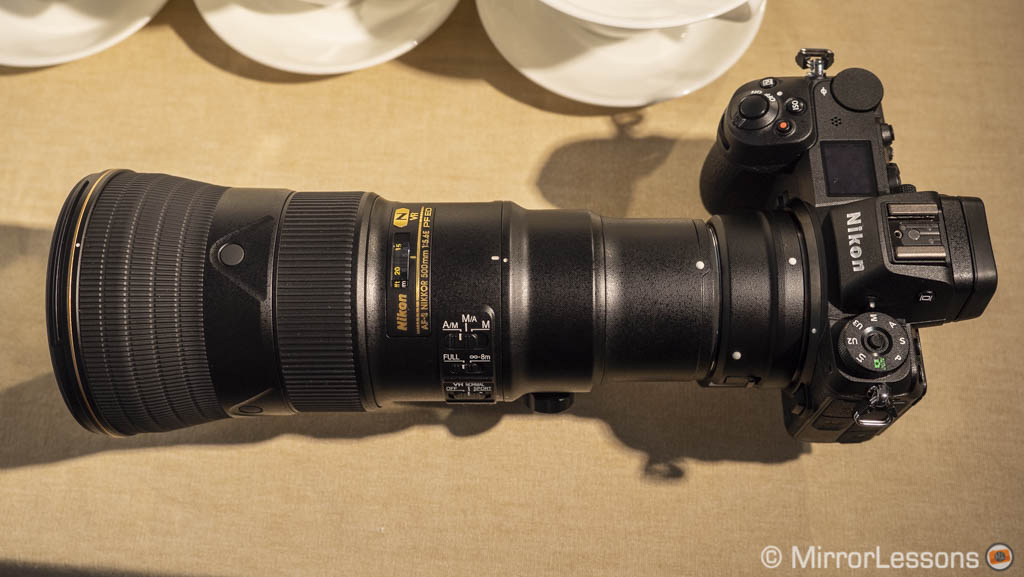 The Z system debuted with three lenses, which is a better start in terms of versatility than what Sony managed in 2013. The kit lens is a 24-70mm f/4 and we also have a 35mm f/1.8 and 50mm f/1.8. The Noct 0.95 and five additional lenses (20mm f/1.8, 85mm f/1.8, 24-70mm f/2.8, 70-200mm f/2.8 and 14-30mm f/4) are coming in 2019 and more are due in 2020 including a 50mm f/1.2, 24mm f/1.8 and 12-24mm f/2.8.
Sony has worked hard on its lens line-up over the past five years so logically it has the advantage of a more complete catalogue of native lenses, as well as support from third-party manufacturers such as Zeiss, Samyang, Tamron and Sigma. Various adapters expand the selection to many DSLR lenses from Canon, Sony and Nikon itself.
It is possible that third-party brands such as Sigma and Tamron will join the Z-mount since they're already producing many lenses for the Nikon DSLR system. That being said, according to DPreview, Nikon won't share the technical details of the Z mount so any brand interested will have to reverse-engineer it. As for the native optics, Nikon will obviously require a few years to build an acceptable range. For now, the optional FTZ adapter will give you full compatibility with 93 Nikkor lenses or more than 300 with partial functionality. The adapter left me with a positive impression. The Z6 is reactive and fast at locking onto the subject with very little hesitation or back and forth movements.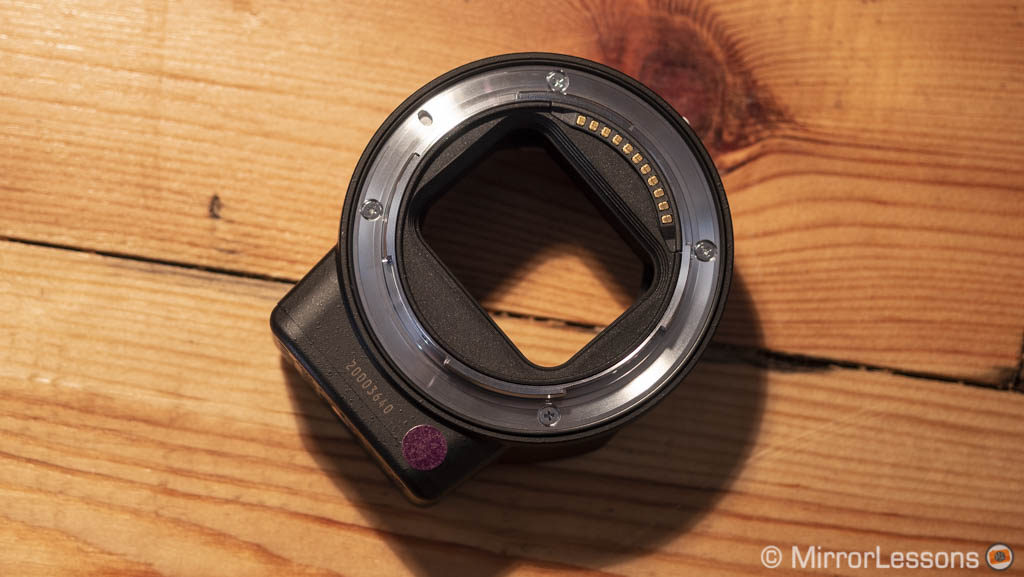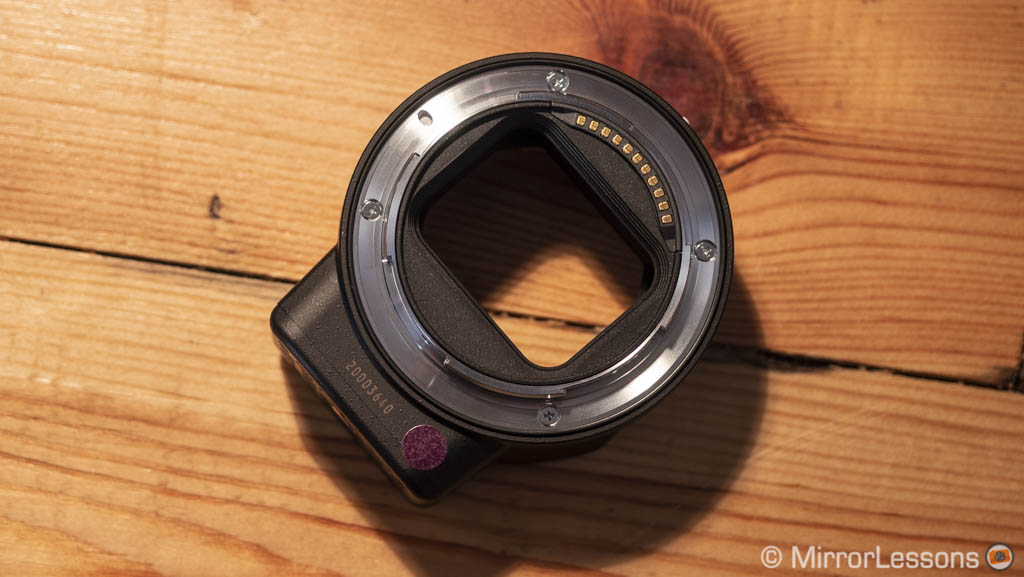 ---
2. Design and front grip
The criticism that I and many others have pointed out time and time again about the A7 III and its siblings is the small grip, which is fine with compact lenses but not comfortable enough with large lenses such as the 24-70mm f/2.8 or the 100-400mm GM. There are solutions available such as a grip extender (check our accessory list) but I've always thought that by adding a few millimetres here and there, the camera could be more comfortable straight out of the box.
Nikon has proved this theory right. The Z6 is not a lot larger than the A7 mark III, yet by adding a bulkier and larger front grip, your hand and fingers rest much more comfortably.
The difference in weight isn't huge either, with the A7 III being just 25g lighter (650g vs 675g for the Z6).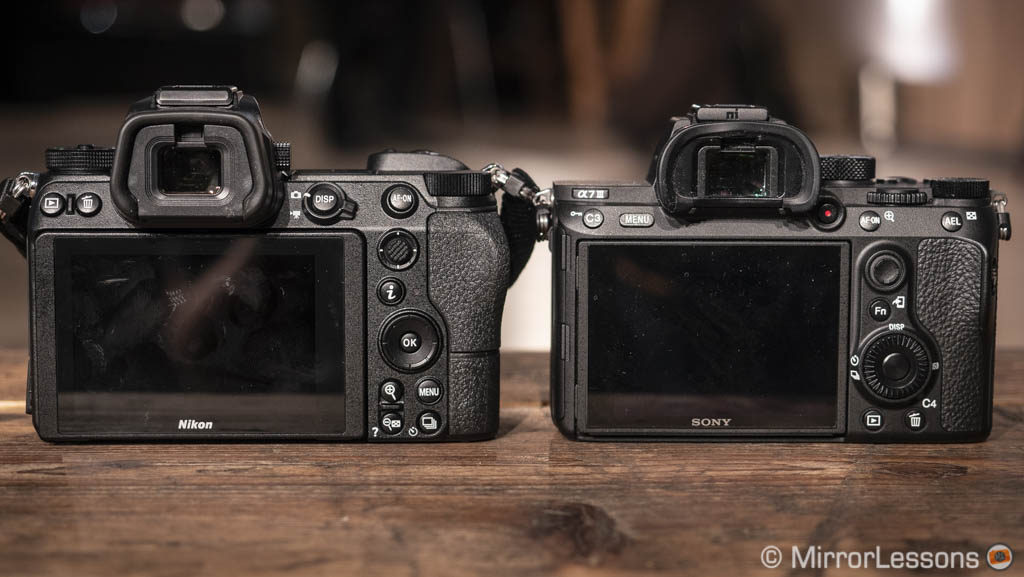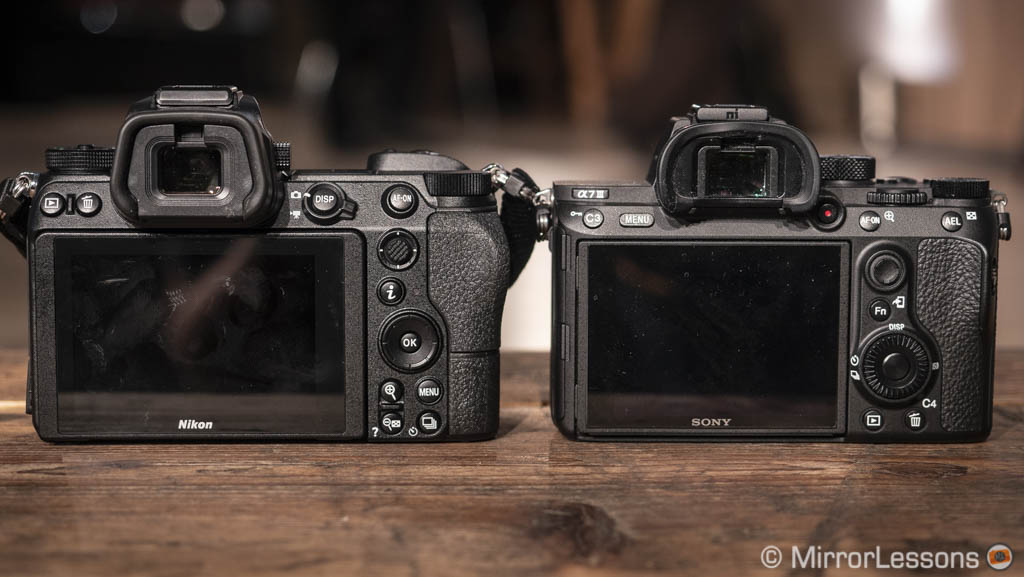 In terms of ease of use, there are a few things about the Z6 I like. First the still/video mode switch on the rear is much nicer to use than turning the main mode dial on top. The buttons are larger with a nice tactile feel and I appreciate the two Fn buttons on the front near the mount. Another cool feature is that the new Z lenses come with a function ring that can be customised to change the aperture, manual focus or exposure compensation. The focus joystick also feels a bit more reactive although I'm nitpicking here.
Both cameras come with a good number of function buttons, as well as custom modes, a personalised menu page and a quick menu that can be edited. If there is one positive I can say about the A7 III, it is that it offers a lots of room for customisation on many fronts. So even if the camera feel unintuitive at first, once you've configured to your liking, the user experience improves considerably.
---
3. Memory card slots and type
There is one design choice that surprised everybody on these new mirrorless cameras: Nikon has opted for one single XQD compatible slot. This is quite a departure from the standard SD slots we've seen on most mirrorless cameras, but also a step back after years of demand for high-end mirrorless with two card slots.
In reality the choice concerning the type of card shouldn't come as too much of a surprise since Nikon has been using this standard on other DSLRs, but it's a shame they didn't find the space to add a second slot, even if it was just the smaller SD type.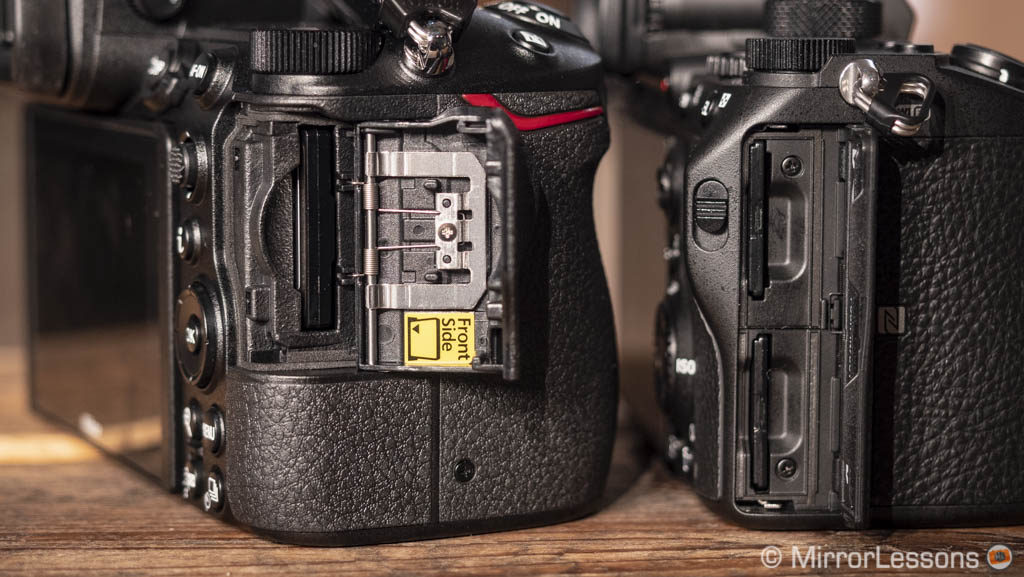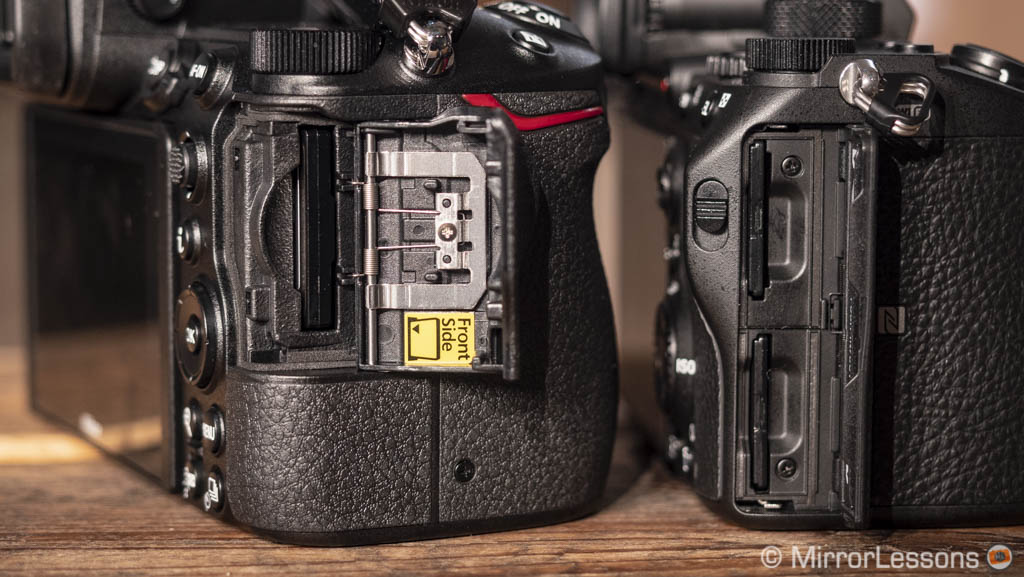 The A7 III on the other hand accepts two SD cards, with the first slot being UHS-II compliant.
On paper, the XQD standard offers faster writing and reading speeds. That being said, SD cards have improved a lot, so I can't help but think that this move from Nikon is not the most intelligent one.
---
4. Monitors and touch screen operation
Continuing with the design, we can see that the Z6 has a top monochrome OLED screen that displays the settings in use. Similar to Nikon's high-end DSLRs, this is a feature that has been implemented on other mirrorless cameras lately such as the Panasonic G9 and Fujifilm X-H1, but has yet to come to a Sony model.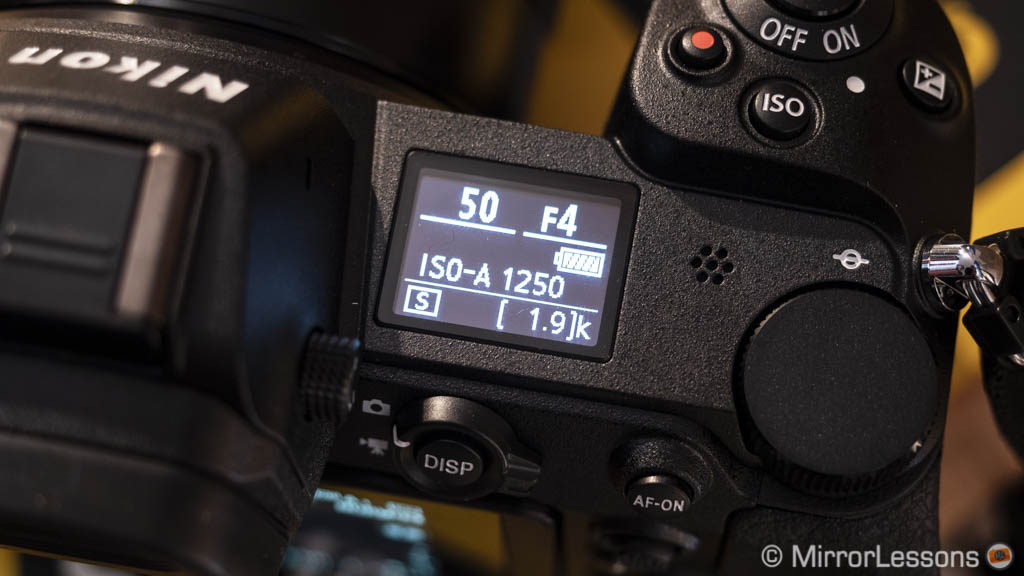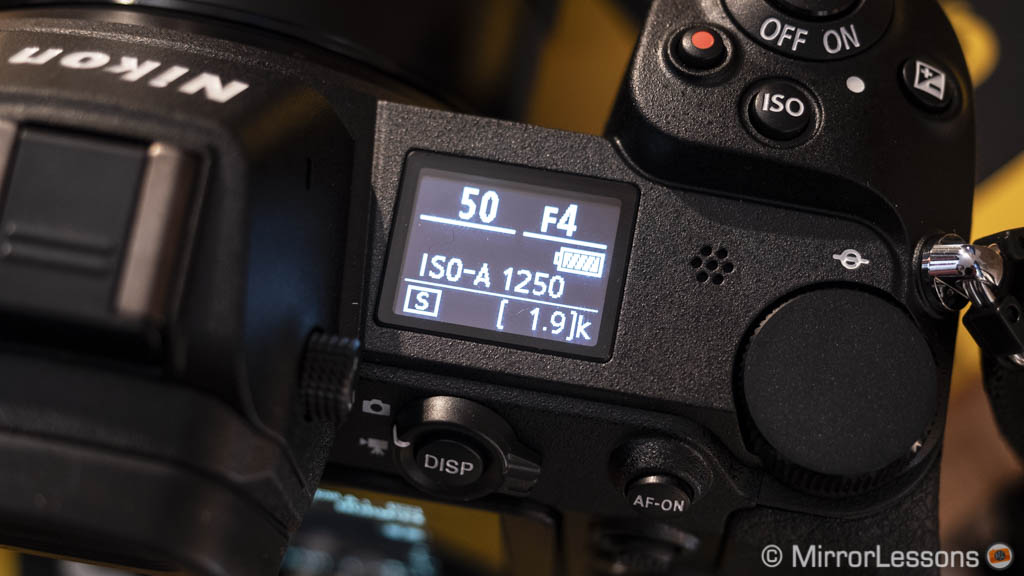 Then we have the rear monitor, which is larger on the Z6 (3.2 inches vs 3.0 inches) and with more resolution (2,100k dots vs 922k dots). The touch operations are more complete on the Nikon camera: in addition to being able to move the AF point, you can take a shot, navigate the menu and change settings.
On the A7 III, you can only use it for the AF area but unlike the Nikon, it also allows you to use the screen as an AF pad when composing with the EVF.
---
5. Electronic viewfinder
The EVF on the Z6 left me with a very positive first impression. It has an excellent resolution thanks to the 3,690k dot OLED panel and a large magnification of 0.8x.
The A7 III has less resolution (2,360k dots) and a slightly lower magnification of 0.78x but the eyepoint is a little longer (23mm vs 21mm).
They both share a refresh rate of approximately 60fps.
---
6. File recording system
The Z6 can save RAW in 12 or 14-bit with a choice of uncompressed, lossless compressed or compressed options. The A7 III has 14-bit with compressed or uncompressed options only.
There is of course JPG on both cameras with a choice of basic, normal and fine but the A7 III gets an Extra Fine compression. Finally, the Z6 can also record in Tiff.
---
7. Autofocus
The Z6 features a hybrid autofocus system with 273 phase detection points organised across 90% of the sensor. It has a minimum sensitivity of -2Ev with an f/2 lens (-4Ev when Low-Light AF is activated).
The A7 III has 693 phase detection points and 425 contrast detection points that cover 93% of the chip surface. The minimum sensitivity is -3Ev with an f/2 lens.
The Sony's autofocus system is based on that of the flagship A9, which is currently the best we've tested among mirrorless cameras and we find the A7 III's performance to be quite close, even for sports and wildlife. Face detection and Eye AF work really well too and the latter in particular is now a reference in the industry.
The AF on the Z6 is quick and reactive, even when using the FTZ adapter and DSLR lenses. My initial impression with face detection wasn't overly positive, but that changed after testing a full production version, and Nikon has added Eye AF via firmware.
---
8. Continuous shooting speed and buffer
The Z6 can shoot at a maximum of 12fps. If you want live view with blackouts, you need to reduce the speed to 5.5fps.
The A7 III can do 10fps, and shows you live view with blackouts up to 8fps.
Nikon hasn't unveiled any official data concerning the buffer capabilities, but it's safe to say it is not impressive. The camera slowed down quickly after a few seconds even when shooting just JPGs.
The A7 III certainly does very well in terms of buffer depth, being capable of shooting compressed RAW at 8fps for more than 30 seconds, or shoot for an unlimited time in JPG mode.
---
9. Video quality tidbits
The Z6 certainly has interesting video capabilities but only the A7 III has a set of dedicated Picture Profiles designed for movie recording. They allow you to change professional settings such as black pedestal or knee amongst other things. You can also select different curves and colour modes, and you have the choice of S-Log2 and S-Log3 which are available for internal recording, as well as an HLG profile.
The Z6 allows you to configure the same profiles used for stills. There is an N-Log mode that is available via HDMI. The port allows you to output 10-bit to an external recorder, whereas the A7 III only has an 8-bit output.
Five axis stabilisation works for video too and there is also the option of adding software stabilisation, which produces a slight 1.1x crop.
---
10. Battery life
Nikon rates the Z6 at 310 shots on a single charge by CIPA standards. Of course we should be able to manage more in the real world, but nonetheless this rating is less than half of what the A7 III can do (710 images).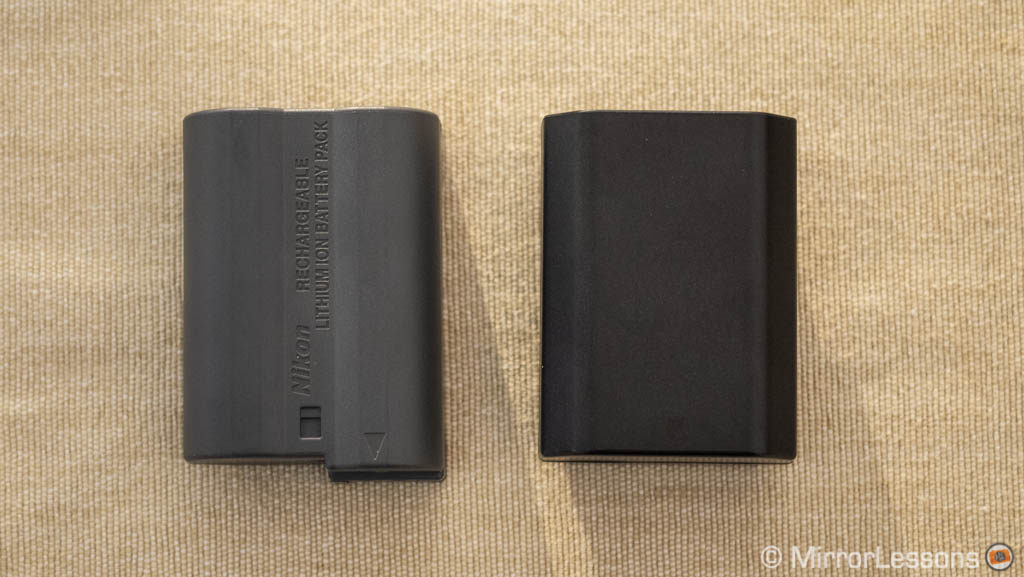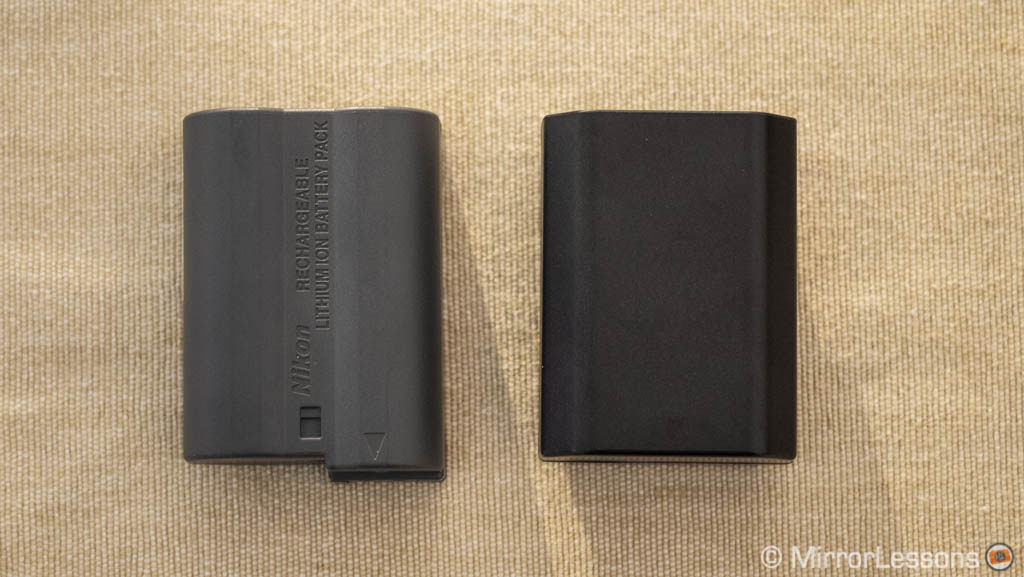 Our experience with the Sony camera has shown that the A7 III is actually one of the best mirrorless cameras when it comes to battery life, performing similarly to many DSLRs.
Both cameras can be charged over USB but only the Z6 is supplied with a separate charger.
---
Check price of the Nikon Z6 on
Amazon | Amazon UK | B&H Photo
Check price of the Sony A7 III on
Amazon | Amazon UK | B&H Photo | eBay
---
The following is a summary of our full comparison between the Z6 and A7 III.
Nikon Z6 vs Sony A7 III - Which one to get?
The Z6 and the A7 III are both a great choices in terms of image quality thanks to the excellent dynamic range and high ISO performance for stills.
The autofocus performance is much closer than you'd think. The recent integration of Eye AF on the Z6 (firmware 2.0) is very good, although the A7 III remains a bit more reactive. In low light, the Sony maintains an advantage thanks to the greater sensitivity.
What I love about the Z6 is the design: it feels better in the hand, the grip is more comfortable and the controls are more intuitive. The viewfinder has more resolution and the touch screen capabilities are much more complete.
The Z6 also provides better in-body stabilisation (5-axis) and offers 10-bit 4:2:2 video via the HDMI output. Unfortunately it only has one memory card slot, and XQD cards are more expensive than SD cards.
You'll find a concrete advantage with the A7 III when it comes to the buffer memory, which is much better than the Nikon. The battery life is also superior on the Sony.
For video-makers, the A7 III delivers better high ISO performance (less noise) and allows you to record with the Log profiles internally.
Of course we must not forget to talk about lenses. The Nikon FTZ adapter offers good performance with Nikkor and Sigma DSLR lenses, but the selection of native Z lenses is limited for now, which is understandable given that the Z system is new.
Sony on the other hand has released a lot of products in the past three years and the E-mount system looks much more complete now, especially if we include third party offerings such as Zeiss, Samyang, Sigma and Tamron to name a few.
Strengths of the Nikon Z6:
nice design, comfortable grip and intuitive controls
the viewfinder and LCD screen have more resolution
you can do much more with the touch screen
great choice of recording files for still photography
the 5-axis stabilisation provides extra compensation
it can focus faster in single autofocus mode
focus magnification is more reliable when shooting movies
10-bit 4:2:2 video via the HDMI port
there are a few extra features
Strengths of the Sony A7 III:
Eye detection is a bit quicker, can detect a subject that is further away from the camera and works with animals
the buffer capabilities are much better
4K footage is sharper, even with the default settings
less noise at high ISO, especially from 3200 onwards
there are advanced settings to customise the look of your image in video mode (Picture Profiles)
you can record with Log gamma curves internally on the SD card
two memory card slots and less expensive cards (SD)
the battery life lasts for longer
Where you won't find many differences:
Image quality (still photography): dynamic range of the RAW files is similar, and so is the high ISO performance. Each camera has its own distinctive colour palette. The resolution is very similar at around 24MP for both cameras.
Autofocus performance: except for the small differences in eye and face detection, both cameras perform really well when it comes to sports and wildlife.
Check out our complete comparison to find out all about these two cameras, how they performs for stills and video, and which one we recommend.