The Canon EOS R5 is the second model in the RF full frame mirrorless system, one that has been teased for months and promises impressive specifications including 8K video recording, class leading stabilisation and many other things. It is the camera that reinstates Canon as a serious competitor in the mirrorless game.
The Z7 was released two years earlier and marked an important step forward for Nikon, who inaugurated its full frame mirrorless system with this product (and the Z6).
Although there are many differences, the two cameras share the same sensor resolution and status as flagship models in their respective systems. Let's see how they compare.
Canon EOS R5 and EOS R6 coverage:
EOS R5 vs EOS R6 – EOS R vs EOS R5 – EOS R vs EOS R6
EOS R6 vs A7 III – EOS R5 vs A7R III – EOS R5 vs A7R IV
EOS R5 vs Z7 – EOS R6 vs Z6
---
Ethics statement: the following is based on the official specifications of the EOS R5 and our tests with the Z7. We were not asked to write anything about these products, nor were we provided with any sort of compensation. Within the article, there are affiliate links. If you buy something after clicking one of these links, we will receive a small commission. To know more about our ethics, you can visit our full disclosure page. Thank you!
---
1. Image quality
The Canon features a 45MP sensor and was specifically developed for the R5 model to allow 8K video recording (more on this further down). It has an AA filter and a normal ISO range of 100 to 51200 ISO, or 50 to 102400 ISO if we include the extended values.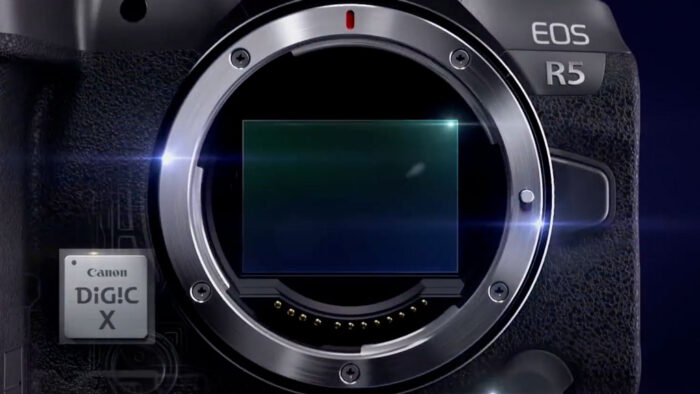 The Z7 uses a 45.7MP sensor so the resolution is basically the same. However the Nikon chip has a back-illuminated design (BSI) that improves light gathering. There is no low pass filter and the ISO range is ISO 64 to 25600, or 32 to 102400 ISO with pull/push values.
We tested the Nikon Z7 two years ago and while we generally like the image quality, we found some drawbacks such as banding when trying to recover lots of shadows from the RAW files, and shutter shock between 1/50s and 1/400s (the latter can be avoided by using either the electronic shutter or the electronic first curtain shutter).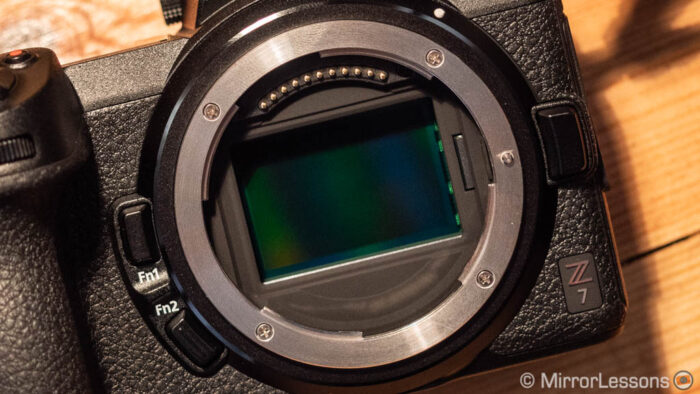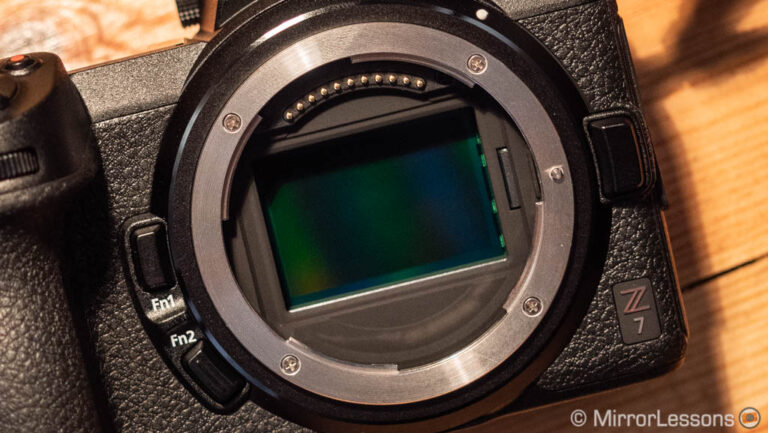 We can't comment on the R5 quality yet. Some Canon sensors have a less-than-great reputation due to their dynamic range being inferior than that of Sony or Nikon. We're curious to see how this new 45MP chip will perform since Canon has said that there is an improvement of about 1 stop in comparison to the EOS R (30MP sensor).
The Z7 offers a wide selection of still formats: there is RAW at 12-bit and 14-bit with three level of compression (compressed, lossless compressed or uncompressed), JPG and Tiff.
The R5 can shoot RAW (14-bit uncompressed or Compressed), JPG and HDR. The latter uses the HEIFF format and delivers a 10-bit file that retains more highlight and shadow information than the traditional JPG.
---
2. Stabilisation system
The EOS R5 (and its sibling EOS R6) is the first camera from Canon to feature in-body imaging stabilisation (5-axis). The official rating is rather impressive and goes up to 8 stops of compensation with select lenses (you can see the rating for each RF lens in our R5 vs R6 article.) It is the highest rating given to a camera so far when it comes to image stabilisation.
The Z7 (and its sibling Z6) are also Nikon's first camera with IBIS. It too works on 5 axes but the rating of compensation is 3 stops lower (5.0Ev).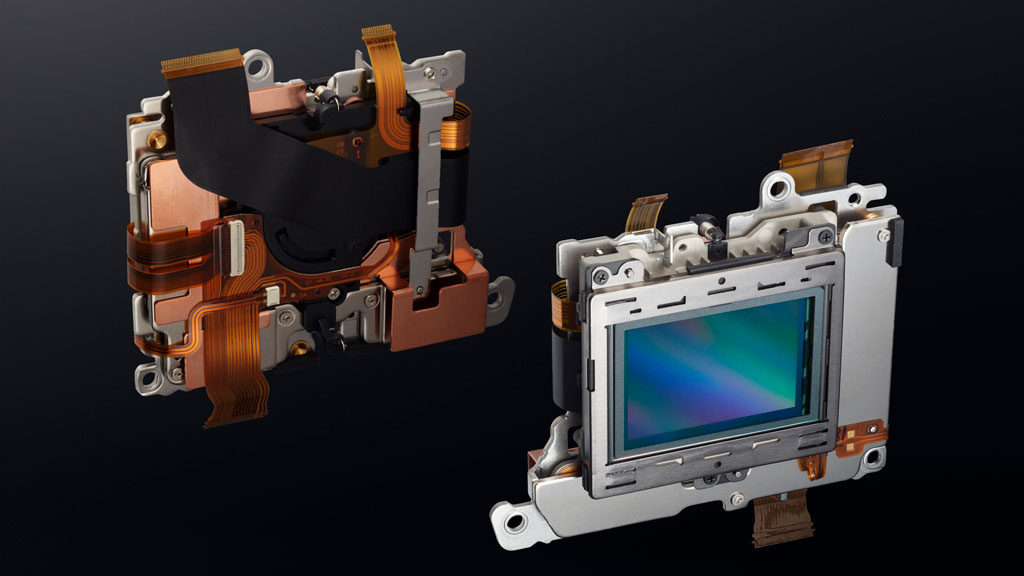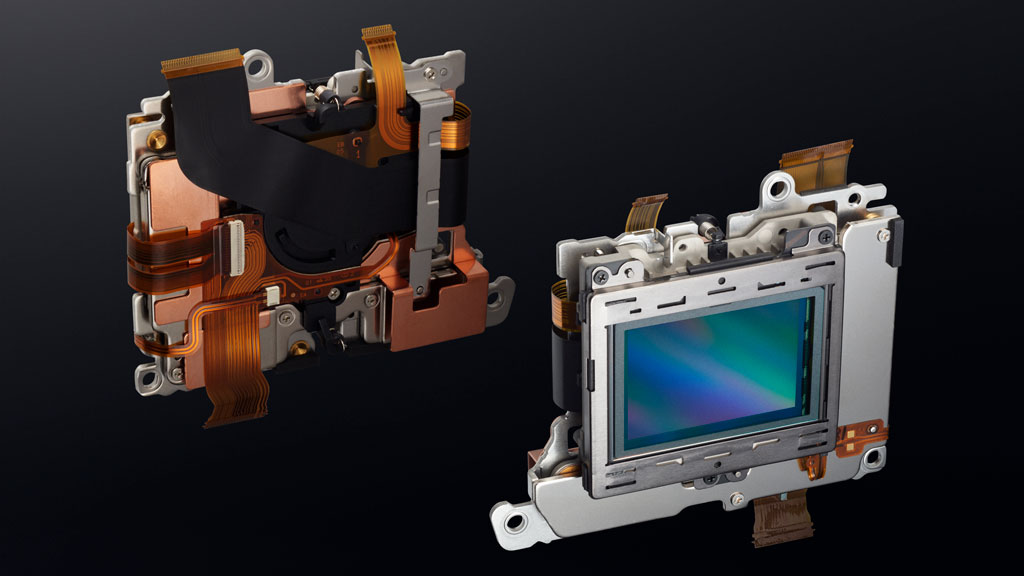 In our tests, we found the Z7 to be quite good. Hand-held images taken at 1 second are possible with a bit of patience and a few attempts. Obviously it is better stay above 1/2s to have a better keeper rate, but overall I found it reliable to use. Early reports about the R5 suggest even longer exposures than 1 second hand-held, so I'm really curious to see what the Canon model is capable of.
Image stabilisation works for video recording too, and you can add digital stabilisation on each model to further improve the performance (the Canon has two levels). Remember that the field of view is cropped a bit as a result.
---
3. Burst Shooting
The EOS R5 features surprisingly good continuous shooting capabilities considering the high resolution of the sensor: it can do 12fps, or go up to 20fps if you select the electronic shutter.
The Z7 can shoot for a maximum of 9fps. Continuous autofocus and AE are available at all speeds on both cameras. Note however that if you select 14-bit RAW on the Nikon, the maximum burst is 8fps.
As for the buffer capabilities, the EOS R5 can do 180 RAW files or 340 JPG files at 12fps.
We don't have the official specifications for the Z7 but in our tests against the A7R III, the camera recorded for 3 seconds at 9fps before slowing down when RAW was selected, and 4s with JPG.
---
4. Autofocus system
The EOS R5 uses the latest Dual Pixel CMOS AF technology from Canon, a fast phase detection system that works across the entire sensor surface (when Tracking modes are selected, otherwise it is 90% width and 100% height).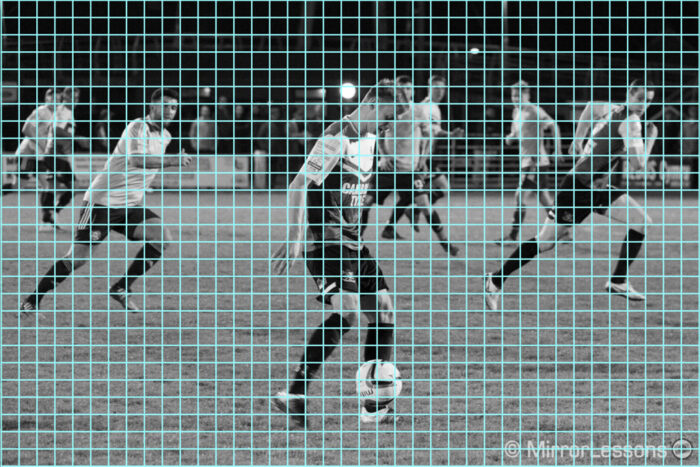 The R5 also has a whopping 5940 points when using the single AF point. You won't find high numbers like this on any other mirrorless product, except for Canon cameras like the R6 and EOS R.
The Z7 features 493 phase detection points that work across 90% of the sensor area.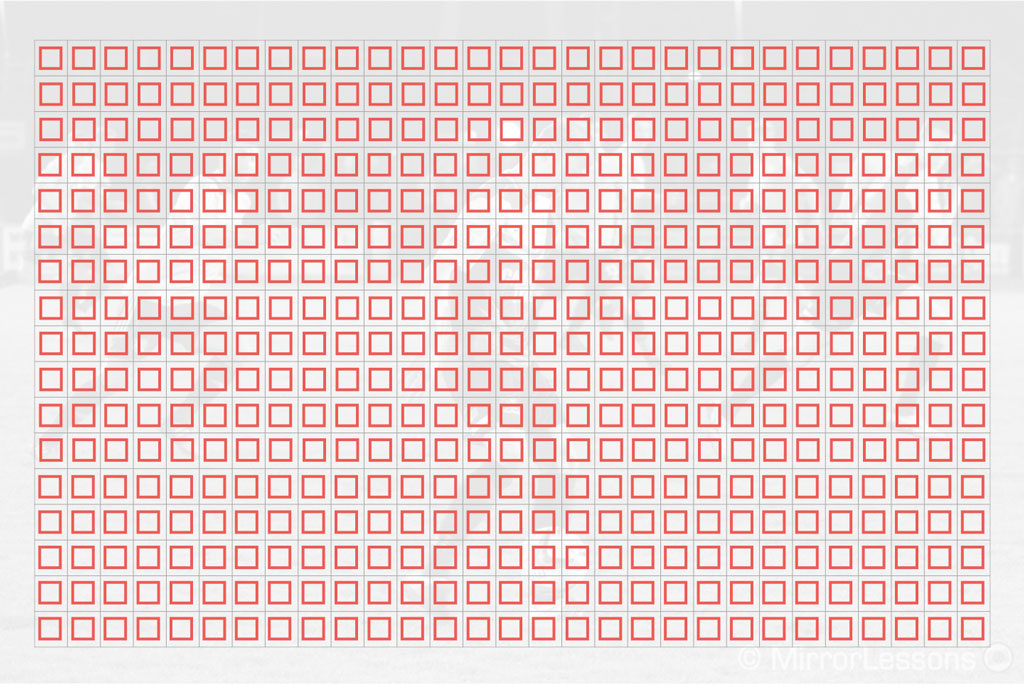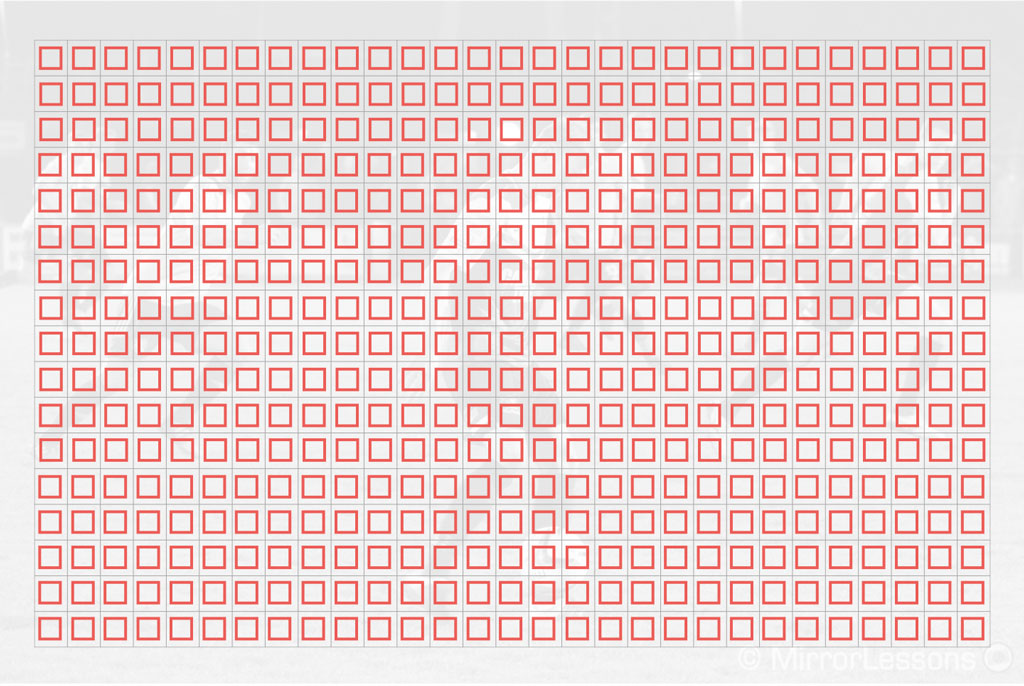 The Canon has better sensitivity in low light and can focus down to -6Ev with an f/1.2 aperture (or -4.5Ev with a f/2 aperture). The Z7 goes down to -4Ev at f/2 when the Low Light AF mode is engaged, which slows down the speed to get more accurate focus. In normal AF mode, it is -2Ev.
Both products include AF modes to detect human faces and eyes automatically. Thanks to firmware updates, the Z7 can now also focus on the eyes of cats and dogs. The Canon can do humans and animals and it seems that its database for animals is larger. For example it can focus on body, faces or eyes of different species including birds.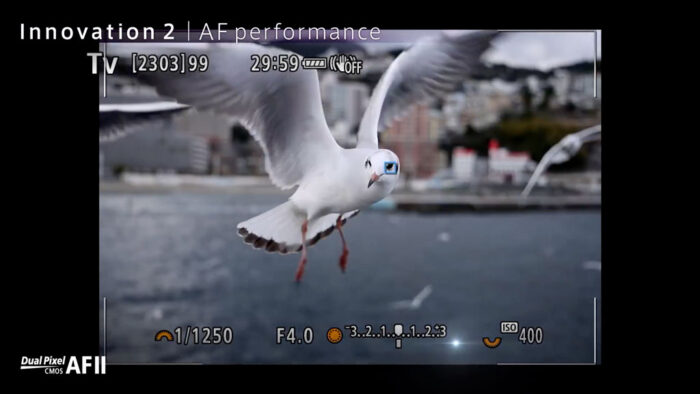 We found the Z7 to be much better than what many have said when it comes to the autofocus. I shot motorsports, birds in flight, football and other things with it and while not being the very best in its category, it holds up pretty well against the likes of the Sony A7R III. Face and eye detection was a weak point at the beginning but it got better with firmware updates.
The R5 AF could be a very good one. The performance on the EOS R that we tested showed a lot of potential even with difficult subjects. The R5 with its faster processing engine could put the camera on top, or at least very near. We'll see what we can do with it.
---
5. Video
The specification that stole the show when the R5 teaser was released was its 8K video capabilities. The camera can record 8K up to 30p internally in either ALL-Intra (max. 1300Mbps) or 12-bit DCI RAW video (2600Mbps!). If 8K is too much, perhaps you'll be fine with 4K up to 120fps!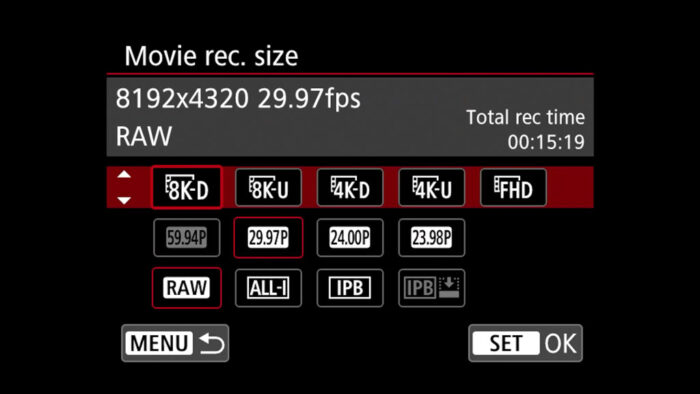 These specifications are impressive but we need to share a few more details. First, RAW video is only available at 8K. In 4K, the camera records with oversampling (better quality) only up to 30p, then it's pixel binning which means that sharpness will be lower (by how much has yet to be seen).
Furthermore, Canon has released a statement to clarify the overheating that the camera will experiennce when recording 8K and 4K video. You can read the document but the bottom line is that 8K is up to 20 minutes max, and the camera won't be able to record for long after cooling down for 10 or 20 minutes.
The Z7 can deliver 4K video up to 30p. In full frame mode (FX), it uses the full width of the sensor but with line skipping. The DX mode (APS-C crop) uses all the pixels. The maximum bitrate is 100Mbps. In Full HD, you can record up to 120fps.
The Nikon has an N-Log profile that can work at 10-bit, and a RAW video option at 12-bit but only through the HDMI output, so you need an external recorded (Atomos Ninja V to record RAW video).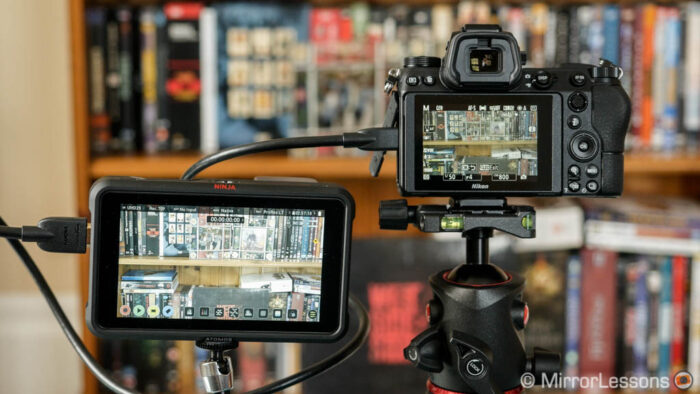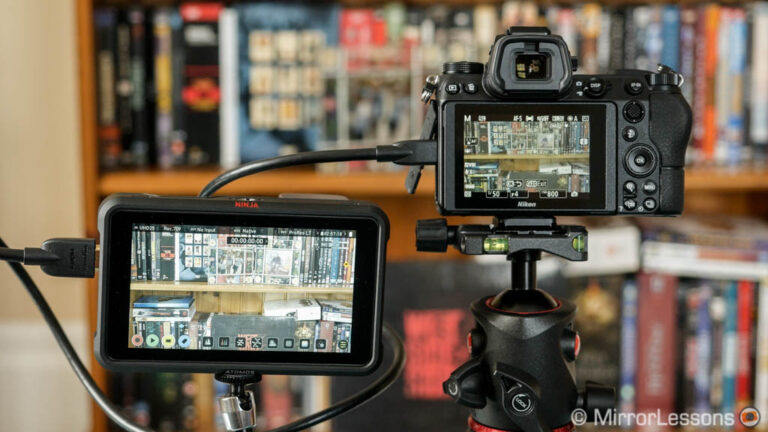 The EOS R5 lets you select 10-bit 4:2:2 for internal or external recording with the Canon C-Log and the HDR PQ profile.
A microphone input and headphone output are available on both cameras.
---
6. Ergonomics and buttons
The EOS R5 is ever so slightly larger than the Z7 as you can see from the image below. The front grip is larger too. They feature a magnesium alloy chassis and are weather-sealed.
EOS R5: 138 x 97.5 x 88.0mm, 738g
Z7: 134 x 100.5 x 67.5mm, 675g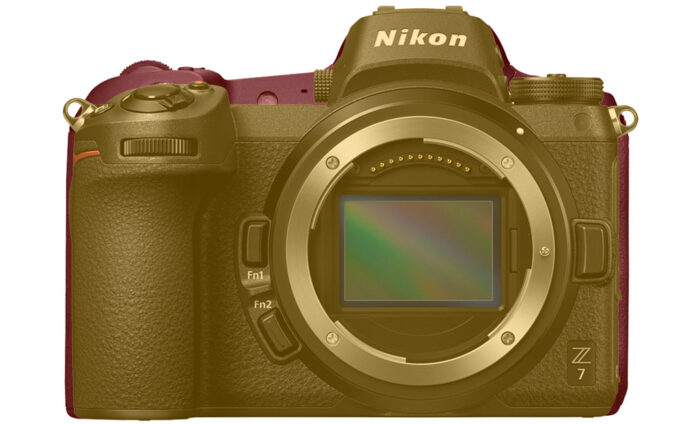 The button and dial layout is excellent on both cameras (the one on the R5 is very similar to the EOS R, except for the weird touch bar that has disappeared on the new camera). Both have an AF Joystick on the rear and a top LCD screen where to check settings on the fly.
The Z7 has a shooting mode dial on the left part of the top plate. On the Canon, you press the M button and use one of the dials to change settings.
---
7. Viewfinder and Monitor
The EOS R5 has an electronic viewfinder with more resolution (5.75M dots which has become the new high standard) whereas the Z7 has a more than decent 3.69M dot panel. The Canon EVF has a longer eyepoint (23mm vs 21mm) and faster refresh rate (120Hz vs 60Hz) but the Nikon has more magnification (0.8x vs 0.76x).
The rear monitor is an LCD type with 2.1 million dots and touch sensitivity. The one on the R5 is slightly larger (3.2 vs 3.0 inches).
The touch screen can be used for various things on both cameras, including moving the focus point and changing settings in the menu.
One relevant difference is how the screen moves. The R5 has a multi-angle mechanism, whereas the Z7 LCD tilts up and down only.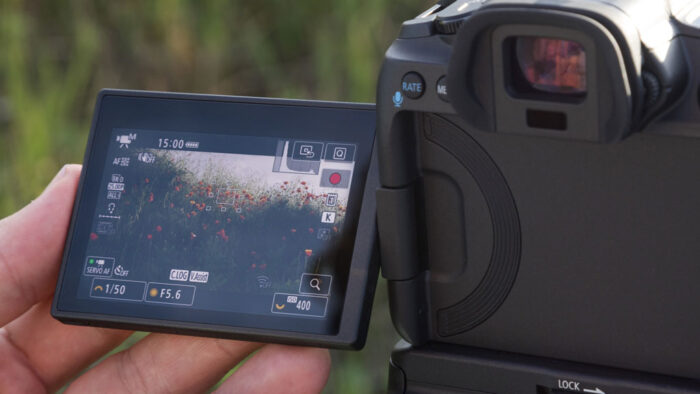 ---
8. Cards
The EOS R5 can take two memory cards. Slot 1 is compatible with the CF Express/XQD standard, whereas slot 2 works with SD UHS-II cards. Note that 8K RAW video can only be recorded to the CF express slot.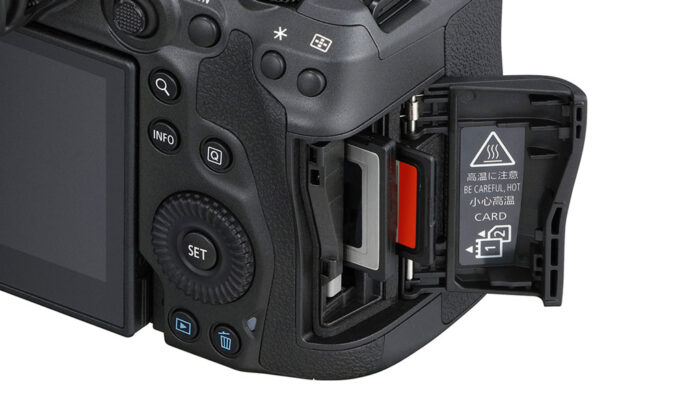 The Z7 has one slot only and takes XQD / CF Express cards.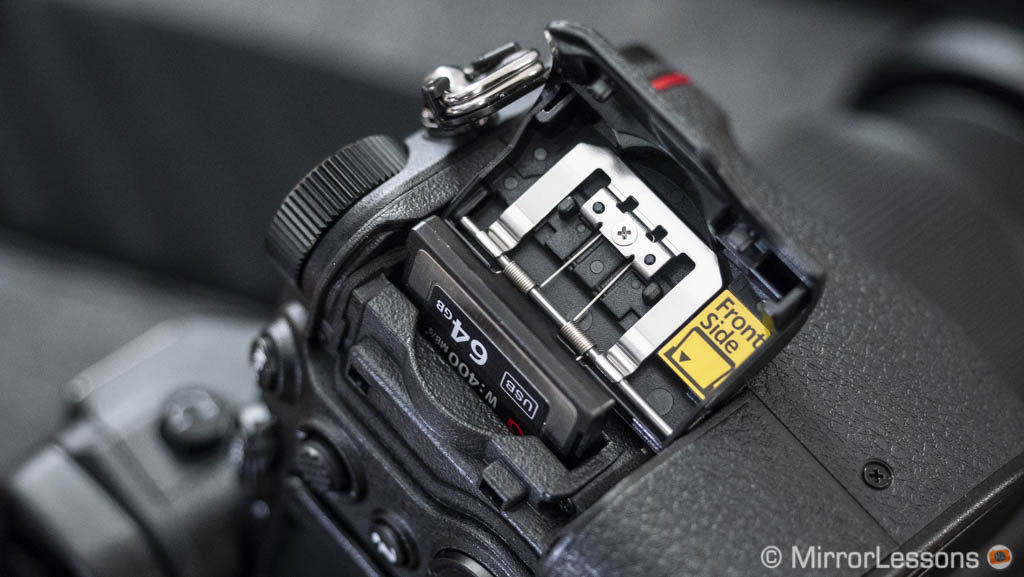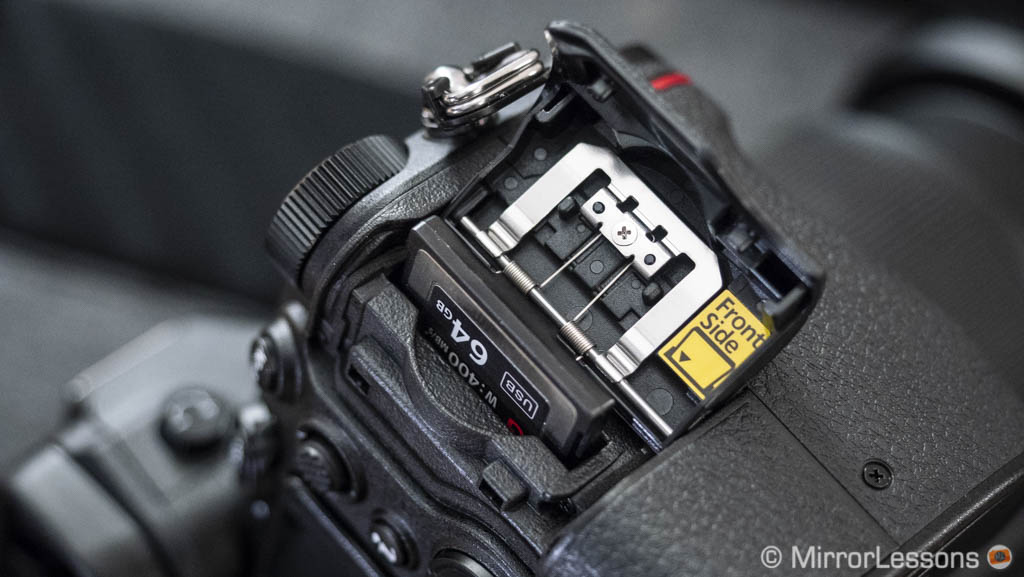 ---
9. Lenses
Canon and Nikon started their full frame mirrorless adventure (RF mount and Z-mount) at the same time in 2018. Two years later, at the time of publishing this article, the new lens line-up has grown.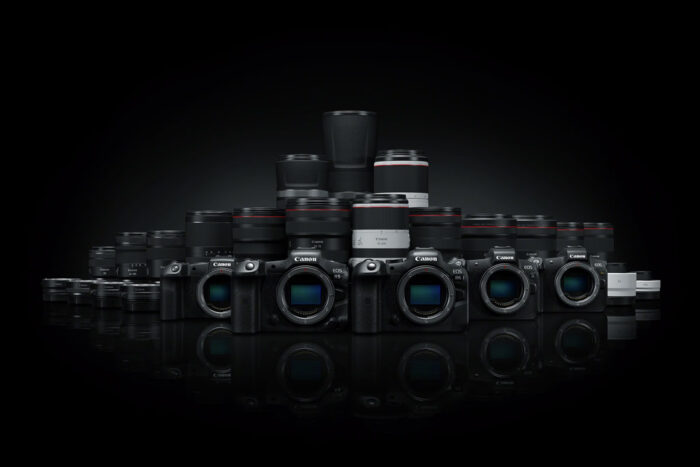 Canon currently has 15 RF lenses, including fast 2.8 zooms, very fast 1.2 primes and other lenses. There aren't a lot of affordable options at the moment. Some lenses are rather unique like the 28-70mm f2 or the compact 600mm and 800mm f/11.
Nikon has produced 13 lenses with various 1.8 primes, a few standard and wide zooms, 2.8 zooms (the 70-200mm has not been released) and the super niche Noct 58mm f/0.95 manual focus lens. Other lenses are on their way including a fast 50mm f/1.2.

Both companies have designed an adapter to use their F and EF DSLR lenses.
---
10. Price
The EOS R5 is more expensive and can be found for $3900, €4700 or £4200 for the body only.
The Z7 can be purchased for $2800, £2300 or €3100 (body only)
Note: these prices are valid as of July 2020, and the US price doesn't include tax.
---
Conclusion
If we only consider still photography, a real world comparison between these two cameras could be interesting. The Z7 has a lot to offer: it's not withouts its flaws but can certainly deliver superb image quality and very good autofocus performance for a variety of genres.
The EOS R5 could have the edge on the autofocus and continuous shooting speed front, making it more appealing for sports and wildlife, but we must first test its new sensor to see if Canon has finally caught up with its competitors when it comes to dynamic range.
If we look at the video department (something that seems more and more important these days), the EOS R5 appears to be the clear winner. If overheating doesn't get in the way, there is little that the Z7 can do to match the performance, unless basic 4K capabilities and a decent flat profile can be enough, or if 12-bit RAW output over HDMI is the only thing you're after (and are willing to pay extra for it).
---
Check price of the Canon EOS R5 on
B&H Photo
Check price of the Nikon Z7 on:
Amazon | Amazon UK | B&H Photo | eBay
---
Canon EOS R5 and EOS R6 coverage:
EOS R5 vs EOS R6 – EOS R vs EOS R5 – EOS R vs EOS R6
EOS R6 vs A7 III – EOS R5 vs A7R III – EOS R5 vs A7R IV
EOS R5 vs Z7 – EOS R6 vs Z6