You are now on page 4. Here you can find out about image stabilisation, video and extra features and read our conclusion:
You are on page 4: image stabilisation, video, other features and conclusion
Table of contents – Page 4

1. Stabilisation
2. Video
3. Flash and extra features
4. Battery life
5. Lens system
6. Price
7. Conclusion
8. Sample images and additional content
---
Stabilisation
The Z7 is Nikon's first camera to feature 5-axis in-body stabilisation (along with its twin sister, the Z6). It has an official rating compensation of 5Ev, which is half a stop under the 5.5Ev score of the A7R III.
In my tests however, I found the Nikon camera to be more capable. I've managed a few sharp shots with the Z7 down to 1s which proved impossible to replicate on the A7R III. The Nikon is more consistent at slower speeds such as 1/2s or 1/4s as well.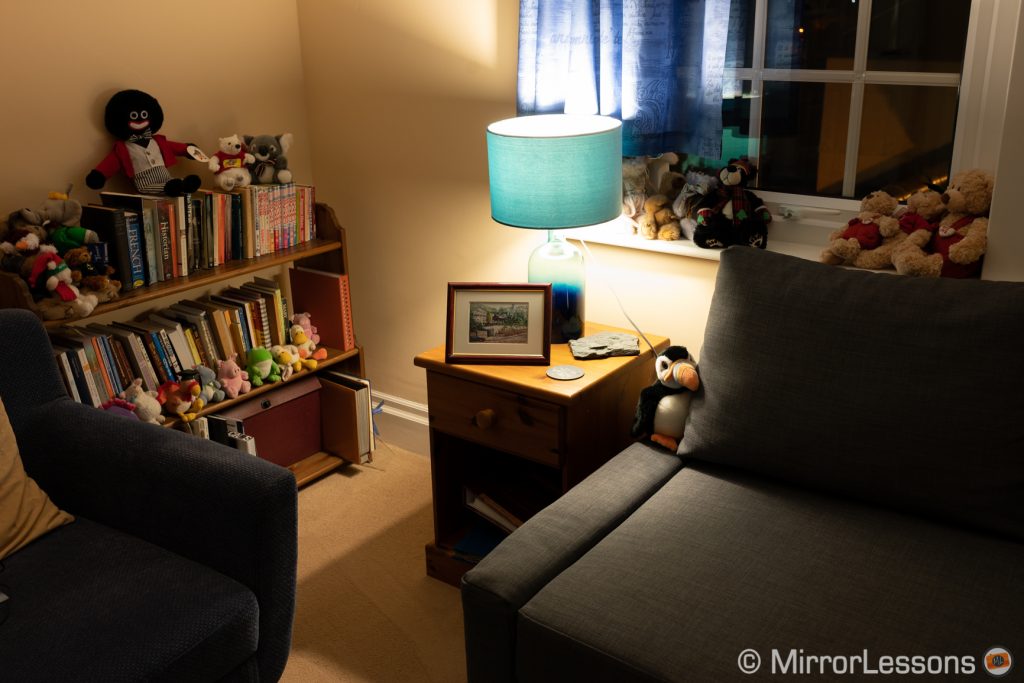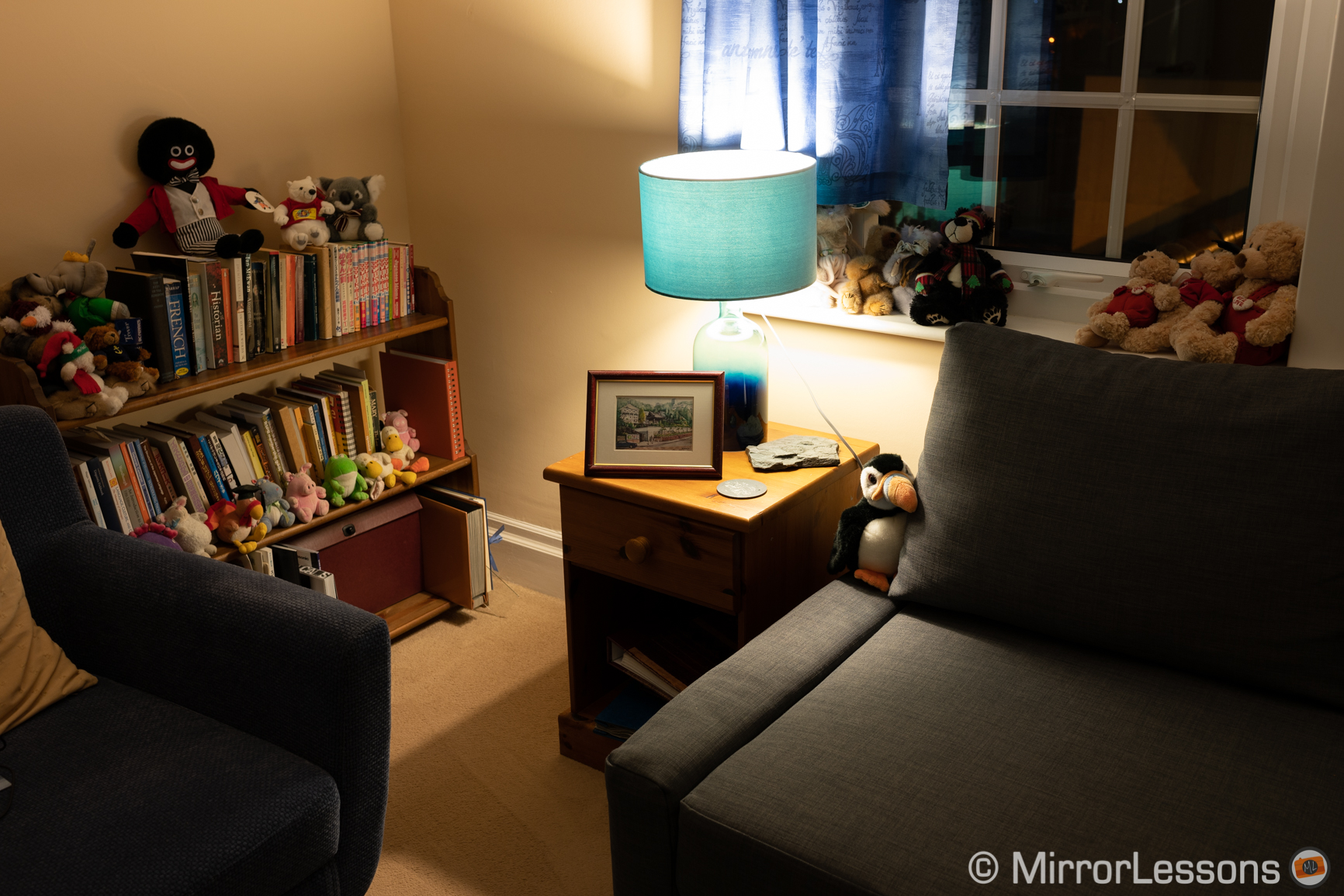 If you mount a lens that features optical stabilisation, both cameras can combine the in-body sensor shift with the OSS/VR hardware of the lens, but the number of axes used is different.
With Nikkor VR F-mount lenses and the FTZ adapter, the Z7 will combine the roll axis on the sensor with pitch and yaw on the lens (3-axis). With an adapted lens that lacks VR, 3 axis will be used on the sensor (yaw, pitch, and roll). As of now, there aren't any native Z lenses with optical stabilisation yet, so we'll have to wait to see if the Nikon camera can combine use more axis on the sensor with a native VR lens.
On the Sony camera, three axes are used on the sensor (Roll, X and Y) and are combined with the two axes of the optical stabilisation (Pitch and Yaw). This is valid for both native and adapted lenses, as long as the lens has electronic contacts and can send data to the camera.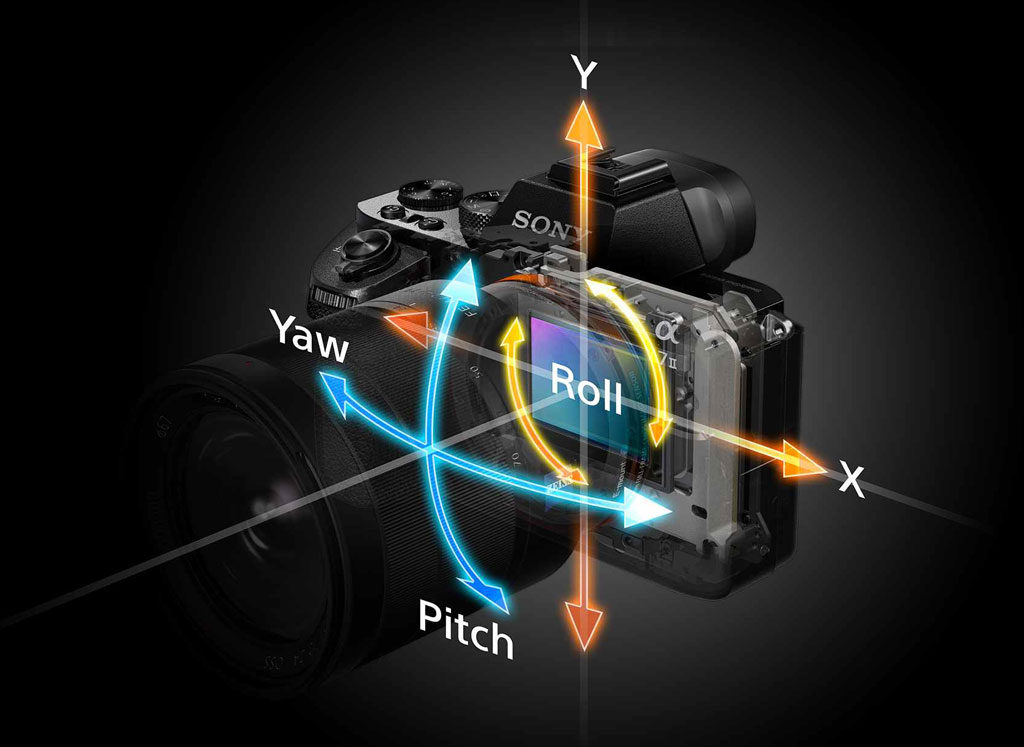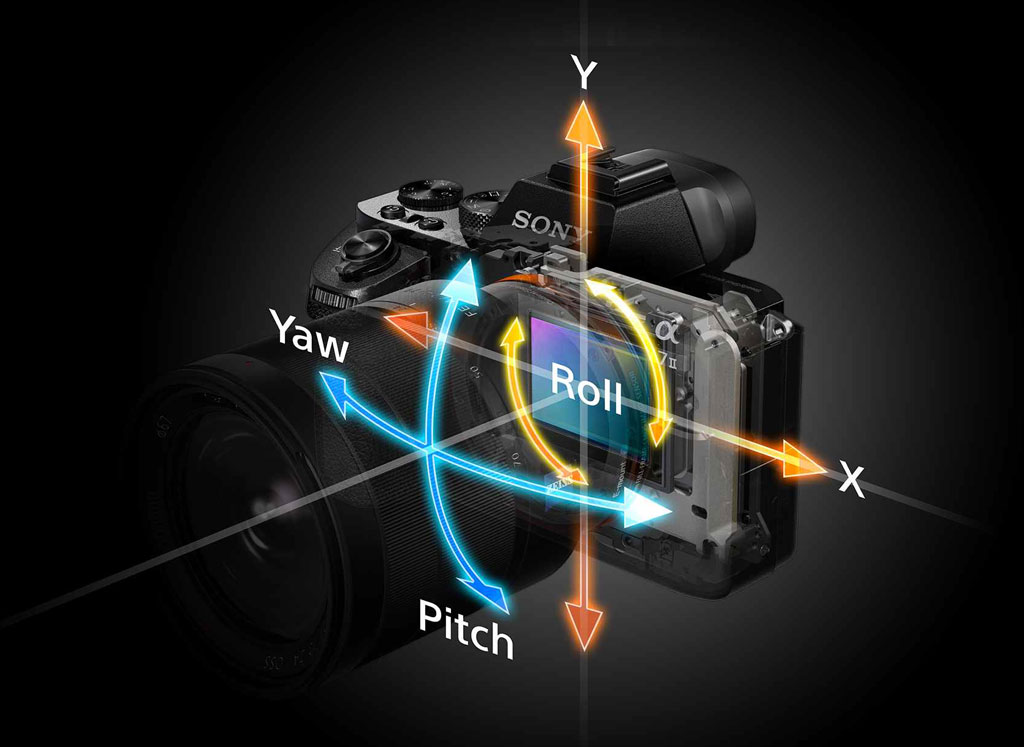 Despite the Z7 not using 5-axis with an adapted lens, I managed a sharp shot down to 1/5s with a decent keeper rate using the Nikkor 70-200mm f/4 VR, whereas I had to increase the speed to 1/10s to see the first good results on the A7R III. Both are capable of delivering decent performance at 1/20s as well, but keep in mind that the keeper rate won't increase significantly before 1/40s or 1/50s.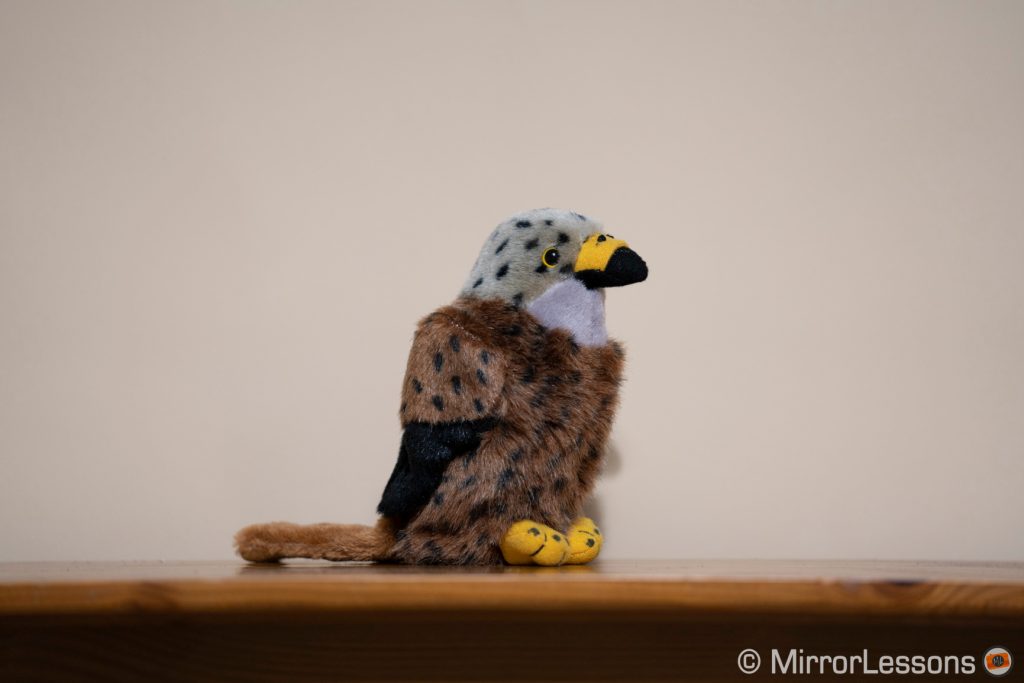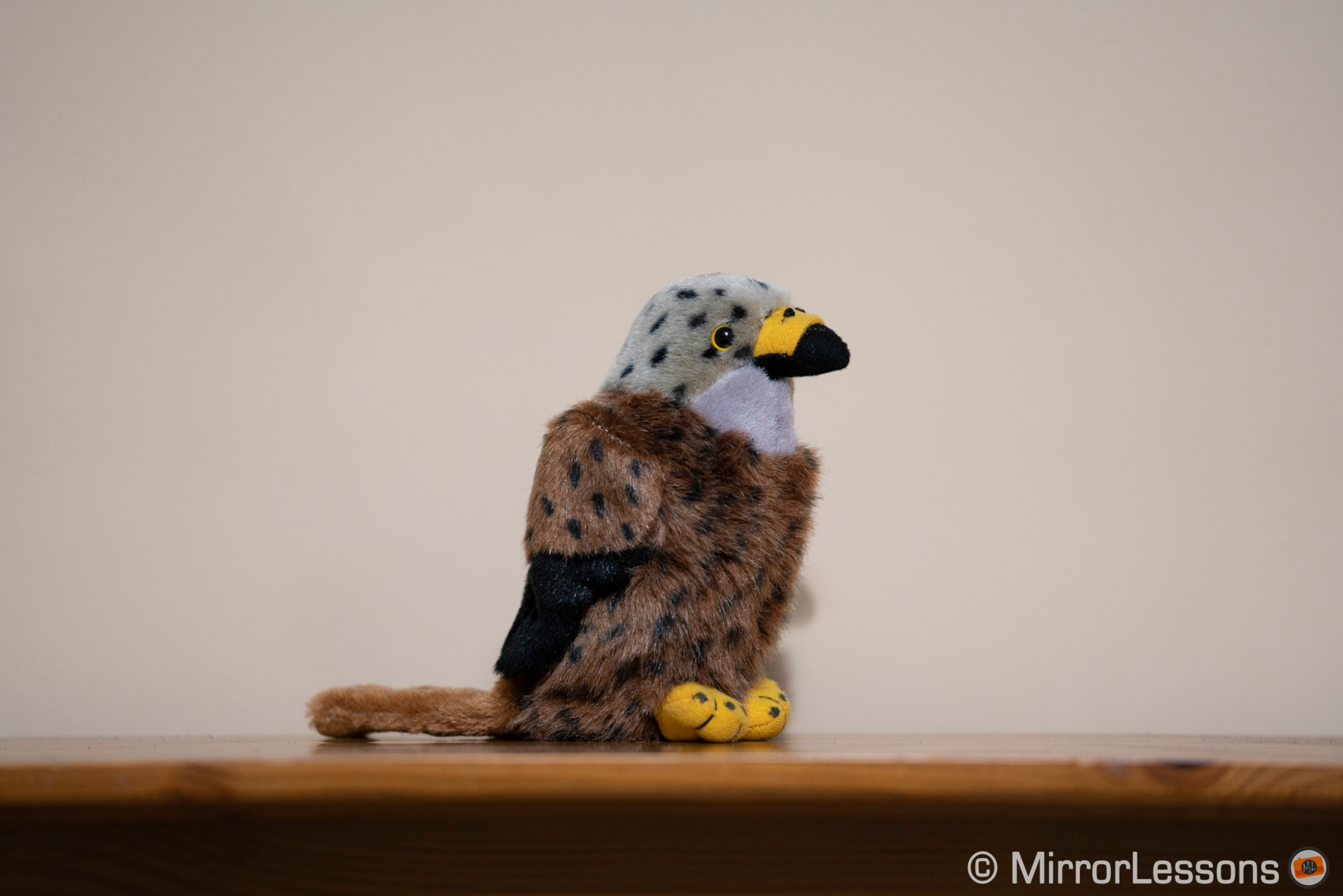 In the real world, several attempts are necessary to get sharp results at slow shutter speeds of around 1 second. With the Z7 it is possible without too much hassle, and I took advantage of it on more than one occasion during my short trip to Umbria in Italy. Leaning on a wall for support can also help.
You can't push the A7R III as far as the Z7 but I occasionally got good results below 0.5s. That being said, the performance isn't as trustworthy and I often ended up with bad results even when working at 1/10s with a wide angle lens. Activating the electronic first curtain shutter helps on both cameras.
One interesting setting on the Z7 is Sport mode: it sets the camera to compensate for motion that is not part of your movement. For example it will compensate for vertical movements if you're panning horizontally and vice versa.
With adapted lenses that lack electronic contacts, you can input the focal length into the menu so that the cameras can still provide some compensation (3 axes).
The Z7 also allows you to register up to 20 lenses that can't transmit CPU data by entering the fastest aperture in addition to the focal length.
---
Video
The Z7 and A7R III can record video in 4K Ultra HD (3840×2160) at 24, 25 and 30p with a bitrate of 144Mbps and 100Mbps respectively, as well as Full HD up to 120fps. Note that you need to switch between PAL and NTSC on the Sony to use the appropriate frame rates.
Below you can watch our 4K video side-by-side comparison. Keep reading to find out what we think of the results.
Given the high megapixel count on both sensors, there is a difference in quality when recording in full frame and APS-C crop mode (called Super35 on the Sony, DX on the Nikon).
In full frame mode, both cameras perform line skipping which means that not every pixel is used to create 4K footage. In crop mode, full pixel readout is performed so both cameras look sharper and lack artefacts. The Picture Modes on the Z7 offer more parameters to fine-tune sharpness, but high values can make the image look less natural. On the Sony, there are more interesting adjustments available with the Picture Profiles to increase the level of detail.
The difference in colour rendering is similar to what we saw for stills. The Z7 tends towards a yellow tint whereas the A7R III has more reds, except for the Landscape style that gets a bit closer to the Nikon colours.
The Z7 has one picture profile designed for video called Flat. It gives you more dynamic range with less contrast and saturation and allows for more leeway to grade in post. Note that while other profiles such as Standard and Vivid have extra sharpness, Flat is softer by default. You can either vary the settings in camera or sharpen in post.
The A7R III offers a vaster array of settings with 10 customisable Picture Profiles that include parameters designed specifically for video. You can control gamma, colour mode, HLG (HDR), colour phase, details, black levels, knee, etc. They offer more dynamic range than the Creative Styles that tend to clip highlights very easily. They give you more control in comparison to the Z7 profiles but also require a bit of a learning curve. You can configure them to be very flat or to contain a good amount of contrast and saturation.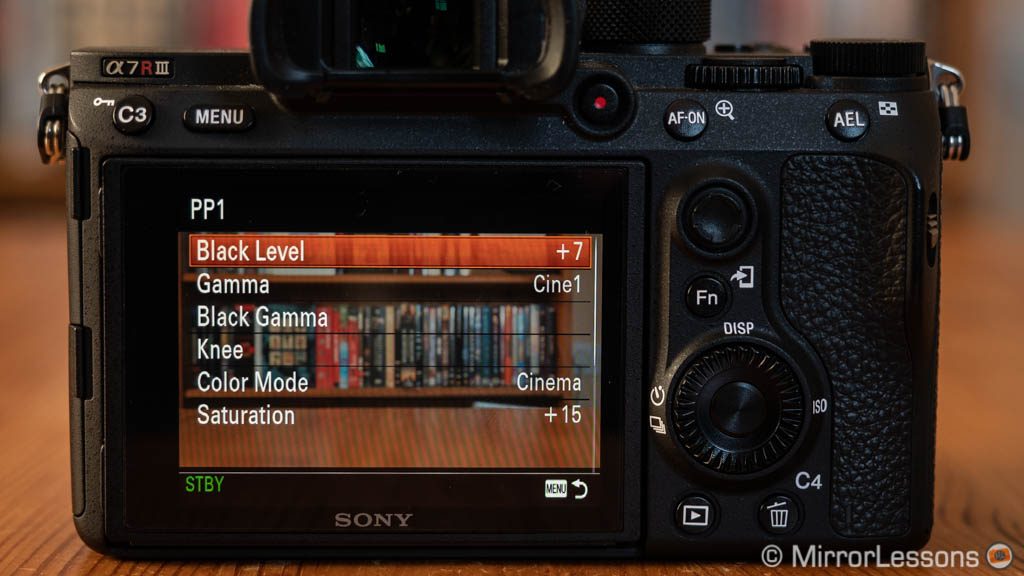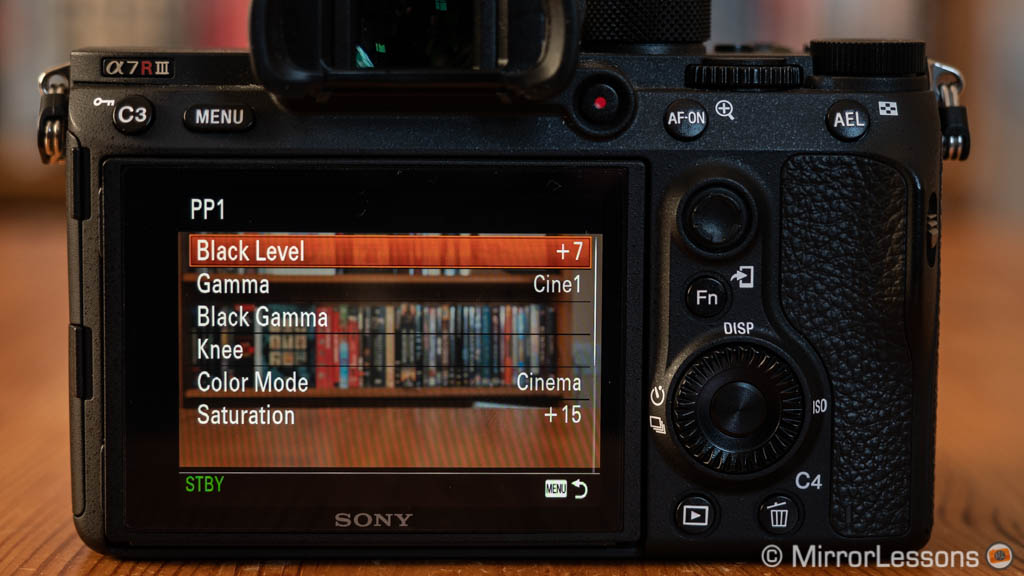 For skin tones, the Z7 has a warmer, more uniform rendering than the A7R III. The latter however displays more tone transitions and renders every little shade with more precision.
For superior colour grading, you'll probably want to work with a Log profile. The Z7 has one (N-log) but it is not available for internal recording (HDMI output only), whereas the Sony offers two (S-Log2 and S-Log3) that can be recorded to the SD cards as well as an external recorder.
One advantage if you decide to use the N-Log on the Z7 is that the HDMI port offers 10-bit 4:2:2 whereas the A7R III only outputs 8-bit. Both record internally at 8-bit 4:2:0. When recording with log gammas, you can enable a log view assist to preview more realistic contrast on screen.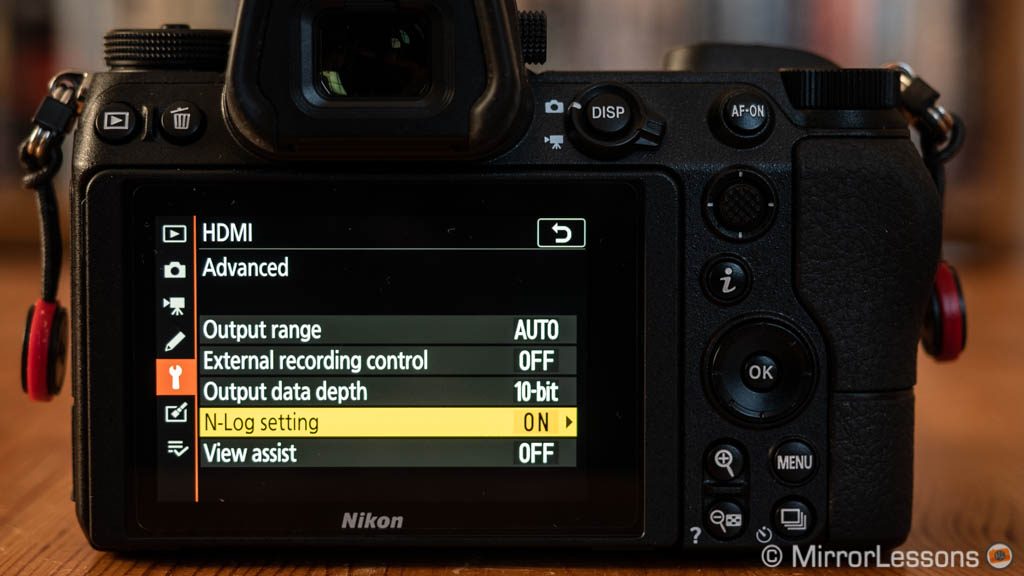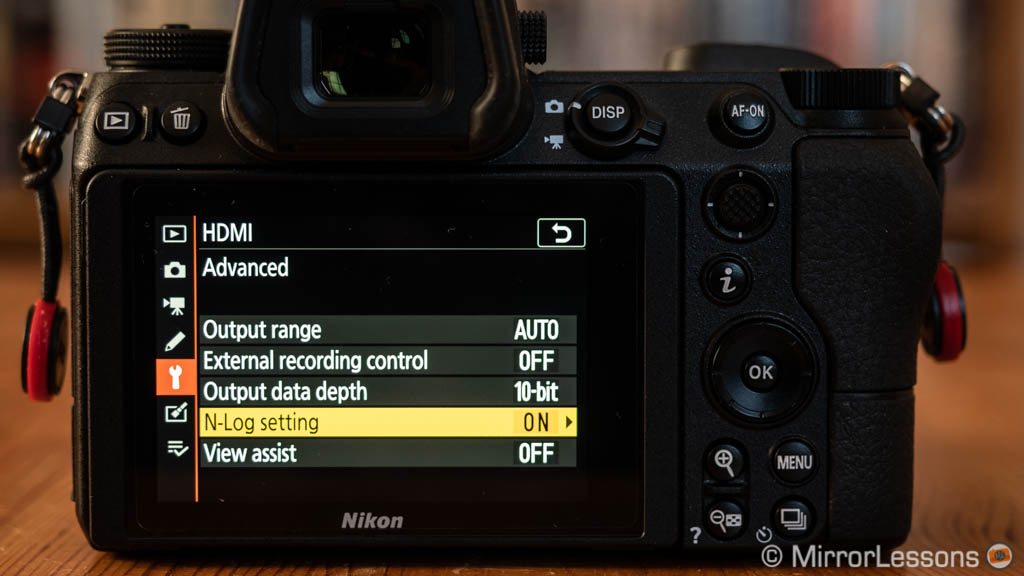 Z7 and RAW Video
The Z7 can output RAW video on the Atomos Ninja V (Prores RAW codec). To enable this, you need to send your Z7 camera to a Nikon Support Center and it isn't a free upgrade unfortunately.
Log profiles will also give you more dynamic range than any other setting. Curiously the Z7 preserves more highlight details with the Picture Modes, but less when recording with the N-log, whereas it is the opposite for the Sony. The Nikon displays a bit less noise in the shadows after grading log footage, whereas S-Log3 can be more problematic in this regard.
The Z7 offers the same ISO range for video as it does for stills, including the extended high values: it goes from 64 all the way to 102400, whereas the A7R III starts from ISO 100 and tops out at ISO 32000.
In full frame / FX mode, the Z7 shows more noise from ISO 1600 and gets worse by ISO 12800. From 25600, the footage suffers from flickering and the last two sensitivity values are unusable. The A7R III does better overall but loses some sharpness at the higher values, which is probably the result of some noise reduction applied automatically.
In Super35/DX mode, the clips are more even. The A7R III displays finer noise from ISO 3200, while the Z7 suffers from flickering at higher values once again.
Unlike the Sony, you can control noise reduction on the Z7 with the same levels you find for stills. With NR Off, there is much more noise than on the A7R III, whereas with the Low level, the result are closer to the Sony. The highest level reduces noise more but also washes out some of the details.
Both camera perform in a similar manner when it comes to rolling shutter while panning slowly. The A7R III suffers a bit more when moving quickly in full frame mode. Unlike the Sony, the Z7 has a flicker reduction setting for video as well (Auto, 50Hz, 60Hz).
The Z7's in-body stabilisation delivers better results for static shots when the Electronic VR is enabled (software stabilisation, which crops the field of view a little). With sensor stabilisation on its own, there is lots of jittering. When walking, the Z7 footage is much smoother and more stable than the Sony's, but be sure to keep the Electronic VR off – otherwise it creates lots of distortion and "jello" artefacts. When panning, neither is great due to the excessively abrupt corrections. You can improve the results on the Nikon a little by activating the VR Sport mode and using the electronic stabilisation.
As for the autofocus, both cameras do fairly well with moving subjects and face detection. You can control speed and responsiveness with two different parameters on each camera:
AF Tracking and AF Sensitivity on the Z7
AF Drive Speed and AF Track Sens on the A7R III.
You can also take advantage of the touch screen to perform slow transitions between two points in your frame. The Z7 offers more steps to adjust speed and reactivity and can produce slightly smoother transitions as a result.
As I already mentioned in the LCD/EVF chapter, the A7R III sees a noticeable decrease in sharpness when switching to video mode. Manual focusing is much more of a pain than with the Z7, even when using the magnification assist.
In 1080p, the quality is not as good as 4K and the A7R III suffers from a more severe loss in sharpness. You have two options to control quality on each camera. On the Z7 you can choose between high and normal :
High: 56Mbps at 50/60p, 28Mbps up to 30p
Normal: 28Mbps at 50/60p, 14Mbps up to 30p
The A7R III allows you to choose between:
XAVC S HD: 50Mbps
AVCHD: 28Mbps.
On the Z7 you can also choose between .mov and .mp4 for the file extension (in 4K it's .mov only).
If you record at 120fps, both cameras work at the highest bitrate (144Mbps for the Z7, 100Mbps for the A7R III). You can choose to record at that frame rate with sound, and treat it like normal footage, or have it conformed in-camera to 25p or 30p to achieve the slow motion effect. Note that face detection is disabled on the Z7 when recording at 100/120fps, and you can only work in DX mode. The footage is also sharper on the Nikon.
Concerning the ease of use, the Z7 has some key advantages. First of all, the rear lever is much more intuitive, making it quicker to switch between still and movie modes. The Nikon gives you the option to keep most of the stills and video settings separate which is quite useful. You can use the shutter button to trigger the recording in either mode.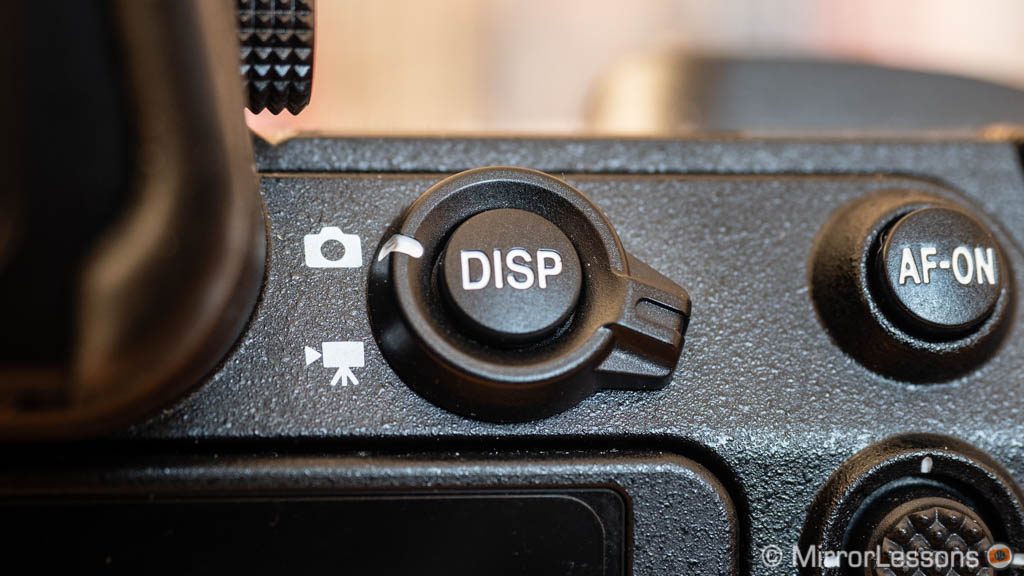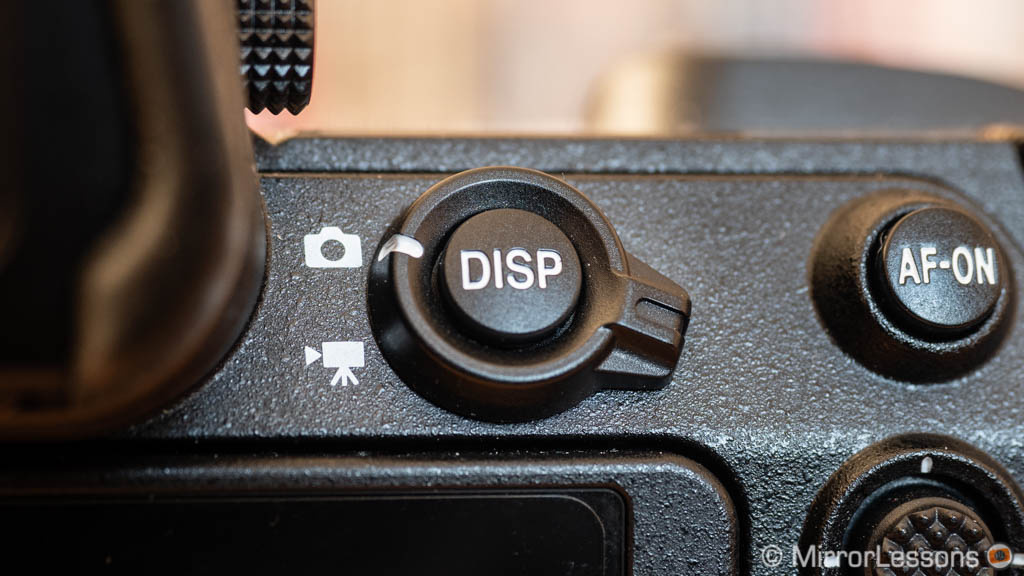 The two cameras feature audio connectivity with a 3.5mm jack input and output so you can connect an external microphone and headphones. You can control the recording volume in 20 steps on the Z7 and 31 on the A7R III. The Nikon has extra settings in addition to wind noise reduction such as:
Attenuator, which reduces the mic gain to prevent audio distortion when recording in loud locations
Frequency response where you can choose to give priority to vocal range frequencies or to a wider range of frequencies.
The A7R III has a setting (Audio Out Timing) to control undesirable sync issues when sending video and audio through the HDMI port.
I hope the following complaint is only related to my sample but I've encounter lots of noise and saturation with the built-in mic of my Z7, almost to the point where I'm convinced that the camera has a faulty microphone. Of course I would never use it for serious recording, but I would be curious to hear if someone else has noticed the same issue.
Finally, both cameras feature Time-Code and Zebra pattern options and on the A7R III you also get proxy recording.
---
Flash and extra features
Neither camera features a built-in flash, nor do they come with an external unit in the box. Luckily both Nikon and Canon offer an extensive range of speedlight units for amateur and professional use with advanced functionalities.
The Z7 has a maximum sync of 1/200, which is slightly slower than 1/250s speed offered by the A7R III. Both can work in HSS mode with compatible units.
They can work in TTL and offer various settings including red-eye reduction, slow sync and rear curtain sync. Flash compensation works up to ±3Ev on the A7R III and from -3 to +1 Ev on the Z7. Flash Bracketing is available on both models. On the Z7 you can separate flash and exposure compensation and set the latter for the background only. The same thing can be done with Auto ISO.
As for the extra features and useful settings, there are a few that both cameras have in common such as:
Bracketing: AE, Flash, White Balance and Dynamic Range (Active D-Lighting, DR Optimiser) modes. AE works up to 3Ev / 5 frames or 1Ev / 9frames for both cameras.
HDR (JPG only): combine different exposures to create one image with more highlight and shadow information, it works up to 3Ev on the Z7 and up to 6Ev on the A7R III, you can choose 3 levels of smoothing (more or less natural effect) on the Z7 as well
Creative Picture Control / Picture Effects: effects such as miniature, bleach, toy camera, etc. (JPG only)
Copyright information: save your copyright details in the EXIF data
Folders and files: you can rename and create new folders on the SD card, as well as change the file naming
The Z7 has additional features built-in such as:
Multiple exposure: up to 10 shots, 4 overlay modes (add, lighten, darken, average)
Interval timer shooting: create time-lapse with lots of settings to control time and output
4K Time-Lapse Movie: similar to the interval timer mode but the final result is a 4K video
Focus shift shooting (focus bracketing): maximum of 300 shots, 10 focus step levels and optional black and white preview with peaking
Self timer: in addition to selecting the duration (2s, 10s), you can set up to 9 shots and an interval between them
Retouch Menu: in addition to trim, resize, correct distortion and perspective, you can develop RAW files (exposure, white balance, picture mode etc.) and save them as JPGs.
The A7R III has lost the possibility to receive extra features such as the ones above since Sony has removed compatibility between its third generation cameras and the PlayMemories app store. Many of these apps weren't free and the process of installing them was tedious, but it's a shame that the company hasn't simply decided to integrate at least a few of them into the camera directly.
With tethering, the A7R III works with the USB C port (cable sold separately) and is integrated into the free Imaging Edge Suite software. You can also connect the camera to a FTP server via Wifi.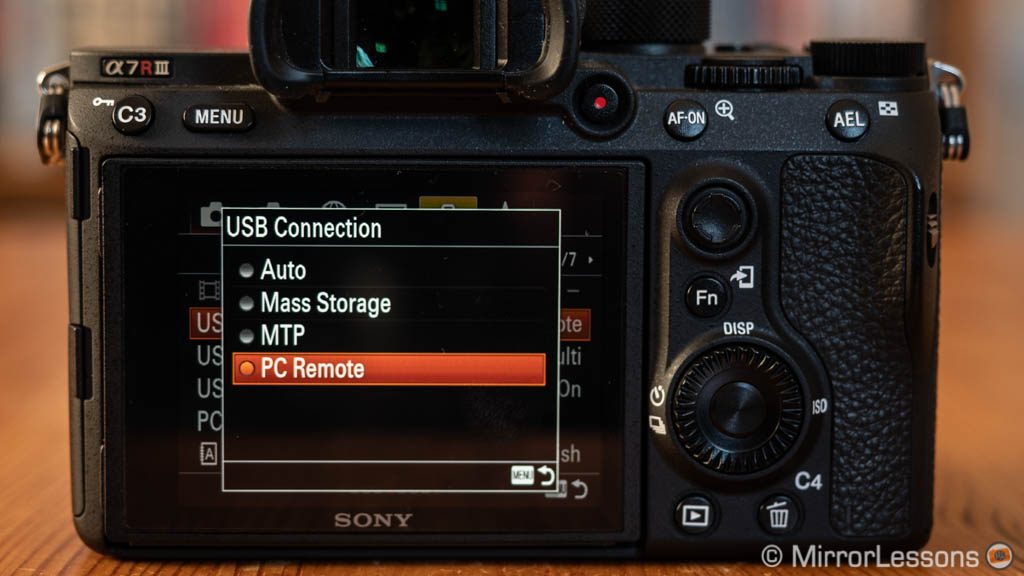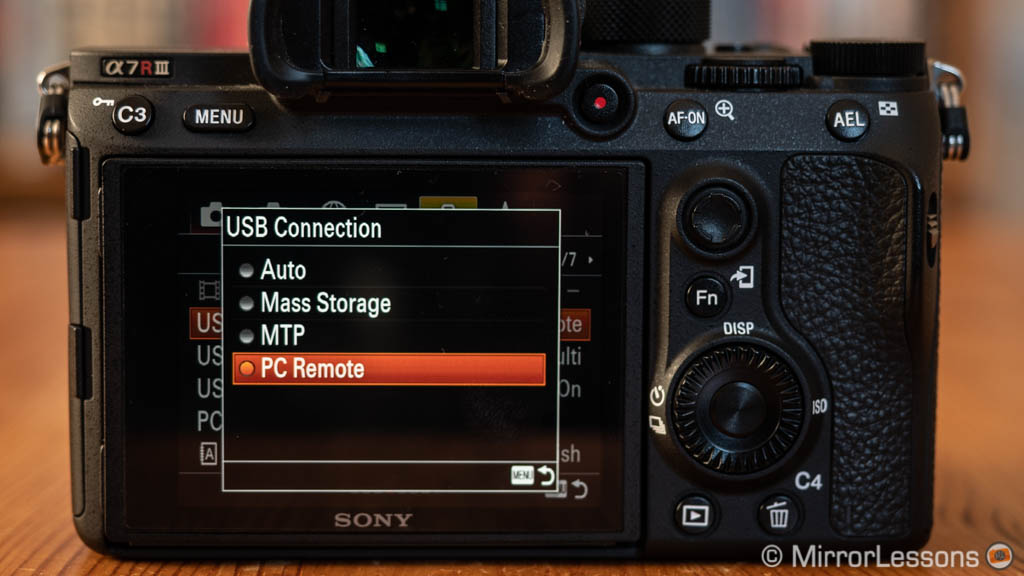 On the Z7, tethering can work via WiFi but you need to use the optional WT-7 wireless transmitter and Camera Control Pro2 software, and the two combined don't come cheap. USB support seems available in a few software such as Capture One Pro (see David Fuller's comment below). Hopefully more support from software applications such as Lightroom will come later on.
Concerning manual focus assists, I've already mentioned magnification in previous chapters but there is also peaking with different colours and levels. I find it more precise and reliable on the Nikon camera. Another advantage of the Z7 is that the focus area will turn green when that portion of the frame is in focus. It is less reliable in low light situations, or if the lens is a bit soft at certain apertures, but it's definitely a nice bonus.
Finally, both cameras support WiFi and Bluetooth capabilities including the possibility to connect them to a smartphone. You can remotely control the cameras and transfer images to your mobile device. Unfortunately like many other cameras, Bluetooth is used for location data only. Everything else needs to be done via WiFi which is more time consuming to connect every time. The respective mobile apps provide basic functionality but nothing more. The A7R III can also connect via NFC (tap technology) with compatible devices.
---
Battery life
The official rating of 330 shots per cycle for the Z7 left us feeling somewhat disappointed when the camera was first announced, considering that the A7R III is rated at around 530 shots. Fortunately CIPA ratings and real world use are two different things.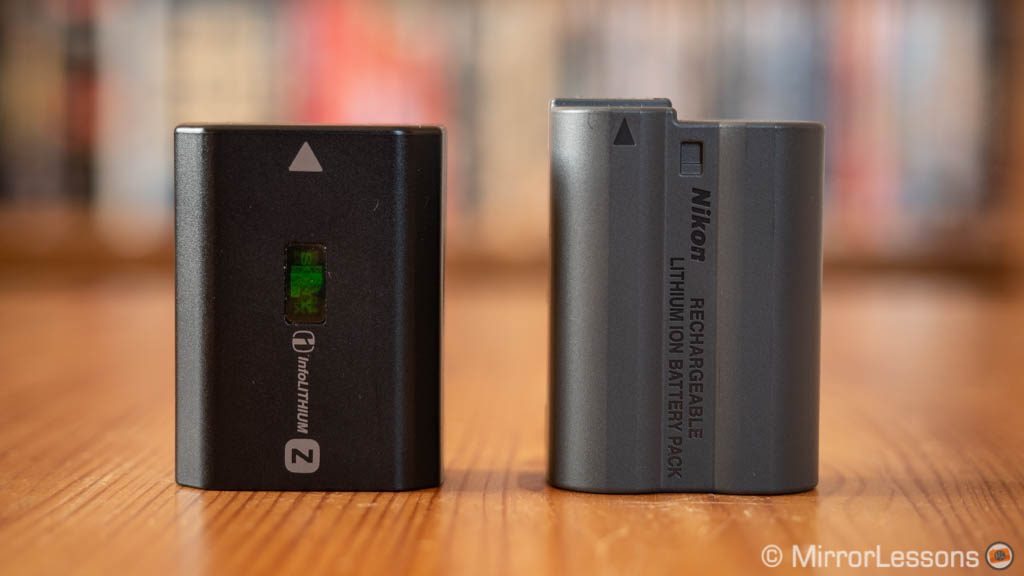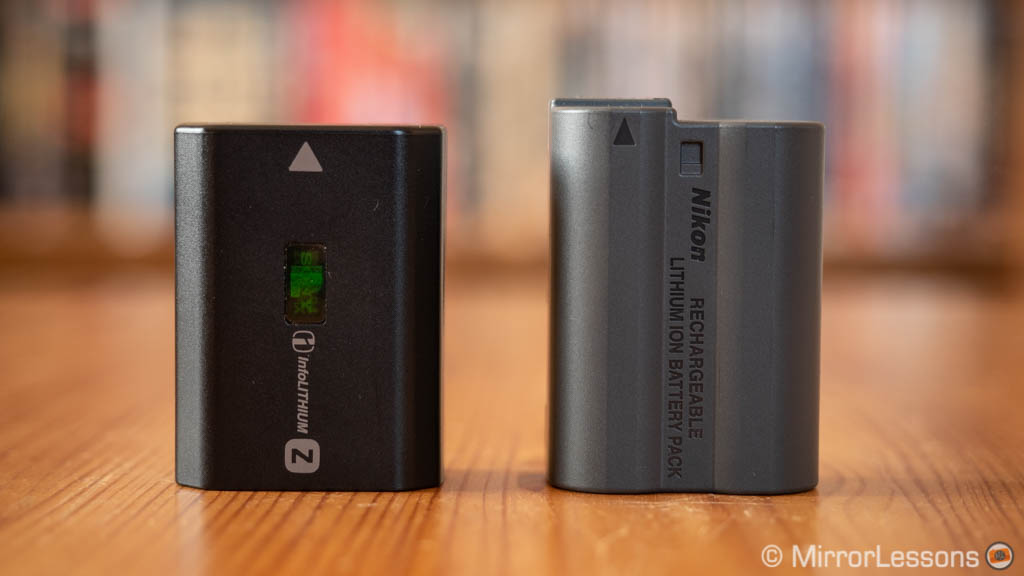 To give you a practical example, after taking 250 shots and a few 4K clips at the Rally GB race, the Z7 battery was down to 53%. Then I drove to the next location to take pictures of birds and I got an extra 450 shots before the battery icon started to flash red. So we're talking about 700 frames per cycle, which is not terrible but not great either. With the A7R III, I can bring home double the number and still have around 35% of the battery life left over.
If I record a 4K video clip at the same time with both cameras (MF, stabilisation off), the Z7 holds its ground better than expected. After 30 minutes, it was down to 77% versus 82% on the Sony. After 90 minutes, the Nikon battery had decreased to 37% versus 48% on the A7R III.
The Z7 has a dedicated page in the menu to check the status of the battery life as well as how healthy it is (age).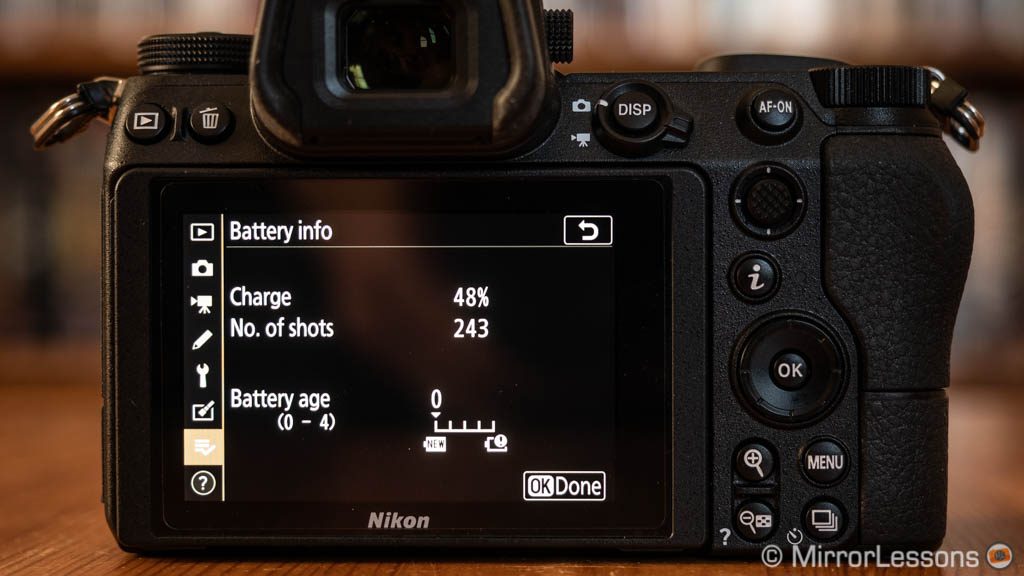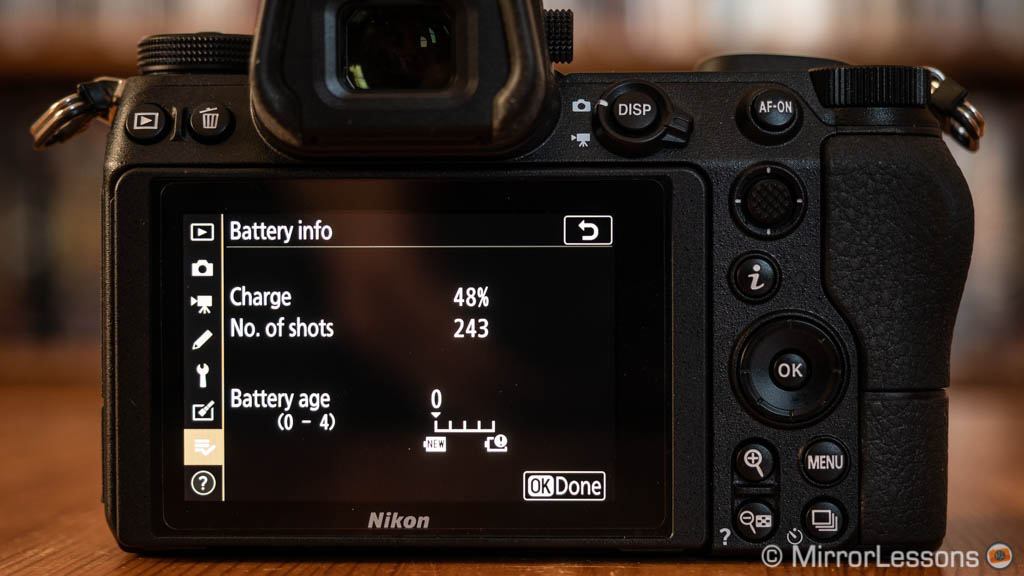 Both cameras can be charged via USB. There is a battery grip available for the A7R III (VG-C3EM) while Nikon is working on one for the Z7 and Z6 cameras.
---
Lens system
At the time of publishing this article, there are three native lenses available for Nikon's new Z mount: a 24-70mm f/4, a 35mm f/1.8 and a 50mm f/1.8 that hasn't shipped yet (December 2018). It would be easy to dismiss the Z7 because of the lack of native lenses, but I would like to remind you that the same thing was said about the A7 series when it was introduced.
A new system needs time to build a decent lens collection. Sony has done really well over the last four years, and today A7R III users can count on more than 25 native FE lenses plus a growing selection of third-party options from the likes of Zeiss, Samyang, Sigma and Tamron, with the promise of more to come.
For now Z7 users will likely rely on the FTZ adapter and Nikkor lenses they already own for their DSLRs. Otherwise they'll simply have to be patient and wait until 2019 when Nikon is set to release six new lenses (and more to come in the following years). Other adapters designed to accommodate all sorts of manual focus lenses are starting to come out, just as it happened for the E-mount platform.
Update
There are now 11 native Fx Z lenses available from Nikon (March 2020).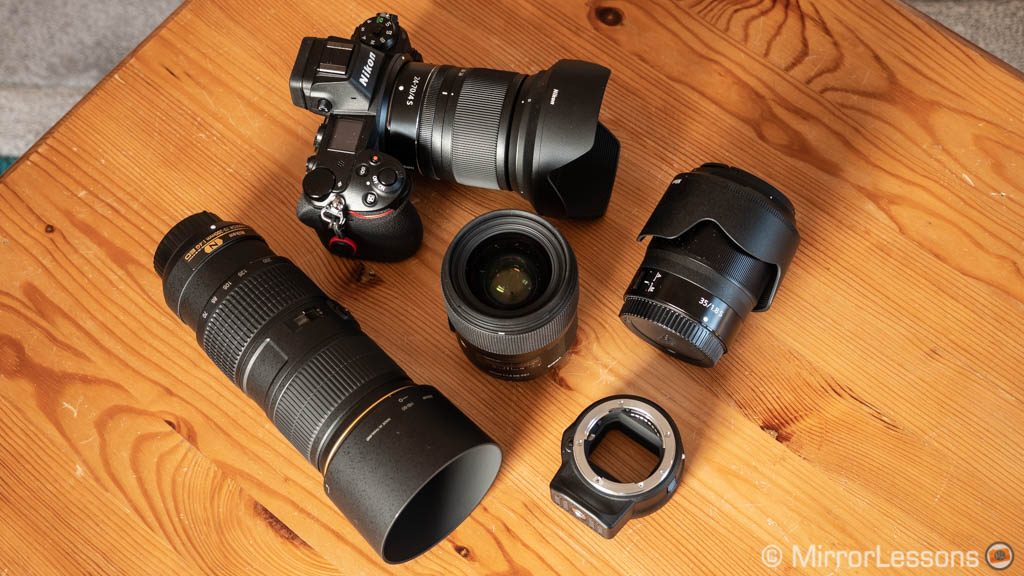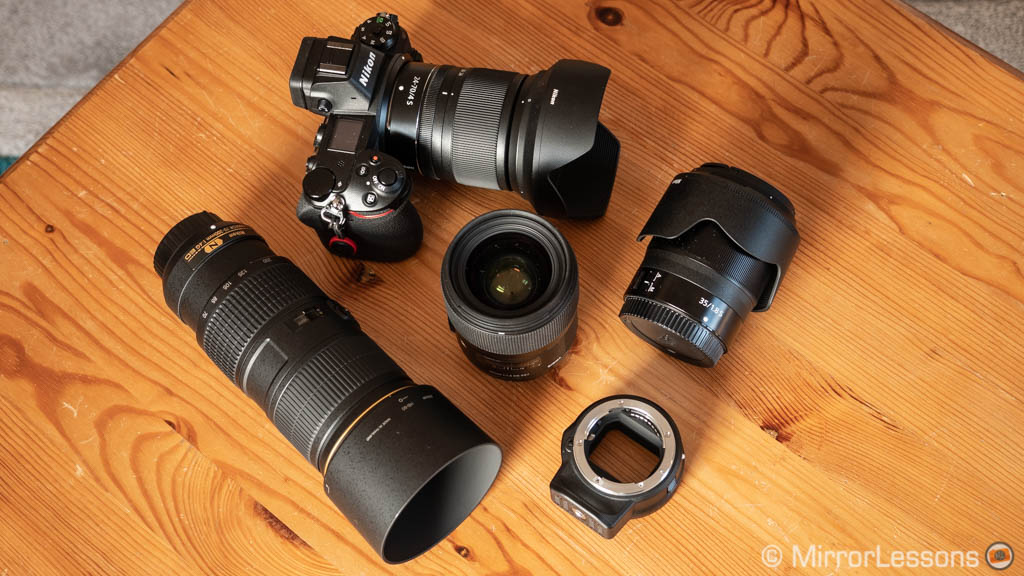 Note: when using the FTZ adapter, Full AF/AE is supported on AF-S Type G/D/E, AF-P type G/E, AF-I type D lenses, as well as AF-S/AF-I teleconverter.
Although many third-party manufacturers are investing in the E-mount system, Nikon doesn't seem willing to make the Z mount open to third-parties as of now. While it is true that there is a big selection of Sigma and Tamron lenses you can use with the FTZ adapter, I think it will be important at some point for these brands to design native lenses for the Z system.
Of course in addition to all the things I've listed above, Sony users can access many DSLR and manual focus lenses with countless adapters. In addition to Sony's own A-mount lenses, there are adapters like the Sigma MC-11 or the Metabones Mark V that offer fast and smooth AF for compatible lenses as well as OS features and other functions of the camera.
There are also a few adapters that can work in AF with Nikkor lenses. I tested the Vello version and autofocus speed is good in S-AF but slow in continuous AF, and the aperture control is not always precise. Also remember than all adapters bring some limitations like limited burst speeds in C-AF (3fps) and not all the AF settings are available depending on the adapter/lens combination.
The last point is a personal thought about the mount size: as you can see the Nikon Z version is larger than the Sony E version (55mm vs 46mm). The most noticeable difference is that on the Sony camera, you don't see the four angles of the sensor.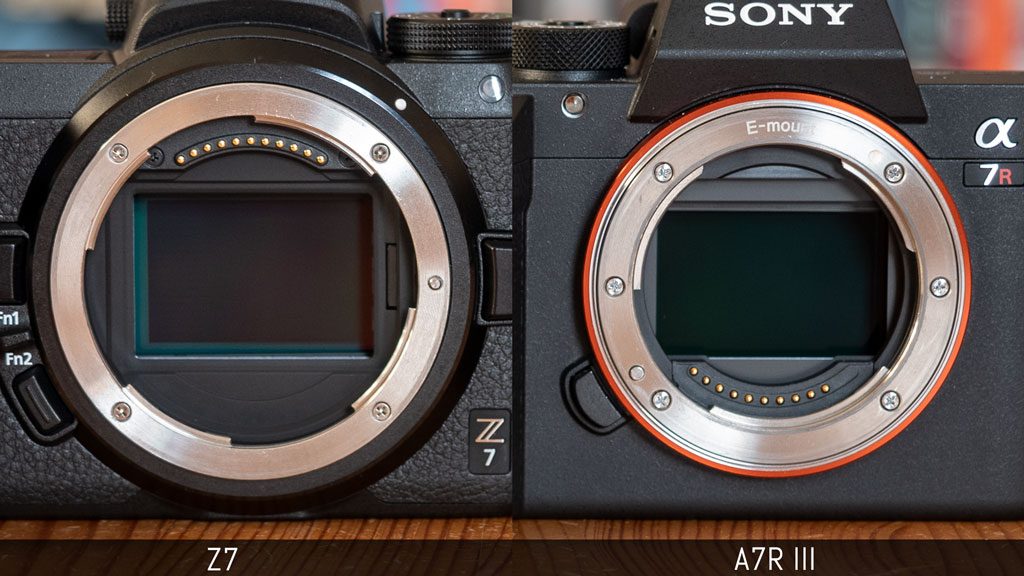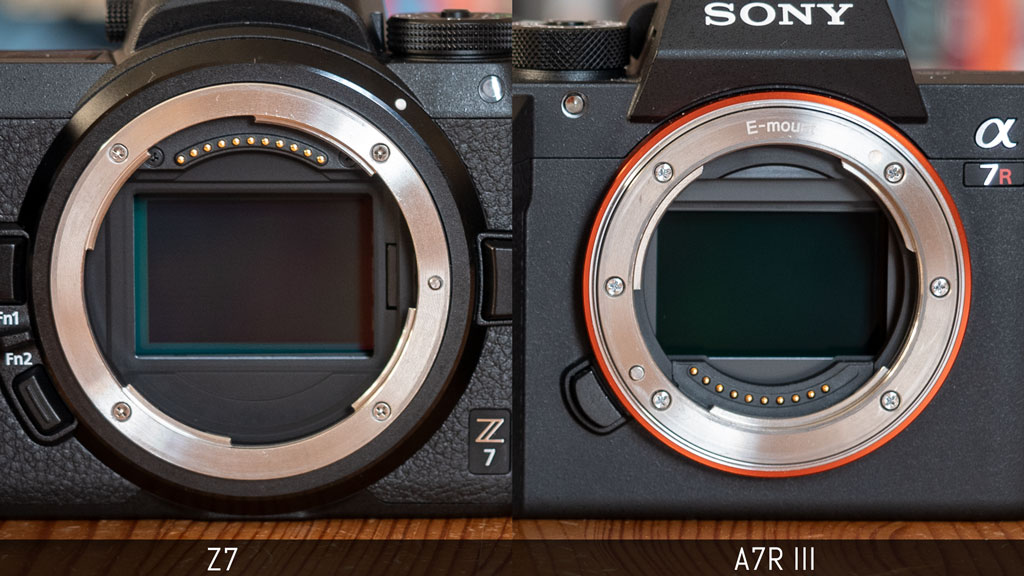 When presenting the Z system, Nikon insisted on the large diameter of the new mount, stating that it will allow them to create faster and higher quality optics than ever before, including a 58mm f0.95 which will be a first for them. Additional statements from other brands, as well as the usual debates that flare up on the internet, have raised the question of whether the E-mount is too small. Sony responded during their press conference at Photokina this year by clearly stating that you don't need a large mount to create fast high quality lenses.
I don't have the technical knowledge to say right now who's right and who's wrong, and I believe it's too soon to draw conclusions anyway. We need to test more Z lenses to see if Nikon can take advantage of the larger mount in ways Sony can't. For now, all I can say is that I've tested some optically stunning FE lenses, and some of them are quite fast. Perhaps in a few years, we will have the chance to return to this subject and draw a fair conclusion.
It is also worth recalling that Sony originally inaugurated the E-mount system with the APS-C format (Nex series, then the a6000 series) and they kept the same mount for the full-frame series in order to make the two formats cross compatible.
---
Price
The Z7 can be found at $2800 or £2500. The European price is higher at around €3150 which includes the FTZ adapter. Note that the original price was much higher ($3400, £3400, €4000).
The A7R III costs around $2500 / £2500 / €2450 body only.
Note that these prices are the one found in early March 2020. They may decrease or increase according to various factors such as new special offers or instant rebates expiring.
---
Conclusion
Despite releasing some exceptional products such as the D850 and D500, Nikon has had its fair share of difficulties in recent years. Rumours and press communiqués about losses and internal re-organisation had many of us worried. Seeing them abandon the 1 system, as well as the failure of the DL series before it even hit the shelves, only contributed to the negative picture of Nikon's situation. When news about a new mirrorless system started to surface, many of us saw it as Nikon's last chance to get back into the game. And with the Z7, they certainly have.
The Z7 is not a revolutionary camera, nor does it introduce anything we haven't seen on other products before, but that doesn't make it any less interesting. In fact, I believe Nikon has done an excellent job with their first full-frame mirrorless model.
The Z7 is very well-built and thoughtfully designed. It is comfortable to use straight out of the box and intuitive to operate, and it isn't necessary to spend too much time on customisation. The viewfinder is a joy to use, and the touch screen on the rear is very precise and reactive. To be honest, design is the area where Nikon simply couldn't fail us, and I'm happy to see they've used their experience to bring a carefully crafted camera to the market.
Another aspect that surprised me about the Z7 was its in-body stabilisation. Two generations on, the A7R III and its siblings still haven't shown any relevant improvements, whereas the Nikon is very capable for both stills and video.
The camera delivers excellent image quality, very good autofocus performance and has a wider selection of extra features such as time-lapse, focus bracketing and other tools that can please more demanding customers.
But comparing these two models side-by-side has shown how competitive this full-frame market has become. Sony can certainly learn a few things from the Z7 when it comes to design, but the A7R III has its own lessons to impart.
Let's start from the simple facts: the E-mount model has two memory card slots instead of one, a longer battery life, faster continuous shooting speeds, better buffer capabilities, no shutter shock and only requires you to invest in a USB Type C cable to tether shoot, as opposed to buying extra accessories and software applications.
Both cameras house superb sensors with excellent resolution and dynamic range, but the A7R III comes out on top thanks to the better highlight preservation. Z7 users, on the other hand, need to take into account banding that appears with heavy post processing. To be fair, the A7R III isn't perfect either as it can suffer from horizontal stripes in certain backlit conditions, but the chance of encountering this particular problem on the Sony is much lower.
The Z7 defends itself well when it comes to video quality and colours, but shows more visible noise at high ISOs. The A7R III offers more advanced image control thanks to the various Picture Profiles and can record Log curves internally, although only the Nikon can output 10-bit via HDMI.
The autofocus performance is quite similar for intense action such as group sports or wildlife, and the Z7 proved reliable with several adapted F lenses, which was a pleasant surprise. Having tested its autofocus system many times and been very satisfied with the results, the A7R III had nothing to prove in my books. The Sony EyeAF in particular continues to beat every face detection algorithm there is. As for video, they both did well in my tests.
The lower price and larger choice of native lenses give the A7R III a significant advantage. It remains the logical choice for someone who wants to invest in a high-end mirrorless camera. For now, the Z7 will probably attract more Nikon customers than anybody else. But comparison asides, the Z7 is one of the cameras I've enjoyed using the most this year, and I look forward to the development of the Z system in the future.
Where you won't find many differences:
Stunning image quality
Resolution and sharpness to spare
Autofocus performance for sports and wildlife
Strengths of the Nikon Z7:
better design, ergonomics and build quality
shorter learning curve with menu, buttons and configuration
larger EVF
more complete use of touch sensitive screen
more choice of file formats, RAW bit depth and compressions
more settings for the SOOC JPGs
5-axis stabilisation is more reliable for stills, more stable for video
focus magnification is sharper (and much more usable) in video mode
S-AF is a bit faster
more extra features
10-bit 4:2:2 and RAW video via HDMI
Strengths of the Sony A7R III:
EyeAF is more reliable for photographing people
faster burst speeds with full AE and AF tracking
larger buffer
no shutter shock issues
less noise at high ISO in movie mode
more image control for video
internal log recording
two SD card slots
longer battery life
USB tethering
lower price
To consider:
banding on the Z7 is more visible with heavy post processing, horizontal stripes on the A7R III only happen in certain light conditions and with certain lenses
the A7r III ergonomics improve with a grip extender
the Sony native lens catalogues is much bigger, but the Z system has just started so let's give it the time it needs to develop, just as we did with Sony
Choose the Nikon Z7 if:
you own Nikkor lenses (AF-S especially): they will work better
you prioritise ergonomics over everything else
Choose the Sony A7R III if:
you want to spend less but still have one of the best mirrorless cameras out there
do heavy post processing and require the best image quality output
---
Check the price of the Nikon Z7 on:
Amazon | Amazon UK | B&H Photo | eBay
Check price of the Sony A7R III on:
Amazon | Amazon UK | B&H Photo | eBay
---
Sample images and additional content
You can check out some of our favourite images taken with the two cameras and download untouched files by clicking the two links below:
You may also be interested in the following articles: