The Fujifilm X-A5 is one of the latest iterations in Fujifilm's X-A range of interchangeable lens cameras. With its sleek retro design, user-friendly interface, and flip-up touch-sensitive LCD screen, it heavily targets social shooters who want to take a step up from smartphone photography.
If you want to find out more about how this new model compares to its predecessor, the X-A3, you've come to the right place. Here we've listed the ten main differences, although as you'll discover, they have much more in common than not!
Update: our full Fujifilm X-A3 vs X-A5 comparison is now online!
---
Ethics statement: The information supplied in this article is based upon the official specifications and our personal experience with Fujifilm cameras. We were not asked to write anything about these cameras, nor were we provided with any sort of compensation. Within the article, there are affiliate links. If you decided to buy something after clicking the link, we will receive a small commission. To know more about our ethics, you can visit our full disclosure page. Thank you!
---
What they share:
24.2MP resolution
3-inch 1040K dot tilting LCD screen with touch sensitivity
up to 6fps continuous shooting
up to 1/4000s with mechanical shutter or 1/32000 with electronic shutter
built-in pop-up flash
Film Simulation Modes
---
1. Updated Sensor and Processor
Although both the X-A3 and X-A5 house a 24.2MP APS-C sensor, the latter has a newly developed version with on-chip phase detection AF pixels (more on this in the next section). The sensor is handled by an updated image processor which is said to offer processing speeds that are 1.5x faster than previous models.

According to Fujifilm, the X-A5 outperforms the X-A3 in its scene recognition accuracy in SR+ AUTO mode, colour reproduction performance and skin tone reproduction capability.
---
2. Contrast vs. Phase Detection AF
The X-A5 is the very first X-A series camera to feature a hybrid autofocus system with contrast and phase detection points. It features a total of 91 areas on a 7×12 grid in Single AF.
While it doesn't appear to be as advanced as that of the X-T or X-E cameras, it remains a step up from the pure contrast detection system of the X-A3, which has just 77 areas on a 7×11 grid in Single AF.
On both cameras, you can use the Single Point with five different sizes, and Zone AF with three optional grids (3×3 / 5×5 / 7×7). The Wide/Tracking mode is available on the 9 central points on the X-A3 or the 18 central points on the X-A5.
According to Fujifilm, the X-A5 focuses twice as fast as the X-A3 thanks to the hybrid AF system and the new processor.
---
3. 4K versus Full HD
4K resolution is a feature we've come to expect on all mirrorless cameras – even those labelled entry-level – and the X-A5 is just the latest example.
The camera can shoot in 4K (3840 x 2160) at a maximum frame rate of 15fps for approximately 5 minutes. (Personally, we find this frame rate and the 5 minute limitation disappointing considering what is on offer from the competition.) In Full HD (1920 x 1080), it can shoot at the following frame rates: 60/50/24fps.
The X-A3 offers less in terms of video specifications, being able to shoot at a maximum of Full HD (1920 x 1080) at 30/25/24p.
The maximum recording time is limited to 14 minutes in Full HD on both cameras.
Also on offer on the X-A5 is HD video at speeds of up to 120 fps (slow motion), 4K time-lapse, and touch AF in movie mode.
---
4. 4K Burst Shooting / Multi Focus Mode
There are two new modes on the X-A5, both of which are related to the camera's 4K capabilities.
The first is the 4K Burst Shooting mode which, like Panasonic's 4K Photo mode, lets you choose and save the best frame from 4K video footage. As with 4K video, the maximum frame rate is just 15fps and the resulting file is an 8.3MP JPG because the frame is extracted from video footage.
The second feature is the Multi Focus Mode, which is Fujifilm's name for in-camera focus stacking. Especially useful for macro photography, it automatically combines multiple 4K images to generate a single 8.3MP JPG image with deep depth of field.
The X-A3 lacks these new modes, as do all other Fujifilm X series cameras at the time of writing, but knowing Fujifilm, there is no reason it shouldn't come via firmware update to 4K capable models in the future.
---
5. Exposure Compensation
Here's a simple difference you have to dig deep into the specifications to uncover.
The X-A5 offers exposure compensation of +/-5EV in stills mode, which is two steps more than the X-A3. For video, both offer +/-2EV compensation.
---
6. ISO Sensitivity Range
Compared to the X-A3 whose native ISO sensitivity range is 200 to 6400, the X-A5 has a wider native range of 200 to 12800.
Both have extended 100 and 25600 values but only the X-A5 can go as high as 51200. These extended values can only be used when the image quality is set to Fine or Normal JPG in the menu and the shutter is set to mechanical.
---
7. Advanced Filters
With the X-A5 come two new additions to the already wide range of advanced filters available for Fujifilm cameras.
The first is called Fog Remove, which as the name suggests, deletes foggy tones in order to bring out a true feeling of space, and the second is HDR Art.
The filters found on both cameras are: Toy Camera, Miniature, Pop Colour, High Key, Low Key, Dynamic Tone, Fish Eye, Soft Focus, Cross Screen and Partial Colour (Red/Orange/Yellow/Green/Blue/Purple).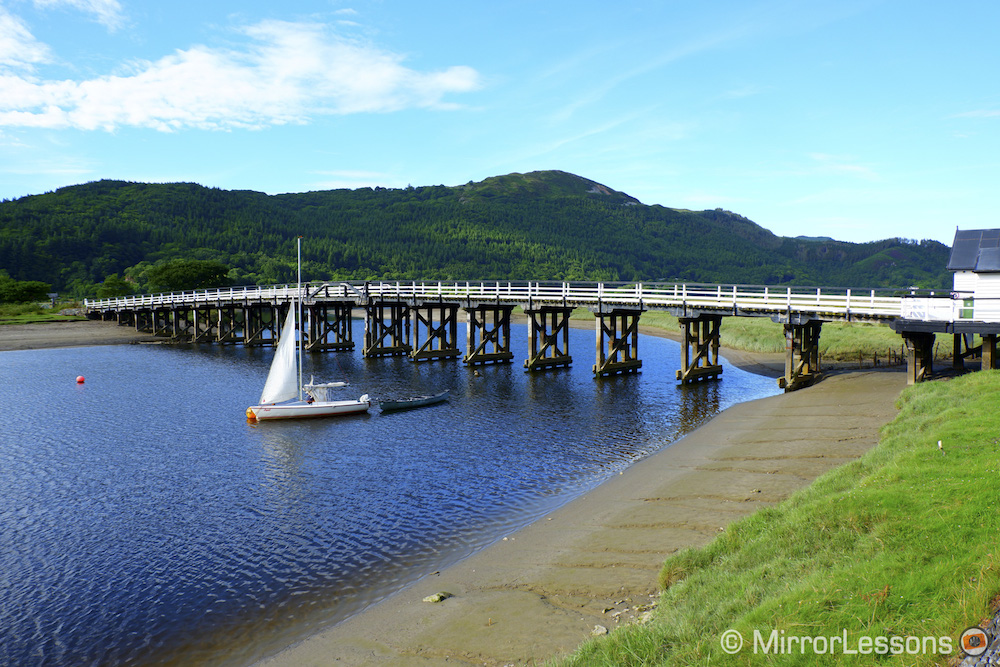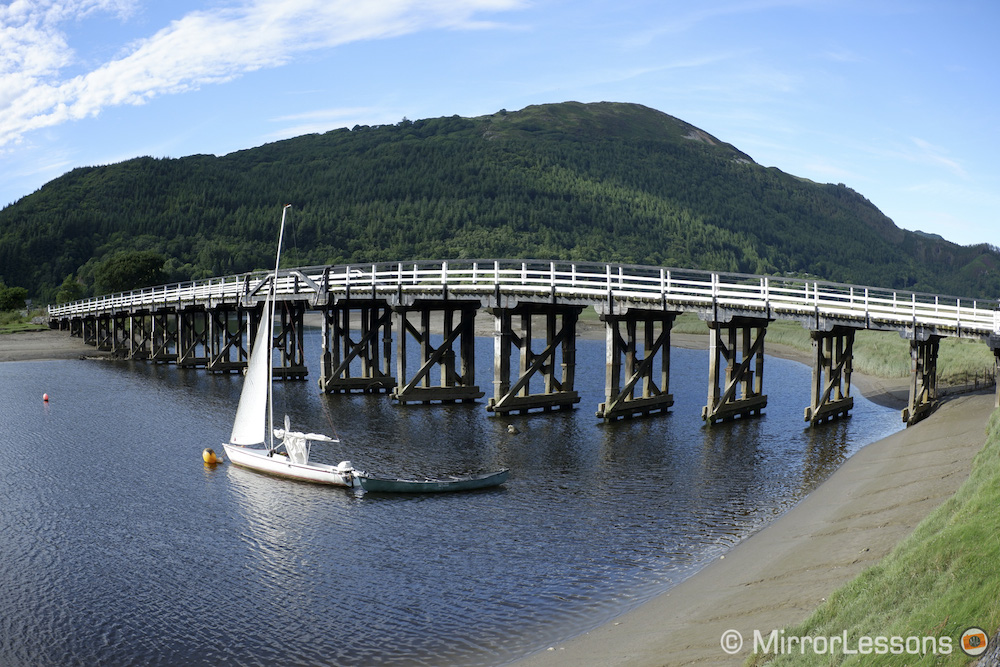 ---
8. Bluetooth Connectivity
Both cameras feature WiFi connectivity which lets you remotely control the camera or view and transfer in-camera images using the free Fujifilm Camera Remote app on your smart device.
However, only the X-A5 has wireless communication via Bluetooth (version 4.1), a feature first introduced on the X-E3 (see below).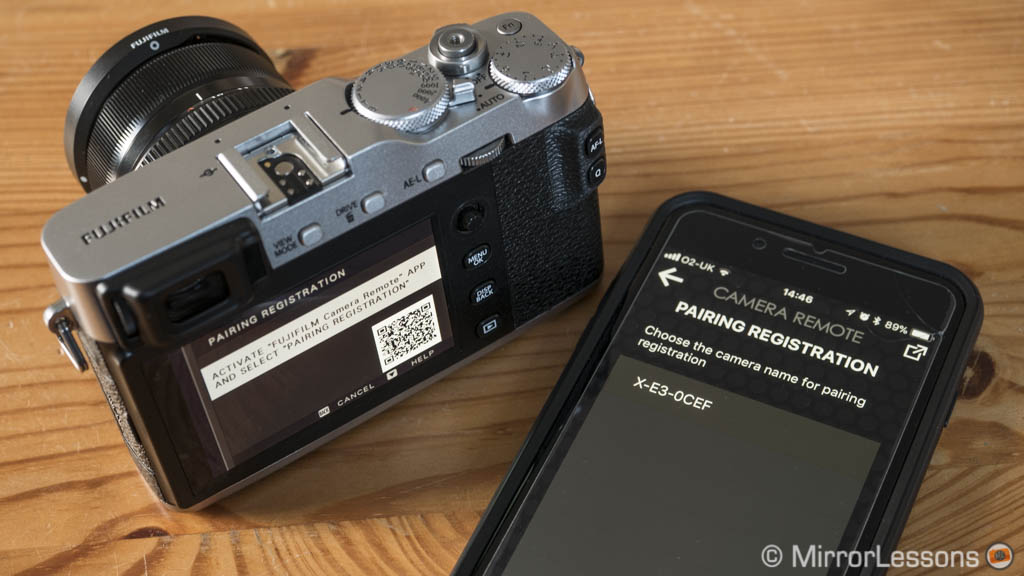 This means that the camera can pair with a smart device and stay connected at all times using a low energy signal. Images can be automatically transferred, and you can shoot remotely or view images stored within the camera.
---
9. Body Design
The size and weight is a very small difference but it is worth mentioning nonetheless.
The X-A5 is a little heavier than the X-A3, weighing in at 361g versus 339g with the battery and memory card. The width (116.9mm) and depth (40.4mm) of the two cameras are identical but the X-A5 is a little taller (67.7mm versus 66.9mm).

Both come with a built-in pop-up flash but that of the X-A3 has a slightly higher guide number (5 vs. 4 at ISO 100). Located below the flash switch on the X-A5 is a new 2.5mm 3-pole mini jack for a microphone or remote release.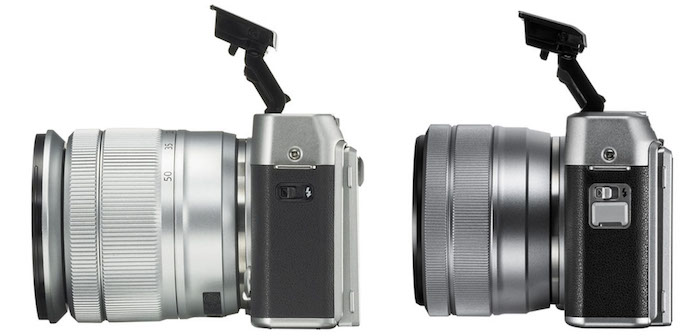 The handy focus selector on the front of the X-A3 has been removed on the X-A5, which is a shame as we found it quite useful to jump between single, continuous and manual focus on the fly. However, it has been replaced by a virtual focus selector on touch screen.

Another subtle difference is that the C (Custom) option on the mode dial has been replaced by the Panorama mode on the X-A5.

Finally the X-A5's updated processor makes it 1.5 times faster than the previous model. For example, the start-up time is now 0.4s (X-A5) rather than 0.7s (X-A3) when high performance is set to on.
---
10. Battery Life
According to the official specifications, the X-A5 has a better battery life than its predecessor despite the fact that they use the same NP-W126S battery. On one charge, it is capable of taking approximately 450 frames versus the 410 frames of the X-A3.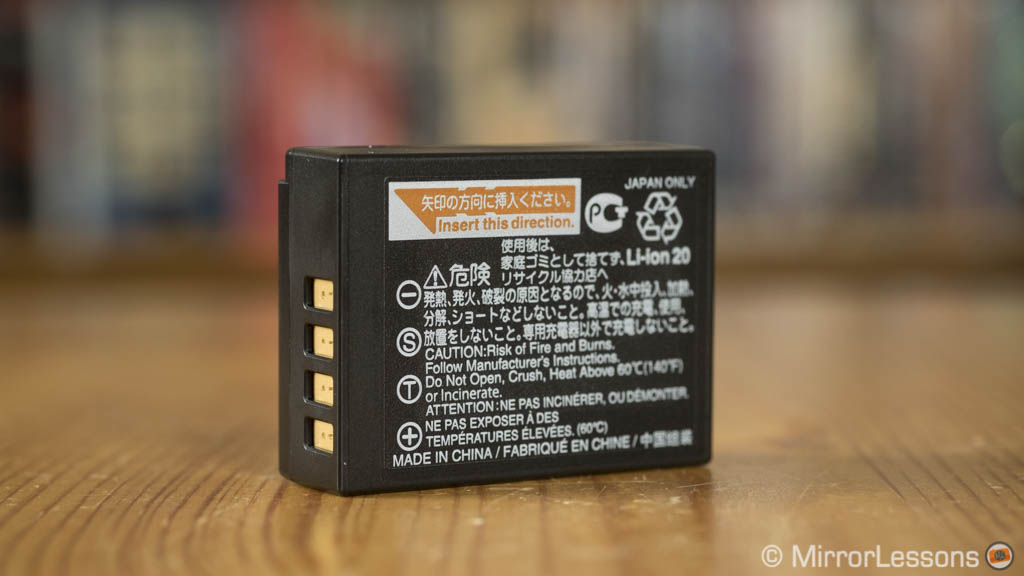 ---
Bonus: Kit Lens
The X-A5 comes bundled with a brand new collapsible kit zoom, the XC 15-45mm f/3.5-5.6 OIS PZ, whereas the X-A3 comes with the older XC 16-50mm f/3.5-5.6 OIS II kit zoom.
The new zoom appears to be visibly more compact and is the first Fujifilm X series lens to feature a power zoom function.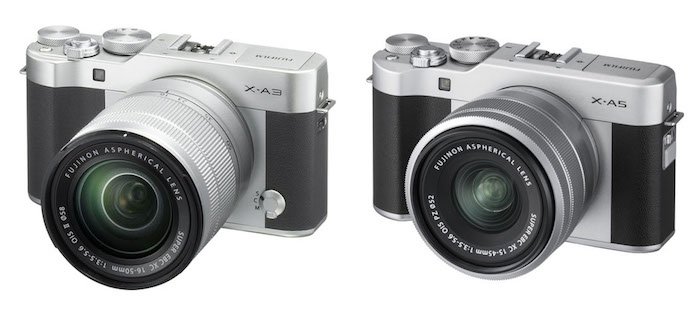 ---
Conclusion
In my humble opinion, choosing between the brand new X-A5 and the X-A3 really comes down to how eager you are to have the latest model – and whether you can find the older model for a cheaper price.
I say this because many of the most important features, such as the sensor resolution and size, LCD screen, shutter speeds and continuous burst speeds, are identical.
The real selling point of the X-A5 is its hybrid AF system which should certainly provide more accuracy if you enjoy shooting moving subjects. 4K video and the new burst feature that comes with it is another bonus, although I find the limited frame rate of 15fps a little disappointing.
Whether these two features are sufficiently important to your shooting experience is ultimately for you to decide!
---
Check price of the Fujifilm X-A3 on
Amazon | Amazon UK | eBay | B&H Photo
Check price of the Fujifilm X-A5 on
---
You might also enjoy the following articles: