Update on: July 2nd, 2018
All camera manufacturers have a range of entry-level models that target newcomers to photography, and in the case of Fujifilm, this is the X-A series.
The latest cameras in this range are characterised by their standard Bayer sensor (as opposed to the X-Trans type used on mid and high-end models), tilting touch sensitive monitor for selfies and more affordable price point.
The X-A5 became the latest model in this range after superseding its predecessor, the X-A3, in January 2018.
Now, if you saw these two cameras propped up side-by-side in a shop window, you'd be forgiven for thinking they were the same model. With the exception of a few very minor cosmetic differences, such as the lack of a focus dial out front on the newer model, they are the exact mirror image of each other.
So, where do the main differences lie? To answer this question, we'll need to take a closer look under the hood at aspects such as image quality, video performance, the kit lens and extra features.
Unfortunately I didn't have the opportunity to use the two cameras at the same time but I spent more than a month with the X-A3 and just over two weeks with the X-A5, testing them for stills and video in a wide variety of situations. Here are my thoughts on how they compare.
---
Ethics statement: The X-A3 and X-A5 were loaned to us for review on separate occasions. We were not asked to write anything about these products, nor were we provided with any sort of compensation. Within the article, there are affiliate links. If you decide to buy something after clicking the link, we will receive a small commission. To know more about our ethics, you can visit our full disclosure page. Thank you!
---
[toc heading_levels="2″]
---
Article Updates
July 2018: added an information concerning autofocus on the X-A5 with firmware 1.10
---
Mains Specifications
X-A3
Sensor: 24.2MP APS-C CMOS
Lens system: X-mount
Weatherproof: No
Internal Stabilisation: No
Autofocus: contrast detection with 77 areas on 11×7 grid
Continuous shooting: 6fps (High) or 3fps (Low)
ISO Sensitivity: 200 – 6400 ISO (pull 100, push 12800, 25600)
Shutter Speeds: 30s to 1/4000s (mechanical) or 1s to 1/32000s (electronic)
Viewfinder: None
Rear monitor: 3.0-inch, 1040K-dot, touch sensitive, tilting LCD monitor
Movie recording: Full HD at 60p / 50p / 24p
Built-in Flash: Yes
Extra Features: WiFi, Timelapse, Bracketing, Multiple Exposure
Dimensions: 116.9 x 66.9 x 40.4mm
Weight: 339g (with battery and memory card)
Firmware version: 2.0
X-A5
Sensor: 24.2MP APS-C CMOS
Lens system: X-mount
Weatherproof: No
Internal Stabilisation: No
Autofocus: contrast and phase detection with 91 areas on 7×13 grid
Continuous shooting: 6fps (High) or 3fps (Low)
ISO Sensitivity: 200 – 12800 ISO (pull 100, push 25600 and 51200)
Shutter Speeds: 30s to 1/4000s (mechanical) or 4s to 1/32000s (electronic)
Viewfinder: None
Rear monitor: 3.0-inch, 1040K-dot, touch sensitive, tilting LCD monitor
Movie recording: 4K at 15p and Full HD at 60p / 50p / 24p
Built-in Flash: Yes
Extra Features: WiFi, Timelapse, Bracketing, Multiple Exposure, 4K Burst, Multi Focus Mode
Dimensions: 116.9 x 67.7 x 40.4mm
Weight: 361g (with battery and memory card)
Firmware version: 1.10
---
Preamble: A quick word about the design
As we hinted in the introduction, the X-A3 and X-A5 are more or less identical in terms of design. Both feature a flat-topped aluminium body wrapped in an understated faux-leather finish, a built-in pop-up flash, a touch sensitive 180-degree tilting screen, a mode dial, two control dials (on on top, one on the back) and the same array of buttons on the rear. The few exceptions include:
the focus lever on the front of the X-A3, which has been removed on the X-A5
the replacement of the C (Custom) mode on the X-A3's mode dial with the Panorama mode on the X-A5
2.5mm jack on the side for an external microphone on the X-A5
---
Image Quality
Although both the X-A3 and X-A5 use an APS-C sized Bayer CMOS image sensor with 24.2MP of resolution, that of the X-A5 features a new design with on-chip phase detection. It is handled by an updated image processor which, according to Fujifilm, is approximately 1.5x more powerful than that of the X-A3.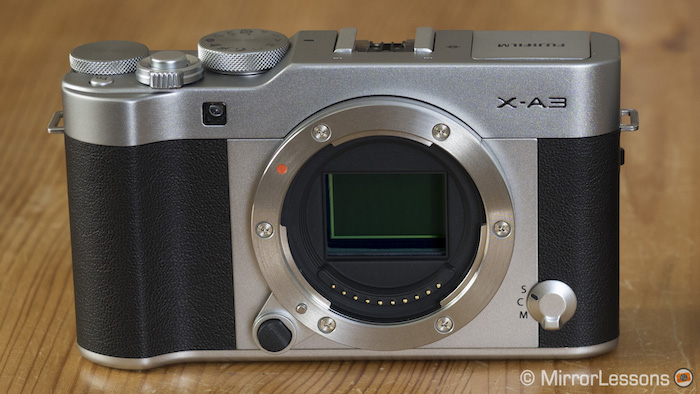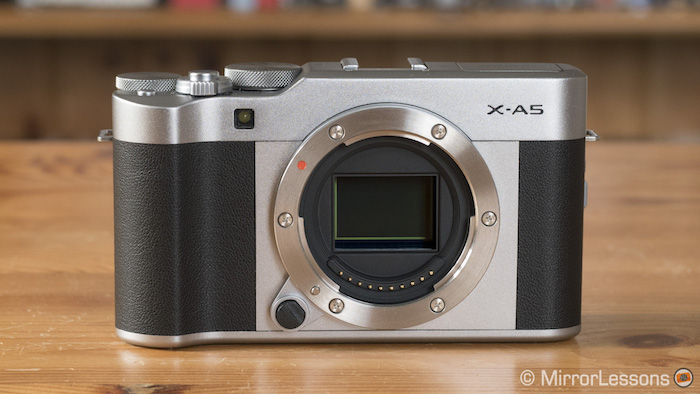 Because I didn't have the chance to compare the two cameras side-by-side, I regretfully cannot share any direct image comparisons taken in the same conditions. However, if my image samples are anything to go by, the overall performance appears to be very similar, which makes sense given that their sensors share the same resolution and size. Put simply, I wouldn't advise you to choose one instead of the other based on sensor performance alone.
General Observations
The X-Trans sensor may be Fujifilm's pride and joy but there is nothing at all wrong with the results produced by the Bayer sensors of the X-A3 and X-A5. The 24.2MP resolution is exactly what you'd expect from a modern-day mirrorless camera and being APS-C in size, you can achieve good subject separation as long as you use a fast lens.
The auto white balance is generally spot on and the colour profiles, called Film Simulation Modes, are amongst the most attractive we've tested.
In short, you have nothing to be concerned about as far as image quality is concerned, which is a statement that applies to the vast majority of today's modern digital cameras.
High ISO Performance
Having said all this, there is one area where the X-A5 has a small advantage over its predecessor, and that's the high ISO department.
The older X-A3 offers a native ISO range of 200-6400 and you can take any of these values as a JPG, RAW file or both. Additionally, there are three expandable values which are only available as JPGs: 100 (low) and 12800, 25600 (high).
The X-A5 boosts the range by a stop on the upper end to 200-12800 (JPG + RAW) with expandable 100, 25600 and 51200 values (JPG only). Looking at the various RAW samples I took at 12800 ISO, I have to say that I was quite impressed by the level of detail retention, lack of colour shift and the degree to which noise is controlled.
I still prefer to stay below 6400 with Fujifilm cameras whenever possible but at least I know that, in a pinch, 12800 isn't unusable.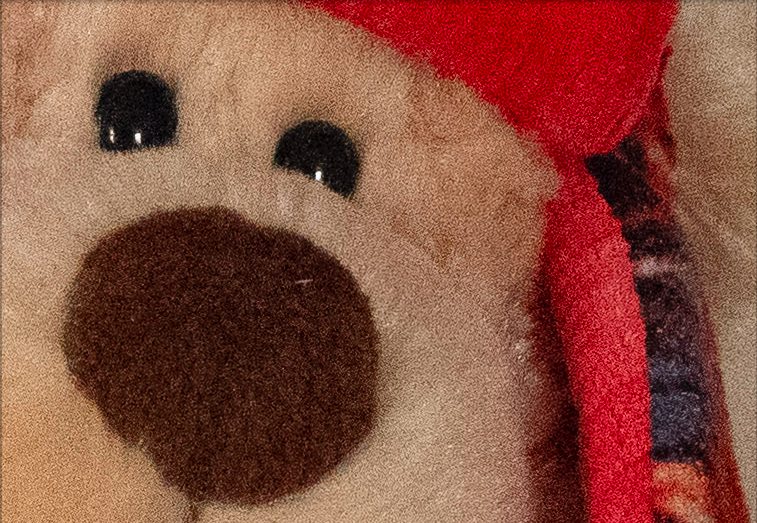 Since 12800 ISO is only available as a JPG on the X-A3, there is obviously less room to post-process the image to your liking.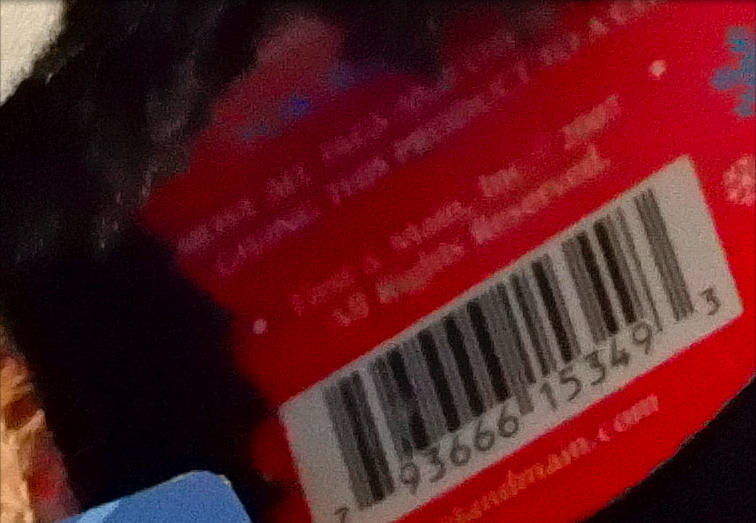 As for 25600 (both cameras) and 51200 (X-A5), I would only use them if my goal was to quickly capture the moment and share it online. Below you can see a couple of examples that demonstrate the loss in detail and increase in colour noise that come with these two values.
Unlike for stills, the X-A3 and X-A5 are both limited to an ISO range of 400-6400 for video.
---
Autofocus and Speed
Probably the most significant difference between the two cameras – on paper at least – is the autofocus system.
Not only does the X-A5 have more AF areas (91 versus 77) but as we mentioned earlier, the X-A5's sensor also incorporates on-chip phase detection AF pixels, which in theory should make it much faster and more reactive than the X-A3 and its purely contrast detection based AF system.
X-A3: Single Point (11×7 grid with 5 sizes); Zone AF (77 areas on 11×7 grid with choice of 3×3, 5×5 or 7×7); Wide/Tracking AF (up to 9 areas)
X-A5: Single Point (13×7 grid with 5 sizes); Zone AF (91 areas on 13×7 grid with choice of 3×3, 5×5 or 7×7); Wide/Tracking AF (up to 18 areas)
When we tested the X-A3 last year, we found its autofocus performance decent but far from extraordinary. For example, the camera gave us a keeper rate of around 40-50% while photographing the Llangollen Eisteddfod parade, which was mostly made up of people in costume walking at a slow pace. It was usually able to lock onto the subject on the first frame but as the subject moved closer to the camera, it would start to mis-focus or lock onto another subject in the background.
Now, as much as I'd like to say the X-A5 is a big step-up from the X-A3, the truth is that I was a little disappointed – and somewhat puzzled – by its performance. When the phase detection system kicks in, the camera is capable of locking onto subjects very quickly, but the problem is that it doesn't always work. In fact, approximately half of the time, the camera will revert to contrast detection and takes what seems like a lifetime to lock on properly.
Check out these two successive group shots taken with the 15-45mm kit lens for example. The first is blurry because the camera had trouble focusing, whereas the second is in focus because the camera decided to activate the phase detection system. At least five seconds elapsed from when I half-pressed the shutter button to when the in-focus shot was taken. And this wasn't an isolated incident – I would say at least a quarter of my shots turned out this way, despite the fact that the subjects were brightly dressed and almost completely immobile.
I was able to increase my hit rate a little by switching over to S-AF and the single AF point but I still ended up with a mixed bag of completely out-of-focus shots and crisp shots.
By contrast, the results I got during a local soccer game were fairly good, despite the erratic movements of the players, thick fog and poor light conditions. (My keeper rate was around 60-70%.) The plausible explanation for this is that I was using the XF 50-140mm f2.8, which has a triple linear AF motor and is therefore much faster than the X-A5 kit lens.
However, we have to remember that those interested in the X-A5 are much more likely to stick with the compact kit lens than buy a large and expensive professional zoom. So it is a shame that the phase detection system with the provided lens isn't more reactive. It is possible that it performs better with some of Fujifilm's recent prime lenses such as the f/2 series (23mm, 35mm and 50mm) which are more affordable and come with a fast internal AF motor but unfortunately, not having these lenses on hand, I wasn't able to verify this.
Note: Fujifilm has released a firmware update for the X-A5 (version 1.10) that is said to improve speed and accuracy thanks to a newly developed algorithm for the phase detection points. Unfortunately we haven't got a chance to test it yet.
This inconsistent autofocus performance applies to video recording as well, though it does seem to react more quickly to changes in focus in 4K than in Full HD.
Keep in mind that with either camera, it becomes difficult to follow fast-moving subjects because the maximum burst rate with autofocus is 3fps (or 6fps with AF locked on the first frame), there isn't any live view, and the buffer fills up very quickly. To combat the final issue, I regularly shoot just JPG instead of RAW+JPG at sports events like the soccer game above.
In summary, the X-A5 does bring a small improvement in AF performance compared to the X-A3 but only when its phase detection system agrees to play ball.
---
Video Capabilities
We already touched upon a few video related topics in the previous chapters such as AF performance and the ISO range, but there's good reason to give it a section of its own. Why? Because the X-A5 is the first X-A camera to offer 4K recording.
Now before you get too excited, it's important to mention that the maximum frame rate in 4K is just 15fps, which may be fine for unambitious amateur purposes but won't cut it if you plan on doing proper vlogging or more advanced video work. For that, you need at least 24fps.
The quality of the footage in 4K is decent but details appear to be somewhat washed out and rolling shutter is quite severe. Also, due to the slow frame rate, video clips are quite choppy when movement is involved. You can watch a short video that demonstrates the 4K capabilities of the camera below. Each clip was taken with the Digital Image Stabiliser for video turned on, resulting in a slightly cropped image area.
Another video feature found on the X-A5 is HD High Speed Video which lets you shoot up to 4x slow-motion at 720p resolution. It's a fun gimmick but once again, nothing you can use in a more advanced capacity due to the severe drop in sharpness and noticeable aliasing.
Both cameras offer Full HD recording at up to 60fps, eleven film simulation modes you can apply to improve the look of your footage, and digital image stabilisation for video. In order to produce the most stable results possible, it is best to use an optically stabilised lens.
---
Extra Features
Whenever we compare Fujifilm cameras to other mirrorless brands, we often comment on the lack of extra features for stills and video. Well, it seems that Fujifilm has taken a cue from its competitors – Panasonic in particular – by introducing two new 4K modes for still photography, as well as Bluetooth and couple of new advanced filters.
4K Burst
The first is called 4K Burst and it works in a similar way to Panasonic's 4K Photo mode. Put simply, the camera shoots a short 4K video at 15fps, and allows you to extract an 8MP JPG from any one of the video frames.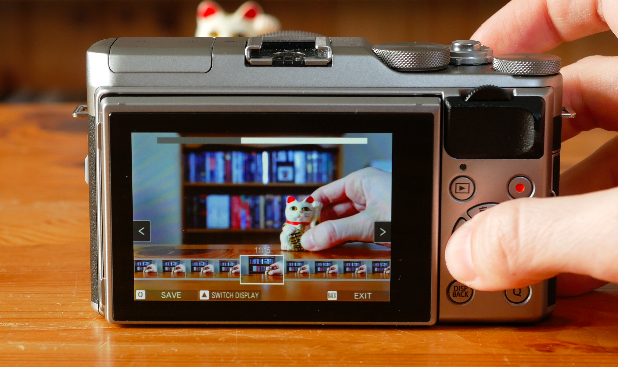 The advantage of this mode is that it allows you to capture fleeting moments that aren't easily captured by a mechanical shutter even at very fast burst speeds. The disadvantage is that it suffers from all the same issues associated with video recording, such as rolling shutter effect and banding under artificial light. What's more, it isn't easy to make the most of this mode since the camera's autofocus system still struggles with moving subjects.
Multi Focus Mode
The second mode is called Multi Focus and once again, it's a lot like Panasonic's Post Focus with Focus Stacking mode. In this case, the camera takes a 4K video at 15fps with varying depths of field. You can either extract one still with your preferred focus point (example A), or stack all the video frames together to create a single image with more depth of field (example B).
As you can see, it works well if we select just one focus point but can create some artefacts if you combine a series of images with different depths of field in camera. To be fair to Fujifilm, the very same thing happens when you stack images in-camera with Panasonic and Olympus bodies too, so it's obviously a technology that requires further development.
Advanced Filters
Also new to the X-A5 are a couple of Advanced Filters, bringing the total number up to 17 versus just 15 on the X-A3. Note that these filters only affect the out-of-camera JPGs, not the RAW files.
The first is Fog Remove which, as the name suggests, creates clearer images by removing the fog factor. You can see how the filter increases saturation, clarity and detail by comparing the two images below. Overall, it does a very good job for an in-camera filter.
The second is called HDR Art whose purpose is to create an artistic effect by emphasising tone reproduction and dynamic range. The results are psychedelic to say the least!
The other filters you'll find on both cameras are: Miniature, Cross Screen, Partial Colour (Red/Orange/Yellow/Green/Blue/Purple), Soft Focus, Toy Camera, Pop Colour, High-Key, Low-Key, Fish Eye, and Dynamic Tone.
Bluetooth Connectivity
The X-A3 was already a very "connected" camera thanks to its wireless capabilities but the X-A5 goes a step further by additionally offering Bluetooth, which maintains a constant low-energy connection between your camera and smart device.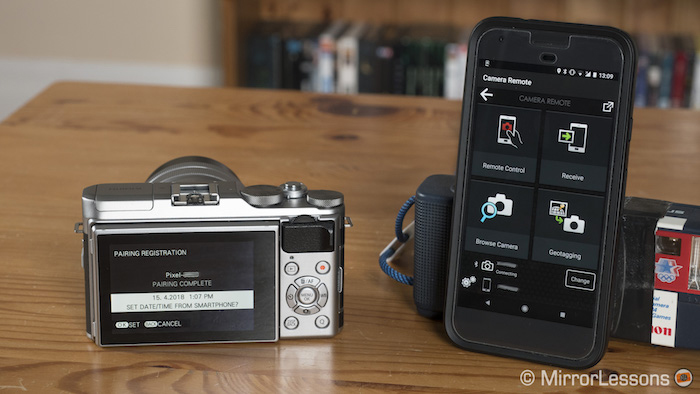 To get started, simply download the Fujifilm Camera Remote app from the App Store or Google Play and follow the on-screen prompts to pair the two devices. It can requires a few attempts before the camera and phone recognise each other – at least in the case of my Android Pixel phone – but once the connection is established, it is very stable.
Although I don't upload images directly to smartphone very much, I tried it a few times for the sake of this comparison and from start to finish, each transfer took a couple of minutes.
The extra features you'll find on both cameras include Multiple Exposure, Panorama (which has found a prominent position on the X-A5's mode dial in the place of the Custom option found on the X-A3), Timelapse (now available in 4K at 30fps on the X-A5) and Bracketing for ISO/film simulation modes/dynamic range/exposure/white balance.
---
Kit Lenses
As we've mentioned a few times throughout this article, the X-A5 comes bundled with the new XC 15-45mm f/3.5-5.6 OIS PZ kit lens, Fujifilm's first X-Series power zoom. It offers an equivalent 23-69mm field of view in 35mm terms which is sufficient for landscapes, portraits, macro and most other genres that should interest newcomers to photography. With a collapsable design and a weight of just 136g, it complements the compact dimensions of the X-A5 very well.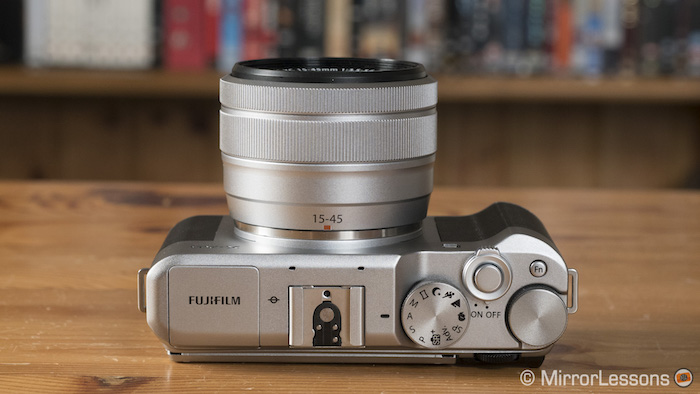 The optical quality is very good overall, though on the wide end, you might notice that the corners are softer than the centre. This is the nature of most kit lenses, however, so it's not a cause for concern.
One advantage of the power zoom is that it automatically adjusts when you turn the camera around to take a selfie.
My only complaint about this lens is that the electronic motor can lack some reactivity when you turn the zoom ring to go from the widest angle to the longest, or vice versa. This sluggishness caused me to miss a few shots, whereas with a manual zoom, I could have quickly reacted with a quick twist of the wrist.
By comparison, the X-A3 comes with the XC 16-50mm f/3.5-5.6 kit zoom which, despite being larger, is manual and thus allows you to change the focal length with added precision and speed. I personally never found its size to be an issue and I would likely choose it over the 15-45mm, not only because of the reactivity issue but also because it offers a marginally wider focal range.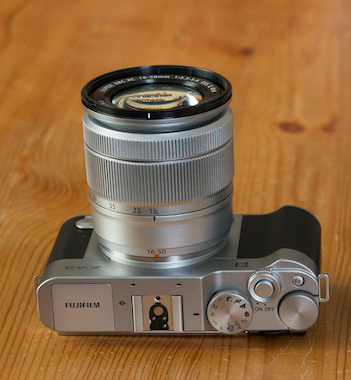 ---
Conclusion: X-A3 or X-A5, which should you get?
Despite the various differences we've covered in this article, the reality is that the X-A3 and X-A5 are very similar in most ways that matter. In addition to being compact and lightweight, both feature an excellent 24.2MP APS-C sensor, a touch sensitive screen that works very well for selfies thanks to its 180-degree tilting mechanism, Full HD video up to 60fps, decent continuous burst speeds and an attractive retro-styled body to boot.
So, what about the upgrades given to the X-A5? Well, they aren't quite as complete as we'd hoped.
A good example is 4K recording, which is a useful addition in and of itself but sadly lacks the necessary frame rates to produce smooth and attractive footage. A similar reasoning can be applied to phase detection AF, which is only worth having if it is consistent and reliable. While the X-A5's PDAF system can work well in some situations, it definitely struggles in others, especially when used with lenses that have a slower AF motor.
We did appreciate the addition of the RAW format for 12800 ISO but seeing that it isn't a value you'll be using all that often, we can't really call it a deal-breaker either.
In short, it feels as if the X-A5 is less of a true successor to the X-A3 and more of a small step up for users curious about the benefits of 4K and phase detection. This doesn't mean it isn't a great little camera for beginners – because it is – but I get the feeling that those who mostly photograph friends, family and places they visit could be just as content with the previous model.
If you do care about taking your photography to a higher level and have a flexible budget, my personal suggestion would be to turn your attention towards the mid-range Fujifilm X-T20 or X-E3. Not only do both offer 4K at up to 30fps but they also incorporate a very reliable phase detection AF system that can be used for sports and action of all kinds.
Choose the Fujifilm X-A3 if you:
want to spend as little as possible
don't care about 4K video or extra 4K modes
prefer manual zooms lenses to electronic zooms
Choose the Fujifilm X-A5 if you:
want to dabble in the world of 4K video recording without getting too serious about it
like the idea of having a more compact kit lens
think you might use the Fujifilm Camera Remote app on a regular basis to share images (Bluetooth is handy for this)
---
Check price of the Fujifilm X-A3 on
Amazon | Amazon UK | eBay | B&H Photo
Check price of the Fujifilm X-A5 on
---
Sample Images:
Related comparisons: