Updated on: July 1st, 2018
Many cameras, even those of different brands, often share the same technology, so the only way to draw a precise comparison is to look at the design and other aspects that don't necessarily jump out at you right away.
However sometimes two products are so similar that the differences between them can literally be counted on one hand. There is no better example of this than the Fujifilm X-E3 and X-T20 whose differences can be encapsulated in two simple questions: Does it have a tilting screen or not? And is the EVF at the centre or on the left?
But us being us, we decided to run a complete comparison with the hope of drawing a more complete conclusion than the sentence above!
---
Ethics statement: We were loaned the X-E3 for a month while the X-T20 is our own. We were not asked to write anything about these cameras, nor were we provided with any sort of compensation. Within the article, there are affiliate links. If you buy something after clicking the link, we will receive a small commission. To know more about our ethics, you can visit our full disclosure page. Thank you!
---
[toc heading_levels="2″]
---
Article Updates
July 2018: various information concerning the latest firmware release
---
Main Specs
X-E3
Sensor: 24 MP APS-C X-Trans III CMOS
Lens system: X-mount
Weatherproof: None
Internal Stabilisation: None
Autofocus: Hybrid and up to 325 points (7×13 and 13×25 grids selectable)
Continuous shooting: 8 fps and 5 fps, up to 14fps with electronic shutter (AF-S and AF-C)
ISO Sensitivity: 200 – 12800 ISO (pull 100 to 160, push 25600 to 51200)
Shutter Speeds: 1/4000 to 15 minutes (T mode), up to 1/32000s with electronic shutter
Viewfinder: 0.39in OLED with 2,360k dots, approx. 100% FOV coverage, 17.5mm eyepoint, 0.62x magnification and 54fps refresh rate
Rear monitor: Fixed 3″ LCD (1.04M dots)
Movie recording: 4K up to 30fps, Full HD up to 60fps
Built-in Flash: No but EF-X8 unit is included
Extra Features: WiFi, Bluetooth, Panorama, Timelapse, Bracketing, Multiple exposure
Dimensions: 121.3 x 73.9 x 42.7mm
Weight: 337g (including battery and memory card)
Firmware version when tested: 1.20
X-T20
Sensor: 24 MP APS-C X-Trans III CMOS
Lens system: X-mount
Weatherproof: No
Internal Stabilisation: None
Autofocus: Hybrid and up to 325 points (7×13 and 13×25 grids selectable)
Continuous shooting: 8 fps and 5 fps, up to 14fps with electronic shutter (AF-S and AF-C)
ISO Sensitivity: 200 – 12800 ISO (pull 100, push 25600 to 51200)
Shutter Speeds: 1/4000 to 30 seconds, up to 1/32000s with electronic shutter
Viewfinder: 0.39in OLED with 2,360k dots, approx. 100% FOV coverage, 17.5mm eyepoint, 0.62x magnification and 54fps refresh rate
Rear monitor: Tilting 3″ touch sensitive LCD (1.04M dots)
Movie recording: 4K up to 30fps, Full HD up to 60fps
Built-in Flash: Yes
Extra Features: WiFi, Panorama, Timelapse, Bracketing, Multiple exposure
Dimensions: 118.4 x 82.8 x 41.4mm
Weight: 383g (including battery and memory card)
Firmware version when tested: 2.00
---
Design and build quality
Despite the difference in design, these two cameras are actually quite similar when it comes to build quality. The top and bottom plates are made of magnesium but there is no weather sealing. They are extremely lightweight, with the X-E3 being approximately 50g lighter than the X-T2. You can find them in all black or black/silver.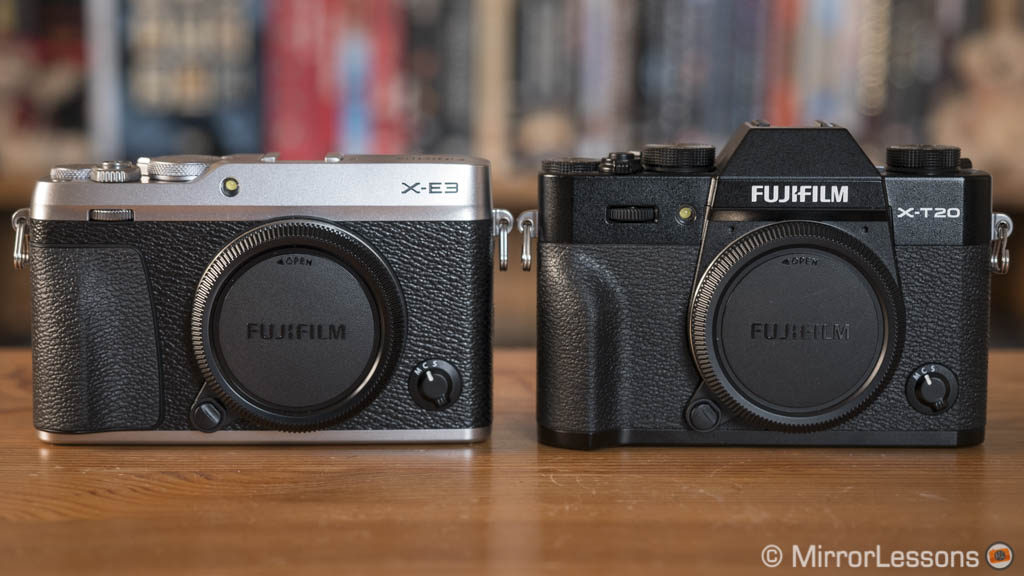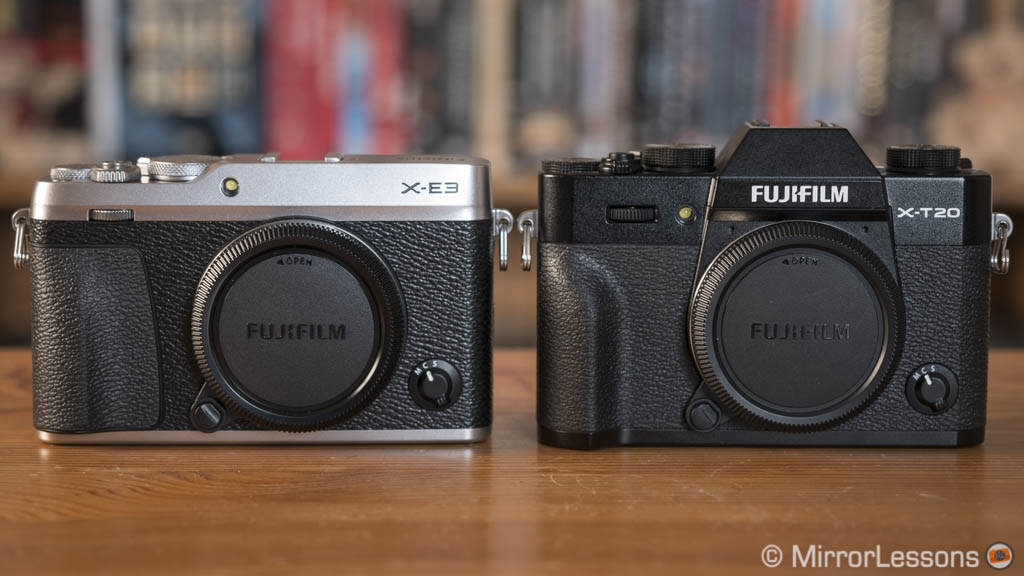 One of the main factors that could influence your decision is the placement of the electronic viewfinder. The X-E3's EVF is on the left which means that the camera is shorter than the X-T20. The latter has an EVF that protrudes at the centre, giving the camera a classic SLR look.
I personally prefer the X-T20 but those who like the "rangefinder" solution may appreciate the X-E2 as it allows you to maintain eye contact with your subject (something I can't do because I can only close my right eye). The EVF specifications are the same: OLED panel with 2,360k dots of resolution, 54fps refresh rate and 0.62x magnification but the eyepoint is a little short if you're wearing glasses.
I find the grip slightly more comfortable on the X-E3 thanks to the design and the clear space on the rear to lay your thumb. Both cameras become more uncomfortable with large and heavy lenses. Mount a 23mm f/2 or a similar lens however, and you'll have a very light and compact combo.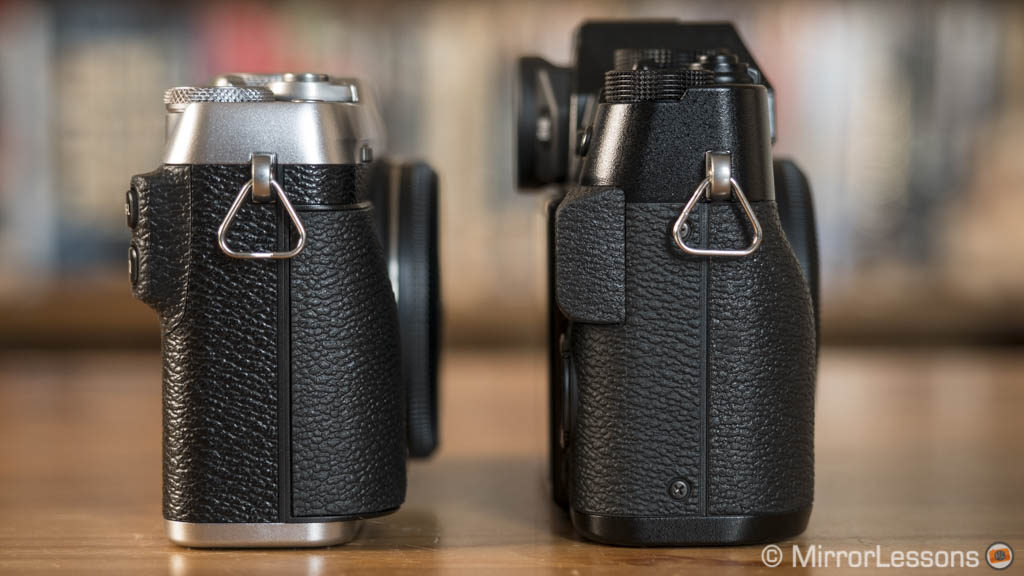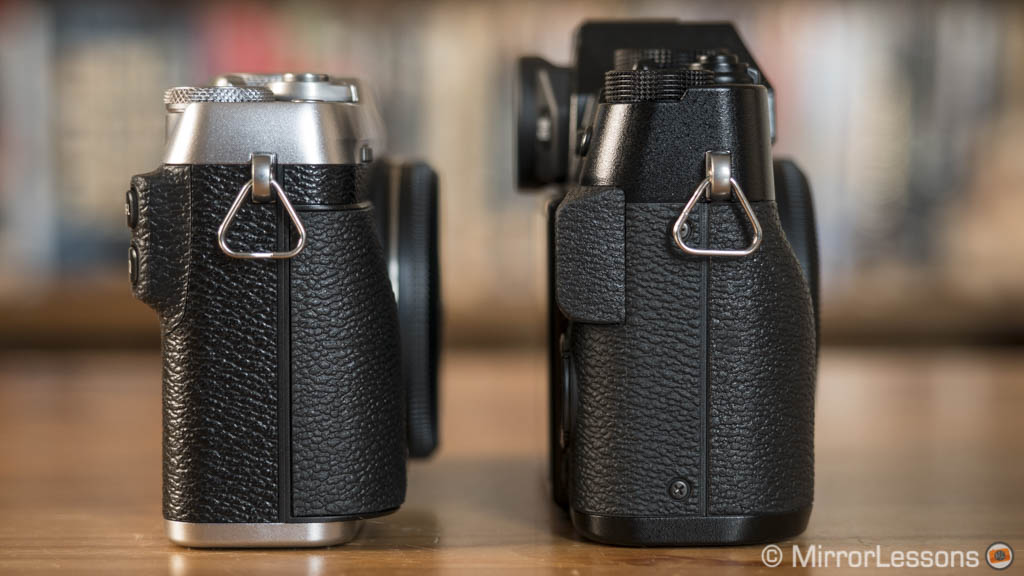 You can attach a soft release button such as the one from Lensmate (Amazon) thanks to the threaded shutter release which not only stabilises your finger while taking a picture but also adds a certain "je ne sais quoi" to the already nice looking aesthetics of the cameras.
The connection ports are very basic: Micro USB 2, Micro HDMI and a 2.5mm socket that can work with a wired remote controller or a microphone.
The only flaw in the design on both cameras is the tripod socket: because it is so close to the battery/SD card door, you have to unmount the tripod plate every time you need to change one or the other.


---
Controls and ease of use
The second main factor that could have an impact on your decision is the rear screen. Like all rangefinder-style Fuji cameras, the former has a fixed LCD panel whereas the latter has a tilting mechanism that flips up approximately 100° and down 45°.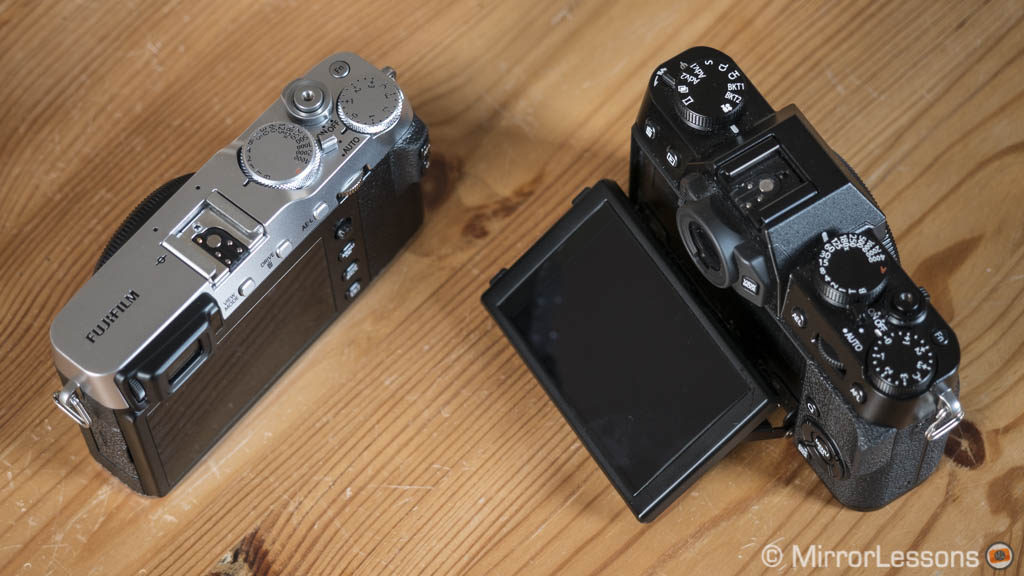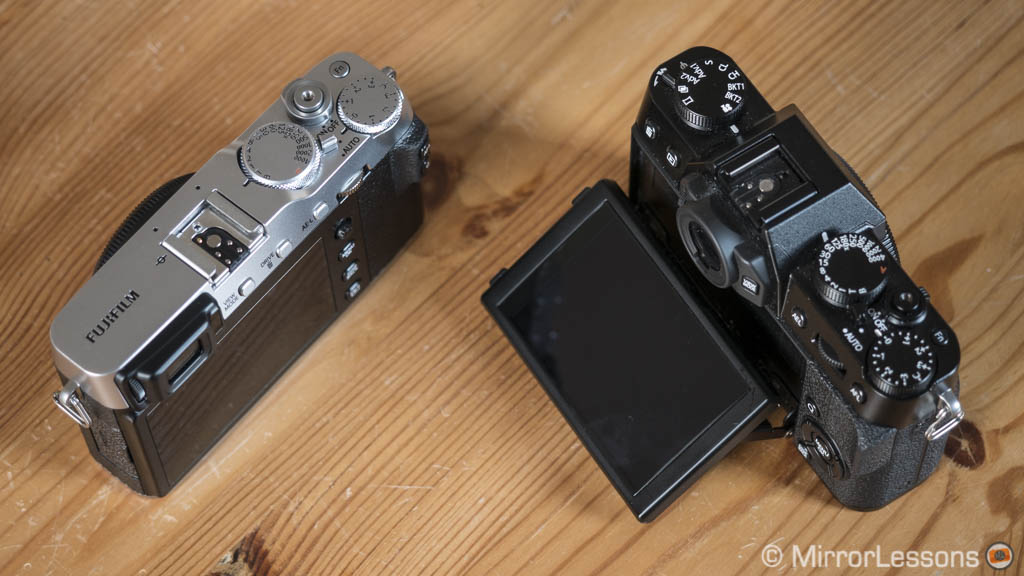 Whether having a tilting screen is a deal breaker is up to you, but I can certainly say that more than once I was annoyed with the X-E3. A fixed screen may be more robust but you don't realise how comfortable a tilting screen is until you no longer have one! Tilting screens are even more useful when combined with touch sensitivity, which funnily enough, is a feature that the X-E3 actually has!
With both camera screens, you can take a picture, focus, use the Q menu or move the focus point while composing with the EVF (Touchpad feature). I thought the last option might have been an interesting solution for the X-T20 since the camera doesn't have a dedicated AF joystick but I find it quite slow. I prefer to use the 4-way D pad which is quicker and more precise.
The touchpad function is less useful on the X-E3 for two reasons: first you need to activate the AF area grid via a function button first, and second the dedicated AF joystick is so comfortable that there's no reason to want to use anything else.
Speaking of function buttons, you might have noticed that there are fewer physical buttons on the rear of the X-E3, most noticeably the missing D-pad. This solution not only provides more space for your thumb but also eliminates the risk of inadvertently pressing buttons, which happens often with the X-T20.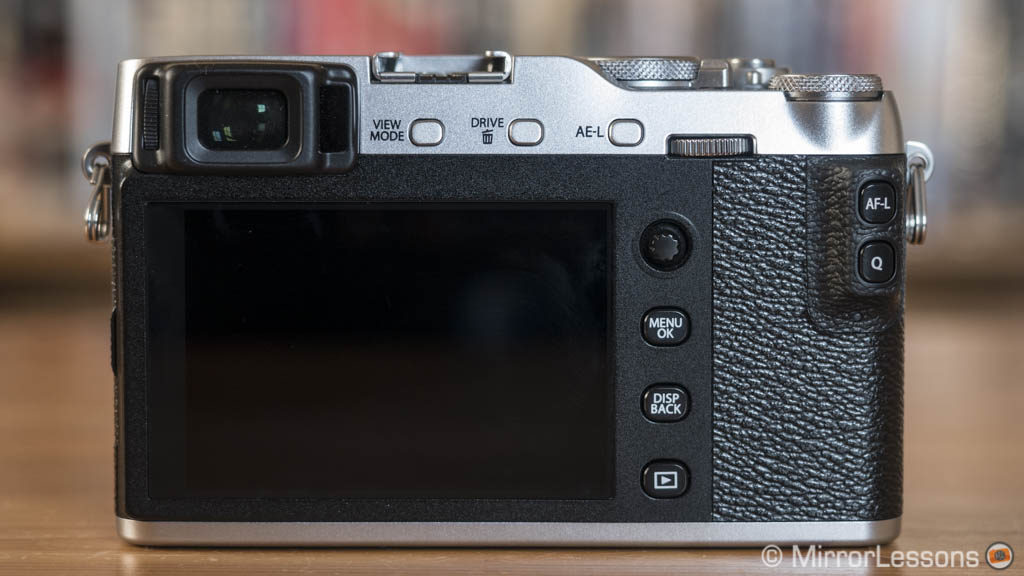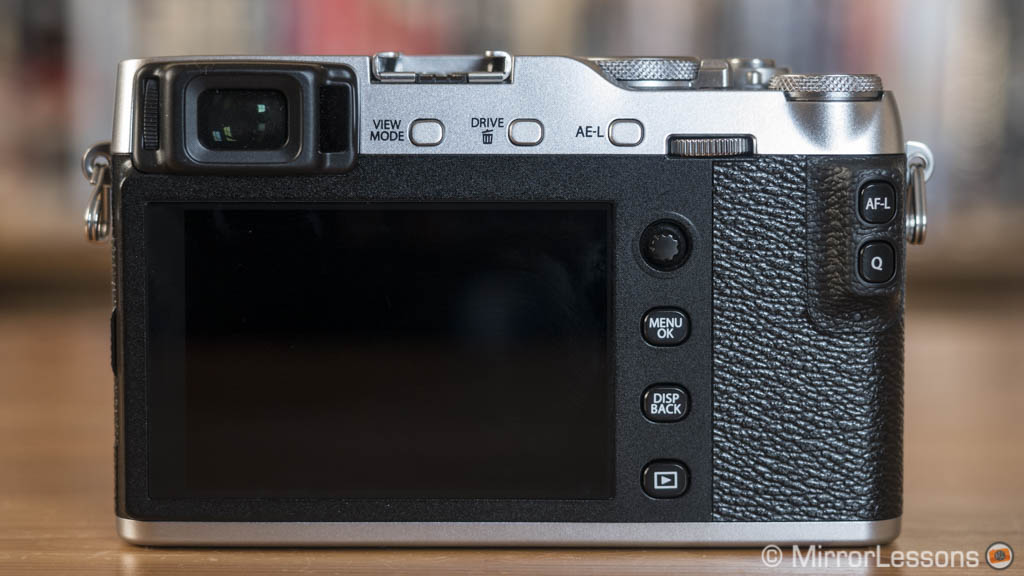 Despite having fewer physical buttons, the X-E3 still has as many function buttons as the X-T20 (8 to be precise). The trick? You can use touch gestures in four different directions (up, down, left or right) to activate four different settings of your choice.
It takes some getting used to because you need to perform a quick flicking action from the edge of the screen rather than a slower swipe. Once the setting is displayed, you can continue using the touch screen to select the value, although in some cases it doesn't work very well. For example, when choosing a white balance mode and then trying to adjust the WB shift, I had to revert to the joystick to move the cursor because nothing was happening on screen.
You can use the AF Joystick to navigate the menu on the X-E3 which I find pleasant, albeit a little too sensitive at times. The touch screen doesn't allow you to browse the main menu but you can use it to change settings in the Q menu.
Speaking of menus, the main one is exactly the same on both cameras. It's very easy to navigate and well organised. There is a My Menu page where you can save some of your most used settings. After adding a few, the camera will always open that page first when you enter the menu. The Quick Menu has 16 slots that can be customised and there are seven Custom Settings to save your favourite picture settings.
Recent firmware updates have added extra customisation options, like for example changing the location of the various data displayed on the LCD and EVF.
We can't talk about Fujifilm cameras without mentioning dials. You'll find a traditional shutter speed dial, an exposure compensation dial and a Focus mode selector on the front. There are two command dials on the front and rear that can be used for different things like adjusting the shutter speed in 1/3 steps or activating a function by pressing the rear dial. On the X-E3 the front command dial can be used as an option to select shutter speed, aperture and ISO (rotate to change the value, press once to switch between the three settings).
On the X-T20 there is an additional dial for the drive mode which is quite handy, while on the X-E3 you have a dedicated button for that purpose. The Auto lever is also present on both cameras. Overall, all the physical buttons and dials give you precision and a nice tactile feel.
What's interesting to note about these two button layouts is that on the X-E3 you can carry out most of the operations with your thumb and right hand, while on the X-T20 some buttons are placed on the left and are more comfortable to access with your left hand.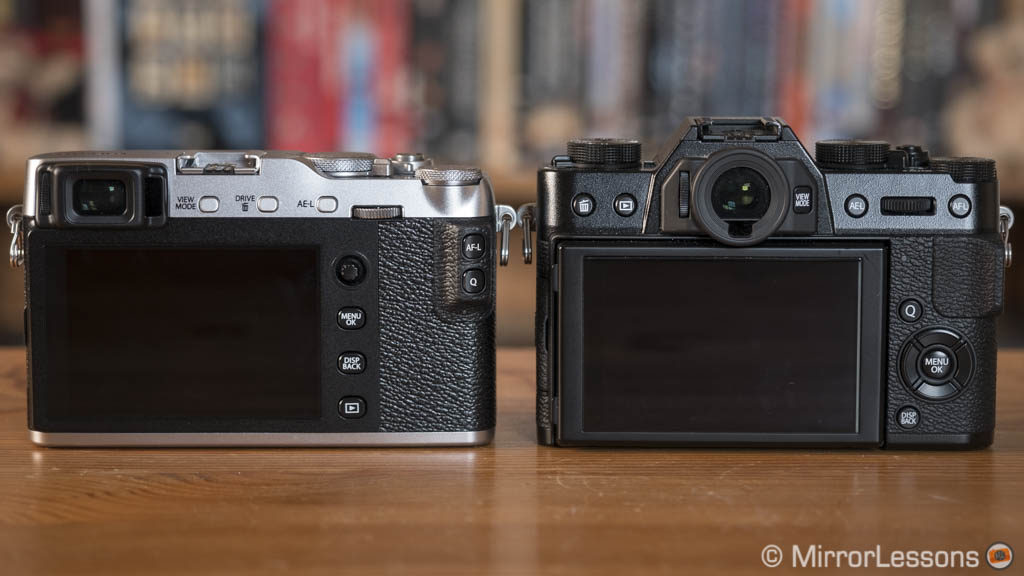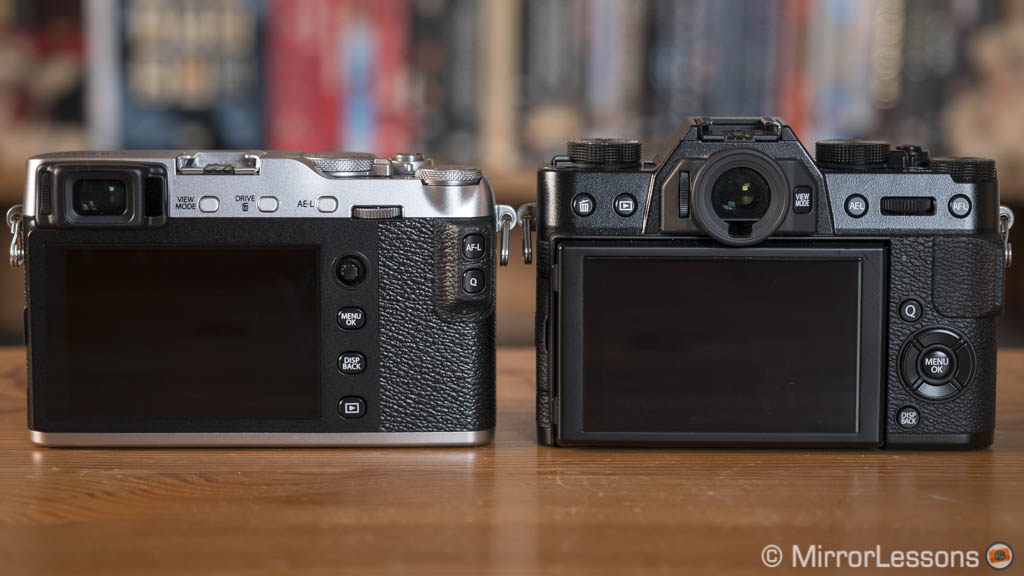 ---
Image quality
The two cameras feature a 24MP X-Trans III CMOS sensor and the X-Processor Pro engine, the same found on other Fujifilm cameras including the X-T2 and X-Pro2. For this reason, there is no point in carrying out extensive comparison tests here: the X-E3 and X-T20 deliver the exact same image quality.
The dynamic range is excellent when you choose the 14-bit RAW files and it is very easy to recover the highlights and shadows. You can shoot in uncompressed or lossless compressed RAW. The latter saves space on your SD card and gives you a deeper buffer when shooting in continuous mode.
The sensitivity range goes from a native 200 to 12800 ISO. Extended values are available down to 100 and up to 51200. One small difference is that the X-E3 also has pull 125 and 160 values. The images are usable up to 12800 where noise is contained and there is very little chroma noise to deal with. From 25600 noise becomes more invasive and 51200 is the only truly unusable value.
If you like straight out of camera results, you can take advantage of the excellent JPGs and the various Film Simulation modes that give you distinctive colour palettes. My favourites are Astia and Classic Chrome but I also love the monochrome profiles and Acros in particular.
You can tweak the JPG output by playing with highlights, shadows, noise reduction, sharpness and saturation. Note that NR can be quite aggressive if set to a higher level than +1 or +2, while a high sharpness value is unpleasant with skin tones. Also opening the shadows too much can give a mushy rendering to portraits. The auto white balance works really well in most situations.
The two cameras don't suffer as much from sensor flare as the X-T2 and X-Pro2, as demonstrated in our X-T2 vs X-T20 comparison. This hopefully means that most recent X-T2 and X-Pro2 models to come out of the factory won't have this problem either.
The only negative point to bring up (if we pixel peep) is the one that Fuji users have been aware of from the day one: certain software programs like Adobe Lightroom* render softer details with RAF files in comparison to other programs such as Iridient Developer. For some users this is a huge problem while others happily live with it. In my personal experience, I've found that a difference is certainly there but it isn't a big issue 90% of the time.
*Note: the Enhance Details mode on Lightroom Classic CC 8.2 gives a significant improvement with Fuji's RAF files.
You will find useful settings to control the image quality such as Auto ISO with three presets and minimum shutter speed control, and four metering modes. The X-E3 has an extra Live View Highlight Alert mode if you want to make sure not to clip the bright zones of your picture.
---
Autofocus
The two cameras share the same autofocus: a hybrid phase and contrast detection system with 91 points. The 49 central points are phase detection and become the only ones available when using continuous AF and CH burst shooting. You can also subdivide these 91 points into 325 when using S-AF with single or CL shooting modes.
You can use a single area (six sizes available for the X-E3, five for the X-T20), Zone AF with three different groups (3×3, 5×5 or 7×7) or Wide Tracking which uses any of the 91 points available. Zone AF is excellent for action and moving subjects.
The performance in S-AF and C-AF is fast and reliable in good and difficult light conditions as long as you use recent lenses that have a faster internal AF motor. With older lenses such as the XF 35mm f1.4 or XF 23mm f1.4, the camera can occasionally mis-focus in S-AF and the keeper rate is lower in continuous AF. That being said, when the AF lock is correct, the images are tack sharp.
Both cameras benefit from the latest software upgrade that improves speed when tracking subjects (firmware 2.0 for the X-T20). That being said I couldn't find a substantial difference with the previous version. What's important to highlight here is that both models perform in the same way.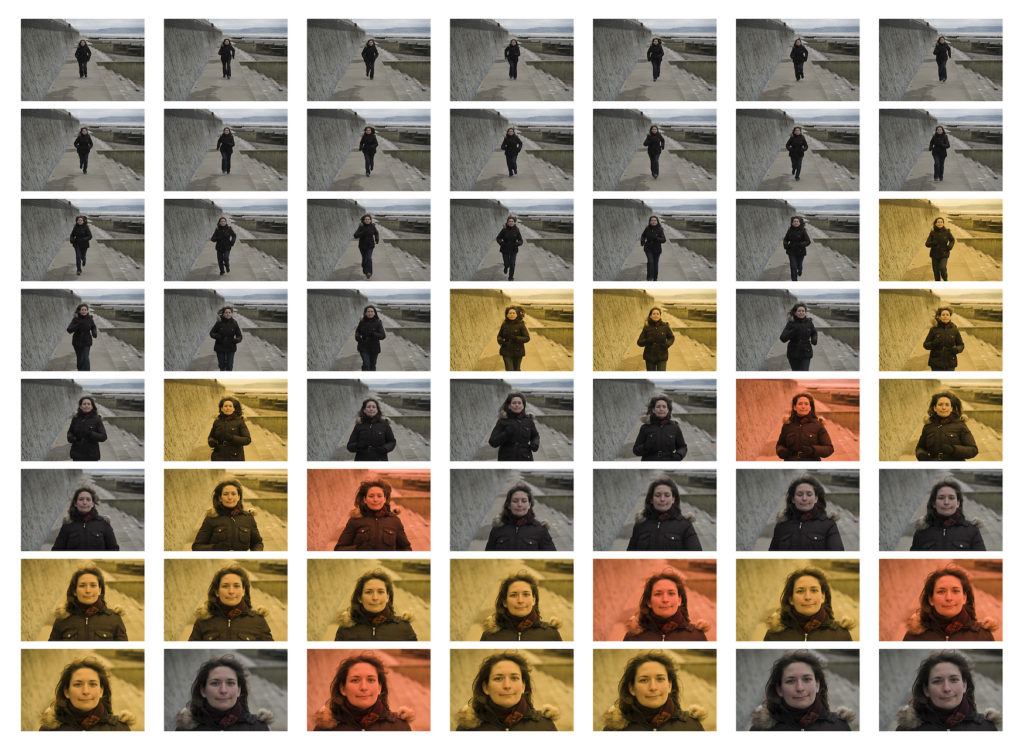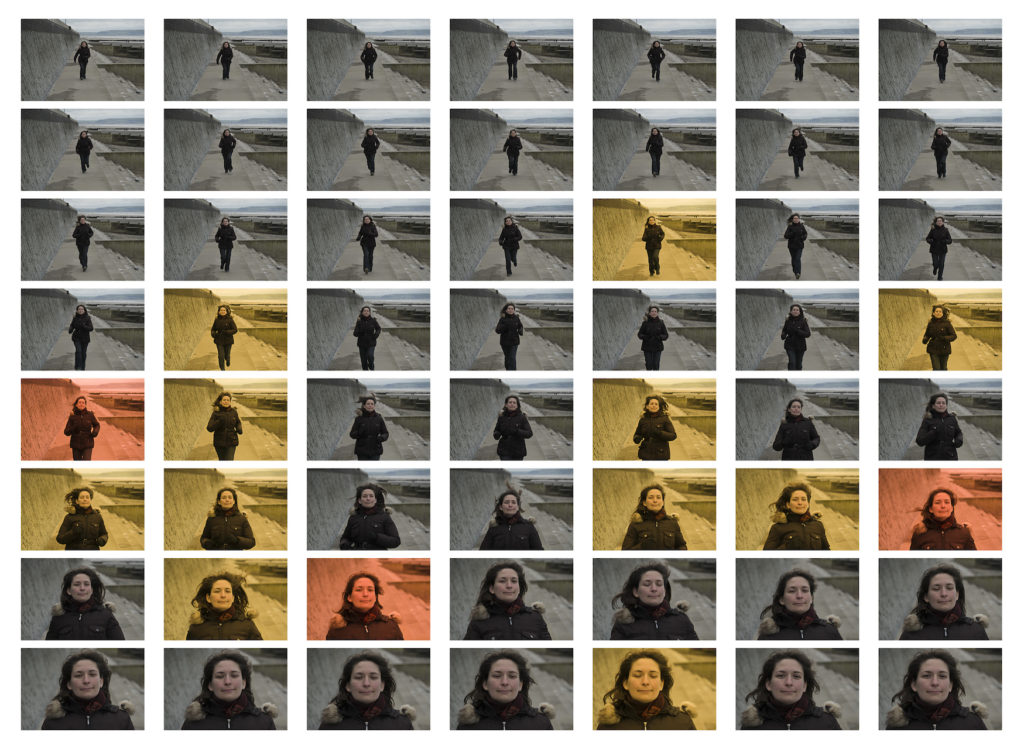 We used the X-E3 for a evening soccer game and the performance was good despite not having the appropriate lens. Indeed it was enough to confirm all the good experience we had with other 24MP Fuji cameras last year. The software improvement may bring some benefits in specific situations that I couldn't test like birds in flight but I wouldn't choose the X-E3 just for that. As for the X-T20, it performed really well for other sports in the past and has one of the best AF systems in the mirrorless segment. That's all you need to know really!
Another useful option is the AF-C Custom Settings with five presets to control the sensitivity and reactivity of the autofocus based on specific situations. For example Set 2 can be useful when tracking a subject because it stops the camera from refocusing on other elements in the foreground (a tree or a pole) while Set 4 makes the AF as reactive as possible for suddenly appearing subjects. They are quite effective but if you're in doubt about which one to use, stick to Set 1 as the wrong setting can decrease the keeper rate.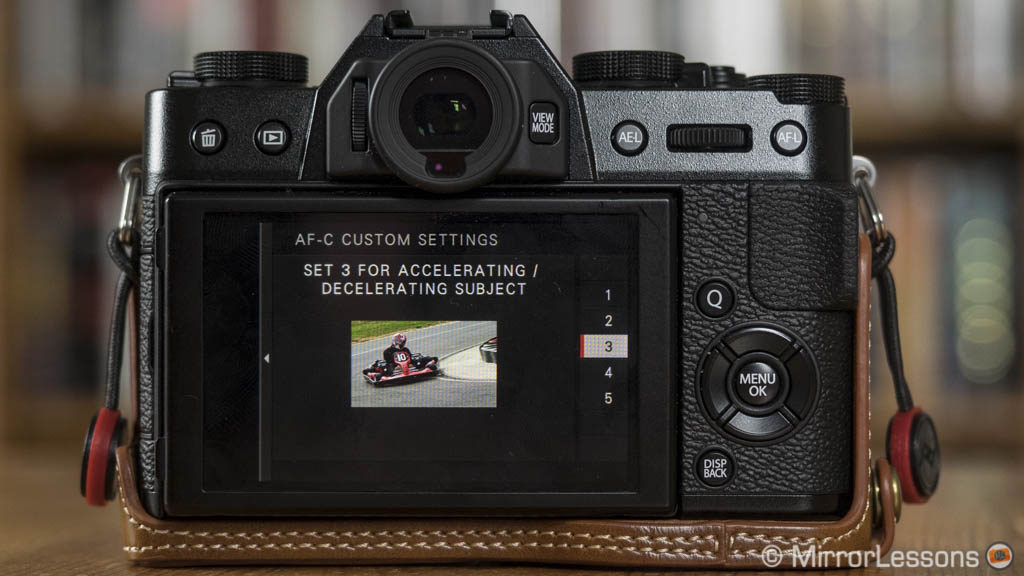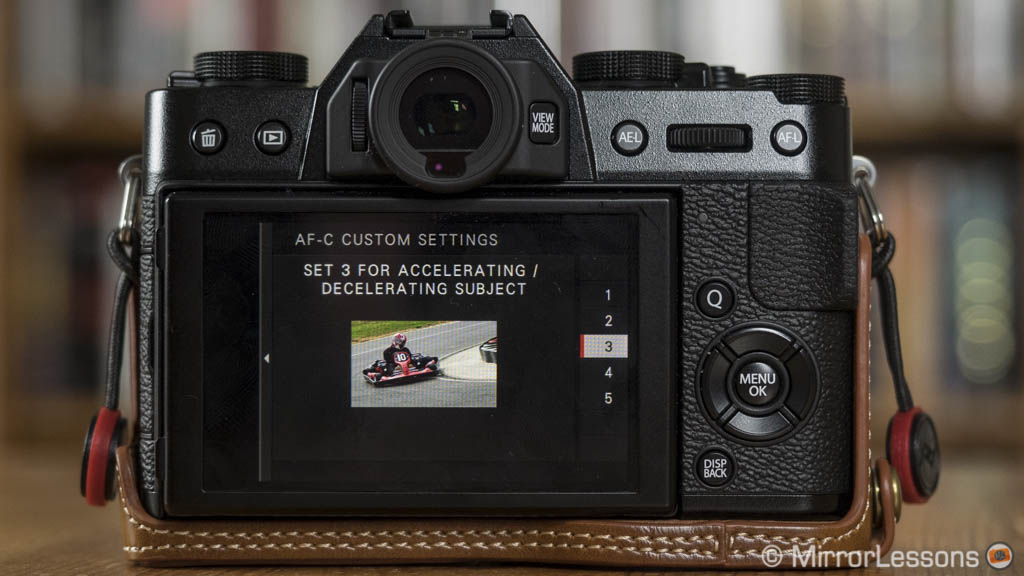 You can use Face and Eye detection for portraits and people photography, although I don't find it 100% reliable.
Finally the X-E3 has an extra setting called Store AF Point by Orientation: it allows you to switch between two different focus modes / focus areas when rotating the camera in landscape or vertical orientation.
---
Shutter, continuous shooting speeds and buffer
The maximum shutter speeds are the same on both cameras: 1/4000s with the mechanical shutter and 1/32,000s with the electronic version.
The X-E3 has a nice advantage when it comes to long exposures: the T mode found on the shutter speed dial can be set up to 15 minutes. It works with the self timer so you can safely use these slow speeds without the risk of moving the camera when you press the shutter button. On the X-T20 the T mode goes down to 30 seconds unless you use the Bulb mode (60 minutes max on both).
The continuous shooting speeds go up to 8fps or 14fps with the electronic shutter. AF/AE Tracking remain active but with the e-shutter you can encounter distortion (rolling shutter) if you are panning quickly or if your subject is moving extremely fast. If you're fine with more modest speeds, the CL mode works up to 5fps and gives you live view with blackouts.
Finally both cameras have excellent buffer capabilities. They can shoot at 8fps with JPGs for almost a minute at full speed. With RAW files the speed decreases a little after approximately 5 seconds. Note that the SD card compatibility is UHS-I only.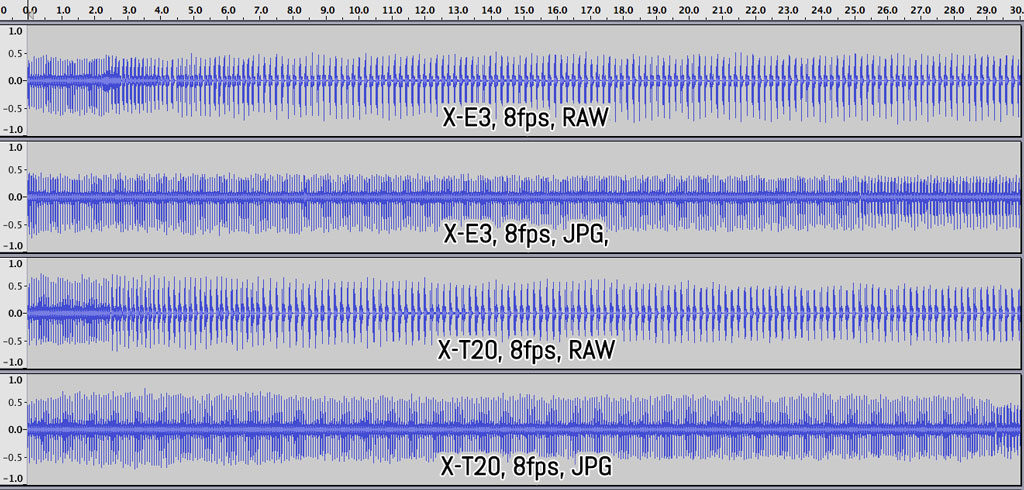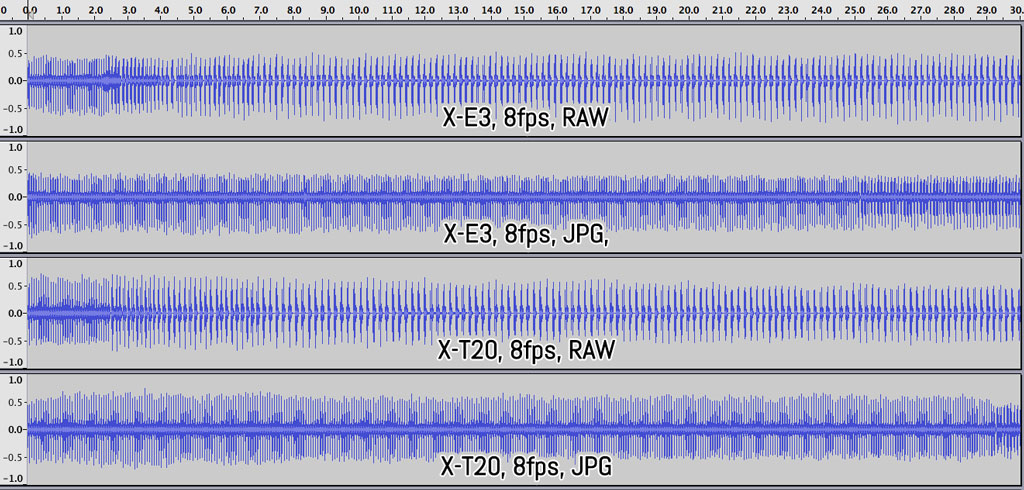 ---
Video capabilities
The two cameras share the same characteristics in the video department too. The X-E3 and X-T20 can record 4K video up to 30fps with a bitrate of 100Mbps. They do this by using the entire sensor which means there's no crop and no change in field of view but it's not full pixel readout. This means that there is a little bit more aliasing in fine details but overall the quality is more than acceptable. They do suffer at high ISOs though where noise starts to become more invasive past 3200 ISO. Note that the maximum sensitivity is 12800 and that you can't adjust it during recording.
Below you can watch a 4K comparison between the X-T2 and the X-T20 that shows how the X-T20 (and therefore the X-E3) performs in comparison to the flagship camera.
In Full HD, the maximum frame rate is 60fps and the quality is excellent. Unfortunately there aren't any higher frame rates or special slow motion capabilities. Keep in mind that the recording time per clip is limited to 10 minutes in 4K and 15 minutes in 1080p.
The great autofocus performance applies to video as well: both cameras are really quick at following a fast subject or changing from the background to the foreground. You can use the touch screen to make these changes but sometimes it is too quick. I wish you could control the speed for smoother transitions like on the Sony a6300/a6500 cameras.
There are only two AF area modes: Multi or Single AF and the latter is more reliable. The AF-C Custom Settings are available as well. The only disappointment is face detection which only works in 1080p.
You get great colours and black and white footage thanks to the film simulation profiles. Remember that some of them have strong contrast and colours so it's worth knowing which one to choose if you don't want an overly punchy look. You can vary the highlights and shadows to get a little more dynamic range but don't use the maximum values as it can create unpleasant tone transitions.
Both cameras output a 4:2:2 8-bit signal via the HDMI port. Although there is a microphone input, it's a 2.5mm port and the volume can only be controlled in 4 steps.
---
Flash and other features
The X-T20 comes with a built-in flash found on top of the EVF (you move the dedicated lever near the drive dial to open it). The X-E3 doesn't have a built-in flash but the small EF-X8 is provided which means you get a little more power (GN11 vs GN7 at ISO 200).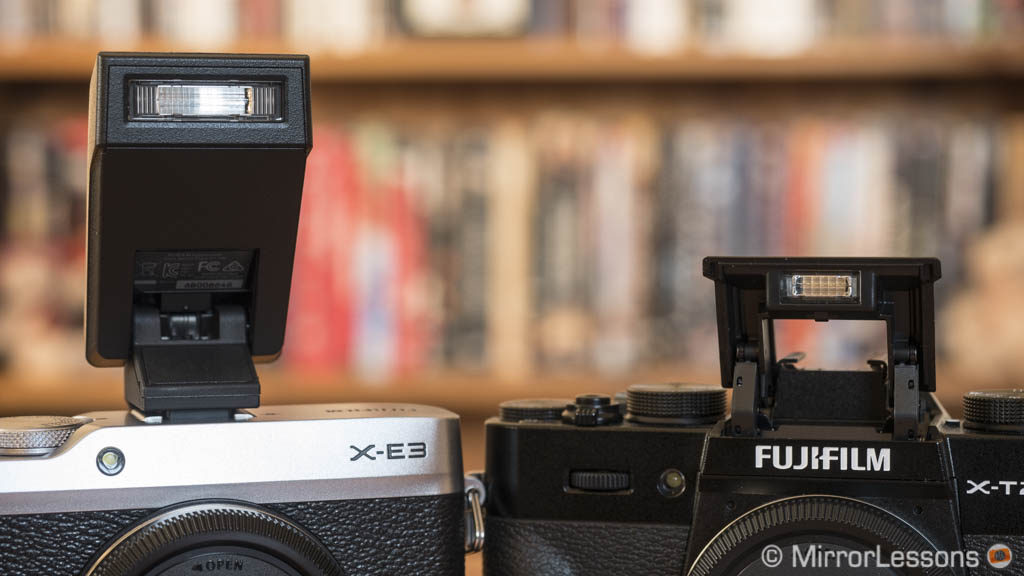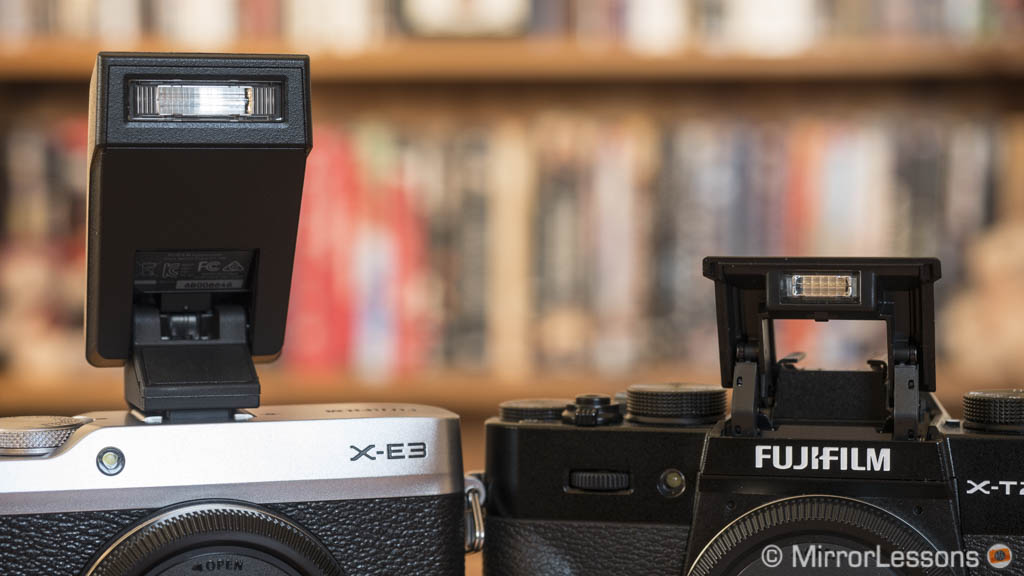 The maximum speed sync is 1/180s and both models can work in TTL, Commander or manual modes. Flash compensation goes up to ±2Ev and additional features include Red-Eye removal, slow sync, and front or rear curtain. You can work in wireless shooting and HSS with select speedlights. The X-T20 has an extra setting to turn off sounds and flash at the same time (silent mode which activates the electronic shutter).
Then we have a list of extra features and effects that are mostly the same on both cameras save a few:
Manual Focus assists: magnification, peaking or Digital Split Image
Panorama: two angles and four directions available, only works in JPG mode
Multiple exposure: 2 images, works in JPG only
Bracketing: ISO, Film Simulation, White Balance or Dynamic Range with 3 shots maximum
Advanced Filters: 13 effects including Toy Camera, partial colour, etc
Grain Effect: two levels (weak and strong) to apply on the JPG file, it works quite well with the Acros profile
Interval Timer Shooting: up to 999 shots or until the battery runs out
Wifi: you can control the cameras remotely via a mobile device, transfer JPGs or use the Fujifilm Instax printer
RAW Conversion: post process the RAW by adjusting exposure, white balance, changing colour profile etc and save it as a JPG
Pixel mapping
Copyright information
Fujifilm X RAW Studio: once the camera is connected to your computer via USB, you can edit RAW files by using the camera's X-Processor Pro engine. It is not different from the built-in RAW conversion but with the added benefit of using your larger computer screen and process multiple images at the same time.
Fujifilm X Acquire: this software let's you save and restore the camera settings.
The X-E3 has four extra features:
AE Bracketing: up to ±3 Ev and 9 shots on the X-E3, only 3 shots and ±3 Ev max. on the X-T20
Voice Memo: save a quick voice recording (30s) for a specific picture or set of pictures
Bluetooth: you can maintain a constant connection with your smartphone or tablet to transfer images more easily and geotag them while shooting.
Neither cameras have internal stabilisation so your must rely on the optical stabilisation (OIS) of select Fujinon lenses.
---
Battery life
The two cameras use the NP-W126S batteries which are the most powerful as of now. The battery life is good with moderate use but leaving Power Management to Standard will save some more juice. Of course as soon as you start to shoot in continuous mode or record 4K video, more energy is consumed. As usual I advise anyone who owns a Fuji camera to have at least one spare battery.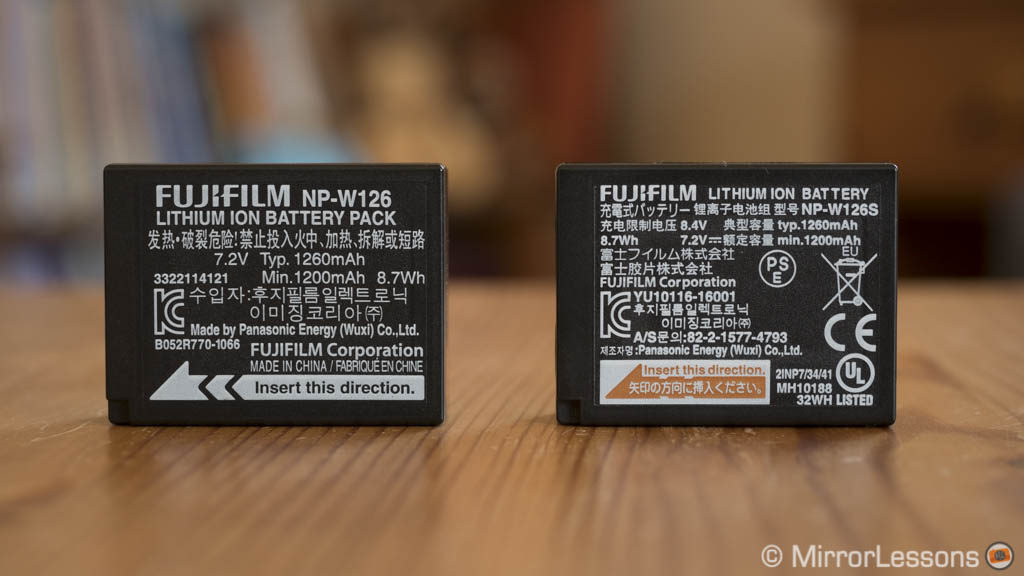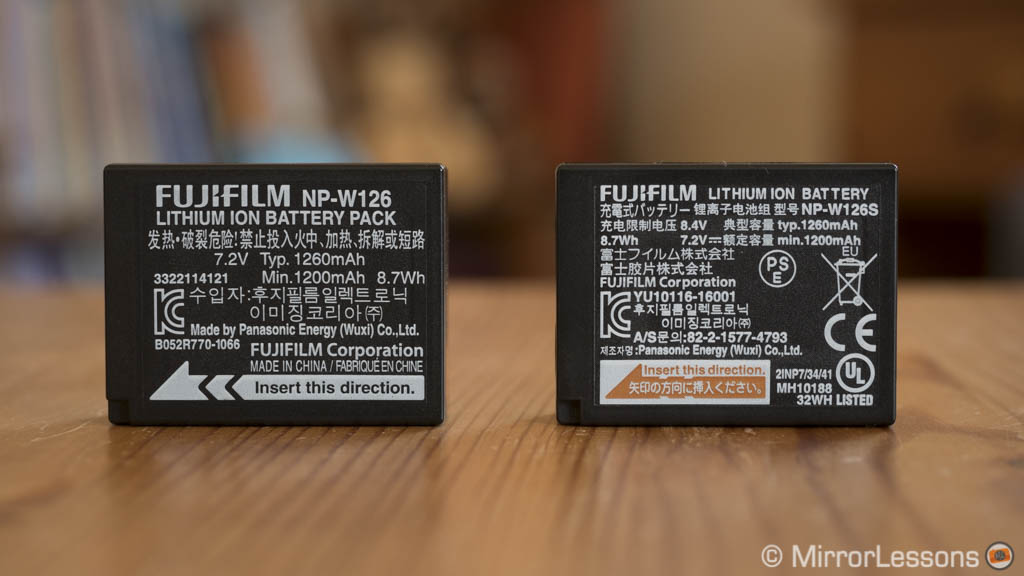 There isn't a battery grip for either camera but they can both be charged via USB.
---
Price
The X-T20 has a retail price of $900 / £800 / €800 and you can already find some great savings on it. Kit lens options are the 18-55mm f/2.8-4 ($300 extra) or the XC 16-55mm f/3.5-5.6 ($100 extra).
The X-E3 has a very similar retail price in the US for the body alone but is slightly more expensive with the 18-55mm lens. There's a tempting offer with the XF 23mm f/2 for $1150. In Europe the camera is slightly more expensive (£850 / €850 body only) and so are the kit lens bundles.
---
Conclusion
There's a very high chance that you've jumped directly to the conclusion without reading the rest of the article first. Usually I would say that you've missed out on some important points but in this case, I'll forgive you. 😉
As we've seen, the two cameras are very similar, with the most important things to consider being the position of the viewfinder and the nature of the LCD screen. There honestly isn't a lot more to think about, unless you want to nitpick.
The image and video quality are identical, as is the autofocus performance despite the X-E3 having an updated algorithm. The same can be said about the burst speeds, buffer, menu system and most of the extra features. They both have a touch screen and many other things common to all recent Fuji models such as a well-organised menu system and a good level of customisation.
There are some minor differences that could push you towards the X-E3 such as the extra compactness, the handy AF joystick, the extra AE bracketing options, and the extra touch gestures, though the final feature isn't as practical as it could be. Perhaps the most enticing argument in favour of the rangefinder camera is the bundle you can currently find with the XF 23mm f/2 lens, which is great to use on a small and compact body.
Choose the Fujifilm X-E3 if you:
don't care about a tilting screen
like composing with the EVF on the left rather than centre (the positioning of the EVF also makes the camera slightly smaller)
fancy the idea of using an AF joystick
Choose the Fujifim X-T20 if you:
prefer to have a centrally-placed EVF
prefer the convenience of a tilting LCD screen
find it for a really good price (special offer or second-hand) due to it being older than the X-E3
---
Check the price of the Fujifilm X-E3 on
Check price of the Fujifilm X-T20 on
Amazon | Amazon UK | eBay | B&H Photo
Used Fujifilm cameras on
---
Sample images
X-E3
X-T20