The Sony FE 35mm f/2.8 was the very first native lens for Sony's full-frame E-mount system along with the FE 55m f/1.8,. When used on full-frame bodies, it offers a moderate wide-angle whereas on APS-C bodies such as the a6300 or a6500, it becomes a standard lens with a 52.5mm equivalent field of view.
It was the only 35mm f/2.8 autofocus prime for the system until Samyang Rokinon released its own take on the lens in 2017: the AF 35mm f/2.8 FE.
Because the Sony version is approximately $500 more expensive than its more recent counterpart, we were curious to investigate how they compare in terms of overall performance and answer the all-important question: which should Sony FE users choose for their full-frame camera? After throughly testing both lenses side-by-side, we have all the answers here!
---
Ethics statement: We bought the Carl Zeiss Sonnar T* FE 35mm f/2.8 ZA for our own personal use whereas the Samyang Rokinon AF 35mm f/2.8 FE was loaned to us for a month. We were not asked to write anything about these products, nor were we provided with any sort of compensation. Within the article, there are affiliate links. If you buy something after clicking the link, we will receive a small commission. To know more about our ethics, you can visit our full disclosure page. Thank you!
---
[toc heading_levels="2″]
---
Main Specifications
Sonnar T* FE 35mm F2.8 ZA
Mount: Sony E-mount
Format: full-frame
Focal length: 35mm (35mm in 35mm equivalent terms)
Lens configuration: 7 elements in 5 groups with 3 aspherical elements
Lens coating: ZEISS T* coating
Angle of view: 63°
Minimum focusing distance: 35cm
Magnification: 0.12x
Aperture blades: 7 circular blades
Aperture range: 2.8 to 22
Filter diameter: 49mm (40.5mm with hood)
Weather-sealing: dust and moisture resistance
Optical stabilisation: No
Dimensions: 61.5 x 36.5mm
Weight: 120g
Samyang Rokinon AF 35mm f/2.8 FE
Mount: Sony E-mount
Format: full-frame
Focal length: 35mm (35mm in 35mm equivalent terms)
Lens configuration: 7 elements in 6 groups with 2 aspherical elements and 1 HR Element
Lens coating: Ultra Multi-Coating
Angle of view: 63.1°
Minimum focusing distance: 35cm
Magnification: 0.12x
Aperture blades: 7 circular blades
Aperture range: 2.8 to 22
Filter diameter: 49mm (40.5mm with hood)
Weather-sealing: No
Optical stabilisation: No
Dimensions: 61.8 x 33mm
Weight: 108.1g (with lens cap and hood)
---
Design and ease of use
When you see the two primes placed next to each other, it is clear that Samyang's aim was to create a lens with dimensions as compact as those of the original Sony – and in this they definitely succeeded.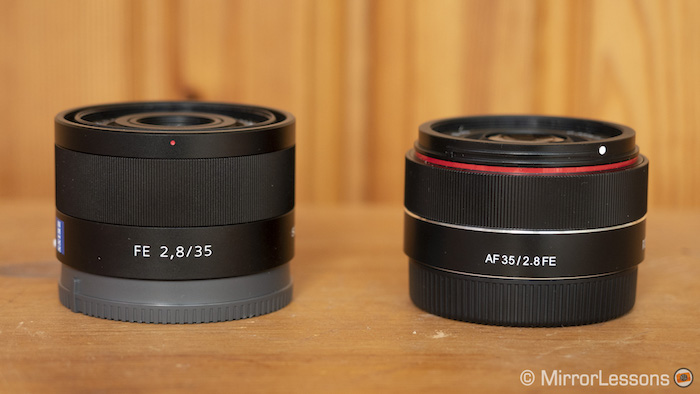 The biggest difference between the two in terms of build quality is that the Samyang is made of plastic and aluminium alloy while the Sony is all-metal from top to bottom and comes with dust and moisture resistance. In the hand, the Samyang gives you the impression of being fairly robust but the Sony definitely has a more premium feel.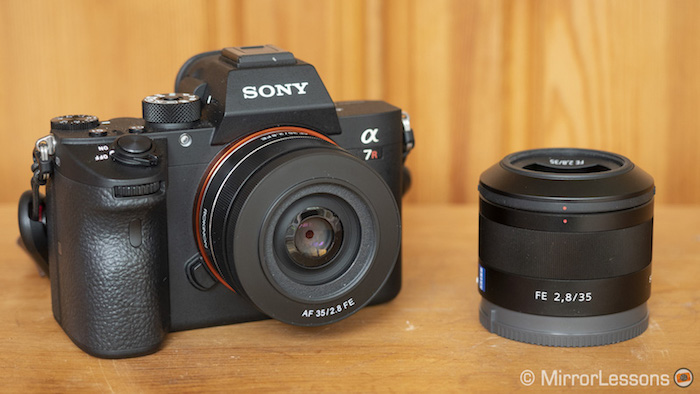 The two lenses come with just one physical feature: a ribbed fly-by-wire focus ring that occupies approximately half the barrel. Because there isn't much space between the ring and the mount, it can be somewhat tricky to get a good grip on either lens during the mounting/un-mounting process. This is especially true of the Sony lens which provides too much resistance.
They share the same filter thread size (49mm), as do their respective cap-type lens hoods (40.5mm) which means that their clip-on lens caps are interchangeable.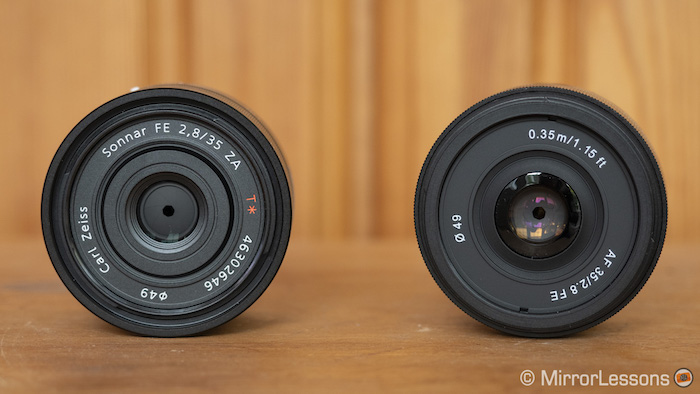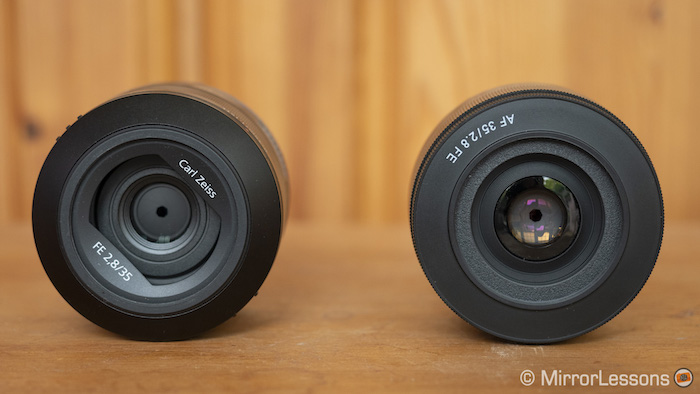 An unfortunate characteristic of the Samyang lens cap is that it has the tendency to pop off quite easily. In fact, I ended up losing it while out shooting one day and had to buy a replacement.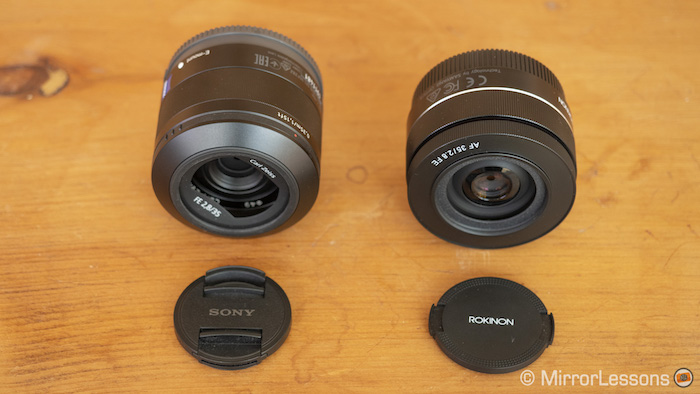 At the time of writing, both lenses are only available in a black finish.
---
Optical quality – Through the lens
Important note: Sony RAW files aren't automatically corrected when you import them into an imaging software such as Adobe Lightroom. To obtain the best results, you have to apply the correct lens profile in the Lens Corrections section, which is what I've done for all the images in this section. If you mostly use SOOC JPGs, you can set the lens corrections (shading, chromatic aberration and distortion) in the Lens Comp. menu to Auto.
Sharpness
Let's begin by taking a look at how the sharpness of the two lenses compares at a distance.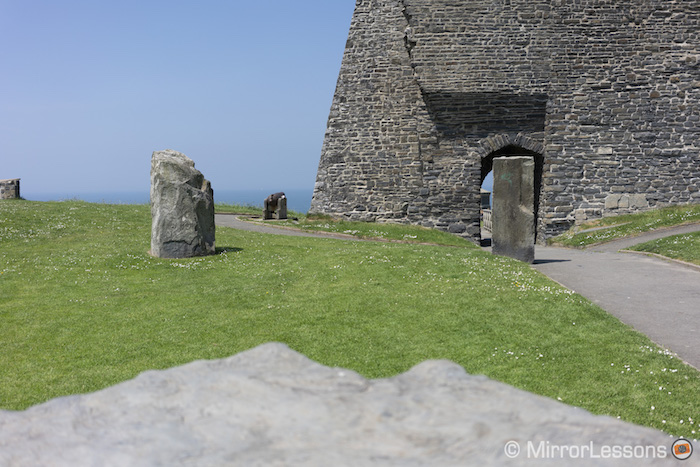 At f/2.8, the Sony is already very sharp at the centre whereas the Samyang appears slightly softer, albeit not by much.
Once you stop down to f/4 however, it is the Samyang lens that appears ever so slightly sharper than the Sony. Interestingly, samples taken with the Sony at f/2.8 and f/4 look more or less identical.
At f/5.6, it is very hard to tell the two lenses apart but if I had to make a choice, I'd still say that the Samyang was a little sharper. At f/8 however, the Sony has a slight advantage over the Samyang.
The Sony retains a small advantage at f/11 and f/16 but by this point, diffraction starts to take its toll on the sharpness of both lenses. f/22 should be avoided with either lens.
Whereas the Samyang definitely peaks at around f/4 at this distance, the Sony doesn't reach peak performance until around f/8. However the difference in sharpness between the various apertures is very subtle on the Zeiss lens.
Turning to the corner performance, we can see that the Sony is noticeably sharper than the Samyang at f/2.8. At the slower values of f/5.6 and f/8 however, the performance is more or less on par with the Sony.
What about sharpness at a close distance? For this test, I set both lenses just short of their minimum focusing distance of 35cm.
Through the entire aperture range, the Samyang appears to have a small advantage over the Sony, though it is most noticeable when both are set to f/2.8.
Stopping down to f/4 sharpens both lenses up considerably.
Peak performance occurs at f/5.6 with the Samyang whereas the Sony performs best between f/5.6 and f/8.
In summary, I would say that the biggest difference in sharpness occurs at f/2.8, particularly at a close focus distance (where the Samyang has an advantage) and in the corners (where the Sony reigns supreme). There are small differences at the other values as well, but they aren't nearly as noticeable.
Bokeh / Minimum focus distance
Now it's time to move on to the quality of the background blur or 'bokeh' as it is commonly referred to. Neither lens has a particularly fast maximum aperture, so in order to achieve any sort of background blur, you need to focus as close as possible – preferably at the minimum focus distance of 35cm.
This is exactly what I did for the flower examples shown below taken at Bodnant Gardens in North Wales. As you can see, the Samyang produces a marginally busier bokeh with harsher lines and more visible outlining around the bokeh balls.
Flare
Flare didn't really pose an issue with either lens which is testament to the effectiveness of their optical design and lens coating. If you do come across it, you can usually mitigate its strength by slightly adjusting your composition.
In the case of the Samyang, flare usually manifests as a curved crescent of light such as in the example below.
The Sony also produces some flare but the Zeiss T* coating does a very good job of keeping it at bay, especially when helped by the provided lens hood.
Chromatic aberration
You can expect some chromatic aberration to appear in images taken at f/2.8 and f/4 but I wouldn't call it invasive. It mostly takes the form of purple and green fringing in high contrast areas of the frame.
Distortion and Vignetting
If you fail to apply the dedicated lens profile in post production, both lenses display vignetting through the aperture range and a small amount of barrel distortion, mostly in the extreme corners of the frame. As you can see from the images below, both can be easily corrected in Adobe Lightroom with the click of a button.
Sony FE 35mm at f/2.8
Samyang 35mm AF at f/2.8
---
Field of view
Sometimes when we compare lenses with identical focal lengths, we discover that the field of view isn't quite the same. (This is usually the result of focus breathing.) In the case of these two 35mm lenses however, the field of view is more or less identical as you can see from the images below.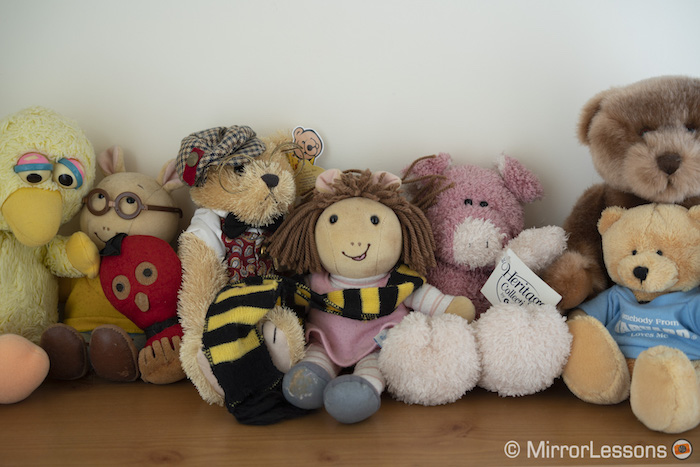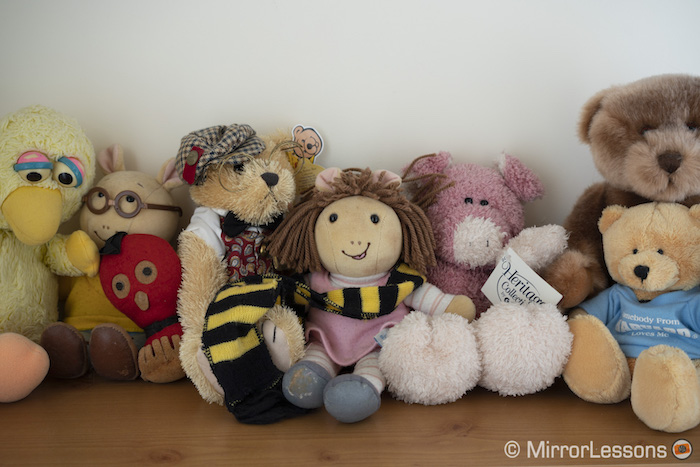 ---
Autofocus performance
As far as autofocus is concerned, I didn't notice a significant difference in the performance between the two lenses. Both are capable of locking onto subjects quickly and accurately in good light conditions when mounted on the latest A7 bodies (such as the A7r III and A7 III) with minimal hunting back and forth. This is quite a feat for Samyang Rokinon since they only just started producing autofocus lenses in 2017.
In poor light conditions however, we did find that both lenses struggle more. For example, we used the Samyang on the A7 III at a 'dog-friendly showing' at a local cinema and while we were able to bring back some good shots, the camera occasionally struggled to lock onto the dogs, especially if they were moving.
The Samyang's AF motor emits a brief yet audible humming sound when it focuses whereas the Sony is almost completely silent.
---
Manual focusing
As mentioned above, the two lenses feature a ribbed focus ring on the barrel for manual focusing. Because the autofocus is so good, it is rare you'll have to resort to the ring unless you're perform sharpness tests on a regular basis as we do!
On the whole, I find the Sony's ring a little smoother but both are very comfortable to use in combination with the manual assists of the latest Sony cameras. As is the case with many fly-by-wire focus rings, the speed at which the focus distance changes depends on how quickly or slowly you turn the ring.
---
Conclusion
Given that the Samyang 35mm is around $500 cheaper than the Sony alternative, I cannot help but emphasise how impressed I am by its performance. Sharpness is often on par, if not better than that of the Sony except for the corners and all other optical characteristics such as the bokeh rendering and resistance against flare are very similar.
The only area where the Samyang lacks by comparison is build quality. The Sony definitely feels more solid, and the fact that it is weather resistant means you can safely use it in difficult weather conditions on the latest full-frame bodies.
Otherwise I can wholeheartedly recommend the Samyang lens and feel compelled to congratulate the brand on creating such an affordable yet high quality prime for users on a more restricted budget.
Choose the Sony FE 35mm f/2.8 if you:
require a weather resistant lens with this field of view
want better corner performance at the fastest apertures
find it for much cheaper than its current retail price
Choose the Samyang Rokinon FE 35mm f/2.8 if you:
want the best bang for the buck in this lens category (and who wouldn't!)
don't care about having weather resistance
---
Check the price of the Sony FE 35mm f/2.8 on
Amazon | Amazon UK | B&H Photo | eBay
Check the price of the Samyang Rokinon 35mm f/2.8 AF on
---
You may also be interested in:
---
Sample Images
Sony FE 35mm f/2.8
Samyang Rokinon 35mm f/2.8 AF