Two wide-angle primes Sony APS-C E-mount users will be familiar with are the Sigma 19mm f/2.8 DN Art and the Sony E 20mm f/2.8. Both offer an angle of view that isn't far off the 28mm equivalent, making them a popular choice amongst photographers who mostly shoot street with wide angle lenses, as well as those who enjoy landscape and cityscapes.
Because the two lenses are very similar on paper, we decided to conduct this side-by-side comparison to see how they actually perform out in the field on our a6300. We hope it helps you come to a decision about which one to buy!
---
Ethics statement: We bought the Sony 20mm f/2.8 for our own personal use whereas the Sigma 19mm f/2.8 was loaned to us for two weeks. We were not asked to write anything about these products, nor were we provided with any sort of compensation. Within the article, there are affiliate links. If you buy something after clicking the link, we will receive a small commission. To know more about our ethics, you can visit our full disclosure page. Thank you!
---
---
Main Specifications
Sigma 19mm f/2.8 DN Art
Mount: Sony E-mount
Format: APS-C
Focal length: 19mm (28.5mm in 35mm equivalent terms)
Lens configuration: 8 elements in 6 groups
Lens coating: Super Multi-Layer Coating
Angle of view: 59.3°
Minimum focusing distance: 20cm
Magnification: 0.135x
Aperture blades: 7 circular blades
Aperture range: 2.8 to 22
Filter diameter: 46mm
Weather-sealing: N/A
Optical stabilisation: N/A
Dimensions: 60.8 x 45.7mm
Weight: 150g
Sony E 20mm f/2.8
Mount: Sony E-mount
Format: APS-C
Focal length: 20mm (30mm in 35mm equivalent terms)
Lens configuration: 6 elements in 6 groups
Lens coating: N/A
Angle of view: 70°
Minimum focusing distance: 20cm
Magnification: 0.12x
Aperture blades: 7 circular blades
Aperture range: 2.8 to 16
Filter diameter: 49mm
Weather-sealing: N/A
Optical stabilisation: N/A
Dimensions: 62.6 x 20.4mm
Weight: 69g
---
Design and ease of use
Despite having more or less the same circumference, the Sigma 19mm is approximately twice the height and weight of the Sony 20mm pancake lens. That being said, both lenses are very light and compact and suit all cameras in the a5000/a6000 series perfectly.
The Sigma is mostly made of high quality plastics with a brass bayonet mount whereas the latter has an aluminium shell with a moulded plastic interior and a metal mount. Sadly neither lens features weatherproofing, so take care when using them outdoors in inclement conditions.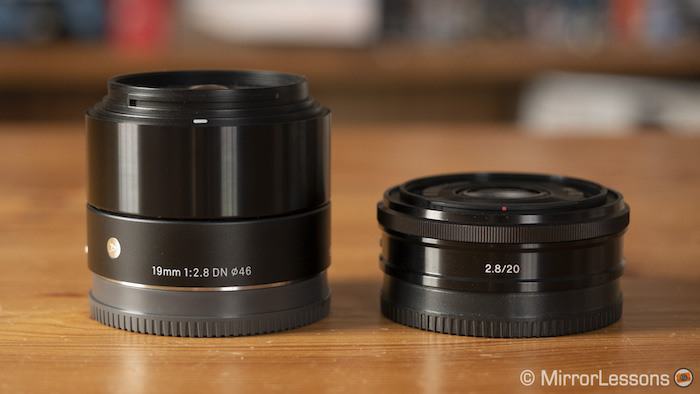 In terms of physical features, there isn't all that much to talk about. Both have a fly-by-wire focus ring but that of the Sony is thin and ridged while the Sigma's is fairly large and smooth. Other features they have in common are a filter thread, clip-on lens cap and twist-on lens plastic hood. Somewhat annoyingly, you can't attach the hood and cap to the Sony lens at the same time.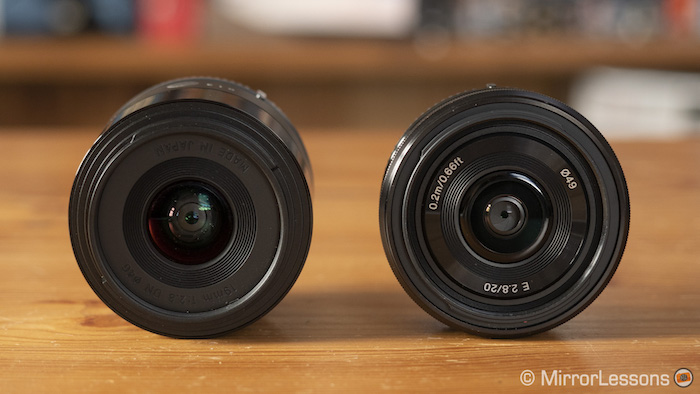 The two lenses use different motor types – a stepper motor on the Sony and a linear AF motor on the Sigma – but both are capable of precise and quiet autofocusing.

The samples you see here both have a black finish but for those who own a silver APS-C body, it's worth keeping in mind that there is also a silver version of the Sigma lens.
---
Optical quality – Through the lens
Important note: Sony RAW files aren't automatically corrected when you import them into an imaging software such as Adobe Lightroom. To obtain the best results, you have to apply the correct lens profile in the Lens Corrections section, which is what I've done for all the images in this section. If you mostly use SOOC JPGs, you can set the lens corrections (shading, chromatic aberration and distortion) in the Lens Comp. menu to Auto.
Sharpness
First let's take a look at the sharpness of these two lenses taken at a distance of around 5m.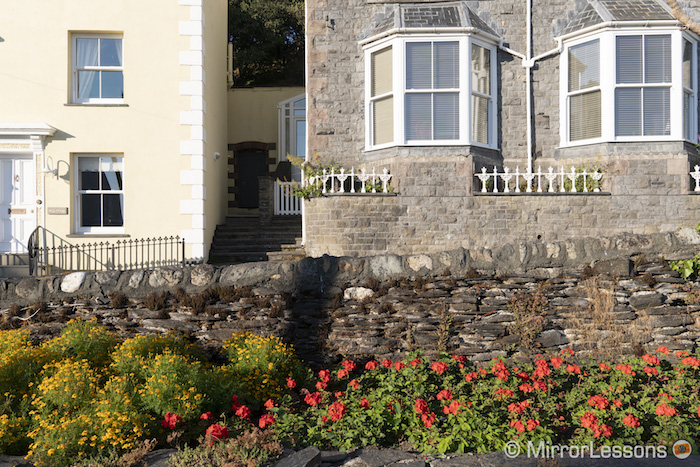 At the centre, you'll notice that the Sigma 19mm is visibly sharper than the Sony 20mm at their shared fastest aperture of f/2.8.
Once you stop down to f/4 and f/5.6 however, the differences are so small that it becomes difficult to tell the two lenses apart. That said, I would still say the Sigma retains a very small advantage over the Sony. These are also the values at which both lenses display the best performance.
Both lenses start to lose some sharpness from f/8 onwards but only become unusably soft at f/16. Once again, it is very difficult to tell the two apart if we look at sharpness alone.
Turning to the corner performance, there are even fewer differences to mention. Perhaps the only thing worth pointing out is that the Sony – in the absolute extreme corners – is softer than the Sigma up until f/8. Below you can see some examples taken at f/2.8, f/5.6 and f/11.
Peak performance is found at around f/5.6 in the case of both lenses but all values up to f/11 are fairly good.
Bokeh / Minimum focus distance
Few people would buy a wide-angle prime primarily for its bokeh qualities but since both the Sigma 19mm and Sony 20mm share a reasonably fast maximum aperture of f/2.8, it's worth taking a quick look at how the background blur compares.
As you can see from the two examples above, the rendering is extremely similar with the exception of the bokeh balls which are rounder in images taken with the Sony lens. I wouldn't call the bokeh particularly pleasant but if you use the lenses at their shared minimum focus distance of 20cm, you can get decent results.
Flare
Although the Sigma benefits from Super Multi-Layer Coating to reduce flare and ghosting, we found in our tests that the two lenses actually perform in a very similar manner in terms of flare resistance. If the sun is in your frame, you can expect a green orb of some shape or form to appear in your image as you can see in the examples below.
If the light source is outside your frame, you should have fewer issues with flare if you attach the provided lens hoods.
Chromatic aberration
Both lenses suffer from some lateral chromatic aberration in areas of high contrast but in the case of the Sigma, it is much more notable even at f/5.6. With the Sony, it usually disappears by f/4. As always, you can clean it up quite nicely in post-production software applications such as Lightroom, so I don't consider it a huge concern.
Distortion and Vignetting
As with any wide-angle lens, moderate barrel distortion is a given. If you make sure to apply the correct lens profile either in-camera or in a post-production software to the two lenses, it shouldn't pose a problem in any of your images. Below you can see the difference between images that have been corrected with the profile and those that have not.
Happily neither lens shows any strong vignetting – not even at f/2.8 – so that's one less thing to worry about!
---
Field of view
The difference in field of view is exactly what you'd expect from these two lenses: the Sigma is marginally wider than the Sony but not so much that it would make a big difference to how or what you shoot. You can see the difference by toggling back and forth between the two images below.
---
Autofocus performance
To test the autofocus of the two lenses, I used the Sony a6300. It has a hybrid autofocus system which comprises 425 phase detection AF (PDAF) points and 169 contrast detection points.
There is very little to say against the autofocus mechanism of the Sony lens. Despite being a fairly old product, it is quick in good light in both single AF and continuous AF, especially when combined with the phase detection autofocus system (PDAF) of the latest Sony bodies, and only slows down a little in poor light conditions or scenes with little contrast.
The Sigma, on the other hand, is fast in S-AF mode but somewhat more sluggish in C-AF because the PDAF squares only work at the very centre in Wide, Zone or Expand Flexible Spot mode. In any of the other modes and anywhere else across the frame, the lens relies on contrast detection autofocus. That said, the 19mm is a wide angle lens, so you'll rarely need it for moving subjects anyway.
The AF mechanism of both lenses is very quiet, making them useful for stills and video work.
---
Manual focusing
The fly-by-wire manual focusing experience of both lenses is fine but between the two, we tend to prefer the Sony's focus ring because it has a ribbed design that's easier to grab onto.
The time it takes to travel from infinity to the minimum focus distance on the Sony depends on the speed at which you turn the ring: turning it quickly takes 1/4 of a turn whereas turning it slowly requires nearly 3/4 of a turn. The Sigma requires a 3/4 turn regardless of how fast or slow you turn the ring.
---
Conclusion
Unlike some other lenses I've compared, I find that overall the Sony 19mm and Sony 20mm provide a very similar user experience, so much that I'd sometimes even forgot that I was using one instead of the other. Yes, the Sony is physically a smaller lens to be sure, but you don't really perceive the added weight of the Sigma once it's attached to the camera body.
The only real difference that could have an impact on your decision is the price. As of today, a brand new copy of the Sigma 19mm will set you back approximately $170, which is a steal considering that the Sony 20mm is around twice the price. Factor into this the fact that the Sigma is sharper than the Sony at f/2.8 and in the corners, and it soon becomes clear which is the better deal.
The sole advantage the Sony retains over the Sigma is its compatibility with PDAF but since we are dealing with wide-angle lenses, there isn't much to be gained from having fast C-AF performance unless you need it for specific action shots.
Choose the Sigma 19mm f/2.8 if you:
want to spend as little as possible on a wide-angle lens for your Sony APS-C camera
want the best sharpness
don't care about phase detection AF
Choose the Sony 20mm f/2.8 if you:
want the most compact wide-angle lens possible
feel you might need phase detection AF for some reason
---
Check the price of the Sigma 19mm f/2.8 on
Amazon | Amazon UK | B&H Photo | eBay
Check the price of the Sony 20mm f/2.8 on
---
You may also be interested in:
---
Sample Images
Sigma 19mm f/2.8 DN Art
Sony E 20mm f/2.8