The Canon EOS M5 was, at the time of its announcement, the most interesting product in the EOS M series of APS-C cameras, not because of its features but mainly because it offered good ergonomics and a built-in EVF. We grew quite fond of it after testing it for a short period this year, but the series itself doesn't offer anything interesting in comparison to the competition, not to mention that the lens selection is rather poor.
As of today, Canon has changed its tune. With the announcement of the new EOS RF 35mm format mirrorless system, the brand has decided to go in direct competition with the Sony A7 series and the recent Nikon Z series.
As you might expect, there are plenty of differences between the EOS M5 and the new EOS R. Here are the ten most important ones!
Canon EOS R comparison previews:
EOS R – vs A7R III – EOS R vs Nikon Z6 – EOS R vs 5D mark IV – EOS R vs EOS M5
Canon EOS R complete comparisons:
---
Ethics statement: the following is based on information found on the Canon website and our direct experience with the EOS R and M5. We were not asked to write anything about these products, nor were we provided with any kind of compensation. All opinions we express regarding these products are our own. Within the article, there are affiliate links. If you buy something after clicking one of these links, we will receive a small commission. To know more about our ethics, you can visit our full disclosure page. Thank you!
---
1. Sensor
The EOS R features a 35mm format sensor with 30.3 megapixels. It is larger and has more resolution in comparison to the 24MP APS-C sized chip found inside the M5. Both have an optical low pass filter.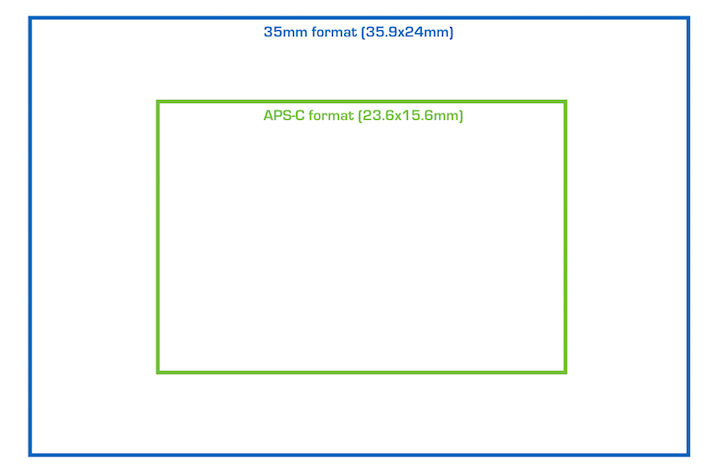 The EOS R has a vaster sensitivity that starts at ISO 100 and goes up to 40000. Extended values increase the range down to ISO 50 or up to ISO 102400. The M5 has a 100-25600 ISO range with no additional levels.
The EOS R uses a new and more powerful image processor, the Digic 8, whereas the EOS M5 has the older Digic 7.
---
2. Mount and lenses
The EOS R features the new RF mount, meaning it doesn't use the same EF-M mount found on the M5. This is quite a different approach to Sony which uses the same mount for both its APS-C and full frame mirrorless series.
The RF mount is larger with a 54mm diameter and 20mm flange distance, whereas the EF-M mount has a 47mm diameter and 18mm flange distance. This means that EF-M lenses won't be compatible with the full frame mount, and vice versa.
The RF system starts with an interesting selection of four lenses including a 35mm f/1.8 IS Macro, a 50mm f/1.2, a 24-105mm f/4 IS and a surprising 28-75mm f/2.
The M system has developed rather slowly with just 8 native lenses released in over six years: five slow non-constant aperture zooms, one 22mm f/2, one recently announced 32mm f/1.4 and one 28mm f/3.5 macro. Other options can be found from third-party manufacturers, mainly manual focus lenses from Samyang and other brands, and one 18-200mm autofocus from Tamron.
Both systems have an adapter to attach Canon's EF DSLR lenses and the company has developed a few interesting variants for the new full-frame camera. In addition to the normal adapter, there is a second one with a customisable control ring and a third with a built-in filter slot.
---
3. Size, weight and build quality
A considerable difference between the two cameras regards the design. The EOS R is larger and heavier than its APS-C counterpart.
More precisely, the R is 2cm wider, almost 1cm taller and 2.4cm longer. It weighs 233g more with the battery and SD card inside. There is also a larger grip on the R model.



The EOS R is an advanced model, featuring weather-sealing (dust and splash proof) as well as a magnesium alloy body.
The M5 doesn't have any sort of weather sealing and the body is mostly made of plastic with metal parts such as the top dials. It didn't feel cheap during our time with it but as you can imagine, it didn't feel as robust as a high-end professional camera either.
---
4. Controls
The EOS R features more buttons on the top and rear. It has a total of 14 customisable function buttons and two dials that can be personalised.
On the rear, the full frame camera features a new Multi Function touch bar that can trigger various settings. The lack of tactile feedback is weird at first, but the vast customisation options make it very interesting to use.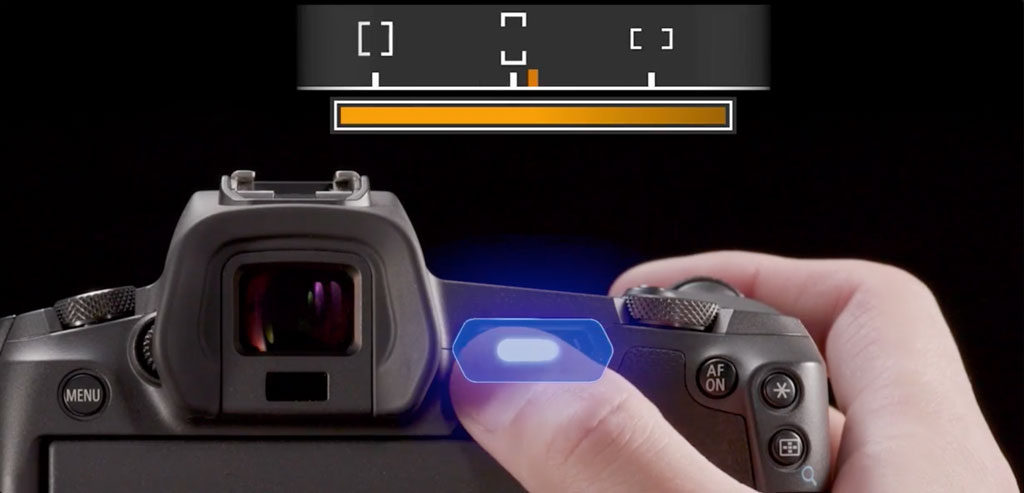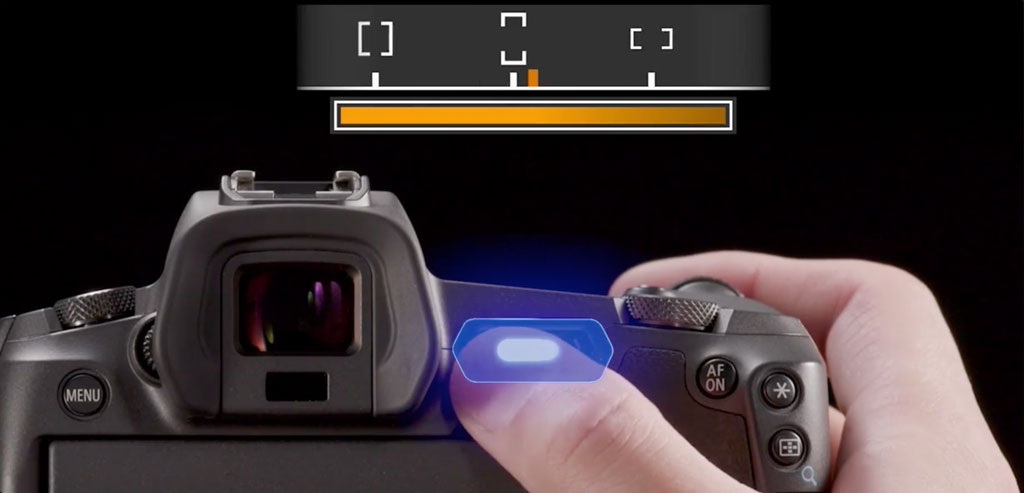 Furthermore, the new RF lenses come with a control ring to which you can assign different functions. There is also a handy top OLED screen to quickly check your settings, which can be useful when working in low light conditions.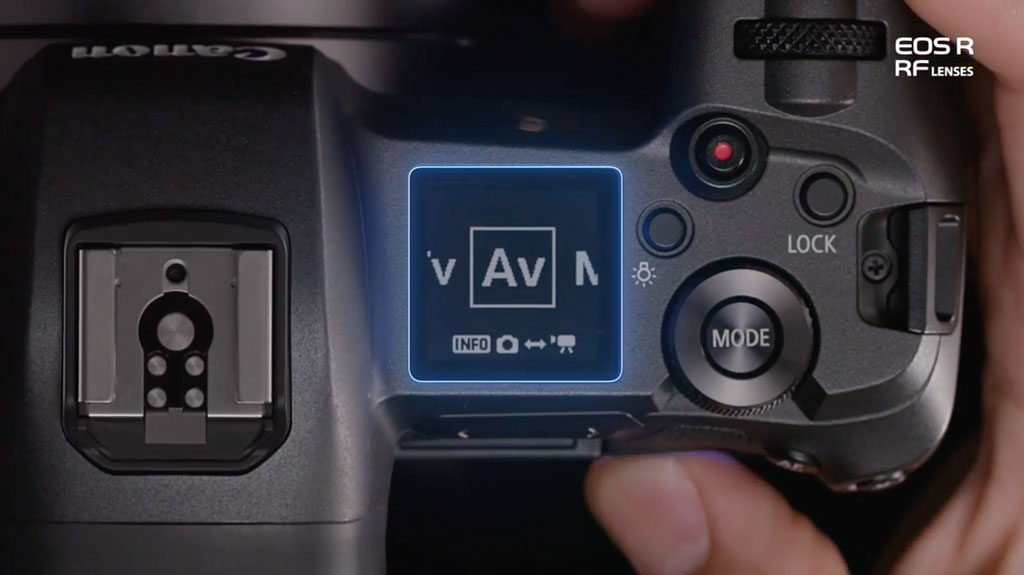 The EOS M5 has a default shooting mode dial on top and an exposure compensation dial. It has 12 customisable function buttons which is a very respectable number.
---
5. Viewfinder and monitor
The EOS R has a larger 0.5-in OLED viewfinder with a magnification of 0.76x and a resolution of 3,690k dots. The eyepoint is 23mm.
The APS-C camera has a smaller 0.39-in OLED EVF with 2,360k dots. Canon has not released the magnification specifications but it is definitely smaller than the one on the R model. The eyepoint is slightly shorter at 22mm.
The M5 comes with a more than decent rear monitor that features 1,620k dots of resolution. It is 3.2-in in size, meaning it is ever so slightly bigger than the screen on the EOS R (3.15in). The latter has better resolution however (2,100k dots) and a multi-angle mechanism in lieu of the tilting mechanism found on the APS-C camera.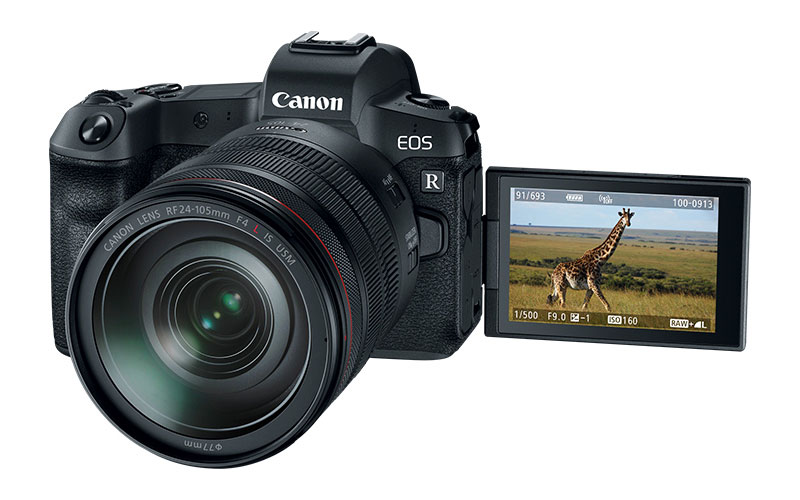 Both screens are touch sensitive and you can do a number things with them such as moving the AF point (even when shooting with the EVF) and changing settings to name a couple.
---
6. Dual Pixel technology
Both cameras use Canon's Dual Pixel CMOS AF which provides very fast and accurate autofocus for both stills and video.
The EOS R uses the latest generation, boasting an impressive 5,655 points which can be selected when using the single area mode. Canon says it's the fastest in its class with a 0.05s locking speed. It also has a minimum sensitivity of -6Ev with an f/1.2 lens at ISO 100.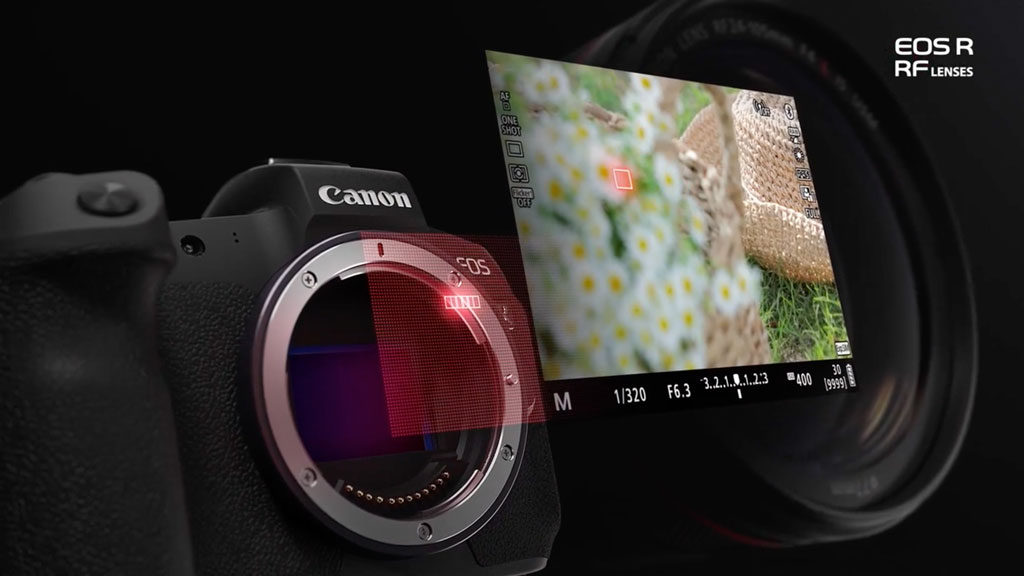 The M5 uses an older version with just 49 areas and a minimum sensitivity of -1Ev with an f/2 lens. This means that with an f/1.2 lens it should be able to go down to approximately -2.5Ev.
Both cameras feature face tracking and the EOS R also comes with an eye detection mode available in S-AF.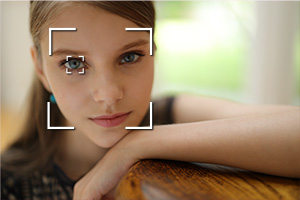 The EOS R can use the Dual Pixel technology to access another special feature called Dual Pixel RAW. By recording a special RAW file that contains data about focus depth, you can make micro adjustments to focus, bokeh and flare with Canon's proprietary software.
---
7. 4K vs Full HD video
The EOS R has powerful video capabilities including 4K up to 30fps and 480Mbps with the All-Intra compression. A lighter IPB mode is also available with a maximum of 120Mbps. However keep in mind that in 4K there is a significant sensor crop of around 1.8x. In Full HD both cameras go up to 60fps or 120fps in 720p.
The ISO sensitivity range is different for video just as it is for stills. The EOS R goes up to 12800 with the normal range or 102400 ISO with the extended range. The M5 tops out at ISO 6400.
The "R" can also output 10-bit 4:2:2 via the HDMI port, including the Canon Log profile (internal and external recording). Also present are a mic input and a headphone output.
---
8. Speed and buffer
The full frame model has a continuous shooting speed of up to 8fps but only at 5fps do you get continuous autofocus. To have both C-AF and Focus priority, you have to reduce the speed to 3fps.
The M5 does better with a maximum of 9fps or 7fps with Servo AF.
As for the buffer, there isn't a lot of information about the M5 except that it manages 26 JPGs at 9fps. The EOS R performs better, managing 100 JPG frames in a burst.
---
9. Battery life
The EOS R uses a larger battery type (LP-E6N) and can manage 370 shots with normal use, 450 with the Power Saving mode or 560 with the Eco mode (CIPA standard).
The M5 can take approximately 295 shots or 420 shots with the Eco mode. It uses the smaller LP-E17 battery.
As always, keep in mind that these ratings usually tend towards the negative. In a real world situation, you can usually take more shots than these ratings suggest.
---
10. Price
The EOS R is unsurprisingly more expensive, debuting at the official price of $2300 / £2350 / €2730 .
The EOS M5 retails for around $980 / £850 / €750 but keep in mind that the camera is now two years old and can be found for less thanks to instant savings, special deals or cash-back promotions.
---
Conclusion
Canon EOS R comparison previews:
EOS R – vs A7R III – EOS R vs Nikon Z6 – EOS R vs 5D mark IV – EOS R vs EOS M5
Canon EOS R complete comparisons:
Even a cursory glance at the specifications is enough to tell you that the EOS R offers better image and video quality as well as better autofocus performance thanks to the new version of the Dual Pixel AF system – although rest assured that the M5 is good on this front too.
There is no question that advanced photographers will prefer the more robust body and the interesting selection of new lenses. The M5 retains the advantage of a more compact design for those who want to carry a second body for casual shooting or use as a back-up.
Check price of the Canon EOS R on:
Check price of the Canon EOS M5 on: