The EOS M50 is the latest mirrorless camera from Canon and finds its place between the entry-level M100 and the mid-range M6. It is also the very first Canon mirrorless to sport 4K video, putting it a step ahead of even the flagship EOS M5 in terms of its video capabilities.
Being primarily geared towards beginners like the M100, it is natural to wonder which model is worth choosing, which is why we've laid out all the main differences in this article. Let's begin!
---
What they have in common:
APS-C sized sensor with around 24MP
Dual Pixel AF system
WiFi, NFC and Bluetooth
---
Ethics statement: The information supplied in this article is based on official specifications. We were not asked to write anything about these cameras, nor were we provided with any sort of compensation. Within the article, there are affiliate links. If you decided to buy something after clicking the link, we will receive a small commission. To know more about our ethics, you can visit our full disclosure page. Thank you!
---
1. 4K vs Full HD video
Let's begin with the difference that's on everyone's lips: the long-awaited addition of 4K video.
The EOS M50 becomes the very first Canon mirrorless to feature 4K capabilities in addition to Full HD and HD. Specifically, it can shoot in 4K at 24p/25p, Full HD at 60p and HD at 120p. The addition of this higher resolution has also allowed for 4K time-lapse and a 4K frame grab feature that lets you extract stills from movie footage.
The M100, by contrast, can only shoot up to Full HD / 60p.
The caveat is that Canon's Dual Pixel AF system – which uses both contrast and phase detection points – only works up to Full HD in Servo AF (C-AF). In 4K, it switches over to a purely contrast detection based system which is slower and less reliable.
To make matters even more frustrating, the camera performs a 1.6x crop in 4K, which increases to approximately 1.75x with digital IS or 2.2x with enhanced digital IS. The result is a significantly reduced field of view. (Source: Camera Labs)
On the plus side, however, the M50 has a 3.5mm microphone input, which enables you to connect an external microphone for better sound quality.
---
2. Built-in EVF
Despite being an entry-level model, the EOS M50 has been furnished with a 0.39-type electronic viewfinder (EVF) featuring a bright OLED panel and a decent resolution of 2.36 million dots. It is located at the centre of the body in the traditional SLR style.

The EOS M100 lacks not only a built-in viewfinder-less but also a hot shoe, so there isn't the option of attaching an external EVF.
---
3. Rear monitor
Another physical difference between the two models concerns the rear screen.
Although both can be articulated, only the EOS M50 has a multi-angle screen that can be flipped out to one side and rotated. The M100 features a two-way tilting mechanism which is ideal for still shooting (selfies in particular) but less handy for video work.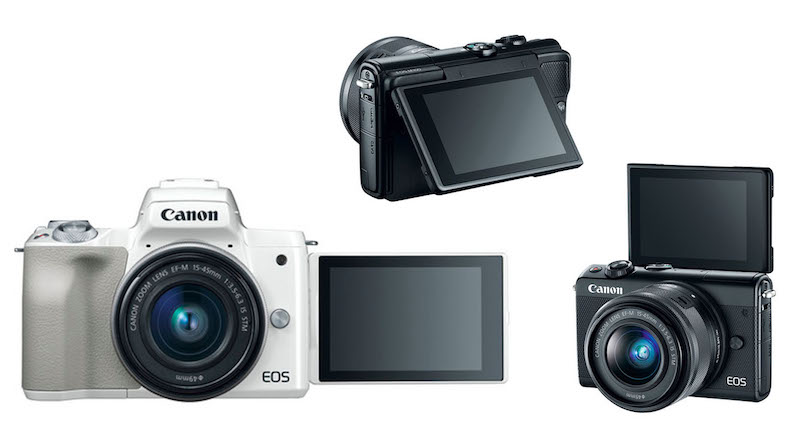 The other specifications are quite similar. Both are 3-inch types with 1040k dots of resolution, a 3:2 aspect ratio and touch sensitivity.
However, on the M50 model, there is an additional Touch & Drag AF mode that lets you change the position of the AF point on-screen while looking through the viewfinder. This mode also allows you to select the active portion of the screen so that you don't accidentally change the AF point with your nose.
---
4. AF points
As mentioned above, the EOS M50 and M100 use the same Dual Pixel CMOS AF system but there is a difference in the number of points available.
The M100 has a total of 49 AF points on a 7×7 grid. They cover 80% of the height and width of the sensor.
The M50 is more advanced in that it offers anywhere between 99 and 143 points depending on the lens used. For example, by attaching the 28mm macro, you gain access to the full 143 points whereas with the 15-45mm kit lens mounted, this decreases to 99. With 143 points, the camera uses the full height of the sensor and 88% of its width. (Source: DPReview)
With either camera, there is the possibility to select a single AF point or Zone.
---
5. DIGIC image processor
The EOS M50 sports Canon's latest image processor, the DIGIC 8. This allows for a series of improvements beyond just 4K including faster burst speeds of 10fps in S-AF or 7.4fps with Servo AF, and eye detection in S-AF to name a couple.
The M100 uses the older DIGIC 7 processor which only allows for speeds of up to 6.1fps (S-AF) or 4fps (Servo AF). Neither it nor any other previous Canon mirrorless comes with eye detection.
---
6. RAW formats
The M50 is the first to use the new CR3 14-bit RAW format which adds a compressed RAW option called C-RAW. It reduces the size of the files by approximately 30-40% while maintaining the same resolution, so you can save more files onto your SD card.
Both cameras have a built-in RAW converter.
---
7. Silent shutter
This may be hard to believe given its ubiquity on other mirrorless bodies but the EOS M50 is the first Canon mirrorless to feature a silent electronic mode.
Silent shutters are useful in situations where you want to remain as discreet as possible, such as a church service or conference, but can prove problematic when moving subjects are involved due to artefacts arising from the rolling shutter.
Like all other Canon mirrorless cameras pre-M50, the M100 lacks a silent shutter mode.
---
8. Battery life
The M50 has the poorest battery life of all Canon mirrorless bodies, being able to manage around 235 shots before the battery runs dry. The M100, by contrast, can shoot up to 295 shots on a single charge, though keep in mind that these numbers will vary depending on how intensively you use the camera.
Whereas the SD card and battery share the same compartment underneath the M50, the M100 has a separate slot for the SD card. Both use the same LP-E12 battery but sadly neither can be charged via USB.
---
9. Size and weight
Both cameras are small, light and portable, but I felt it was worth pointing out the difference in size and weight nonetheless.

Because the M100 lacks a viewfinder and a grip out front, it is noticeably more compact at 108.2 x 67.1 x 35.1mm and 302g. The M50, by contrast, measures 116.3 x 88.1 x 58.7mm and weighs 390g.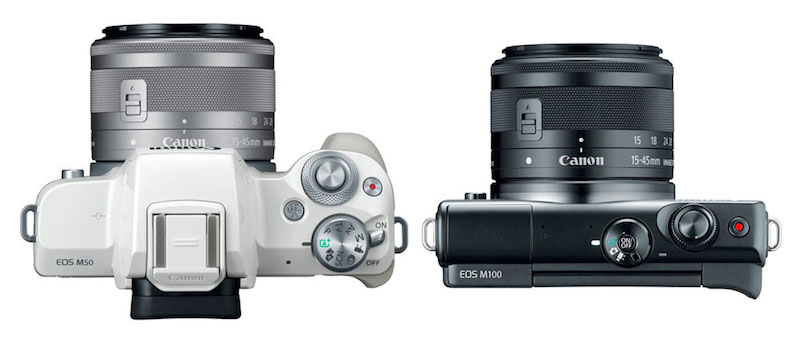 ---
10. Price
One final difference is, of course, the price. Despite bearing the "entry-level" label, the new EOS M50 is far more well-rounded than the M100 and is as a result approximately $300 more expensive.
---
Conclusion
Personally speaking, I find Canon's decision to release an entry-level model that is, in many ways, more advanced than its flagship somewhat unconventional. Indeed, it looks much more like a replacement for the EOS M5 (comparison preview here) than a mere step-up from the EOS M100.
The most logical move now would be for Canon to restore order to the hierarchy by swiftly updating its entire range, but whether this will happen sooner or later is hard to tell.
In the meantime, I'd definitely recommend the M50 model if the $900 retail price isn't an obstacle. There is something to be said for having a built-in EVF and 4K video can come in handy, especially if you often find yourself cropping your footage in post production, and the silent shutter, additional AF points and multi-angle screen are all nice bonuses.
Otherwise the M100 is a more than enough if your priority is stepping up from your smartphone in order to improve your day-to-day photography.
---
Check price of the EOS M50 on
Check price of the EOS M100 on
Amazon | Amazon UK | B&H Photo | eBay
---
You might also enjoy the following articles: