Canon's EOS M mirrorless interchangeable-lens system has been around since 2012 and consists of seven models, the latest of which was announced today.
The EOS M100 is the successor to the entry-level EOS M10 model which was released nearly two years ago in November 2015. It promises many of the specifications of the mid-range EOS M6 while retaining the compact form factor of its predecessor.
Let's take a look at the ten main differences between the two models now!
---
Ethics statement: The information supplied in this article is based on official specifications, press releases and our personal experience with Canon cameras. If we get the chance to test the two cameras side-by-side, we will publish a full comparison with high resolution image samples. We were not asked to write anything about these cameras, nor were we provided with any sort of compensation. Within the article, there are affiliate links. If you decide to buy something after clicking the link, we will receive a small commission. To know more about our ethics, you can visit our full disclosure page. Thank you!
---
1. Sensor and Processor
Although both the M10 and M100 have an APS-C format CMOS sensor, the M100's is a 24.2MP type that resembles the chip of the EOS 80D. The M10, by contrast, uses the 18MP sensor found on Canon's older models.

Paired with the DIGIC 7 image processor, we should see an improvement in overall image quality, low-light performance and AF performance in comparison to its predecessor which uses the DIGIC 6 image processor.
---
2. New Dual Pixel Autofocus System
If there was one aspect that placed the EOS M10 a step behind other mirrorless systems, it was the slow nature of its Hybrid CMOS III AF system. Despite performing fairly well in single AF, it was noticeably more sluggish than the competition and suffered more in difficult light conditions and in C-AF (Servo AF).
The new EOS M100, like the M5 and M6 that came before it, benefits from Canon's advanced Dual Pixel AF system – the very same system used on some of its DSLRs and cinema cameras. Using 24 million phase-difference sensors available across 80% of the frame, Dual Pixel AF reads every pixel's 'left and right' photodiodes independently to achieve phase detection autofocus and deliver quick and accurate focus acquisition. It works for both single and continuous still shooting and video recording.
The number of AF areas is 49 (7×7 grid) on both cameras but on the M100, there is now the possibility to select one AF Point or Zone (9 points on a 3×3 grid).
---
3. ISO Sensitivity Range
To accompany the improvement in ISO performance made possible by the DIGIC 7 processor, the ISO range has also been expanded on the M100.
Whereas the M10 had a more limited range of 100 to 12800 ISO (with an expandable 25600 value), the M100 has a full native range of 100 to 25600 ISO, putting it on a similar level as most of today's mirrorless cameras.
These improvements have been extended to video shooting as well. You can now choose values between 100 and 12800 ISO on the M100 whereas on the M10, the highest you could go was 6400 ISO.
---
4. Continuous Shooting and Buffer Depth
The EOS M10 has a maximum continuous shooting speed of 4.6fps and a buffer depth of 1000 JPGs or 7 RAW images in a burst.
The performance of the M100 is somewhat better than its sibling, with continuous shooting speeds of up to 6.1fps with one shot AF for up to 89 JPG frames or 21 RAW frames or 4fps with Servo AF tracking for up to 1000 JPG frames. Curiously, Canon hasn't provided any information about RAW buffer depth with Servo AF.
---
5. Picture Styles and Modes
Given that the M100 targets smartphone users wishing to upgrade, it isn't surprising to find that it has a few extra shooting modes and picture styles in comparison to its predecessor.
The new modes include HDR Backlight and Smooth Skin, whereas the Picture Styles now include a Fine Detail option.
EOS M100 users will also notice that chromatic aberration, diffraction and lens peripheral illumination correction have been added to the menu. With these settings enabled, the camera corrects for irregularities, improving the overall image quality.
---
6. Video Specifications
If you were hoping for 4K video capabilities on the new model, think again: the EOS M100, like the M10, only shoots up to Full HD.
This isn't to say that their video capabilities are identical however. While the M10 was limited to 24/25/30p options, the M100 shoots up to 60p.
Another feature the M10 lacks is 3-axis electronic image stabilisation for video. This feature on the M100 allows you to take relatively stable hand-held footage by combining the optical image stabilisation of select lenses with software stabilisation.
The maximum recording time on both cameras is 29 minutes and 59 seconds.
---
7. Bluetooth Connectivity
If you want to transfer files or shoot remotely with the M10, your only option is to connect your camera to a smart device via WiFi or NFC.
With the M100, you can also use Bluetooth Smart technology which allows for pairing with Android and iOS devices. Bluetooth is useful because it maintains a constant low-energy connection between your camera and a smart device.
---
8. Design
The design of the two cameras is quite similar but as always, there are a few small differences worth pointing out.
In addition to having rounder edges than the M10, the M100 is clad in textured rubber, making it easier to hold than its predecessor. It is also ever so smaller and lighter than the M100 (301g vs 302g and 108 x 66.6 x 35mm vs 108.2 x 67.1 x 35.1mm).
On top is a redesigned primary dial that lets you switch between stills, video and auto. This dial is also home to the on/off switch.

Like the M10, there is only one control dial that is flanked by a movie record button. Both feature a pop-up flash on the right side of the body and a 3-inch touch LCD sensitive screen that flips up 180 degrees for selfie shooting.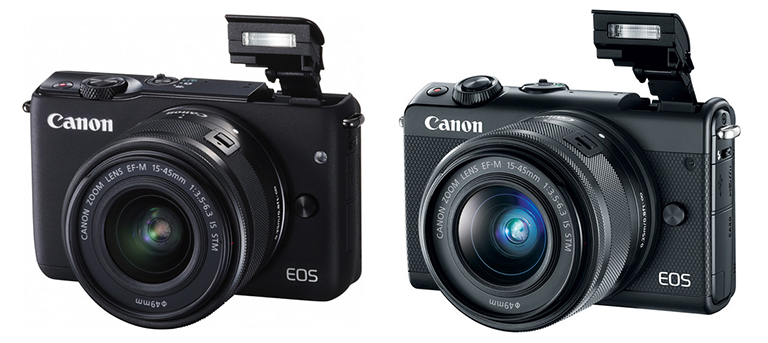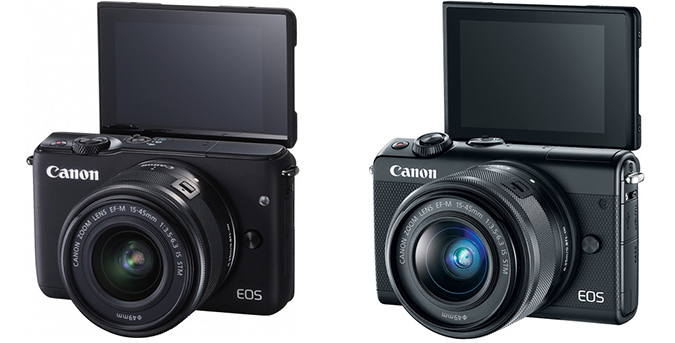 One difference is that the M100 makes room for a WiFi button beside Menu button on the rear.

On the M10, there are three customisable buttons with 13 settings and 5 custom functions whereas on the M100, the shutter and movie record buttons are customisable with 4 custom functions.
Neither camera comes a built-in viewfinder and because there isn't a hot shoe, you can't attach an external viewfinder either.
The M10 is available in black or white whereas the M100 comes in black, white or grey with a choice of nine different coloured cases.
---
9. Battery Life
The two cameras use the same LP-E12 battery but the battery life is a bit better on the new camera.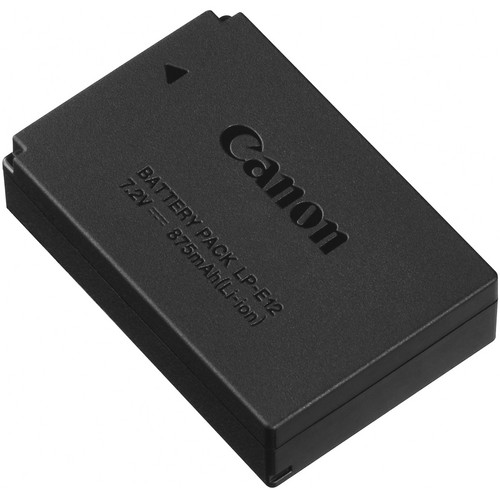 According to the official specifications, the M100 can manage 295 shots (or 410 shots in Eco mode) on one charge whereas the M10 can take an average of 255 shots. Of course, these numbers will vary depending on the ambient temperature and how you use the camera. For example, if you shoot lots of video clips or take a series of continuous bursts, the battery life will be consumed more rapidly than normal.
---
10. Price
The new EOS M100 will cost around $600 / £570 / €670 with the EF-M 15-45mm f/3.5-6.3 IS STM kit zoom, which is around $150 more than the current retail price of the EOS M10 and the same lens. However, we predict that the M10 will soon come down in price now that the M100 has been announced.
---
Conclusion
If you are visiting this article, you probably fall into one of two categories:
a) You own an EOS M10 and would like to know whether it is worth upgrading to the M100 or;
b) You own neither and are curious to find out which is best for your needs.
In either case, I would recommend the new EOS M100 because it offers numerous improvements over its predecessor – such as a high-resolution sensor, updated AF system, slightly better video capabilities and an improved battery life – for just $150 more than the M10.
The only exception would be if you found an excellent deal on a new M10 or a highly discounted second-hand model, which is more likely now that its successor is on the market.
Check price of the Canon EOS M100 on
Amazon | Amazon UK | B&H Photo | eBay
Check price of the EOS M10 on
Amazon | Amazon UK | B&H Photo | eBay
---
You might also enjoy the following articles:
---