Of all the camera brands with mirrorless systems, Canon has been one of the least active, having released only a handful of models and even fewer lenses since the original EOS M came out in 2012. This dearth of new products, compounded by lacklustre specifications such as poor autofocus and the lack of a built-in viewfinder, is the reason for the criticism surrounding Canon and its mirrorless strategy – that is, up until now.
Today Canon announced the brand new EOS M5, the mirrorless camera that many hope will launch the brand as a serious competitor on the mirrorless market. Below we've come up with a list of the ten main differences between the EOS M5 and its predecessor, the EOS M3, to give you an idea of how the system has evolved. Let's get started!
---
Ethics statement: The information supplied in this article is based on official specifications, press releases and our personal experience with Canon cameras. If we get the chance to test the two cameras side-by-side, we will publish a full comparison with high resolution image samples. We were not asked to write anything about these cameras, nor were we provided any compensation of any kind. Within the article, there are affiliate links. If you decided to buy something after clicking the link, we will receive a small commission. To know more about our ethics, you can visit our full disclosure page. Thank you!
---
1. Updated Design
The EOS M3, like the versions that came before it, has a standard flat-topped design with a chunky, curved grip that protrudes out front. In addition to the Mode dial, it features a control dial to change the shutter speed and aperture and an exposure compensation dial. There is a total of three programmable function buttons around the body (M-Fn, Erase and Movie).
The new EOS M5 comes with an SLR-esque design with updates such as two control dials, four customisable function buttons, an updated LCD screen, and most importantly, the inclusion of a centrally-placed electronic viewfinder which we'll discuss in the next section.
Sadly neither camera comes with weather-sealing, nor is there an electronic shutter option – two surprising omissions from the new M5 given that they have become a commonplace features on most high-end mirrorless bodies.
---
2. Built-In Electronic Viewfinder
An exciting new addition to the EOS M5 that puts it on the same level as the competition is the addition of a built-in electronic viewfinder. It is a 0.39-type OLED screen with approximately 2360K dots of resolution, 100% field coverage, and a refresh rate of 120fps.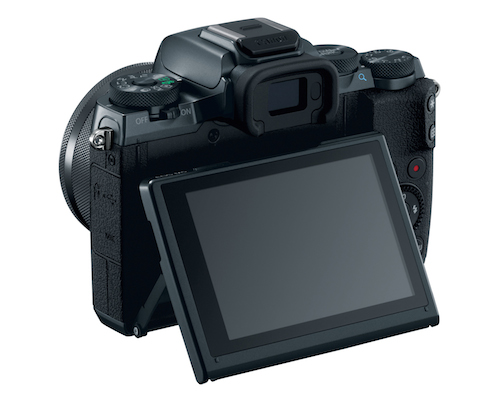 On the EVF-less EOS M3, the only option is to use the optional EVF-DC1 viewfinder that slides into the hot shoe. With specifications such as 2.36MP of resolution and 100% magnification, it is a good work-around but it costs nearly $300 and makes the camera much less compact.
---
3. Updated Tilting Touch Screen
Both the M3 and M5 feature a tilting touch screen, albeit with slightly different specifications.
The M3 features a 3-inch ClearView II touchscreen LCD with 1040K dots of resolution. It tilts up 180 degrees and down 45 degrees, making it ideal for self portraits, even when placed on a tripod.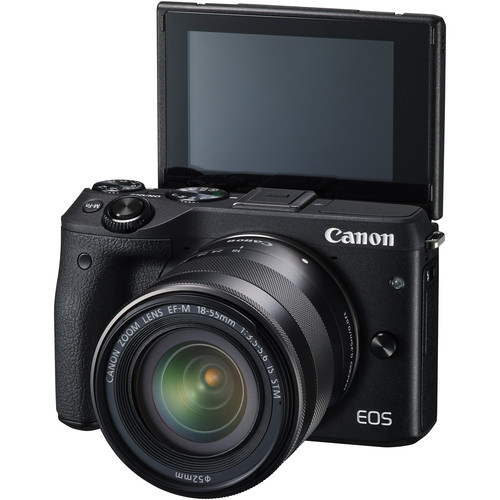 By contrast, the M5 has a slightly larger 3.2-inch ClearView II touchscreen LCD with 1620K dots of resolution. Due to the presence of the EVF, Canon opted to make the screen tiltable 180 degrees down and 85 degrees up. This means that you cannot flip the screen down while using a tripod.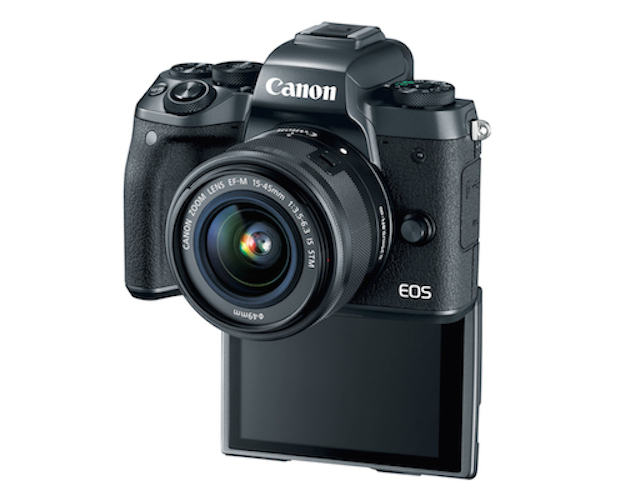 ---
4. New 24.2MP Image Sensor
Although both the M3 and M5 have a 24.2MP APS-C format CMOS sensor, that of the M5 is brand new and is said to resemble the chip inside the EOS 80D DSLR. This new sensor, coupled with the new DIGIC 7 image processor, should bring an improvement in image quality, low-light performance and autofocus performance as we'll discover below.
---
5. New 'Dual Pixel' Autofocus System
One of the biggest complaints about the EOS M3 was the sluggish nature of the Hybrid CMOS III AF system compared to other mirrorless systems. Although it performed adequately in single AF mode, it was still slower than the competition and particularly suffered in poor light and in continuous AF (Servo AF) mode.
The new EOS M5 promises to change all this with the inclusion of Canon's much-lauded Dual Pixel AF, which is the same AF system used on some of its DSLRs (80D, 5D mark IV) and Cinema cameras. Using 24 million phase-difference sensors available across 80% of the frame, Dual Pixel AF reads every pixel's 'left and right' photodiodes independently to achieve phase detection autofocus and deliver both quick and accurate focus acquisition. It works for both single and continuous still shooting and video recording.
The number of AF areas is 49 (7×7 grid) on both cameras, though you can now select one AF Zone (9 points on a 3×3 grid).
Interestingly, Canon has also incorporated a feature that has been on Panasonic cameras for over a year now: Touch AF. With it activated, you can use the touchscreen to change the AF point when using the EVF.
---
6. Expanded ISO Range
A small difference that is nonetheless worth mentioning is the expanded ISO range of the M5 compared to the M3. While the latter had a range of only 100 to 12800 ISO with an expandable value of 25600, the M5 now has a full native range of 100 to 25600 with no expandable values. This is likely because the DIGIC 7 processor has allowed for slightly better image quality at these high values.
As for video shooting, both cameras are limited to an ISO range of 100-6400.
---
7. Faster Continuous Shooting Speed
The M3 has a rather slow continuous shooting speed of 4.2fps and a poor buffer of only 4 RAW files in a burst. The M5, by contrast, can shoot at up to 7fps with AF tracking (Servo AF) in RAW and 9fps with fixed autofocus and metering. Canon states that the buffer depth is now 26 JPGs but hasn't yet provided any information about RAW buffer depth.
---
8. Better Video Specifications
If you were expecting 4K video capabilities from the new EOS M5, then prepare to be disappointed: the new model, like the M3 that came before it, only shoots up to Full HD.
The good news is that, while the M3 only had 24p, 25p and 30p options, the M5 also shoots at 60p. Moreover, it features 5-axis electronic (not sensor shift) image stabilisation for video, allowing you to take stable hand-held footage by combining software stabilisation with the optical stabilisation of the lens. Note that as of now, only two lenses are compatible with this mode (18–150mm f/3.5–6.3 and 15–45mm f/3.5–6.3) and they will require a firmware update to be compatible.
---
9. Bluetooth Connectivity
In addition to the WiFi and NFC capabilities already found on the M3, the M5 incorporates Bluetooth Smart technology which allows for pairing with Android and iOS devices. What is useful about Bluetooth is that it maintains a constant low-energy connection between your camera and smartphone when the dedicated app is open, allowing for quick and easy file transfers and remote shooting.
---
10. Price
Upon its release over one year ago, the EOS M3 body was priced at nearly $700 (USD) and it can be found for significantly less these days. The new M5, on the other hand, is priced just shy of $1000 (USD) and is expected to become available for purchase in November 2016.
---
Conclusion
The EOS M5 is anything but a game-changer in comparison to its contemporaries on the mirrorless market but at least we can say that, unlike the EOS M3 and every EOS M model that came before it, it has allowed Canon to catch up with the competition.
Whether you choose the M3 or the new M5 will ultimately depend on your budget and more importantly, how you plan to use the camera.
If you are looking for a primary system, you may be better off considering the M5 because it is the more complete option. Not only does it have a much better autofocus system than the M3, but it also comes with a built-in EVF, a faster continuous shooting speed, a slightly more versatile movie mode, better wireless connectivity and better overall performance.
If, however, you are after a back-up for your primary Canon DSLR body that you plan to use on vacation or for informal events, you might find that the performance of the M3 is enough for your needs since the image quality of the two cameras should be quite similar.
Check price of the Canon EOS M5 on
Amazon | Amazon UK | B&H Photo | eBay
Check price of the Canon EOS M3 on
Amazon | Amazon UK | B&H Photo | eBay
---
---