The Olympus OM-D E-M1 has been one of the most popular mirrorless camera since its release in late 2013. It was my workhorse for almost two years while working as an event photographer in Italy and without a doubt, one of the first mirrorless cameras to attract professional photographers looking for something smaller than traditional DSLR systems. Last but not least, it is also the camera that marked the end of the Olympus DSLR line-up.
The Panasonic Lumix GH4 is more popular in the filmmaking community thanks to its professional video specifications but it is also capable of producing excellent results for stills. Released in 2014, it introduced many innovations in the Lumix range including DfD autofocus and Ultra HD. In fact, it was the first mirrorless camera capable of recording 4K internally and showed how serious Panasonic was about designing a professional hybrid tool capable of delivering superior results for stills and video.
Before the arrival of their respective successors in late 2016 / early 2017, these two cameras were the two flagship models that made Micro Four Thirds a credible system for professional work. Let's see how they compare!
---
Ethics statement: This article was originally published in 2014 on our camera review website before being updated and transferred to Mirrorless Comparison. We bought the E-M1 and GH4 as well as several Micro Four Thirds lenses for personal and professional use three years ago. We were not asked to write anything about these cameras, nor were we provided with any sort of compensation. Within the article, there are affiliate links. If you buy something after clicking the link, we will receive a small commission. To know more about our ethics, you can visit our full disclosure page. Thank you!
---
[toc heading_levels="2″]
---
Main Specs
OM-D E-M1
Sensor: 16 MP Live Mos
Lens system: Micro Four Thirds
Weatherproof: Complete (splash, dust and freeze proof -10°C)
Internal Stabilisation: Yes (5-axis, Sync IS)
Autofocus: Hybrid with 81 contrast and 37 phase detection points
Continuous shooting: 10 fps (AF-S), 11fps with electronic shutter (AF-S), 9 fps (AF-C)
ISO Sensitivity: 200 – 25600 ISO (Pull 100)
Shutter Speeds: 1/8000 to 60 seconds, 1/16000s with electronic shutter
Viewfinder: 2,360K dots, approx. 100% FOV coverage, 1.48x (0.74x) magnification, 120fps
Rear monitor: Tilting 3″ LCD monitor (1,040K dots) with touch sensitivity
Movie recording: Full HD up to 30fps
Built-in Flash: No but external FL-LM2 is supplied
Extra Features: WiFi, Timelapse, HDR, Multiple exposure, Live Time, Live Composite, Focus Stacking, Keystone compensation
Dimensions: 130.4 x 93.5 x 63.1mm
Weight: 497g (including battery and memory card)
Firmware version at the time of publishing: 4.3
GH4
Sensor: 16 MP Live MOS
Lens System: Micro Four Thirds
Weatherproof: yes (splash and dust)
Internal Stabilisation: None
Autofocus: Contrast detection with 49 points and DfD technology
Continuous shooting: 12 fps (AF-S), 7,5 fps (AF-C), 40 fps with electronic shutter (3MB)
ISO Sensitivity: 200 – 12800, extendable to 100, 125, 25600
Shutter Speeds: 1/8000 to 60 seconds, 1/16000s with electronic shutter
Viewfinder: 2,3359k dots, approx. 100% FOV coverage, 1.34x (0.67x) magnification, 60fps
Rear monitor: Multi-angle 3″ LCD monitor (1,036k dots) with touch sensitivity
Movie recording: Cinema 4k, 4K, Full HD up to 96fps
Built-in Flash: Yes
Extra Features: WiFi/NFC, Multiple Exposure, Silent Mode, 4K Photo, Time-lapse, Stop-motion
Dimensions: 132.9 x 93.4 x 83.9mm
Weight: 560g (including battery and memory card)
Firmware: 2.6
---
Ergonomics and Design
The design is clearly the first difference you will notice but the construction of both is excellent.
The E-M1's design resembles that of the original E-M5 with the external HLD-6 landscape grip attached. The GH4 is very similar to a modern DSLR in shape and this is why it has some of the best ergonomics of all mirrorless cameras. It is slightly heavier and bulkier than the E-M1 however.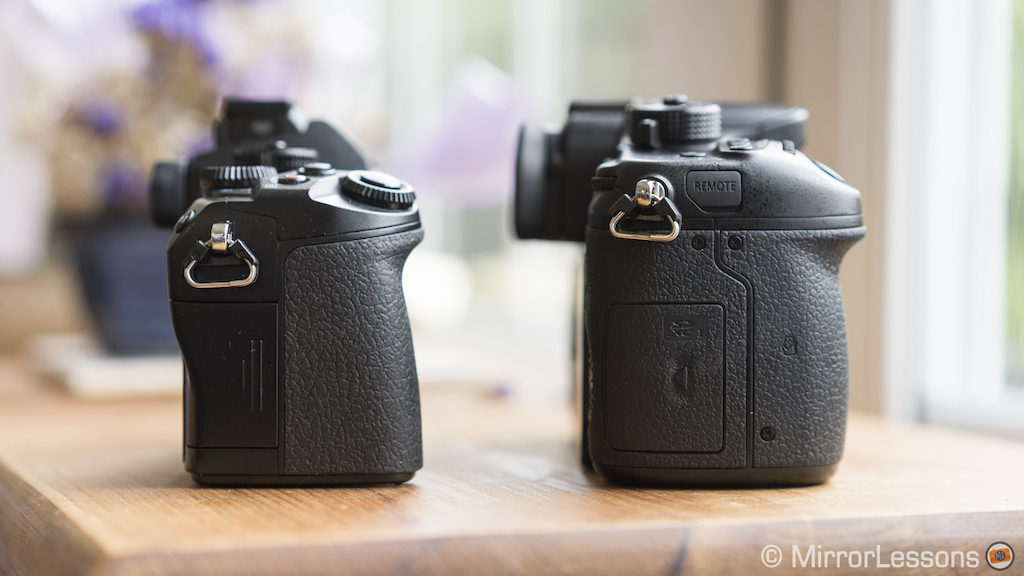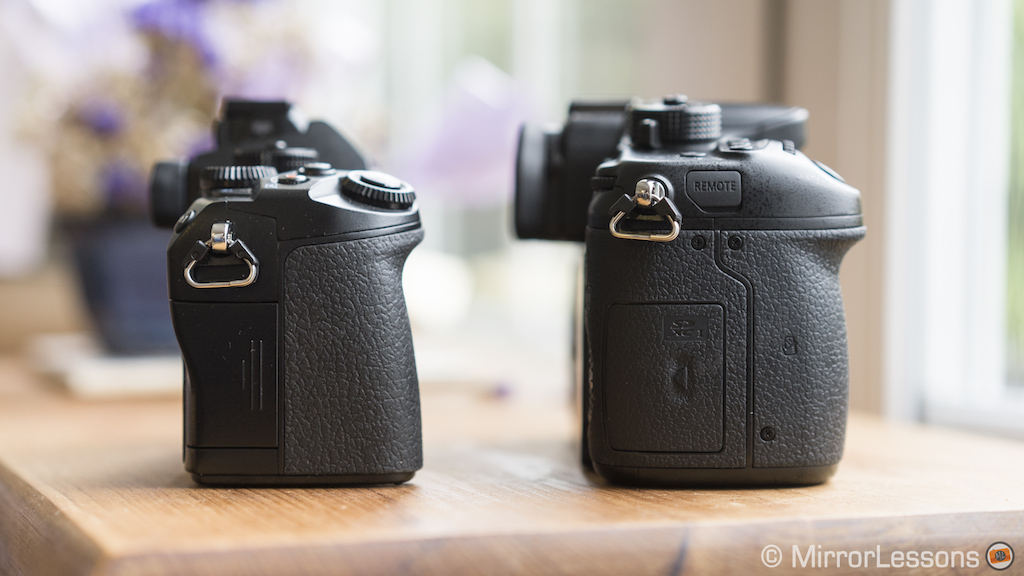 Both bodies are made of magnesium alloy with metal dials and plastic buttons. They are splash and dust proof but only the E-M1 is freeze proof down to -14°C.
The E-M1 features multi (USB/AV) and micro HDMI ports, as well as a mic input and flash socket but lacks a headphone output. The GH4 has a multi-port, micro HDMI, mic input, headphone jack, flash sync socket and a remote connection.
---
Functionality & Ease of Use
The E-M1 and GH4 offer a complete layout of controls and are both very comfortable to use. However the menu system and straight-forwadness of certain operations put the Panasonic camera in front.
The OM-D E-M1 has several buttons and dials that let you choose between many settings. In addition to the twin dials used for aperture and shutter speed, there are six function buttons, a function lever and the arrow pad on the rear. Plus, most of the functions accessed with one of these buttons can be controlled by the twin dials, which are naturally placed where your finger and thumb rest, making all operations very quick.
At the front next to the grip, you find two additional function buttons that you can naturally reach with your middle finger. The mode dial has a lock button at the centre.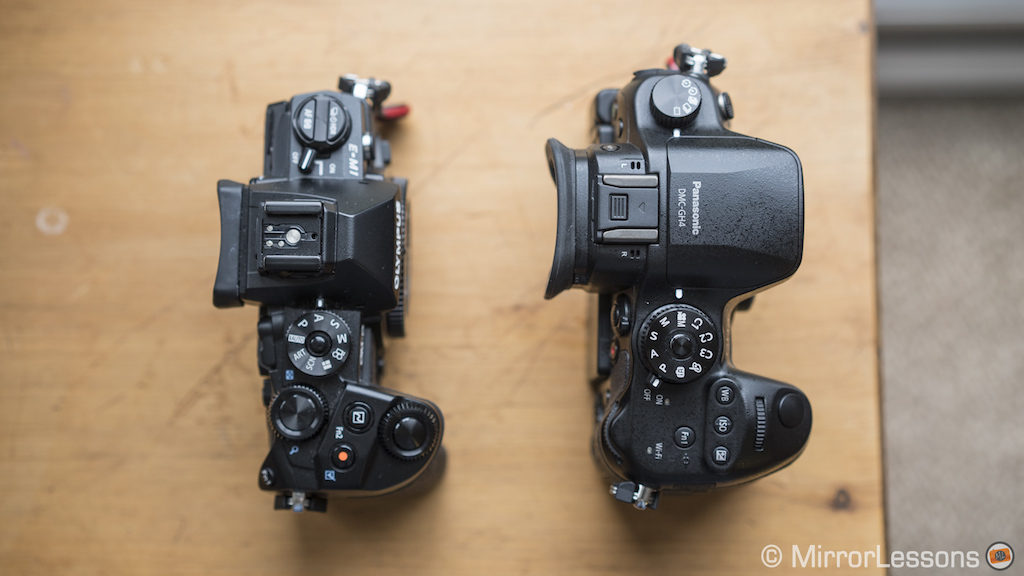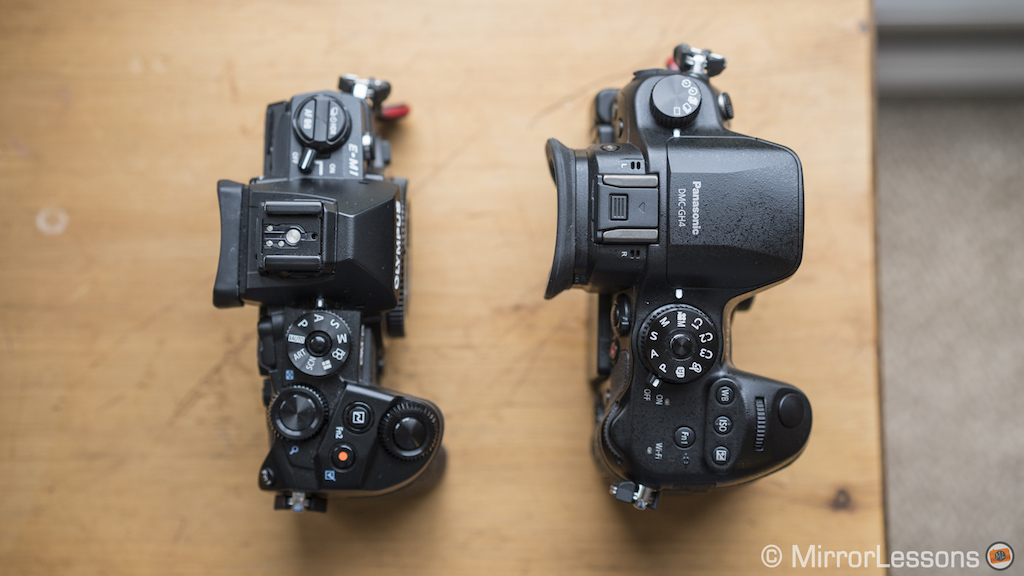 The GH4 is one of the most straightforward cameras I've ever used. There was very little to customise as I was already very happy with the factory presets while on the E-M1 it takes more time to find the optimal configuration.
On the Panasonic you find dedicated buttons for ISO, WB and exposure compensation that can easily be reached with your index finger. There are two dials for aperture and shutter speed and a very convenient burst dial. There are 5 physical function buttons plus two that can be accessed from the touch sensitive LCD screen. The control wheel at the rear is very practical to use and the AF/MF switch is perfectly positioned and makes operating the camera faster than the Olympus. The mode dial on top has a lock button as well.
Concerning the main menu system, the Olympus version takes time to get used to at the beginning and some options are hidden unless you activate them. Once you get the hang of it, however, you will find it very complete thanks to its many settings and options. The OK button lets you access a Super Control Panel to change different settings on the fly.
The menu of the GH4 is more intuitive and easier to navigate as is the case with every Lumix camera. Each main section has a different colour and the look can even be customised with four background options. It can be run entirely with the touch screen or the control wheel. There is a Quick Menu as well to change values more quickly.
---
Viewfinder and LCD Monitor
Both cameras feature electronic viewfinders with 2.36M dots of resolution but the one on the E-M1 has a higher magnification of 0.74x and a shorter lag of 16ms. The refresh rate can go as fast as 120fps with the High mode but the resolution decreases and the battery will drain more quickly. Its Auto Luminance function is also very useful.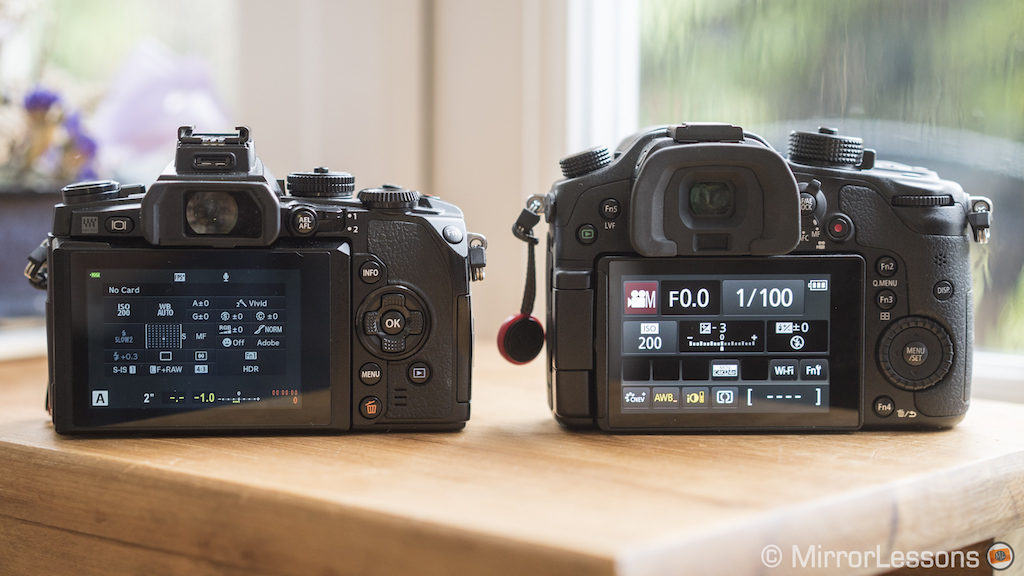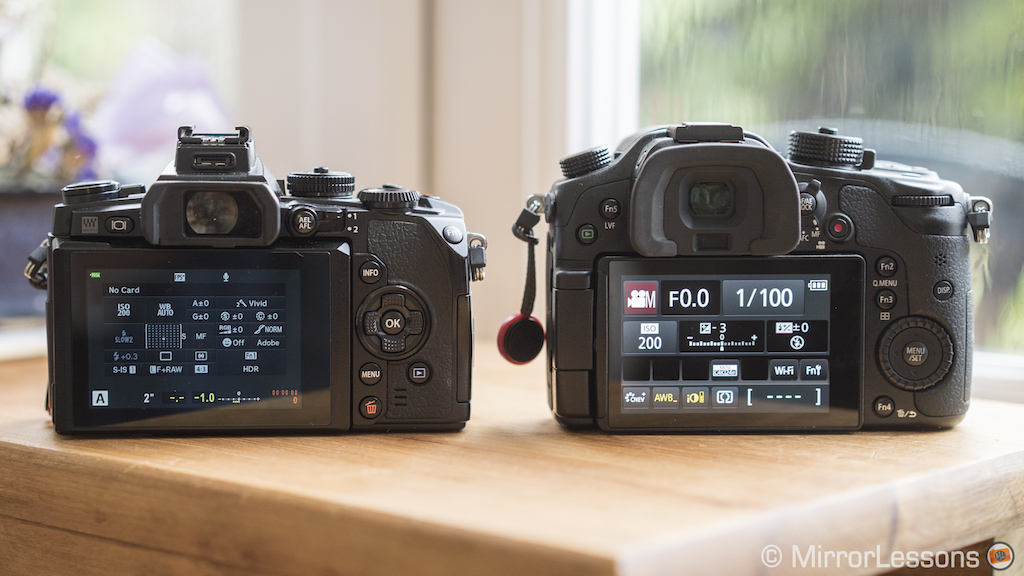 The EVF on the GH4 is a major improvement over the GH3 but the magnification is smaller (0.67x) and the refresh rate goes as fast as 60fps. Contrast, detail and colour are really good however.
The LCD of the E-M1 can be tilted 80 degrees upward and 50 degrees downward but it doesn't flip from side to side unlike the one on the GH4.
Both cameras have a touch sensitive screen but the Panasonic has more options. In addition to selecting your focus point, taking a shot and swiping through your images in playback mode, you can move elements such as the histogram anywhere you want on the screen. You can adjust shadow and highlight curves, create a custom AF area and even pinch to activate magnification.
When the LCD is deactivated, the touch sensitive area remains active and allows you to change focus points while looking through the EVF.
---
Image Quality
The two cameras feature a Four Thirds sensor with 16MP. From a real world point of view, both cameras produce very similar results concerning image quality. They incorporate an advanced image processor and the only relevant difference is that the E-M1 chip lacks an AA filter.
If we start to nitpick we can notice some slight differences. Both cameras have a good JPG engine but concerning colours for example, the E-M1 tends toward a slightly warmer tint than the GH4 when compared with the same settings and lens as you can see below from these SOOC JPGs.
Personally I've always liked Olympus's picture profiles with their vibrant yet realistic results and I rarely adjust other settings such as contrast or sharpness. The Auto WB mode is reliable and there is also an option in the menu to retain the warm colours although it is better to turn it off at night when there are artificial lights in your scene.
The GH4 on the other hand can sometimes have a colder rendering but once you customise the white balance settings to give priority to warmer tints, the camera works just fine. And remember that colours are subjective so what I like is not necessarily what you like.
Concerning the RAW files, with a few adjustments you can easily match the colours on both cameras. If you work with Lightroom, you can re-apply the same picture modes selected in-camera. For the GH4 you will need one of the latest versions available (2017) – otherwise you have to deal with the Adobe Standard profile. A good alternative for both cameras are the Huelight Colour Profiles that offer a natural colour palette and can enhance skin tones as well.
When it comes to dynamic range, both cameras produce very similar results. As with most MFT cameras, the sensor is stronger in the shadows than in the highlights so it is better to slightly underexpose the picture.
The OM-D E-M1 has a native ISO sensitivity that goes up to ISO 5000. Its extended values can go up to 25600 (both RAW and JPG). I would personally go no higher than ISO 6400: there is noise at this value but the image remains more than usable although it also depends on your tolerance for noise. ISO 12800 remains decent while at 25600 ISO the loss in detail becomes more relevant.
The Panasonic GH4 has a native sensitivity of 200 to 12800, with extended ISOs of 100, 160 and 25600. The highest value of 25600 will give you an extra stop for the JPGs but not the RAW files. As with the E-M1, I found it usable up to 6400 ISO. The highest ISO values display a more evident loss in colour detail.
Finally as I mentioned at the beginning, the OM-D E-M1 produces excessive noise for long exposures when the NR (or Dark Frame) is disabled. The GH4 doesn't have the same problem and can produce long exposures without too much noise even if the NR is turned off.
---
Autofocus and Performance
The OM-D E-M1 features 81 contrast detection and 37 phase detection points. The contrast detection points work in AF-Single mode while phase detection takes over in AF-Continuous and AF-Tracking modes. There are different area modes available including All-Target, 9-Group Target, Single Target and smaller Single Target. Some of the AF settings like C-AF Lock allow you to control the responsiveness depending on the type of subject you are photographing and its movements.
I've always found that the E-M1 autofocus performs really well. It is fast and reliable in AF-S and AF-C modes and is accurate even in low light conditions. The smallest focus point gives better accuracy although in some situations you will prefer the practicality of a larger area like the 9-group setting.
Its only weak point is specular highlights (small source of lights in the background) where the camera can focus incorrectly even if you see the AF lock confirmation on the EVF or LCD screen. This happens mainly in S-AF for night street shots for example.
The Panasonic GH4 has 49 contrast detection areas and an autofocus technology called DfD (Depth from Defocus). The camera evaluates the distance from the subject by analysing two images with different depths of field. It then adds that information to the characteristics of the lens being used to deliver the best result possible. And of course all this is done very quickly (approx. 0.07s). One thing I prefer on the Lumix camera is the possibility to create different AF areas depending on your needs, an operation made even easier thanks to the touch screen.
The GH4 autofocus is really quick. I find it slightly faster than the E-M1, especially in S-AF, but it is not completely reliable is Continuous mode: a lack of contrast or backlit situations can easily confuse the camera. In AF-Tracking mode, the GH4 can have a hard time locking onto the subject and here the E-M1 does way better. Another aspect worth remembering is that DfD works with Lumix lenses only, so if you use an Olympus lens the performance will decrease.
The E-M1 can shoot up to 10fps in AF-S mode and up to 9fps in AF-C (firmware 3.0 required). The buffer capabilities are really good. The GH4 can shoot up to 12fps in AF-S and up to 8fps in AF-C. The buffer is also good and just a little less effective than the OM-D camera.
An extra advantage of the OM-D E-M1 is the ability to use Four Thirds lenses via the MMF-3 adaptor. Thanks to the phase detection points, the autofocus maintains good speed and accuracy although it isn't as fast as with native micro four thirds lenses.
---
Image Stabilisation
The E-M1 features 5-axis stabilisation: the sensors "float" on five axes inside the body. It can take sharp shots at shutter speeds as slow as 1 second or even slower if you are steady enough or lean against a wall or pole. More than once I decided not to use my tripod for night shots as the 5-axis stabilisation allowed me to keep my ISO low enough.
The in-body stabilisation works with every lens including adapted lenses. Thanks to the recent introduction of optically stabilised lenses such as the 300mm Pro or the 12-100mm Pro, the camera can take advantage of the Sync IS system (sensor + optical stabilisation working at the same time) which increases the performance even more.
The GH4 doesn't have internal stabilisation and relies instead on the optical stabilisation of certain Lumix lenses. It also means you won't have any stabilisation option with non OIS lenses or third party lens. When recording video, many Lumix OIS lens can produce a jittering effect.
The difference between the internal stabilisation of the E-M1 and the OIS stabilisation on the lenses is definitely relevant. With shorter focal lengths, the E-M1 retains a clear advantage while with longer focal lengths the performance can be closer if the Panasonic OIS performs well.
Below you can see a quick test between the two cameras made with the Lumix 35-100mm at 35mm. The two pictures represent the best results I had with the slowest shutter speed I could shoot with before the pictures started to become too blurry.
---
Video Capabilities
The main difference between the two cameras can be found here.
The E-M1 can record 1080p with manual controls at a bit rate of 24mbps. More options and settings have been provided via firmware update, like the possibility to record in 24 and 25p instead of just 30p and to control the audio recording volume better. You find a 3.5mm mic input that can also be used as a line-in. Some movie effects can be applied, including a few of the art filters.
Its strongest selling point compared to the GH4 is the 5-axis stabilisation once again, as it is also very effective for video. With more complex movements it can introduce unpleasant distortion (jello effect), but for static shots it works wonders. Coupled with an Olympus IS lens, you can take advantage of the Sync IS system and get stable shots even at extreme focal lengths as you can see below.
The GH4 is much more advanced when it comes to video. Its professional specifications have made it quite successful among filmmakers who use it for commercial and fiction work. It is worth remembering that it was – at the time of its release – the only professional camera in this price range capable of recording 4K internally on an SD card at 100mbps. Full HD goes up to 200mbps and you get an ALL-I codec option too. You can select the Cinema 4K format (4096 x 2160) at 24fps and slow motion footage goes up to 96fps in 1080p.
There are dedicated picture profiles for video (Cine-Like D and V) and V-log is available via a paid update (or you can buy the GH4R version which already includes the log profile). Panasonic added other options via firmware including a 4:3 anamorphic mode. You will also find pro settings such as master pedestal, zebra pattern and better audio control. The HDMI port can output a 10 bit 4:2:2 signal for external recording.
The Panasonic camera has a mic input and a headphone mini jack output.  There is also an external unit available (the YAGH – check price on Amazon) that provides professional connectors such as XLR for audio, SDI for video and synchronisation. It is quite expensive however.
---
Flash and extra features
The E-M1 has a maximum sync of 1/250s. It doesn't have a built-in flash but comes with the small external FL-LM2 unit. The camera supports a wide selection of Olympus and third party flashes and is compatible with the wireless RC mode (optical) and many speedlights support HSS.
The GH4 shares almost identical capabilities and options like first and slow sync, and comes with a built-in flash. One thing that the Lumix does well is automatically disable the exposure preview in the EVF/LCD when a flash is attached, which is useful when working in a studio environment. On the E-M1 you have to disable that manually. Last but not least, many Micro Four Thirds compatible flashes can be used on both cameras without losing any of their functionalities.
The two cameras are not short of options when it comes to extra functionalities. Among the things they have in common, we find:
Time-lapse: option to save a video file as well (720p only on the E-M1)
Electronic / silent shutter: maximum speed is 1/16000s (ISO limited to 3200 on the GH4)
Manual focus assist: peaking (with various colours) and magnification are available on both cameras but I find the Panasonic solution easier to use and more accurate
AE bracketing: up to 7 frames for both, but the E-M1 has more options including ±2Ev and a separate HDR bracket mode
Multiple Exposure
Wifi: remote control and image transfer (the GH4 also has NFC)
On the E-M1 you will find the following unique features:
Live Bulb and Live Time: they allow you to have a preview of a very long exposure on the LCD or EVF. This is a great feature for light painting for example
Live Composition: similar to the live time concept but allows you to blend multiple exposures by retaining the brighter pixels only, which is very useful for star trails or fireworks
Focus Stacking and focus bracketing: you can take up to 999 shots with focus bracketing or merge shots in camera with Focus Stacking (JPG only)
Keystone compensation: you can correct the vertical distortion of buildings with a wide angle lens (JPG only)
Tethering: control your camera with your computer via the USB connection (requires the Olympus Capture software)
The GH4 has a few tricks of its own including:
4K Photo: record video in 4:3 or 3:2 aspect ration at 30fps and save any of the frames as an 8MP JPG
Stop motion animation: similar to the time-lapse mode but designed to move objects frame by frame
---
Battery Life
The E-M1 has a reasonable battery life but as soon as you start to use it extensively (C-AF, high burst, video), it can decrease quickly and you will definitely need one or two spares. Some settings like the fast refresh rate in the EVF don't help either.
The GH4 battery life is much better. While it might not last as long as the GH3 because of its more advanced features (the battery is the same), it isn't far behind. One battery can easily last for an entire day and only 4K recording will stress it more. The GH3 and GH4 battery life are among the best tested on any mirrorless camera.
---
Price
Both the E-M1 and GH4 were replaced by their successors in 2016. The E-M1 is listed as discontinued at many retail stores but you can still find it in some physical stores or refurbished with one lens at an attractive price (like for example the 12-40mm kit). Second-hand you should be able to get the camera around $400/500 depending on the condition and seller. In Europe you may still find the E-M1 brand new for £1100 or €1100.
The GH4 is still on the market and can be found brand new for around $1000 / £950 / €1080 and for that price you should be able to get the GH4R version or have the V-log activation code included.
Please note that prices may vary depending on your specific region or retailer.
---
Conclusion
If we skip the obvious – the Panasonic being far superior for video work – the E-M1 and the GH4 share many capabilities, especially in the stills department.
The overall image quality is similar and while the GH5 produces slightly more noise at high ISOs, it doesn't suffer when taking long exposures like the E-M1.
The phase detection autofocus system of the Olympus gives it an advantage because it is more reliable when tracking fast moving subjects and in challenging light conditions but the DfD system of the Panasonic is really fast in good light.
If the GH4 is at the top of its class due to its 4K capabilities, the Olympus retains a major advantage thanks to its 5-axis stabilisation system and compatibility with Sync IS on select lenses.
Finally, the build quality of both cameras is excellent but the E-M1 has a slight advantage in that it is also freeze proof. I personally prefer the handling of the E-M1 as well because of its smaller size but without a doubt, the GH5 is more straightforward to use.
Choose the Olympus OM-D E-M1 if:
You want one of the best stabilisation system on the market
You often shoot moving subjects (sports and wildlife)
Choose the Panasonic Lumix GH4 if:
You want one of the best mirrorless cameras for video
You want one of the most straightforward mirrorless cameras (button layout, menu system etc)
Check the price of the Olympus OM-D E-M1 on
Check the price of the Panasonic GH4 on
Amazon | Amazon UK | eBay | B&H Photo
You may also be interested in:
---
Sample images
OM-D E-M1
Panasonic GH4