A lens most photographers add to their kit at some point in their career is the standard zoom. Why? Because it is capable of covering a wide variety of daily shooting situations, from landscapes and portraits to events and family holidays. In fact, like it or not, you may even find that it will become the most-used lens in your arsenal!
As of today, there are three high quality Micro Four Thirds lenses that fall into the "standard zoom" category. In this comparison, we're going to be looking at how the newest lens in Panasonic's range of premium Leica DG optics, the 12-60mm f/2.8-4.0 stacks up against the three-year-old Olympus M.Zuiko 12-40mm f/2.8.
---
Ethics statement: We bought the M.Zuiko 12-40mm for our personal use three years ago, whereas the Pana-Leica 12-60mm was sent to us by Panasonic for two weeks. We were not asked to write anything about the lenses, nor were we provided with any sort of compensation. Within the article, there are affiliate links. If you buy something after clicking the link, we will receive a small commission. To know more about our ethics, you can visit our full disclosure page. Thank you!
---
[toc heading_levels="2″]
---
Main Specifications
Panasonic Leica DG Vario-Elmarit 12-60mm f/2.8-4.0
Mount: Micro Four Thirds
Focal length: 12-60mm (24-120mm in 35mm equivalent terms)
Lens configuration: 14 elements in 12 groups (4 aspherical lenses, 2 ED lenses)
Lens coating: Nano surface coating
Angle of view: 84° (wide) or 20°(tele)
Minimum focusing distance: 20cm (wide) or 24cm (tele)
Magnification: 0.3x
Aperture blades: 9 circular diaphragm blades
Aperture range: 2.8 to 22 (wide) or 4 to 22 (tele)
Filter diameter: 62mm
Weather-sealing: Yes
Optical stabilisation: Yes (POWER O.I.S.)
Dimensions: 86mm x 68.4mm
Weight: 320g
Olympus M.Zuiko 12-40mm f/2.8 PRO
Mount: Micro Four Thirds
Focal length: 12-40mm (24-80mm in 35mm equivalent terms)
Lens configuration: 14 elements in 9 groups (2 high refractive lenses, 1 aspherical lens, 1 aspherical ED lens, 1 DSA lens, 2 ED lenses)
Lens coating: ZERO coating
Angle of view: 84° (wide) or 30° (tele)
Minimum focusing distance: 20cm
Magnification: 0.3x
Aperture blades: 7 circular diaphragm blades
Aperture range: 2.8 to 22
Filter diameter: 62mm
Weather-sealing: Yes
Optical stabilisation: No
Dimensions: 84mm x 69.9mm
Weight: 382g
---
Design and Ease of Use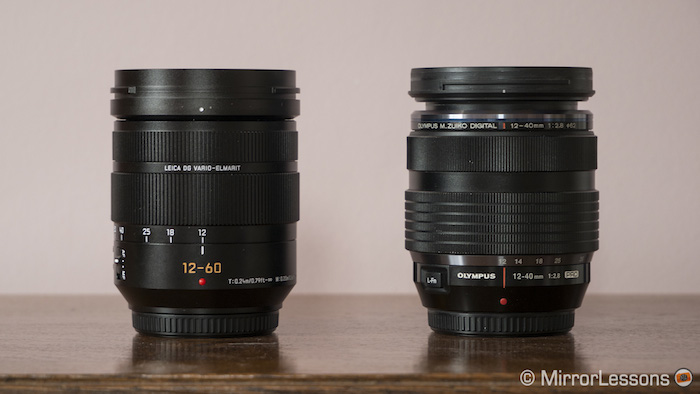 The 12-60mm and 12-40mm are both professional standard zooms and their build quality reflects this.
Both feature a solid metal barrel that is dust, splash and freeze-proof down to -10℃, yet they are small and light enough to be an excellent match for any of the larger Micro Four Thirds bodies. (It is possible to use them on smaller bodies too, but you may find the girth of the barrel extends beyond the bottom of the camera, making it difficult to mount the camera on a tripod.)
When the zoom is retracted, the two lenses appear more or less the same size. Once extended, however, the extra 20mm of the 12-60mm gives it a little extra height in comparison to the 12-40mm. The 12-40mm is the heavier of the two by about 60g but you won't notice the difference out in the field.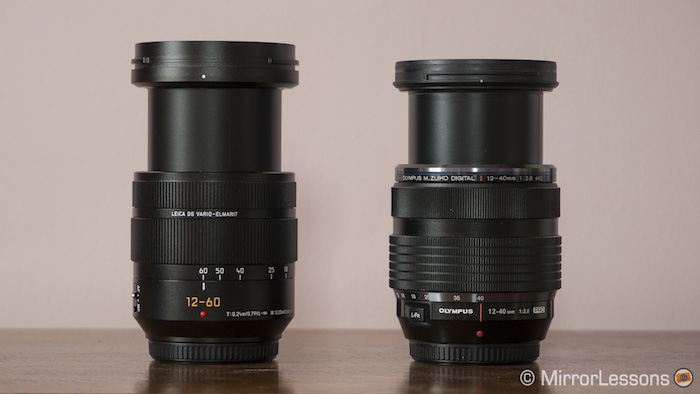 The 12-40mm has a constant 2.8 aperture, whereas the 12-60mm has a variable aperture of 2.8 to 4.0. The 2.8 value is only accessible at 12mm – once you zoom in to 25mm or 60mm, the fastest aperture becomes 3.5 or 4 respectively.
Below you can see the fastest apertures available for each focal length on the Pana-Leica lens:
12mm: f/2.8
18mm: f/3.2
25mm: f/3.5
40mm: f/3.9
50mm: f/3.9
60mm: f/4
This means that the 12-40mm is more versatile in low-light situations and can create a little more shallow depth of field past 12mm.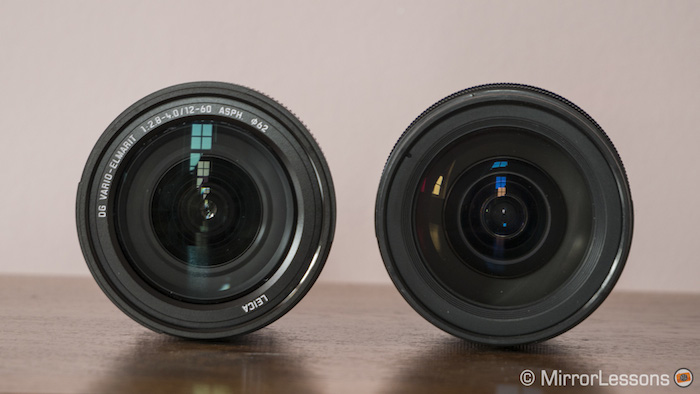 Turning to the features on the barrel, we find two handy switches on the 12-60mm: one for AF/MF and the other for Power O.I.S. On/Off. The 12-40mm is devoid of switches but pulling back on the focus ring clutch engages manual focus mode and reveals a distance scale. It also comes with a handy customisable L-Fn button to which you can assign various functions.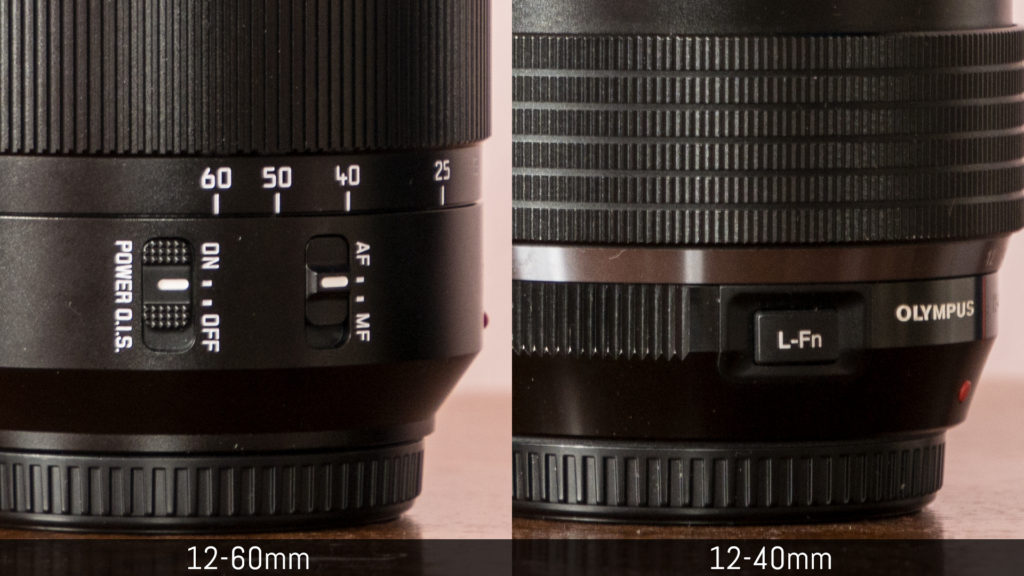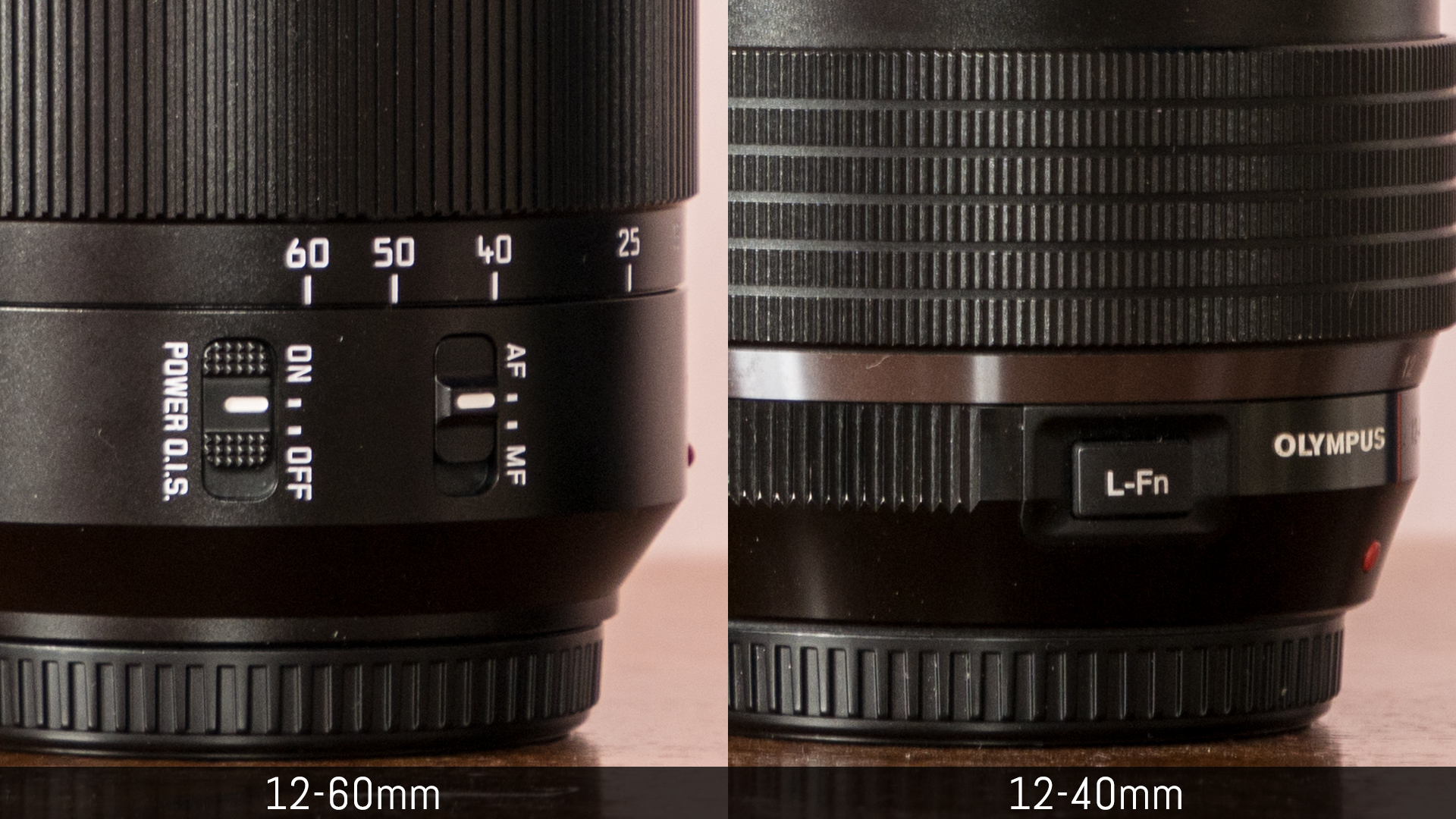 The ribbed zoom and fly-by-wire focus rings are smooth with just the right amount of torque, and the focal lengths are clearly and accurately marked.
Both lenses come with a plastic petal-shaped lens hood that clicks into place and can only be released by pressing the buttons on the side. Their clip-on lens caps are actually the same size due to both lenses having a 62mm filter thread.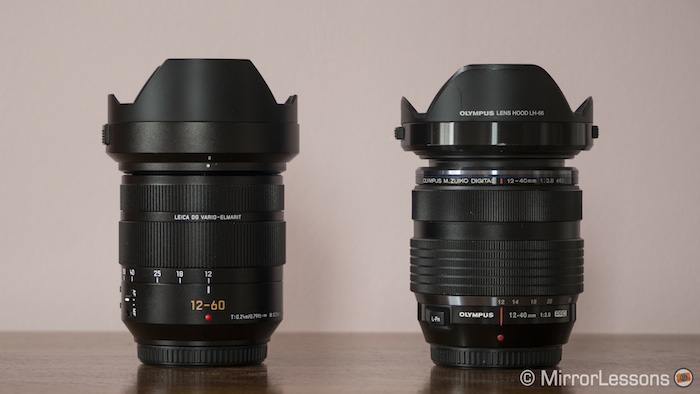 ---
Optical Quality – Through the lens
The 12-60mm and 12-40mm are classified as premium standard zooms, and as such, have been designed to deliver the best optical quality possible. Though they don't have the sharpness of a high-end prime, they are more than enough for most situations as we'll see below.
Sharpness
To compare the sharpness of the two zooms, I took a series of comparative images at a long and close working distance at all the key focal lengths they share: 12mm, 25mm and 40mm.
What immediately took me aback whilst reviewing the images was how similar the results are from the two lenses, regardless of focal length, aperture or distance from the subject. Both appear to deliver peak performance in the centre between f/2.8 (where applicable) and f/5.6 but f/8 is never far behind. Between the two, the Olympus lens does seem to have a little more micro contrast but the differences are truly minute.
Below you can see some 100% crops taken at the most important apertures and focal lengths. To see a full gallery of crops, you can visit our dedicated SmugMug gallery.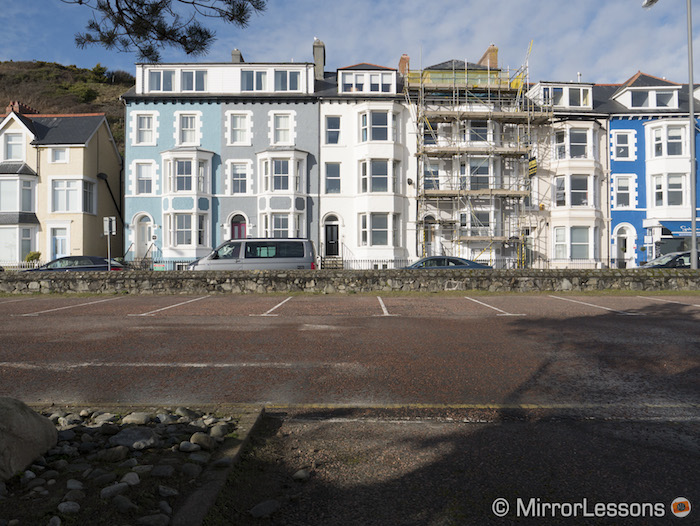 Corner sharpness is also nearly identical, as you can see from the following crops taken at f/2.8 (12mm) and f/5.6.
Happily, the 12-60mm continues to be very sharp even at 60mm, with peak performance occurring at f/5.6.
Bokeh
The out-of-focus rendering (or bokeh) is another important aspect photographers consider when buying a lens, though in the case of the 12-60mm and 12-40mm, you won't be able to achieve much background blur unless you focus close to your subject.
The bokeh of the two lenses is actually quite similar. It can assume quite a "busy" appearance but is sufficient if your aim is to capture casual portraits or isolate your subject to create a semi-macro image.
The specular highlights, or bokeh balls, are round at the centre but gradually lose their shape the closer they get to the edges of the frame. The 12-40mm's have a slightly more mottled textured than those of the 12-60mm, whereas those of the 12-60mm have more onion rings. Both feature a noticeable border around the circumference.
As mentioned above, the constant 2.8 aperture of the 12-40mm allows for better subject separation and a smoother out-of-focus rendering at all values up to 40mm. Since the 12-60mm lacks a constant 2.8 aperture, the only way to generate more background blur and subject separation is to extend the focal length of the lens to 50mm or 60mm.
Colours
I've often found that Olympus and Panasonic lenses have a marginally different colour rendering, and these two lenses are no exception. As we can see in the example below, the 12-40mm has produced a warmer tint than the 12-60mm even though the white balance of the Lumix G85 was set to 5500 Kelvin for both images.
Flare and Chromatic Aberration
Flare is present if you shoot into direct sunlight as you can see in the examples below. Keep in mind that you can usually reduce the severity of the flare simply by adjusting your composition by a few millimetres.
Most of the time, you won't notice any chromatic aberration from either lens. It is only in certain extreme backlit situations such as the one below that you might come across some very mild purple fringing in the corners if you zoom in to 200%.
Vignetting and Distortion
Moderate vignetting (corner shading) is noticeable up to f/5.6 with both lenses at all focal lengths, whereas barrel distortion is present at the widest angles on the 12-60mm.
---
Field of View
It isn't uncommon for lenses with the same focal length to have slightly different fields of view, and this is indeed the case with the 12-60mm and 12-40mm.
Specifically, I found that the latter produces a marginally narrower field of view than the latter when set to their shared widest angle of 12mm at both close and long focus distances. Once you zoom in to 40mm, the difference all but disappears.
Below you can see an example taken at 12mm (look at the white building on the left).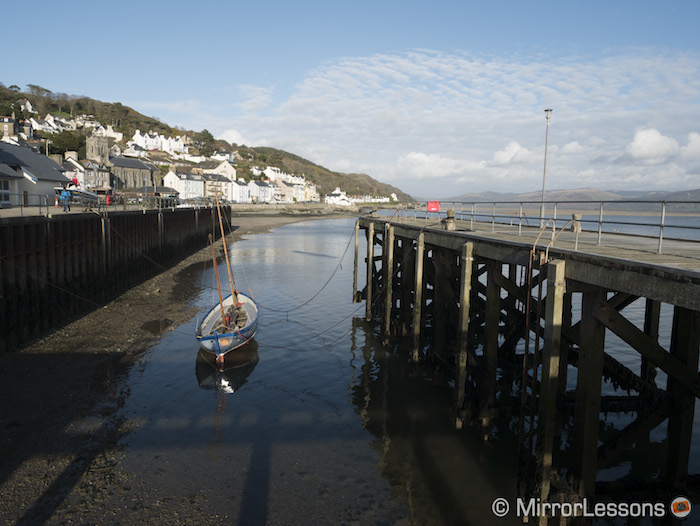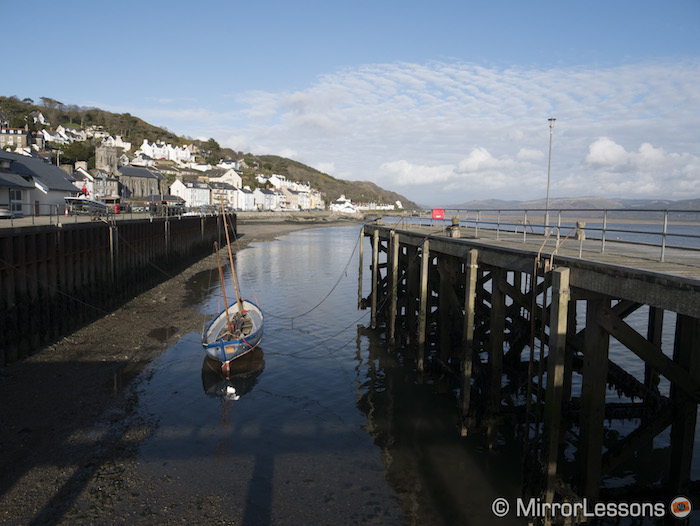 ---
Stabilisation
The 12-60mm has one important advantage over the 12-40mm, and that is its built-in optical stabilisation. When mounted on an Olympus or non-stabilised Panasonic Lumix body, it is possible to take sharp shots down to shutter speeds as slow as 1 second at 12mm or 0.4 seconds at 60mm – if you haven't been drinking too much coffee, that is!
Pair the lens with the Dual I.S. (combined optical and sensor stabilisation) of select Lumix cameras, such as the G85, GX85 or GH5, and you can achieve good results down to 1.6 seconds at 12mm or 1 second at 60mm.
The reason the 12-40mm lacks optical stabilisation is because it was released at a time when Olympus relied solely on the 5-axis in-body stabilisation of its cameras. It was only in 2016 that select M.Zuiko lenses began to feature Sync I.S. which, like Panasonic's Dual I.S., combines sensor and optical stabilisation for added stability.
---
Autofocus and Manual Focus
Both lenses are quick and deadly silent in S-AF and C-AF on the latest Micro Four Thirds bodies. This applies regardless of whether you are shooting stills or video.
Manual focusing, too, is a pleasant experience, though it is unlikely you'll feel the need to enter manual focus mode given the speed and accuracy of the autofocus mechanism.
In manual focus mode, the time it takes to travel from infinity to the minimum focus distance on the 12-60mm largely depends on how quickly or slowly you turn the focus ring: if you turn it very slowly, four full rotations are required whereas if you turn it as quickly as possible, it only takes a 3/4 turn.
This is also the case with the 12-40mm, with the difference being that you barely have to rotate the ring at all to go from one extreme to the other as long as you turn it quickly. And even if you turn it slowly, it only takes a little less than a 1/2 turn of the ring to travel the distance.
Minimum Focus Distance
Both lenses have a very short minimum focus distance which makes them useful for semi-macro photography. In the case of the Olympus, it has a minimum focus distance of 20cm through the entire zoom range, whereas the Panasonic's goes from 20cm at 12mm to 24cm at 60mm.
You can see two additional "real world" examples that demonstrate how close you can get below.
---
Conclusion
Three years ago, we bought the Olympus M.Zuiko 12-40mm f/2.8 for our personal use, so the question I've been asking myself throughout our testing period is: would I replace the Olympus lens with the Pana-Leica 12-60mm f/2.8-4.0?
Personally speaking, I find it more useful to have the constant 2.8 aperture since it allows me to keep the ISO value down even in poor light. However, I can appreciate that others might prefer the extra reach for everyday photography, casual portraits or travel. This is especially true if you mostly work in favourable light conditions.
The 12-60mm could also prove the wiser choice for owners of non-stabilised Micro Four Thirds bodies, such as most Lumix cameras from pre-2016, as the optical stabilisation is very effective even on its own. For those who own a stabilised body from either Panasonic or Olympus, the advantage is less significant.
Finally, we come to the price. Purchased brand new, the 12-60mm is only $100 more expensive than the 12-40mm but given that the Olympus lens is three years older than the Pana-Leica, it isn't rare to find second-hand units for as little as $500. In fact, with what's left over, you could easily buy another lens (or two)!
Choose the Panasonic Leica 12-60mm f/2.8-4.0 if you:
feel you could benefit from the extra 20mm on the telephoto end
you own a non-stabilised Micro Four Thirds body
Choose the Olympus M.Zuiko 12-40mm f/2.8 PRO if you:
frequently work in poor light conditions
own a stabilised Micro Four Thirds body from either Olympus or Panasonic
have found a second-hand deal on the lens that you can't refuse
Check price of the Pana-Leica 12-60mm f/2.8-4.0 on
Amazon | Amazon UK | B&H Photo | eBay
Check price of the Olympus M.Zuiko 12-40mm f/2.8 on
Amazon | Amazon UK | B&H Photo | eBay

Second-hand Panasonic lenses on
Second-hand Olympus lenses on
---
---
You may also be interested in:
---
Sample Images
Panasonic Leica 12-60mm f/2.8-4.0
Olympus M.Zuiko 12-40mm f/2.8 PRO