Despite their shared zoom range, the Panasonic Leica 12-60mm and Lumix G 12-60mm are actually very different products. The former is a premium zoom whose optical quality is sufficient even for professional purposes, whereas the latter is more easily defined as a kit lens and is likely to be the first zoom a beginner will own.
Since many of our readers have been asking whether it makes sense to upgrade to the Pana-Leica version from the Lumix lens, we decided to compile a full comparison to show the differences in build quality, sharpness, bokeh, stabilisation and more between them. Let's get started!
---
Ethics statement: The PanaLeica 12-60mm and Lumix G 12-60mm were sent to us by Panasonic for two weeks. We were not asked to write anything about the lenses, nor were we provided with any sort of compensation. Within the article, there are affiliate links. If you buy something after clicking the link, we will receive a small commission. To know more about our ethics, you can visit our full disclosure page. Thank you!
---
[toc heading_levels="2″]
---
Main Specifications
Leica DG Vario-Elmarit 12-60mm f/2.8-4.0
Mount: Micro Four Thirds
Focal length: 12-60mm (24-120mm in 35mm equivalent terms)
Lens configuration: 14 elements in 12 groups (4 aspherical lenses, 2 ED lenses)
Lens coating: Nano surface coating
Angle of view: 84° (wide) or 20°(tele)
Minimum focusing distance: 20cm (wide) or 24cm (tele)
Magnification: 0.3x
Aperture blades: 9 circular diaphragm blades
Aperture range: 2.8 to 22 (wide) or 4 to 22 (tele)
Filter diameter: 62mm
Weather-sealing: Yes (dust, splash and freeze proof)
Optical stabilisation: Yes (POWER O.I.S.)
Dimensions: 86mm x 68.4mm
Weight: 320g
Lumix G 12-60mm f/3.5-5.6
Mount: Micro Four Thirds
Focal length: 12-60mm (24-120mm in 35mm equivalent terms)
Lens configuration: 11 elements in 9 groups (3 aspherical lenses, 1 ED lens)
Lens coating: N/A
Angle of view: 84° (wide) or 20° (tele)
Minimum focusing distance: 20cm (wide) or 25cm (tele)
Magnification: 0.27x
Aperture blades: 7 circular diaphragm blades
Aperture range: 3.5 to 22 (wide) or 5.6 to 22 (tele)
Filter diameter: 58mm
Weather-sealing: Yes (dust and splash proof)
Optical stabilisation: Yes (Power O.I.S.)
Dimensions: 71mm x 66mm
Weight: 210g
---
Design and Ease of Use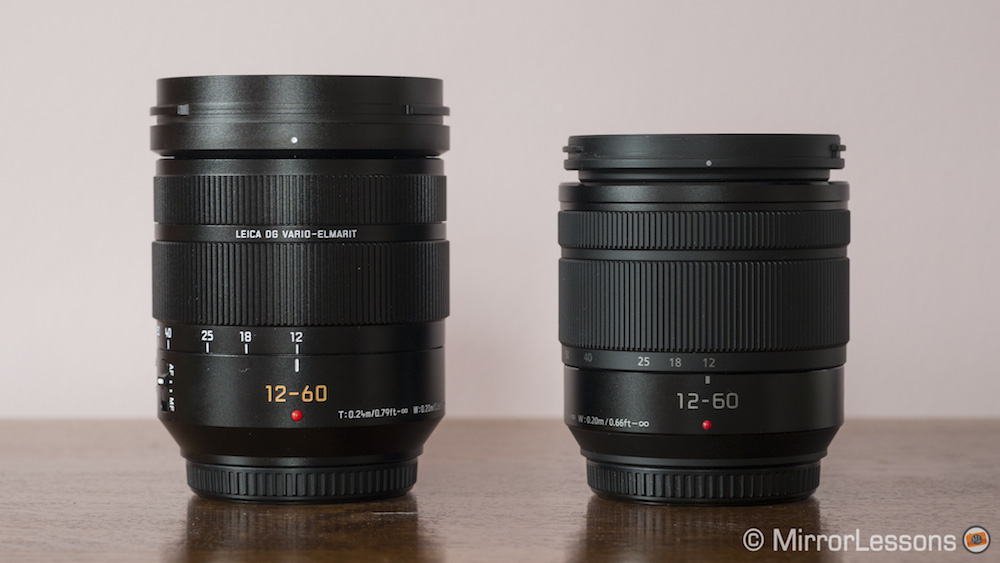 The Pana-Leica, being the more expensive product, features a solid metal barrel that is not only dust and splash proof but also freeze-proof down to -10℃, whereas the Lumix is primarily constructed of high-grade plastics and is only weather-sealed against dust and moisture.
Although both are small and light enough to be a good match for most mid-to-large sized Micro Four Thirds bodies, the Pana-Leica's wider barrel may extend beyond the bottom of some smaller models, making it difficult (if not impossible) to mount the camera on a tripod. The Lumix's barrel, on the other hand, is smaller and will only overwhelm the smallest of bodies such as the now-defunct GM series.
The Pana-Leica remains a little taller than its sibling no matter if the zoom is retracted or extended. The Pana-Leica is also the heavier of the two by just over 100g, which can make a difference after a long day of shooting.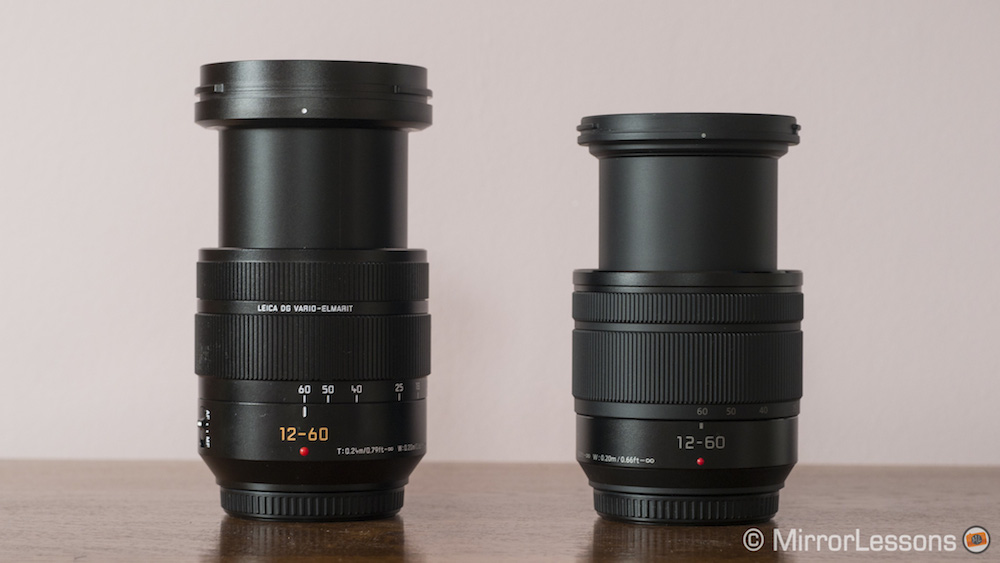 Both zooms have a variable aperture: 2.8 to 4 on the Pana-Leica and 3.5 to 5.6 on the Lumix. This means that the former is slightly more versatile in low-light situations and can create more shallow depth of field when set to the same focal length as the Lumix.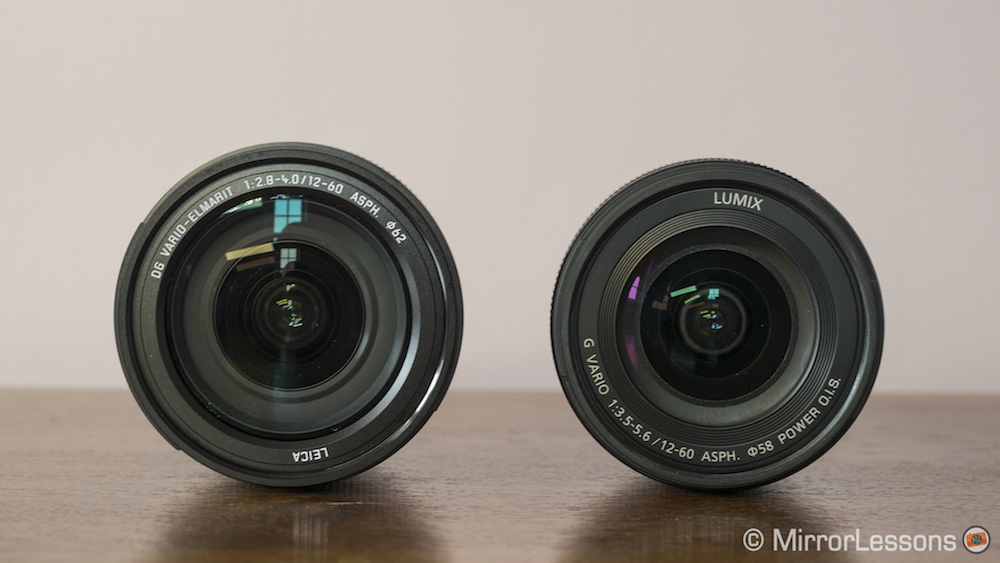 Turning to the features on the barrel, we find two handy switches on the Pana-Leica: one to switch between AF/MF and the other for Power O.I.S. On/Off. The Lumix, being the cheaper lens, is completely devoid of switches on the barrel.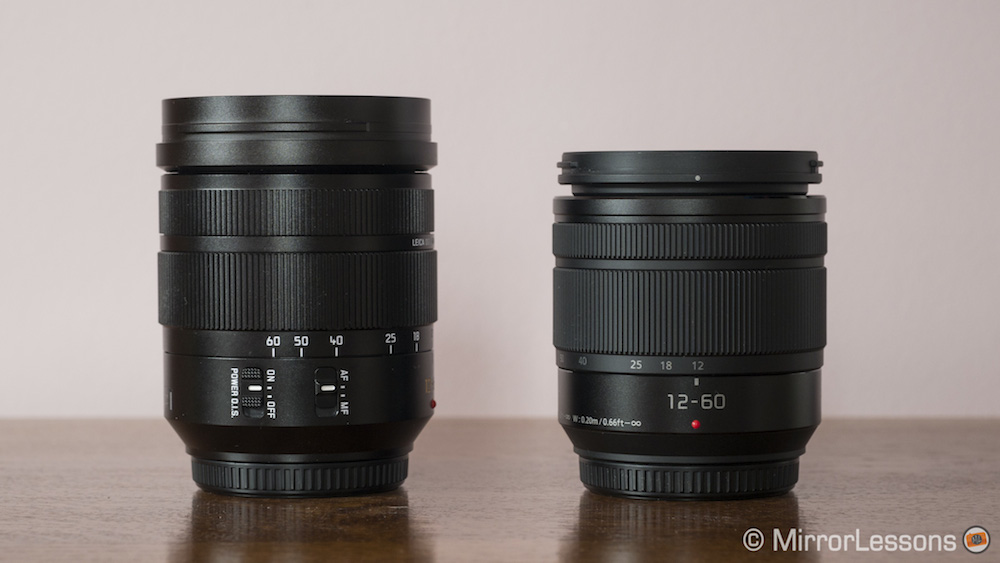 Although the ribbed zoom and fly-by-wire focus rings of both lenses are smooth with a good amount of torque, those of the Pana-Leica definitely have a more premium feel. The focal lengths are clearly and accurately marked on both lenses.
A plastic petal-shaped lens hood and a clip-on lens cap also accompany the two zooms. The hood of the Leica 12-60mm has an unlock button to detach it.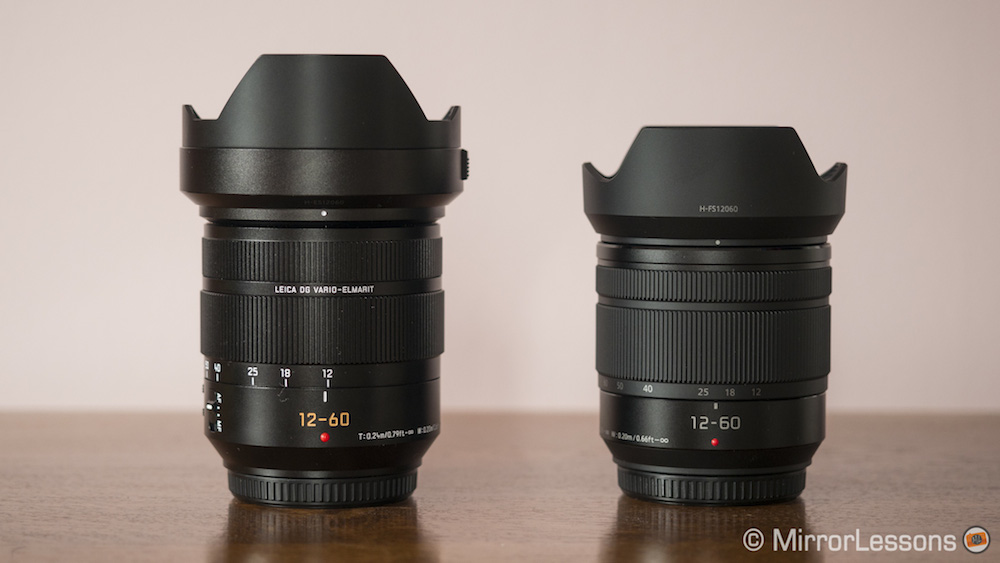 ---
Optical Quality – Through the lens
The Pana-Leica is a premium standard zoom, and for this reason, has been designed to deliver the best optical quality possible. Can the Lumix lens compete with its more expensive sibling? Let's find out below!
Sharpness
To compare the sharpness of the two zooms, I took a series of comparative images at a long and close working distance at all the key focal lengths: 12mm, 25mm, 40mm and 60mm.
Looking at the centre sharpness of images taken at a distance at 12mm and 25mm, we can see that the results are surprisingly close at all aperture values with peak performance occurring between f/4 and f/5.6. Perhaps the only small thing worth noting is that the Pana-Leica at f/2.8 is just as sharp as the Lumix at f/3.5 at 12mm.
At 40mm and 60mm, the Pana-Leica seems to have a very slight advantage, especially at f/5.6, but it is barely noticeable.
As for the corners, the results at 12mm are once again very close, even when the two lenses are set to their respective fastest apertures. From 25mm the Pana-Leica becomes a little sharper than the Lumix and this trend continues up to 40mm and 60mm.
The biggest difference between the two lenses is seen at 12mm and a short working distance, where the Pana-Leica delivers noticeably sharper results across the frame at all aperture values.
However, the Pana-Leica's advantage diminishes as you zoom in to 25mm, 40mm and 60mm. At these values, the results are more or less identical.
All things considered, I was quite surprised at how well the Lumix lens performed against the high-end Pana-Leica. Its only weak points appears to be sharpness at a close focusing distance at its widest angle and corner sharpness at 25mm, 40mm and 60mm. Otherwise, you would have a difficult time distinguishing the two without the aid of metadata.
Bokeh
The out-of-focus rendering is another important aspect photographers consider when buying a lens, although in the case of these two 12-60mm zooms, you won't be able to achieve much background blur unless you choose the fastest aperture possible and focus very close, or shoot at the telephoto end (50mm or 60mm).
Since the Pana-Leica has a maximum aperture of f/2.8 at 12mm and f/4 at 60mm (versus the f/3.5 and f/5.6 apertures of the Lumix), you can use it to achieve a slightly softer background, bigger specular highlights, and a little more subject separation as shown in the examples below.
You will also notice both lenses produce specular highlights with a distinct border and a mild "onion ring" effect. Those of the Pana-Leica are slightly rounder at the centre but both begin to lose their shape the closer they get to the edges and corners.
Flare and Chromatic Aberration
It isn't uncommon to encounter flare when using these lenses, though it is more pronounced on the Pana-Leica. Below you can find the worst examples I encountered during my testing period. Keep in mind that you can usually reduce its severity by tilting your lens up or down a few millimetres.
Chromatic aberration is very well controlled on both lenses. In fact, with the Pana-Leica, you'll only notice it in certain extreme backlit situations if you zoom into the corners at 200%.
With the Lumix, I only came across one very mild example of purple fringing along the eye of a butterfly I photographed on a sunny day in Wales.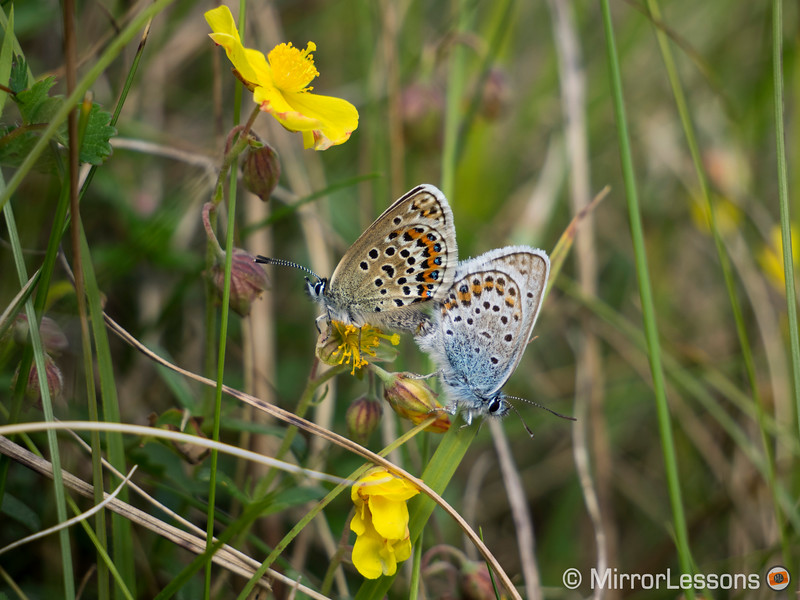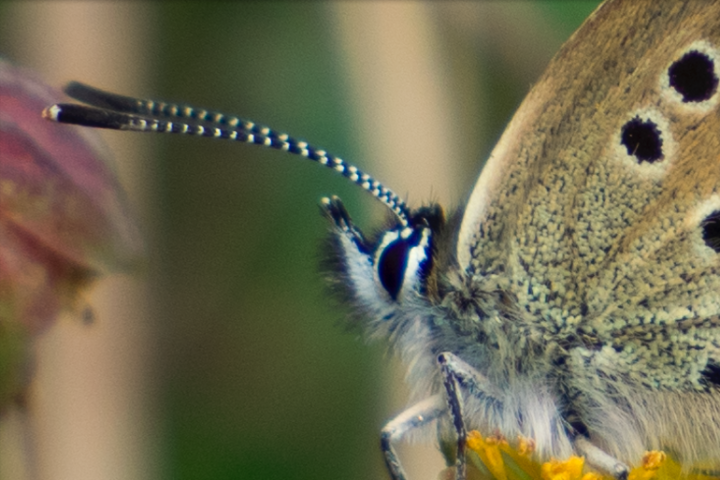 Vignetting and Distortion
Moderate vignetting (corner shading) is noticeable up to f/5.6 with both lenses at all focal lengths, whereas barrel distortion is mostly visible at the widest angle of 12mm. Both issues can be corrected with a post-production software such as Lightroom.
---
Stabilisation
The Pana-Leica and Lumix both come with built-in optical stabilisation which Panasonic calls Power O.I.S. It works well on both lenses but the Pana-Leica seems to have a clear advantage when you use the optical stabilisation on its own on a non-stabilised Panasonic Lumix body or an Olympus camera.
For example, when using the Olympus OM-D E-M1 with its in-body stabilisation deactivated, I was able to take sharp shots at shutter speeds as slow as:
1s at 12mm | 0.4s at 60mm with the Pana-Leica
0.4s at 12mm | 1/10s at 60mm with the Lumix
Pair the lenses with the Dual I.S. (combined optical and sensor stabilisation) of select Lumix cameras and you can achieve good results down to around 1s with both lenses:
1.6s at 12mm | 1s at 60mm with the Pana-Leica
1s at 12mm | 1s at 60mm with the Lumix
Naturally, your results will depend on many factors beyond just the innate capabilities of the lens, including how much sleep you got the night before and how much coffee you've had to drink, so don't take my results as gospel. You may find you can do even better!
---
Autofocus and Manual Focus
As always, there is very little to declare when talking about the autofocus performance of today's Micro Four Thirds lenses. Both zooms are very quick and silent in S-AF and C-AF on the latest Micro Four Thirds bodies. This applies regardless of whether you are shooting stills or video. Furthermore they perform a smooth aperture change when zooming in or out (when using the fastest apertures) during movie recording to avoid sudden jumps in exposure.
Between the two, it is easier to make precise manual adjustments during movie recording with the Pana-Leica thanks to the smooth yet sturdy metal focus ring.
---
Minimum Focus Distance
The two lenses share the same minimum focus distance of 20cm at the widest angle, whereas at the telephoto end, the Pana-Leica can get one centimetre closer at 24cm. The maximum magnification is also different: 0.3x for the PanaLeica versus 0.27x for the Lumix.
To see what difference this makes in the real world, we took two series of shots of a Chinese doll, first at 12mm and again at 60mm. At the widest angle, there isn't a relevant difference between the two, while at 60mm, we can see that the PanaLeica allows you to get a little closer.
---
Conclusion
I've saved what is probably the most significant difference for the conclusion: the price. At nearly $1000, the Pana-Leica 12-60mm is twice as expensive as the Lumix 12-60mm whose retail price currently hovers just below $500.
Personally, I find the price of the Pana-Leica somewhat exorbitant. Certainly there are some areas where it outperforms the Lumix as we've seen throughout this comparison – with sharpness at a close distance/12mm being the best example – but very rarely does it put the cheaper lens to shame. Sharpness is very similar in most situations, both have weather-proofing and good optical stabilisation, and the focal range is identical.
If you already own the Lumix 12-60mm, regardless of whether it was bought in a camera bundle or separately, my advice would be to keep it and invest in a few good fast aperture primes, as they'll give you what neither the Lumix nor Pana-Leica can: a very pleasant bokeh, good subject separation, and the possibility to keep your ISO values down in low-light situations.
And if you don't own either lens? In this case as well, I would still advise the Lumix lens to most users, especially if you plan on adding other lenses (especially fast primes) to your arsenal later that can compensate for the Lumix's lack of a fast aperture.
The Pana-Leica is more appropriate if you're looking for one high quality, all-purpose zoom for 90% of your photography, or if you do a lot of manual video work and could benefit from the smooth focus and zoom rings.
Finally, I should mention that if you buy the Lumix lens in a bundle with the Lumix G85 (and possibly future Lumix cameras), it will only cost you $100 more than buying the camera body on its own. It's hard to think of a better bargain than that!
Choose the Pana-Leica 12-60mm if:
you want one high quality standard zoom for 90% of your photography/videography
you do a lot of manual video work and could benefit from the responsive zoom and focus rings
Choose the Lumix 12-60mm if:
you already own it because you bought it in a bundle with a Lumix camera
you are planning to buy a Lumix camera such as the G85 that happens to be bundled with the Lumix 12-60mm anyway
you own a mid-sized Micro Four Thirds bodies (e.g. GX85 or GX7)
you plan on building up your lens arsenal with some fast primes that you can use when the Lumix's aperture range isn't enough
you are on a budget
Check price of the Panasonic Leica 12-60mm f/2.8-4.0 on
Amazon | Amazon UK | B&H Photo | eBay
Check price of the Panasonic Lumix 12-60mm f/3.5-5.6 on
Amazon | Amazon UK | B&H Photo | eBay
Second-hand Panasonic lenses on
You may also enjoy:
---
---
Sample Images
Panasonic Leica 12-60mm f/2.8-4.0
Panasonic Lumix 12-60mm f/3.5-5.6