There is no lack of choice when it comes to quality wide-angle zoom lenses for micro four thirds. Some are a bit wider, others have a faster aperture, and others focus on versatility.
The "Leica branded" Panasonic 8-18mm F2.8-4, released in 2018, makes a strong case for itself and is, in my opinion, one of the very best you can buy.
The Olympus 8-25mm F4 Pro comes three years later. It sacrifices the faster apertures for a vaster zoom range. It is the first lens to be released under the wing of the new company OM Digital Solutions, but it is an Olympus product through and through since it was already on the roadmap last year.
Are the extra 7mm worth it? Or is it better to have a faster aperture? And what about the optical quality? Let's give an answer to all these questions, and then some.
---
Ethics statement: the 8-25mm Pro was loaned to us by OM Digital Solutions UK, and the Leica DG 8-18mm was provided by Panasonic UK. We were not asked to write anything about these products, nor were we provided with any sort of compensation. Within the article, there are affiliate links. If you buy something after clicking the link, we will receive a small commission. To know more about our ethics, you can visit our full disclosure page. Thank you!
---
TABLE OF CONTENTS

1. Main specs
2. Design and build quality
3. Focusing and zooming
4. Zoom range
5. Sharpness
6. Minimum focus distance
7. Distortion
8. Flare and chromatic aberration
9. Vignetting
10. Bokeh
11. Conclusion
---
Main specifications
M.Zuiko Digital ED 8-25mm F4 Pro
Mount: Micro Four Thirds
Format coverage: Four Thirds
Focal length: 8-25mm
35mm format equivalent: 16-50mm
Weather sealing: Yes
Maximum aperture: 4.0
Minimum aperture: 22
Number of aperture blades: 7
Angle of view: 107 ‑ 47°
Closest focusing distance: 23cm (entire zoom range)
Maximum image magnification: 0.42x (equivalent)
Lens configuration: 16 elements / 10 groups
Special elements: 2 Aspherical ED, 1 DSA, 1 ED, 1 Super ED, 1 Super HR, 1 HR and 1 HD element
Lens surface coating: Yes
Optical stabilisation: None
Dimensions: ø77 x 88.5mm (when retracted)
Filter diameter: ø72mm
Weight: 411g
Leica DG Vario-Elmarit 8-18mm F2.8-$ Asph.
Mount: Micro Four Thirds
Format coverage: Four Thirds
Focal length: 8-18mm
35mm format equivalent: 16-36mm
Weather sealing: Yes
Maximum aperture: 2.8 (wide) / 4.0 (tele)
Minimum aperture: 22
Number of aperture blades: 7
Angle of view: 107 ‑ 62°
Closest focusing distance: 23cm (at 8mm)
Maximum image magnification: 0.24x (equivalent)
Lens configuration: 15 elements / 10 groups
Special elements: 1 Aspherical ED, 3 Aspherical, 2 ED and 1 UHR element
Lens surface coating: Yes
Optical stabilisation: None
Dimensions: ø73.4 x 88mm (when retracted)
Filter diameter: ø67mm
Weight: 315g
---
Design and build quality
The Leica 8-18mm weighs just 315g and I'm always pleasantly surprised by how light it is. Although you can feel the extra 100g of the 8-25mm Pro, it's a marginal difference when using both lenses in the field.
They feature a premium build quality with full weather sealing. The Leica has an all-metal outer shell, whereas the Olympus lens features a bit of plastic on the front. The mount is metal on both, and they come with a plastic petal-shaped hood.
Both lenses can take screw-in filters. The Olympus lens has a larger diameter of 72mm, whereas the Panasonic lens takes 67mm filters.
The major difference is that the 8-25mm Pro extends when zooming in, and it also has a retracting mechanism to make it more compact when not in use. As you can see from the images below, the Olympus lens is longer when fully extended.
On the side of the Pana/Leica lens there is a AF/MF switch, whereas the Olympus lens has an L-Fn button that can be programmed with a setting of your choice. Note that there are less options to choose from when the lens is used on Panasonic bodies.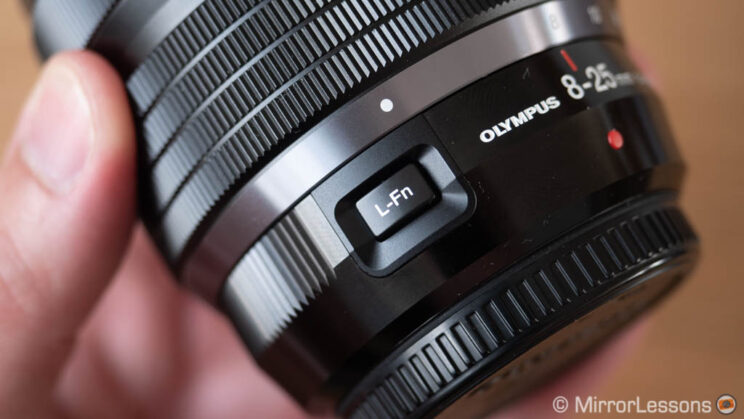 ---
Focusing and zooming
Like many Olympus lenses, the focus ring can be pulled back to enter manual focus mode. This mechanism makes the manual focusing experience much more pleasant because in this position, the ring acts like a mechanical ring. The rotation has a beginning and an end, and it is more precise to operate than the fly-by-wire ring of the Panasonic lens.
Focus breathing is very well contained on both lenses.
The AF motor is really fast with both lenses, and I haven't had any issues with focusing on the Panasonic G9. The motor is also discreet. You can hear a bit more of an electronic sound with the Olympus lens if you really pay attention, but nothing that can cause annoyance.
In video mode, they both become really quiet, and you'll need to stick your ear to the lens barrel to detect a faint rattling sound when the lens is focusing.
The zoom ring is a tiny bit noisier on the Olympus lens, but ever so slightly smoother than the Panasonic lens when turned.
What's nice about the 8-18mm zoom mechanism is that it is parfocal, meaning that the focus doesn't change when zooming in or out. With the Olympus, the image becomes out of focus at around 10mm and 14mm when going from wide to tele or vice-versa.
---
Zoom range: how much extra reach does the Olympus lens give you?
Both zooms start from 8mm, which is 16mm equivalent in full frame terms (considering the angle of view). However, the Panasonic / Leica stops at 18mm on the telephoto end (36mm equivalent), whereas the Olympus travels to 25mm (50mm equivalent).
The difference in zoom range is one of the main differences between these two lenses, and one that you can spot as soon as you read the specs. But how much of a difference is there, and how much does it matter? Let's see a few examples.
In the first series of images above, I could have "zoomed with my feet" and 18mm would have been more than enough to fill the entire frame with the castle ruins (albeit with a different perspective).
In the landscape example, the 25mm focal length allowed me to exclude the trees at the bottom almost entirely, and concentrate on the background. (I could have probably gotten rid of the trees completely by titling up and including more sky in the frame.)
So in situations where you can't physically get closer, the extra 7mm of the Olympus lens give you more versatility when composing. Of course, deciding if the extra reach is worth it or not also depends on your style of shooting.
The extra 7mm at the telephoto end is also useful for close-ups, as we'll see further down in the article.
Another difference you'll spot right away is that the Olympus lens has a constant aperture of f/4 throughout the entire zoom range, whereas the Leica lens offers the following:
8mm: f/2.8
10mm: f/3.2
12mm: f/3.4
14mm: f/3.6
18mm: f/4
The fast aperture of f/2.8 is interesting if you work in low light (events for example) or if you like astro-photography. When I tested the lens in 2018, I found very little coma aberration and very good sharpness at such long distance.
---
Optical quality: sharpness
I've tested centre and corners and analysed all the images carefully. To make the text flow a bit better, I've decided to include only the results that highlight the differences you need to know.
Generally speaking, the two lenses perform best between their fastest aperture and f/8 (like most micro four third lenses).
The performance at the smaller apertures is the same: sharpness starts to decrease from f/11, although the quality remains more than decent at that aperture. At f16 and f/22, there is a more severe loss in detail due to diffraction.
Centre sharpness
At 8mm, the Olympus shows excellent sharpness at f/4, whereas the Panasonic lens is softer at f2.8. Once they are both set to f/4, the results are more or less the same. The performance remains excellent at f/5.6, whereas at f/8 it starts to decrease a little.
At 12mm, the Olympus retains a small advantage when comparing it to the Panasonic lens at f/3.4 and f/4, but this advantage is less visible than at 8mm. From f/5.6, the two lenses level up.
At 18mm, the Olympus is sharper at f/4. The Leica lens catches up from f/5.6.
At 25mm, the Olympus lens continues its excellent performance with tack sharp results from f/4.
Corner sharpness
The Olympus lens does very well in the corners too, and shows sharper results at 8mm than the Panasonic lens at f/2.8 and f/4. At f/5.6, the quality is more similar, but the Olympus remains a little bit ahead up to f/8.
At 12mm, the Olympus is slightly better once again, but the difference is less significant than at the shortest focal length. By f/5.6, the results are very similar.
At 18mm, the difference is difficult to detect. The Leica lens seems to have a tiny advantage, but it is so small that it's barely worth mentioning.
Finally, at 25mm, the Olympus shows good sharpness in the corner at f/4. It improves at f/5.6 and becomes perfect at f/8.
---
Minimum focus distance
On the specification sheet, you'll read that both lenses can focus at a minimum focus distance of 23cm, but in reality there are some relevant differences in favour of the Olympus lens.
The 8-25mm magnifies more and, unlike the Pana/Leica lens, it can maintain that short distance through the entire zoom range, whereas for the 8-18mm, 23cm is valid at 8mm only.
That, coupled with the longer focal length, gives the 8-25mm Pro an advantage for close shooting. In fact, it's magnification ration is 0.42x (equivalent), which almost makes it a semi-macro lens.
You can see some examples below showing how close you can get. The blocks are each 2cm x 2cm in size.
Both lenses maintain good sharpness when focusing that close. It's already optimal from the fastest aperture at 8mm, whereas at 18mm / 25mm respectively, you'll get the sharpest result by closing to f/5.6.
---
Distortion
At 8mm, both lenses display a small amount of moustache distortion. As you can see from the example below, the white horizontal bar at the centre is not perfectly straight from edge to edge, with distortion being more noticeable on the left.
At 18mm, there is a tiny amount of barrel distortion on the Leica lens but it is almost invisible. At 25mm, the Olympus doesn't present anything worth mentioning.
---
Flare and chromatic aberration
Both lenses offer good resistance to flare, so it wasn't easy to find reflections in my images. The two examples below are the only ones where ghost flares were clearly visible.
As for chromatic aberration, I didn't find any relevant traces in my test shots.
---
Vignetting
Light fall-off is present at the fastest aperture on both lenses, and is more visible at 8mm. The Leica suffers a bit more at f2.8 as expected, but there is nothing that can't be quickly fixed in post-production.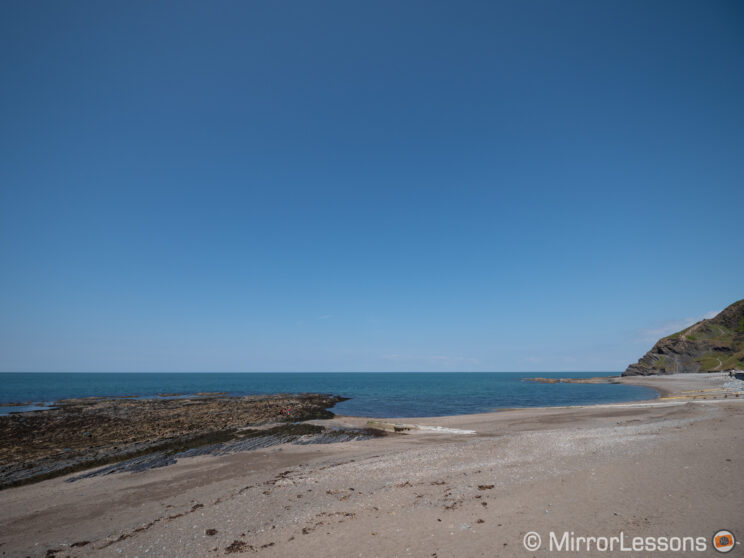 ---
Bokeh
Out of focus background and bokeh quality is something that you'll rarely care about with these two lenses, given their nature. To have good subject separation, you need to focus really close, which limits you to close-up details.
Still, if you're curious to know more about this aspect, I can tell you that they both produce rounded bokeh circles at the centre, and the shape isn't too distorted at the edges of the frame (the Leica lens does a tiny bit better at maintaining the rounded shape, for what it's worth). The bokeh balls lack smoothness however because of the onions rings inside.
---
Conclusion
The Panasonic 8-18mm F2.8-4 is one of my favourite wide-angle lenses for micro four thirds. We compared it to other wide-angle lenses at the time of its release and for me, it had everything I could possibly ask for.
This is why, at first, I wasn't too interested in the new 8-25mm F4 Pro, despite its extra reach. However, after testing both side by side, I can highlight a few points that hopefully will help you make a decision if you're hesitating between the two wide angle zooms.
If you want the sharpest lens, the Olympus 8-25mm is the answer. It is simply flawless, from edge to edge, at all focal lengths and apertures that matter (before diffraction). Note that the Panasonic 8-18mm is far from lacking sharpness, quite the contrary actually. It's just that Olympus has set the bar really high.
The 8-25mm Pro has additional advantages, such as better close-up capabilities, a better manual focus experience thanks to the sliding focus ring, and 7mm extra that can be helpful in various situations.
I admit I still have a thing for the Panasonic / Leica 8-18mm, despite its (small) imperfections. I love the build quality, the weight and the fact that the zoom mechanism doesn't extend. The faster aperture of 2.8 at 8mm can be useful in low light situations or for specific genres such as astrophotography.
To conclude, if after all of the above, you're still undecided, I'll make it simple for you: get the one that you can find at the lowest price. Either way, it's a win-win situation.
Check price of the Olympus 8-25mm F4 Pro on
B&H Photo | eBay
Check price of the Panasonic 8-18mm F2.8-4 on
Amazon | Amazon UK | B&H Photo | eBay
Panasonic second-hand lenses on
MPB US | MPB UK
---
More wide-angle lens reviews for micro four thirds