The Canon Eos R3 is the most advanced mirrorless camera the company has ever produced and, in fact, the most advanced digital camera ever made by Canon. It has a brand new sensor, superb speed capabilities, a unique viewfinder and impressive video specifications. Some of its features, such as the stacked sensor, are not entirely new though, because Sony has been using this technology since 2017, when the first A9 came out.
In 2021, Sony made a major upgrade to its flagship model that resulted in a new camera and segment, the A1, which packs impressive capabilities for photos and video.
In this article, we compare the most advanced camera made by Canon and the most advanced camera made by Sony.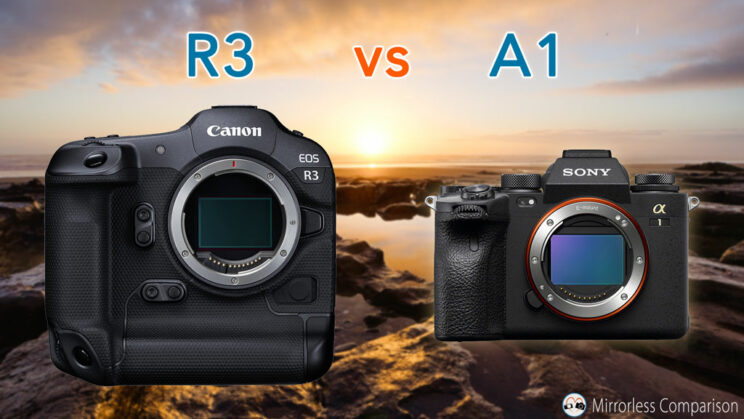 More comparison previews:

Canon R3 vs Sony A1
Nikon Z9 vs Sony A1
Nikon Z9 vs Canon R3
---
Ethics statement: the following is based on official specs. We were not asked to write anything about these products, nor were we provided with any sort of compensation. Within the article, there are affiliate links. If you buy something after clicking the link, we will receive a small commission. To know more about our ethics, you can visit our full disclosure page. Thank you!
---
1. Size
Canon has taken its usual approach when it comes to flagship cameras, which is a large body with an integrated battery/vertical grip just like the 1D X DSLR series. The R3 is visibly larger and heavier, although the dimensions and weight are closer if you attach the optional battery grip to the A1.
R3: 150 x 142.6 x 87.2mm, 1015kg
A1: 128.9 x 96.9 x 80.8mm, 737g
A1 + VG-C4EM: 128.9 x 148.5 x 80.8mm, 1027g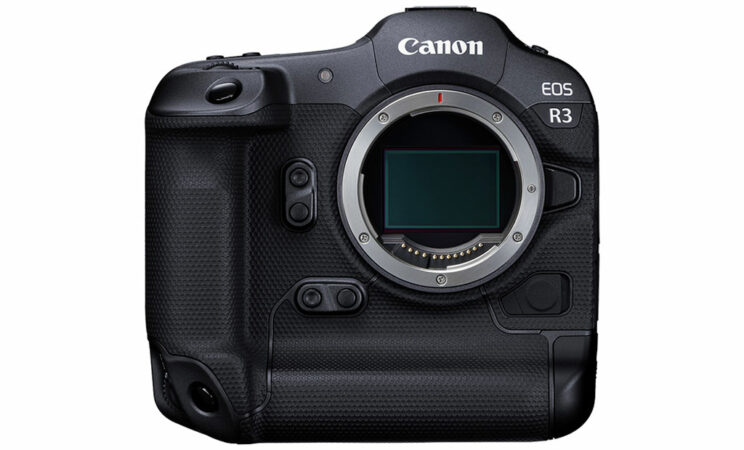 In terms of physical controls, the R3 has more to offer. There are two additional custom buttons on the front, a still/video mode switch, a smart controller on the rear, and a small monitor on top to check settings on the fly. The smart controller is a miniature touchpad and an alternative to the traditional AF joystick (which is also present).
The A1 has various controls, including the joystick on the rear, and you'll find the drive/focus mode and exposure compensation dials on top.
Both cameras are weather-sealed and designed with a robust magnesium alloy chassis.
---
2. Sensor
Both cameras feature a full frame sensor with a stacked design, which allows both brand to pack faster readout and processing speeds in comparison to traditional CMOS sensors. In the case of the A1, there is also a DRAM memory attached to further increase the speed. This technology pushes the boundaries of the autofocus and the electronic shutter (more details in the following chapters).
What's impressive about the A1 is that Sony managed to build this sensor with a high resolution of 50.1MP. It's the company's second generation stacked sensor after the 24.2MP chip found inside the A9 and A9 II.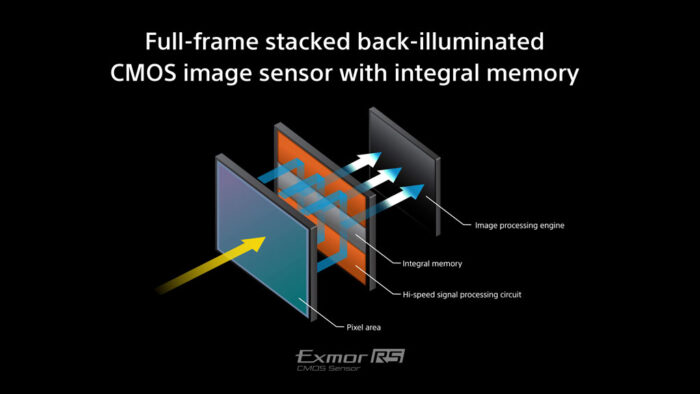 For Canon, the stacked sensor is a first and the company build it with 24.1MP. Both sensors are back-illuminated as well (BSI), which allows for better light gathering.
As for the ISO range, the lower megapixel count allows the Canon model to have a wider range.
ISO
R3
A1
Photos
(normal)
100-102,400
100-32,000
Photos
(extended)
50-204,800
50-102,400
Video
(normal)
100-25600
100-32,000
Video
(extended)
100-102,400
–
---
3. Autofocus
The R3 features the latest generation of Canon's autofocus, the Dual Pixel CMOS AF II, with 1,053 areas, a processing speed of 60 calculations per second and a fast locking speed of 0.03s.
The A1 is even more impressive with a faster calculation of 120 times per second. It uses 759 phase detection points and 425 contrast detection points.
Both cameras use advanced algorithms with deep learning to recognise various subjects. They can both focus on the eye of a human or animal, but on the A1 you can't enable Animal Eye AF in video mode. The R3 can also track cars and bikes, and focus on the helmet of the driver automatically.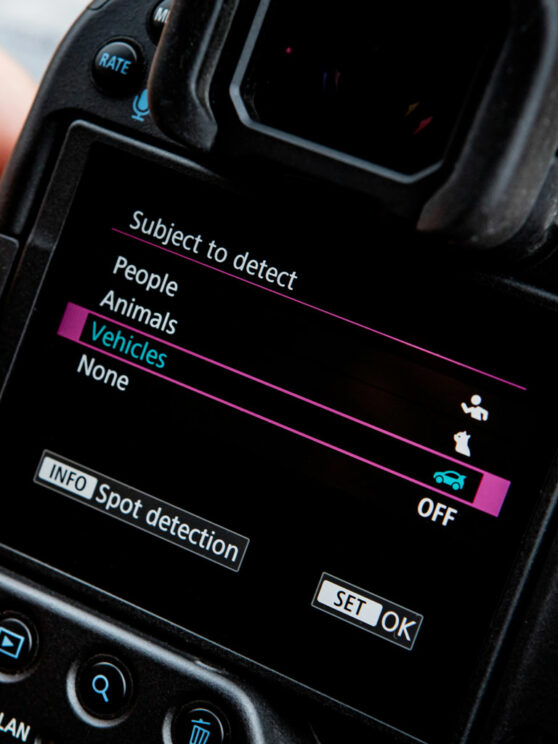 The R3 has better sensitivity in low light: -7.5Ev with a f/1.2 aperture, which equals to -6Ev at f/2. The A1 goes down to -4Ev with an F2 lens.
---
4. Speed
Both cameras can shoot at a maximum of 1/8000s with the mechanical shutter. Switch to the electronic shutter, and the R3 can deliver an impressive 1/64,000s whereas the A1 is one stop slower with 1/32,000s.
What's more, these are two of the only cameras capable of syncing with flash at a reasonable speed when using the electronic shutter. The A1 can go up to 1/200s, whereas the R3 is slightly slower at 1/180s.
Both companies claim no distortion (rolling shutter) when using the electronic shutter (Sony calls this anti-distortion shutter).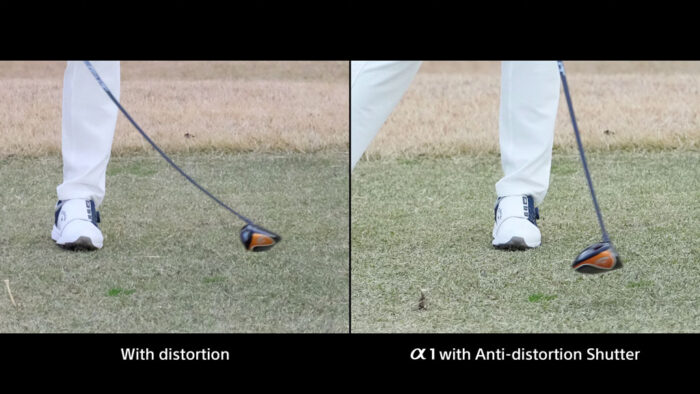 Note that the A1 has the world's fastest flash sync with the mechanical shutter, which is 1/400s, or even faster at 1/500s with the APS-C mode. The R3 does 1/200s with the mechanical and 1/250s with the electronic first-curtain shutter.
As for the continuous shooting speeds, both cameras can shoot up to 30fps with the electronic shutter, while maintaining AE and AF tracking, and with live view and no blackouts. With the mechanical shutter, the speed is a bit faster on the R3 (12fps vs 10fps on the Sony).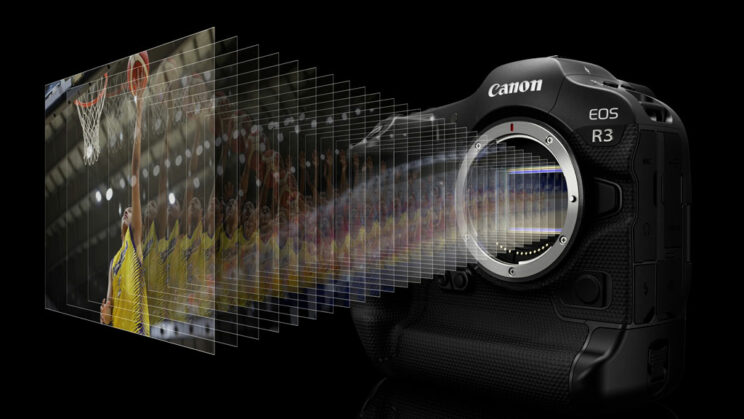 As for the buffer memory, here are the official ratings:
Speed
R3
A1
30fps
540 JPG L
150 RAW
165 JPG F
155 RAW*
12fps
1000 or higher
(RAW or JPG)
–
10fps
–
n.a.
*Compressed RAW
One interesting feature of the A1 is the Hi Frequency Flicker function where you can fine tune the shutter speed to match the exact flicker frequency of artificial light (from 1/50s to 1/8064.5s). This allows you to eliminates banding when working under LED lights or with LED signage on the background for example.
---
5. Stabilisation
Both cameras feature 5-axis image stabilisation. The R3 has an higher compensation rating of 8 stops, although keep in mind that the rating can go down to 7 or 6Ev depending on the specific lens (see a table in our R5 vs R6 article).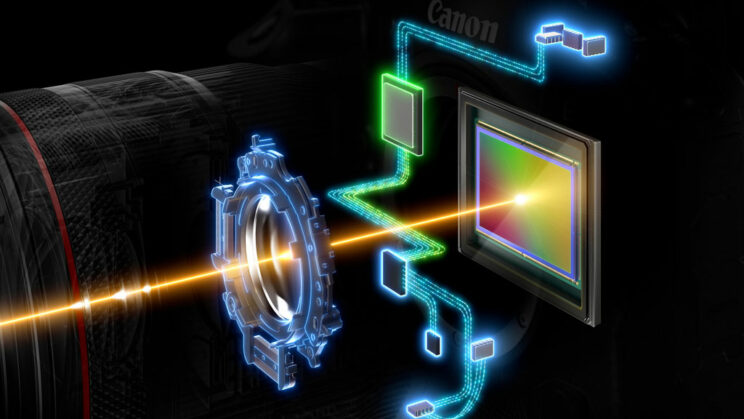 The A1 has a lower rating of 5.5 stops, and Sony hasn't specified if it changes from one lens to another. Both cameras can work with IBIS on its own, or combine it with optical stabilisation on the lens.
The IBIS works for video too, and you can add digital stabilisation to enhance the performance, although that will result in a crop of your field of view. Canon calls this Digital IS, Sony calls it Active mode.
Another option for the Sony in video mode is to disable the stabilisation, and stabilise the footage with the Sony Catalyst software, which uses data from the A1's gyro sensor for smoother, more accurate results.
Last but not least, the A1 takes advantage of its IBIS mechanism for another function called Pixel Shift Multi Shooting. It captures 16 full-resolution images and composites them to deliver a 199MP file. The camera will need to be mounted on a tripod and there shouldn't be moving subjects in your scene for optimal results. The files are merged in post with the Sony Imaging Edge software.
---
6. Video
The two cameras offer exceptional video capabilities. The A1 has 8K video whereas the R3 offers 6K with 12-bit RAW (internal). Below is a recap of all the different resolution, frame rate and file formats.
Format
R3
A1
8K 30p
–
10-bit 4:2:0
400Mbps (H.265)
6K 60p
12-bit RAW
2600Mbps
–
6K 30p
12-bit RAW
2000Mbps
–
4K 120p
10-bit 4:2:2
1880 Mbps (ALL-I)
10-bit 4:2:0
200Mbps (H.265)
4K 60p
10-bit 4:2:2
1000 Mbps (ALL-I)
10-bit 4:2:2
600Mbps (ALL-I)
4K 30p
10-bit 4:2:2
470 Mbps (ALL-I)
10-bit 4:2:2
300Mbps (ALL-I)
FHD 120p
10-bit 4:2:2
470 Mbps (ALL-I)
10-bit 4:2:0
100Mbps (H.265)
FHD 60p
10-bit 4:2:2
230 Mbps (ALL-I)
10-bit 4:2:2
222Mbps (ALL-I)
The A1 records 8K with full pixel readout and no sensor crop (8.6K oversampling). In 4K at 120p, there is a 10% crop and line-skipping. At 60p and below, you can have oversampling but you need to work in APS-C mode.
The R3 records with oversampling and without a sensor crop in 6K and 4K, including 6K RAW.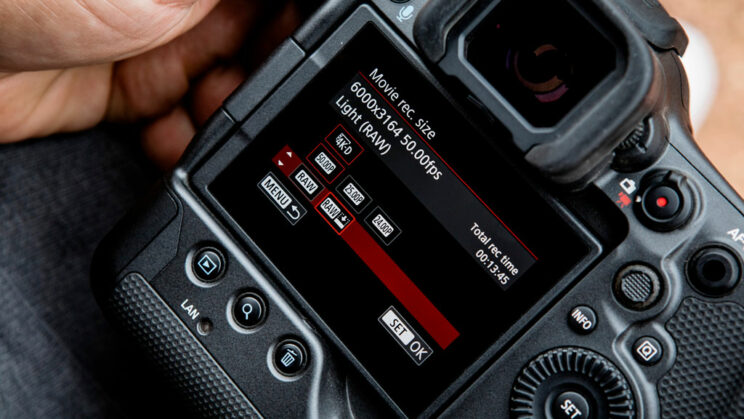 Both cameras offer advanced video profiles such as Log and HDR, and have input and output for the audio connection (3.5mm socket). They can output 16-bit RAW via the HDMI port.
On paper, the A1 doesn't have a recording limit per clip, but Sony states in the manual that it can guarantee 8K and 4K 60p for about 30 minutes before the camera may start to overheat.
The R3 on the other hands seems to do well (which makes sense given the larger body). There is no 30 minutes cap, and Gordon Laing of Camera Labs managed 6 hours of 4K 30p without stopping (the camera was powered via USB by his laptop). CineD made some tests as well and the R3 recorded 6K 25p RAW Light for almost two hours before the battery was exhausted.
---
7. Viewfinder and LCD screen
The A1 has an electronic viewfinder with a jaw-dropping 9.44M dots of resolution. It uses a large 0.64-in OLED panel and the refresh rate goes up to 240Hz. The magnification can be changed, with the highest being 0.9x. The eyepoint is 25mm.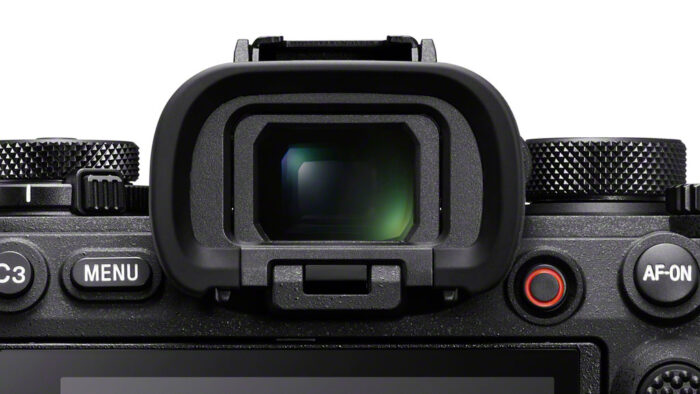 The EVF of the R3 has 5.76M dots, 0.76x magnification, a refresh rate of 120Hz and a 23mm eyepoint.
Perhaps the most interesting thing about the R3 viewfinder is the Eye Control AF function, which reads the position of your eyeball with the help of 8 infrared sensors placed inside the viewfinder. By tracking the position of your retina, you can move the AF point with your eye!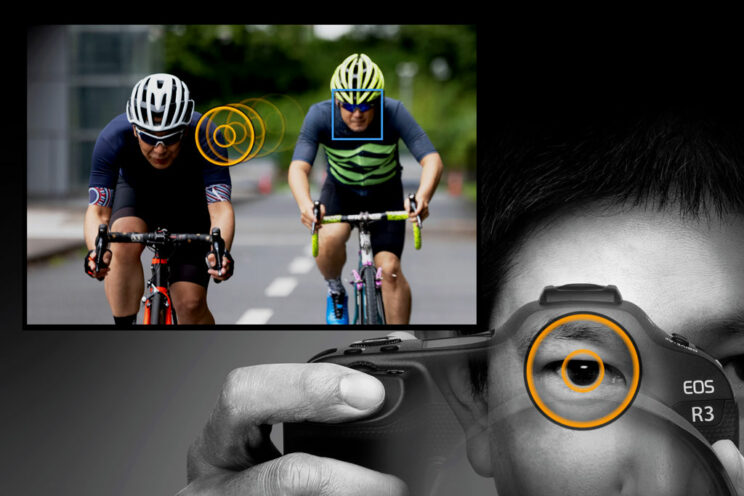 The R3 has a 3.2-in multi-angle LCD screen with a superb resolution of 4.15M dots. The rear monitor of the A1 is less interesting: it has a resolution of 1.44M dots, it is smaller (3.0-in) and only tilts up and down.
Both monitors are touch sensitive.
---
8. Cards, connections and battery
Both cameras have two memory card slots: the R3 uses one for CFexpress cards and the other for SD UHS-II cards.
The A1 can work with either two UHS-II SD cards or two CFexpress type A cards (or use one and one). Note that the Type A CFexpress card is thinner and smaller than the Type B.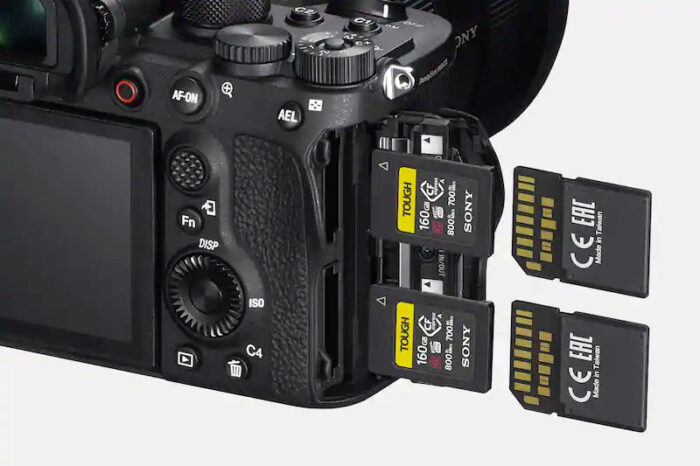 Both cameras have a LAN / Ethernet socket, as well as USB Type C (3.2), audio in and out (3.5mm) and HDMI (full size for the A1, Mini for the R3).
They also feature bluetooth and Wifi (5Ghz), and various options to transfer your images.
The R3 has a larger battery and a rating of 860 shots per charge if you use the LCD screen, or 620 if you use the viewfinder. The A1 rating is lower (530 frames with the rear screen, 430 with the EVF).
---
9. Lens system
The Canon RF-mount started in 2018 and has grown rapidly since. Canon has prioritised high-end lenses first, with the 28-70mm F2, the F2.8 trinity zoom, bright F1.2 aperture and long telephoto lenses. I think they wanted to offer a good selection of native lenses before the arrival of the advanced R5 and flagship R3. There are currently, at the time of publishing this article, 23 lenses available plus two extenders. More lenses are on their way.
The Sony E-mount, in its full frame form, arrived in late 2013 and therefore has more native lenses to offer. Sony itself has no fewer than 40 lenses (and two teleconverters), but you can also count on many lenses made by Sigma, Tamron, Zeiss, Samyang and more. There is choice for every need and budget, and the availability of third party lenses is for now the main strength of the Sony system.
Using native lenses provides the best performance when it comes to autofocus and optical stabilisation. With that said, the choice can increase considerably if we take into account DSLR lenses.
Canon EF lenses can be adapted to Eos R and Sony E cameras easily, and Sony users can also adapt Nikkor F lenses among others. The performance might not always be as fast as with native lenses, especially for the Sony (depending on the specific product and adapter), but it remains an interesting option nonetheless.
---
10. Price
The R3 is priced at $6000, £5880 or €6000 for the body only.
The A1 is a bit more expensive and can be purchased for $6500, £6500 or €7300 (body only).
Prices as of September 2021.
---
Conclusion
It's difficult to judge these two cameras without an in-depth side by side test. On paper, they both provide exceptional capabilities.
In a way, I see the R3 as an important achievement for Canon because it closed the gap with Sony when it comes to technology and speed. On the other hand, we must praise Sony for doing most of what the Canon does, but with a sensor that has more than twice the resolution.
The two cameras share a similar price, yet only Canon has opted for a larger body with built-in battery grip. For now, Sony doesn't seem interested in this design solution, despite the A1 being very suitable for sports and wildlife photography. Of course, there is an optional battery grip if you need it.
One thing is for sure: Canon is no longer lagging behind, and I'm very curious to see how these two brands will compete in the future.
Reminder: the links below are affiliate links. If you decided to buy something after clicking the link, we will receive a small commission.
Check price of the Canon Eos R3 on
B&H Photo
Check price of the Sony A1 on
B&H Photo
---
More comparison previews:

Canon R3 vs Sony A1
Nikon Z9 vs Sony A1
Nikon Z9 vs Canon R3