The term "full frame" has become extremely popular within the mirrorless sector, starting with the release of the Sony A7 and A7R in late 2013. Leica followed a few years later but it was really between 2018 and 2019 that the segment took off, with Nikon, Canon, Panasonic and Sigma all hopping on the bandwagon, racing to grow their respective systems as quickly as possible.
Because of this, there is an awful lot of choice in the full-frame mirrorless range these days. If you're already acquainted with one or more of the brands, it might be easier to choose between them, but otherwise selection can be overwhelming.
Inspired by a recent episode of the Italian podcast PixelClub that I co-host with my friends at Saggiamente, I ranked all the full frame mirrorless cameras available on the market into nine different categories. These categories reflect the most important aspects we test in our side-by-side comparisons:
design and ease of use
viewfinder and display
power and memory
image quality
autofocus and speed
image stabilisation
video capabilities
lenses
price
Then I created a final score to see which model would come out on top. Are you intrigued? Then let's get started!
---
Ethics statement: All opinions expressed in this article are our own. They are based on our real world experience with each camera and our in-depth comparison articles. We were not asked to write anything about these products, nor were we provided any compensation of any kind. Within the article, there are affiliate links. If you decide to buy something after clicking the link, we will receive a small commission. To know more about our ethics, you can visit our full disclosure page. Thank you!
---
Table of contents

1. Article updates
2. Meet the contenders!
3. Design and ease of use
4. Viewfinder, rear and top displays
5. Recording and power
6. Image quality
7. Autofocus and speed
8. Video
9. In-body image stabilisation
10. Lenses
11. Price
12. Final rank
13. My personal list
14. Additional links
---
Article updates
March 2020: added Sony A9 II, score and ranking updated
October 2019: added the Sony A7R IV, score and rankings have been updated
---
Meet the contenders!
I've selected the most recent generation of products for each series because they represent the very best the brands have to offer. This leaves out older Sony cameras such as the A7 II and the A7R II. However I mention them in the price section because they are still available on the market at a reduced cost.
Currently missing from this post are the Panasonic S1H, Leica SL2 and Sigma FP because we haven't yet had the chance to test them. We will update the article once we get our hands on them.
I've excluded the Leica M series because it is a different kind of product, as well as fixed-lens cameras such as the Leica Q and Sony RX1R II which are more niche. Discontinued models have also been left out.
---
Design and ease of use
In this first chapter I took into consideration the build quality, the ergonomics, the grip, the button layout and the customisation options. Note that all the models mentioned below are weather-sealed.
1.Nikon Z6 and Z7
They are reasonably compact and have a comfortable grip. The controls are complete, precise, well positioned and easy to access. There is decent room for customisation yet the default set-up doesn't require many modifications. The build quality is excellent. They're everything you could wish for from a mirrorless camera.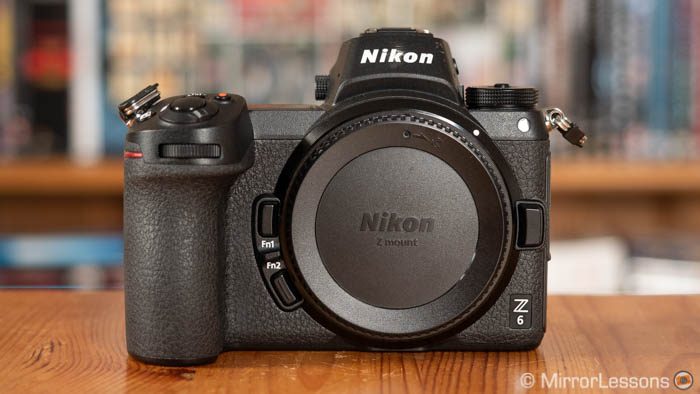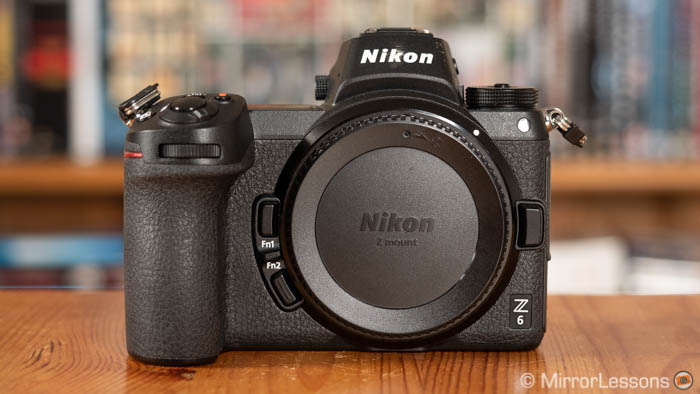 3. Canon EOS R
The shape is perfect and it feels better in the hand than any other model. It is also the most intuitive camera to use (including the menu system). Button wise, I've come to like the controversial touch bar on the rear but I miss having an AF joystick.
4. Panasonic S1 and S1R
The superb build quality, handling and button layout bring the design of these two cameras close to perfection. They are made for professionals and you perceive this as soon as you hold one in your hand (the rear buttons can be retro-illuminated too). However they are the largest and heaviest on this list: some won't be bothered by this, others might look the other way.
6. Sony A7R IV and A9 II
The A7R IV and A9 II have the best design of all A7/A9 series cameras to date. The grip is larger which improves comfort when working with large lenses. It is still not my favourite but it is now closer in comfort to some of the other models mentioned on this list. Buttons and dials have also been improved, and while the overall menu system remains a bit cumbersome at first, there is lots of room for personalisation. Sony is finally on the right track.
8. Leica SL
Built like a tank and wonderfully crafted, the SL was the first full-frame mirrorless camera designed for professionals and probably inspired Panasonic's S models. As you can guess, the size and weight are considerable. I'm not a big fan of the minimalistic design (many buttons don't have markings), but I suppose it's just a question of getting used to it.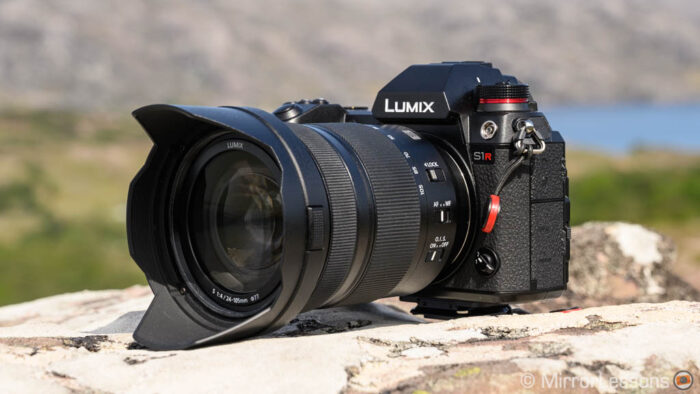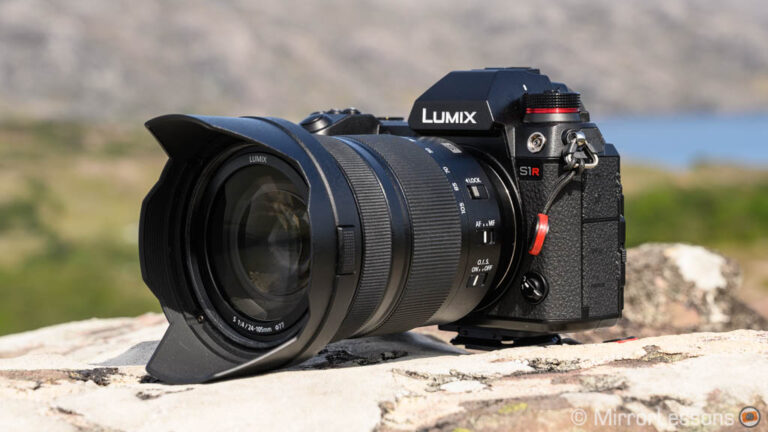 9. Canon EOS RP
It is a nice camera to use, but it has a fewer controls than the EOS R. It is smaller which means that it is not as comfortable to hold as its bigger brother with lenses such as the 24-105mm. The camera is well built but the weather-sealing is not as advanced as the R model.
10. Sony A7 III, A7R III, A9
The brand has focused on compactness since the beginning but not without sacrificing comfort and ease of use. The grip is too small and tiring to use with large lenses if you don't add an optional hand-grip. The build quality is good but doesn't feel as robust as other products mentioned here. The interface requires more of a learning curve but thankfully there is a lot of room for customisation.
13. Sony A7S II
The mark II generation of Sony cameras isn't all that different from the third but with fewer buttons (no AF Joystick for example) and a more disorganised menu interface.
---
Viewfinder, rear and top displays
Resolution is very important for an electronic viewfinder, but so is the magnification ratio, accurate colour reproduction and fast refresh rate when shooting action. As for the rear screen, in addition to the tilting mechanism, we take into account the touch capabilities. Some models have a small screen on top that displays valuable information.
1.Panasonic S1 and S1R
They have the best EVF I've tested to date (5.76M dots) and the possibility to change the magnification (0.78x, 0.74x or 0.7x) is very useful, especially if you wear glasses. The rear monitor can be tilted on 3 axes but not rotated 180˚. What you can do on the touch screen is almost limitless, and there is a large monochrome display on top.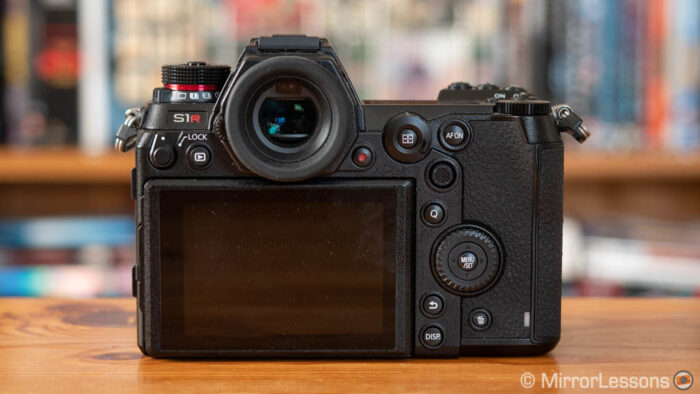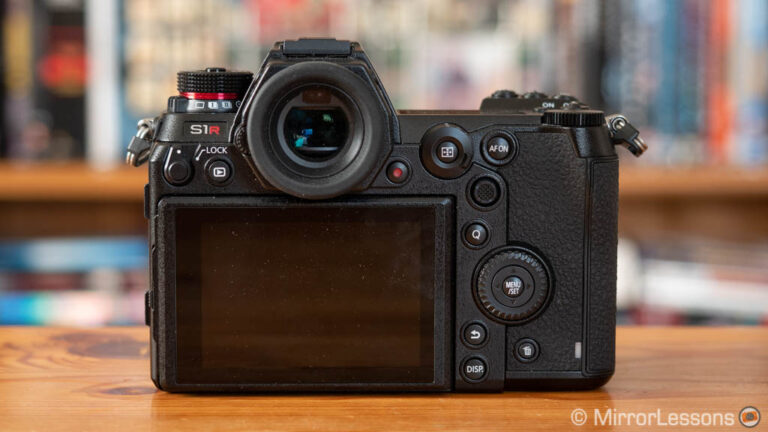 3. Nikon Z6 and Z7
They don't reach the same level of resolution (3.69k dots) as the Lumix models, but the Z6/Z7 viewfinders are very good (0.8x). That said, I wish they could have a faster refresh rate than 60Hz. The rear touch screen is fast, precise and can be used for different things including navigating the menu. There is a small OLED screen on top to check settings at a glance.
5. Canon EOS R
The EVF has an excellent resolution (3.69M) but the lag is more noticeable than with other brands. The touch screen is very responsive however and, as of now, it is the only one with a multi-angle mechanism (excluding the EOS RP). You'll find a small LCD on top as well.
6. Canon EOS RP
The rear monitor is the same touch screen and multi-angle panel of the EOS R, but the viewfinder is smaller (0.39-in) and offers less resolution (2.36M).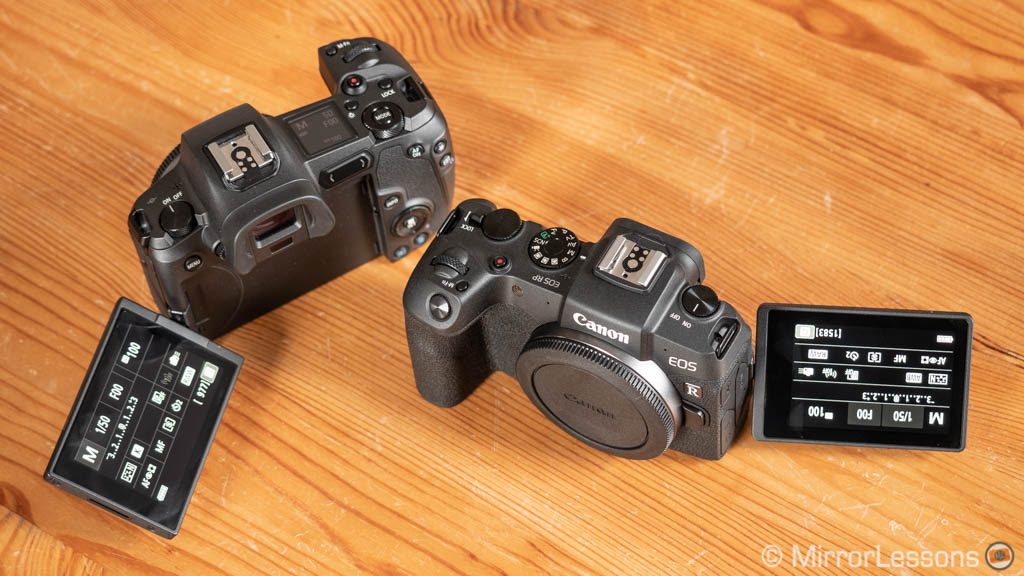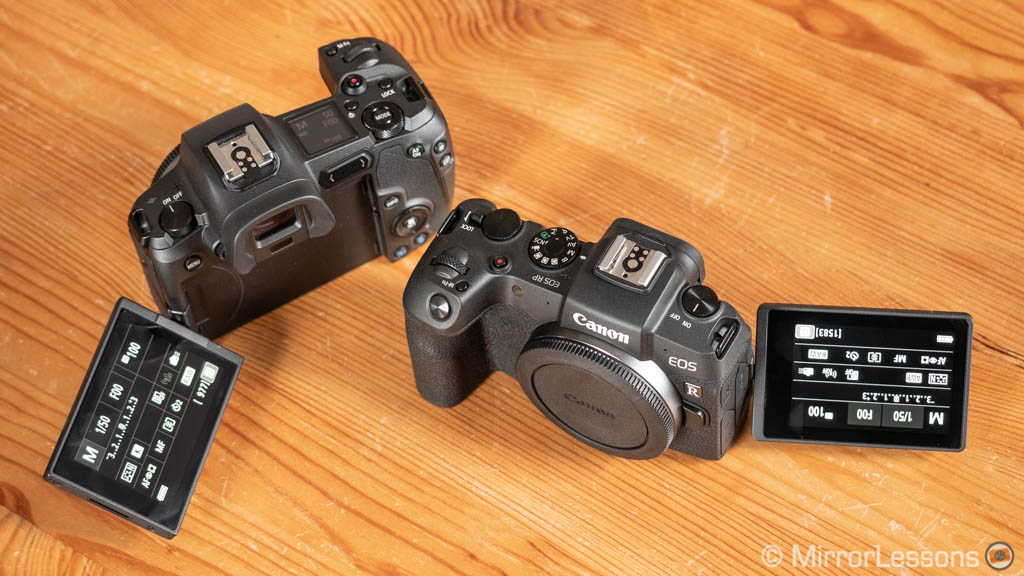 7. Sony A7R IV
The viewfinder has a splendid 5.76M dot OLED panel. Magnification is good (0.78x), the refresh rate goes up to 120Hz and the 23mm eyepoint makes it very useable when wearing glasses. The drop in resolution when working in video mode is still annoying however. The rear monitor remains unchanged: the touchscreen is mainly for the AF settings, and it only tilts on 2 axes.
8. Sony A9, A9 II, A7R III
Sony seems reluctant to add more resolution and touch screen options to the rear monitor (you can use it to move the AF point but not much else). Furthermore the sharpness drops in video mode and it isn't as easy to focus manually (even with magnification) as with other cameras. Fortunately the EVFs have good resolution (3.69M) and the refresh rate goes up to 120fps.
11. Leica SL
It has the largest viewfinder in its class (0.66-in panel) with a great resolution (4.4M), magnification (0.8x) and a decent frame rate of 60fps. The rear screen is touch sensitive but the SL is the only camera with a fixed monitor here. There is a small LCD on top.
12. Sony A7 III
The same reasoning applies as with the A9 and A7RIII concerning the rear LCD, but the viewfinder offers a lower resolution (2.36M) and refresh rate (60Hz).
13. Sony A7S II
No touch screen capabilities on the mark II generation, and the EVF doesn't go beyond a resolution of 2.36M dots.
---
Recording and power
Memory cards and batteries serve different purposes but they both play an essential role in allowing you to record as many pictures as possible and for as long as possible. Which camera has the best battery life? Is there an optional battery grip? And of course, we have to take into account the card type and number of slots available.
1. Sony A7R IV and A9 II
The best battery there is, two SD card slots with UHS-II compatibility and USB charging / Power Delivery with USB C. There is nothing more we could possibly ask for.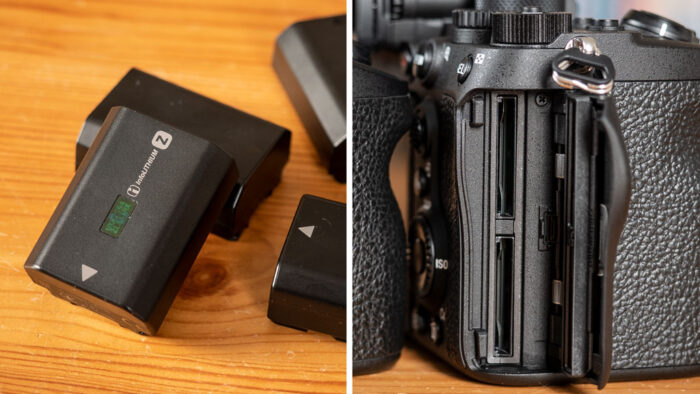 3. Sony A9, A7R III, A7 III
The third generation has introduced the best battery life seen on any full-frame mirrorless camera thanks to the NP-FZ100 unit. There are two slots for SD cards, USB charging or Power Delivery are available, and so are official and third party battery grips. They get one point less than the A7R IV because only one slot is UHS-II compatible.
6. Panasonic S1 and S1R
The battery is large but the cameras are more power hungry than the Sonys and as such, the performance decreases more rapidly. There are two memory card slots; the first uses the XQD card type which is faster but more expensive, whereas the second slot takes UHS-II SD cards. The battery can be charged via USB even when the camera is turned on, and an official battery grip is available.
8. Leica SL
The SL was the first mirrorless camera to be released with two SD card slots (UHS-II). The battery life is decent but drops more rapidly when stressed with continuous shooting or video recording. There is a battery grip designed for the camera but no USB charing option.
9. Canon EOS R
It has a good battery life overall, even when recording 4K video, but there is only one memory card slot (SD UHS-II). USB charging can work depending on the source output capabilities. A battery grip is available.
10. Canon EOS RP
A smaller battery than the EOS R means a lower performance and as you can imagine, there is only one SD slot (UHS-II). USB charging is the same as the R. There is no battery grip option.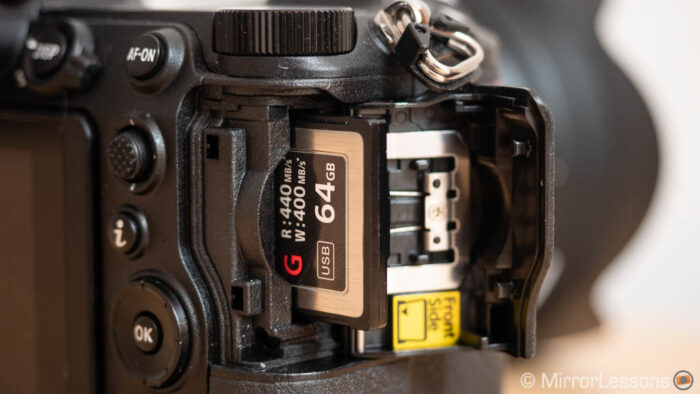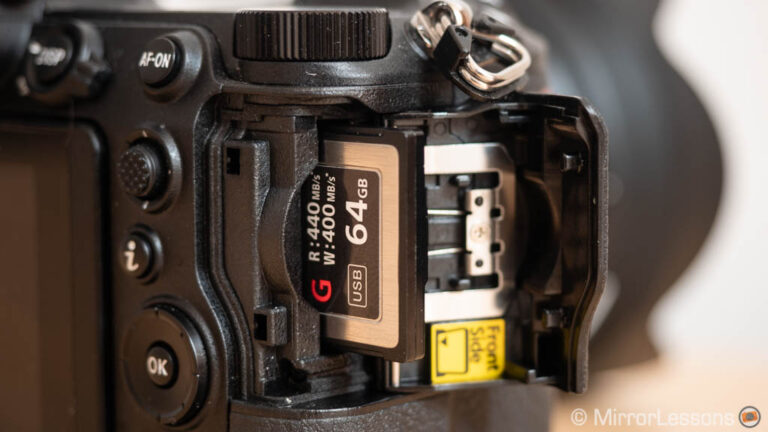 11. Nikon Z6 and Z7
The battery life is good, I would say on par with the EOS R and better than the Panasonic S cameras. However the choice to implement a single slot and the more expensive XQD card has disappointed many people. USB charging is available but the official battery grip hasn't yet been released.
13. Sony A7S II
It has one SD card slot (UHS-I) and the worst battery life of any other model here because it uses the old NP-FW50 unit. USB charging works and there is a battery grip available.
---
Image quality
We conduct so many comparisons that we have a pretty good idea of how these cameras compare when it comes to dynamic range, ISO, colours and sharpness. We also took into account features like the pixel-shift mode that can increase the resolution further, and defects such as shutter shock that can ruin the result in certain situations.
1.Sony A7R IV, A7R III and A7 III
Sony makes the best sensors on the market and these two cameras are proof of this. You won't find better dynamic range elsewhere so it's really a question resolution (A7r IV has 61MP, no OLPF) versus better high ISO performance (the A7 III offers 24MP, up to 204800 ISO). The optimal middle-ground is the A7R III with its 42MP. Sony has improved its colour profiles with better skin tones amongst other things. The R models have a Pixel Shift function (tripod only) that increases colour resolution. The output remains the same on the A7R III (42MP) but can go up to 240MP on the A7R IV, although the final quality didn't convince me on the sample I tested.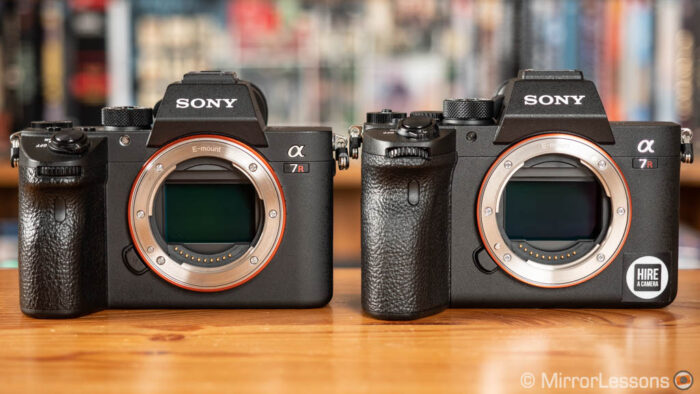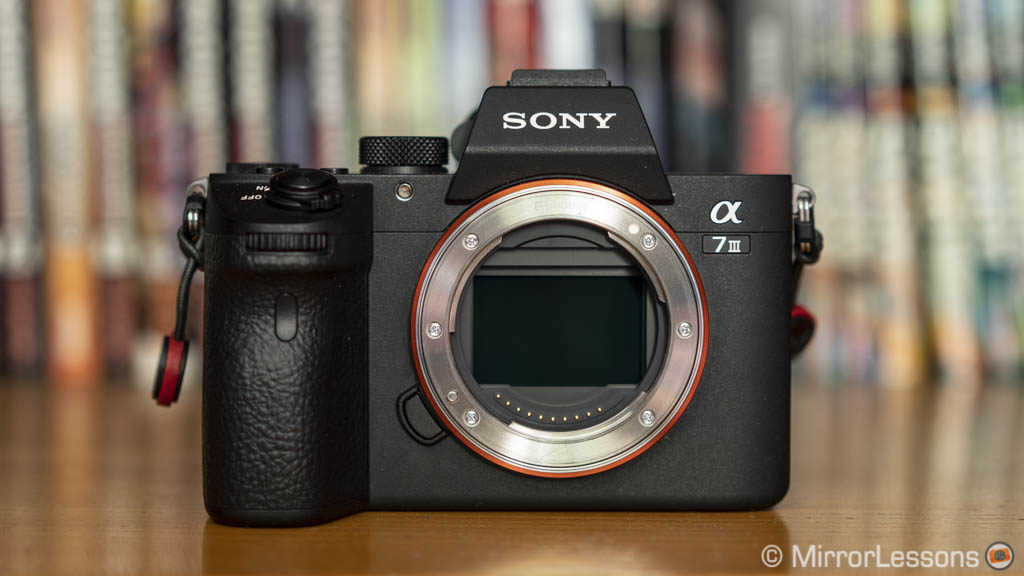 4. Panasonic S1 and S1R
The 24MP and 47MP sensors are not far off Sony concerning the high ISO capabilities but dynamic range is slightly worse. The lack of phase detection points means that there is no problem with banding or internal reflections (a minor issue that can occur occasionally on the A7R III and A7 III). I also like Panasonic's colour profiles and the High Res shot mode (96MP or 187MP respectively) is the first that can be used with moving elements in landscape shots. I found a bit of shutter shock on the S1R but fortunately there is an electronic first curtain shutter option.
6. Nikon Z6
The 24MP chip of the Z6 performs in a similar manner to the A7 III when it comes to dynamic range and high ISOs (it's a Sony sensor after all). Nikon's colour profiles are very nice and display more pleasant skin tones. The sharpness settings of the SOOC JPGs are not so refined however.
7. Sony A9 and A9 II
It shares the same resolution (24MP) and high ISO capabilities of the A7 III and Z6, but the dynamic range is somewhat inferior. It remains a stunning performer nonetheless.
9. Nikon Z7
The 47MP chip is very close to Sony's 42.4MP sensor but strong shadow recovery can produce banding. The camera also suffers from shutter shock so it's better to use the electronic first curtain shutter mode with select shutter speeds (1/40 to 1/400s). The same reasoning applies to the Z6 concerning JPG colours and sharpness.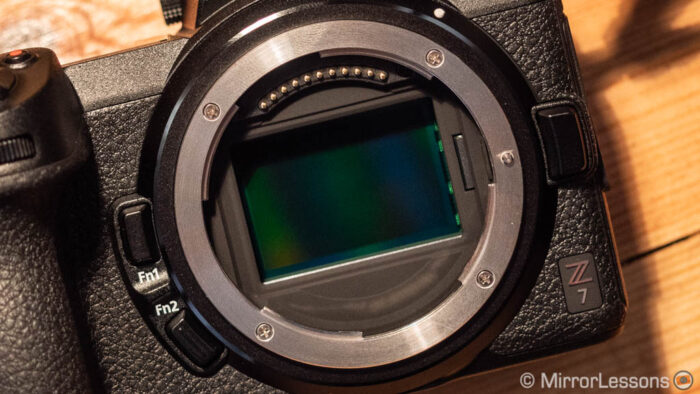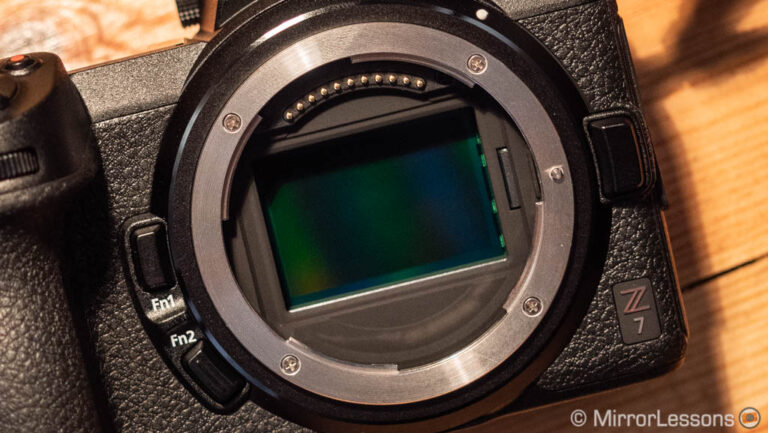 10. Canon EOS R
It uses a 30.3MP sensor that is a bit old now and not on par with the most recent chips designed by Sony. It's not bad by any means when it comes to DR or sensitivity, it's just not at the top with the very best. The colour rendering and the various profiles are excellent however. Dual Pixel RAW offers some unusual tweaks in post production like correcting the focus point or bokeh shift by a small amount.
11. Leica SL
I always find Leica colours to be among the very best, whether I work with the RAW files or the SOOC JPGs. There is a good amount of resolution (24MP). However dynamic range and high ISO performance are not as good as Sony and Nikon, and there can be some banding when post processing the files.
12. Sony A7S II
At the time of its release, the 12MP sensor didn't seem like that much of a compromise given the super high ISO performance. However improvements in sensitivity on more recent sensors make the A7S II less appealing for still photography today.
13. Canon EOS RP
The 26MP sensor is the weakest when it comes to dynamic range. High ISO performance isn't bad however and you have access to the Canon colour palette that many photographers like.
---
Autofocus and speed
Here we take into account how reactive the camera is when tracking difficult subjects, how reliable popular features such as Eye AF and Face detection are, and how fast the overall performance is. We factored continuous shooting speeds and buffer depth into the equation since we often used them with continuous AF. The verdict takes into account the performance in video mode too.
1.Sony A9 and A9 II
The brand has put as much effort into the autofocus as it has into image quality. The A9 and A9 II are Sony's best achievement so far and you won't find better precision, reactivity or speed. The sensor readout speed allows for 20fps shooting with no blackouts when using the electronic shutter, and it is the only full frame camera capable of doing this at the time of writing. The buffer depth is impressive even when shooting RAW files. The autofocus does very well in video mode, offering the best tracking capabilities currently available.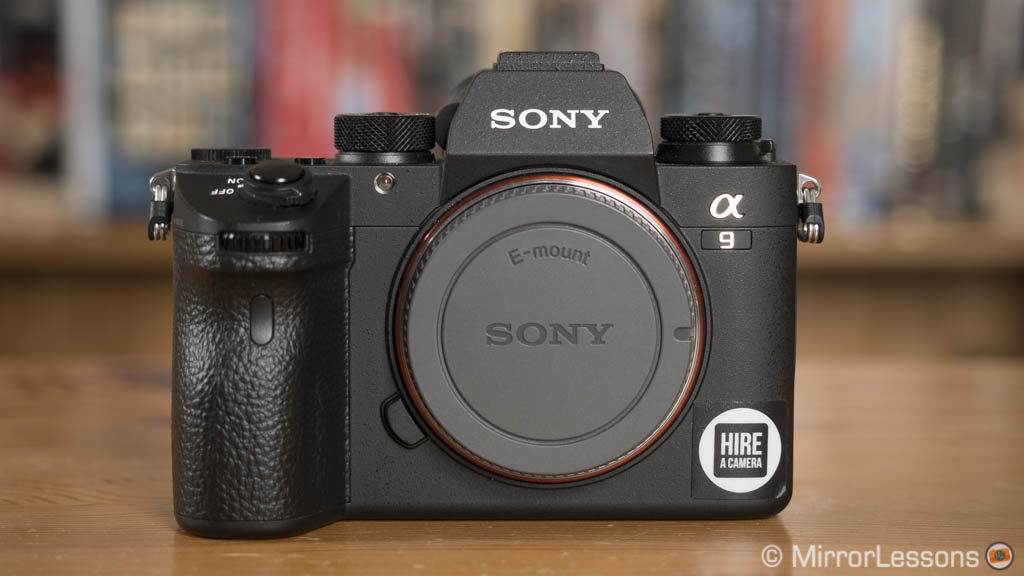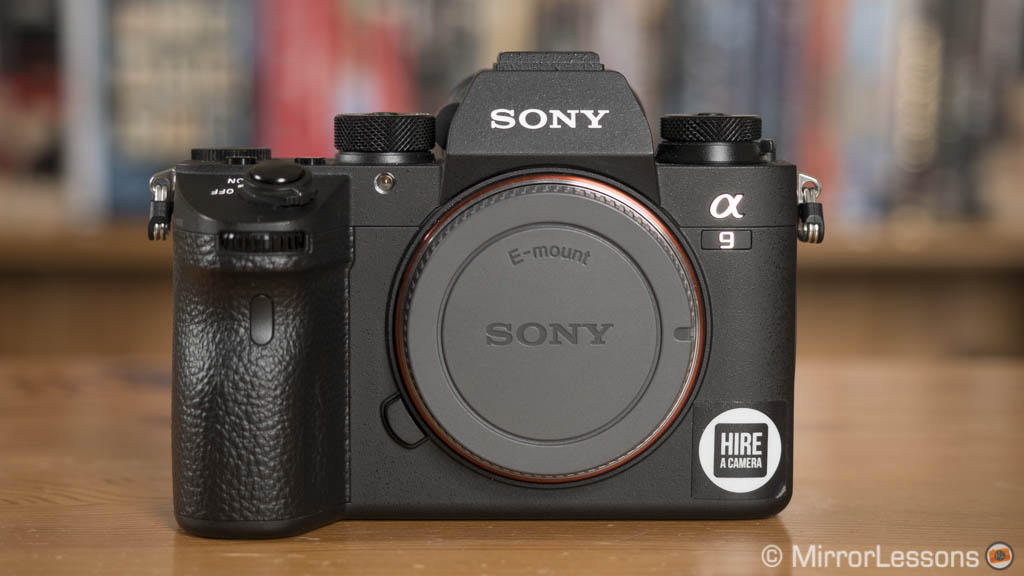 3. Sony A7R IV
The camera gains the latest software algorithm and while it doesn't reach the same capabilities as the A9 (understandably), it has a better tracking mode than any other A7 model and equal performance concerning everything else, including Eye AF for humans and animals. This function is also available for video and it works quite well, albeit only for people. And despite the higher resolution, you still get 10fps with a similar buffer to the A7R III.
4. Sony A7 III
It doesn't reach the same processing speeds as the flagship A9, but the performance of the A7 III isn't too far behind and the number of phase detection points is the same. It can shoot continuously at 10fps and can track the eyes of humans and animals. No other brand does this as well as Sony. The performance for video is good but tracking is not as precise as the A9.
5. Sony A7R III
It comes very close to the performance of the A7 III but can lack some precision when dealing with fast action or difficult subjects. That being said the difference is small and the camera retains the same capabilities when it comes to face and eye AF (the latter works with humans and animals too). It has fewer phase detection points so the coverage on the sensor is not as wide as the A7. The buffer is a bit slower because of the high resolution of the files, which is to be expected.
6. Nikon Z6 and Z7
They are more capable than many will lead you believe. In fact they both did very well in my sports and wildlife tests. Face detection is slower but the brand has introduced Eye AF via firmware and the performance is more than acceptable. The tracking mode is not very reliable however. Burst speeds are good (12fps and 9fps) but if you want live view, the speed goes down considerably and the buffer is quite small. They do well in video mode, delivering results similar to those found for stills.
8. Canon EOS R
On paper the Dual Pixel CMOS AF system is one of the best technologies on the market but the processing speed of both the R and RP models stops the cameras from unleashing their full potential. Face and eye detection work really well and the performance is also good in video mode. The burst speed is 8fps and 5fps respectively, but if you want C-AF it becomes average (5fps and 4fps). Buffer is not impressive at the fastest speed for the R.
9. Canon EOS RP
What I said above for the EOS R with a few extra observations. The maximum burst is 5fps (4fps with focus priority). The buffer is a bit better than the EOS R at those speeds thanks to the lower resolution. In video mode, the RP uses contrast detection only in 4K which slows the performance down considerably.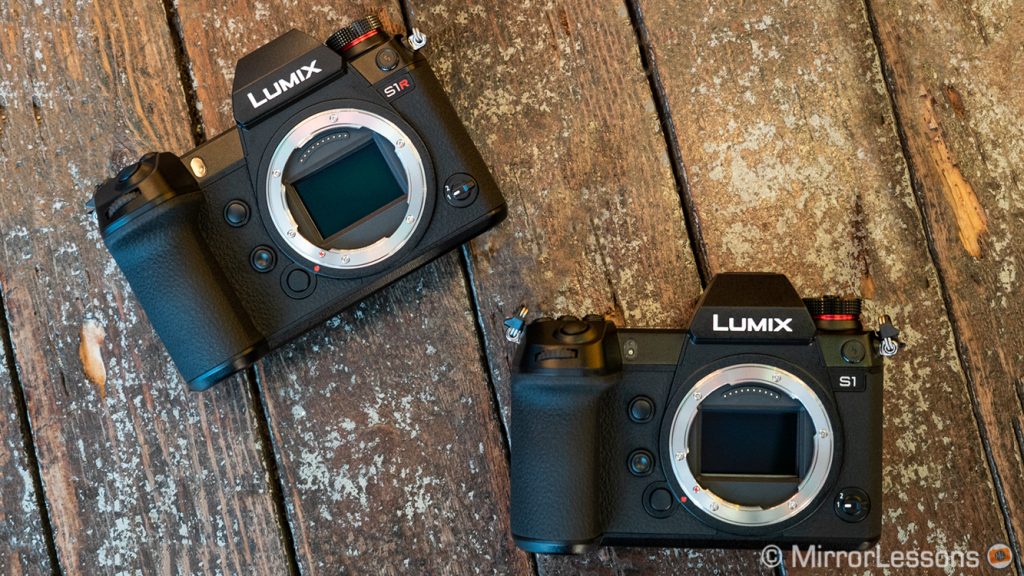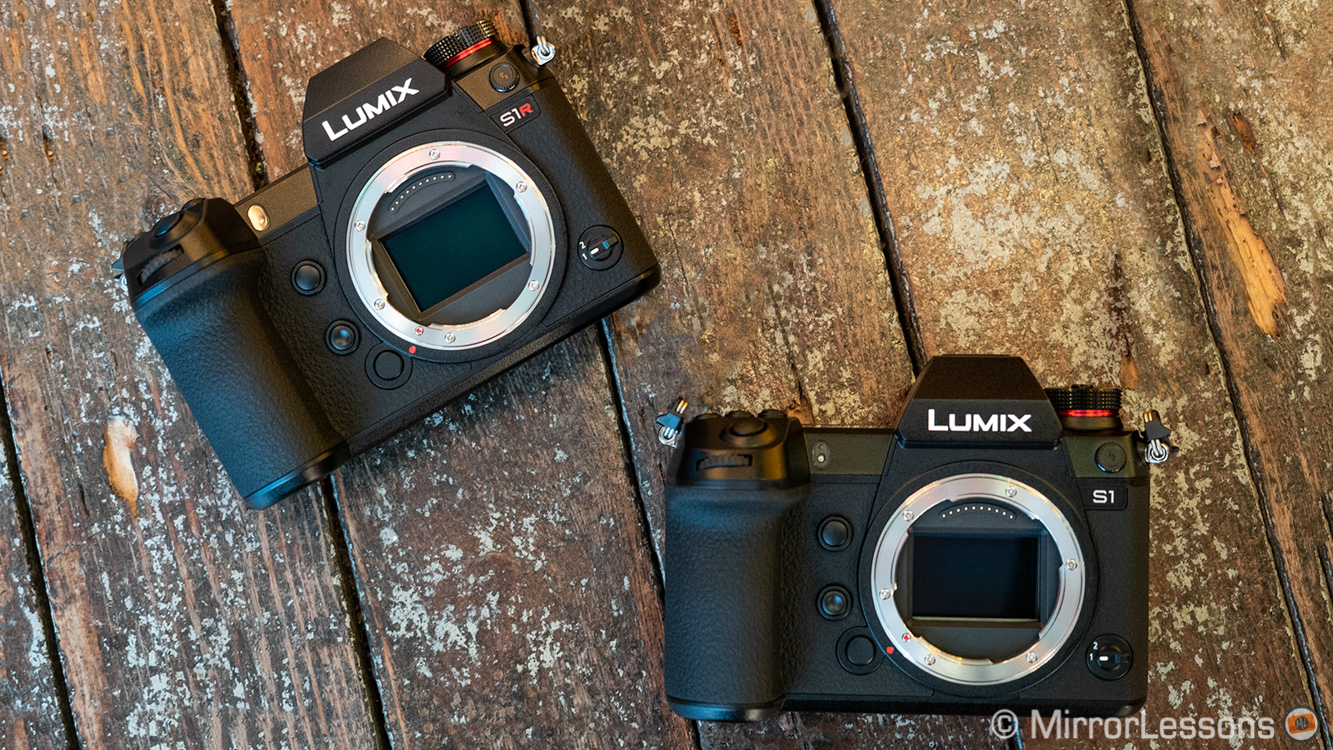 10. Panasonic S1 and S1R
The contrast detection DfD is very good when it comes to speed, but it can struggle when you need it most (fast subjects, difficult light situations, eye detection). The latter is valid for stills and video. Face, body and animal detection can be imprecise although the capability to recognise all sorts of animals is surprising. The drive speeds are decent (9fps or 6fps with C-AF) and so are the buffer capabilities.
12. Leica SL
The SL uses a contrast detection system that is very similar to Panasonic's DfD. In fact it is probably the same, but an older version so the performance is not as good as the most recent standards, especially with continuous autofocus. There is face and eye detection. The continuous shooting speeds are not bad at 11fps, or 7fps with focus priority. Buffer is very good with JPGs but only average with RAW files.
13. Sony A7S II
The S series uses contrast detection AF too, and the autofocus is not as responsive as the other A7 cameras when it comes to C-AF and video, despite the good low light sensitivity. The continuous shooting speeds are much lower as well at 5fps or 2.5fps with C-AF.
---
Video
Mirrorless cameras are popular tools for video production so it's no surprise that they are packed with interesting specs. Here I concentrated on the output quality as well as the number of advanced settings and features. I've left out the autofocus part because I talked about it in the previous chapter. All models have a microphone input and headphone output.
1.Panasonic S1
The company is rightfully known for the video quality of its micro four thirds cameras, and its first venture into the 35mm format is not to be ignored. The quality of the 4K footage really impressed me in terms of dynamic range, colours and high ISO. You can have V-Log and 10-bit 4:2:2 internal recording with a paid firmware upgrade ($200). It can record up to 60p in 4K (albeit with a crop) or up to 180fps in 1080p. In 4K up to 30p, there is no recording limitation per clip (the only model to do so on this list). You have access to lots of useful settings as well as a full sized HDMI port.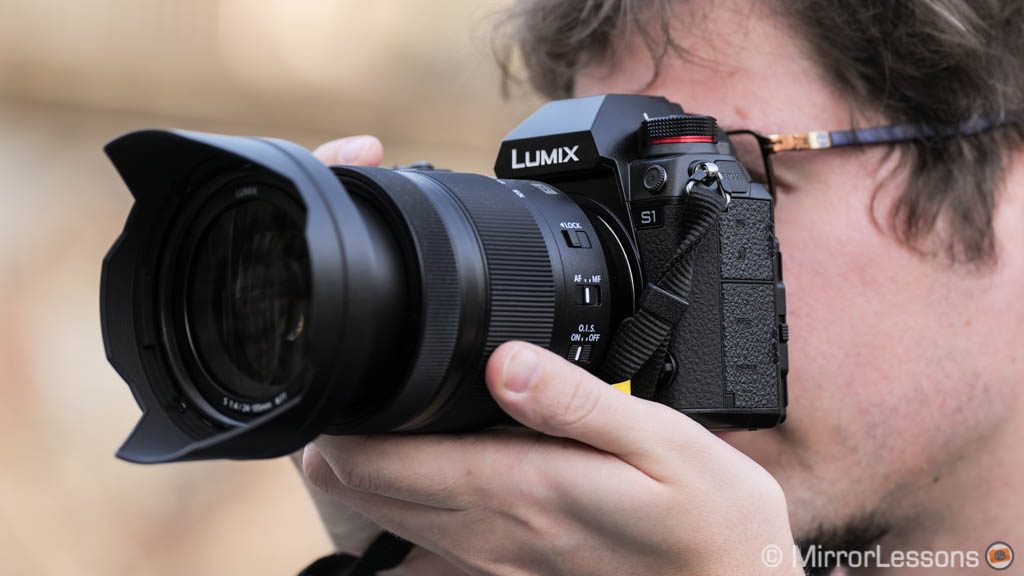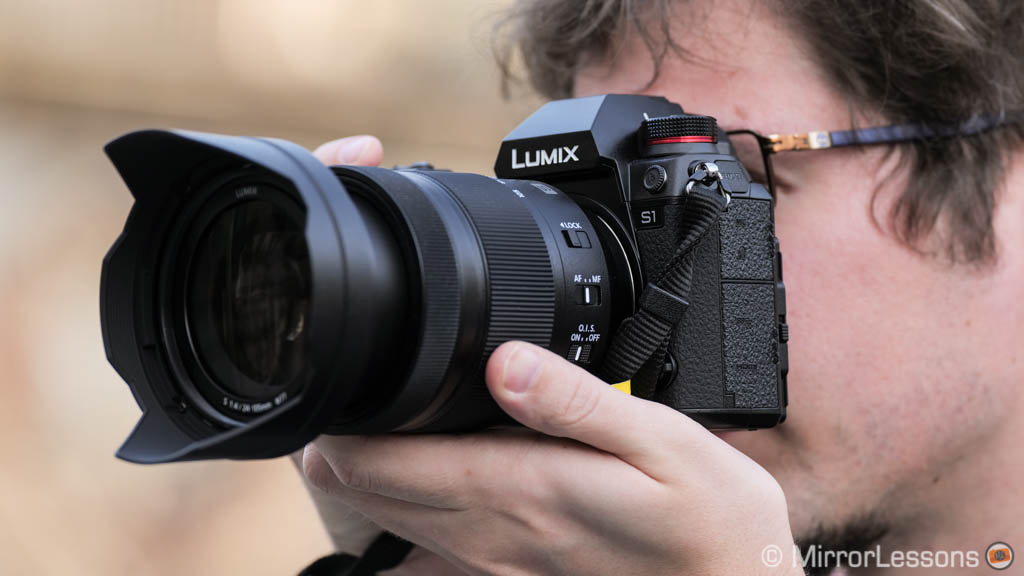 2. Sony A7S II
It may have become obsolete for photographers, but the A7S II is still relevant for video. The 12MP of resolution is enough for 4K and also allows the camera to reach higher ISO levels than any other model here (up to 409600). There are lots of settings to customise the look of the image, and you can shoot with S-Log2/S-Log3 for stunning dynamic range capabilities. You can go as fast as 120fps in Full HD. The only thing it lacks is 10-bit recording.
3. Sony A7 III
In addition to the excellent still performance, the camera delivers top video quality with superb dynamic range and the same type of settings you'll find on the A7S II. The sensitivity is not as good as the S model but it is not too far behind (up to 102400 ISO). The XAVC S codec starts to feel a bit dated however.
4. Sony A7R IV
The R model delivers the best performance in Super35 mode because of the higher megapixel count. The performance in full frame mode is not bad but the image is not as crisp as Super35 and there is more visible aliasing. On the positive side, Sony has introduced much better dynamic range when using the Creative Styles, and has improved skin tones considerably. It also lacks the recording limit of 30 minutes.
5. Sony A7R III
The A7R III model is not far from the mark IV camera, but doesn't feature the latest software tweaks for recording time and skin tones. It does have almost everything else though including S-Log, HLG and 120fps in Full HD.
6. Nikon Z6
It doesn't deliver the same amount of fine detail, nor the same high ISO performance as Sony or Panasonic cameras, but the video footage doesn't look bad at all and there is plenty of dynamic range to play with. N-Log and 10-bit are available via HDMI. It can record up to 120fps in Full HD. A firmware update that brings RAW format via the HDMI output is due later this year.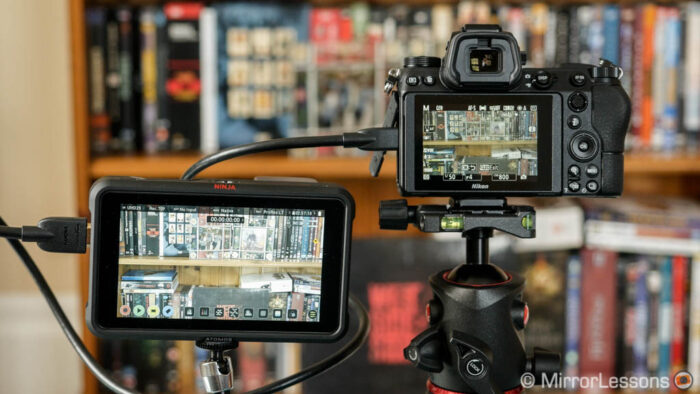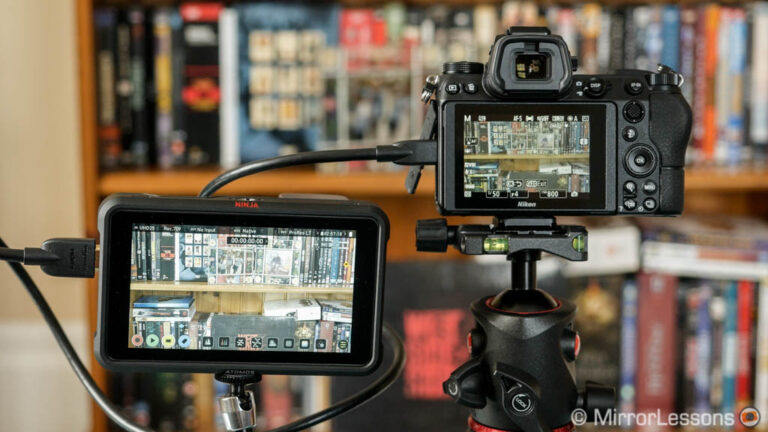 7. Leica SL
With full pixel readout in full frame mode, S-Log V gamma and 10-bit 4:2:2 via the HDMI connection, the SL does quite well in the video department and you can also count on the lovely colour rendering of Leica's profiles. In 1080p it goes up to 120fps. For audio however, you need the optional Audio Adapter AA-SCL4 that connects to a proprietary multi-port socket.
8. Nikon Z7
Same reasoning as with the A7R III – the Z7 performs better in DX mode because of the greater number of megapixels on the sensor. As for everything else, it shares the same settings and options with the Z6.
9. Panasonic S1R
It has fewer options than the S1 and no 10-bit/V-Log output. The quality is good at low ISOs but there is more noise at high sensitivities. It can record up to 4K/60p (crop) or 1080/180fps just like the S1. The duration is limited to 15min in 4K.
10. Canon EOS R
The 1.8x crop when recording in 4K is an annoyance that is too difficult to ignore. It is a shame because otherwise the EOS R delivers beautiful colours. The excellent C-Log profile is available for internal recording, or external recording with 10-bit 4:2:2 signal. The frame rate in 1080p doesn't go past 60fps.
11. Canon EOS RP
What I said above, but with worse dynamic range, no log profile or 10-bit via HDMI.
12. Sony A9 and A9 II
The 4K quality is similar to the A7 III, but it could do so much more if Sony included the Picture Profiles. The Creative Styles, which are designed for stills, have less dynamic range in video mode and that undermines the capabilities of the camera. It feels like a marketing choice rather than a technical limitation.
---
In-body image stabilisation
Image stabilisation can be very useful when it works well. Here we've considered not only how slow you can set your shutter speed, but also how consistent the performance is, how the cameras work with lenses that feature optical stabilisation and how usable they are for video work. The Canon EOS R, EOS RP and the Leica SL don't feature internal stabilisation so they miss out on extra points.
1.Panasonic S1 and S1R
The two Lumix models are the best full frame cameras I've tested so far when it comes to image stabilisation. It works on the sensor (5-axis) or in conjunction with optical stabilisation (Dual IS). I managed to push the S1R down to 4s hand-held during my trip to Scotland. It works well for video with no jittering and good performance as long as you don't shake the camera too much. The electronic stabilisation option adds even more stability but crops the field of view as a result. It won't replace a good gimbal but its definitely usable in various situations.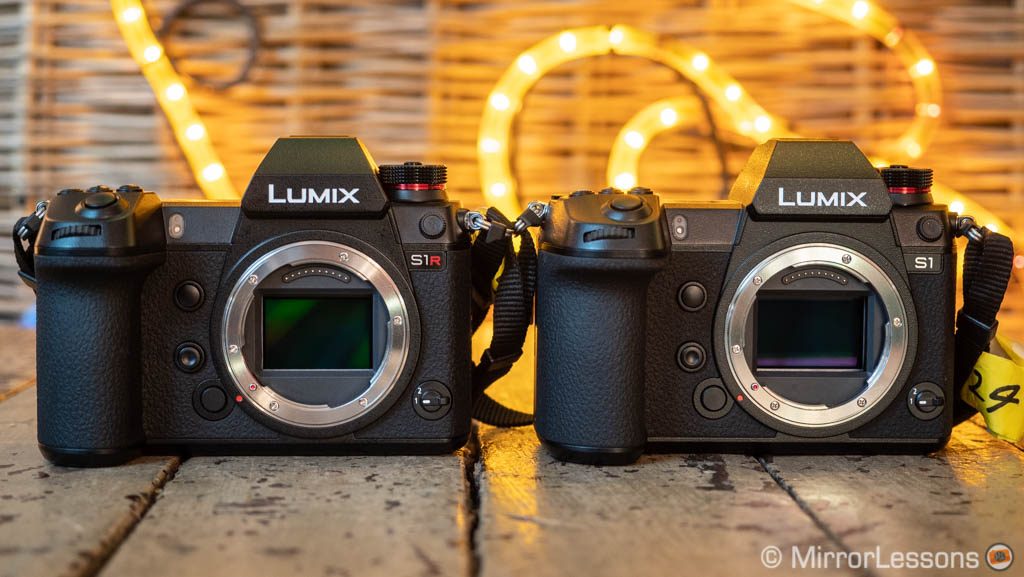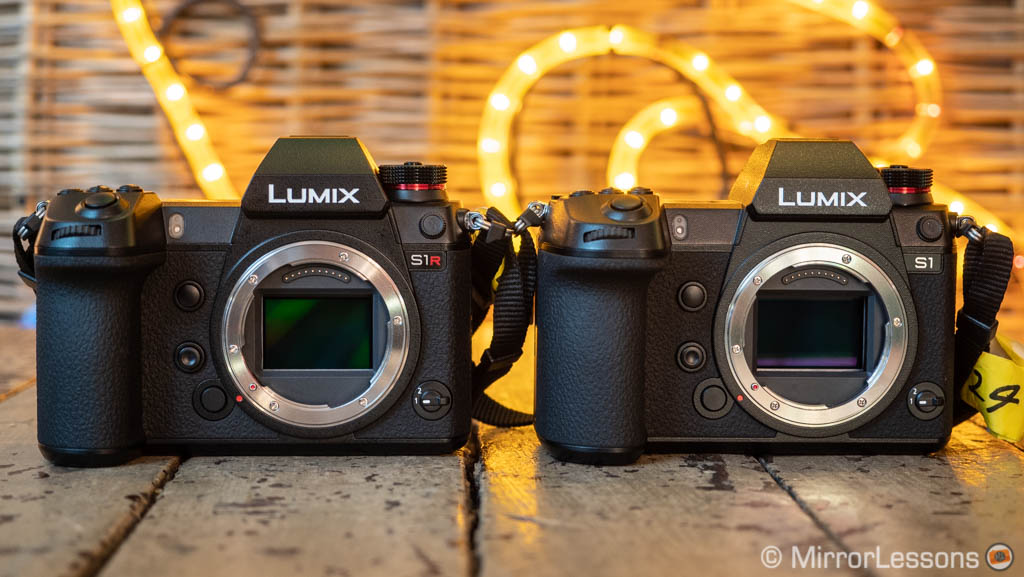 3. Nikon Z6 and Z7
The two Z-mount cameras don't reach the same level as Panasonic but do provide above average performance. For stills the 5-axis system can get you near 1 second without too much hassle, whereas the performance for video surprised me on more than one occasion when walking and recording static shots (an electronic VR option is available too). It works with optically stabilised lenses as well and with adapted F lenses but only three axes are used.
5. Sony A7R IV
The comment I made below about the other Sony models is also valid for the A7R IV, but the camera does provide slightly more consistent results for stills, and displays less jittering when recording video. These improvements, while not huge, deserve an extra point.
6. Sony A7S II, A7 III, A7R III, A9 and A9 II
Sony was the first to introduce in-body stabilisation to a full frame camera at the end of 2014, but it hasn't pushed the performance much further since then. There is a lack of consistency (sometimes I ended up with motion blur at around 1/10s using a short focal length). There can be jittering in video mode, as well as lots of flickering when panning. When an OSS lens is used, 3 axes are available on the sensor.
---
Lenses
Native lenses play an important role in the evolution of a camera system. Here we analyse how much selection there is for each mount and what the various roadmaps are promising for the future.
1.Sony E-mount (A7 III, A7R III, A7S II, A9 and A9 II)
Sony started its full frame mirrorless system almost six years ago and they now have a good advantage over the competition with more than 30 native lenses available, including specialised products like the 600mm f4 lens. Support for third party brands such as Sigma, Tamron, Zeiss and Samyang increases the selection to over 55 lenses and that's excluding manual focus options. And if that wasn't enough, you can also adapt other lenses including those for DSLRs from Canon with good AF performance thanks to adapters from Sigma and Metabones.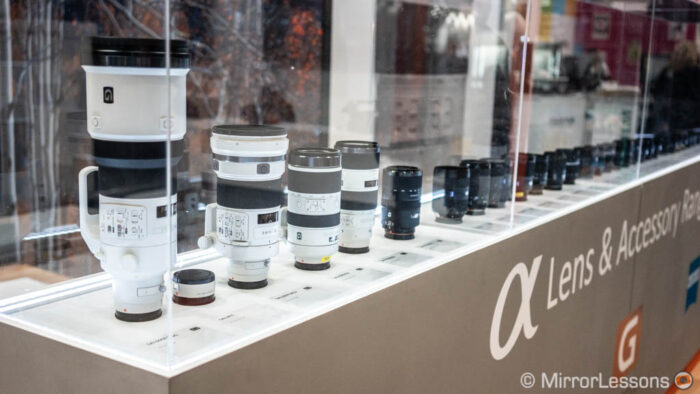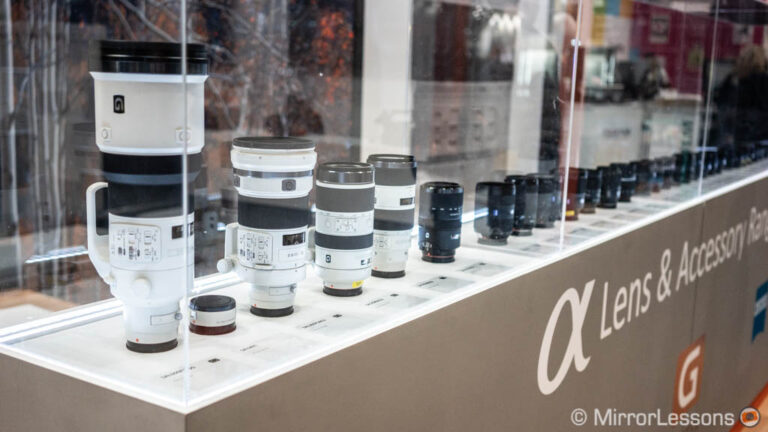 6. Canon RF mount (EOS R and EOS RP)
There are currently five native lenses available for the system, and the brand has decided to go bold by releasing some spectacular products such as the 28-70mm f2 and 50mm 1.2. Less expensive options like the 35mm 1.8 Macro has good optical performance but a slow AF motor which is a bit of shame. That being said, the system is new so it needs time to grow. There are more lenses on the way including a 70-200mm 2.8 that looks very compact. I'll be curious to see if Sigma and Tamron join the system at some point since they are so popular among DSLR customers. The RF to EF adapter offers seamless performance with Canon DSLR lenses.
8. Nikon Z-mount (Z6 and Z7)
Similar to Canon, the Z system started at the same time and it's growing as fast as it can. The first kit lens, the 24-70mm f4, is a great introduction to the system. The 1.8 primes (35mm and 50mm) offer outstanding sharpness but they're a bit expensive which means that for now there is not a sub $600 lens available yet. 2.8 zooms and very fast primes are on their way including Nikon's first f/0.95 lens, the Noct 58mm, which apparently will be manual focus only. Like Canon, there is no word about third party brands joining the mount. The FTZ adapter works really well with Nikkor F lenses.
10. Panasonic, Leica and Sigma L-mount (S1, S1R and SL)
The L-mount alliance has the potential to grow more rapidly than Canon and Nikon. For now, Panasonic has released three lenses including a superb but very expensive 50mm 1.4. Sigma is converting its existing Art products and has introduced the first three lenses designed exclusively for mirrorless (but they are also available for E-mount). There is the entire Leica SL collection but price is quite prohibitive. You can adapt Sigma or Canon DSLR lenses with the Sigma MC-22 converter but it works in S-AF mode only for now. Given the contrast detection system of these cameras, it is unlikely you will reach the same level of performance as the products listed above even when C-AF is enabled.
---
Price
We can talk about specs all day long, but in the end, the price is the final and most important factor when deciding whether a camera is worth the investment or not. Is the price fair considering what the product and the system have to offer? Another interesting thing to consider is how quick a camera can depreciate in value.
Please note that prices are for the body only and as of March 2020. They can vary for different reasons.
1.Sony A7 III ($2000)
The ergonomics aren't perfect as we said, but otherwise the camera ticks all the boxes and is competitively priced. The system is now complete with lots of lenses to choose between. No wonder it continues to sell like hot cakes. There is no better value today.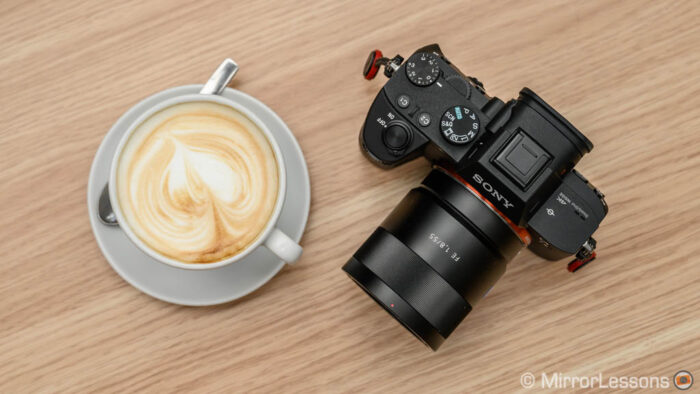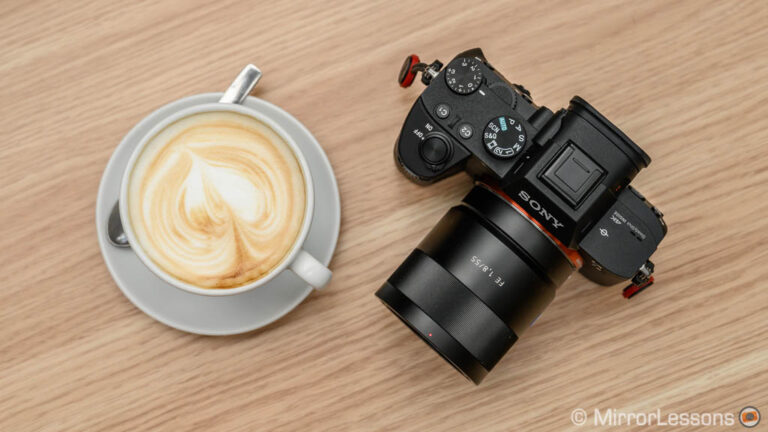 2. Sony A7R III ($2500)
Same as above, with that extra resolution and a sensor that has been voted the very best multiple times. The camera is now less expensive than it was two years ago which makes it an attractive deal.
3. Nikon Z6 ($1800)
Nikon has dropped the price a little to make the camera more competitive. There is a lot to like about it but of course you don't get as much selection for native lenses. If you own Nikkor DSLR lenses though, the deal with the adapter is worth keeping in mind.
4. Canon EOS RP ($1000)
The specs are not that interesting if we compare it to other models but, in terms of design and ease of use, it is a lovely model and comes at a low price. I think it's a good choice for an amateur who isn't too demanding and just wants a good camera that is easy to use.
5. Panasonic S1 ($2000)
I wouldn't choose the S1 just for the still capabilities, but if you're primarily interested in video, it becomes the best option on the market for many reasons.
6. Sony A7R IV ($3500)
It is more expensive than the A7 III and A7R III. This is a fact and it can't be ignored, but $3.5k remains reasonable considering what the camera offers. For those seeking the ultimate resolution, it is worth every penny and as I said in the conclusion of my A7R III vs A7R IV full comparison, it is a superb machine.
7. Nikon Z7 ($2800)
It is more expensive than its direct competitor the A7R III. It's a very capable camera in many ways, just not the very best value at the moment.
8. Panasonic S1R ($3700)
It's a workhorse with impressive capabilities, but the advantages it offers over the competition are rather niche and only certain users will be able to fully appreciate them. Mainstream users will find the price a bit too high.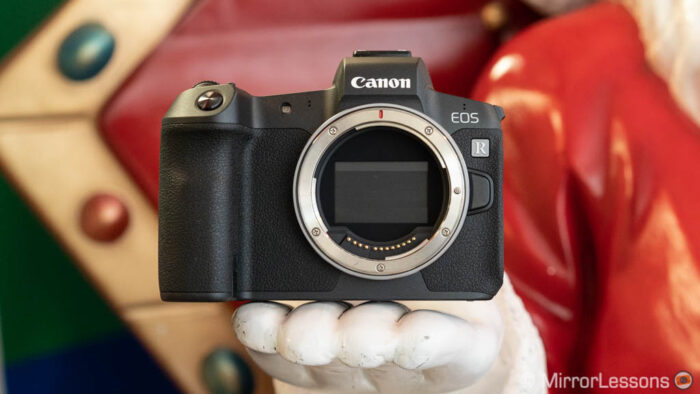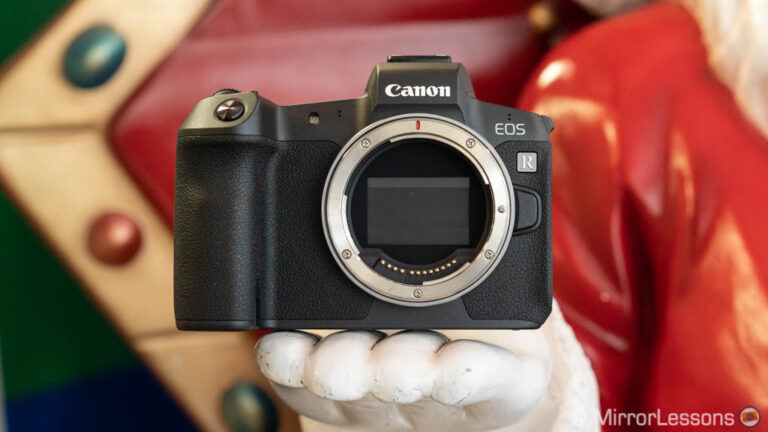 9. Canon EOS R ($1800)
Like the RP, it's a lovely camera to use but considering it is Canon's flagship mirrorless model, it falls behind in too many ways to be considered good value. If you find it at a lower street price however, it's worth giving it a second thought.
10. Sony A9 ($3500)
Don't get me wrong, the camera is worth every penny and has come down in price significantly as well. But it remains very expensive and for those who don't deal with fast action on a daily basis, it is probably not worth it.
11. Sony A9 II ($4400)
It's difficult to justify the extra $900 when the sensor and AF system are exactly the same as the first A9. The mark II model has added various features that aim at professional sports photographers (faster image transfer, audio memo etc.) and an improved design, but consider if it is worth the extra cost.
12. Sony A7S II ($2300)
Unless you're after the extreme low light capabilities, I think there are more interesting products for video now and the 12MP sensor is no longer enough to attract photographers. We're all waiting for its successor.
13. Leica SL ($6000)
The price is really high. I know it's the same old boring argument but the price difference is difficult to ignore, especially considering that most of the above offer better specifications.
---
Older models
As I teased at the beginning of the article, it is worth talking about a few extra models in the price section – more specifically the Sony A7, Sony A7 II and A7R II. Despite already having been replaced by their successors, the company has kept these models on the market and reduced the price.
Sony A7 II
It's the same generation as the A7S II, so the button layout lacks a few things such as the AF Joystick. There is no touch screen and the menu system is as confusing as ever. However the image quality is very good, the autofocus is more than decent and there is 5-axis stabilisation. The video quality is average and there is no 4K, but given that the camera can be found for around $1000, it is an unbeatable bargain.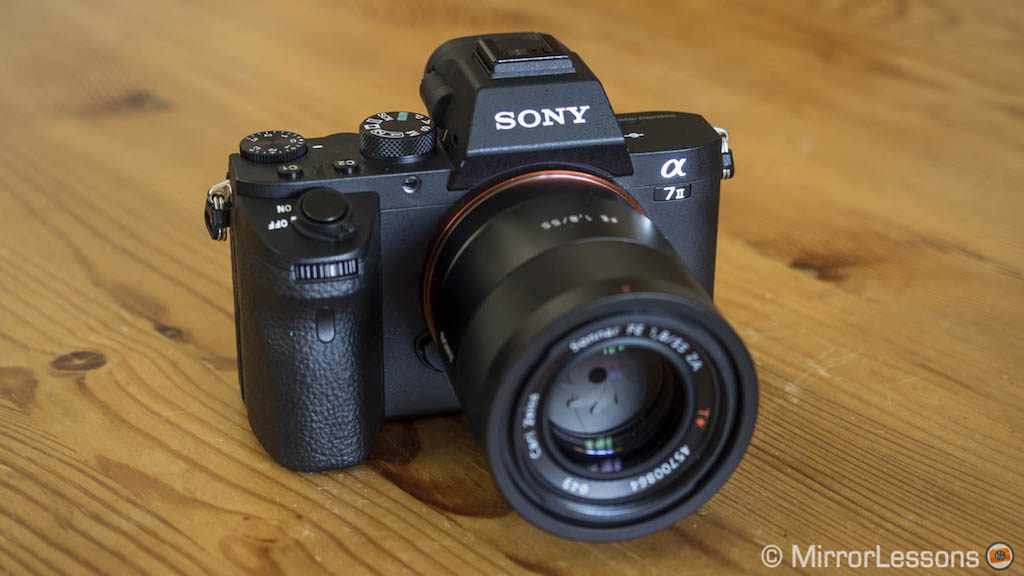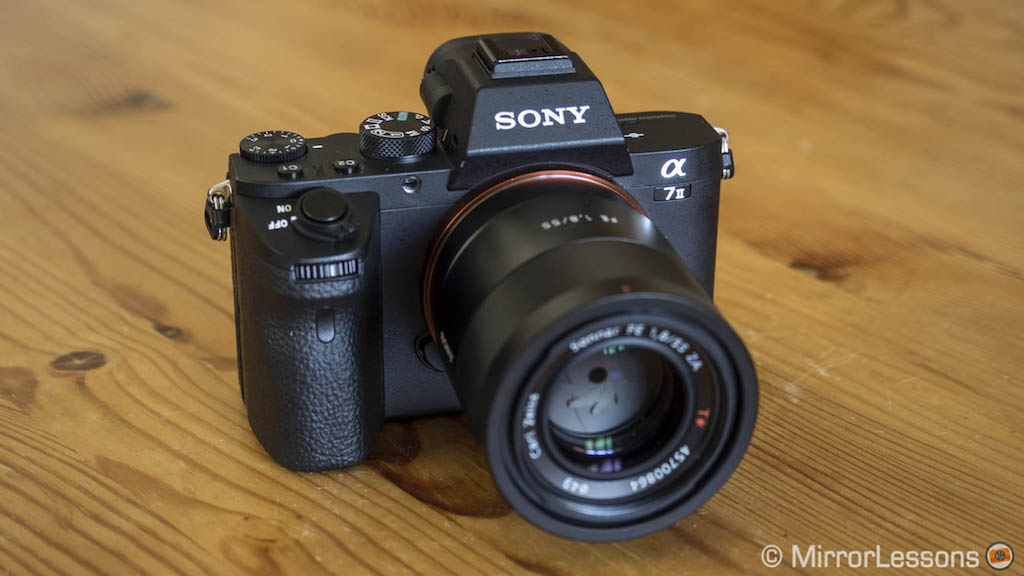 Sony A7R II
You can find it for less than $2000 these days, and the important thing to note is that the sensor is the same as the one found inside the mark III model. You also get good 4K video (S35 mode), an excellent autofocus system and in-body stabilisation. So if you're after excellent image quality at a good price, there is no better choice.
Sony A7
The original E-mount camera has all the drawbacks of a first generation model, and some of them like sensor flare can be quite annoying. The AF is decent (same as the A7 II) but there is no internal stabilisation and the design is probably Sony's worst. It can be found for around $800 which makes it the cheapest model on the market. Given that the A7 II is close to $1k, I would advise you to spend that extra money and go with the II model. Only go for this model if you're on a very tight budget.
---
Final ranking
There are 12 models listed for each category, so I assigned a score from 12 to 1. More than once two or more models ended up tied so they received the same score. Here are the results:
Sony A7R IV – 92 points
Sony A7 III – 85 points
Sony A7R III – 85 points
Panasonic S1 – 84 points
Nikon Z6 – 79 points
Panasonic S1R – 73 points
Sony A9 II – 73 points
Nikon Z7 – 70 points
Sony A9 – 68 points
Canon EOS R – 52 points
Canon EOS RP – 44 points
Sony A7S II – 41 points
Leica SL – 32 points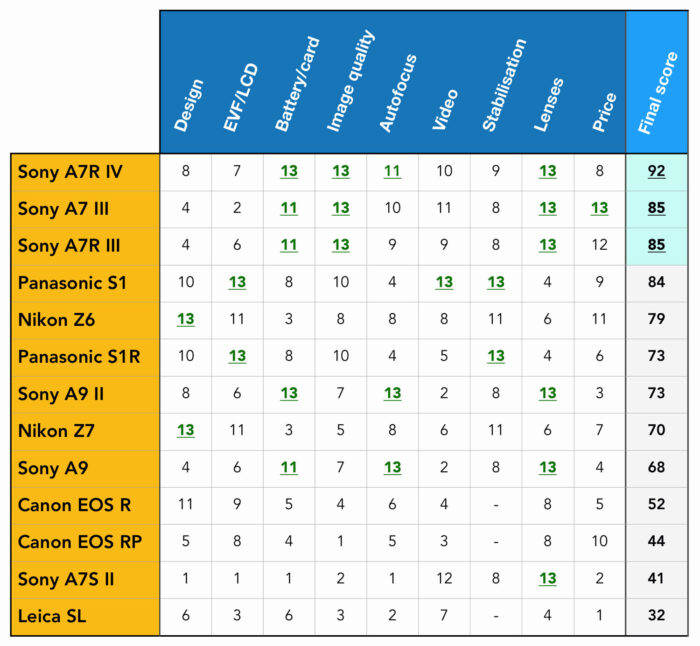 This ranking more or less reflects my findings. Sony dominates the first three positions because it has more models on the market and they are very competitive. The fourth position for the S1 shows how much potential the Lumix S series has despite being the latest to arrive on the full-frame mirrorless scene.
The 8th position for the A9 might appear too severe given its unique capabilities, but at the same time it is more of a niche product. The A7S II is showing its age and the Leica SL's high price tag lets it down.
Reminder: the links below are affiliate links. If you decided to buy something after clicking the link, we will receive a small commission.
Check price of the Sony A7R IV on
Amazon | Amazon UK | B&H Photo | eBay
Check price of the Sony A7R III on
Amazon | Amazon UK | B&H Photo | eBay
Check price of the Sony A7 III on
Amazon | Amazon UK | B&H Photo | eBay
Check price of the Panasonic S1 on
B&H Photo | eBay
Check price of the Nikon Z6 on
Amazon | Amazon UK | B&H Photo | eBay
Check price of the Panasonic S1R on
B&H Photo | eBay
Check price of the Nikon Z7 on
Amazon | Amazon UK | B&H Photo | eBay
Check price of the Sony A9 on
Amazon | Amazon UK | B&H Photo | eBay
Check price of the Canon EOS R on
Amazon | Amazon UK | B&H Photo | eBay
Check price of the Canon EOS RP on
Amazon | Amazon UK | B&H Photo | eBay
Check price of the Sony A7S II on
Amazon | Amazon UK | B&H Photo | eBay
Check price of the Leica SL on
B&H Photo | eBay
---
My personal list
We try to be as fair as possible in every article we produce, but like any other photographer, we too have personal preferences and I think that subjectivity is very important when deciding on a camera (or any other product).
So if I wanted to scrap all the objectivity above and just go with my gut feeling, which three full frame mirrorless cameras would I recommend right now?
Nikon Z6
It has my favourite design and the camera offers enough quality and performance to satisfy my photographic needs. For now I'm a little unsure about the lens selection. I know it's too early to judge a system that is barely one year old, but I hope we'll see more variety in price. I own the camera with the 24-70mm f4 kit zoom. A prime like the 50mm 1.8 would be a nice addition while I wait to try more lenses and see how the system evolves.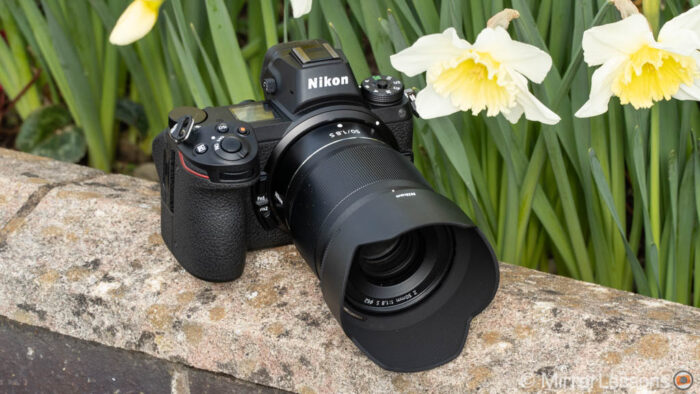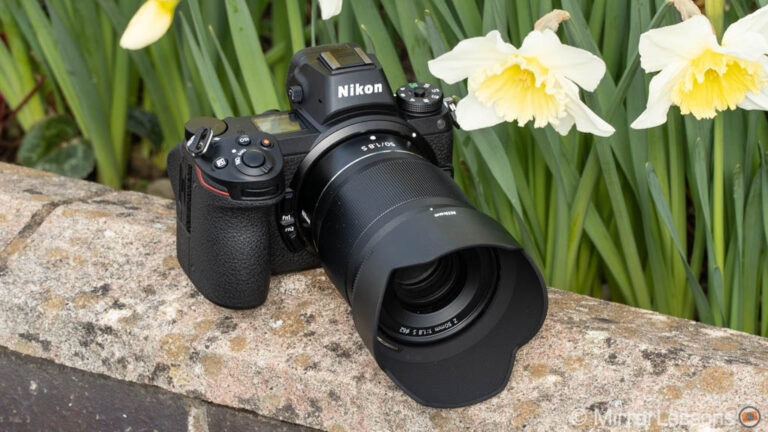 Sony A7 III
I'm not going to repeat what I think about the camera, but there is another reason why it is on my personal list: the lens selection. The Loxia 21mm 2.8 and the FE 55mm 1.8 are among my favourite lenses, and if I wanted to build a compact system for my personal use, I would find everything I needed in the E-mount series. And that is invaluable.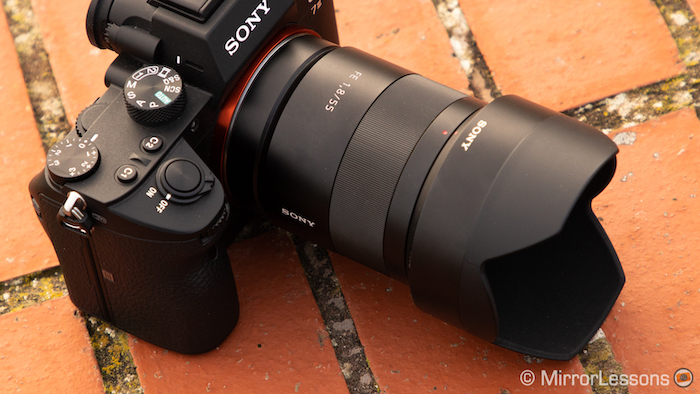 Sony A9
If I were to become more serious about wildlife photography and birds in flight, and were willing to invest a considerable amount of money in a full frame system, I would have no doubt about choosing the A9, especially now that Sony has widened its choice of super telephoto lenses. The autofocus never lets you down and the blackout free live view experience is something that is hard to forget once you've tried it.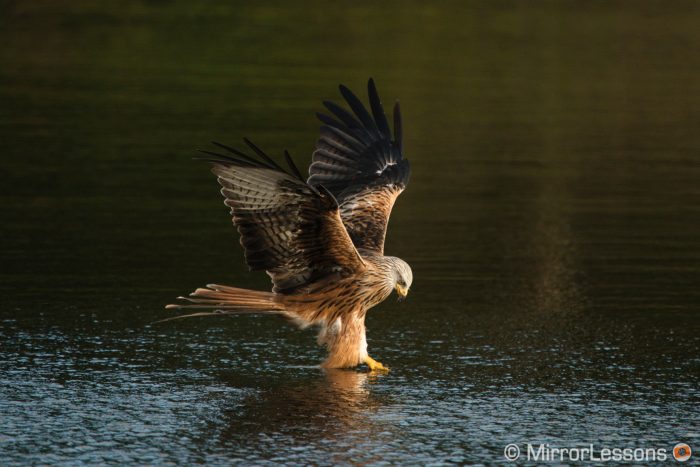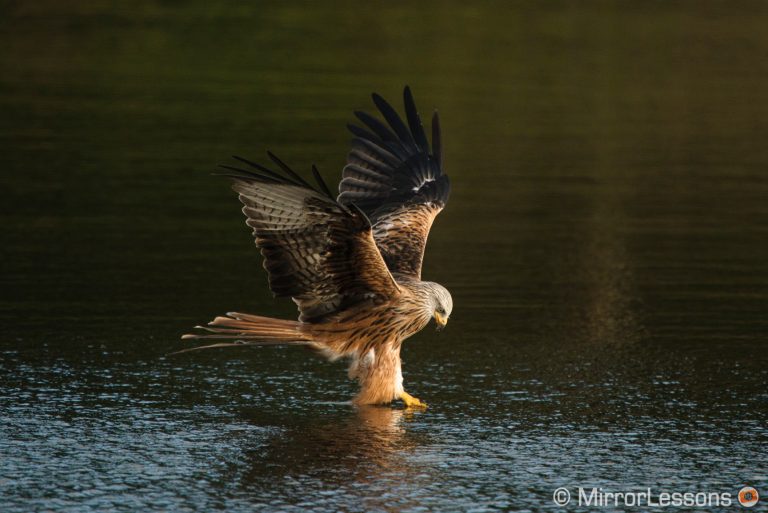 Now, what about you? Which camera would you choose and why? Let me know in the comment section below!
---
Additional links
If can't decide between two specific cameras, chances are that we have compared them. Below you'll find our most popular articles, or you can head to our mirrorless cameras comparison page.
---
Reminder: the links below are affiliate links. If you decided to buy something after clicking the link, we will receive a small commission.
Second-hand Canon gear on
MPB US | MPB UK
Second-hand Nikon gear on
MPB US | MPB UK
Second-hand Panasonic gear on
MPB US | MPB UK
Second-hand Sony gear on
MPB US | MPB UK
---