The Nikon Z6 II, released in 2020, arrived two years after the original Z6 and brought a few improvements while keeping the same sensor and design of its predecessor.
The Sony A7 III is one of the most popular full frame cameras to date. It is two years older than the Nikon model but remains very competitive.
Let's see how these two cameras compare but first, a quick list of the things they have in common:
35mm/full frame sensor
Five axis in-body stabilisation with 5 stops of compensation
Electronic/silent shutter mode
Wifi and Bluetooth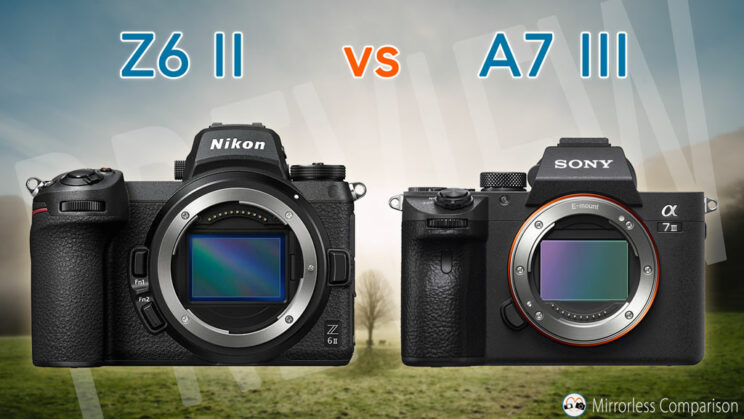 ---
Ethics statement: the following is based on official specs for the Z6 II, our direct experience with the Z6 and our long-term review of the A7 III. We were not asked to write anything about these products, nor were we provided any other compensation of any kind. Within the article, there are affiliate links. If you buy something after clicking one of these links, we will receive a small commission. To know more about our ethics, you can visit our full disclosure page. Thank you!
---
1. Image quality
The two cameras feature a full frame sensor with a very similar resolution: 24.5MP for the Z6 II and 24.2MP for the A7 III. Both sensors have a back-illuminated design and a low pass filter.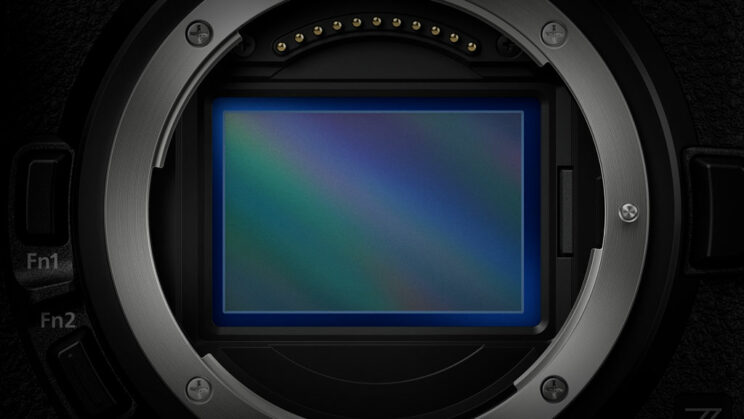 The Z6 II can save NEF files (RAW) in 12-bit or 14-bit with a choice of uncompressed, lossless compressed or compressed. The A7 III has 14-bit with compressed or uncompressed options. The Z6 can also record TIFF files.
The sensor on the Nikon is the same found in the original Z6, and since I've compared that camera with the A7 III side by side, I can tell you with precision how the Z6 II and A7 III compare.
Concerning dynamic range, the Z6 sensor does a little better with an intense exposure recovery of 4 to 5 stops where the dark areas have less noise. With less severe post processing, the results are fairly equal. With highlights, it is the A7 III that is able to preserve more information.
The two models share the same sensitivity range: 100 to 51,200 ISO, or 50 to 204,800 ISO with the extended values. Unsurprisingly, the quality is very similar as you can see below.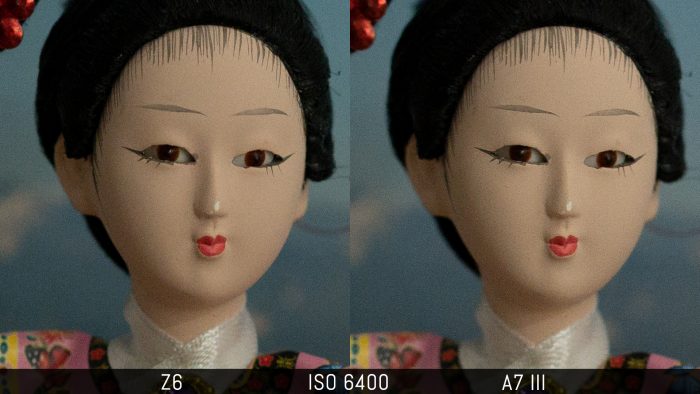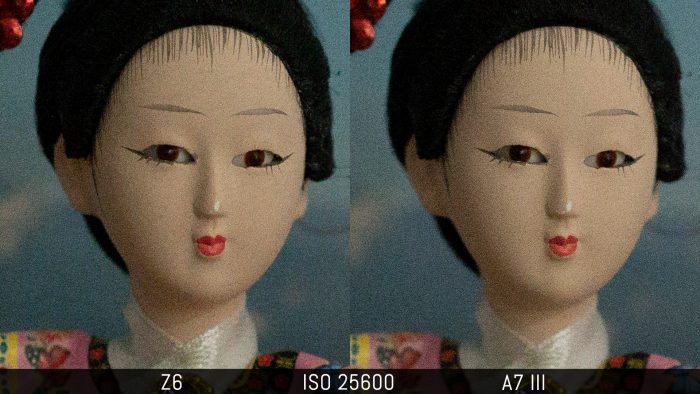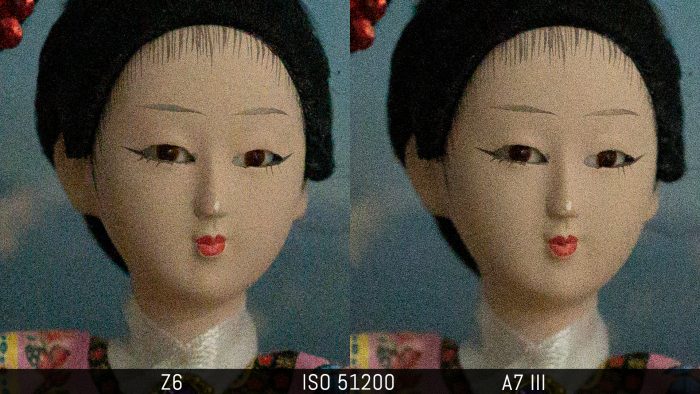 You can find more examples (including colours and skin tone) in my Z6 vs A7 III full comparison. It is possible that Nikon has slightly tweaked the software on the Z6 II, but I think you'll get an accurate representation of the main differences.
---
2. Autofocus
Both cameras feature a hybrid autofocus system. The Z6 II has 273 phase/contrast detection points distributed across 90% of the sensor area.
The A7 III has 693 phase detection points and 425 contrast detection points. The phase points cover 93% of the sensor surface.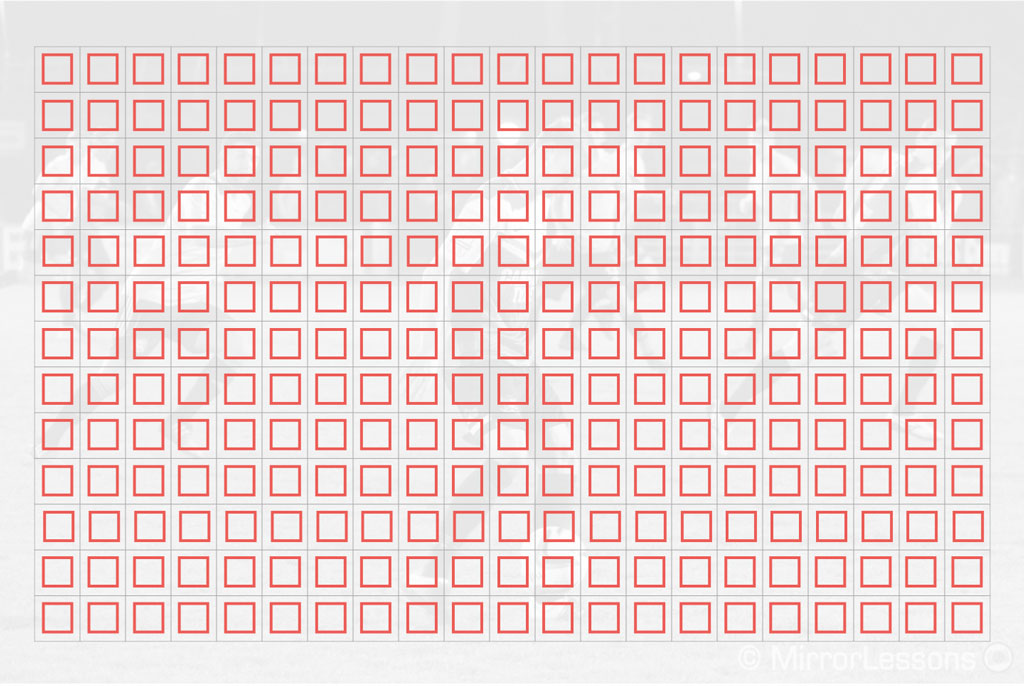 The Nikon has an advantage in low light, with minimum sensitivity of -4.5Ev, or -6Ev if you use the Low Light AF mode. The Sony goes down to -3Ev. These measurements are done with an f/2 lens for both cameras.
Both models have various settings related to the autofocus, one of the most popular being Eye AF, which works for humans and animals, although on the Z6 II the latter is limited to dogs and cats.
What I like about the Nikon solution is that you can switch between the left and right eye with the AF joystick, something that is not possible on the A7 model.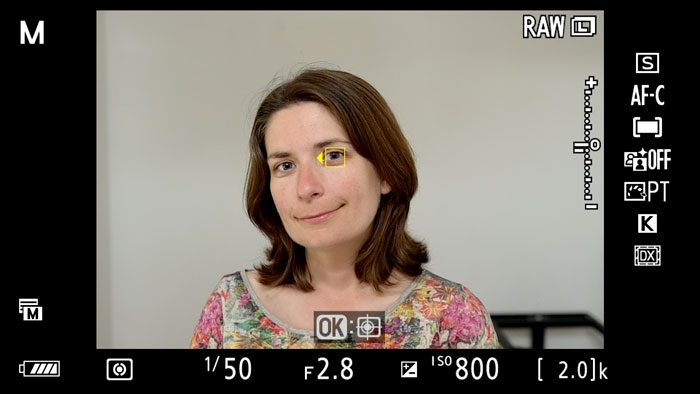 The Nikon has an advantage in video mode where Eye AF works, unlike the A7 III on which you can only choose face detection AF.
Nikon has made some improvements concerning the AF software on the Z6 II thanks to the dual image processor, so my Z6 vs A7 III comparison is probably not an accurate representation concerning this AF topic.
What I can say is that the original Z6 exceeded my expectations regarding the autofocus. Although I find Sony's Eye AF faster and more reliable, the Nikon did exceptionally well in my birds in flight test where it outranks the A7 model. If there are real word improvements on the Z6 II, then it should do even better.
---
3. Drive speed and buffer
The Z6 II has a maximum continuous shooting speed of 14fps (with 12-bit RAW) or 12fps (with 14-bit RAW).
The A7 III goes up to 10fps (with 14-bit RAW).
Concerning the memory buffer, the Z6 II can save 200 JPGs or 124 RAW (12-bit uncompressed), which equals approximately 14s and 9s before the frame rate slows down.
The A7 III is capable of shooting compressed RAW at 10fps for about 10 seconds (100 frames) before slowing down, and more than 20s with JPGs (200 frames).
---
4. Video
Both cameras can record 4K video and have a set of advanced settings for those of you who want more control over image quality and parameters. That said, there are a few important differences to notice:
Log and HDR profiles are only available via HDMI on the Z6 II
The A7 III doesn't have 10-bit or RAW video recording options
The Z6 II can record 4K up to 60p, but only with a 1.5x crop (equivalent to the DX/APS-C mode). Firmware 1.10 is required.
Here is a table to recap all the main differences.
Video specs.
Z6 II
A7 III
4K 50/60p
DX mode
–
4K 24 to 30p
Yes
Yes
1080 120p
Yes
Yes
4K / 1080p120
bitrate
144Mbps
100Mbps
Full HD 60p
bitrate
56Mbps
50Mbps
Bit depth
(internal)
8-bit 4:2:0
8-bit 4:2:0
Bit depth
(HDMI)
10-bit 4:2:2
8-bit 4:2:2
RAW*
(HDMI)
12-bit
–
Log / HDR
(internal)
–
S-Log2/3
HLG
Log / HDR
(HDMI)
N-Log
HLG
S-Log2/3
HLG
*Note: RAW recording via HDMI on the Z6 II requires a paid upgrade.
Both cameras record 4K video by oversampling a 6K region without cropping the sensor at 24fps and 25fps for the Sony, and up to 30p for the Nikon. The A7 III crops by approximately 1.2x when recording at 30p.
In 1080p, they can both record up to 120fps, although with the Nikon you need to select the High Speed/Slow Motion mode, whereas the Sony can record at that frame rate in normal mode with sound.
The Sony gives you more control over your image with the Picture Profiles that contain advanced parameters for colours, contrast, gamma and so on.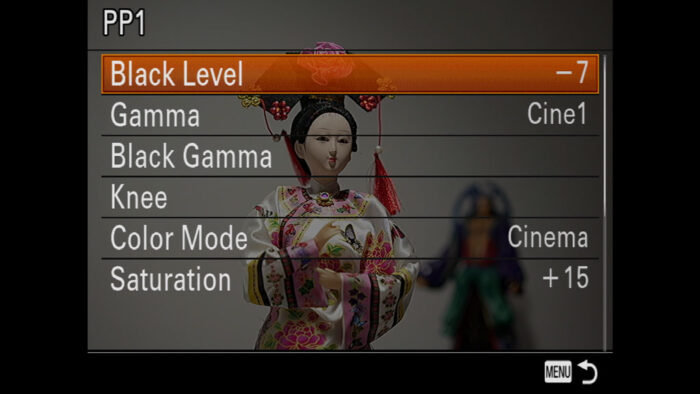 Finally, in addition to in-body image stabilisation, which also works for video on the two models, the Z6 II offers the option of electronic stabilisation, which produces a slight 1.1x crop but makes the footage steadier.
---
5. Design
The Z6 II is a bit larger and heavier than the A7 model, but both remain pretty comparable when it comes to compact full frame cameras. The have a magnesium alloy build and are weather sealed.
Z6 II: 134 x 100.5 x 69.5mm, 705g
A7 III: 126.9 x 95.6 x 73.7mm, 650g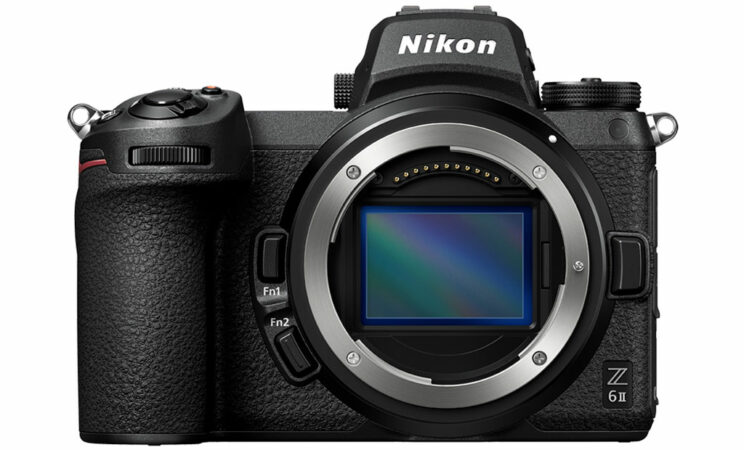 The Nikon has a larger and taller front grip (same design as the original Z6) which makes the camera a bit more comfortable to hold and use, especially with mid-sized or heavy lenses.
The Z6 II retains the same control layout as its predecessor, and is one of my favourite. The buttons are larger, there are two handy function buttons on the front and a smart photo/video switch at the rear. All Nikkor Z lenses have a function ring that can be configured for different uses: focus, aperture or exposure compensation.
Both cameras feature an AF joystick on the rear and a shooting mode dial on the top. The A7 III also has an exposure compensation dial.
The Sony has a bit more customisation to offer thanks to more custom buttons. Both feature a My Menu and Quick menu that can be customised.
Finally, both cameras feature a USB C port, a 3.5mm mic input and 3.5mm headphone output. The Z6 II has a HDMI Mini (Type C) socket whereas the A7 III uses the Micro Type D. The Sony also has a second USB port (Mini 2.0).
---
6. Viewfinder and monitors
The Viewfinder on the Nikon has more resolution and a larger magnification than the A7 model, but the eyepoint is shorter. The refresh rate is the same on both cameras.
| EVF | Z6 II | A7 III |
| --- | --- | --- |
| Resolution | 3.69M dots | 2.36M dots |
| Magnification | 0.8x | 0.78x |
| Eyepoint | 21mm | 23mm |
| Frame rate | 60Hz | 60Hz |
Both cameras feature a rear LCD screen with touch sensitivity, but the one on the Z6 model has more resolution (2.1M vs 0.9M) and is slightly bigger (3.2 vs 3.0-in).
What's more, Nikon offers more possibilities when it comes to touch capabilities: you can take a picture, move the AF point or navigate the menu and change settings. On the A7 III, you can only use it to move the AF point, or double tap to activate focus magnification.
Finally, a unique characteristic of the Z6 series that you won't find on the A7 is the top LCD screen that displays the basic settings in use, as you can see from the image below.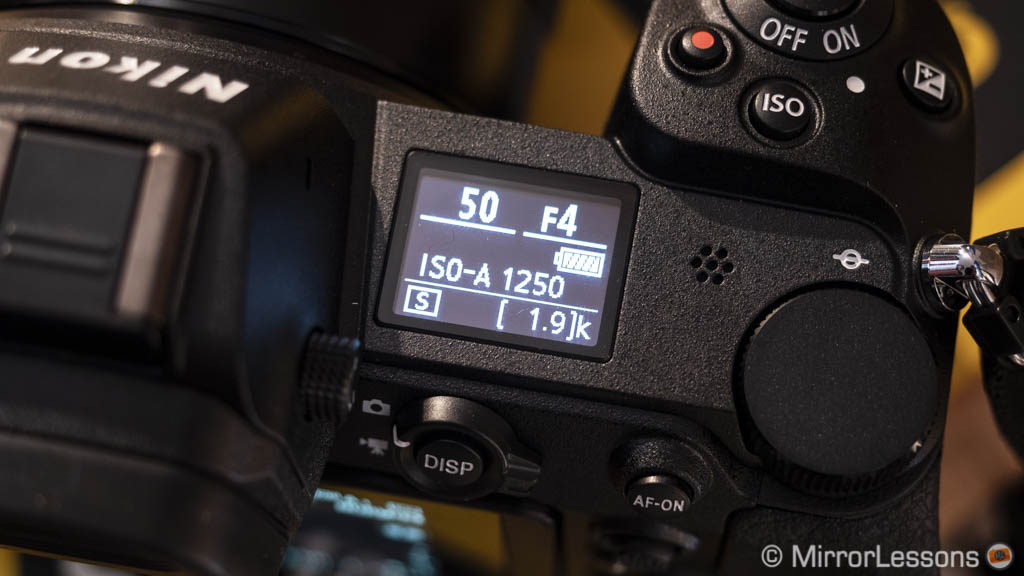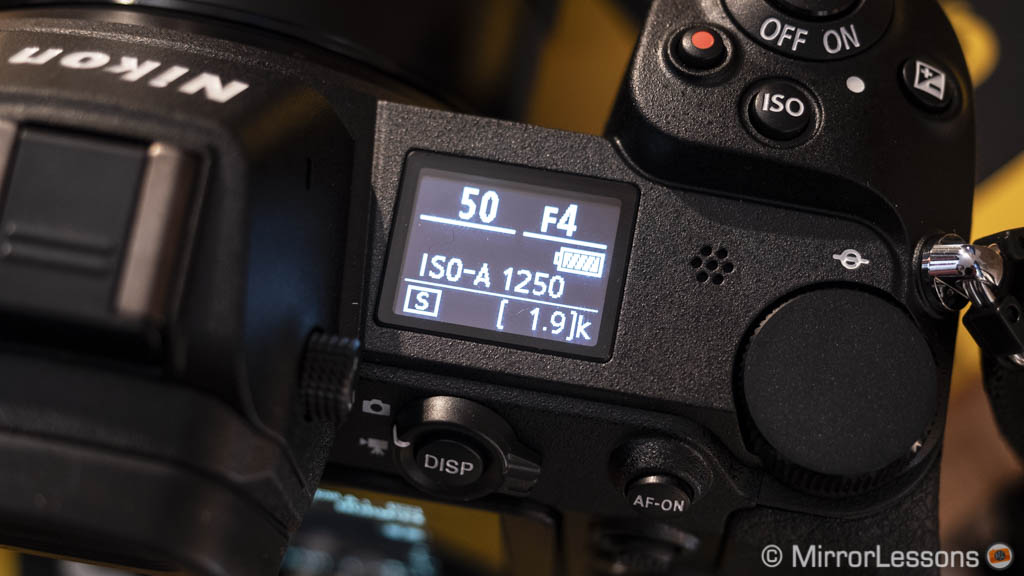 ---
7. Memory cards
Both cameras have two memory card slots but, while the A7 III uses two SD cards (UHS-II for slot no.1), the Z6 II takes a CFexpress or XQD card for slot number 1, and a SD UHS-II card for the second slot.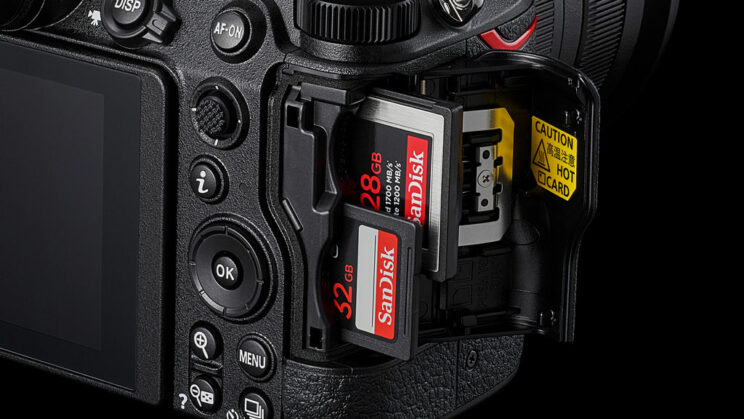 CFexpress and XQD cards have faster writing and reading speed, and are also thicker which gives you the feeling of a more robust memory. However, they are more expensive because they were introduced to the market more recently in comparison to the common SD card type.
---
8. Lenses
It's always important to talk about lenses when comparing two cameras related to two different photographic systems.
The Z6 II is part of the Z-mount, which is Nikon's full frame mirrorless series that made its debut in 2018. The company has released 18 lenses so far (plus two for DX cameras), offering a decent range that includes F2.8 zooms, F1.8 primes, all-rounders zooms and, lately, more affordable and compact prime lenses. We're still waiting for long telephoto lenses (which are on the roadmap) and more support from third party brand such as Sigma and Tamron.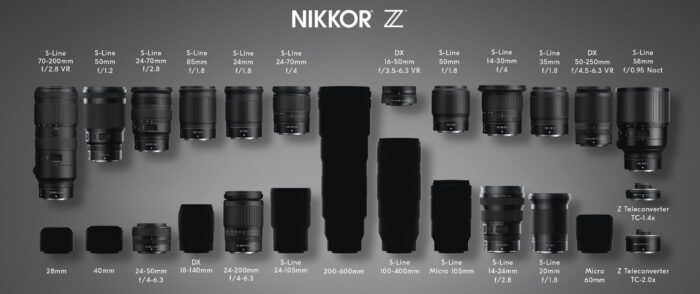 The Sony full frame E-mount system started in 2013 and, thanks to big efforts from Sony itself and the rise in popularity, the series is seeing an increasing support from third party manufacturers.
At the time of publishing this article, there are no fewer than 78 lenses designed specifically for the A7/A9 series from Sony and 3rd party, and I'm just counting autofocus lenses. There is anything you could possibly wish for, from high quality and expensive lenses to affordable options, from very wide to super tele.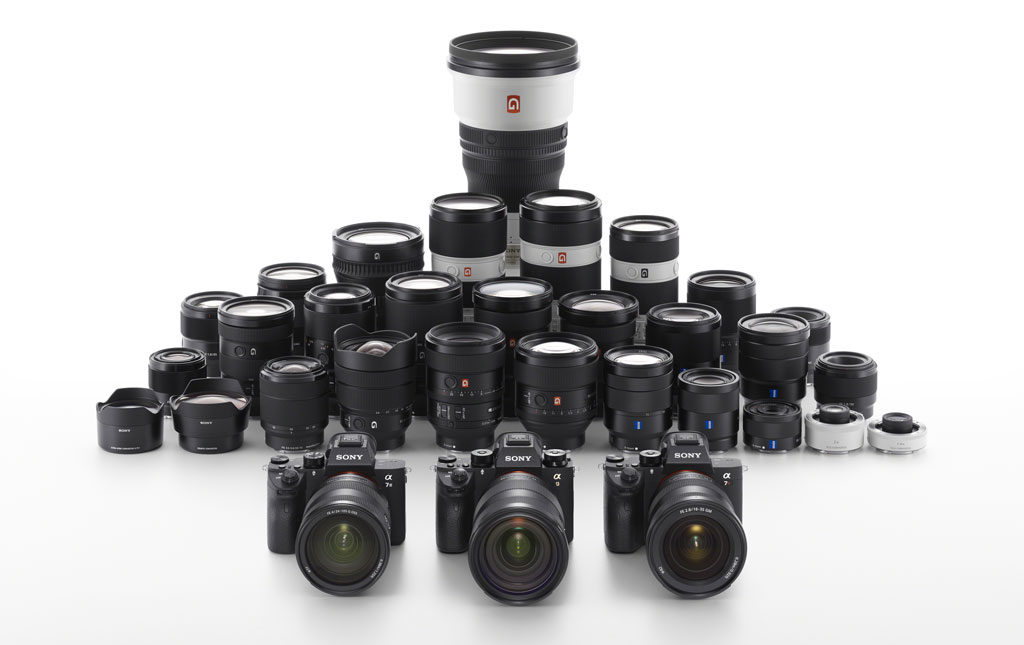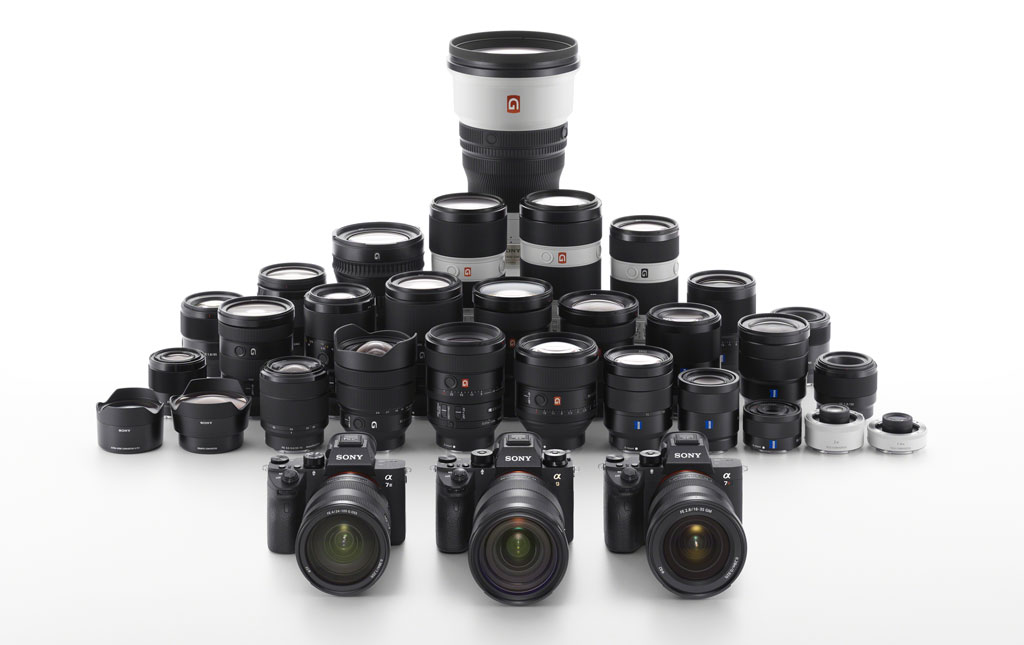 The choice for Nikon users expands if we include Nikkor F lenses designed for DSLRs. The company released its own adapter, the FTZ, to help its customers transition more easily to the new system.
You can adapt Nikon lenses on Sony cameras as well, and there are various third party adapters that retain automations, but in my experience, it's not as fast or reliable as using a Z6 and the FTZ adapter.
---
9. Battery life
The Z6 II has an official rating (CIPA) of 410 shots for a single battery charge if you use the LCD screen. With the EVF, it drops to 390 images.
The A7 III has a better battery life, with a rating of 710 frames (LCD) or 610 frames (viewfinder).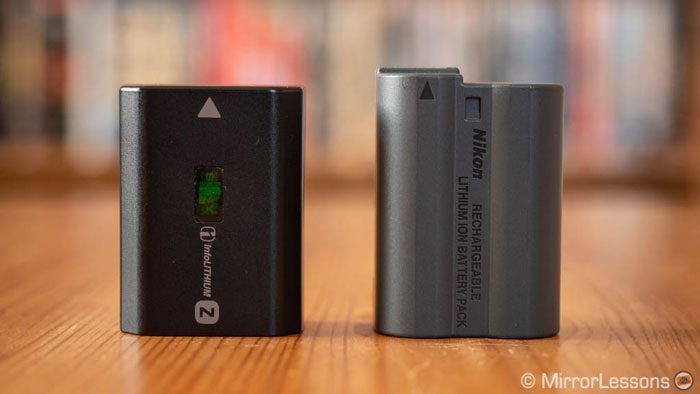 Of course, in real world use, you can achieve better than that but the numbers above already give you a pretty good idea of how they compare.
In my experience with the A7 III, I can easily save more than 2,000 frames with continuous AF and burst shooting, and still have 30 to 35% juice left.
The Z6 II uses a battery with more capacity in comparison to its predecessor, so the battery life should be around 15% better than the Z6, but it is still no match for the Sony performance.
The two cameras can be charged or powered via USB, and there is an optional battery grip for both.
---
10. Price
The Z6 II is available at the retail price of $2000 / £2000 / €2200.
The A7 III is less expensive and can be found for $1700, £1700 or €1950.
Prices as of late September 2021 and for the body only.
---
Conclusion
With the Sony A7 III, you have the advantage of buying into a system that is older, has many more lenses to offer and is also a bit less expensive. It is a very popular camera and has proved itself worthwhile when it comes to image quality, autofocus and video. You can't really go wrong by choosing an A7 mark III, even three years on from its release.
The Z6 II shouldn't be underestimated though. Nikon has corrected the mistakes made with the first model (like having only 1 card slot) and has improved various things, some of which were already good on the first model, like the autofocus performance. I also prefer its ergonomics and button layout. There are fewer native lenses available, but more are coming.
Check price of the Nikon Z6 II on
Amazon | Amazon UK | B&H Photo | eBay
Check price of the Sony A7 III on
Amazon | Amazon UK | B&H Photo | eBay