Back when it was first released, the Sony RX100 IV surprised us with its exceptional speed, video performance and super slow motion capabilities up to 1000fps, something unseen on a compact camera before. It rightfully claimed the title of the most advanced compact camera on the market.
The new RX100 mark V retains most characteristics found on the previous version: 20MP of resolution, a 24-70mm (equivalent) f/1.8-2.8 zoom lens, 4K video, High Frame Rate mode, electronic shutter with 1/32000s and anti-distortion technology (no rolling shutter for stills), pop-up viewfinder, a 180° tilting screen and the same pocketable compact body.
What's important to note is that Sony has managed to make the new model even faster than before, while upgrading the autofocus system to a whole new level by implementing phase detection. This should improve one of the only aspects of the series that was good but not great.
So once again, the new RX100 V brings some relevant improvements to the series while enhancing other smaller details.
From now on, we're going to be looking at the ten main differences between the RX1oo IV and RX100 V but first, you can check out some side-by-side images: the two products are basically identical. Nothing has changed concerning the design, dials, buttons, size or weight.
---
Ethics statement: The information supplied in this article is based on official specifications, press releases and our personal experience with Sony cameras. If we get the chance to test the two cameras side-by-side, we will publish a full comparison. We were not asked to write anything about these cameras, nor were we provided any compensation of any kind. Within the article, there are affiliate links. If you decided to buy something after clicking the link, we will receive a small commission. To know more about our ethics, you can visit our full disclosure page. Thank you!
---
1. Autofocus system
The RX100 IV has a contrast detection system with 25 points that offers good performance for a compact camera but is definitely slower for video.
The RX100 V takes the camera to a whole new level with a hybrid system that includes 315 phase detection points that cover 65% of the frame. The new system ensures great performance when recording 4K video as well, and the camera incorporates dedicated settings to fine-tune the performance taken from the A7 and a6000 series (AF Drive Speed and AF Tracking).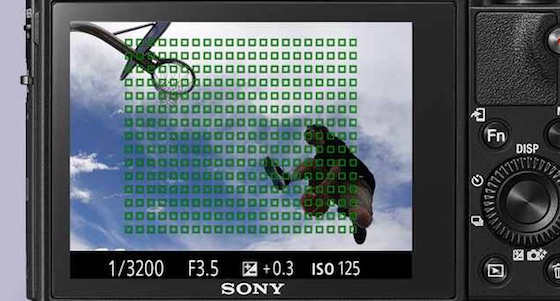 New to the RX100 mark V is the AF-A mode where the camera automatically switches between Single and Continuous AF when it detects that the subject is moving.
Now that the mark V version has phase detection, the EyeAF mode (available in Continuous AF) should also see a relevant improvement in speed and accuracy.
---
2. Continuous shooting speed and buffer
One of the excellent characteristics of the RX100 mark IV is its continuous shooting speed with a maximum of 16fps (speed priority, meaning AF is locked on the first frame) and 5.5fps in Continuous AF with long lasting buffer.
The RX100 V manages to do better with a speed of 24 fps in Continuous AF and a maximum buffer of 150 shots before the camera starts to slow down (with JPG Fine format). The viewfinder blackouts between shots have also been reduced when shooting at a high speed.
---
3. Image sensor
Both cameras have a 20.2MP stacked Exmor RS™ CMOS sensor. Stacked means that there is a DRAM chip that allows for faster readout and data processing. This technology allows the camera to record in 4K with full pixel readout, shoot in super slow motion and get rid of rolling shutter when using the electronic shutter for stills.
The RX100 V features an updated version of this sensor which includes a new front-end LSI chip that maximises the speed and expands the memory buffer as seen above. Coupled with the BIONZ X image processor, the LSI chip should also increase the image quality at high ISOs.
The ISO sensitivity remains the same on both cameras with a native range of 125 to 12800 ISO, an extended "pull" option at 80 ISO and a 25600 ISO option available in JPG only with the Multi-NR mode.
---
4. Longer clip lengths in HFR mode
The feature I love the most about the RX100 mark IV is the slow motion capabilities, up to 120fps in Full HD (normal movie mode) and 1000fps with the HFR mode. Certainly the higher the frame rate, the greater the loss in quality but up to 500fps it remains decent considering that before this camera, such a high speed was only possible with expensive cinema cameras.
The RX100 V has the same HFR mode with three speeds available. For each speed, the camera shoots at a lower resolution, then upscales to Full HD when recording the file. More specifically, you get:
200/240fps at 1824×1026 (Quality mode), 1676×566 (Time mode)
500fps: 1676×566 (Quality), 1136×384 (Time)
1000fps: 1136×384 (Quality), 800×270 (Time)
The improvement on the mark V model is that Quality mode is now 4 seconds instead of 2, and Time mode goes up to 6s instead of 4. This is good news as it will give you a little more leeway to record fast or unpredictable movements.
When recording in HFR with both cameras, you need to set your exposure and focus settings first, then enter a preview mode where everything is locked. The camera shoots the video for a short time, then writes the file to the SD card.
Below you can see a video I recorded with the RX100 IV to get a better idea of these capabilities.
---
5. Photo Capture to save an image from 4K movie
The RX100 IV allows you to record a 17MP JPG while recording movies, a function that has been preserved on the RX1oo mark V as well.
However, the new camera receives an extra feature called Photo Capture that allows you to save any of the frames of 4K or Full HD footage as a JPG image. The concept is very similar to the 4K Photo feature of Panasonic Lumix cameras. In 4K you get an 8MP JPG and in Full HD you can save a 2MP JPG.
---
6. Focus magnification
The RX100 V gives you more flexibility when using focus magnification. You can select the initial ratio (5.3x or 10.7x), or choose to magnify the centre of the frame or where the focus point is.
---
7. File Name Setting
A small update to the RX100 V also seen on other recent Sony cameras is the possibility to set the first three characters that comprise the name of the file saved onto the SD card, which can be convenient for sorting and organising shots taken in different places.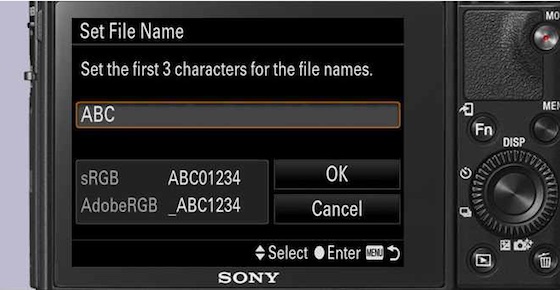 ---
8. QR connection
Both cameras have Wi-Fi and NFC capabilities but the RX100 V comes with a new QR code that allows for a quick connection with non-NFC mobile devices without having to connect the devices manually.
---
9. Battery life
The battery life of the RX100 IV is not great, especially if you record 4K video or shoot in continuous mode at a high speed. The official specifications state a maximum of approximately 280 shots and 45 minutes of video recording (actual shooting).
The new RX100 V actually performs worse according to the official Sony page with a max. of 220 shots and 35 minutes for video. It seems that the new camera is even more power hungry than its predecessor.
---
10. Price
Despite being more than one year old, the RX100 IV can be found for around $1000, £829 or €1000 which is still a high price.
The RX100 V will be available for the same price in US dollars but will be more expensive in Europe at €1200 or £1200.
---
Conclusion
It seems clear that the autofocus system is the main feature that has been upgraded on the RX100 V. Phase detection means more accurate results in Continuous AF for both stills and videos. Being able to shoot at 24fps with AF tracking is also another impressive feature and actually surpasses the capabilities of Nikon 1 cameras that can go as fast as 20fps but with less impressive buffer capabilities.
Once again, Sony is aiming to impress with speed and performance and the RX100 V seems like an interesting upgrade. It almost feels like a camera that is too powerful for what it is – a compact camera that you could use for holidays and snapshots. It is also expensive at more than $1000. What is interesting is that the other models are still on the market and a camera like the RX100 mark III could become a great deal if it is discounted. You don't get 4K or 24fps, but you have the built-in EVF and the same excellent 20MP 1-inch sensor.
What do you think of the new RX100 V? Does it interest you or would you happily choose the RX100 IV?
Check price of the Sony RX100 IV on
Amazon | Amazon UK | B&H Photo | eBay
Check price of the Sony RX100 V on
Amazon | Amazon UK | B&H Photo | eBay
---
---
You may also enjoy the following articles: