In an effort to simplify its line-up of mirrorless interchangeable lens cameras, Panasonic recently assigned the "GX" prefix to all its flat-topped models. While it was once possible to decipher the target audience from the prefix itself, we now have to look at how many digits follow the prefix: one is used for the flagship (GX?), two for the mid-range model (GX??) and three for the entry-level model (GX???).
In the following comparison, we're going to be looking at how the current mid-range and entry-level products, the Lumix GX85 and GX850*, compare. The former was released over six months ago and has proven just as successful as its predecessor, the GX7, while the latter replaces the GF7 (and the GF8 in Asia) and is one of Panasonic's latest interchangeable models.
*Note that these cameras are alternatively known as the GX80 and GX800 in Europe. Funnily enough, the new naming system does not apply in Japan where they are called the GX7 II and GF9 respectively.
---
Ethics statement: We purchased the Lumix GX85 for our own personal use, while the Lumix GX850 was sent to us by Panasonic UK for a loan period of two weeks. We were not asked to write anything about these cameras, nor were we provided any other compensation of any kind. Within the article, there are affiliate links. If you buy something after clicking the link, we will receive a small commission. To know more about our ethics, you can visit our full disclosure page. Thank you!
---
[toc heading_levels="2″]
---
Main Specifications
Lumix GX850
Sensor: 16MP Micro Four Thirds
Lens system: Micro Four Thirds mount
Weather-sealing: No
Internal stabilisation: No
Autofocus: Depth from Defocus contrast detection
Continuous shooting: 10fps (electronic shutter), 5.8fps, 4fps and 2fps (S-AF)
ISO Sensitivity: 200 – 25600 with 100 (Extended)
Shutter speed: 60s – 1/500 (mechanical), 1s – 1/16000 (electronic)
Viewfinder: No
Rear monitor: 3-inch TFT LCD monitor with touch control
Movie recording: 4K at 25p/24p, Full at 50p/25p
Built-in flash: Yes
Silent mode: Yes
Extra features: 4K Photo, Multiple Exposure, Panorama, Time Lapse, Stop Motion Animation, Bracket, Built-in Wifi
Dimensions: 106.5 x 64.6 x 33.3 mm
Weight: 269g (with battery and SD card)
Lumix GX85
Sensor: 16MP Micro Four Thirds
Lens system: Micro Four Thirds mount
Weather-sealing: No
Internal stabilisation: 5-axis in-body and Dual I.S.
Autofocus: Depth from Defocus contrast detection
Continuous shooting: 40fps (electronic shutter), 8fps, 6fps or 2fps (S-AF)
ISO sensitivity: 200 – 25600 with 100 (Extended)
Shutter speeds: 60s – 1/4000 (mechanical), 1s – 1/16000 (electronic)
Viewfinder: LCD Live View Finder (2,765k dots equivalent)
Rear monitor: 3-inch TFT LCD monitor with touch control
Movie recording: 4K at 25p/24p, Full at 50p/25p
Built-in flash: Yes
Silent mode: Yes
Extra features: 4K Photo, Multiple Exposure, Panorama, Time Lapse, Stop Motion Animation, Live Cropping, Bracket,  Built-in Wifi
Dimensions: 122 x 70.6 x 43.9 mm
Weight: 426g (with battery and SD card)
---
Design and Build Quality
The topic of design and build quality always comes first in all our comparisons, and in this case, I'm particularly glad of it because this is where most of the differences between the two cameras lie.
First, let's get the obvious size difference between the GX85 and GX850 out of the way.
The GX850 is currently one of the smallest mirrorless interchangeable lens cameras in Panasonic's line-up, so it shouldn't be a surprise to learn that the GX85 is noticeably larger and nearly double the weight. This isn't to say that the GX85 is a big camera – it's just that it could never be mistaken for a compact like the GX850.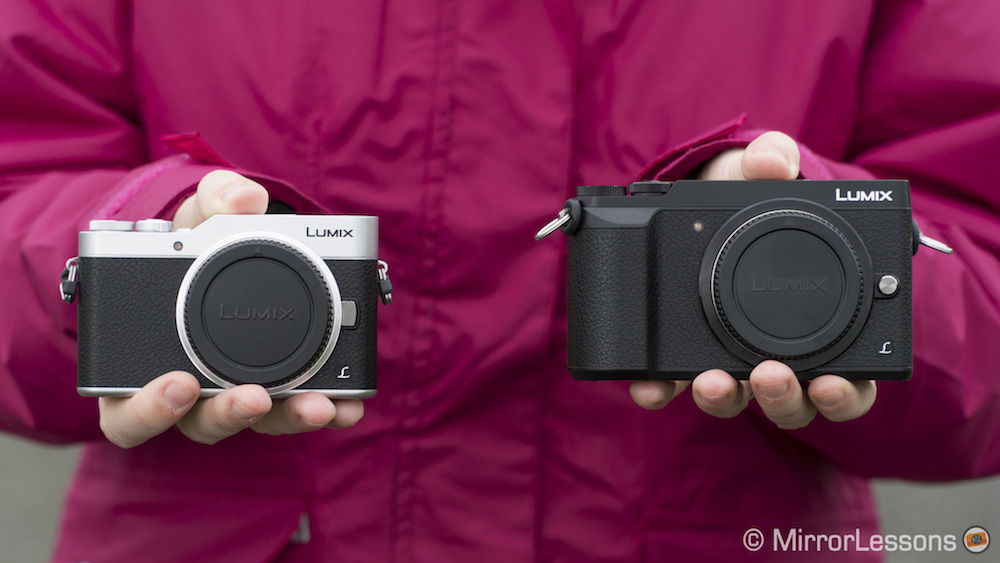 Neither camera is weather-sealed but the GX85 certainly feels more robust and weighty in the hand and is the only one to feature a sculptured grip out front for your fingers. This makes it easier to use with medium-sized lenses.
With the GX850, it makes sense to stick with the provided 12-32mm kit lens, pancake lenses or very small primes. (We don't advise using large telephoto lenses with either camera as they'll render the combo too front-heavy and may prevent you from mounting the camera on a tripod.)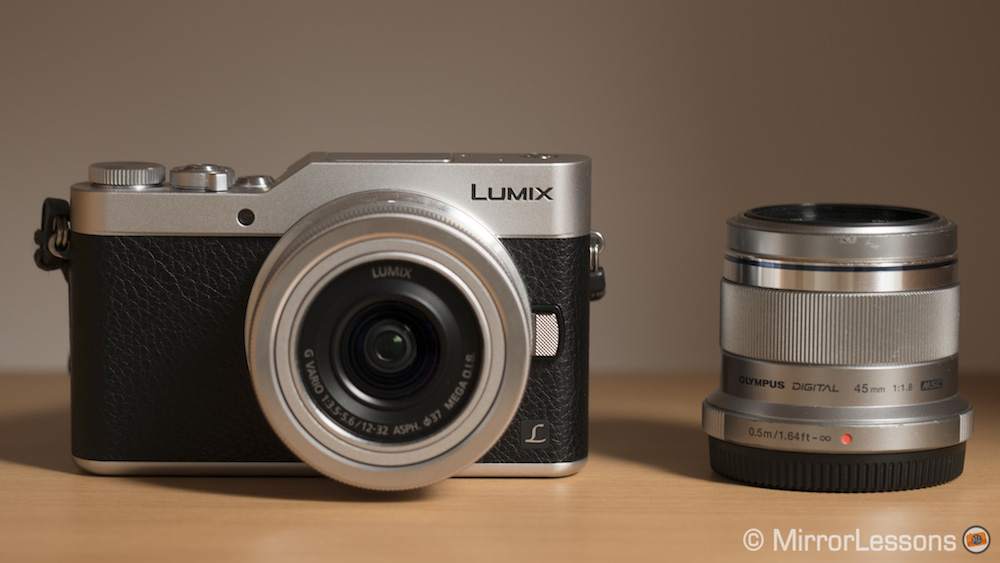 Turning to the top plate, we find that both cameras come with a PSAM mode dial, albeit with marginally different options. The GX850's is more geared towards entry-level needs as demonstrated by the presence of on-dial Portrait and Child modes, while the GX85's comes with advanced options such as Custom Set Memory (C) to which you can save your preferred settings, and Video. Both come with Panorama, Intelligent Auto, Scene Guide, and Creative Control.
The on/off switch of the GX850 surrounds the shutter release button, while the GX85's is located below the PSAM dial. The looser of the two is the GX850's and on more than one occasion, the camera accidentally turned on while inside my bag because the switch had brushed against the inner walls.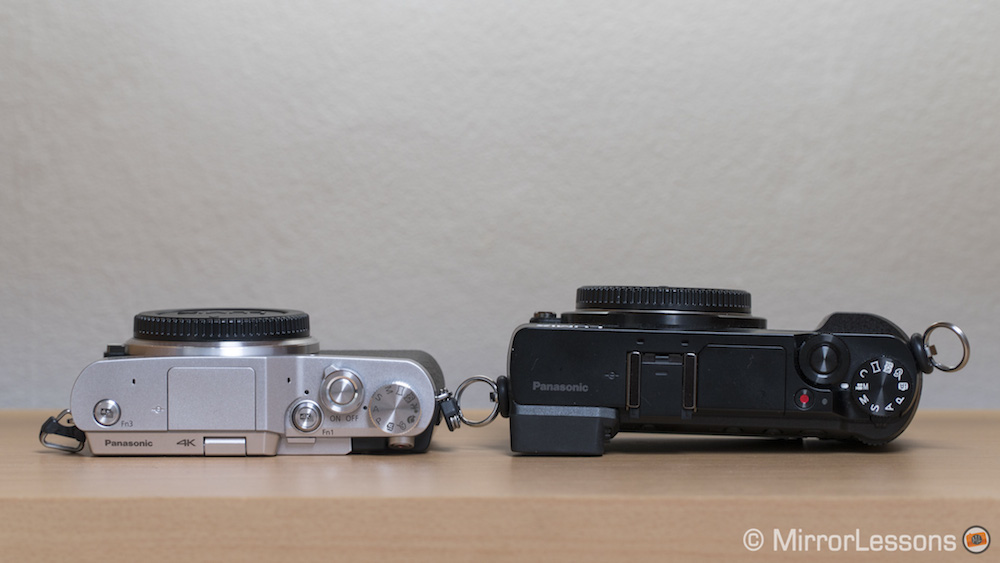 Front and rear control dials can be found on the GX85, which you can use to rapidly change your exposure (shutter speed and aperture). To do the same on the GX850, you are limited to the rotating control wheel on the rear, which isn't the most comfortable solution if you want to make quick adjustments.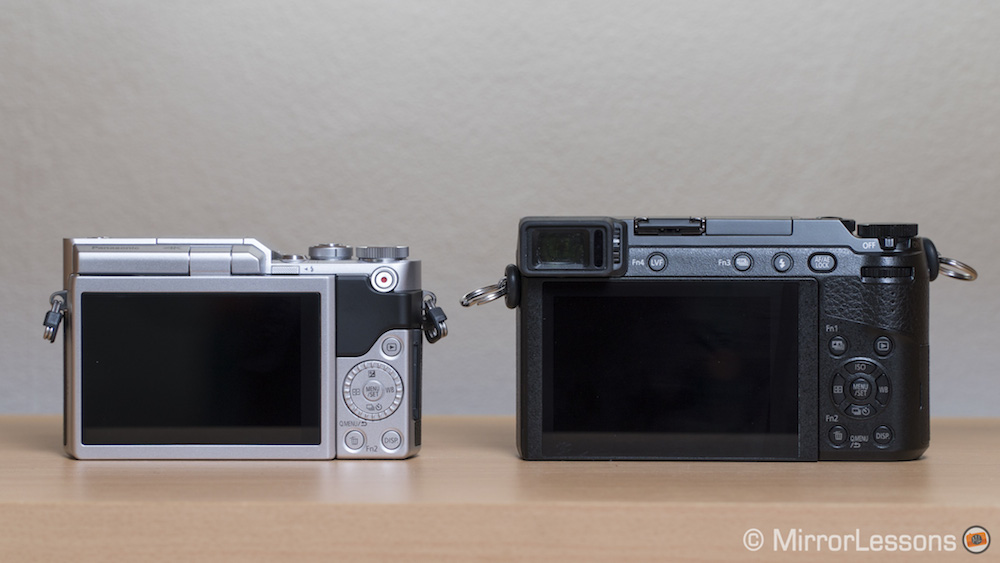 Because the GX85 body is bigger, it also has more space for additional buttons on the rear. In total, there are 13 (including the four-way control pad) and you can customise 4 of them with your preferred settings. The GX850, by contrast, has 10 buttons on the rear and top plate, of which 3 are customisable. To facilitate one-handed shooting, the majority of controls are located on the right-hand side of the body.
Both cameras come with a dedicated movie record button but it isn't particularly easy to press on either body due to its recessed design. The work-around on the GX85 is to enter the dedicated movie mode with the PSAM dial and press the shutter button instead.
A pop-up flash is included on both cameras and is activated by pressing a button on the GX85 or pushing a sideways-moving switch on the GX850. I personally prefer having a button, as the GX850's switch is quite stiff. Next to the pop-up flash on the GX85, you'll also find a hot shoe for external accessories such as an external flash unit.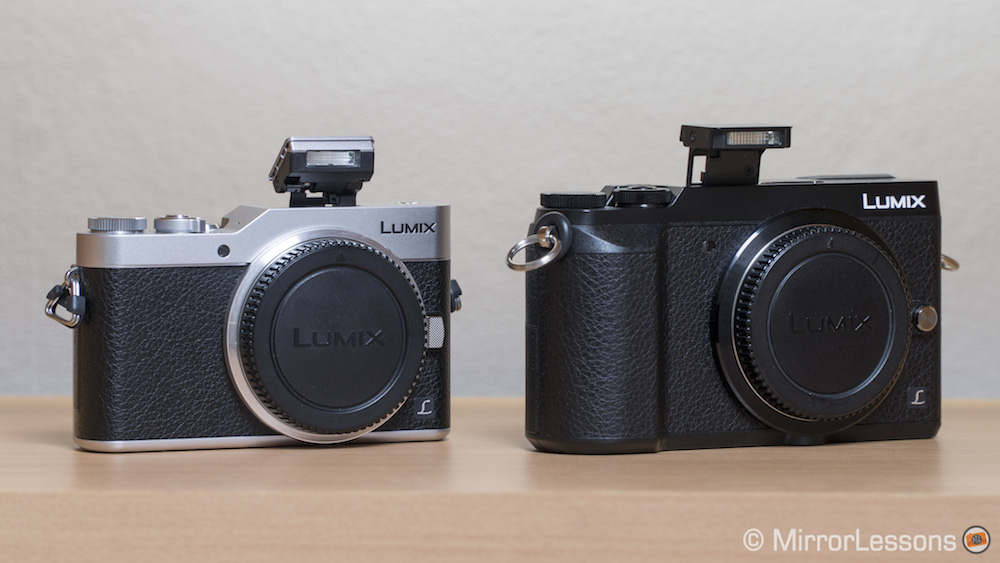 The two cameras feature the same 3-inch LCD monitor on the rear with 1040k dots of resolution, an aspect ratio of 3:2 and touch sensitivity. Where they differ is in their tilting mechanism.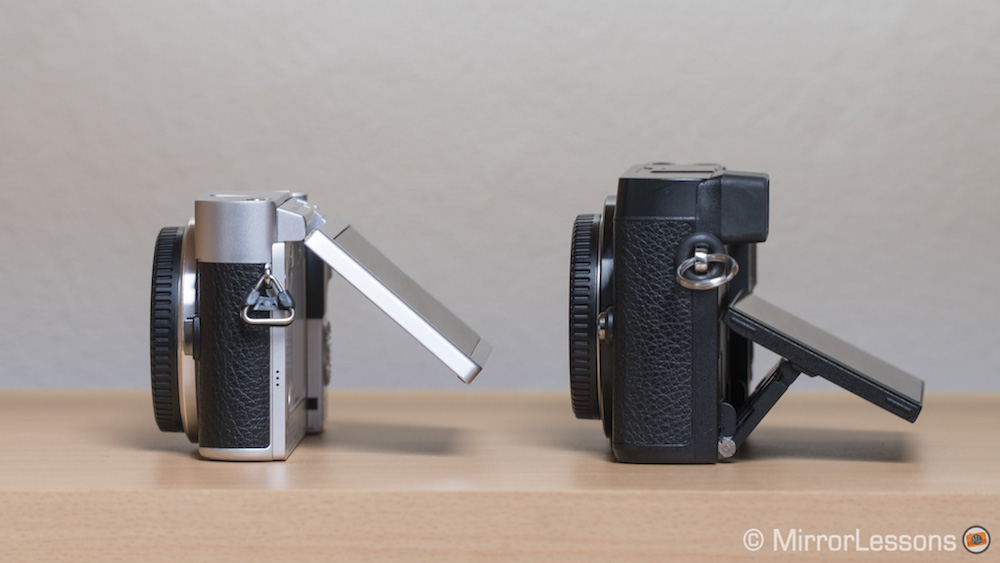 While that of the GX85 only tilts up 90 degrees and down 45 degrees, the GX850's flips up a full 180 degrees. When in this position, it activates a Self Shot mode with a vast array of options that we'll investigate later on in the Extra Features section of the article.
Between the two, only the GX85 comes with a built-in electronic viewfinder (EVF). Positioned on the left side of the body, it helps you to view your scene when bright light makes it difficult to see the LCD. It is also useful when following moving subjects, and helps to avoid camera shake associated with holding the camera out at arm's length to see the rear screen.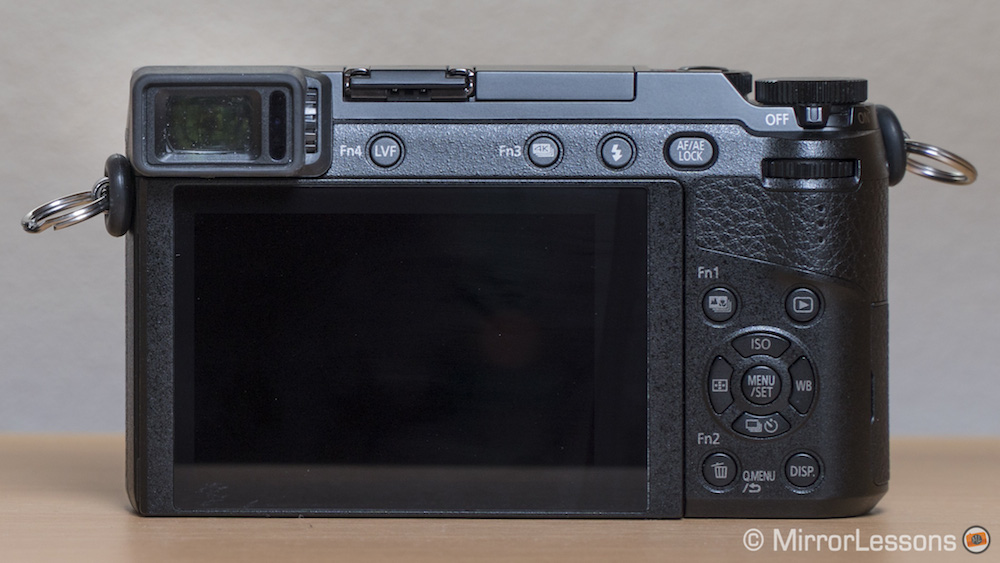 Though the EVF serves its purpose, it isn't my favourite on the market for few reasons. First, the image appears smaller when shooting in the native 4:3 format due to the 16:9 aspect ratio of the finder. Second, in lieu of an OLED screen, it uses field sequential technology that can produce unwanted rainbow effects when panning or in backlit situations. Finally, though the declared resolution is 2.76 million dots, it is not native. To give the perception of high resolution, the EVF displays the red, green and blue dots in rapid sequence.
The decision to deprive the GX850 of an EVF likely has more to do with keeping the price down and justifying its "entry level" status than any sort of technical limitation, as many similarly-sized cameras such as the Lumix GM5 or Sony RX100 III/IV/V have one built in.
Though the cameras use different batteries, they can both be charged via the USB port on the side. Located below the USB port is an HDMI input. Sadly, microphone and headphone ports are absent on both bodies.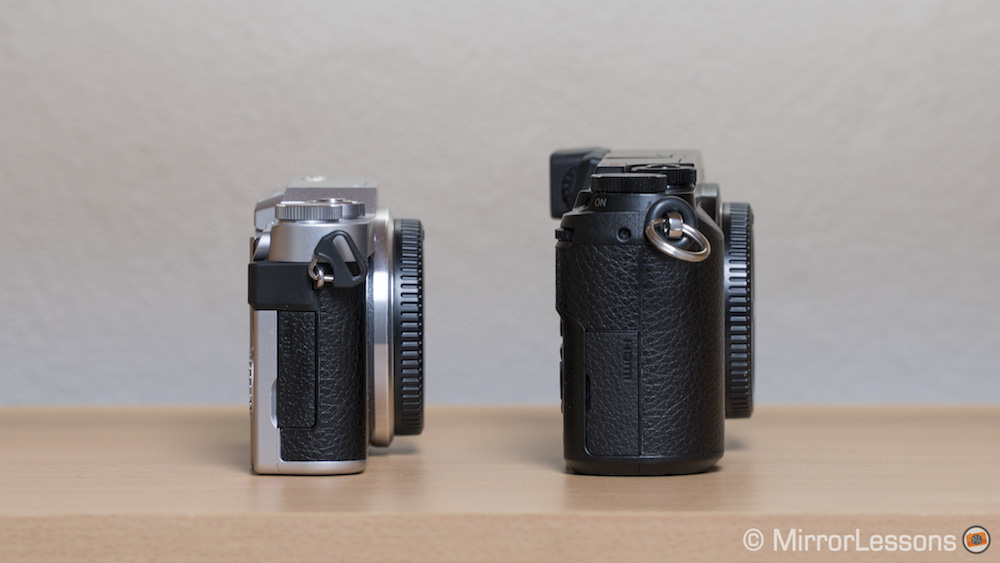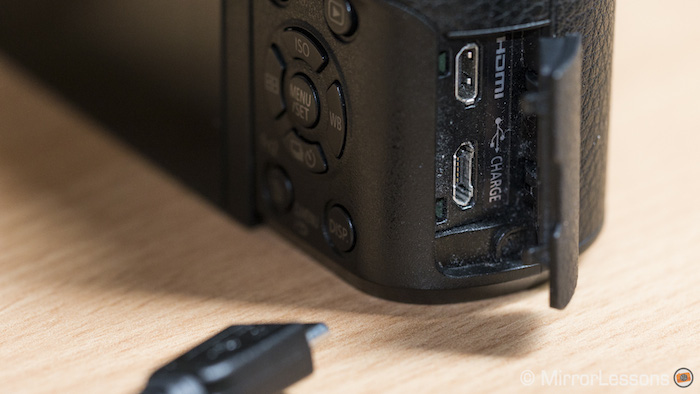 If you already own a mountain of SD memory cards, be aware that the GX850 only accepts Micro SD cards, which are the same as those used for smartphones. The GX85, by contrast, is compatible with all standard SD cards.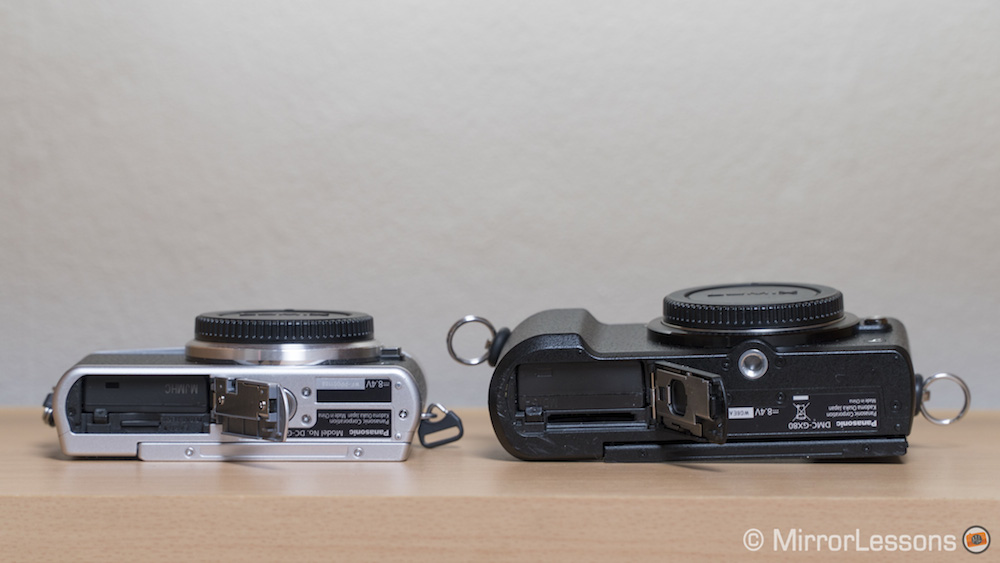 Finally, although the models you see here are black/silver and black respectively, they actually come in additional colours. The GX850 is available in pure black, black/silver, pink and brown, whereas the GX85 is available in black, black/silver and brown/silver.
---
Menu System and Operation
Panasonic has been using the same menu system on its Lumix cameras for quite a few years now and we personally find it one of the most user-friendly interfaces out there thanks to its good organisation, legible font, and the small scrolling explanations that accompany each setting.
90% of the menu options are identical on the two cameras, with most differences being related to the electronic viewfinder and stabilisation system of the GX85. A few other exceptions include advanced options on the GX85 that would be of little use to an entry-level user, and vice versa. For example, the GX85 has a Highlight/Shadow setting that lets you adjust the brightness of dark and bright areas of the photo, whereas the GX850 has an entire section dedicated to the Self Shot mode.
Both cameras come with a customisable Q (quick) menu that is accessible from the Fn2 button. This menu gives you immediate access to all the most important settings.
As for the operational speed, I've noticed that the GX850 takes longer to go from capture to playback mode than the GX85, especially if you've only just taken a picture or turned the camera on. Otherwise, the performance is very similar.
---
Image Quality
In terms of image quality, you'll be happy to know that there is very little, if anything, to compare.
The GX85 and GX850 use the very same 16MP Micro Four Thirds sensor found inside most current Lumix cameras. Neither has a low-pass filter over the sensor, which means the camera can record more detail (about 10% more according to Panasonic) than previous 16MP sensors with a low-pass filter. However, because of this, there is also a higher chance of moiré patterns appearing in your images if you photograph objects with repetitive details such as the fabric of a jacket or bag. Thankfully, some photo editing software programs have a moiré removal tool that allows you to solve the problem in a matter of seconds.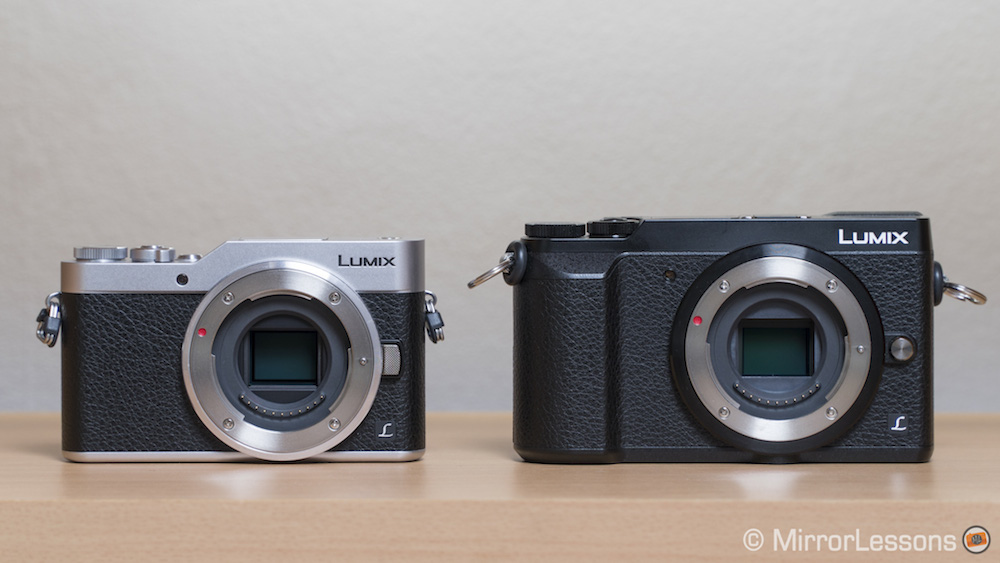 The 12-bit RAW files produce punchy yet natural-looking colours that don't tend towards any particular tint. The same can be said for the out-of-camera (OOC) JPGs whose sharp and colourful rendering is only let down by the excessive noise reduction at the higher ISO values. It is for this reason I tend to set Lumix cameras between 0 and -5 NR if I decide to use the OOC JPGs.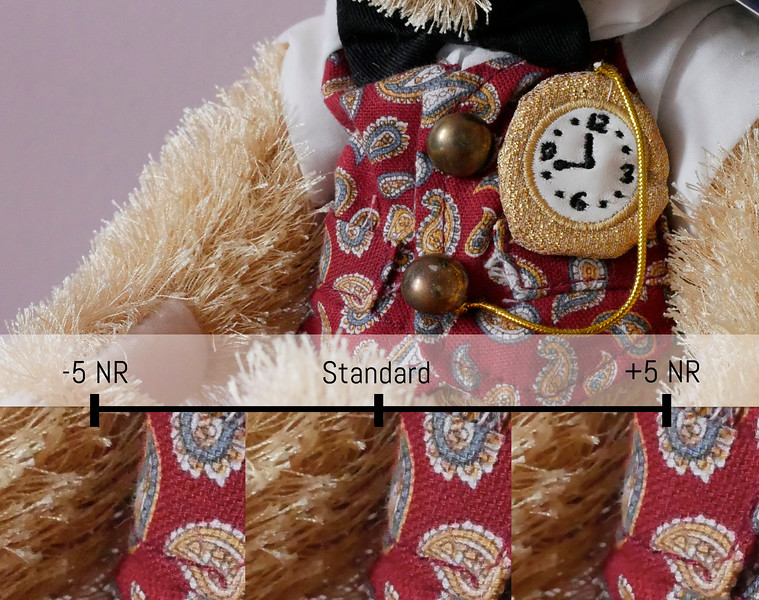 As for high ISO performance, the results are useable up to around 3200 or 6400 depending on your personal tolerance for noise. 12800 can be used for newspapers or web use, while 25600 should be avoided due to a visible loss in contrast, excessive noise and inaccurate colouring.
The dynamic range of the sensor is flexible enough that, when editing the RAW files, you can usually open the shadows one or two stops in post production without encountering excessive noise. The highlights are somewhat weaker but this can be said of all 16MP Micro Four Thirds sensors.
For the example below, I opened the shadows by +75 and reduced the highlights by -50. 
Both cameras come with a range of Photo Styles, which is Panasonic's name for its colour/monochrome profiles. They include Standard, Vivid, Natural, Monochrome, Scenery, Portrait, and Custom Standard and a new L.Monochrome profile that produces a more contrasty black and white rendering than the standard Monochrome profile. Whenever I opt to use a Photo Style, it is usually the one I end up choosing!
For each Photo Style, you can adjust the contrast, sharpness, noise reduction, colour tone and, in the case of the two monochrome profiles, the filter effect in five steps above and below 0 (standard). These adjustments only affect the OOC JPGs.
---
Autofocus Performance
The GX85 and GX850, like all recent Lumix cameras, use Panasonic's Depth from Defocus (DFD) contrast detection autofocus system with 49 autofocus points across the frame. By evaluating two images with different depths of field, DFD calculates the distance to the subject and locks onto it more quickly than standard contrast detection AF systems.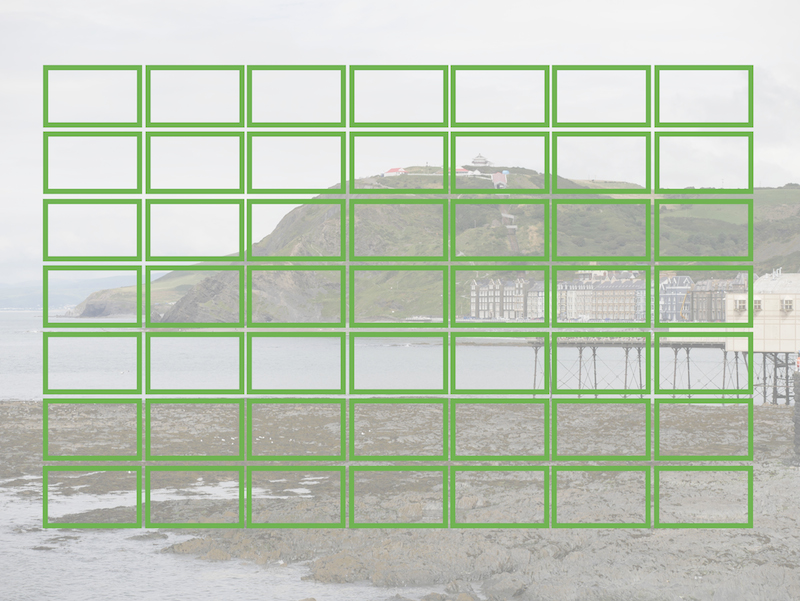 In our experience with DFD, the performance is excellent in AFS (single autofocus) mode but still lags behind much of the competition for both stills and video in AFC (continuous autofocus) mode. This is because other mirrorless brands employ a more advanced hybrid autofocus system that uses both contrast and phase detection points.
In scenes with lots of contrast, it is possible to get very good results, even if your subject is moving at a quick pace such as the runner and rally car below.
The performance tends to decrease in situations where there is less contrast, or if your subject is moving quickly and erratically.
Though every situation is different, my hit rate with Lumix cameras featuring DFD technology usually sits between 40-60%.* With the GX85, I found it easier to get good results for action than with the GX850, not due to any differences in the autofocus system but because its grip makes it more comfortable to use with longer lenses and its viewfinder makes it easier to follow fast-moving subjects.
Within the AF Mode menu, there are six different options: 1-Area, Pinpoint, 49-Area, Custom Multi, Tracking and Face/Eye Detection.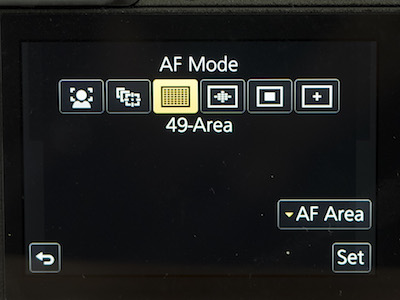 I tend to use 1-Area for shots featuring static subjects, as I like being able to select a specific point on-screen with my finger and adjust its size according to the size of the subject. Custom Multi is useful for groups or moving subjects because you can activate a cluster of AF points at the same time. I rarely use 49-Area since I find it too unpredictable, and Tracking isn't as effective as I'd like it to be.
Face/Eye Detection work fairly well on both cameras for single subjects but it may bounce from face to face in a crowded area. Regrettably, there is no way of telling the camera to concentrate on a specific face unless you activate Face Recognition within the menu.
*Panasonic recently introduced an improved version of Depth from Defocus technology with the Lumix GH5. We've yet to try it but we hope to see an improvement over the previous version of DFD.
---
Continuous Shooting and Buffer
With the mechanical shutter, the GX85 is capable of continuous shooting speeds of up to 8fps (High), 6fps (Medium) and 2fps (Low) in AFS, which is faster than the GX850's capabilities of 5.8fps (High), 4fps (Medium) and 2fps (Low). The maximum speed slows down to 6fps on the GX850 and 4fps on the GX850 when in AFC.
Switch to the electronic shutter and the GX85 becomes capable of speeds up to 40fps, while the GX850 can only manage 10fps. However keep in mind that these faster speeds are available at a reduced size and in JPG format only.
A "Live View" of your scene with blackouts (as opposed to seeing the last image taken in a sequence) is only available up to 6fps on the GX85 or 4fps on the GX850 (the Medium speed in AFS or the High speed in AFC).
Curiously, the official specifications suggest that the GX850 has a slightly better buffer than the GX85 (15 vs. 13 RAW files in a burst). In order to test this, I slotted the same Sony 64GB 95MB/s Micro SDXC card into both cameras and fired off as many shots as possible with the following settings: AFC / Medium Burst / mechanical shutter. Note that a Micro SD to SD adapter was required for the GX85.
Contrary to the specifications, I found that the GX85 outperformed the GX850, which wasn't a surprise:
GX850: 25 (RAW) before slowing down, unlimited JPGs
GX85: 43 (RAW) before slowing down, unlimited JPGs
Usefully, the GX85 displays the number of shots left in a burst in the bottom right-hand corner of the screen, whereas the GX850 does not.
An advantage of both cameras is that they can be operated even as they write images to the memory card. For example, after a burst of 40 RAW images, I was able to start shooting again almost immediately (albeit at more halting pace), play back my images and enter the menu.
---
Shutter Mechanism
The GX850 uses the same single curtain mechanical shutter as its predecessor, the GF7, and comes with electronic first curtain (EFC) and full electronic modes. The EFC permits speeds of up to 1/500s, but any value beyond 1/500s up to 1/16000s is purely electronic.
The GX85's new electromagnetically-driven shutter mechanism allows not only for a reduction in the size of the camera body, but also a quieter shutter sound and approximately 90% less shutter shock than previous Lumix bodies with a spring driven mechanism. Indeed, in our time with the camera, we never encountered any shutter shock issues and always found the shutter sound very discreet. It allows for speeds of up to 1/4000s with the mechanical shutter or 1/16000s with the electronic shutter. It does not come with an EFC option.
Note that the electronic modes of both cameras are completely silent, which is useful in situations where discretion is paramount, such as a church service or when doing street photography. However keep in mind that the electronic shutter can introduce distortion with fast movements (rolling shutter) and banding in certain artificial light environments.
---
Image Stabilisation
As of early 2016, the GX85 is one of three Lumix cameras to feature 5-axis in-body stabilisation along with the G85 and GH5. It works on its own, even with non-stabilised lenses, but by mounting Lumix G lenses with O.I.S. (optical stabilisation), you gain access to an even more advanced system called Dual I.S. – a combination of 5-axis body and 2-axis lens stabilisation.
In our tests with the GX85, we were able to achieve impressive results for stills. Our best result was close to 2 seconds with the Lumix 12-32mm kit lens at the widest angle, while at 100mm on the Lumix 35-100mm f/2.8, we managed a sharp shot at 0.8s. With just the in-body stabilisation, we achieved the same result of close to 2s at 12mm with the M.Zuiko 9-18mm f/2.8.
5-axis stabilisation and Dual I.S. also work for video recording, and you can improve the stability of your footage by activating software stabilisation, which crops the frame and digitally corrects shakes. For static shots, you can take extremely stable footage with Dual I.S. and software stabilisation but once you start panning or moving with the camera, you may notice some jittering and distortion regardless of whether or not software stabilisation is active.
Below you can watch a video that compares the GX85's stabilisation to that of the Olympus Pen F:
The GX850 doesn't feature any sort of in-body stabilisation but the 12-32mm kit lens the camera is bundled with is optically stabilised. We've found that you can take sharp shots down to around 0.6s at the widest angle (12mm). Though it does add some stability for video, it isn't enough to achieve perfectly stable footage.
---
Video Capabilities
Just as the still quality of the GX85 and GX850 is identical, so is the video quality. They both shoot in 4K at 24/25/30p at 100Mbit/s, as well as in Full HD at 50p/60p at 28Mbit/s or 25p/30p at 20Mbit/s. (Note that some frame rates may not be available depending on where you live. For example, our European sample of the GX85 doesn't have a 30p option.)
The 4K footage is sharp, the dynamic range is excellent and we didn't come across any significant examples of moiré or aliasing. As for the low-light performance, the footage is useable up to around 3200 ISO, just a stop below the maximum sensitivity of 6400. Thee crop factor for video is 2.2x.
The only video feature that doesn't live up to our expectations is the continuous autofocus. It can take the autofocus system quite a long time to shift from one focus point to another, or to catch up with the movements of a subject. For this reason, I often end up using single AF or manual focus with Lumix cameras.
Despite the quality of the footage being identical, the GX85 remains the better choice for serious video work for a few reasons. First, the 5-axis stabilisation and compatibility with Dual I.S. gives you more stability for hand-held work. Second, it is compatible with SD cards, which tend to be faster and have more room for large video clips. Finally, it has a longer continuous recording time in both 4K and Full HD (the GX850 stops after 5 minutes of continuous recording in 4K whereas the GX85 doesn't).
Below you can watch a quick 4K comparison video between the GX85 and a mid-range Lumix camera with SLR styling, the G7.
---
Flash
Both cameras come with a TTL built-in pop-up flash but the GX85's is a little more powerful due to its output adjustment of ±3EV (instead of just 2), sync speed of 1/160s (as opposed to 1/50), and 6.0 guide number (versus 5.6) at 200 ISO.
Either is suitable for casual flash work but those interested in taking their flash photography to another level will prefer the GX85, as it comes with a hot shoe for accessories such as external speedlights.
---
Extra Features
Nearly all the extra features you can find on the GX85 have also been given to the GX850, and there are plenty of them as we'll discover below!
The most important are the various 4K Photo features made possible by the 4K video capabilities of the two cameras. Put simply, 4K Photo allows you to extract 8MP JPG stills from 4K video footage shot at 30 frames per second (fps). Because the camera is taking so many shots during such a short interval, it is less likely you'll miss fleeting moments, such as your child scoring a goal during a soccer game or your dog jumping to catch a frisbee.
In total, there are three basic 4K Photo modes: 4K Burst, 4K Burst (Start/Stop) and 4K Pre-Burst. The first lets you record non-stop if you hold down the shutter button; the second begins recording when you press the shutter button and stops when you press it again; and the third records 30 frames before and after the shutter button is pressed.
Some other features related to 4K Photo are:
Post Focus: allows you to select your focus point on-screen after taking the shot
4K Focus Bracketing: merges the frames taken during a Post Focus burst into one image with more depth of field
Light Composition: only integrates new bright pixels into the final shot (good for light painting)
Because 4K Photo uses the electronic shutter, it isn't immune to issues such as rolling shutter with moving subjects or banding in certain types of artificial light. Nevertheless, it is a fun extra feature to have.
Naturally, there are other still-related features on the GX85 and GX850 that aren't related to 4K Photo at all. These include Panorama, which is found directly on the PSAM dial, Multiple Exposures, HDR, and Bracketing. Also available are numerous automatic scene modes and creative effects if you grow tired of working in manual or semi-manual mode.
Video-related features aren't lacking either. Time-Lapse and Stop Animation have been present on Lumix cameras for quite some time, whereas Snap Movie is a relatively new feature. It records a 2-8 second clip during which you can tell the camera to pull focus (shift focus from one pre-defined point to another) or fade in/out.
A more advanced movie function called 4K Live Cropping, which creates digital movements such as panning and zooming by cropping the 4K resolution and saving it as a Full HD file, is limited to the GX85.
Finally, we have built-in WiFi functionalities – something you'll find on all Lumix cameras, both low-end and high, today. By connecting your camera to your smart device via the Panasonic Image App, you can control your camera remotely, transfer images stored on the camera, send images while recording, or playback on the TV.
The only feature available on the GX850 that you won't find on the GX85 is the aforementioned Self Shot mode that activates when you flip the screen up 180 degrees. All the Self Shot options can be accessed on-screen from a right-hand menu and they include Soft Skin (in 10 steps), Filter Effects, Background Control, Slimming Mode (in 10 steps), and Buddy Shutter (takes a shot when two faces move close together). There is even the option to take a 4K Burst of yourself, if one or two shots simply aren't enough!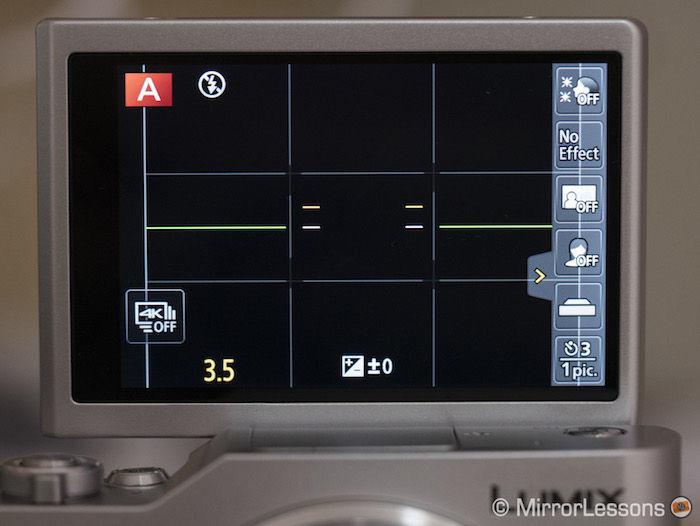 Overall, I like the Self Shot mode of this camera, as it does a good job of detecting faces, but I'm less keen on the implementation of the slimming and softening effects. For example, when using the defocus option for Background Control, the camera often has difficulty distinguishing the background and the subject. You can see an example of how aggressive the effects can be by comparing the two "selfies" below.
---
Battery Life
The GX85 uses a DMW-BLG10E battery, which is slightly larger and more powerful than the DMW-BLH7E battery found inside the GX850. According to the official specifications, you can take an average of 290 shots on one charge with the former and 210 shots with the latter.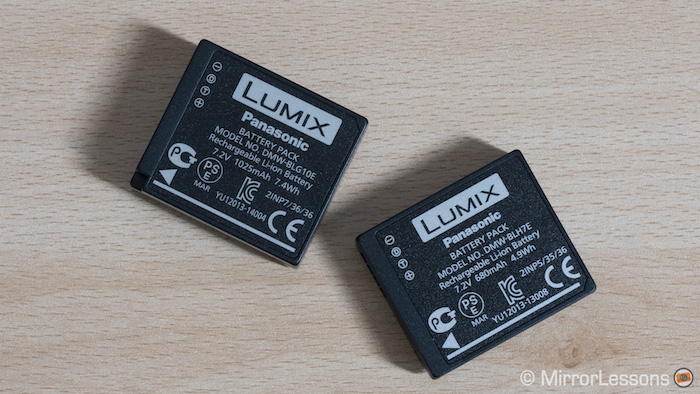 In our experience, we've found that both batteries can last a full day of shooting as long as you avoid filming too many 4K clips and keep burst shooting to a minimum. If you plan to do a lot of both, it may be a good idea to invest in a second battery.
---
Price
A critical difference between the GX85 and GX850 is the price. At the time of its release, the GX85 was listed at just under $800 US with the 12-32mm kit lens. By contrast, the GX850 costs approximately $550 US with the same kit lens – $250 less than its older sibling.
That said, it isn't rare to come across good deals on the GX85 now that it has been on the market for over six months.
---
Conclusion
Despite the GX850's "entry-level" status, there really isn't much that separates it from its mid-range sibling, the GX85, at all.
The image and video quality is indistinguishable, the Depth from Defocus autofocus system is exactly the same, and both have inherited the vast majority of Panasonic's extra features including the various 4K Photo modes.
Whether you choose one or the other will largely depend on how much importance you place on having a built-in electronic viewfinder, in-body stabilisation and hot shoe mount. These three features do make a difference, especially if you shoot lots of action, enjoy working hand-held instead of on a tripod, or plan to experiment with flash photography in the future.
The true beauty of the GX850 resides in its compactness – the fact that so many high-end features have been packed into a body that can comfortably fit inside a jacket pocket. To tell the truth, it is for this reason that I'd sooner label it an "everyday" walk-around camera designed for experienced users and professionals than a true "entry-level" model. That, and the fact that the $500 price tag will immediately put off most beginners before they even begin to consider the specifications!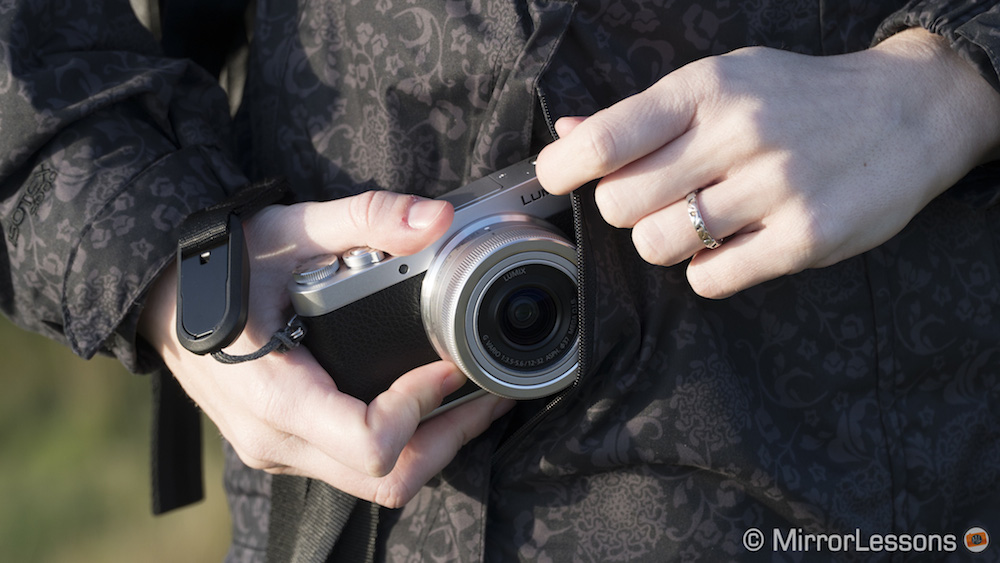 So, what about those real entry-level users only just embarking on their photography journey? My personal advice is to choose an older model such as the Lumix GX850's predecessor, the GF7 (see our comparison preview here). Though it may not have all the latest features, it is an excellent camera body to learn on and costs significantly less.
Choose the Panasonic Lumix GX85 if you:
feel you could benefit from the electronic viewfinder
like the idea of in-body stabilisation for hand-held stills and video work
want to learn more about flash photography in the future (you'll find the hot shoe mount useful)
Choose the Panasonic Lumix GX850 if you:
want nearly all the features of a high-end Lumix in a very portable package
Check price of the Lumix GX85 / GX80 on 
Amazon | Amazon UK | eBay | B&H Photo
Check price of the Lumix GX850 / GX800 on
---
---
You may also like:
---
Sample Images
Panasonic Lumix GX85
Panasonic Lumix GX850