The Lumix G85 and GX85 are the two most recent interchangeable lens cameras from Panasonic and as you might have already guessed, they have much in common, including a 16MP Micro Four Thirds sensor without an anti-aliasing filter, a new shutter mechanism that reduces shutter shock, Depth from Defocus contrast detection autofocus, 5-axis in-body stabilisation with Dual I.S. compatibility, and 4K video capabilities, just to name a few.
Our job in this comparison is to pick out all the differences, however big or small. While the most obvious is the design, there are also many other smaller factors that might influence your decision one way or the other as we'll find out below. So, sit back, relax, and make yourself a cup of tea – there's quite a lot to get through!
---
Ethics statement: We purchased the Lumix GX85 for our own personal use, while the Lumix G85 was sent to us by Panasonic UK for a loan period of two weeks. We were not asked to write anything about these cameras, nor were we provided any other compensation of any kind. Within the article, there are affiliate links. If you buy something after clicking the link, we will receive a small commission. To know more about our ethics, you can visit our full disclosure page. Thank you!
---
Given its length, this article has been divided into two parts:
Page 1: design, functionality and image quality
[toc heading_levels="2″ label="Table of contents – Page 1″]
---
Main specs
Lumix G85
Sensor: 16MP Micro Four Thirds
Lens system: Micro Four Thirds mount
Weather-sealing: Dust and moisture resistant
Internal stabilisation: 5-axis in-body and Dual I.S. II
Autofocus: Depth from Defocus contrast detection
Continuous shooting: 40fps (electronic shutter), 9fps, 6fps or 2fps
ISO Sensitivity: 200 – 25600 with 100 (Extended)
Shutter speeds: 60s – 1/4000 (mechanical), 1s – 1/16000 (electronic)
Viewfinder: OLED Live View Finder (2,360k dots)
Rear monitor: Free-angle LCD monitor with static touch control
Movie recording: 4K at 25p/24p, Full at 50p/25p
Built-in flash: Yes
Silent mode: Yes
Extra features: 4K Photo, Multiple Exposure, Panorama, Time Lapse, Stop Motion Animation, Live Cropping, Bracket, Built-in Wifi
Dimensions: 128.4 x 89 x 74.3 mm
Weight: 505g (with battery and SD card)
Lumix GX85
Sensor: 16MP Micro Four Thirds
Lens system: Micro Four Thirds mount
Weather-sealing: No
Internal stabilisation: 5-axis in-body and Dual I.S.
Autofocus: Depth from Defocus contrast detection
Continuous shooting: 40fps (electronic shutter), 8fps, 6fps or 2fps
ISO Sensitivity: 200 – 25600 with 100 (Extended)
Shutter Speeds: 60s – 1/4000 (mechanical), 1s – 1/16000 (electronic)
Viewfinder: LCD Live View Finder (2,765k dots equivalent)
Rear monitor: 3-inch TFT LCD monitor with touch control
Movie recording: 4K at 25p/24p, Full at 50p/25p
Built-in Flash: Yes
Silent mode: Yes
Extra features: 4K Photo, Multiple Exposure, Panorama, Time Lapse, Stop Motion Animation, Live Cropping, Bracket,  Built-in Wifi
Dimensions: 122 x 70.6 x 43.9 mm
Weight: 426g (with battery and SD card)
---
Design and Build Quality
In the case of the G85 and GX85, the most obvious place to begin is the design and build quality since physically, they are like chalk and cheese.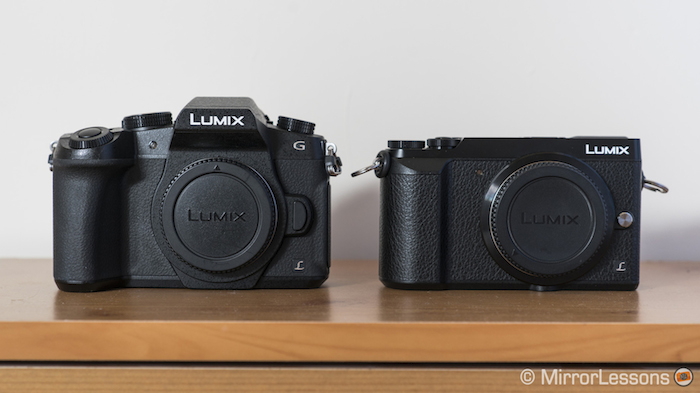 The G85 has a larger, heavier yet much more ergonomic body with a more pronounced hand and rear thumb grip, giving it the appearance of a small SLR. Also contributing to its SLR looks is the faux pentaprism that is home to a large electronic viewfinder, as well as a hot shoe and pop-up flash on top. It is also the first G series camera to feature a magnesium alloy body with dust and moisture resistance.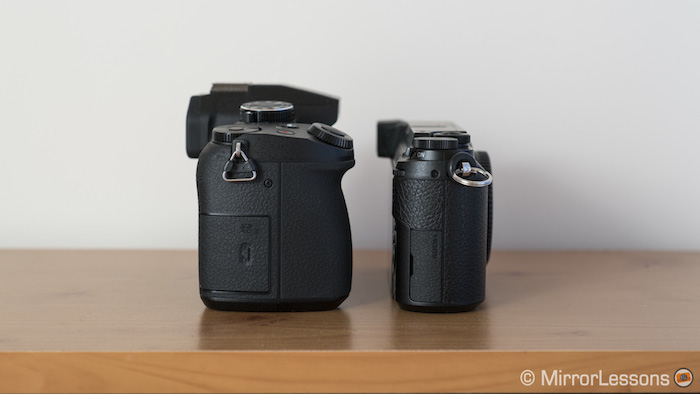 The GX85, on the other hand, has a smaller, flat-topped design that prioritises portability over comfort. Though it too has an electronic viewfinder, it is found on the left-hand side of the body next to the hot shoe and pop-up flash. Being constructed mostly of high quality plastics, it lacks all weather sealing.
Both cameras feature a faux leather covering that prevents the body from slipping out of your hands but that of the G85 has a more rubbery texture.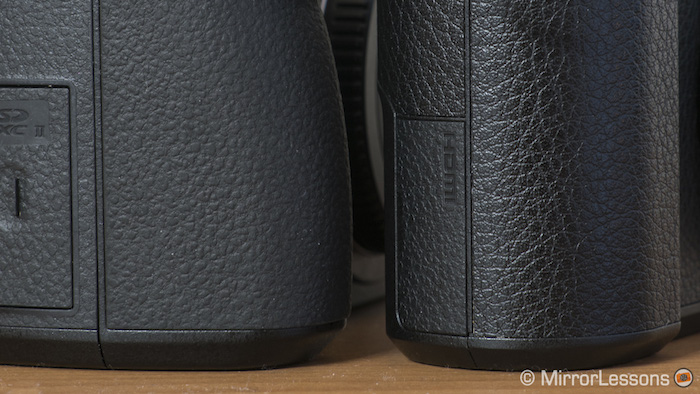 Turn to the left-hand side of the G85 and you'll notice that there are two flexible doors covering the microphone and remote inputs on one side, and the HDMI and USB ports on the other. Both open easily and close securely. However, when a cable is plugged into either port, you cannot rotate the monitor.
Since the GX85 lacks headphone and remote inputs, there is only one door for the HDMI and USB ports which can require some precise fingernail work to open.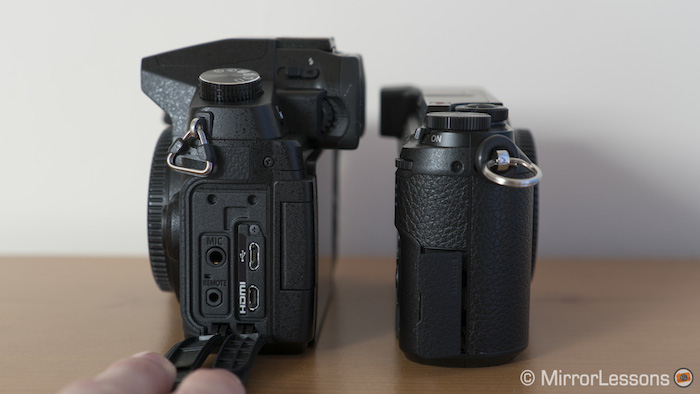 While both have a single SD card slot, that of the G85 is located within a dedicated compartment on the right-hand side of the body while the GX85's is found inside the battery compartment at the bottom of the camera.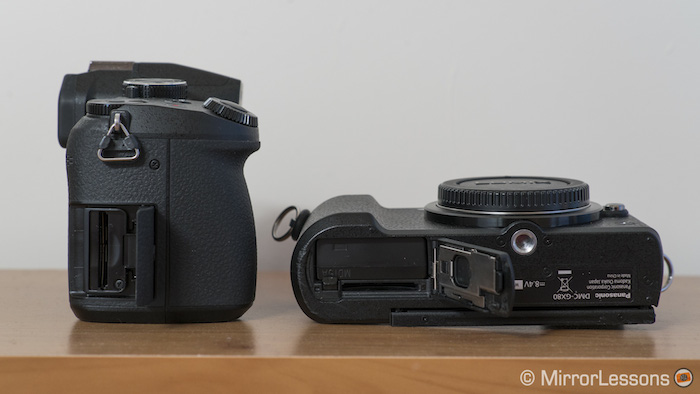 For hand-held shooting, I am personally fine with both solutions as I've never accidentally removed the battery from the GX85 whilst trying to access the memory card. However, for tripod use, the separate SD card compartment can be more convenient since access to the battery compartment is blocked on both cameras.
---
External Controls and Customisation
Given the difference in the size of their bodies, you may be surprised to learn that the G85 and GX85 have nearly the same number of external controls. The G85 only has one extra dial (the Drive dial on the right-hand side) and both have fourteen buttons located around the body. However, the buttons and dials of the G85 tend to be larger and more well-spaced, making them a little easier to use.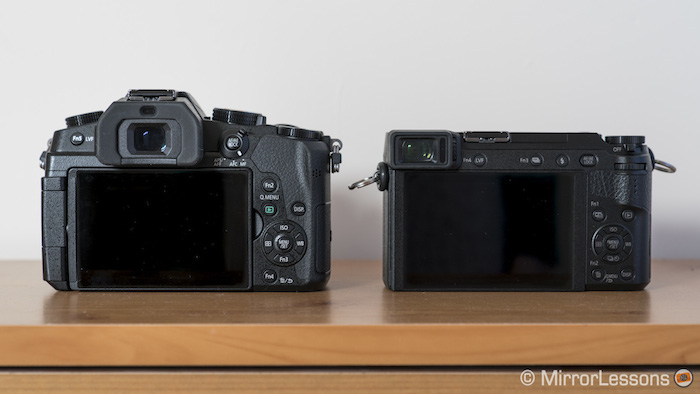 Of these fourteen buttons, six are customisable on the G85 while only four are on the GX85. There are also five extra "virtual" function buttons on both cameras accessible from the right side of the touch-sensitive rear monitor.
Both come with a handy PSAM Mode dial from which you can access the dedicated movie mode, Custom settings (two on the G85 / one on the GX85), Scene modes, Art filters, and iAuto. Only the GX85 makes room for the Panorama mode on this dial.
Both cameras come with twin exposure dials located on the front and rear. Nestled within the front exposure dial you'll find the shutter release button on both cameras, but only the rear exposure dial of the G85 has a function button.
An external feature we sorely miss on the GX85 (but is found on most other high-end Lumix cameras including the G85) is the focus switch, which allows you to rapidly jump between SAF, CAF and MF without entering a single menu. We personally feel that Panasonic could have found space for one on the front or side of the GX85 body, in the style of the Fujifilm X100T.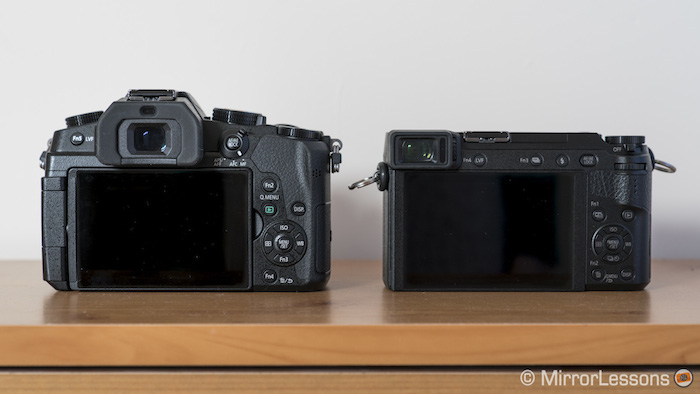 ---
Viewfinder and Rear Monitor
Most of today's mid-to-high end mirrorless cameras have a built-in electronic viewfinder (EVF) and the G85 and GX85 are no exception.
I've already mentioned that the G85's EVF is found in the centre while the GX85's is located on the extreme left side of the body but it is also important to note the difference in size, type, aspect ratio and resolution.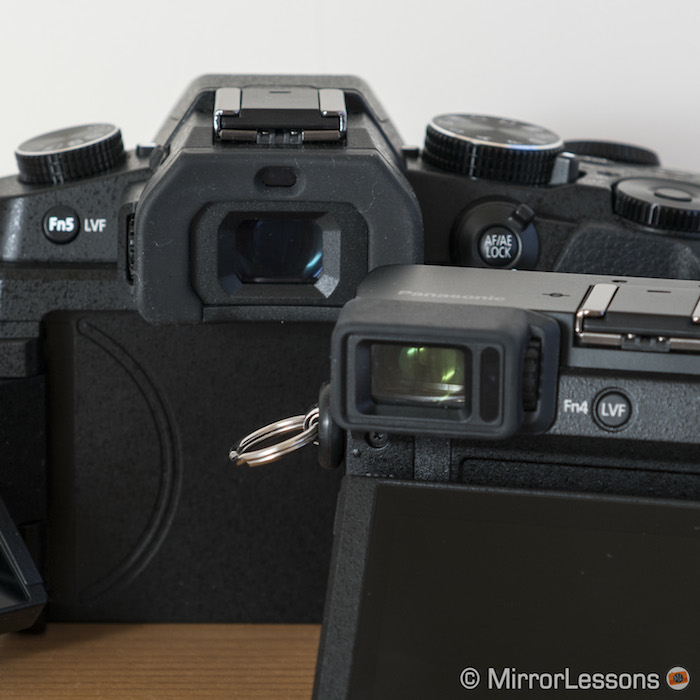 The G85 uses an OLED panel with a native resolution of 2.36 million dots, 0.74x magnification, a 4:3 aspect ratio, and a maximum refresh rate of 60fps. The experience is about as close to an optical viewfinder as you can get in terms of fluidity and colour reproduction, though you may notice a slight lag when you pan quickly.
The GX85's EVF is smaller than that of the G85 but the magnification remains close at 0.70x. Due to the 16:9 aspect ratio of the finder, the image appears smaller when shooting in the native 4:3 format. In the place of an OLED screen, it uses field sequential technology which can produce unwanted rainbow effects especially when panning or in backlit situations, and though the declared resolution is 2.76 million dots, it is not native. To give the perception of high resolution, the EVF displays the red, green and blue dots in rapid sequence.
For all the reasons above, the GX85's EVF is more tiring to look through for long periods of time, especially if you are shooting moving subjects. The colours are also less accurate which is likely a side effect of the field sequential technology. Still, an imperfect EVF is better than no EVF at all.
The rear monitors of the two cameras have a little more in common. Both are 3-inch types with 1.04 million dots of resolution and touch sensitivity that allows you to change the AF point, take a picture, swipe through your images, or select options within the menu.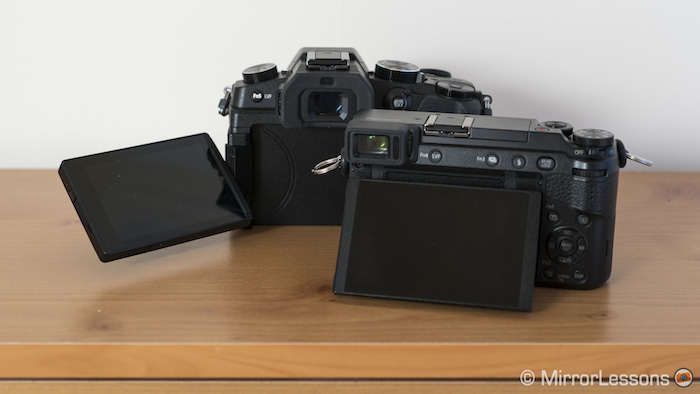 The only difference is that the G85's screen is a multi-angle type that rotates 180° and flips to the side, whereas the GX85's is a standard tilting type (90° up and 45° down). I personally find the GX85's standard tilting screen better for stills, while the flexibility of the G85's multi-angle screen better suits video work.
---
Menu System
Anyone coming from a previous Lumix G camera will feel perfectly at home with either the G85 or GX85, as Panasonic has been using the same menu system for quite a few years now. We personally find it one of the most user-friendly interfaces out there thanks to its good organisation, legible font and the option of a small scrolling explanation for each setting.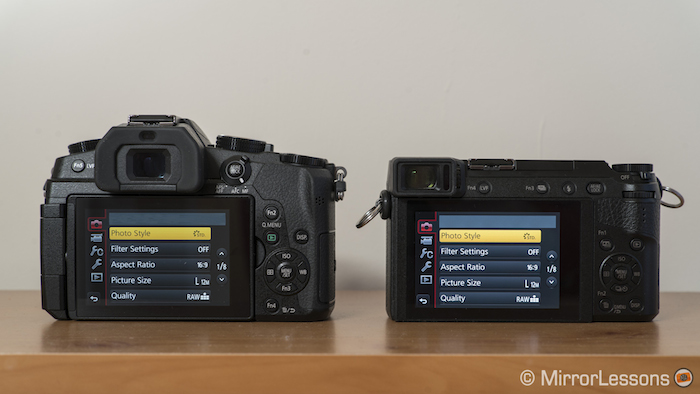 Though 90% of the menu options are identical on both cameras, the Motion Picture menu of the G85 in particular is richer due to it being the more capable video camera. For example, it includes more settings related to external microphone use since it has a microphone port.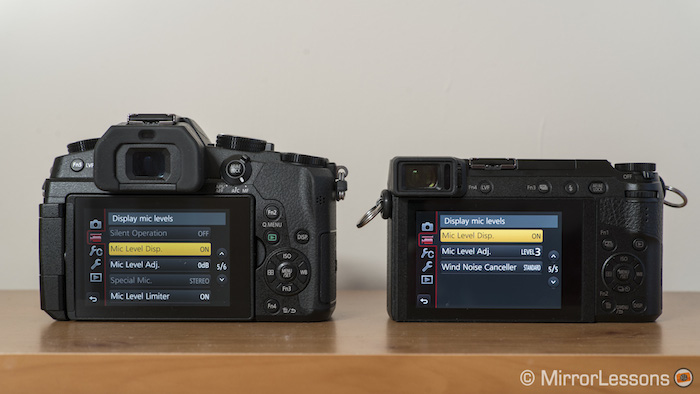 Both cameras come with a customisable Q (quick) menu that is accessible from the Fn2 button. This menu gives you immediate access to all the most important settings.
---
Image Quality
If there is one characteristic that won't contribute to your indecision, it is image quality. Not only do the G85 and GX85 share the same 16MP Micro Four Thirds sensor with 16MP but they are also the only Panasonic models to dispose of the anti-aliasing filter.
According to the official specifications, the removal of the anti-aliasing filter has allowed for 10% more resolution but also makes the sensor more vulnerable to moire. The extra resolution is most noticeable on very detailed fabrics and is comparable to results from the 20MP sensor of the GX8.
As for moire, I've come across a few examples from both cameras, mostly when photographing fabrics. However it can be minimised in a photo editing software such as Lightroom.
The 12-bit RAW files from both cameras are pleasing, with punchy yet natural-looking colours that don't tend towards any particular tint. The same can be said for the out-of-camera JPGs whose sharp and colourful rendering is only let down by the excessive noise reduction at the higher ISO values. It is for this reason I usually set Lumix cameras between 0 and -5 NR if I decide to use the JPGs.
Speaking of ISO performance, I find the results from both cameras useable up to around 3200 (or 6400 in a pinch) which is the same thing we've always said about the 16MP Micro Four Thirds sensor. 12800 can be used for newspapers or web use, while 25600 should be avoided due to a visible loss in contrast, excessive noise and inaccurate colouring.
Below you can see a set of untouched RAW files exported from Lightroom taken at all the ISO values on both cameras. All the settings, including shutter speed, aperture and white balance, were identical. Interestingly, if we look at the reds in particular, it seems that the G85 produces slightly more accurate colouring and better contrast at the highest values (6400, 12800, 25600). Click on any of the images to see a larger version.
Although both cameras can be set to Auto ISO, there are some limitations. For example, you can't set a minimum shutter speed and it isn't available for video.
The dynamic range of the sensor is very good, so good in fact that I usually feel comfortable opening the shadows one or two stops in post production. The highlights are a little weaker but this is a trait common to all Micro Four Thirds sensors. You will come across some noise in the shadows if you open them too much.
Below is an image of Aberystwyth Pier taken with the G85. I opened the shadows to +100 and reduced the highlights to +100 in Lightroom.
As you've probably noticed by looking through the side-by-side images I've posted up until now, the white balance, whilst accurate on both cameras, can produce marginally different results even when set to the same Kelvin value. (The G85 tends toward a slightly more yellow tint but the difference is barely noticeable.) However, it can easily be adjusted in post-production or in-camera to suit your tastes.
---
Colour/Monochrome Profiles and JPG Settings
The name Panasonic gives its colour/monochrome profiles is Photo Styles. In addition to the Standard, Vivid, Natural, Monochrome, Scenery, Portrait, and Custom Standard, there is also a new L.Monochrome profile that produces a more contrasty black and white rendering than the standard Monochrome profile. It was first seen on the GX85 and later came to the G85.
The G85 also has two additional profiles for video – CineLike D and V – which we'll be discussing later on in the dedicated video section.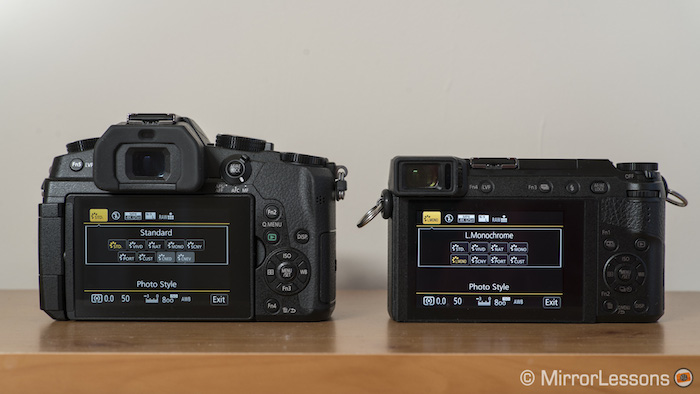 Below you can see some examples of the different styles on the two cameras.
For each Photo Style, you can adjust the contrast, sharpness, noise reduction, colour tone and, in the case of the two monochrome profiles, the filter effect in five steps above and below 0 (standard). Of course, these adjustments only affect the OOC JPGs.
---
---