A curious fact about the Micro Four Thirds system is that there isn't a single autofocus lens that offers the exact equivalent of a 35mm lens. The closest you can find is the 17mm focal length (34mm equivalent) and it just so happens that there are three of them, all of which were produced by Olympus. In this comparison, we're going to be looking at the two with the best optical quality: the M.Zuiko 17mm f/1.2 PRO and the M.Zuiko 17mm f/1.8.
The former appeared on the market in late 2017, and as its designation suggests, is one of Olympus's top-of-the-line products, with characteristics such as a weather sealing, sharp resolution, a fast 1.2 aperture and high AF speed and accuracy. The latter debuted in late 2012, making it one of the oldest lenses for the system. As with our M.Zuiko 45mm 1.2 versus 45mm 1.8 comparison, our aim here is to see how well the older 1.8 lens performs against its 1.2 PRO sibling. Let's begin!
---
Ethics statement: We purchased the 17mm f/1.8 for our own personal use, while the 17mm f/1.2 was loaned to us for review. We were not asked to write anything about these lenses, nor were we provided with any sort of compensation. Within the article, there are affiliate links. If you buy something after clicking the link, we will receive a small commission. To know more about our ethics, you can visit our full disclosure page. Thank you!
---
[toc heading_levels="2″]
---
Main specifications
M.Zuiko 17mm f/1.2 PRO
Focal length: 17mm (34mm in 35mm terms)
Lens configuration: 15 elements in 11 groups
Lens mechanism: Inner focus
Angle of view: 65°
Closest focusing distance: 20cm
Maximum image magnification: 0.15x (Micro Four Thirds) / 0.30x (35mm format)
Aperture blades: 9 circular aperture diaphragm
Aperture range: 1.2 to 16
Coating: Z Coating Nano technology
Filter diamater: 62mm
Weather sealing: Yes
Optical stabilisation: No
Dimensions: 87mm Ø, 68.2mm
Weight: 390g
M.Zuiko 17mm f/1.8
Focal length: 17mm (34mm in 35mm terms)
Lens configuration: 9 elements in 6 groups
Lens mechanism: Inner focus
Angle of view: 65°
Closest focusing distance: 25cm
Maximum image magnification: 0.08x (Micro Four Thirds) / 0.16x (35mm format)
Aperture blades: 7 circular aperture diaphragm
Aperture range: 1.8 to 22
Coating: ZERO (Zuiko Extra-low Reflection Optical) coating
Filter diamater: 46mm
Weather sealing: No
Optical stabilisation: No
Dimensions: 35.5mm Ø, 57.5mm
Weight: 120g
---
Design and Ease of Use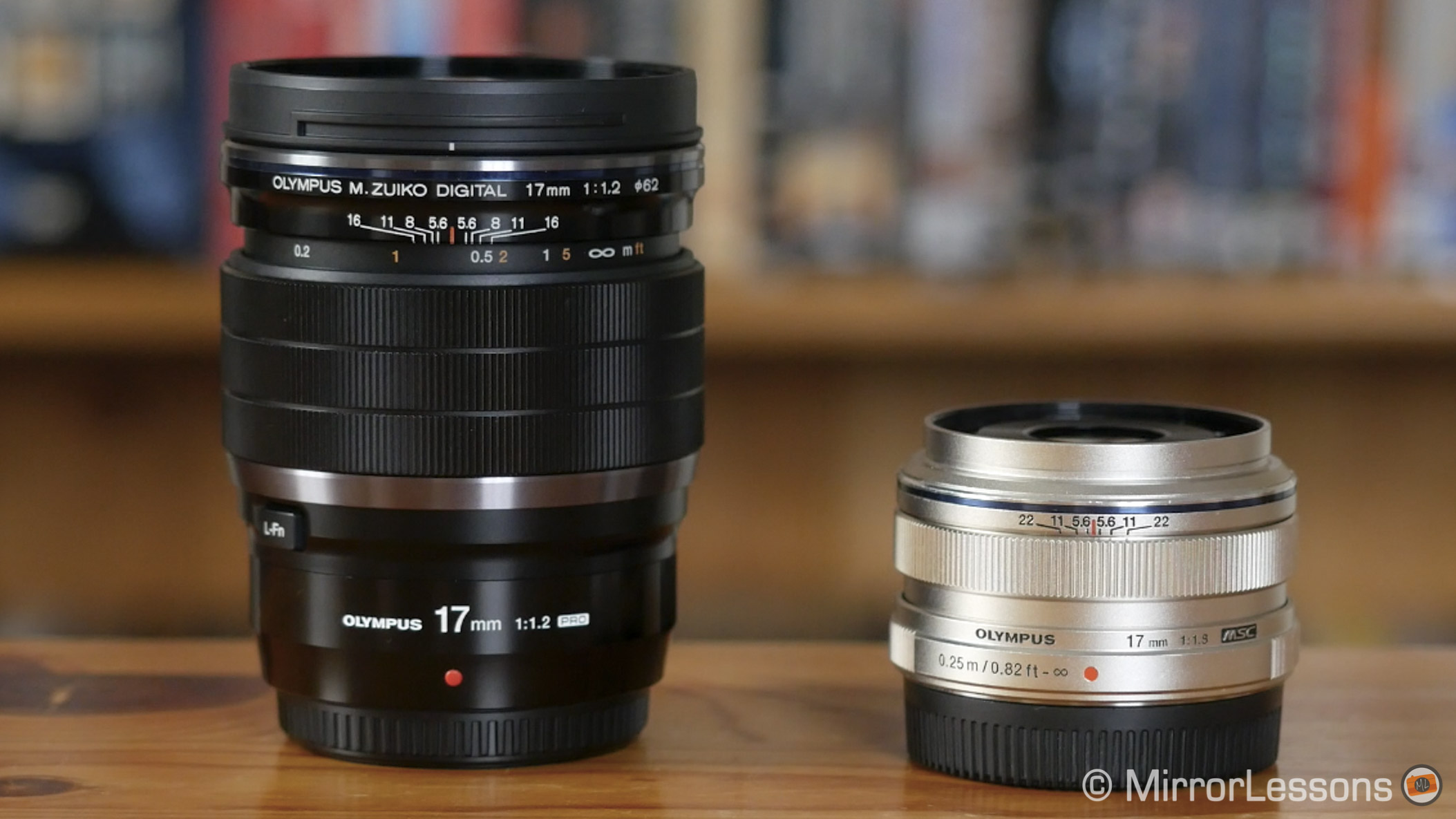 Whenever we compare Micro Four Thirds PRO to premium lenses, the first difference that immediately becomes obvious is the size and weight. Because the 17mm f/1.2 is twice the height and just over three times the weight of its 1.8 sibling, it is better suited to professional Micro Four Thirds bodies such as the OM-D E-M1 II or Lumix GH5. This extra weight can largely be attributed to the PRO lens' metallic weatherproof construction and additional lens elements.
The 17mm f/1.8 is also made of metal but because it lacks weather sealing, it is best to avoid using it in harsh weather conditions. Unlike the PRO lens which is only available in black, the 1.8 version comes in either black or silver. It suits any Micro Four Thirds camera, big or small.
The minimum focus distance is better on the PRO lens (25cm vs 20cm), as is the maximum magnification (0.15x vs. 0.08x).
On both primes you'll find a filter thread but the 17mm f/1.2, being larger, has a filter diameter of 62mm while the 17mm f/1.8's is a more modest 46mm.
Only the PRO lens sports a customisable L-Fn button on the side of the barrel to which various functions can be assigned. However both lenses feature a ridged focus ring that you can slide back and forth to engage MF and AF mode respectively. When pulled back into MF mode, a distance/depth of field scale is revealed. Personally I find the focus ring of the PRO lens more comfortable to use because it has more surface area that you can grab onto but having said that, I've never had any difficulty using either.
Like the other PRO lenses, the 17mm f/1.2 comes bundled with its own lens hood: the plastic petal-shaped LH‑66C. It has an unlock button on one side and can be reversed over the lens barrel when not in use.
The round metallic LH‑48B lens hood for the 17mm f/1.8 must be bought separately. To mount the hood, you simply slide in onto the front of the barrel and tighten the screw on the side to lock it in place. It too can be reversed over the barrel.
Both lenses come with a clip-on lens cap but the 17mm f/1.2's is a little easier to attach and remove when the lens hood is mounted. This is because is has a centre-pinch design rather than push tabs on either side.
---
Optical Quality
The internal design of the 17mm f/1.2 PRO is more complex than that of the 17mm f/1.8, so we can expect a difference in optical quality even without comparing side-by-side images.
Sharpness
To begin, let's take a look at a series of images taken at a long focus distance.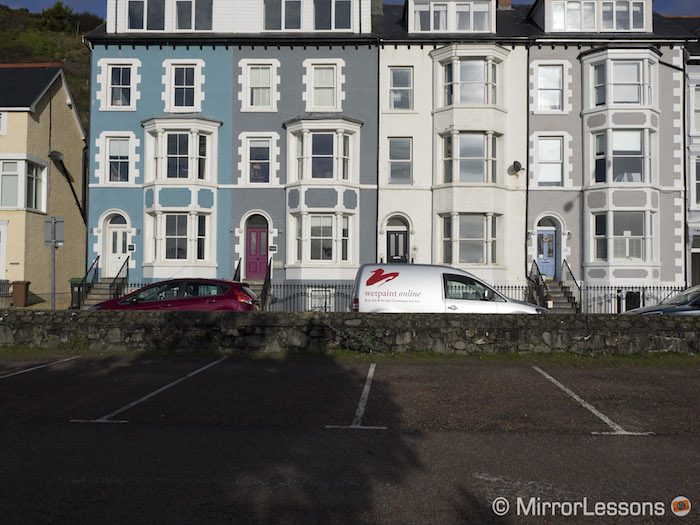 At their respective maximum apertures of f/1.2 and f/1.8, the results are very similar overall but the PRO lens becomes a little sharper once stopped down to f/1.8.
It retains this small advantage from f/2 to f/5.6, with the differences being most visible at f/2 and f/2.8.
From f/8 onwards, the results are so similar that it becomes difficult to tell them apart. This is also the value at which diffraction starts to appear.
In the corners, the PRO lens has an advantage from f/1.8 to f/2.8 whereas at the slower values, they look quite similar. At f/1.2 and f/1.8, they look almost identical.
At a close focus distance, we see a slightly different trend emerge.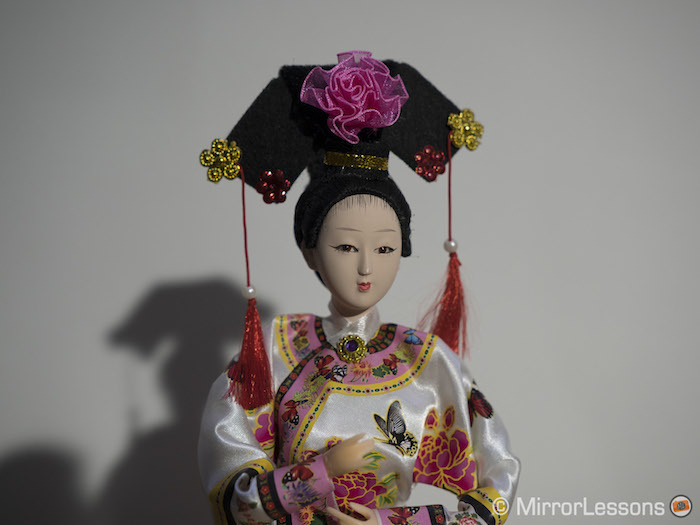 When set to their respective maximum apertures, the 17mm f/1.8 actually appears a little sharper whereas both lenses set to f/1.8 produce similar results.
At f/2, the PRO lens takes the lead once again, albeit by a small degree. By f/2.8, it is clearly the sharper of the two.
The PRO lens continues to deliver sharper results through the rest of the aperture range, with the greatest gap occurring at f/4. In the case of either lens, peak performance is found between f/2.8 and f/4.
Bokeh
Olympus states that the new 17mm PRO lens is designed to produce a "feathered bokeh", a smoother type of background blur with more natural transitions between in-focus and out-of focus areas.
Comparing it to the 17mm f/1.8, the results do look smoother and creamier when both are used wide open but this is mostly due to the PRO lens being one stop faster. When set to the same aperture, the rendering is quite similar overall.
At f/1.2 on the PRO lens, the circular out of focus areas (bokeh balls) assume a "cat's eye" shape in all areas of the frame except for the centre.
Stop down to f/1.8 and only the bokeh balls around the edge of the frame lose their shape.
At f/1.8 on the 17mm f/1.8, the bokeh balls adopt an oval shape as you move towards the edges of the frame but remain fairly round in the centre.
At f/2.8, the bokeh balls of both lenses, in addition to being smaller and rounder, also develop a heavier border around the circumference. Those of the PRO lens start to assume the appearance of the 9 blade aperture.
Flare
Flare and ghosting can appear in images taken with either lens despite the lens coating (Z Coating on the 17mm PRO lens and ZERO on the 17mm 1.8). However we found it to be much more pervasive in examples taken with the PRO lens. It usually takes the form of a series of polygonal shapes or veiling flare, and mostly occurs if you shoot directly into the sun or any other bright light source.
Chromatic Aberration
While using the 17mm PRO lens, I didn't find chromatic aberration to be a huge issue unless I was shooting directly into a backlit scene like in the examples below. The worse examples appear between f/1.2 and f/1.8 whereas by f/2.8, it is hardly noticeable.
With the 1.8 lens, it is a little more invasive particularly when you shoot wide open, but it mostly disappears by f/4. In the case of either prime, it is easy to remove chromatic aberration with the dedicated tool in post production.
Vignetting and Distortion
Vignetting is an effect whereby the corners appear darker than the centre of the image. It is present in images taken with both 17mm lenses up until around f/4 but can easily be corrected in post-production (RAW files) or by applying vignetting correction in-camera (JPGs).
All Micro Four Thirds lenses with electronic contacts are corrected for distortion, so unless you intentionally disable the lens profile in a software program, it shouldn't pose a problem. That said, I did notice that the older 17mm lens produces a little more barrel distortion than its PRO sibling.
Colours
A small yet interesting difference is that the PRO lens produces a slightly cooler rendering when the camera is set to the same white balance. (You can see this by looking at the distortion examples above.) This will only affect your shooting experience if you use OOC JPGs as you can easily adjust the white balance of your RAW files in post production.
---
Field of View
On paper, the two lenses share the same focal length of 17mm (34mm in 35mm format). However, while testing them side by side, we noticed that the 17mm f/1.8 produces a slightly narrower field of view in comparison to the PRO lens.
---
Minimum Focus Distance
The PRO lens, with its minimum focus distance of 20cm, has a distinct advantage over the 1.8 lens whose closest focus distance is 25cm.
An oddity of both lenses is that when the MF ring is engaged, you cannot travel all the way to the minimum focus distance (nor infinity focus for that matter). This matters little with the PRO lens since you can get almost as close, but in the case of the 1.8 lens, the difference is quite pronounced.
---
Autofocus and Manual Focus Performance
It is difficult to find fault with the speed and accuracy of Micro Four Thirds lenses, and such is the case with the two 17mm lenses. They are so silent that you have to put your ear up to the lens to hear the motor, and they also lock onto subjects very rapidly.
When the MF ring is engaged on either lens, it only moves between the focusing limits, which is the equivalent of a quarter of a turn. This means that the speed at which you turn the ring doesn't affect how quickly you travel from one extreme to the other. Slide the ring back into AF mode and not only does it rotate indefinitely but it also becomes sensitive to the speed at which you turn it.
---
Low Light Performance
Whenever we write about fast aperture primes, we try to include a section about low-light photography (and events in particular) since it is the genre for which lenses like this come into their own. Indeed the usefulness of the f/1.2 aperture in poor light conditions is one of, if not the main reason many photographers would choose an M.Zuiko PRO lens over a slower alternative in the first place.
For example, while documenting the Cor Meibion Bro Dysynni's 50th Anniversary party, I used the 17mm and 45mm PRO at f/1.2 for most of the evening, safe in the knowledge that the results would be sharp. Doing so also allowed me to set Auto ISO to a maximum of 1600 and maintain a sufficiently fast shutter speed of 1/100s to avoid motion blur.
There is no reason I couldn't have swapped the PRO lens for the 17mm f/1.8, but I would have certainly gone with a higher maximum ISO value, just to be on the safe side.
---
Conclusion
Considering that the 17mm f/1.2 PRO costs four times as much as its f/1.8 sibling, it shouldn't come as a surprise that it is the better lens, mechanically and optically speaking. The weather-sealed construction is excellent, sharpness is consistently superior across the frame when the two lenses are set to the same aperture value, and the out-of-focus rendering at f/1.2 is more pleasing than that of either lens at f/1.8.
But all these characteristics aside, what I enjoyed the most about the PRO lens was its versatility in low light situations. I love how you can set the camera to Auto ISO and shoot wide open without having to worry about sharpness or the camera selecting excessively high ISO values. Indeed, if there is one reason to choose this lens over any other moderate wide-angle in the range, I would say this is it.
By the same token, however, the older 17mm f/1.8 is an excellent alternative if you don't frequently shoot in low light or venture out into challenging weather conditions – not to mention that it is smaller, lighter and might fit your camera better if you own anything smaller than an OM-D E-M5 II or Lumix G85.
Choose the M.Zuiko 17mm f/1.2 PRO if you:
want the best optical quality possible
frequently work in low-light conditions (events, documentary, street photography at night)
often shoot in unpredictable weather conditions
Choose the M.Zuiko 17mm f/1.8 if you:
are on a budget
want an all-purpose lens that is very light and portable
use a small MFT body
Check price of Olympus M.Zuiko 17mm f/1.2 PRO on
Check price of the Olympus M.Zuiko 17mm f/1.8 on
B&H Photo | Amazon | Amazon UK | eBay
Used Olympus lenses on
---
You may also enjoy:
---
Sample images
M.Zuiko 17mm f/1.2 PRO
M.Zuiko 17mm f/1.8