If you are a Fuji X user looking for a 23mm lens, there are currently several options available to you. The first and most natural choice is either the XF 23mm f/1.4 or the XF 23mm f/2 for your interchangeable lens camera but there is also a third wheel in the mix that might just grab your fancy: the X100T, which isn't just a lens, but also a camera in and of itself.
The XF 23mm f/2 R WR is one of the most recent lenses from Fujifilm and is part of the attractively priced f/2 line-up. The X100T is the third generation of Fujifilm's premium series of APS-C compact cameras with a fixed 23mm lens.
You may be wondering why you should bother considering a new camera when you were originally planning to buy a lens.
The answer is that having a second body that covers the 23mm field of view can help you work more quickly and efficiently because you don't have to switch lenses.
If you are reading this article, you are probably already torn between the two products or perhaps you are simply curious. Whatever the reason, we compiled this comparison to (hopefully) help you find an answer.
Before we begin, I want to specify that in this article, I will talk about the lens characteristics of the X100T but I won't cover all the aspects of the camera itself. For that, you can read our full review on MirrorLessons.
---
Ethics statement: We've owned the X100T since late 2014 while the XF 23mm f2 was loaned to us for three weeks. We were not asked to write anything about the lens, nor were we provided any compensation of any kind. Within the article, there are affiliate links. If you decided to buy something after clicking the link, we will receive a small commission. To know more about our ethics, you can visit our full disclosure page. Thank you!
---
[toc heading_levels="2″]
---
Main specifications
Fujifilm X100T
Mount: Fixed
Format coverage: APS-C
Focal length: 23mm
Focal length (equiv. 35mm): 35mm
Maximum aperture: 2
Minimum aperture: 16
Number of aperture blades: 9 blade aperture diaphragm
Angle of view: nd (should be around 63°)
Closest focusing distance: 10cm (macro mode)
Lens configuration: 8 elements / 6 groups
Special elements: 1 double-sided Aspherical element
Lens surface coating: HTC-EBC coating
Maximum image magnification: 0.3x
Optical Image Stabilizer: None
Dimensions (X100T): 126.5mm x 74.4mm x 52.4mm
Filter diamater: needs an adaptor
Weight (X100T): 440g
Fujinon XF 23mm f2
Mount: X-mount
Format coverage: APS-C
Focal length: 23mm
Focal length (equiv. 35mm): 35mm
Maximum aperture: 2
Minimum aperture: 16
Number of aperture blades: 9 rounded bladed
Angle of view: 63.4°
Closest focusing distance: 22cm
Lens configuration: 10 elements / 6 groups
Special elements: 2 Aspherical elements
Maximum image magnification: 0.13x
Optical Image Stabilizer: None
Dimensions: ø60 x 51.9 mm
Filter diamater: ø43mm
Weight: 180g (excluding lens cap, lens rear cap, lens hood)
---
Design and ease of use
The two lenses have a different internal design which makes sense given that one is fixed and the other is part of an interchangeable lens line-up.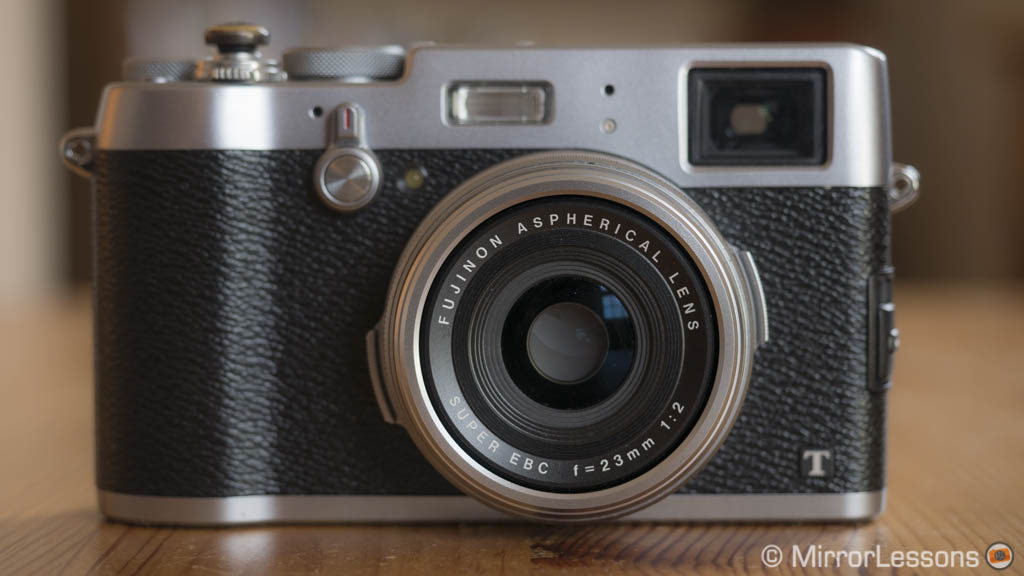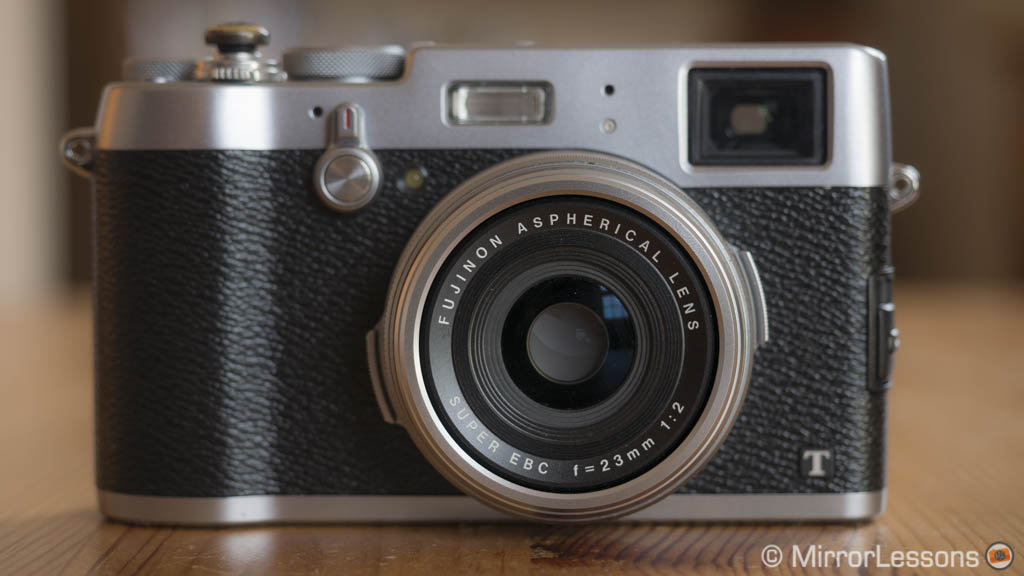 The 23mm lens of the X100T has 8 elements in 6 groups and a 9-bladed aperture diaphragm. The lens has been designed for a fixed compact camera and that is a crucial detail. Although the lens looks quite small and compact from the outside (almost like a pancake lens), it is actually longer and starts from inside the camera body. More precisely, 5 of the 8 lens elements are within the camera itself. Those 5 elements are larger than the elements on the outside. This type of design is possible because it is a fixed lens camera with a leaf shutter mechanism.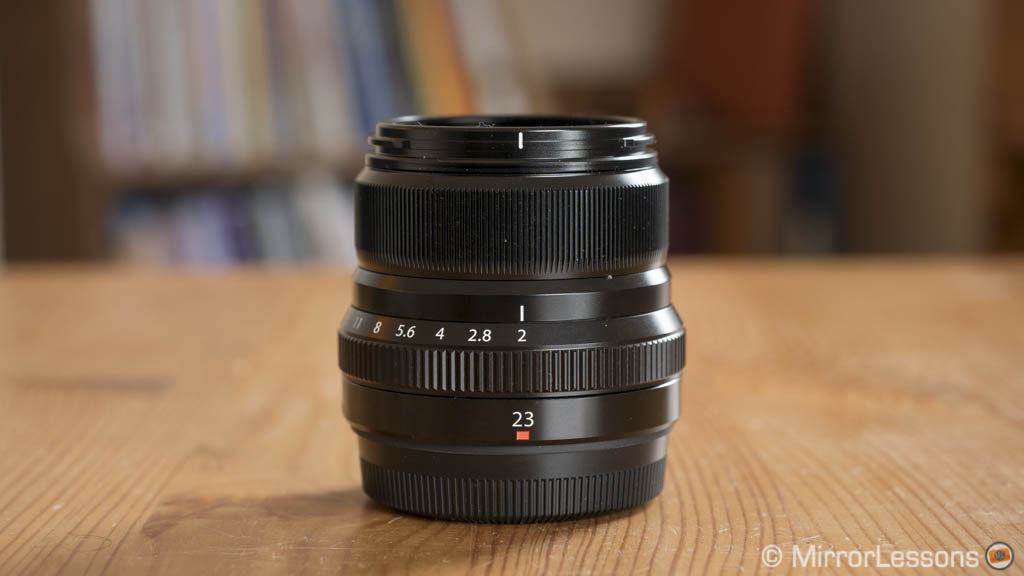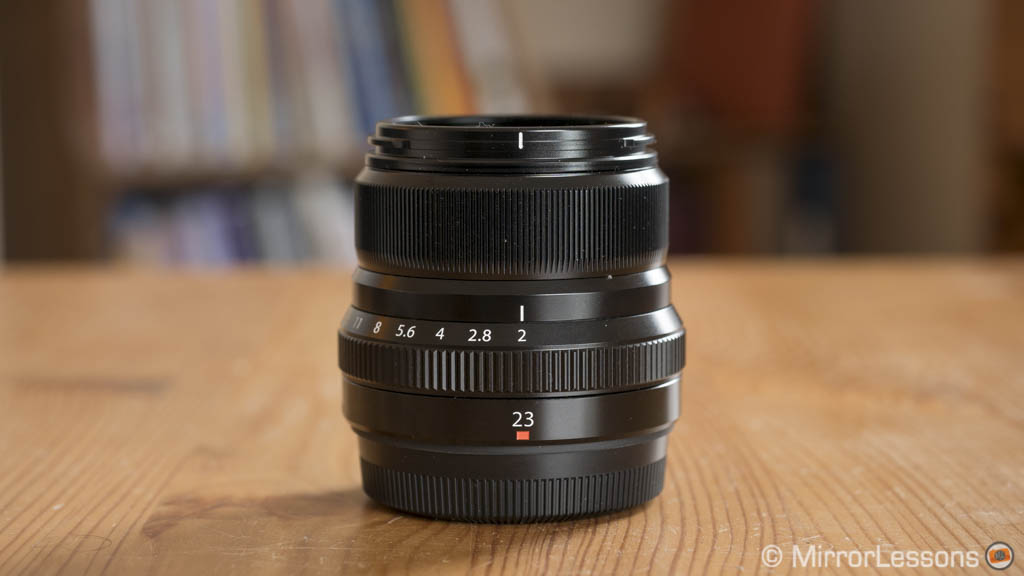 The XF 23mm f/2 has 10 elements in 6 groups and 9 rounded blades for the aperture. It is designed for Fujifilm's interchangeable lens camera system and when mounted to an X-T1 for example, it is longer in comparison to the X100T. The lens is made of metal as well and has the extra advantage of being weather resistant, a characteristic that is lacking on the X100 camera.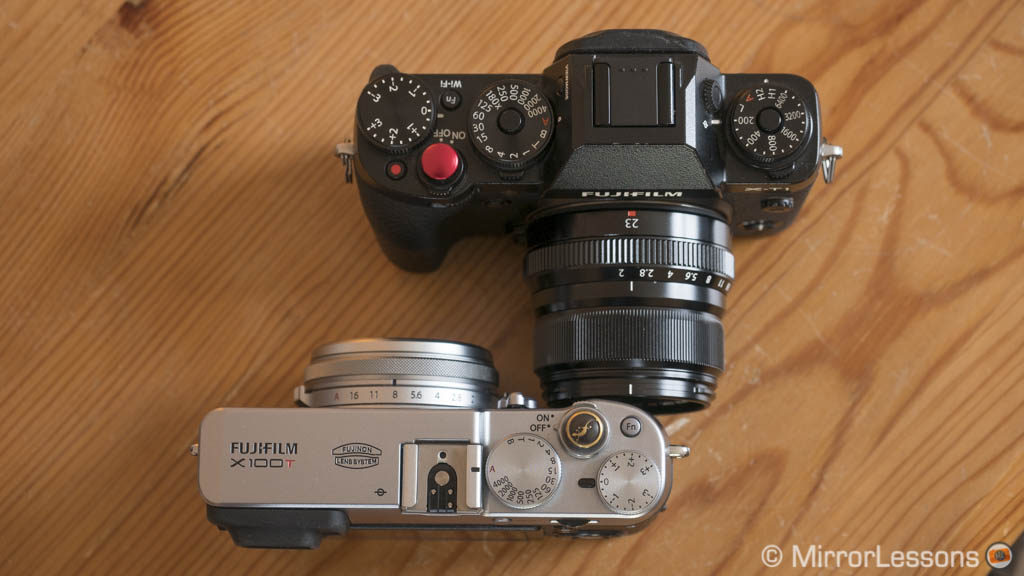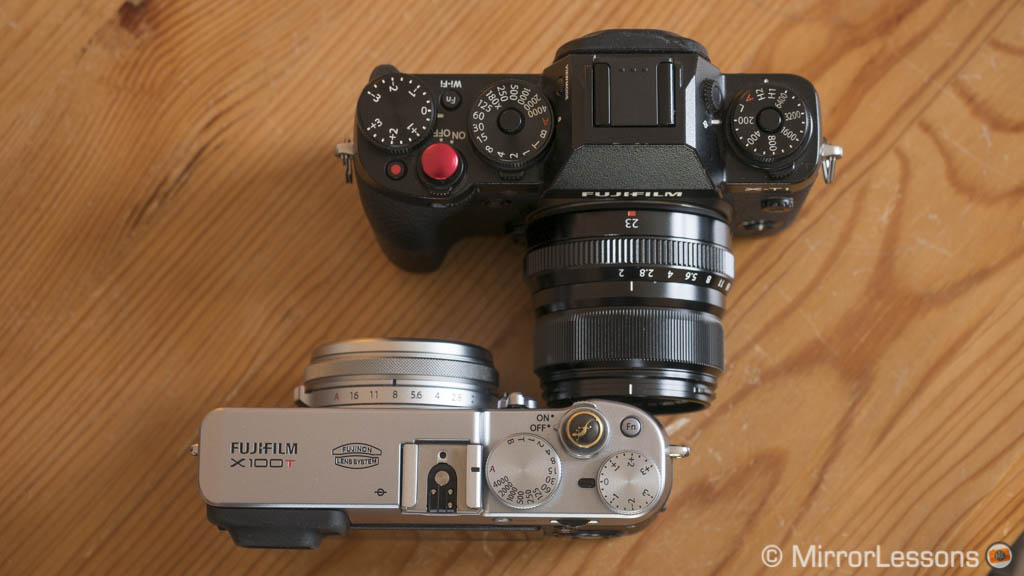 You will find aperture and focus rings on both products. Because the X100T lens barrel is smaller, both rings are thinner and very close to each other. As a result, you have less grip in comparison to the XF 23mm which has larger rings and more space between the two. To give you a better grip, the X100T aperture ring has two tabs to help you rotate it easily.
Both aperture rings are precise and smooth in operation and turn in 1/3 steps. The focus rings are "fly-by-wire" types but I find the one of the XF 23mm to be more accurate.
The XF 23mm comes with a tiny plastic hood and can take 43mm filters. On the X100T, you will need an adapter to mount an optional hood or to use circular filters. There are many solutions available from Fujifilm itself or third party manufacturers. We used to own the JJC lens hood which is made of metal and is much cheaper. In the past, we also used the Lee Seven5 series (square filters) that is available with a special ring for X100 cameras.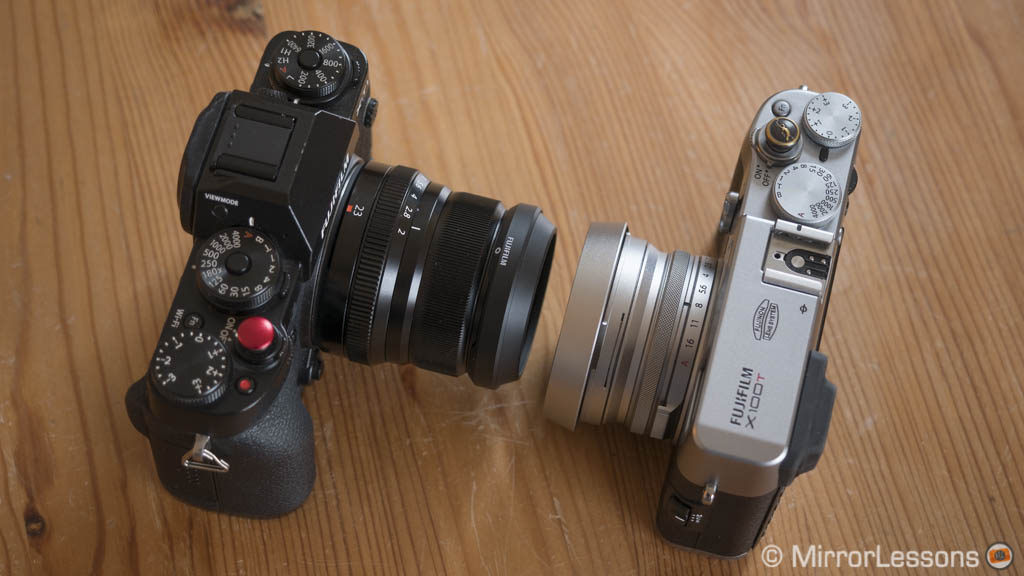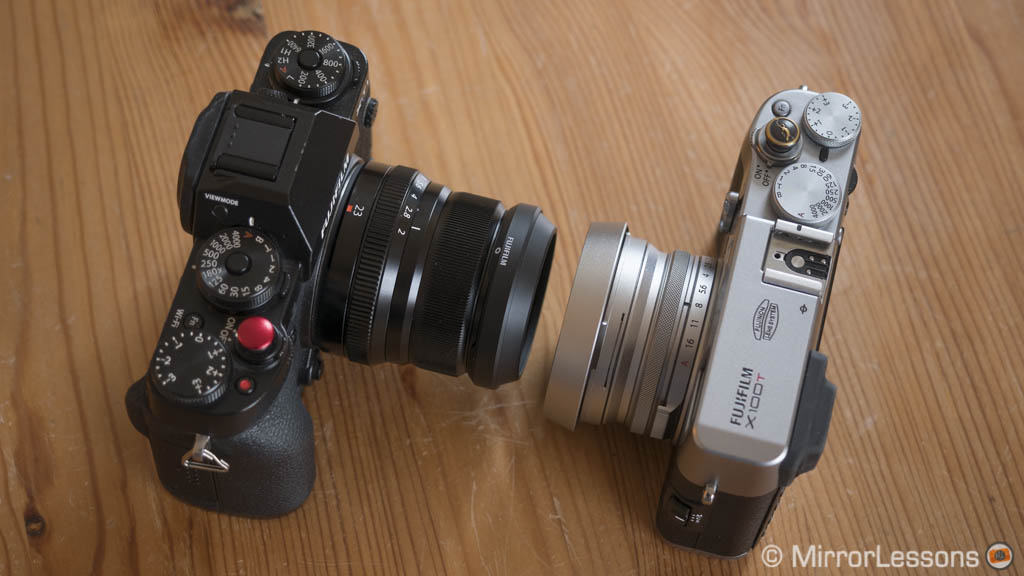 As a final note, both products are available in black or silver.
---
Optical quality
A 23mm focal length designed for APS-C cameras give you the same angle of view of a 35mm lens designed for 36x24mm sensors (35mm format). It is a popular field of view that many street, reportage and travel photographers enjoy. I learned to appreciate it myself over the past couple of years for many different genres of photography including landscapes and environmental portraits.
While technically the two products should give you the same view, I found that the X100T is slightly narrower in comparison to the XF 23mm f/2 as you can see in the two examples below.
When it comes to sharpness, I found some interesting differences to analyse. For medium to long focus distances, the X100T is slightly sharper at the fastest aperture, despite being a lens designed more than five years ago (it is the same used by Fujifilm for all its X100 cameras thus far). This advantage remains visible at f/2.8 while from f/4 the performance becomes much more similar.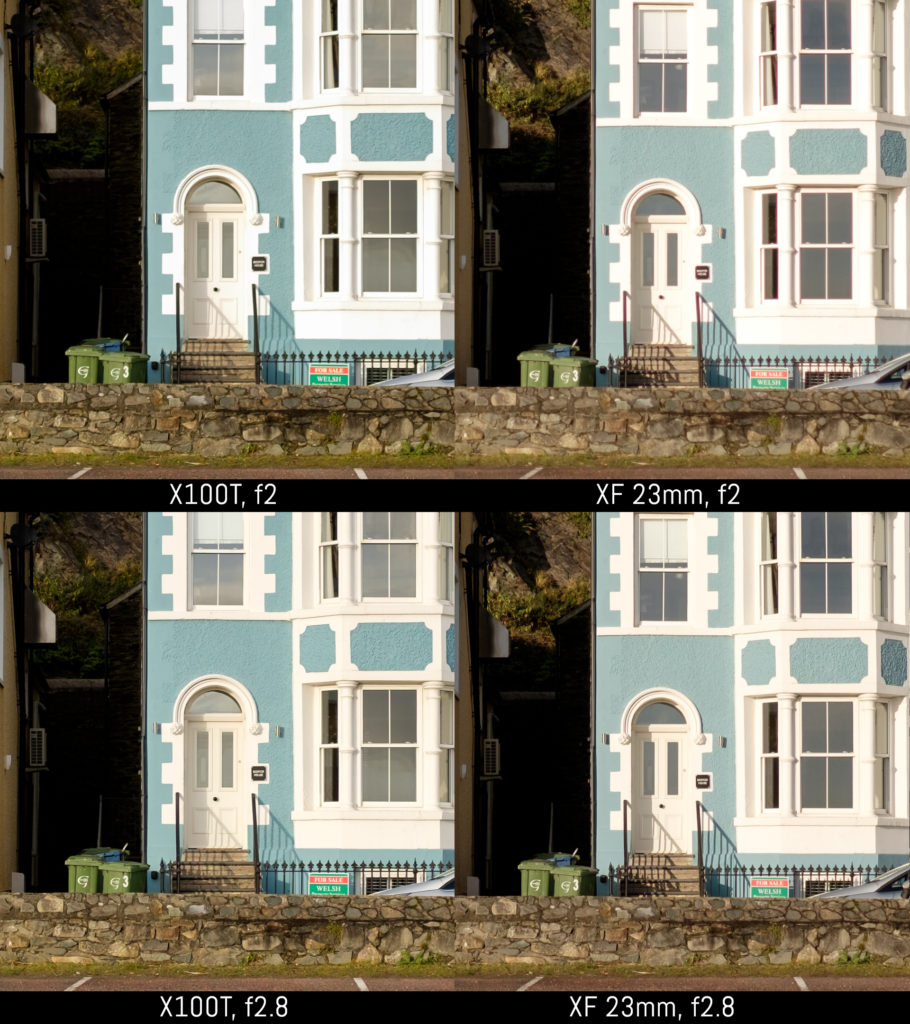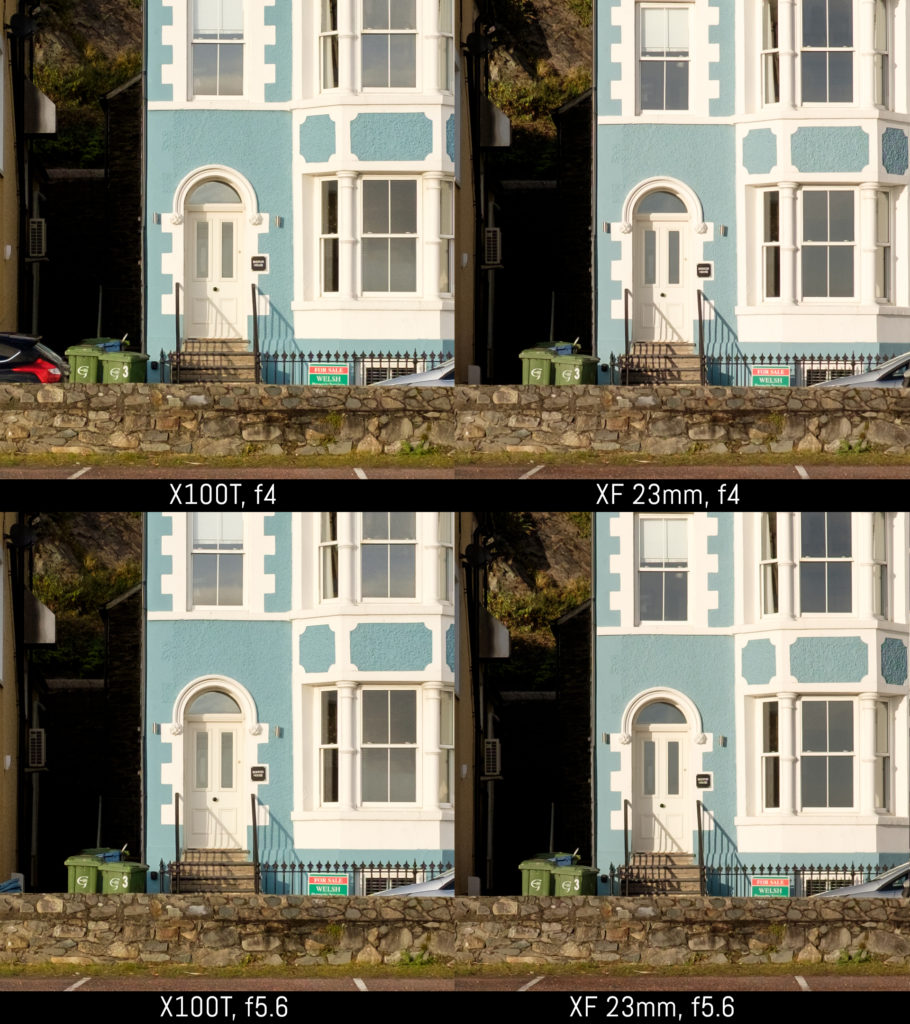 At the corners, it is the XF 23mm that maintains a slight advantage over the X100T lens through the entire aperture range.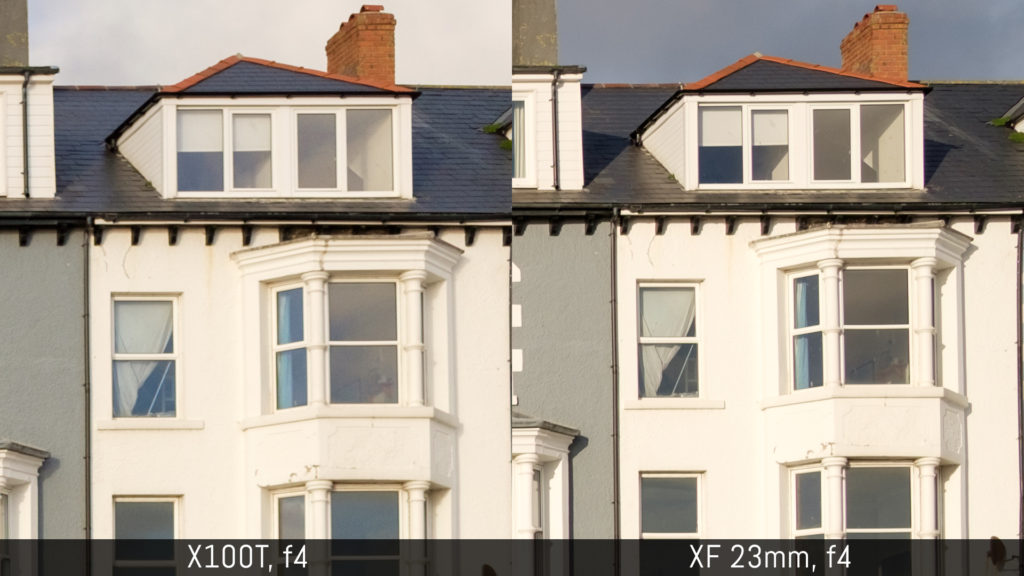 At short focus distances however, the XF 23mm f/2 is clearly superior but still shows some softness at the fastest aperture. That being said, it performs much better than the X100T which lacks much more detail. Both products reach optimal sharpness at f/4.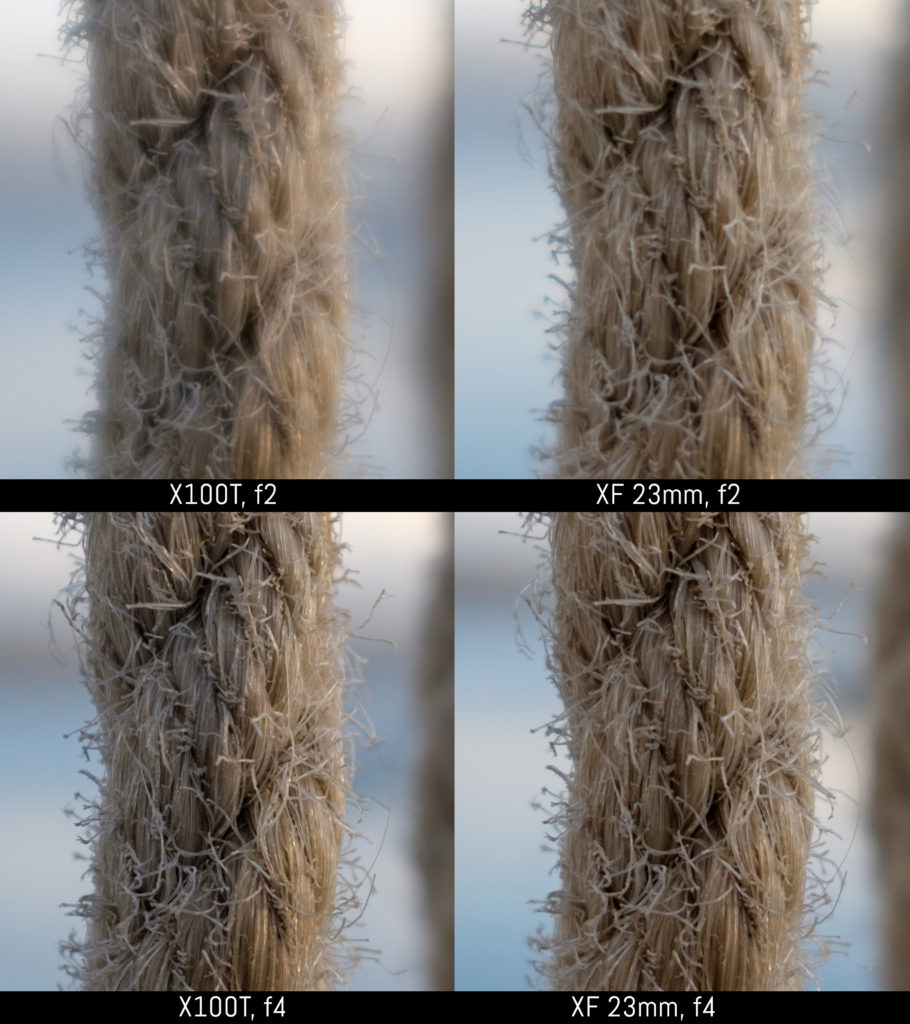 The XF 23mm f/2 can focus as close as 22cm but the X100T does better at 10cm in Macro mode. This means that the magnification ratio of the X100 camera is higher, but the closer you focus, the softer the results are unless you stop down.
Both lenses have a similar bokeh rendition with pleasant out-of-focus areas at the fastest aperture. When it comes to bokeh circles, the X100T has slightly more rounded shapes at f/2.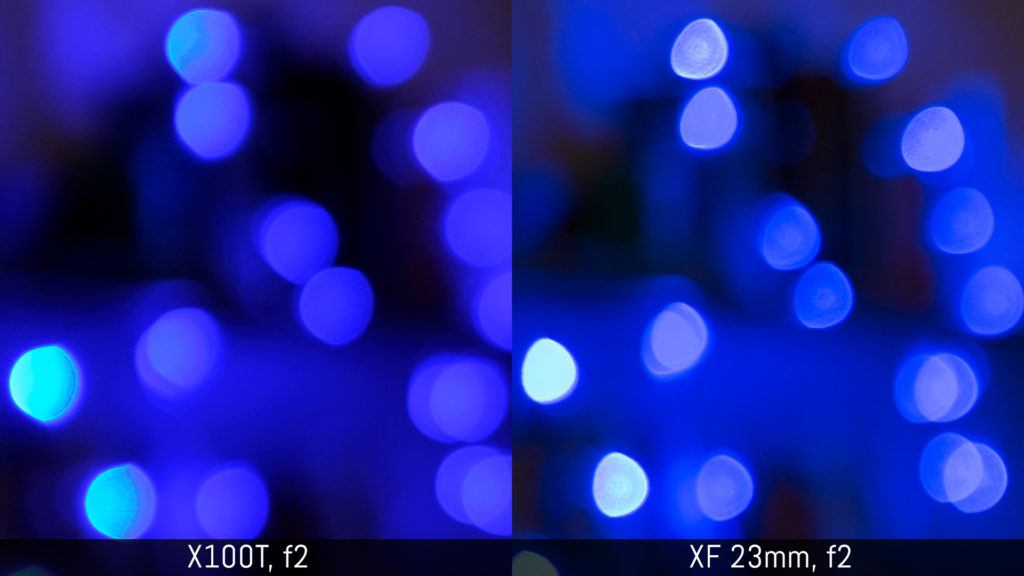 Concerning subject separation and environmental portraits, you will need to use the fastest aperture and focus close to your subject to get a distinctive shallow depth of field.
One important note to highlight concerning the bokeh of the X100T is its leaf shutter mechanism positioned in front of the lens. If you shoot at f/2 or f/2.8 with the fastest shutter speeds available such as 1/4000s, you will end up with a strange blur effect in the out-of-focus areas. This happens because the leaf shutter can't cover the large aperture fast enough. The camera will display the shutter speed value in red on the monitor to warn you. Fortunately the X100T comes with a built-in ND filter (3 stops) to allow you to use a slower shutter speed. Alternatively you can select the electronic shutter.
Both lenses resist well to flare. You may come across some weak veiling flare on the XF 23mm and some minor streaking flare on the X100T.
Distortion and vignetting are well contained on the XF 23mm f/2 and are already corrected in the RAW or JPG file. If you are using RAW with the X100T, you will need to activate the lens profile in Lightroom or a similar software to get rid of barrel distortion and vignetting.
Finally, the XF 23mm can suffer more from chromatic aberration in the extreme corners. The removal tool in your RAW software will take care of it well enough most of the time but in some cases there might be a few traces left that you will have to remove manually.
---
Autofocus performance
The autofocus performance is also related to the AF system of the camera itself but there is no doubt that the XF 23mm f/2 focuses faster. It works really well in both Single and Continuous AF for stills and video. The AF motor has an internal mechanism and is quiet. I found its performance excellent not only on the recent X-T2 and X-Pro2 flagship cameras but also on the X-T1.
The X100T lens is slightly slower and can produce more noisy back and forth movements as a result. The camera can also fail to lock occasionally in S-AF and is slower in low light.
---
Price and camera bodies
Obviously we are talking about how a lens compares to a camera so there is a relevant price difference of more than $500. The X100T must be seen as an investment that goes beyond the lens on its own since you also get a camera that you can use as a second body. That said, if you already own an interchangeable-lens camera and want the cheapest solution, then the XF 23mm f2 is your answer.
Before the conclusion, it is worth talking a little bit about camera bodies.
The X100T has a 16MP sensor with X-Trans II technology exactly like the X-T1, X-E2 or X-T10 so if you own one of those already, you will get the same image quality for RAW and JPGs. The AF system is the same, although it lacks some of the most recent features such as Zone AF and Wide/Tracking.
One of the X100T's key features is the hybrid viewfinder (very similar to the one of the X-Pro2): you can switch between an electronic panel and an optical finder. It is certainly one of the reasons the series became popular in the first place and for any photographer who likes the rangefinder design, it is worth considering.
The XF 23mm f/2 can be used on all Fujifilm APS-C cameras so of course you can have additional benefits depending on the camera, such as more megapixels if you choose the most recent flagship models (X-T2 or X-Pro2).
---
Conclusion
If you are hesitating between these two products, it means you likely own an interchangeable lens camera from Fujifilm already and are interested in what the X100T has to offer.
On a personal note, I can say that the X100 series has been a long-time favourite of mine, although I admit I don't use the OVF all that much. I owned the X100s, then the X100T, and it has been a constant companion for both personal and professional work. It can be an excellent complement to your gear – indeed, I even used it alongside other mirrorless systems – but it can also become your sole companion if love strikes.
In short, I would recommend the X100T if you like to work with a second body or if you always want to have a 23mm lens by your side.
Otherwise, the most logical choice is the XF 23mm f/2. It is fast and compact, provides good optical quality, and costs much less than the X100T.
You may also be interested in:
---
---
Sample Images
X100T
XF 23mm f2