7Artisans is a Chinese company that produces affordable manual focus lenses for mirrorless systems such as Fujifilm X, Sony E, Canon EOS R and Micro Four Thirds. They launched with the 50mm f/1.1 lens back in September 2016 and have since produced twelve lenses including the popular 50mm f/1.8 and 55mm f/1.8 that feature in this comparison.
To be honest, we probably wouldn't have considered comparing these two lenses had we not received so much positive feedback about the company from our readers. Despite knowing that the quality wouldn't be at the level of native lenses, we were curious to see whether they were a logical choice for those on a very tight budget or newcomers to manual focus photography.
---
Ethics statement: We bought the two 7Artisans lenses for our personal use. We were not asked to write anything about these products, nor were we provided with any sort of compensation. Within the article, there are affiliate links. If you buy something after clicking the link, we will receive a small commission. To know more about our ethics, you can visit our full disclosure page. Thank you!
---
Table of contents

1. Main specifications
2. Design and ease of use
3. Optical quality
3a. Sharpness
3b. Bokeh and subject separation
3c. Flare
3d. Chromatic aberration
3e. Distortion and vignetting
4. Minimum focus distance
5. Field of view
6. Conclusion
7. Sample images
---
Main Specifications
7Artisans Photoelectric 50mm f/1.8
Format: Fujifilm X, Sony E, Canon EOS M, Micro Four Thirds
Focal length: 50mm (75mm equivalent in 35mm terms on APS-C)
Lens configuration: 6 elements in 5 groups
Lens coating: Multi-layer high permeability coating
Angle of view: 32°
Minimum focusing distance: 50cm
Aperture blades: 12 rounded blades
Aperture range: 1.8 to 16
Filter diameter: 52mm
Weather-sealing: N/A
Optical stabilisation: N/A
Dimensions: 55 x 40mm
Weight: 180g
7Artisans Photoelectric 55mm f/1.4
Format: Fujifilm X, Sony E, Canon EOS M, Micro Four Thirds
Focal length: 55mm (82.5mm equivalent in 35mm terms on APS-C)
Lens configuration: 6 elements in 5 groups
Lens coating: Multi-layer high permeability coating
Angle of view: 28°
Minimum focusing distance: 35cm
Aperture blades: 14 rounded blades
Aperture range: 1.4 to 16
Filter diameter: 49mm
Weather-sealing: N/A
Optical stabilisation: N/A
Dimensions: 53 x 55mm
Weight: 272g
---
Design and ease of use
If compact lenses are your cup of tea, you'll be delighted with both the 50mm and 55mm. Admittedly the latter is longer and marginally heavier but you don't really notice the difference once the lenses are mounted on your mirrorless camera. In my case, for example, I used both on one of the smallest Fujifilm X Series cameras, the X-T30, and didn't experience any discomfort due to front-heaviness.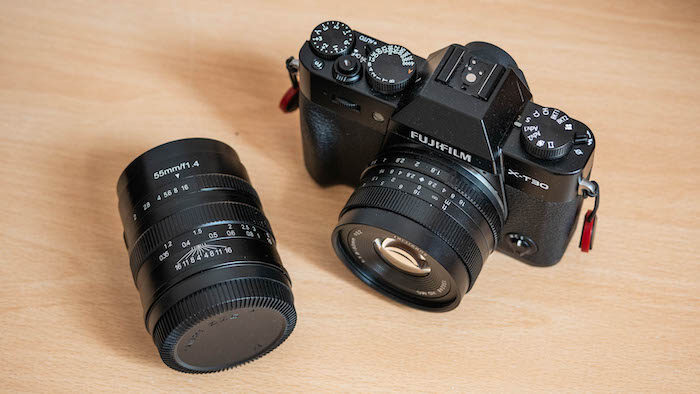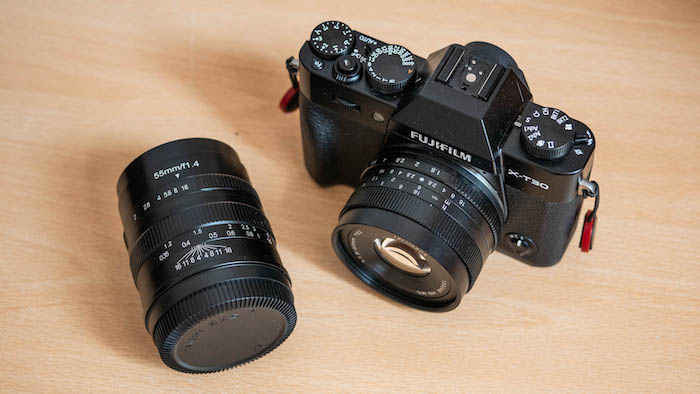 The length of both lenses increases as you turn the focus ring from infinity to the closest focus difference. You can see how much they extend by looking at the images below.
Both appear to have a full metal build, although their respective mounts don't look as robust as other lenses I've tested in the past. The barrels themselves feel solid and weighty in the hand which I find reassuring but there isn't any sort of weather-sealing.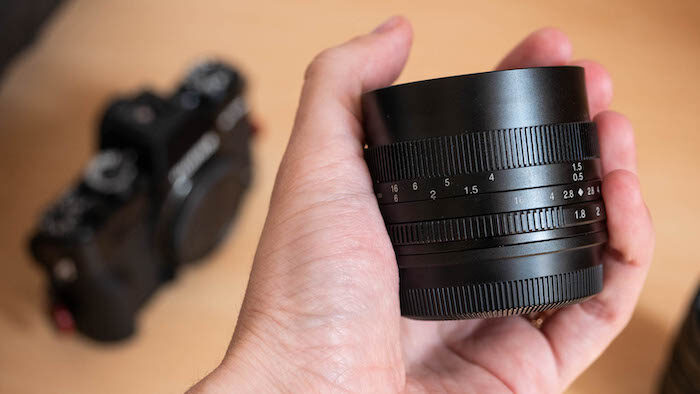 On the front of both lenses is a filter thread (49mm on the 55mm, 52mm on the 50mm) to which you can attach ND filters. The optics have supposedly been treated with a multi-layer coating to help reduce reflections but it doesn't do the best job as you'll find out further down. Unfortunately neither comes with a lens hood.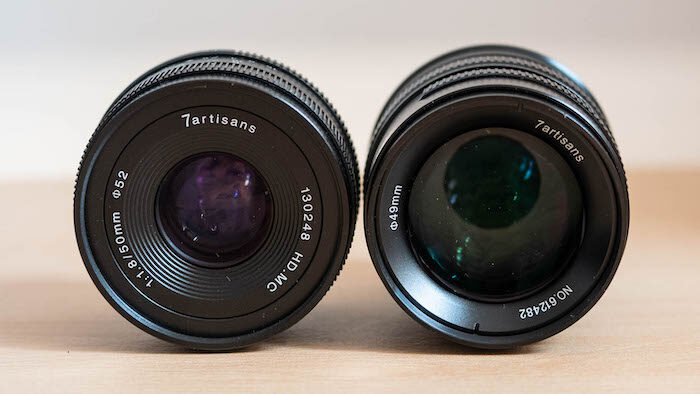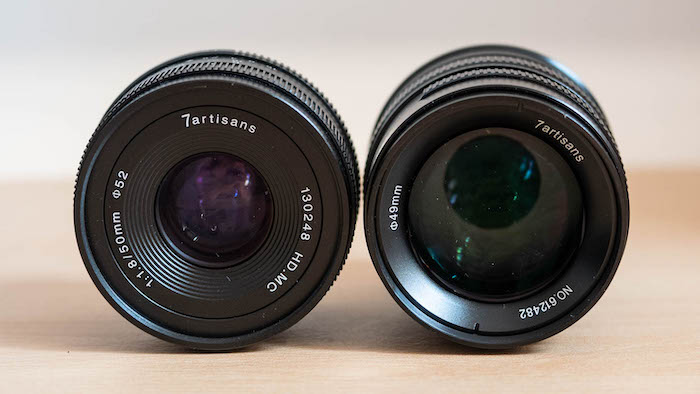 One aspect that disappointed me was the quality of the lens caps. They didn't attach well from the moment I took them out of the box, and to make matters worse, a small piece of plastic broke off the 55mm's cap, making it unusable. Very frustrating indeed!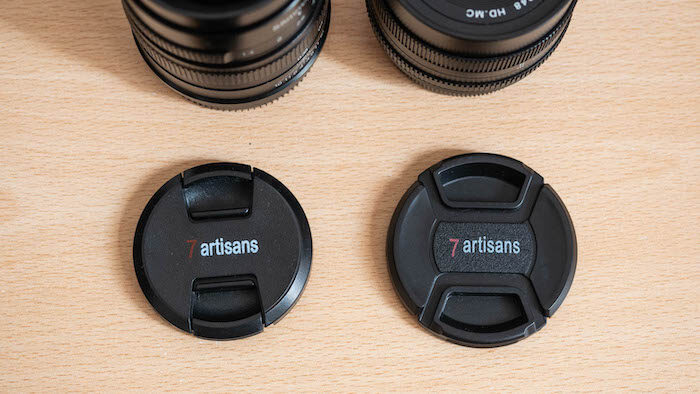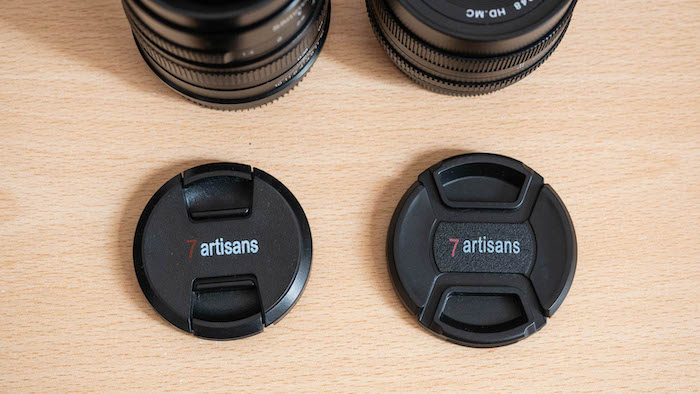 As with all manual focus lenses, the two products feature a focus ring and aperture ring, both of which are knurled to improve your grip as you turn them. On the 55mm, the focus ring is close to the mount and the aperture ring is near the front element, which is opposite to how they are positioned on the second lens. Operation of the 50mm is hindered somewhat by the close proximity of the aperture ring to the mount. Curiously the aperture value of f/11 is missing on both products.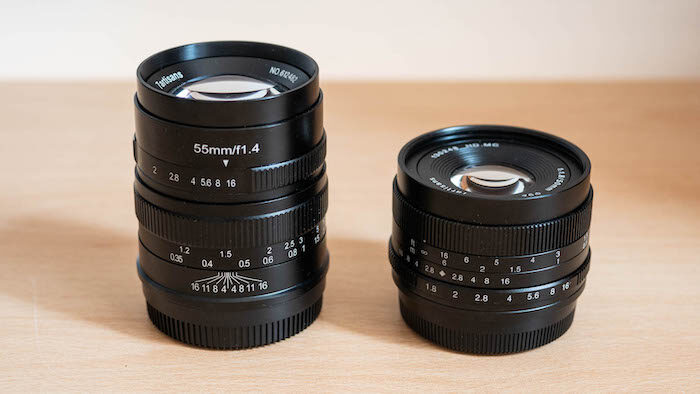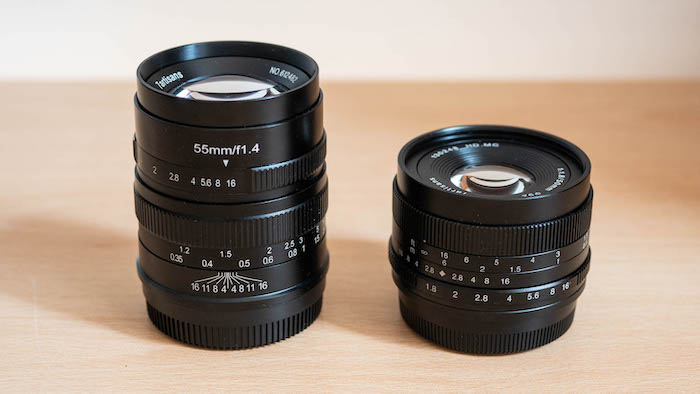 The rings themselves are smooth and well-damped overall, though I have found there to be some drag in the focusing of the 55mm. The aperture ring can also be a little stiff but this is a good thing since it rarely gets knocked out of place.
In the case of both lenses, I would have preferred a longer throw distance than a 1/3 turn as it isn't always easy to fine-tune your focus point, especially at the fastest apertures. This is just me nitpicking however!
The 50mm has just a distance scale whereas the 55mm has both a depth of field and distance scale to aid with pre-focusing and zone focusing. However because the lines are so closely crowded together, the depth of field scale isn't particularly easy to use. Personally, I almost always opt for the X-T30's on-screen magnification feature as it allows me to focus with absolute precision.
---
Optical quality – Through the lens
Sharpness
At a distance of around 10 meters, I found that the 55mm tends to offer marginally better sharpness, especially at the maximum apertures, f/2, f/2.8 and f/16. Between f/4 and f/8, it is more difficult to tell them apart.
Peak performance occurs between f/4 and f/8 with both lenses and the fastest apertures (up to f/2.8) are visibly softer than the mid-range apertures. Because f/11 is excluded from the aperture markings, I haven't included this value in my tests.
Edge performance appears to peak at between f/5.6 and f/16 on the 55mm, whereas the 50mm is already good by f/4 and continues to perform well beyond this value. Both are soft at the edges at their fastest values but the 55mm appears to suffer a little more.
At a close focus distance, the same pattern emerges. The 55mm is sharper than the 50mm at the fastest values and f/16 but all the other values are very similar. Once again, the sharpest values are found between f/4 and f/8.
---
Bokeh and subject separation
Comparatively speaking, the 55mm f/1.4 has a more pleasant bokeh than the 50mm f/1.8. The transitions between out-of-focus areas are smoother and there are fewer harsh lines around the specular highlights, making the bokeh appear less busy.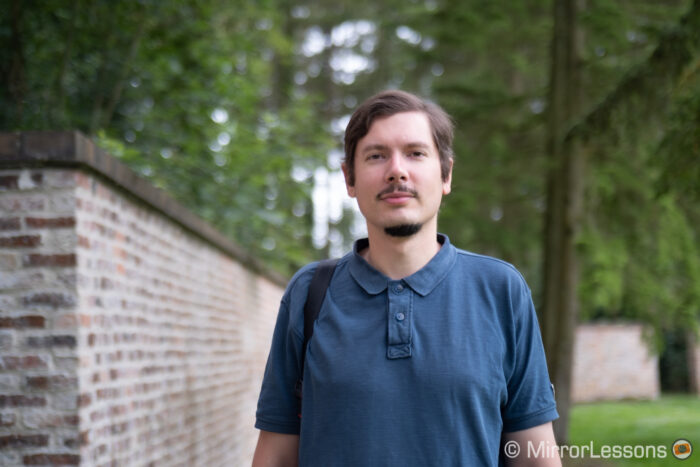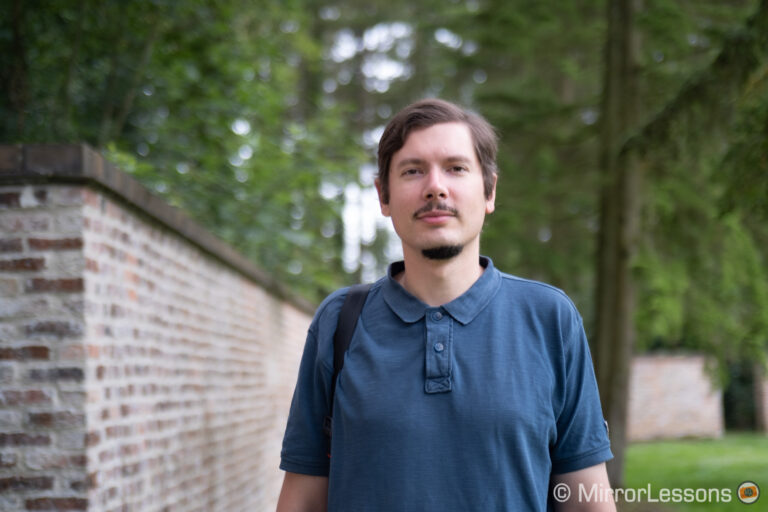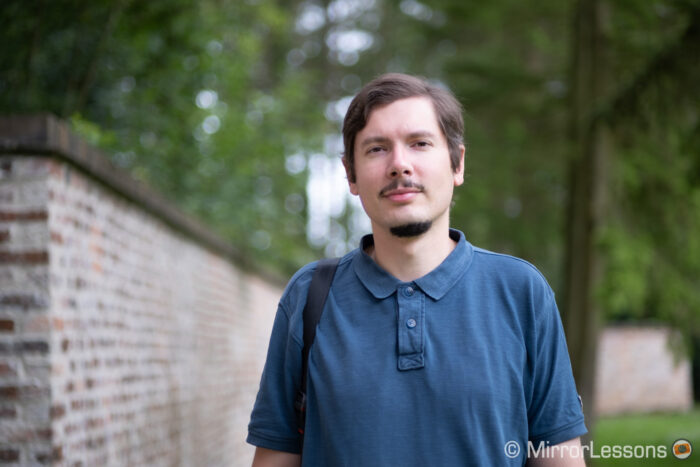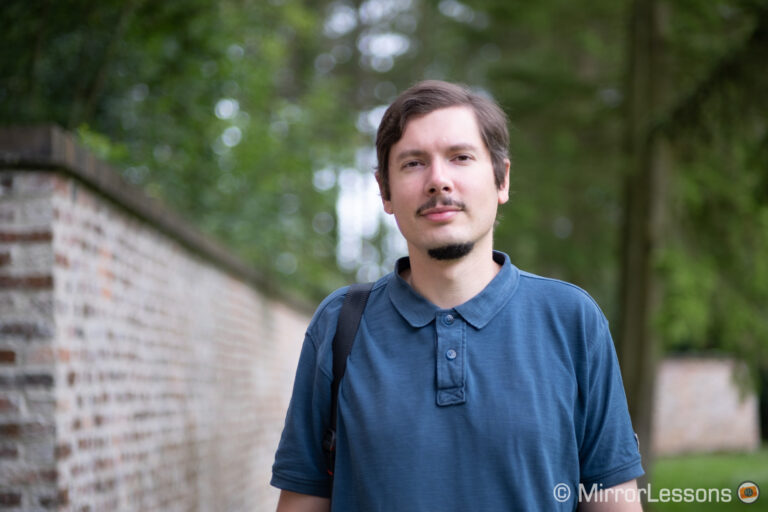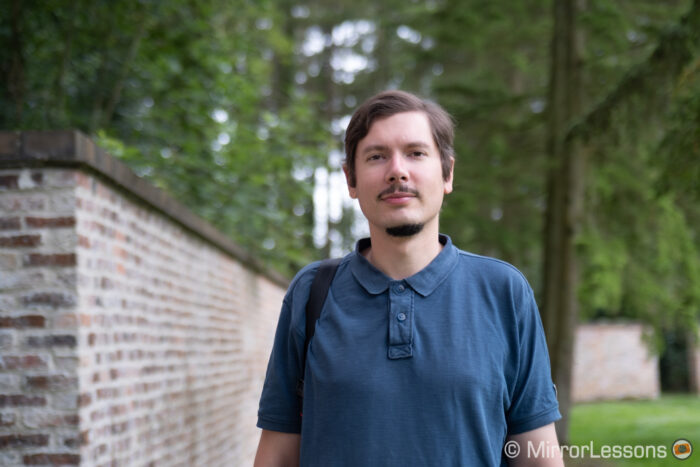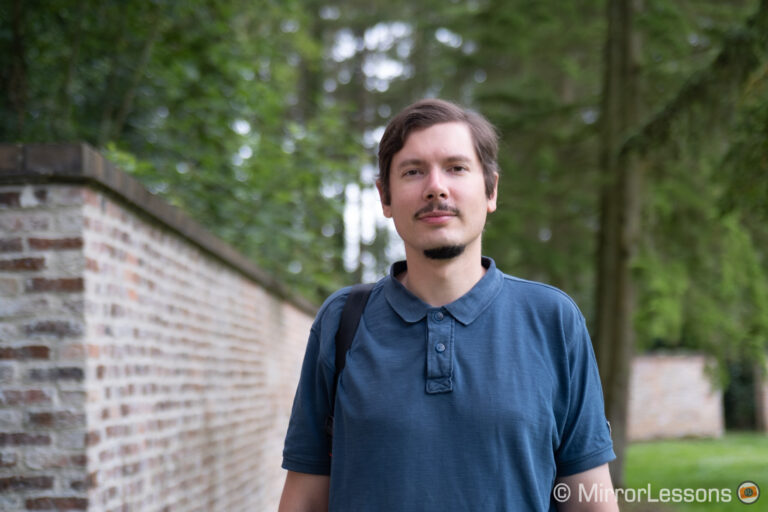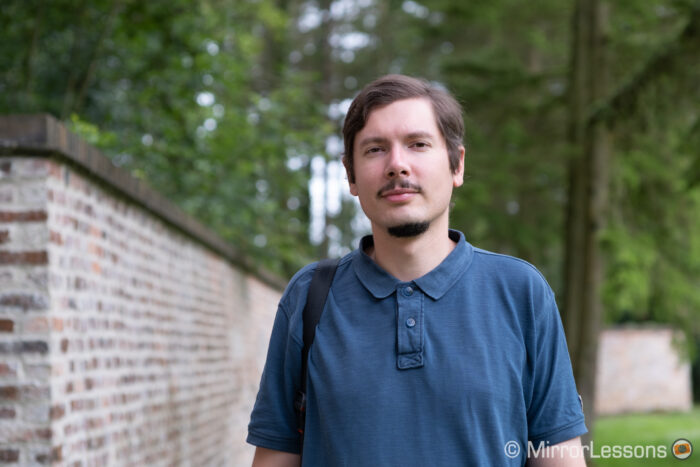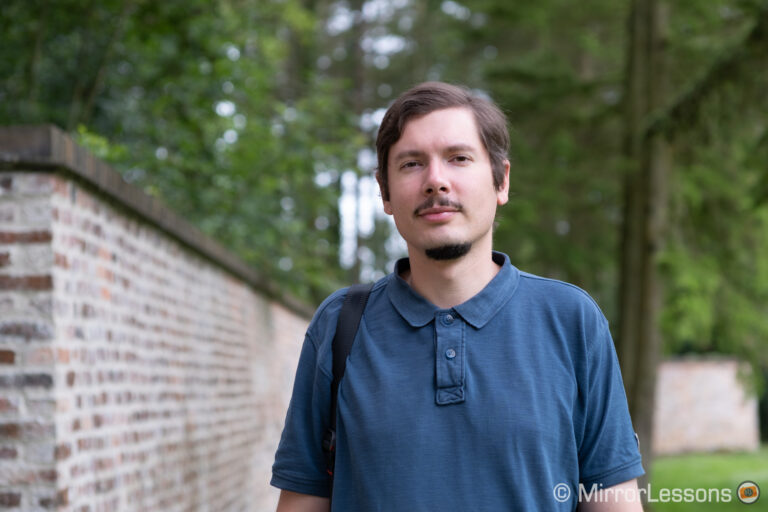 If we take a closer look at the bokeh balls, we can see that those of the 55mm assume a cat's eye shape at the fastest aperture everywhere except the very centre of the frame.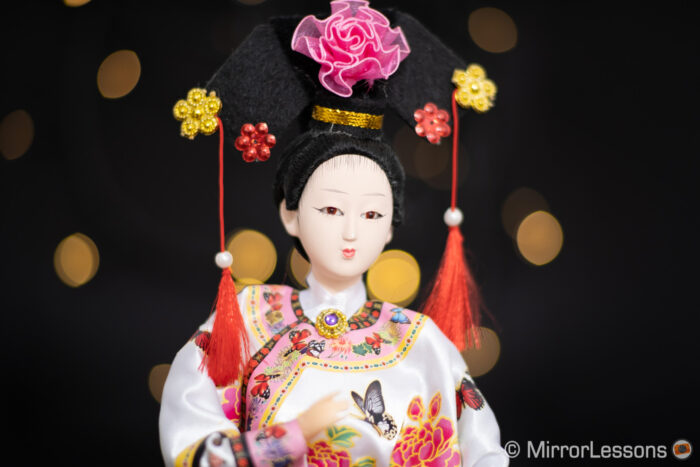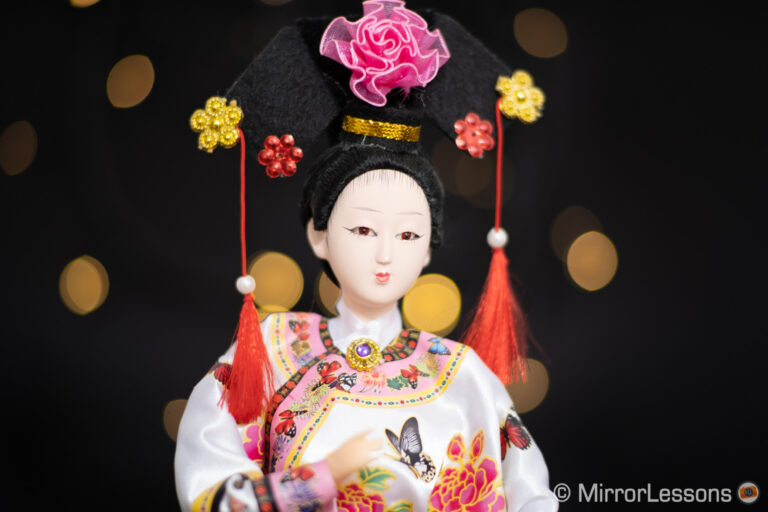 The 50mm's are rounder but noticeably smaller which makes sense given the slightly slower aperture and shorter focal length.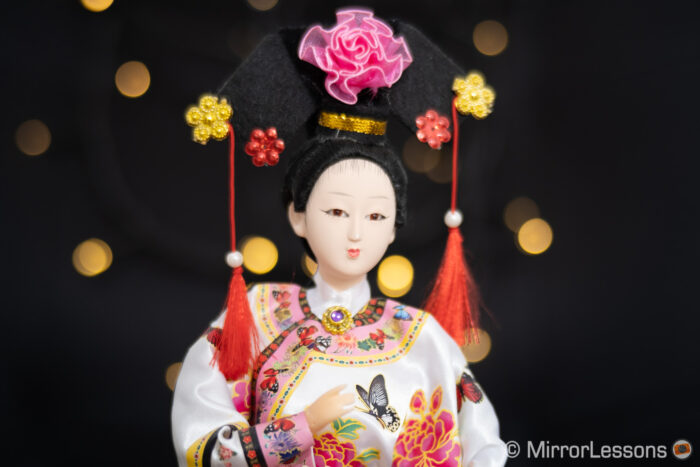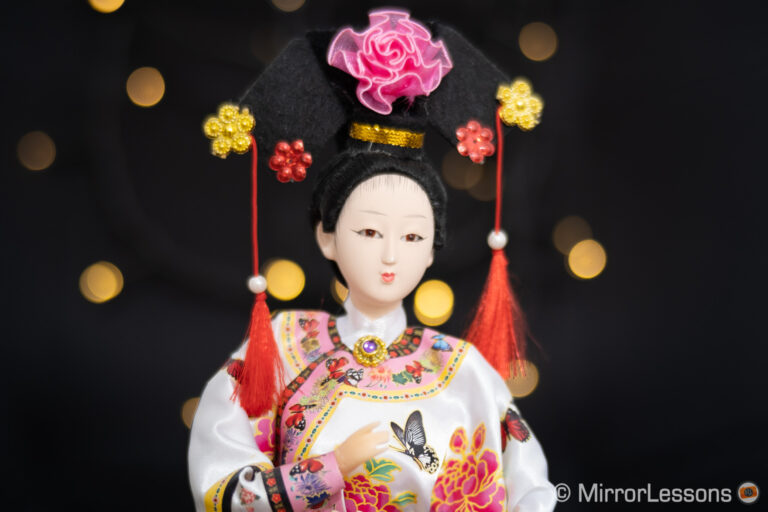 With either lens, it is easy to separate the subject from the background as long as you use one of the fastest apertures and stand fairly close to your subject. The background doesn't melt away as it would with a high-end portrait lens but they both do a decent job considering the price bracket within which they fall.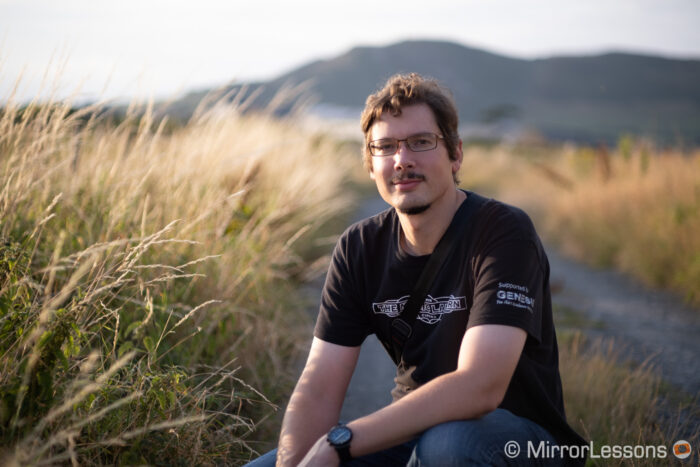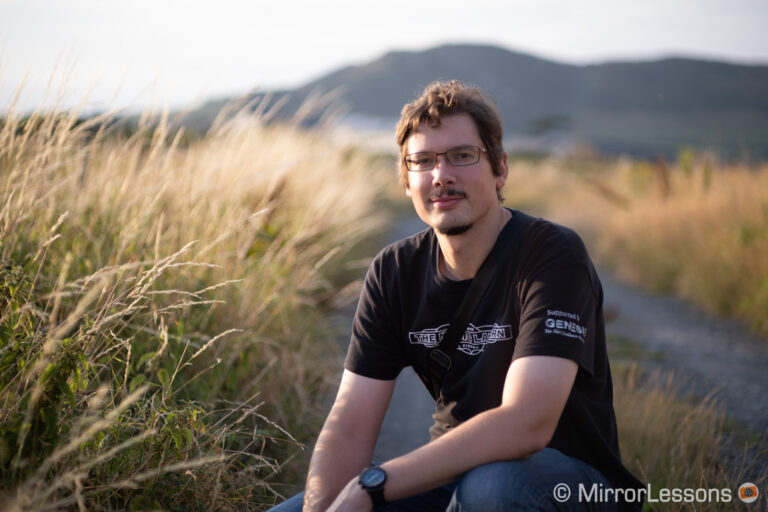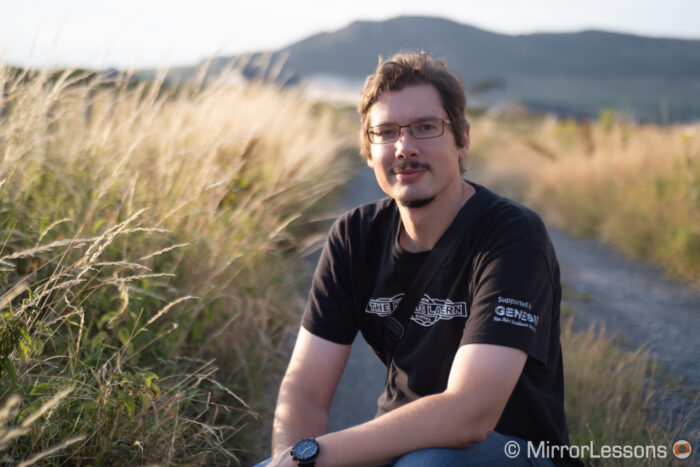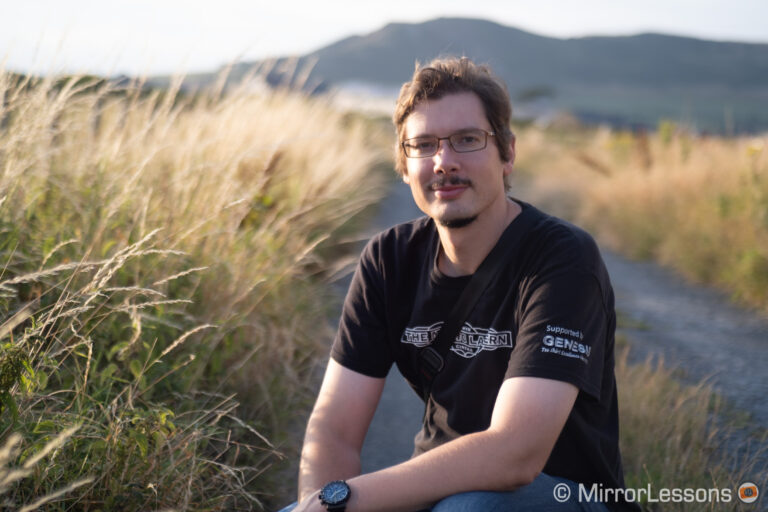 ---
Flare
Both lenses are prone to some flare and ghosting so it is best to avoid shooting into direct sunlight, especially since neither comes with a lens hood.
---
Chromatic aberration
The 55mm produces some noticeable chromatic aberration at the fastest apertures, whereas the 50mm doesn't seem to suffer at all.
---
Distortion and Vignetting
I didn't come across any relevant traces of barrel or pincushion distortion in my tests.
Vignetting is quite visible at the fastest apertures but mostly disappears by f/2.8 on the 50mm and f/4 on the 55mm. It is a little more severe on the 55mm, especially when used wide open.
---
Minimum focus distance
The 55mm, in addition to having a slightly longer focal length, can also focus much closer than the 50mm (35cm vs 50cm). You can see the difference by looking at the images below.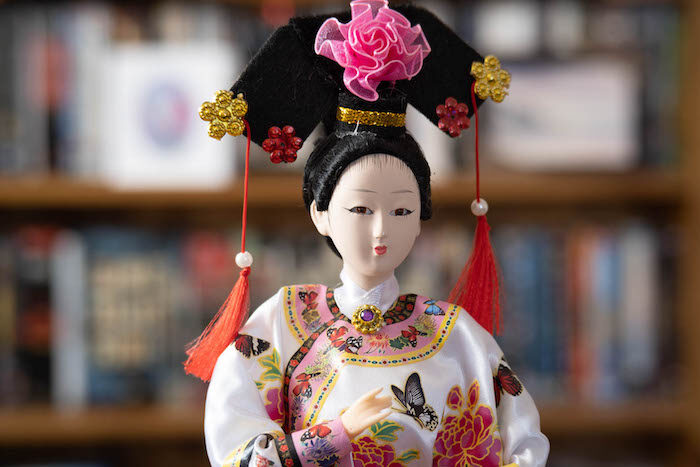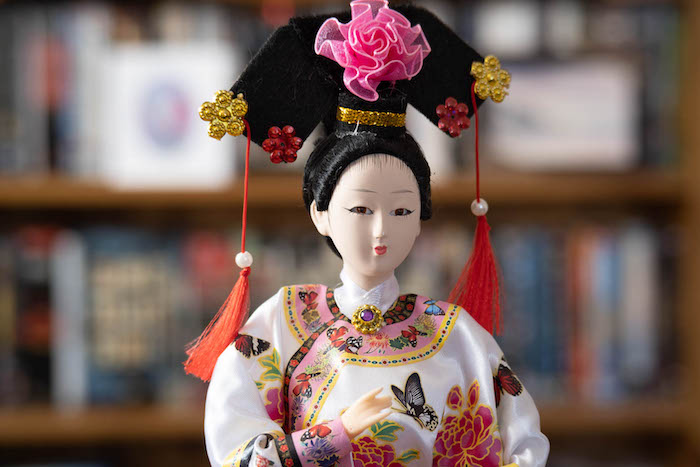 ---
Field of view
The 50mm, with its shorter focal length, obviously offers a marginally wider field of view than the 55mm. You can see how much wider it is by comparing the two sample shots below.
---
Conclusion
The 50mm and 55mm were my introduction to 7Artisans products and, despite their flaws, my final verdict is much more positive than I ever imagined given my previous experience with budget Chinese lenses.
The 50mm will set you back just $90, whereas the 55mm is a little more expensive at $120, but both offer a good range of features including a fast maximum aperture, solid construction, and very good sharpness at f/2.8 and beyond. The quality isn't at the level of, say, the XF 50mm f/2, but they are more than enough if you are looking for a fast prime on which to practise manual focusing.
If I had to choose between these two lenses myself, I'd probably go for the 55mm for a few reasons: the bokeh is more pleasant, the maximum aperture is faster, it offers better sharpness at the fastest apertures, and it can focus closer. Plus it isn't as if you'd be spending a whole lot more by choosing the 55mm since there is a mere $30 price difference between them.
Choose the 7Artisans 50mm 1.8 if you:
truly cannot spare a penny
would rather work with the traditional 50mm focal length
find it for even cheaper than $90
Choose the 7Artisans 55mm 1.4 if you:
want a beautiful bokeh
want the fastest aperture possible
are interested in being able to focus close and capture details
want better sharpness
---
Reminder: the links below are affiliate links. If you decided to buy something after clicking the link, we will receive a small commission.
Check the price of the 7Artisans 50mm 1.8 on Amazon | B&H Photo
Check the price of the 7Artisans 55mm 1.4 on Amazon | B&H Photo
---
Sample Images
7Artisans 50mm f/1.8
7Artisans 55mm f/1.4