For each category in Fujifilm's X-Series line-up, there is at least one model with a protruding viewfinder at the centre and one with a flat-topped rangefinder design.
The new X-T200 is the latest entry-level model with a centrally-placed viewfinder, whereas the X-A7, which was released in October 2019, is its flat-topped equivalent. Although they share much of the same technology on the inside, there are quite a few relevant differences in their physical appearance as we'll discover in this comparison.
---
What they have in common:
24.2 APS-C Bayer sensor
200 to 12800 native ISO range (100, 25600, 51200 extended values)
phase detection autofocus with 425 AF points, face/eye detection with the latest software algorithm
up to 1/32000s shutter speed with e-shutter
4K video up to 30fps oversampling and no crop
fully articulating 3.5-in LCD screen with 2,760k dots and touch sensitivity
11 film simulation modes
USB C connector and Bluetooth
---
Ethics statement: the following is based on official information about the X-T200 and X-A7. We were not asked to write anything about these products, nor were we provided with any sort of compensation. Within the article, there are affiliate links. If you buy something after clicking the link, we will receive a small commission. To know more about our ethics, you can visit our full disclosure page. Thank you!
---
1. Size and weight
The first difference worth mentioning is the size and weight. The X-T200 weighs in at 370g with the battery and memory card, around 50g more than the X-A7. The new camera is also larger in part due to its built-in EVF. You can see a direct comparison of the dimensions below:
X-T200: 121.0(W) mm x 83.7 (H) mm x 55.1(D) mm
X-A7: 119.0(W) mm x 67.7 (H) mm x 41.1(D) mm

---
2. Built-in viewfinder
We already alluded to the biggest difference between these two cameras in the introduction: the electronic viewfinder (or EVF).

The X-T200 comes with a built-in EVF that sits at the centre of the top plate. It is far from the most advanced iteration in Fujifilm's line-up but the specifications are decent: 0.39-inches, 2,360K-dot OLED screen, 100% coverage and an eye point of 17.5mm.
None of the X-A series cameras come with a built-in EVF. Its flat top is home to the pop-up flash, various dials, and hot shoe to which you can attach an external EVF if you wish.

The X-T200 also has an extra dial on top and two additional buttons on the rear.
---
3. Continuous shooting speed
The X-T200 can produce faster continuous shooting speeds than the X-A7, allowing for 8fps with AF or 4fps at a reduced speed versus 6fps and 3fps respectively. Neither camera has a particularly good buffer however, so you might want to look elsewhere if you're after a serious action camera.
---
4. Slow motion video
A small difference between the two cameras concerns the slow motion capabilities. Whereas the X-T200 can go up to 120fps in Full HD (1080p) in the High Speed Movie mode, the X-A7 is limited to 60fps. There is the option to shoot at 100fps on the older model but only in HD Ready resolution (720p).
---
5. Digital Gimbal mode
The X-T200 has received various new additions for video recording not found on the X-A7. One of them is called Digital Gimbal Mode. It provides electronic stabilisation and uses the camera's gyro sensor to be more accurate and effective. Unfortunately, it only works in 1080p, not 4K.
---
6. Other video features
Other settings you will only find on the X-T200 are the HDR video mode which increases the dynamic range, and the in-camera Movie Trimming mode. I wouldn't be surprised if these features come to the X-A7 at a later date via firmware.

---
7. Audio input/output
Videographers will be pleased to discover a 3.5mm microphone input on the X-T200, as well as a headphone adapter for the USB-C port included in the box. The X-A7 only had a 2.5mm mic input which required an adapter.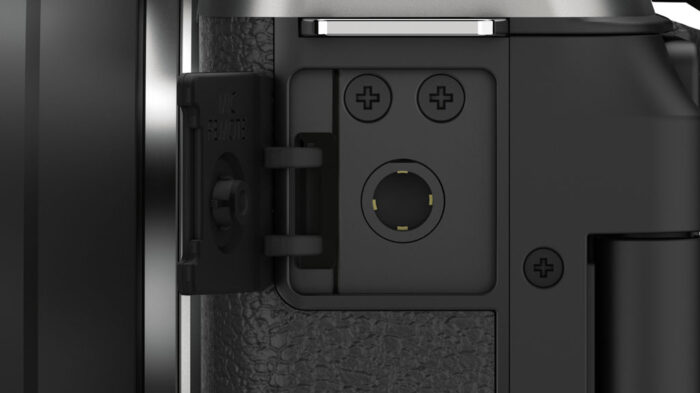 ---
8. Body colours
The X-A7 comes in a slightly wider range of colours than the X-T200. These include camel, mint green, silver and dark silver. The X-T200 is available in dark silver, silver and champagne gold.

---
9. Clarity filter
In the Advanced filters section, you will notice that there is a new option on the X-T200 called Clarity that, as the name suggests, boosts the clarity of an image. According to Fujifilm, it adds "advanced artistic flair to images to expand the scope of one's photographic expressions."
---
10. Price
Being a brand new release, the X-T200 is approximately $100 US more expensive than the X-A7 at $799 US at the time of writing.
---
Conclusion
In the case of these two cameras, the choice is not difficult to make because the X-A7 clearly lacks one important feature: the viewfinder. And if having a viewfinder is important to you, there really isn't any contest.
One aspect that could encourage you to choose the X-T200 are the extra settings in video mode. The digital stabilisation option in particular, if efficient, could be a nice asset for v-logging and similar applications.
As for the other software features, I'm fairly certain that most of them can be passed on to the X-A7 via firmware update, though whether Fujifilm will make this a priority is another matter.
---
Reminder: the links below are affiliate links. If you decided to buy something after clicking the link, we will receive a small commission.
Check price of the Fujifilm X-T200 on B&H Photo
Check price of the Fujifilm X-A7 on
Amazon | Amazon UK | B&H Photo | eBay
---