This week saw the announcement of various lenses, including the long-awaited Tamron 150-500mm for E-mount cameras and Sony's own 14mm 1.8 GM. Samyang also released its first autofocus lens for APS-C bodies, while Sony, Nikon and Fujifilm unveiled new firmware updates.
---
Tamron 150-500mm F/5-6.7 Di III VC VXD
The 150-500mm is a compact super telephoto lens designed for full frame E-mount cameras. It measures 21cm long (when at the 150mm position) and weights 1.72g (including the tripod mount). Not bad!
The lens features optical stabilisation (with a panning priority mode) and a linear motor mechanism for the autofocus. The tripod mount is compatible with Arca Swiss tripod heads.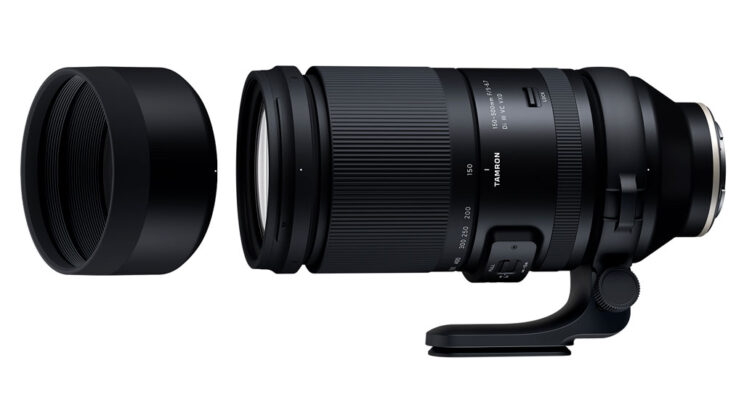 Other characteristics of the Tamron 150-500mm include:
25 elements in 16 groups
1 Extra Low Dispersion element, 5 Low Dispersion elements, 2 Hybrid Aspherical elements
seven blade aperture diaphragm
minimum focusing of 60cm (150mm) and 180cm (500mm)
moisture resistance
The 150-500mm will go on sale at the retail price of $1400. That makes it about $450 more expensive than the Sigma 100-400mm. Compared to Sony's 200-600mm lens however, the Tamron is less expensive by $600. It sounds like a good compromise between cost, portability and zoom range, if the optical quality delivers of course. It could also be a great fit for Sony's APS-C cameras if you want a 750mm equivalent field of view when zoomed in all the way.
---
Tamron 11–20mm F2.8 Di III-A RXD
Following the 17-70mm f2.8, Tamron has released a second zoom lens for Sony APS-C cameras, the ultra wide 11-20mm f2.8 (16.5-30mm equivalent). It looks like a nice alternative to the older Sony 10-18mm f4. It's great to see Tamron fully committed to the E-mount system and giving some love to the APS-C segment as well.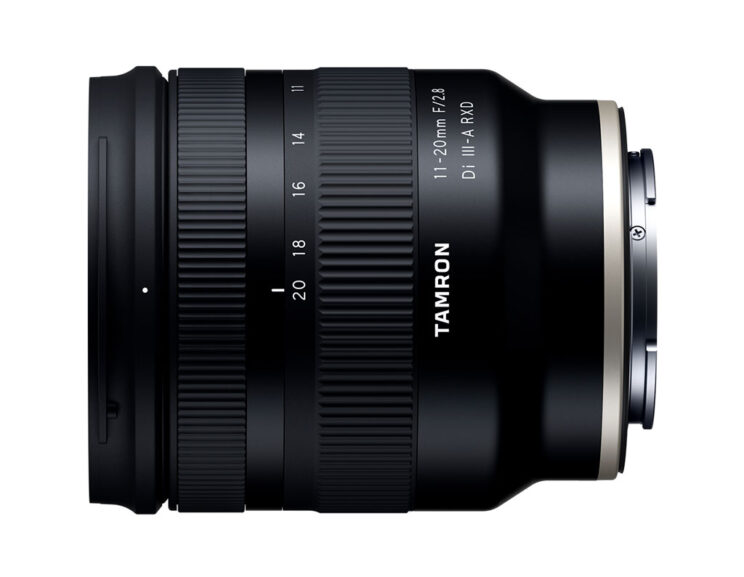 Main characteristics of the Tamron 11-20mm:
compact design (8.6cm long, 335g)
12 elements in 10 groups
2 Glass Molded Aspherical, 1 eXtra Low Dispersion and 2 Low Dispersion elements
Min. focus: 15cm (11mm) and 24cm (20mm)
67mm filter thread (same as most of Tamron's lenses for Sony)
Stepping AF motor
moisture resistant
It will go on sale for $830. Both Tamron lenses are expected to be available in June, although the company said this may vary depending on the global health crisis.
---
Sony 14mm F1.8 GM
Sony continues to release new lenses at an impressive pace. The 14mm is an ultra wide angle lens with a fast aperture of f/1.8, making it tempting for astrophotography among other things. The lens is surprisingly compact, being smaller than the Sigma 14mm 1.8 Art (460g vs 1230g), although bear in mind that the latter was designed for DSLRs, which explains the larger dimensions.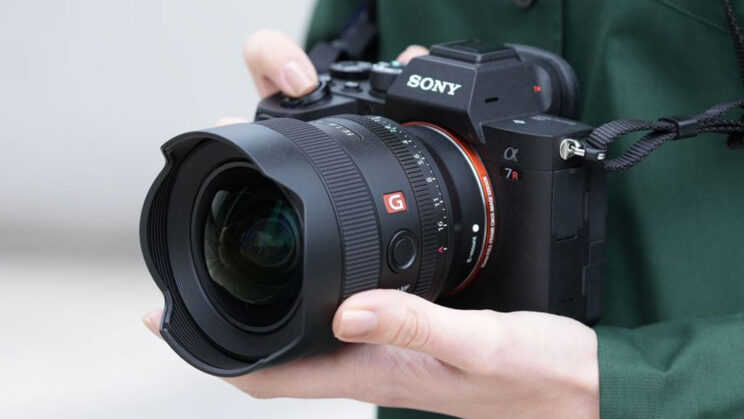 In addition to the focus ring, you'll find an aperture ring that can be de-clicked, an AF/MF switch and a customisable button. The hood is fixed and there is no filter thread at the front, which is to be expected with this kind of lens. However, you can insert gelatine filters on the rear and Sony provides a filter template to cut them to the right size.
Other characteristics of the Sony 14mm F1.8:
14 elements in 11 groups
2 Extreme Aspherical or XA (a trademark of the G Master series), 1 Super ED and 2 ED elements
2 Linear AF motor
Min. focus distance: 25cm
Not exactly cheap, but not too unreasonable either, the 14mm 1.8 will be sold for $1600 or £1400.
---
Samyang AF 12mm F2 E
More love for Sony's APS-C series, this time from Samyang. After producing several AF lenses for the full frame line-up, the 12mm F2 (18mm equivalent) is the first AF lens designed for APS-C bodies. It looks to be a modified version of the popular 12mm f2 NCS CS lens (manual focus) where, in addition to adding autofocus, Samyang has also revised the optical design by adding more special glass elements.
The lens is weather sealed, has a linear stepping AF motor and is tiny: 224g and 6cm long. There are no controls on the barrel other than the focus ring. The price is also attractive at $400.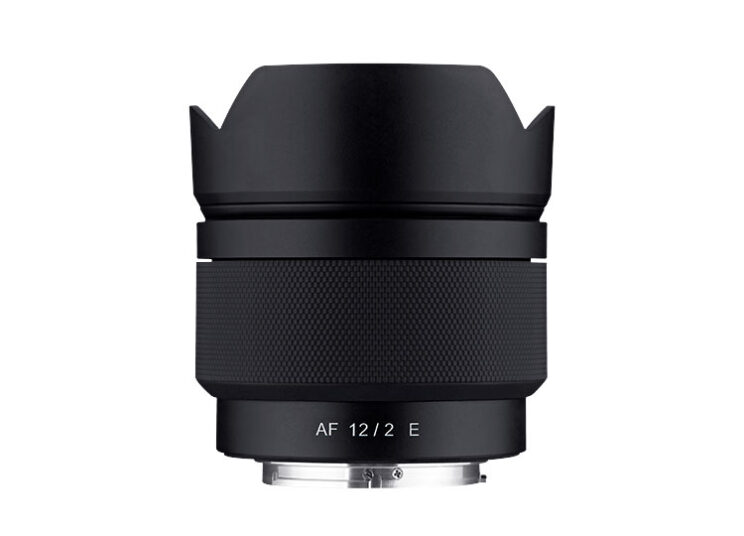 Other characteristics of the Samyang 12mm F2:
12 Elements in 10 Groups
1 H-Aspherical, 1 Aspherical and 3 ED elements
7 diaphragm blades
Min. focus: 19cm
62mm filter thread
Tokina 400mm F8 Reflex
The 400mm lens is now available for RF mount and Z mount. Announced last year for various systems including Sony E-mount, Tokina took an unusual approach: instead of making lenses with different mounts, it offers various adapters to make the reflex lens compatible with your specific camera. It costs $250.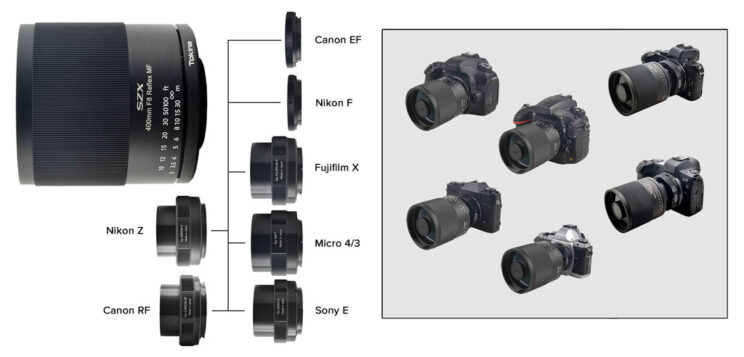 ---
Firmware updates
Various firmware updates have been announced and/or released.
Fujifilm GFX100
Firmware 4.00 will bring a lot of improvements to the medium format flagship camera including better AF performance, better interaction between IBIS and optical stabilisation, the Nostalgic Neg Film Simulation mode and much more. You can read all the details in Fujifilm's press release. The firmware will be available to download in June.
Nikon Z6 and Z7 series
All Nikon full frame mirrorless cameras can receive a new firmware update from April 26th (tomorrow if you're reading this article on the day of publishing):
Z6 and Z7: version 3.30 adds a Save Focus Position mode that allows you to save the AF point when you turn the camera off and on. Additionally, the Z6 will receive the voice memo recording / play function, which will come to the Z6 mark II as well at a later date
Z6 II and Z7 II: version 1.20 improves the AF in low light situations and when using speedlights, as well as when selecting face/eye detection or Subject-Tracking AF
Z5: version 1.10 improves the Low-Light AF mode
Z50: version 2.10 ads the Save Focus Position mode
Sony A7S III
Firmware 2.01 fixes a few issues and improves the overall stability of the camera. It is already available to download from the Sony Support page.
---
Until next week!
---