This week, we have the new flagship camera from Fujifilm, lots of APS-C lenses and one new full frame lens.
Fujifilm X-H2S
There will be two X-H2 models on the market. One will have 40MP and all the details will be revealed at a later date. The other, the X-H2S, has arrived and boosts impressive performance, making it the most advanced mirrorless APS-C camera at the time of writing this article.
The sensor is an updated version of the 26MP chip with more processing speed (it has a stacked design). The autofocus now includes deep learning for animal and vehicle detection, among other things. The drive speed reaches 40fps with full-sized RAW and no blackouts. And then there is video: 6.2K, 4K up to 120p, internal Prores recording and much more!
If you're curious about the X-H2S, you can read more about it, as well as how it compares to the X-T4 via the link below.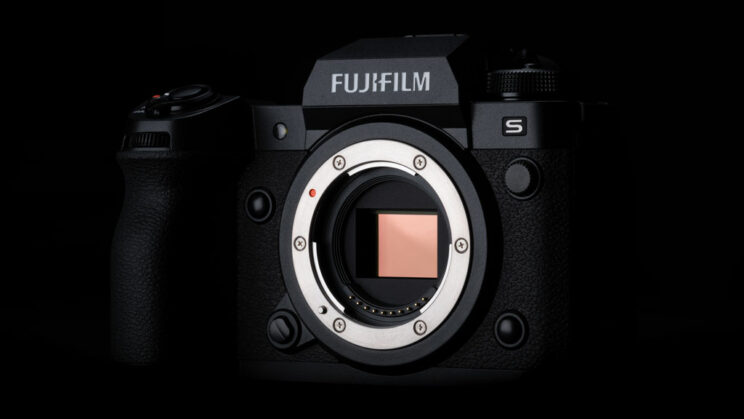 ---
Fujinon XF 150-600mm F5.6-8 R LM OIS WR
Alongside the X-H2S, Fujifilm has presented two new lenses. The first is the 150-600mm which should be of interest to wildlife and bird photographers in particular thanks to the impressive reach (225-900mm equivalent, and you can also attach the teleconverters).
The zoom mechanism is internal and the lens is made of magnesium alloy parts. It has a matte silver finish to reduce the possibility of high temperatures. The zoom is fully weather-sealed. The optical stabilisation is rated at 5 stops, and the inner focus system can work as fast as 0.25s at 600mm, according to Fujifilm. There are various controls on the barrel including a focus limiter, focus mode switch, an aperture selector and a custom button. The lens costs $2000.
24 elements in 17 groups
3 ED and 4 super ED elements
9-rounded aperture blades
Min. focus: 2.4m
Filter thread: 82mm
Ø99 × 314.5mm
1,605g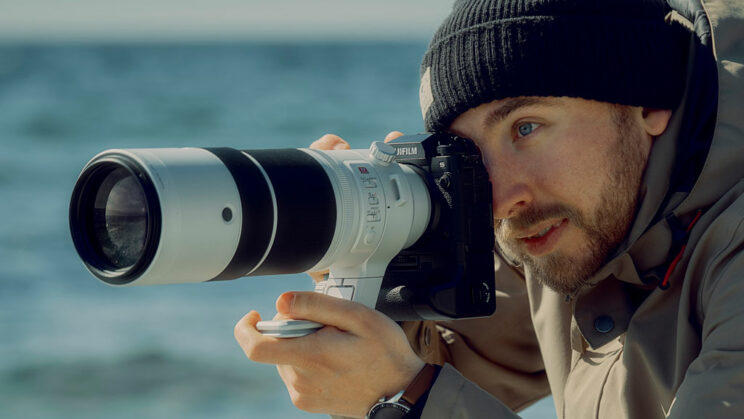 ---
Fujinon XF 18-120mm F4 LM PZ WR
The other lens introduced alongside the new flagship camera is the first motorised zoom lens for the X-system. The 18-120mm has been designed with video-makers in mind, and can even be controlled remotely with the X-H2S and a specific tablet application. The lens design has been optimised to suppress focus breathing and the aperture can provide smooth transitions for video work. Users can also control the speed of the zoom mechanism. The price is set at $900.
15 elements in 12 groups
3 aspherical and 3 ED elements
7-rounded aperture blades
Inner linear focus motor
Min. focus: 46cm (entire zoom range)
Filter thread: 72mm
Ø77.3 × 123.5mm
460g
Weather sealed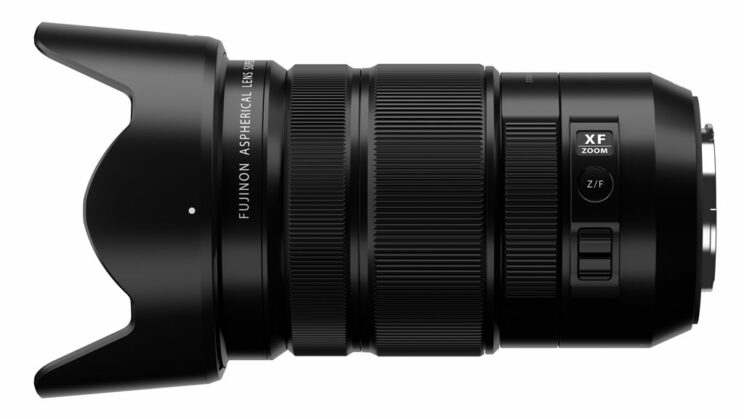 ---
Fujifilm Roadmap
Fuji has also updated its lens roadmap and three new products will arrive later on:
XF 8mm F3.5 (compact prime lens)
XF 30mm F2.8 Macro (compact prime lens)
XF 56mm F1.2 (new version)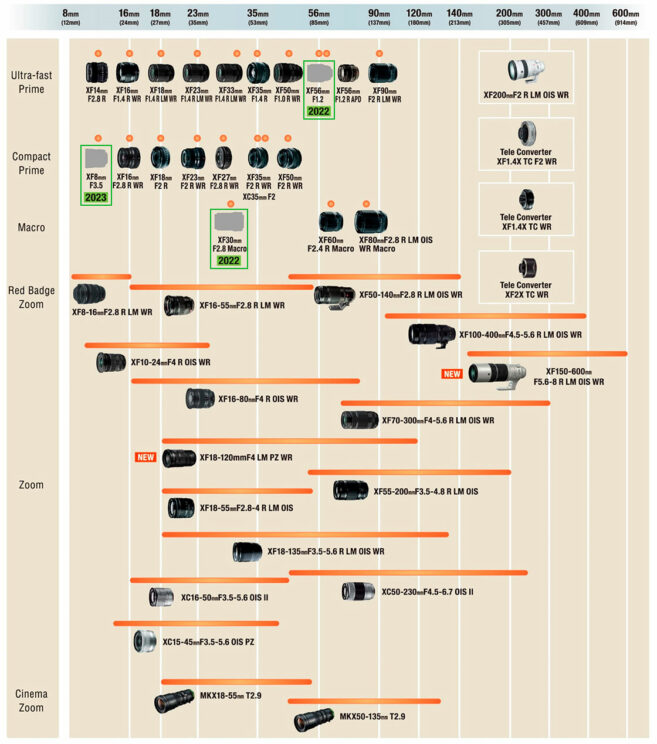 ---
Three new APS-C lenses for Sony E-mount
Sony has released three new lenses for its APS-C system. They're all wide-angle which shows the company is focusing on V-loggers more than anything else for its ZV and A6xxx series.
The first is the 10-20mm F4 PZ, a motorized zoom that impresses with its small dimensions and weight (178g). Not only, but the zoom and focus mechanism are internal, so the barrel doesn't extend, something that gimbal users will certainly appreciate.
15-30mm equivalent
8 elements in 11 groups
1 ED aspherical and 2 ED glass elements
7 aperture blades
Min. focus: 20cm
Filter thread: 62mm
Ø69.8 × 55mm
178g
Dust and moisture resistant
Zoom lever, focus switch and custom button
$750
The second is a fast wide angle prime, the 11mm F1.8, which is great for a variety of low light or indoor work, or to film yourself while also having enough room to show what is around you.
16.5mm equivalent
11 elements in 12 groups
3 aspherical and 3 ED glass elements
7 aperture blades
Min. focus: 12cm
Filter thread: 55mm
Ø66 × 57.5mm
181g
Dust and moisture resistant
Focus switch and custom button
$550
The third one is a bright 15mm F1.4 that is part of the G family. It features an aperture ring and Sony promises excellent optical performance.
22.5mm equivalent
12 elements in 13 groups
3 aspherical, 1 ED and 1 Super ED glass elements
7 aperture blades
Min. focus: 17cm
Filter thread: 55mm
Ø66.6 × 69.5mm
219g
Dust and moisture resistant
De-click aperture switch, focus switch and custom button
$750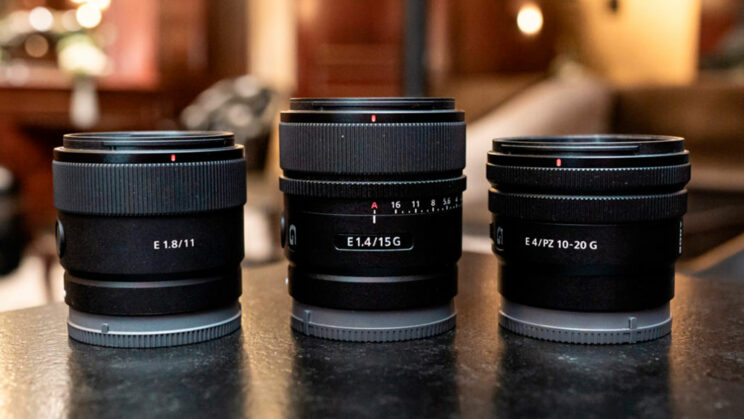 ---
Sigma 16-28mm F2.8 DG DN Contemporary
Sigma continues to release new lenses for full frame mirrorless cameras (L-mount and E-mount). The latest is a competitively priced ($900) wide angle zoom lens with a fast and constant aperture of F2.8. It joins the Contemporary family of lenses comprising, among others, the 28-70mm F2.8.
16 elements in 11 groups
5 FLD and 4 aspherical elements
9 aperture blades
Min. focus: 25cm
Stepping AF motor
Internal zoom and focus mechanism
Filter thread: 72mm
Ø77.2 × 100.6mm
450g
Weather sealed
Focus mode switch