Two portrait lenses that every Micro Four Thirds photographer has considered at some point are the M.Zuiko 45mm f/1.8 and M.Zuiko 75mm f/1.8.
The 45mm has been in our collection for almost as long as we've been writing about mirrorless cameras. It was the second lens we bought after picking up the Olympus OM-D E-M5, and has proven a steadfast companion thanks to its quality and compactness. It was later joined by the 75mm, which proved a boon for Mathieu's event photography as he often had to photograph actors and directors in poorly lit auditoriums and conference halls.
The 45mm and 75mm are similar in that they meet all the requirements for a good portrait lens – a fast aperture, long focal length, sharp rendering and pleasant bokeh –  but there are also a few key differences that could influence your decision to purchase one or the other. Let's have a look at them both now!
---
Ethics statements: This article was originally produced in 2016 for MirrorLessons, our camera review website. We then transferred it over when its comparison section was upgraded to the very website you are visiting right now. Both the 45mm and 75mm were purchased for our personal use. We were not asked to write anything about these lenses, nor were we provided any other compensation of any kind. Within the article, there are affiliate links. If you buy something after clicking the link, we will receive a small commission. To know more about our ethics, you can visit our full disclosure page. Thank you!
---
[toc heading_levels="2″]
---
Main specifications
Olympus M.Zuiko 45mm f/1.8
Focal length: 45mm (90mm in 35mm format)
Lens configuration: 9 elements / 8 groups with 2 E-HR elements
Angle of view: 27°
Closest focusing distance: 0.5m
Maximum image magnification: 0.11x
Aperture blades: 7 circular aperture blades
Aperture range: 1.8 to 22
Filter diamater: 37mm
Weather sealing: No
Optical stabilisation: No
Dimensions: 56mm Ø, 46mm
Weight: 116g
Olympus M.Zuiko 75mm f/1.8
Focal length: 75mm (150mm in 35mm format)
Lens configuration: 10 elements / 9 groups with 3 ED elements and 2 HR elements
Angle of view: 16°
Closest focusing distance: 0.84m
Maximum image magnification: 0.1x
Aperture blades: 9 circular aperture blades
Aperture range: 1.8 to 22
Filter diamater: 58mm
Weather sealing: No
Optical stabilisation: No
Dimensions: 64mm Ø, 69mm
Weight: 305g
---
Build and Design
The most notable differences between the M.Zuiko 45mm and 75mm lie in their build and design.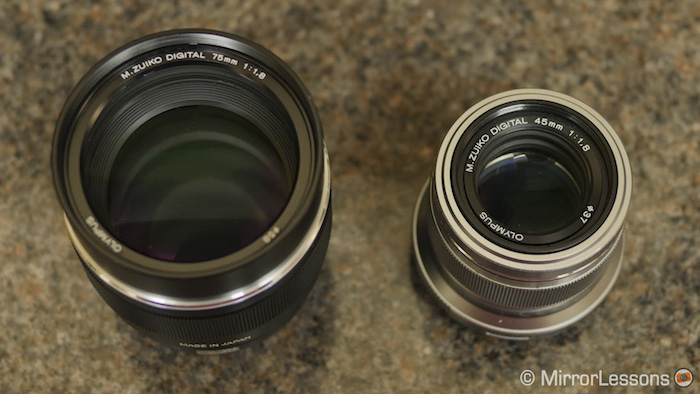 Though the shiny finish may deceive you into thinking that the lens is all-metal, most of the 45mm's exterior is made of plastic. This, coupled with its compact dimensions and a weight of only 115g, gives you an extremely portable and lightweight prime that you can easily pop into your camera bag or jacket pocket at the last minute.
By comparison, the 75mm is anything but light and compact. It weighs 305g, making it twice as heavy as the 45mm, and features an all-metal build. However, where the 75mm lacks in compactness, it makes up in durability. Indeed, our 45mm has far more signs of physical wear and tear on the body than the 75mm, even though we've owned and used both for a similar length of time.
As far as physical controls go, the two lenses are quite similar. Neither has an aperture ring nor a physical distance scale but they do share a ribbed focus ring that focuses by wire. Olympus produced a metal lens hood for the 75mm and a plastic lens hood for the 45mm, both of which must be purchased separately. Neither lens is weather-sealed and like most M.Zuiko lenses, they lack optical stabilisation.
---
Image Quality – Through the lens
Though both the 45mm and 75mm fall into the "portrait lens" category, they actually have very different equivalent focal lengths in full-frame format. The 45mm is a 90mm equivalent, which is close to the classic focal length of 80-85mm, while the 75mm equates to a telephoto prime at 150mm. The latter is often used by professionals for its ability to compress perspective and isolate the subject from the background.
Budget aside, your choice is dependant on the kind of portrait photography you plan to do. If you are just getting into the genre and like the idea of taking a variety of portraits, from head shots to full upper-body shots, the 45mm is your best bet. If you are a more experienced portrait photographer, the 75mm is a must-have for tight head shots and photographing people at a distance at weddings or events.
Sharpness
One of the biggest concerns portrait photographers have is the sharpness of the lens. Thankfully, both the M.Zuiko 45mm and 75mm perform very well even at their fastest aperture of f/1.8 and are therefore perfectly suited to the genre.
In the comparative test shots I took, I found discovered the following:
At the fastest aperture of f/1.8…
There isn't a very big difference in performance at the centre, though the 75mm does seem marginally sharper. At the edges, the 75mm is noticeably sharper but the performance is still very good from both lenses.
Between f/2.8 and f/8…
The sharpness from both lenses improves at the centre after the fastest aperture. Both are already tack sharp from f/2.8 onward and peak at around f/5.6.
Though the 75mm is definitely sharper than the 45mm at the centre at all apertures, the difference is less noticeable than in the corners where the 75mm is much sharper than the 45mm throughout the range. Once again, peak performance occurs at around f/5.6 in the corners.
From f/11 onward…
Diffraction begins to set in at around f/11, which is common for Micro Four Thirds lenses, but images remain useable up to f/16. As always, the 75mm remains sharper than the 45mm but the differences become less pronounced the more you close your aperture.
Given the difference in price, it would be unreasonable to expect the 45mm to be as sharp as the 75mm. Still, the smaller lens performs very well even at the fastest apertures, which is what you'd tend to use for portraits anyway.
Below you can see a couple of examples of the sharpness you can attain with the 45mm and 75mm for portraiture. They were taken at the same distance at f/1.8 and f/2.8. Click to see a full resolution version.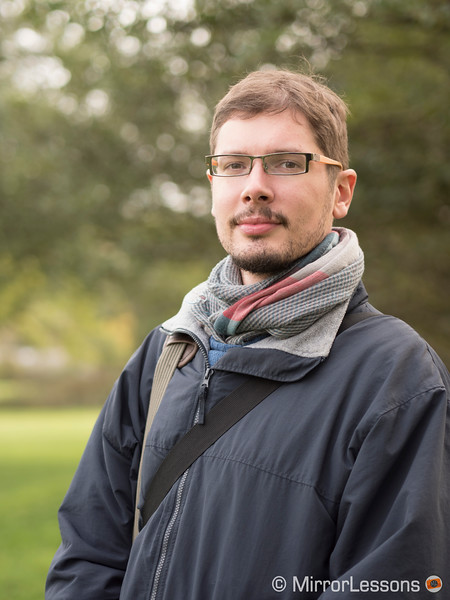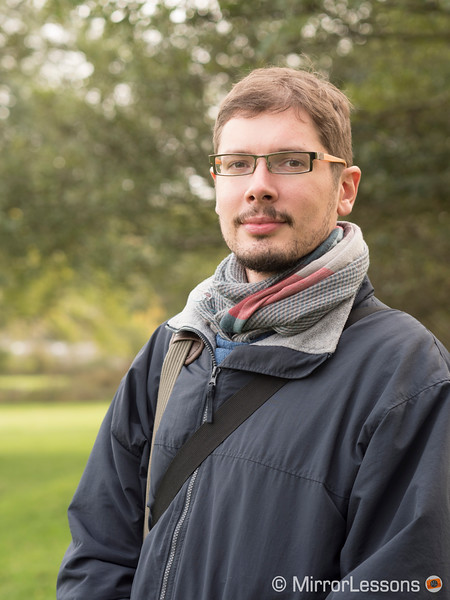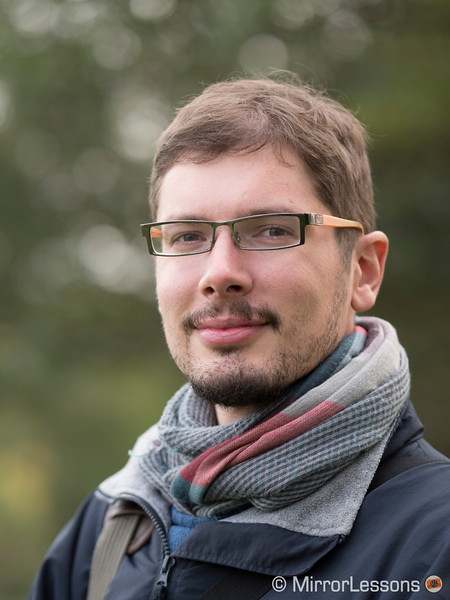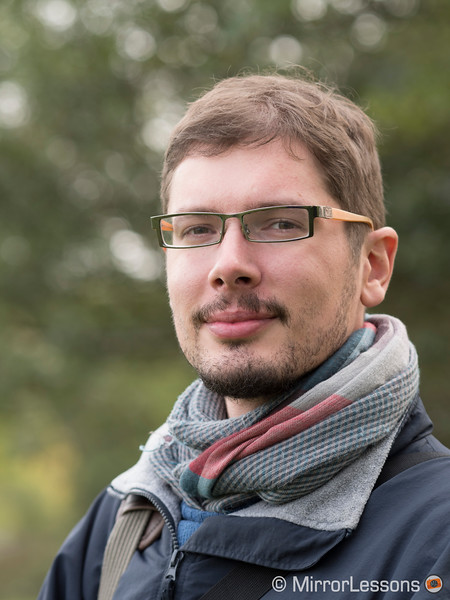 Bokeh
A portrait photographer's second concern tends to be the quality of the out-of-focus areas of the image, or the bokeh. Generally, the faster the aperture, the creamier the bokeh, so it isn't a surprise that both lenses were given a relatively fast maximum aperture of 1.8.
By looking at our dedicated tests and observing images we've taken out in the field, we can confirm that both lenses render a bokeh that is creamy and smooth especially at the fastest aperture. The specular highlights (bokeh balls) are perfectly round and colour fringing around them is very well-controlled. The attractiveness of the bokeh is helped by seven-blade diaphragm of the 45mm and the nine-blade diaphragm of the 75mm.
You can see the full resolution versions of the above images in this dedicated SmugMug gallery.
Of course, the longer focal length of the 75mm helps to isolate the subject and obscure the background more than with the 45mm. The specular highlights also tend to be larger from the 75mm.
If I had to say which bokeh I prefer, I would probably choose that of the 75mm because it is just that bit creamier to my eye. However, we have to give credit to the 45mm for being able to compete with a lens that is twice as expensive.
---
Autofocus and Manual Focus
Focus acquisition is quick and fast on both lenses, especially when used with the latest Micro Four Thirds cameras on the market. This is no surprise, as M.Zuiko lenses are well-known for their speed. Manual focusing, too, is a pleasant experience thanks to the accurate fly-by-wire ribbed focus ring on both lenses. Granted, it will never be as accurate as a mechanical focus ring, but it does the job.
The 75mm has 0.1x magnification and a close focusing distance of 84cm, while the 45mm has 0.11x magnification and a close focusing distance of 50cm. This means that neither lens can focus particularly close. However, you can eke some extra macro performance out of the 75mm if you attach the excellent Raynox 250 adapter.
Below are two examples taken with the 45mm and 75mm at their respective closest focus distances. As you can see, you almost end up with the same composition!
---
Low-Light Performance
A topic that can't be forgotten is the low-light performance of the two lenses. Since they both have a fast maximum aperture of 1.8, you can easily use them in dimly-lit venues like a church, wedding reception, concert hall or auditorium without having to raise your ISO values too much. This is especially true if you use the lenses in conjunction with Micro Four Thirds bodies with in-body stabilisation like the OM-D series or Lumix GH5.
---
Price
I couldn't really conclude this article without mentioning the price. On their respective release dates, the 45mm cost about $400 while the 75mm was $899. These days, you can find the 45mm for even cheaper – I've seen it as low as $200 – whereas the 75mm has retained its value much better.
In short, if you're taking your first steps into the world of photography and are on a tight budget, you should definitely start with the 45mm. In terms of pure value for money, you'll be hard pressed to find something better.*
*Panasonic recently released the Lumix 42.5mm f/1.7. It costs more or less the same price as the 45mm but includes optical stabilisation and a metal construction.
---
Conclusion
In the end, Mathieu and I decided to keep both the 45mm and 75mm. Why, you might ask? Well, despite the fact that they are both portrait lenses, they actually fulfil very different needs.
The M.Zuiko 45mm is the perfect compact companion for holidays or outings where you have to pack light. For example, I often used it on class field trips to photograph the children when I was a teacher. It provides enough quality to satisfy even professional needs and won't break the bank of a budding portrait photographer just getting his or her feet wet. Also, being a 90mm equivalent, it is a very flexible lens suited to head shots, upper torso shots and environmental portraiture.
The M.Zuiko 75mm is a much more specialised lens and its price reflects this. It is the kind of lens you'd find inside the bag of a seasoned portrait photographer. While best suited to head shots, it is also the ideal prime for events, weddings and candid portrait photography when you are far away from your subject. We also use this lens when sharpness is paramount.
If you still aren't sure which to get, ask yourself this: are you new to portrait photography, or are you a working photographer whose workflow consists of frequent portraiture?
The former should make a beeline for the 45mm, while the latter should definitely consider the 75mm for the utmost quality, or perhaps even invest in both to have some extra flexibility on the job.
Do you own either of these portrait lenses? If so, share your experience below!
You may also be interested in:
---
---
Sample Images
M.Zuiko 45mm f/1.8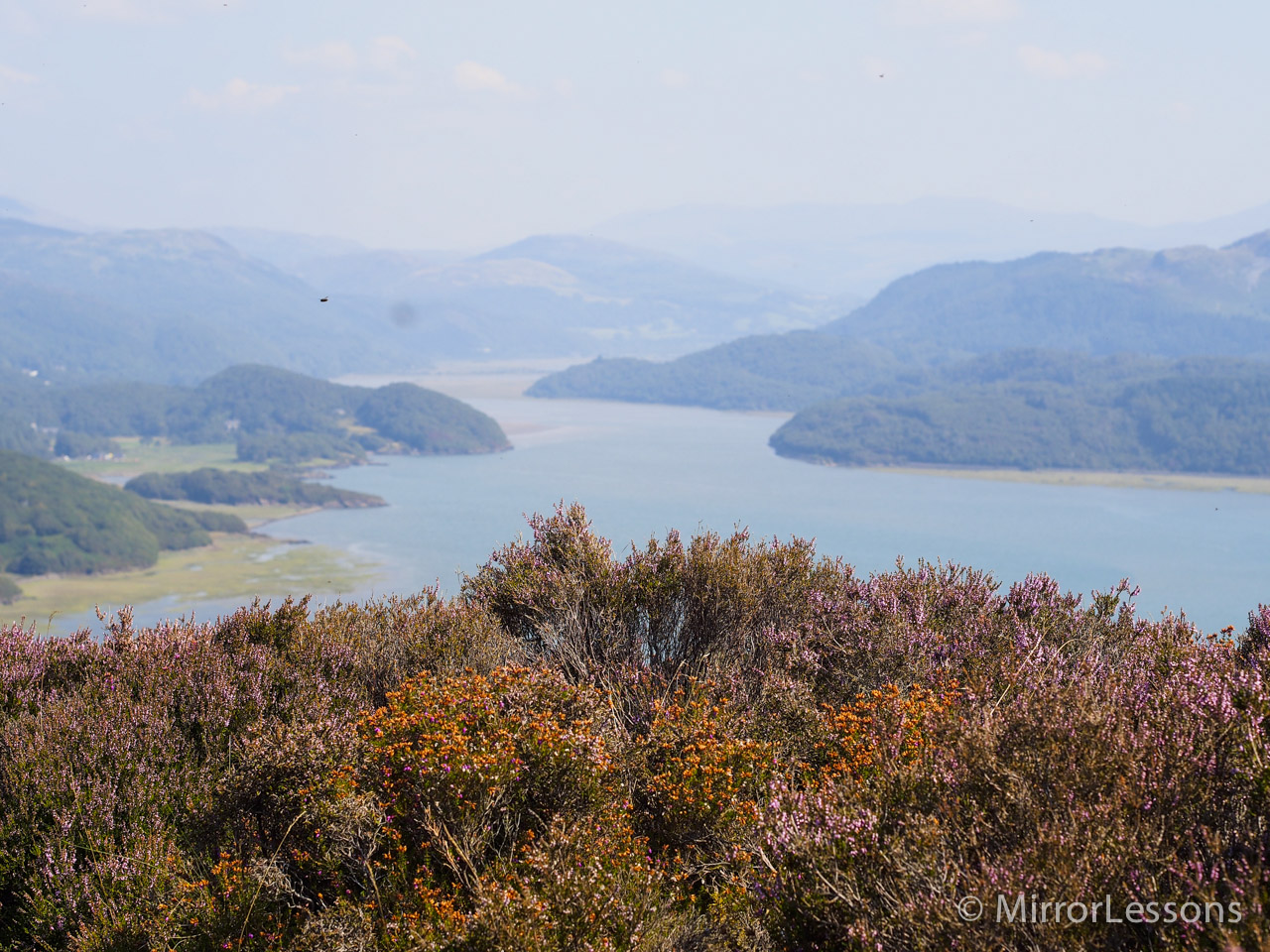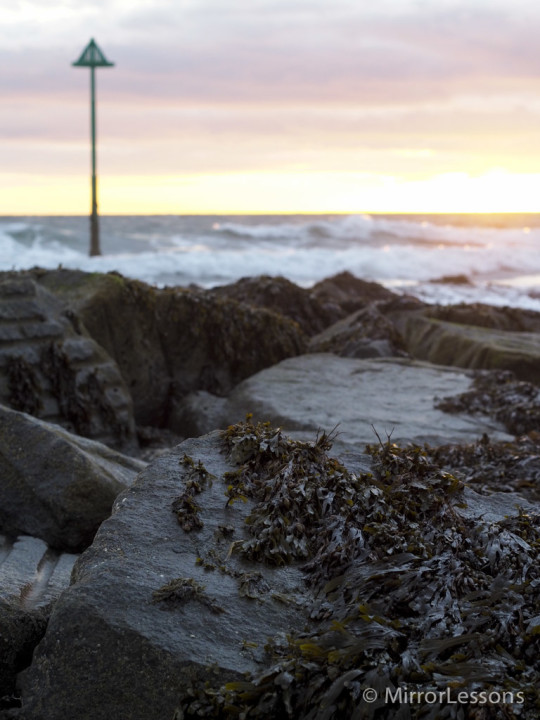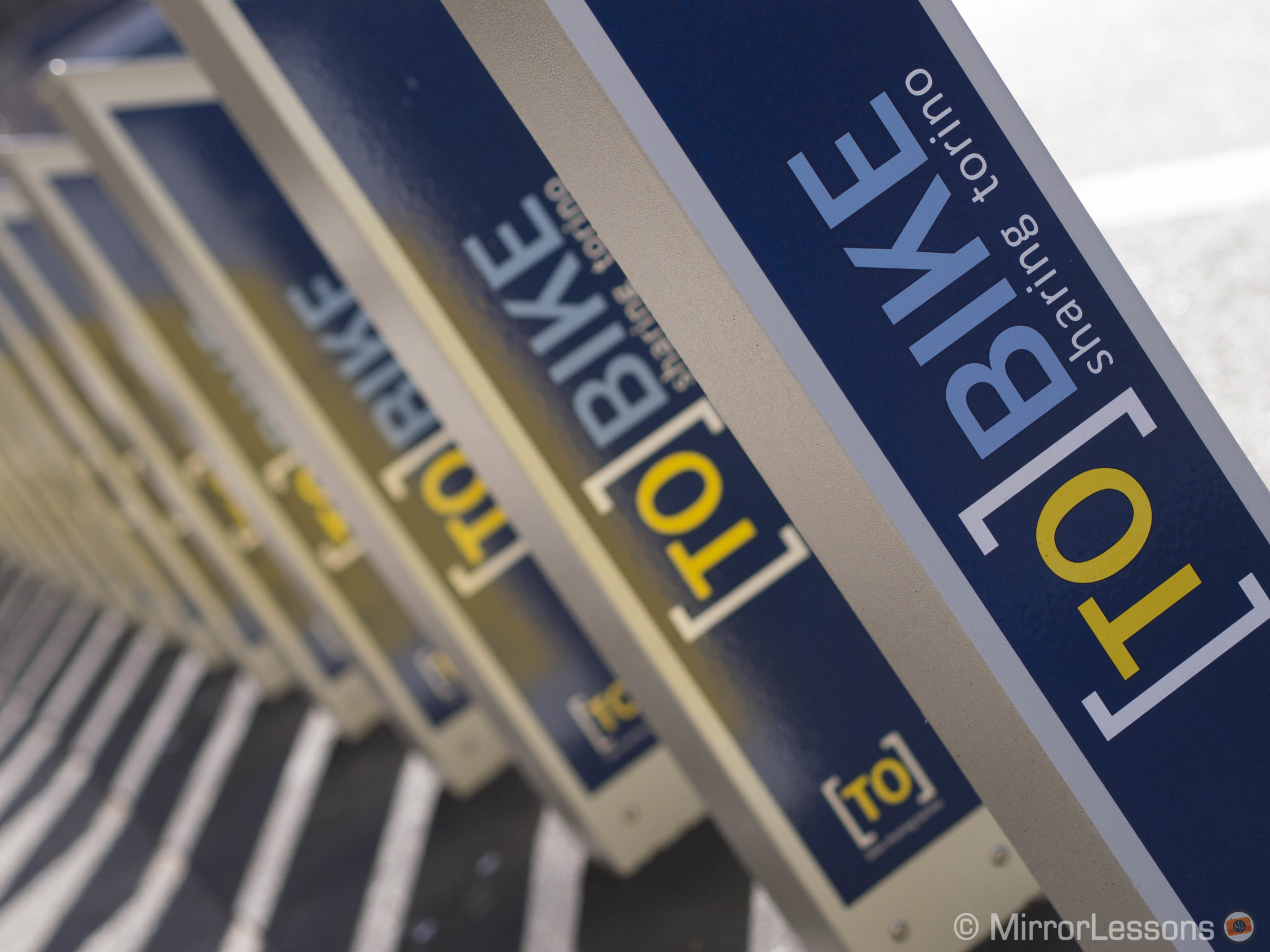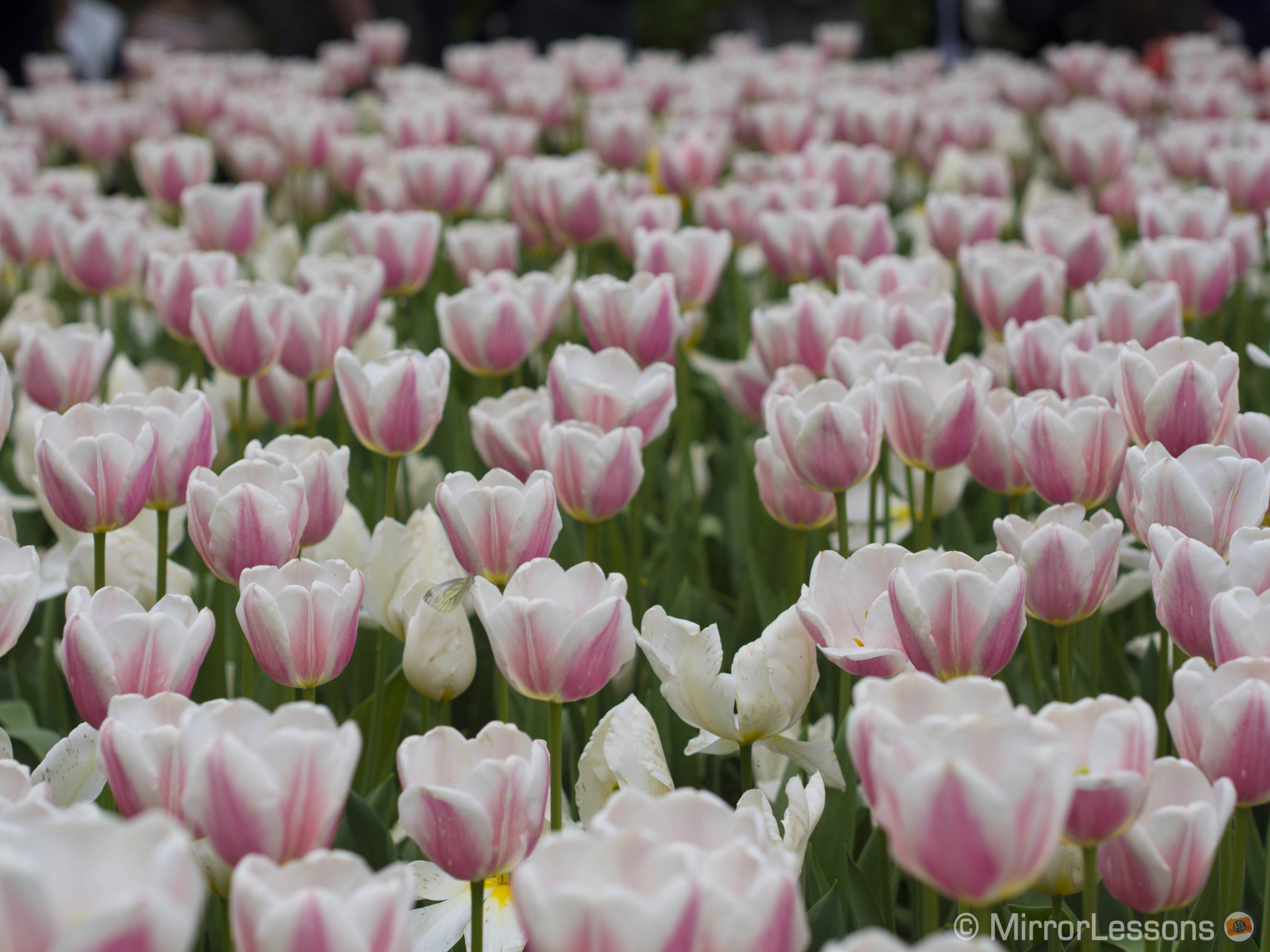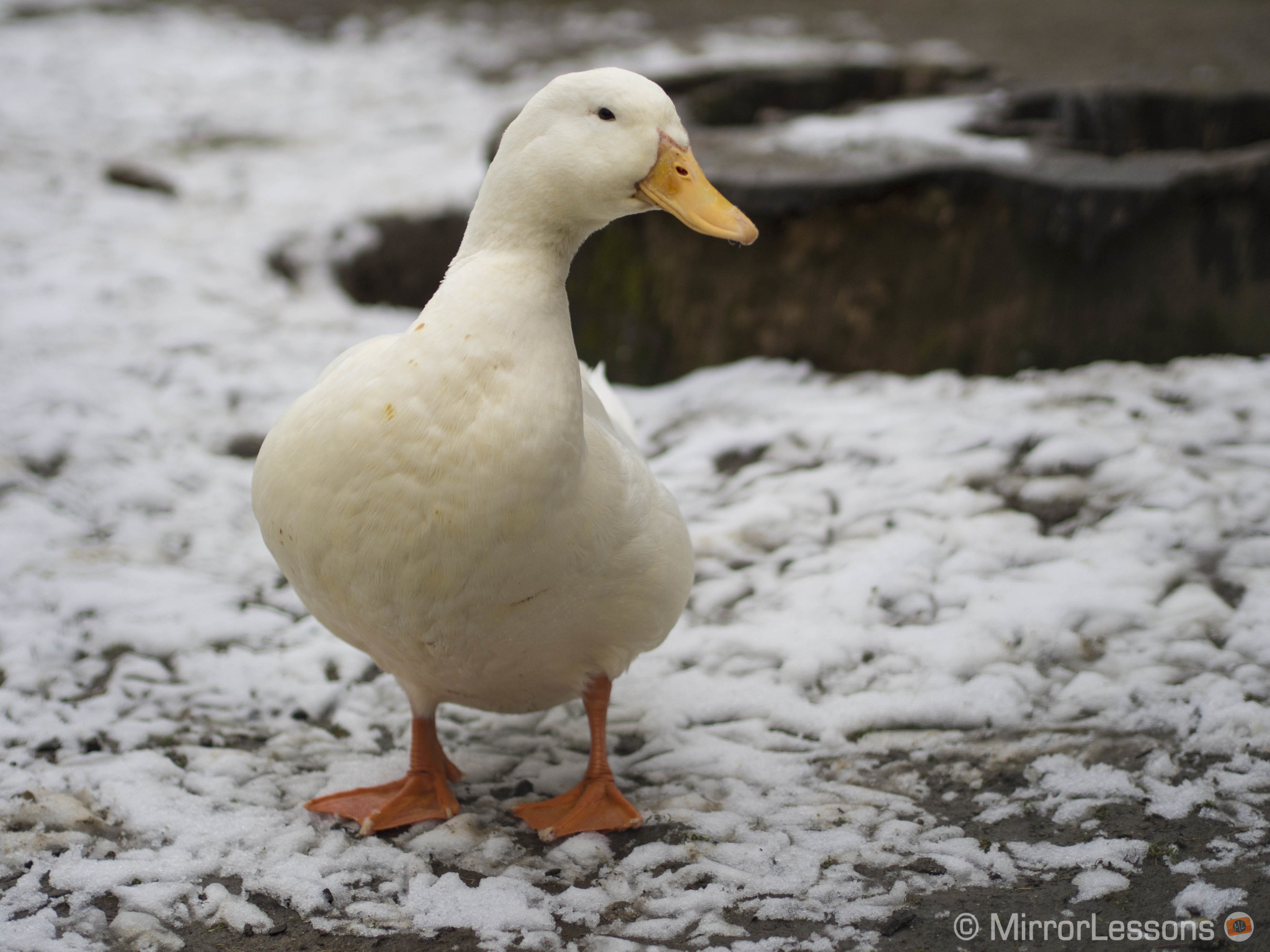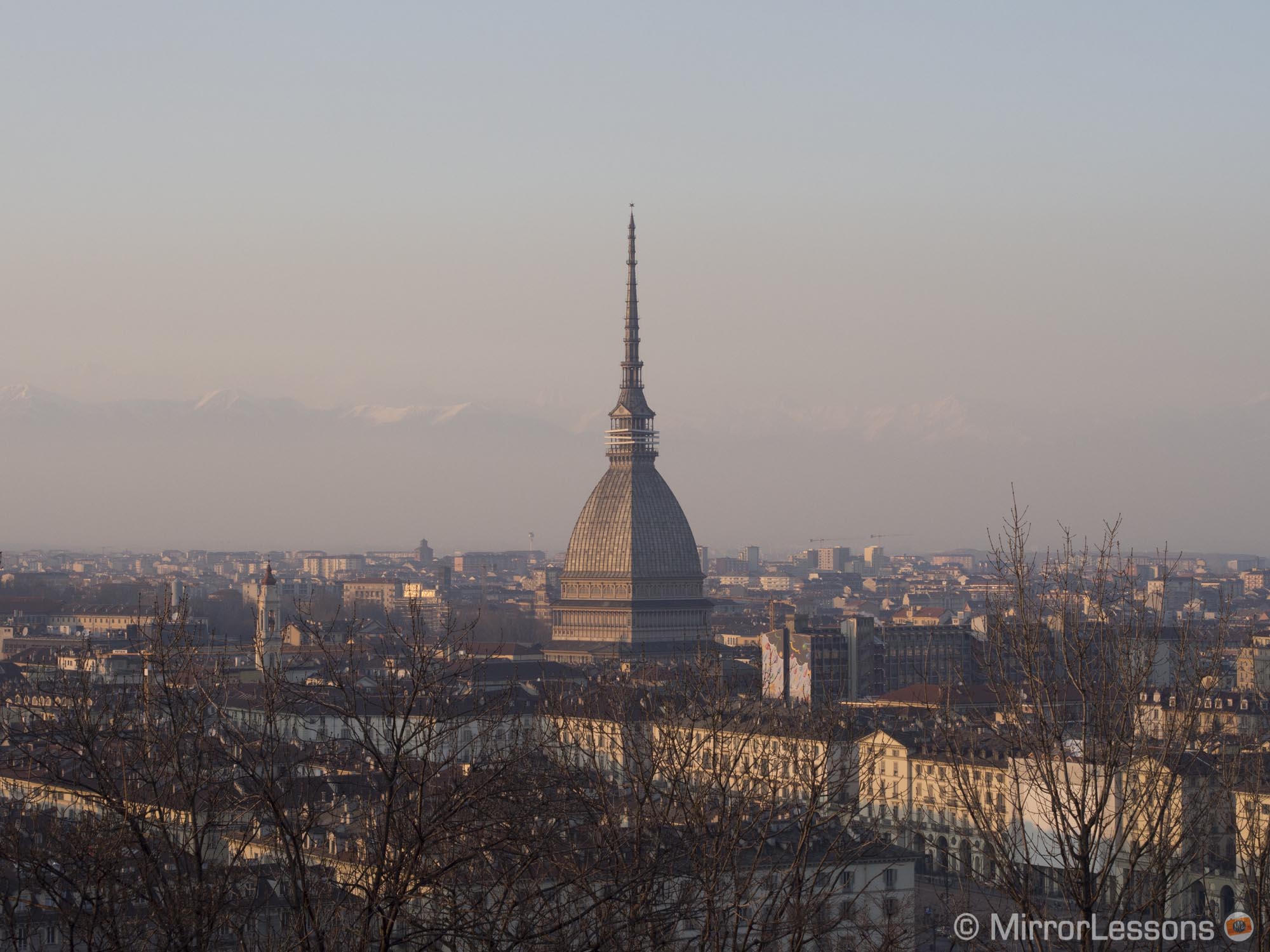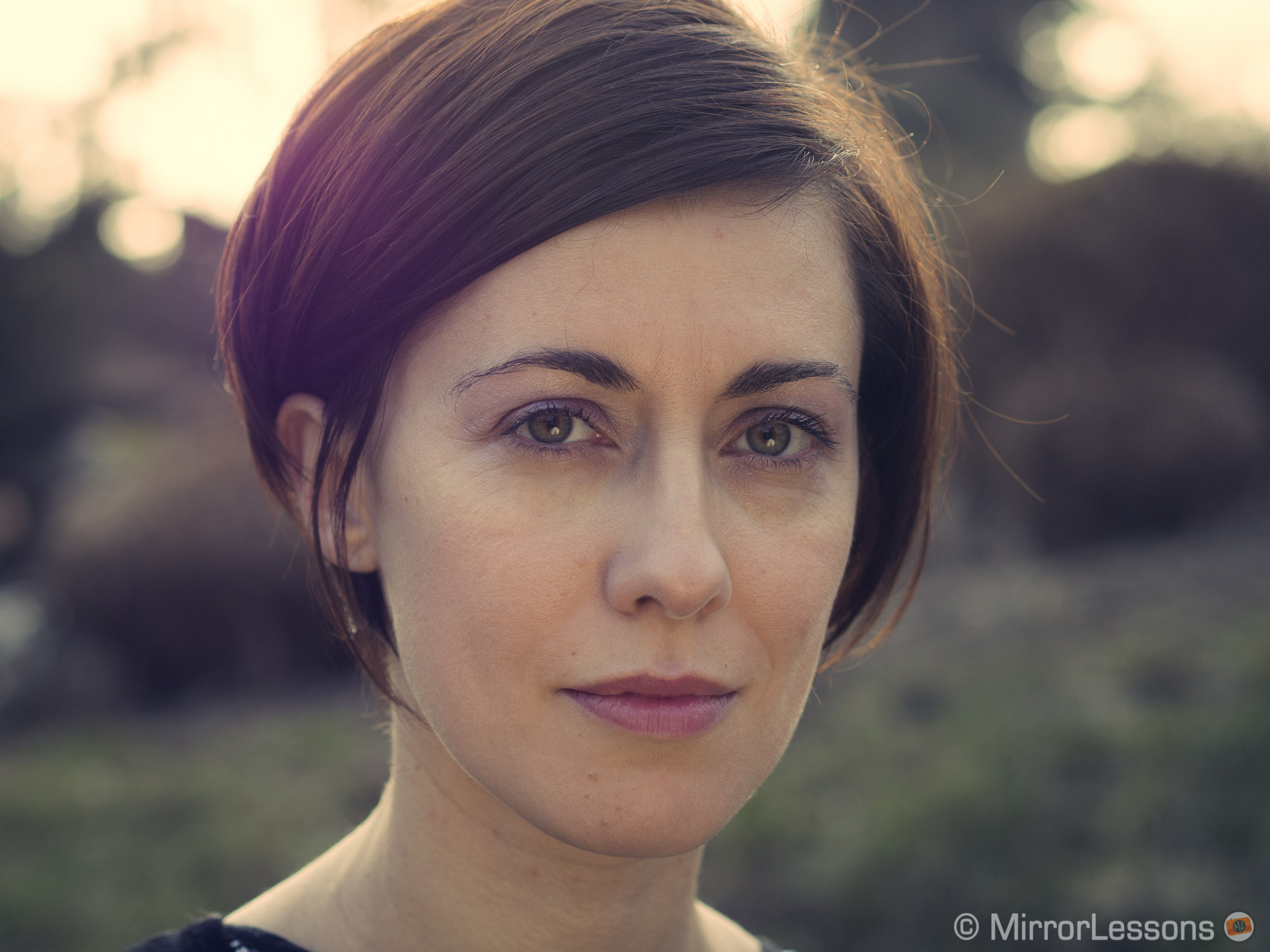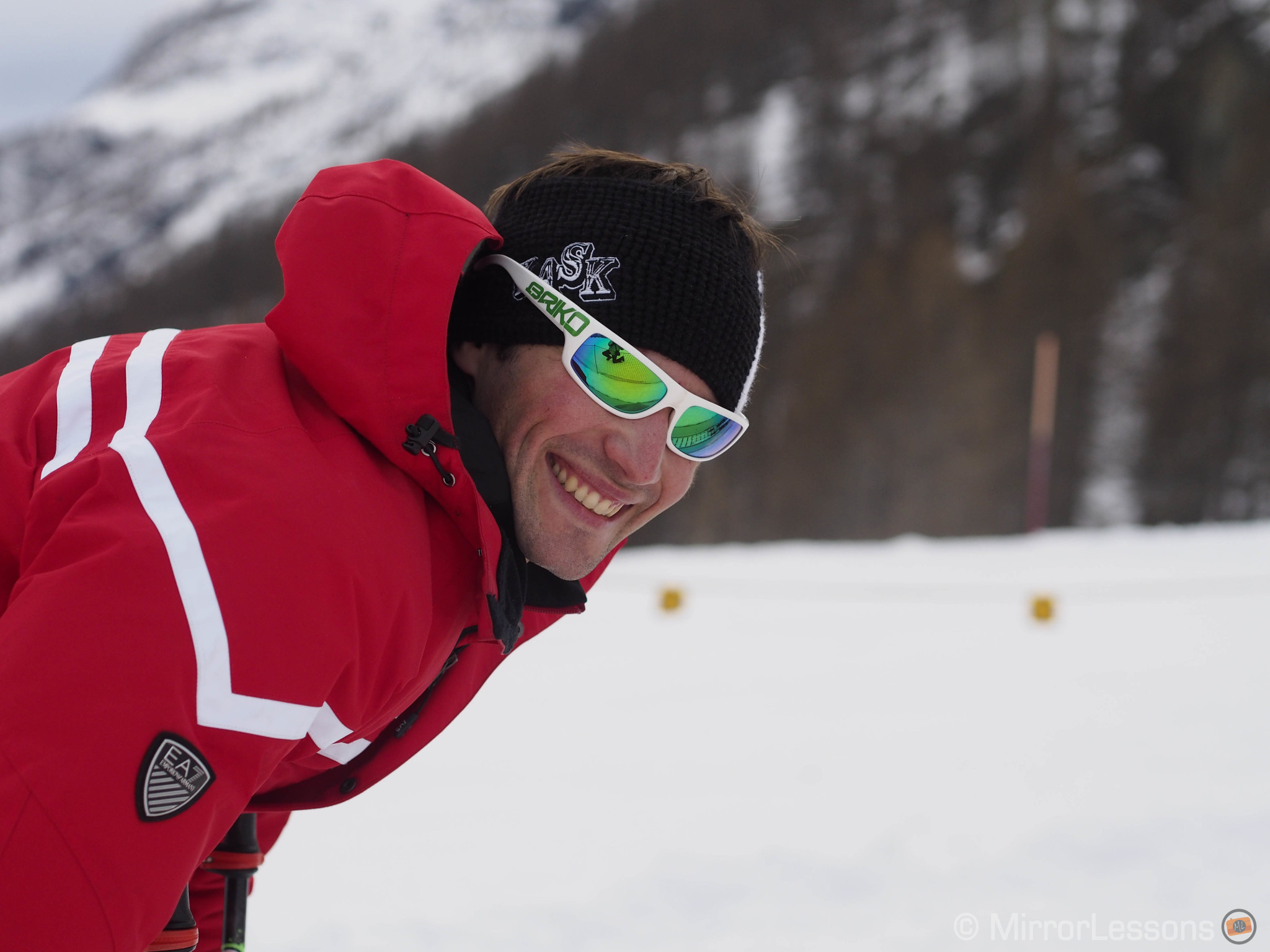 M.Zuiko 75mm f/1.8