If you like portraits, chances are that you like portrait lenses regardless of the brand or system. You might also be interested in seeing how one particular optic performs against another that has been designed for a different sensor. In this article, we're giving you exactly that by comparing two interesting portrait lenses made for the Fujifilm APS-C and Micro Four Thirds systems respectively.
On one hand, we have the Fujinon XF 90mm f/2 which was released a year and a half ago. It is Fuji's third portrait lens after the 56mm f/1.2 and f/1.2 APD and has been designed for high performance in various conditions thanks to the weather-sealing and Quad Linear AF Motor.
The lens we're comparing it to today, the M.Zuiko 75mm f/1.8, is around four years old but still remains one of the best prime lenses you can find for Micro Four Thirds. It is quite small and is the perfect example of how compact this system can be. There's really no excuse not to bring it with you wherever you go!
Does one of these two lenses really stand out compared to the other? Let's find out!
---
Ethics statements: This article was originally produced in 2016 for MirrorLessons, our original review website. We then transferred it over when the comparison section was upgraded to the very website you are visiting right now. We purchased the M.Zuiko 75mm for our personal use two years ago while the 90mm was rented from Lensesforhire. We were not asked to write anything about these lenses, nor were we provided any other compensation of any kind. Within the article, there are affiliate links. If you buy something after clicking the link, we will receive a small commission. To know more about our ethics, you can visit our full disclosure page. Thank you!
---
[toc heading_levels="2″]
---
Main Specs
XF 90mm f/2 R LM WR
Focal length: 90mm
Focal length (equiv. 35mm): 137mm
Maximum aperture: 2
Minimum aperture: 16
Number of aperture blades: 7 rounded aperture diaphragm
Angle of view: 17.9°
Closest focusing distance: 60cm
Lens configuration: 11 elements / 8 groups
Special elements: 3 Extra Low dispersion elements
Lens surface coating: N.d.
Maximum image magnification: 0.2x / 0.3x (35mm camera equivalent)
Optical Image Stabilizer: None
Dimensions: Ø75mm x 105mm
Filter diamater: 62mm
Weight: 540g (excluding lens caps and hood)
M.ZUIKO DIGITAL ED 75mm 1:1.8
Focal length: 75mm
Focal length (equiv. 35mm): 150mm
Maximum aperture: 1.8
Minimum aperture: 22
Number of aperture blades: 9 circular aperture diaphragm
Angle of view: 16°
Closest focusing distance: 84cm
Lens configuration: 10 elements / 9 groups
Special elements: 3 ED and 2 HR elements
Lens surface coating: ZERO coating
Maximum image magnification: 0.1x / 0.2x (35mm camera equivalent)
Optical Image Stabilizer: None
Dimensions: Ø64mm x 69mm
Filter diamater: 58mm
Weight: 305g (excluding lens caps and hood)
---
Design and ease of use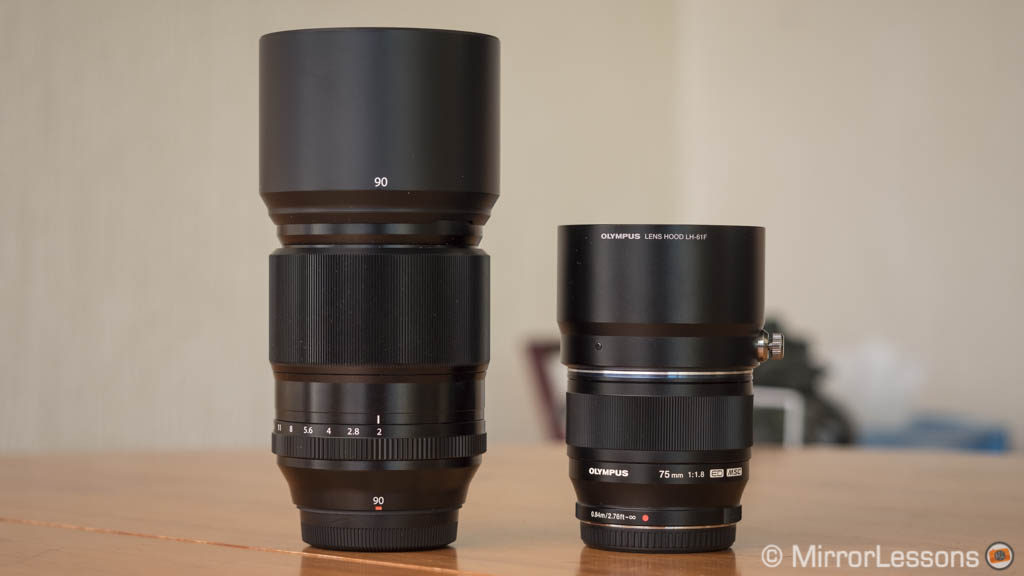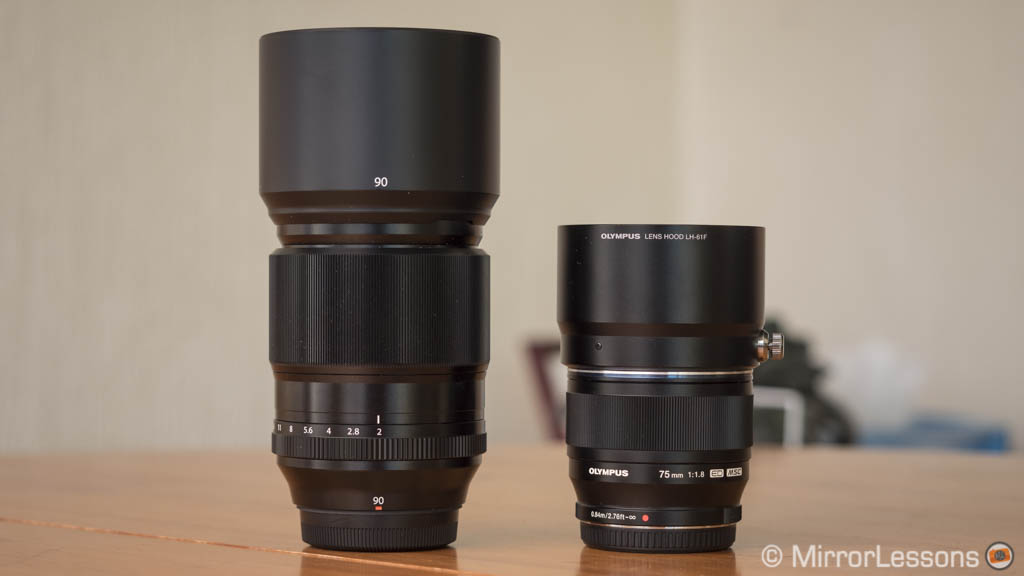 As you can see from the pictures, there is a significant difference in size especially concerning the length. There is also a relevant difference in weight: the Fuji 90mm is 540g while the M.Zuiko lens weighs around 305g.
The Fujifilm 90mm covers a larger sensor and incorporates an advanced AF motor. The lens is made of metal, features a handy clicking aperture ring (1/3 steps) and a large focus-by-wire ring that is precise to use. It is also weather sealed against dust and water, and is freeze proof down to -10°C.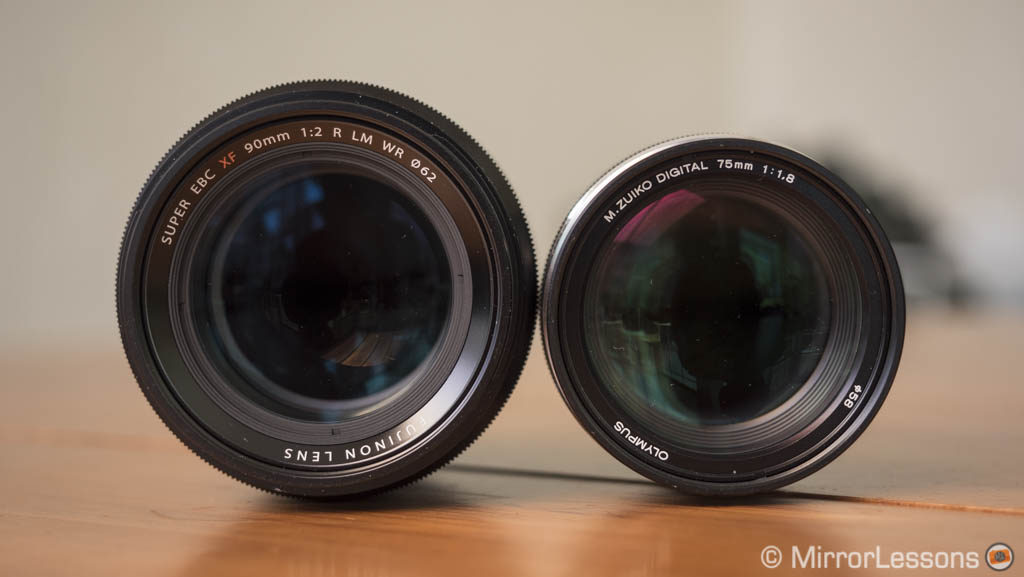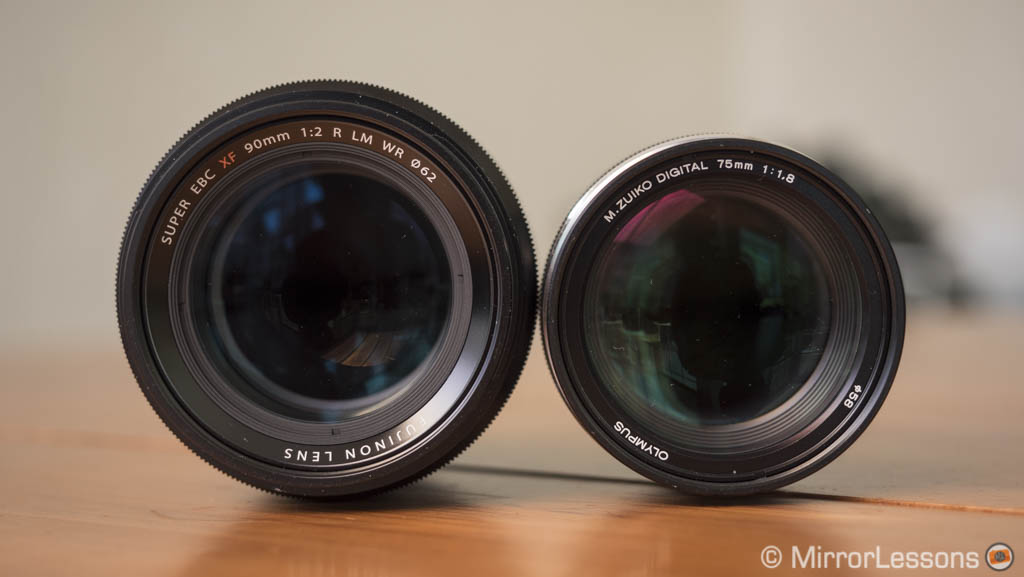 Some trivia about the 90mm
Because the advanced Quad Linear AF motor includes four magnets for a higher torque, you can feel and hear the elements moving inside if you turn the lens upside-down when the camera is powered off.  Don't worry – this is perfectly normal.
The Olympus 75mm is made of metal as well but is not weather-sealed. It features a focus-by-wire ring and is not supplied with a lens hood. The metal hood you see in the images must be purchased separately which is a little bit of a let-down.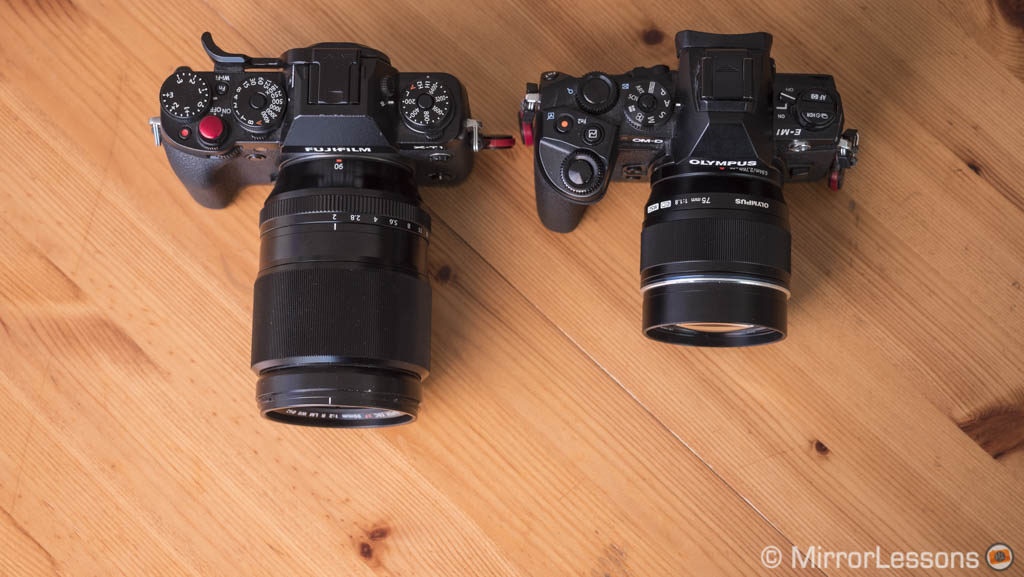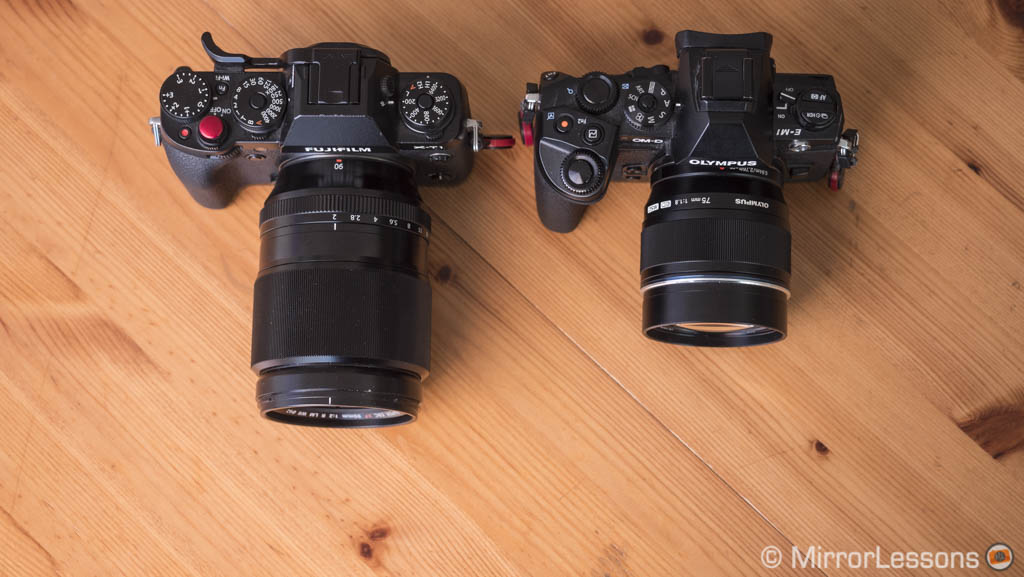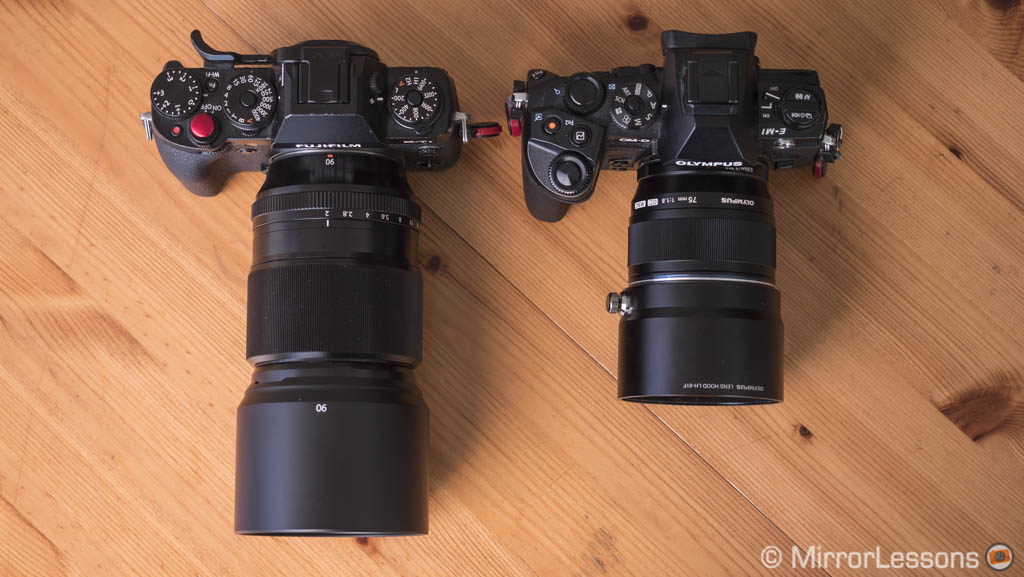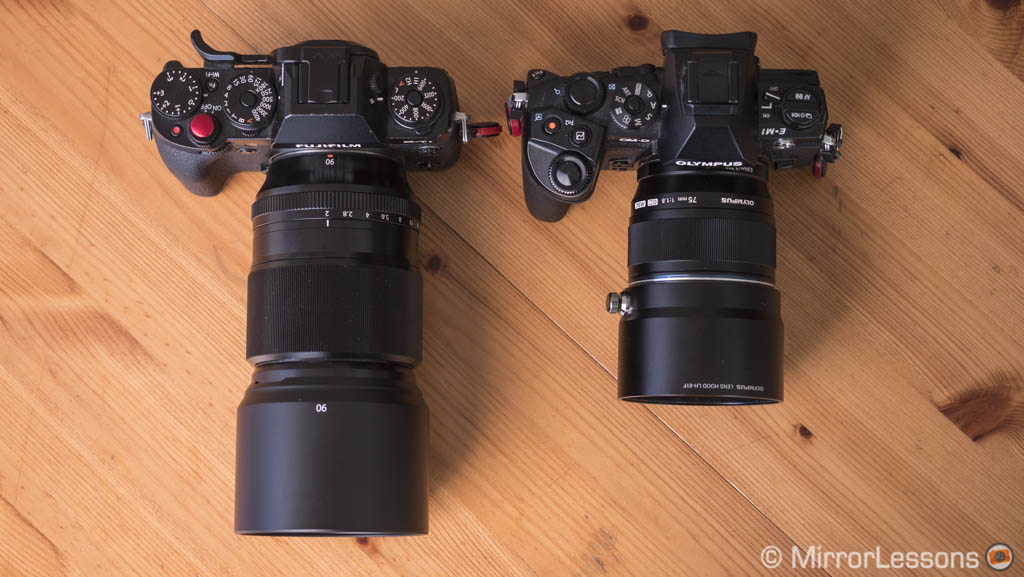 Neither lens includes optical stabilisation. For Fuji users this means working without any sort of IS compensation. Olympus users can benefit from the 5-axis sensor stabilisation of the latest Olympus bodies while Panasonic users can have a similar experience on select Lumix cameras like the GX8, GX85, G85 and GH5.
---
Optical quality: sharpness test
Before proceeding with the portrait examples, here is a quick sharpness test to better assess the differences. I used the Fujifilm X-T1 and the Olympus OM-D E-M1 because they have the same 16MP resolution. The image below shows the composition used for the first set of images. All the crops were rendered with Iridient Developer to avoid that minor softness created by Lightroom for Fuji files.
At their respective fastest apertures, we can notice that the Fuji 90mm has an advantage. At f/2 it resolves details better than the M.Zuiko lens at f/1.8 or f/2.
At f/2.8, the Olympus lens catches up, so the performance of both is basically identical. The 90mm still has a little more micro contrast but the difference is more subtle.
From f/4 both lenses deliver almost identical results and this remains the same up to f/8. From f/11 both lenses maintain decent sharpness up to f/16 but the 75mm suffers more from diffraction. Note that the Olympus lens can close as much as f/22 but the image becomes too soft.
---
Optical quality: portrait examples
The Fuji 90mm has an angle of view of 17.9° which is very close to a 135mm lens designed for 36×24 format (in this case the exact equivalent focal length is 137mm).
The M.Zuiko 75mm has a slightly narrower angle of 16° and gives you the equivalent field of view of a 150mm lens.
There is also the aspect ratio of the two sensors to take into account. The Fuji sensor has a 3:2 aspect ratio while the E-M1 has a 4:3 aspect ratio. The Fuji field of view is slightly wider horizontally while the Olympus field of view is larger vertically. Below you can see a direct example:
To show this difference I took all the shots without varying my distance from the subject.
Let's have a look at a first series of portraits shot at the fastest apertures. There are three different shots of Heather: one headshot and two medium close-ups with a different background.
Note: to avoid influencing the results, I post-processed the images with Lightroom using the Adobe Standard profile.
Because the Olympus lens is slightly faster, I included both the f/1.8 and f/2 versions. The exposure doesn't change much between the two apertures but f/1.8 does render a slightly shallower depth of field while f/2 is a little sharper.
We can notice that the bokeh and out-of-focus rendering are not dissimilar. They are both creamy and pleasant which is an essential characteristic for a portrait lens. If we stop down to f/2.8, we can notice that the X-T1/90mm combo retains a slightly shallower depth of field in comparison to the Micro Four Thirds gear but the disparity is less pronounced that we might think, despite the different sensor size and focal length.
If I increase my distance from the subject to take a medium-long shot, the difference in the bokeh becomes easier to detect. At the fastest apertures both lenses have pleasant circular out-of-focus elements but the 75mm bokeh seems to have more precise shapes even at the edges of the frame.
The difference becomes more relevant at f/2.8. The 90mm bokeh starts to become less circular, assuming a slight rhombus shape, while the 75mm bokeh remains perfectly rounded.
The Fuji lens has the advantage of being able to focus closer (60cm) while the Olympus 75mm's minimum distance is 84cm. Despite the difference in the field of view, the Fuji lens is capable of a slightly higher magnification (0.3x vs 0.2x). Translated into a real world example, I was able to get closer to Heather for a close-up with the 90mm than with the M.Zuiko lens.
---
Autofocus and other considerations
The 90mm f/2 is a versatile lens and because of the fast AF motor it can be used for action and sports as well. The AF is fast with the X-T1 and even faster with the X-Pro2.
The 75mm is also fast. I often use it for sports and events because its small size is simply unmatched and it is so easy to carry around. With an E-M1, E-M5 II or E-M10 II the performance is excellent.
Both lenses can be too long when you are shooting indoors or at an event where there isn't a lot of space. However that same length can be useful when you can't get very close to your subject, so it really depends on the situation.
If I were shooting portraits everyday in a studio or a controlled environment, neither lenses would be my first choice unless we are strictly talking about headshots. I would rather have the Fujinon 56mm f/1.2 or the Nocticron 42.5mm.
However for events in a bigger location, having a longer focal length can be very useful and I would say that these two lenses can even replace telephoto zoom lenses like the Fujinon 50-140mm f/2.8 or the Pana 35-100mm f/2.8 at times. They can also be useful for other genres like landscape photography when you want to isolate a portion of the scene.
Neither lens suffers too much from flare unless you point them directly at a powerful source of light. The Fujinon 90mm is also very resistant to chromatic aberration while the 75mm can be weaker at the fast apertures. However it is easy to fix that in Lightroom or a similar software.
---
Conclusion
The aim of this comparison isn't to declare a clear winner. The two lenses have been designed for different systems and they both have their strengths and weaknesses. To be 100% fair, there is also the field of view, aspect ratio and fastest aperture to take into account (although in this case they aren't too relevant in my opinion).
Rather, the point of this article is to show how two different camera systems can give you similar results in terms of performance and image quality. The Micro Four Thirds combo might sound inferior at first but it actually performs really well both in terms of shallow depth of field and bokeh.
The Fujinon 90mm has a few advantages. It is sharper at f/2, can focus at a shorter distance for nice close-ups and has a very fast AF motor that makes it interesting for sports and action.
The Olympus 75mm has an excellent bokeh rendering even at f/2.8 and longer distances. Despite being 4 years old, it is still a very valid choice not only for portraits but events as well. Its compact size is definitely its main strength.
---
---
Sample images
XF 90mm f2
M.Zuiko 75mm f/1.8