If you're a beginner on a budget but find yourself spellbound by the retro-styled mirrorless cameras that inundate the market, Fujifilm might have the solution for you. The X-T100 is the company's least expensive interchangeable lens camera in the X-T series, and it comes with a feature usually reserved for the more expensive models: a built-in electronic viewfinder.
There is another camera within the X-T range however that bears an uncanny resemblance to the X-T100 and that's the two-year-old X-T20. Given that the latter can be found for cheaper than its original retail price these days, it is logical to wonder how the two cameras compare. Their outward appearance certainly isn't enough to go on, so we'll have to dig deeper below the surface to uncover all the main differences. Let's begin!
---
Ethics statement: We purchased the X-T20 for long-term review and comparison purposes, whereas the X-T100 was loaned to us for three weeks. We were not asked to write anything about these cameras, nor were we provided any other compensation of any kind. All opinions we express regarding these products are our own. Within the article, there are affiliate links. If you buy something after clicking one of these links, we will receive a small commission. To know more about our ethics, you can visit our full disclosure page. Thank you!
---
[toc heading_levels="2″]
---
Main Specs
X-T100
Sensor: 24.2 MP APS-C CMOS Bayer
Lens system: X-mount
Weatherproof: No
Internal Stabilisation: No
Autofocus: Hybrid with up to 91 points (7×13 grid selectable)
Continuous shooting: 6 fps and 3 fps
ISO Sensitivity: 200 – 12800 ISO (pull 100, push 25600 to 51200 – JPG only)
Shutter Speeds: 1/4000s to 30sec, Bulb up to 60min, 1/32000s with electronic shutter
Viewfinder: 0.39-in OLED with 2.36M dots, approx. 100% FOV coverage, 17.5mm eye point, 0.62x magnification
Rear monitor: 3-way articulated 3″ LCD (1.04M dots)
Movie recording: 4K up to 15fps, Full HD up to 60fps
Built-in Flash: Yes
Extra Features: Film Simulation Modes, 4K Burst, 4K Multi Focus, WiFi, Bluetooth, Panorama, Interval Shooting, Bracketing, Multiple Exposure, Advanced Filters, Silent Mode
Dimensions: 121 x 83 x 47.4mm
Weight: 448g (including battery and memory card)
Firmware version: 1.10
X-T20
Sensor: 24.3 MP APS-C X-Trans III CMOS
Lens system: X-mount
Weatherproof: No
Internal Stabilisation: No
Autofocus: Hybrid with up to 325 points (7×13 and 13×25 grids selectable)
Continuous shooting: 8 fps and 5 fps, 14fps with electronic shutter
ISO Sensitivity: 200 – 12800 ISO (pull 100, push 25600 to 51200)
Shutter Speeds: 1/4000s to 30sec, Bulb up to 60min, 1/32000s with electronic shutter
Viewfinder: 0.39-in OLED with 2,360k dots, approx. 100% FOV coverage, 17.5mm eyepoint, 0.62x magnification
Rear monitor: 2-way articulated 3″ LCD (1.04M dots)
Movie recording: 4K up to 30fps, Full HD up to 60fps
Built-in Flash: Yes
Extra Features: Film Simulation Modes, WiFi, Panorama, Interval Shooting, Bracketing, Multiple Exposure, Advanced Filters, Silent Mode, Custom AF-C Settings
Dimensions: 118.4 x 82.8 x 41.4mm
Weight: 383g (including battery and memory card)
Firmware version: 2.01
---
Design, build quality and interface
The design is where we find the smallest number of differences but let's start here anyway.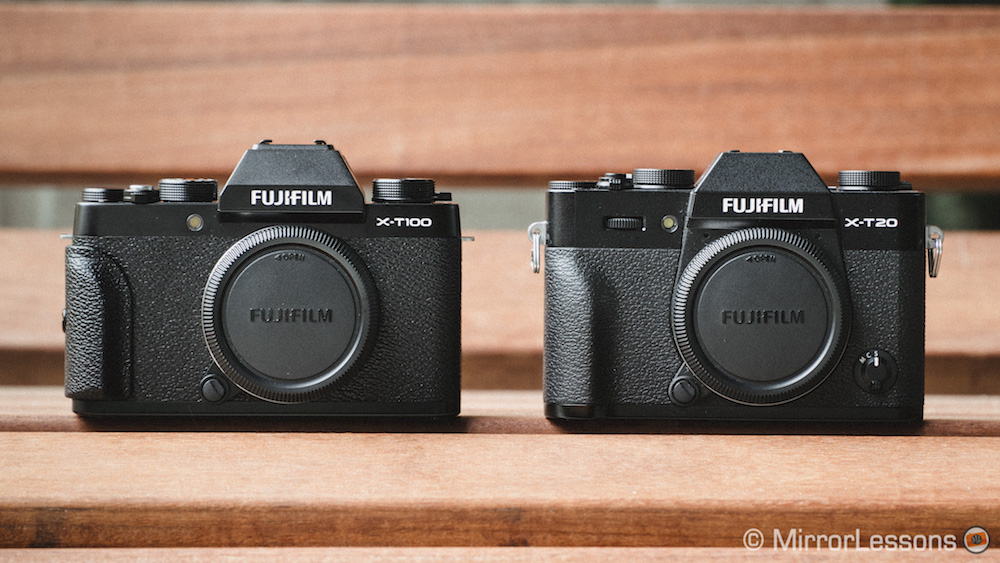 Despite being a step below the X-T20 in the X-T hierarchy, the X-T100 is the bigger and heavier model of the two. You can see the exact measurements below:
X-T100: 121 x 83 x 47.4mm | 448g with battery and SD card
X-T20: 118.4 x 82.8 x 41.4mm | 383g with battery and SD card
That being said, both are very compact and portable, and therefore tend to suit small primes better than telephoto lenses. The largest lens I used on the two cameras during my testing period was the XF 80mm f/2.8 macro which wasn't particularly comfortable for more than an hour of consecutive shooting.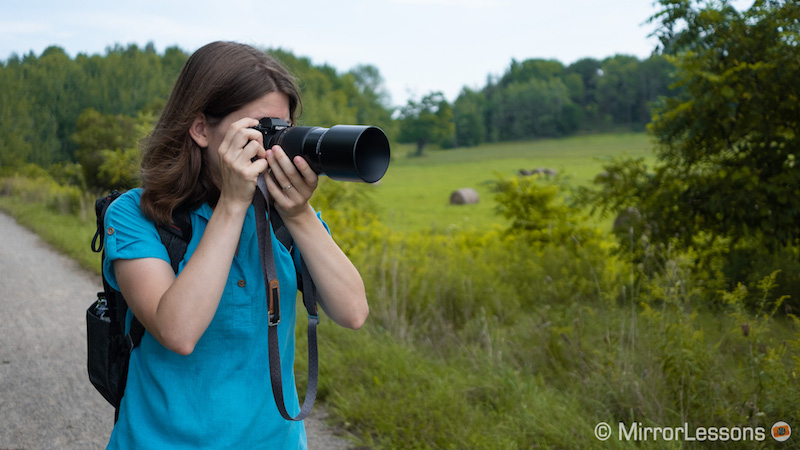 Another reason big lenses don't suit these cameras well is because neither has a particularly large grip. In fact, the X-T100 is completely flat unless you screw on the detachable grip which comes in the box. I used the camera without the grip for a couple of hours just to see how it felt, but ended up reattaching the grip for the rest of my testing period as it significantly improves the handling.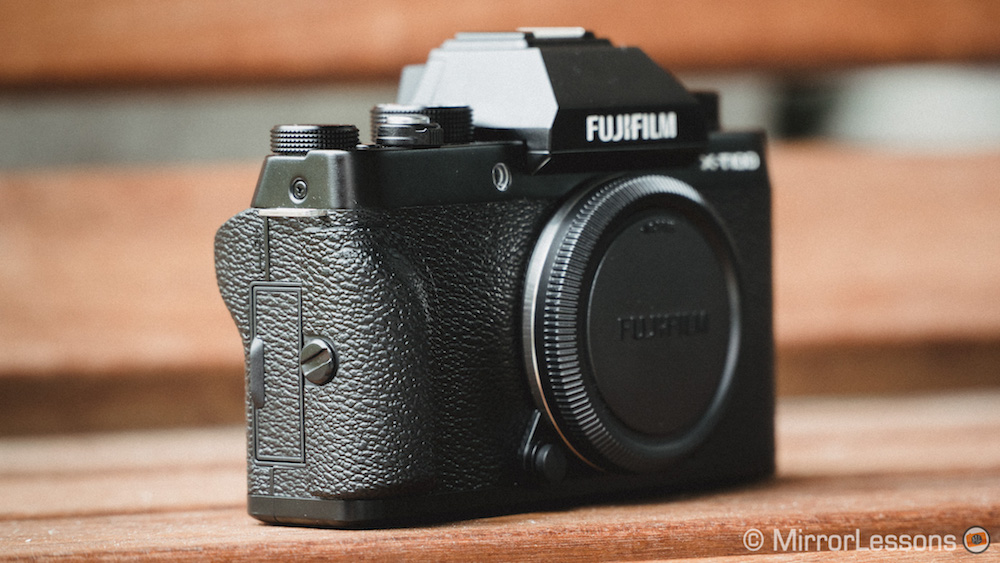 Neither camera has any sort of weather sealing, which is the result of their predominantly plastic construction. The X-T20 has magnesium alloy top and bottom plates whereas the X-T100's top plate is made of anodised aluminium. Both feature a metal mount.
Within the battery compartment, you'll find a single UHS-I compliant SD card slot whereas on the side, there is a micro USB 2.0 terminal, HDMI output (Type D) and 2.5mm mini jack for remotes or microphones for which you'll need a 2.5-3.5mm adapter cable. Sadly neither has a headphone input.
As for the colours, the X-T20 comes classic black and silver whereas the X-T100 is available in black, dark silver and champagne gold. Both are covered in a textured faux-leather covering that further improves your hold on the camera.
---
External controls and customisation
External controls are an important part of Fujifilm's ethos, and it suffices to say there are plenty on both cameras.
The X-T20 has dedicated shutter speed and exposure compensation dials, in addition to a drive dial on the opposite side. Beside the shutter speed dial is an Auto switch, whereas the drive dial is flanked by the flash switch. Changes to the aperture value can be made via the aperture ring on applicable XF lenses or the command dials on the front/rear.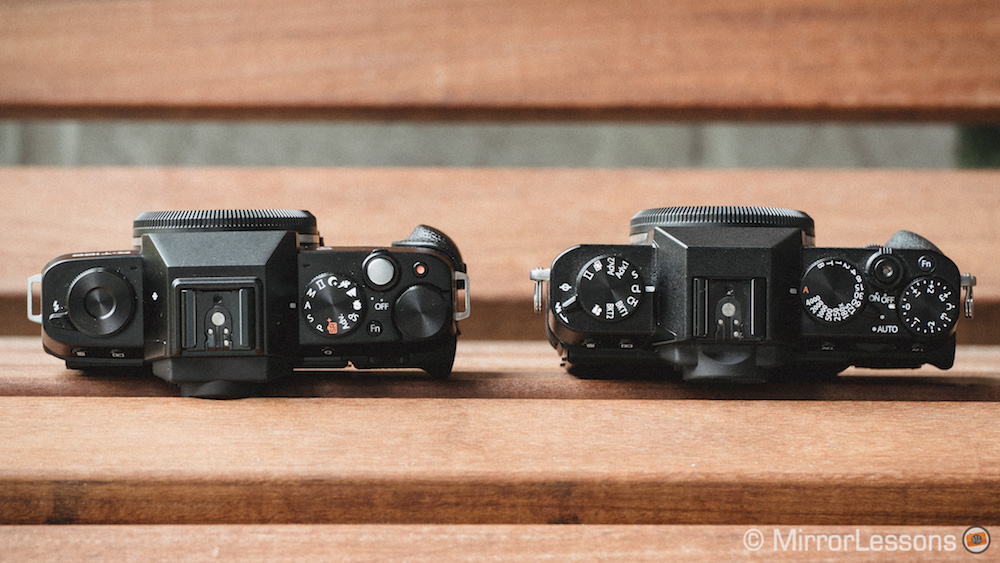 The X-T100 doesn't have any dials specifically dedicated to shutter speed or exposure compensation but it does have a PSAM mode dial complete with Auto and Scene modes, as well as a customisable dial and a command dial on top. There is a command dial on the rear but unlike the X-T20, there isn't a second one out front.
As a side note, I'd be happy if Fujifilm came up with an alternative solution to the command dials on both cameras, as they are quite small and fiddly compared to every other dial.
The shutter release button on top is flat on the X-T100 and threaded on the X-T20, which allows you to attach a soft button.
On the rear you'll find a four-way pad on both cameras. On the X-T100 the four buttons are labelled while the X-T20's have been left blank, probably because they are customisable. Other buttons include the Q menu button where you can find shortcuts to your favourite settings, the playback button, delete button, and display/back button.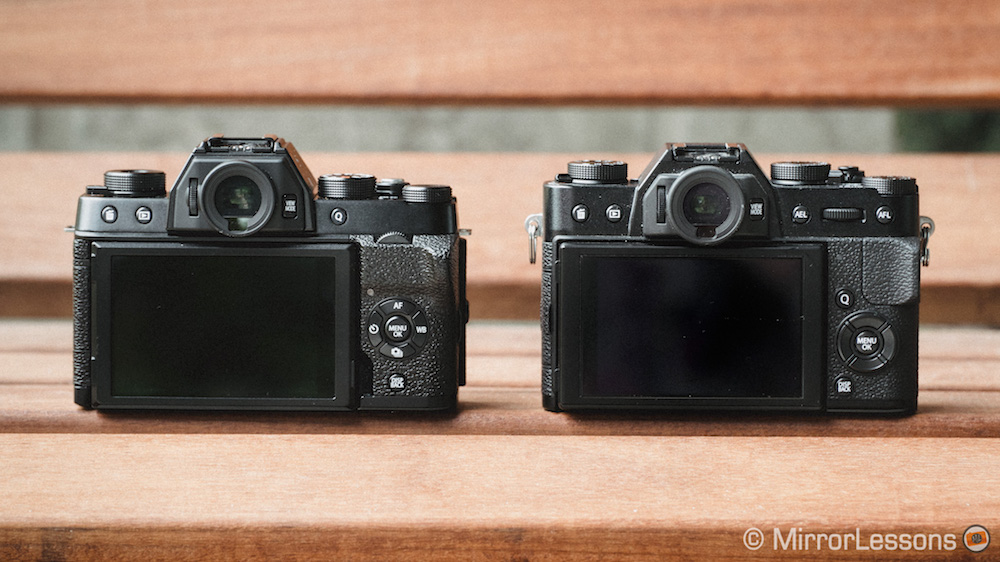 Around the body of the X-T20 you'll find eight customisable function buttons – one Fn button on top, four buttons on the rear pad as mentioned above, the AEL/AFL buttons on the rear and the rear command dial that can be pressed like a button. On the X-T100, that number falls to just two (the Fn button on top and rear command dial) but it is possible to assign four functions to the touch screen which you must swipe up/down/left/right to access. I personally didn't find this solution as responsive as a dedicated button, so I rarely used it.
Turning to the menu, the X-T100 uses the older version of Fujifilm's menu system which – unfortunately for beginners – isn't quite as well-organised or user-friendly as the X-T20's more recent menu.
---
Monitors and viewfinders
Both the X-T100 and X-T20 feature a 3-inch articulating LCD screen on the rear with a resolution of 1040k dots and a 3:2 aspect ratio. There are some key differences in how they articulate however as we'll find out below.
The X-T100 uses a three-way tilting screen that rotates up, down and flips all the way out to the side to facilitate selfie shooting and vlogging. It's easily one of the best tilting mechanisms I've come across on a mirrorless camera, not least because there isn't anything to obscure your view of the screen when it is flipped out. On models with screens that flip 180 degrees up or down, the upper or lower area of the screen often gets covered by part of the camera body, making it difficult to have a clear view of yourself as you vlog.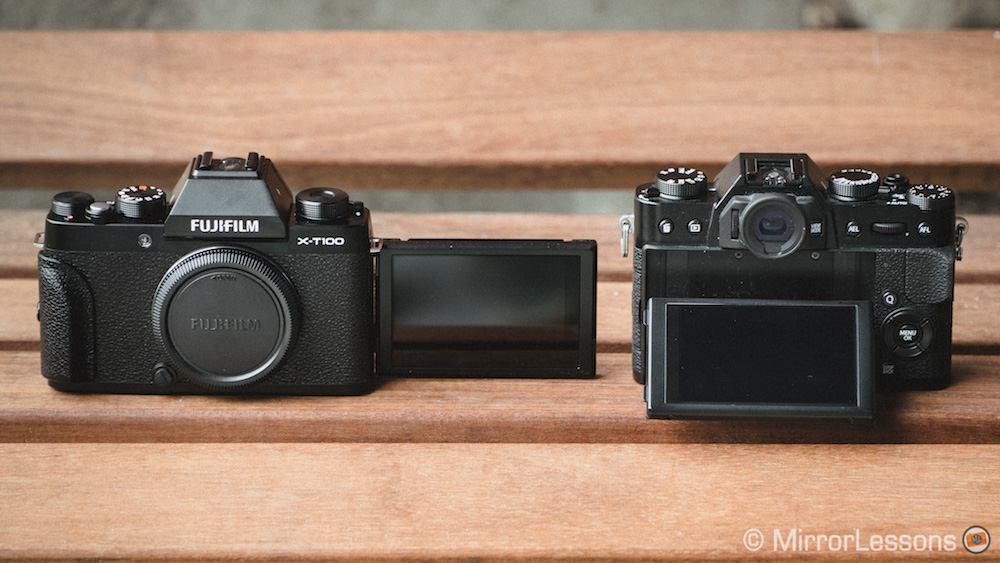 The X-T20 by comparison uses a simple up-and-down tilting mechanism which is good for stills and video shooting when you're behind the camera, but not so convenient for filming yourself.
Both screens are touch sensitive which means you can perform a number of actions such as moving the AF point (even when looking through the finder), taking a shot, selecting options in the Q menu, and browsing through/zooming in on photos in playback mode. On the X-T100, you can also double tap to magnify when looking through the finder.
The X-T100 becomes the first entry-level X series camera to sport a built-in viewfinder and it just so happens to have the same specifications as that of the X-T20. Both feature a 0.39-inch OLED finder with approximately 2360k dots, a 17.5mm eye point and 0.62x magnification.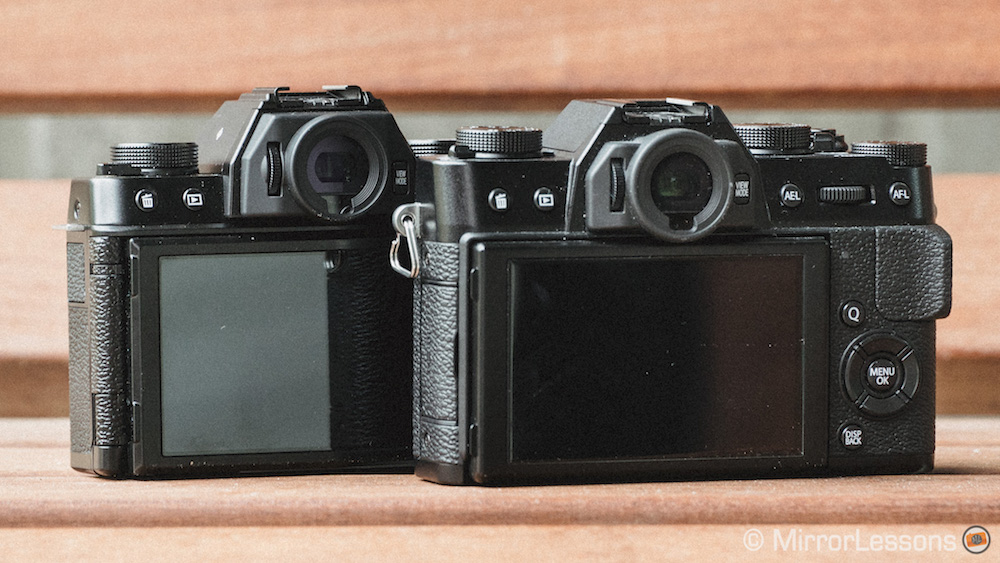 The finder displays all the most important shooting information including the current shutter speed, aperture, ISO value, exposure, film simulation mode and more. When you rotate the camera for vertical shooting, the shooting information rotates along with it.
Usefully you can drag your finger along the touchscreen to change the AF point while looking through the finder. If you're afraid that your nose will touch the screen and change the point, it is also possible to make just certain areas of the touch screen sensitive. On the X-T20, you can activate either the right or left side whereas on the X-T100, there are multiple options including right, left, upper right/left, and lower right/left.
According to the official specifications, the X-T20 finder has a refresh rate of 54.54fps and a time lag of 0.0005sec, so we can assume that the X-T100 finder is the same even though a precise refresh rate hasn't been specified. We found the display smooth but not quite up to the standard of the finders of the X-T2 or X-T3 whose maximum refresh rate is 100fps.
Both finders are comfortable to look through for long periods of time, even if you wear glasses. However I did find myself missing the larger eyecup of the X-T2 on occasion, especially when shooting sports and wildlife.
---
Image quality
One of the biggest differences between the X-T100 and X-T20 is that the former houses an APS-C CMOS sensor with a Bayer array whereas the latter's APS-C CMOS sensor uses the third generation of Fujifilm's proprietary X-Trans technology.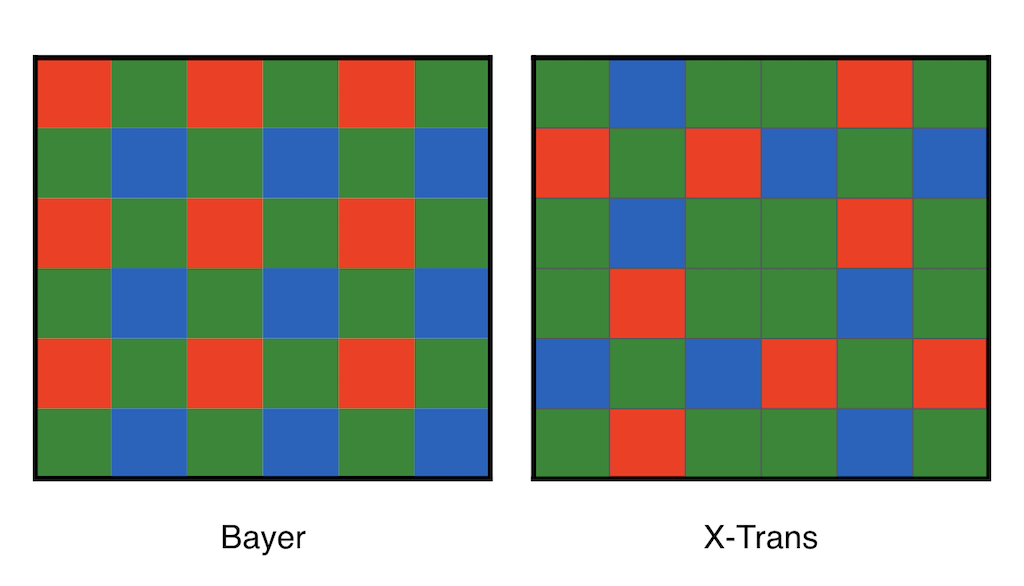 All this means is that each line on the X-T100's sensor embeds two colours out of three whereas the X-T20's sensor allows each line to feature at least one red, blue and green pixel. The X-Trans arrangement is supposed to reduce moire, which is part of the reason X-Trans sensors always lack a low-pass filter. The X-T100 also lacks a low-pass filter but as a result, can be more prone to moire and aliasing.
Although both sensors have a native 3:2 aspect ratio, you can change it to 16:9 or 1:1 in the menu.
In addition to the eleven basic Film Simulation modes (Fujifilm's picture profiles) found on both models, the X-T20 comes with an additional black and white mode called ACROS. It delivers deeper blacks and stronger contrast than the standard Monochrome profile found on both cameras. We've always been fans of Fujifilm's colour science and often use the out-of-camera JPGs to take advantage of the Film Simulation modes.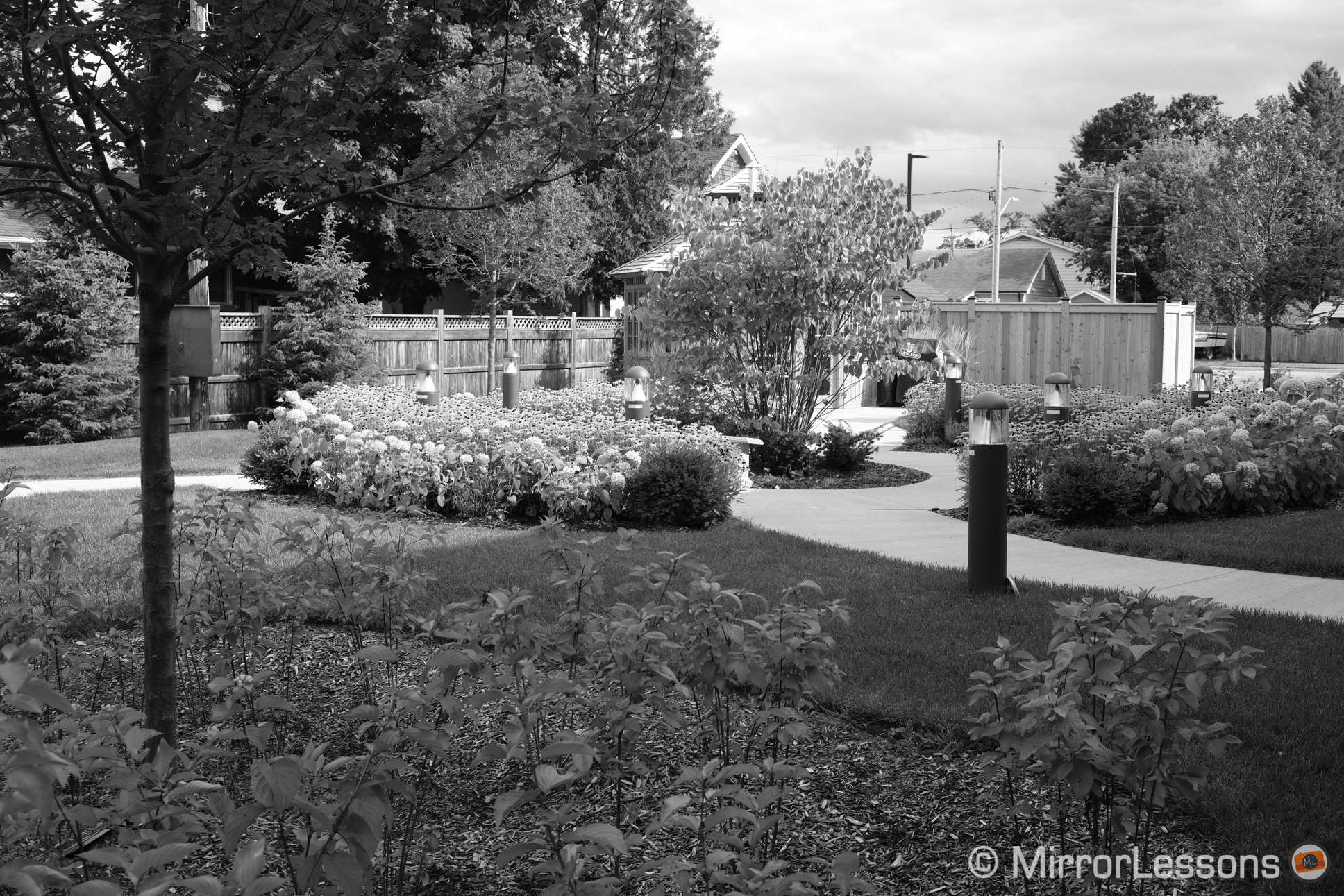 When comparing how the two cameras render the Film Simulation modes, the only difference that stood out was that the X-T20 produced brighter yellows and blues than the X-T100. (The greens and oranges by contrast look much more similar.) Below you can see a comparison between Velvia/Vivid and Classic Chrome.
As far as resolution is concerned, the files from the two cameras looks very similar once again. This makes sense since both use approximately 24MP. When pixel-peeing the files at 100%, you might notice that the JPG engine of the X-T100 produces slightly sharper results but this difference all but disappears when you compare the RAW (RAF) files. Also keep in mind that you can adjust parameters such as sharpness in-camera or in post production with the RAW files.


There is one stumbling block that X-T20 users may encounter however, and that's how the X-Trans sensor renders detailed foliage such as blades of grass or pine needles on a tree. Whereas the Bayer files always look crisp, the X-Trans files can often appear mushy or undefined. The difference is evident in both the out-of-camera JPGs and the RAW files viewed in select post-processing software applications like Adobe Lightroom.


Some software applications are more capable than others at rendering details from the X-Trans files. Below you can see the same example shown above post-processed using Iridient Developer, which is widely recognised as one of the best programs for X-Trans RAW files, and Capture One.


Another difference I noticed between the two cameras is how they handle auto white balance. I found that the X-T100 often produced images with a cooler tint than the X-T20. By setting them to the same Kelvin value, I'd end up with much more similar results, though the X-T100 images always seemed to have more contrast overall.
For portraits, the extra contrast applied by the X-T100's JPG engine becomes even more evident in that it gives the skin tones a stronger magenta tint when used with any of the colour Film Simulation modes. Switching over to manual white balance can help but the results still remain punchier than those from the X-T20.
The dynamic range of the two cameras is very good, although it is a little easier to recover the highlights with the X-T20 RAW files than it is with the X-T100. Shadow recovery on the other hand is about the same. Below you can see an example where I've pushed the highlight slider down to -100 and the shadow slider up to +100 in Lightroom. For the most natural results, it is best to avoid pushing the files beyond +/-2 EV.
If you often use the out-of-camera JPGs, you can also take advantage of the DR100/200/400 option in the menu on both cameras. When you select DR200 (at ISO 400) or DR400 (at ISO 800), the camera preserves more of the highlights in scenes with lots of contrast such as in the window example below.
Moving on to the high ISO performance, we found that the two cameras perform in a similar manner between ISO 200 and 6400, with the exception that the X-T100 applies greater sharpness and contrast by default. Neither produces much noise until you reach ISO 12800, so you can safely leave your camera on Auto ISO/max 6400 when working in low-light situations.



At 12800 and beyond, you will start to notice a loss in detail and saturation as well as some signs of colour shift, especially at the highest values of 25600 and 51200. Also bear in mind that unlike the X-T20, the X-T100 only produces JPGs for the extended 100/25600/51200 ISO values, so there is less leeway to play with noise reduction in post-production.



If you prefer to work in-camera, there is also the option of adjusting noise reduction in via the menu (+/- 4 steps on the X-T20 or +/-2 steps on the X-T100). Personally we find it best to leave the settings to factory default since increasing noise reduction can compromise the small details in your image, giving it a mushy appearance.
Two new Advanced Filters that came to the X-T100 via firmware update are 'Rich & Fine' and 'Monochrome [NIR]'. The former is intended for food and still life photography, while the latter simulates the look of a near-infrared camera.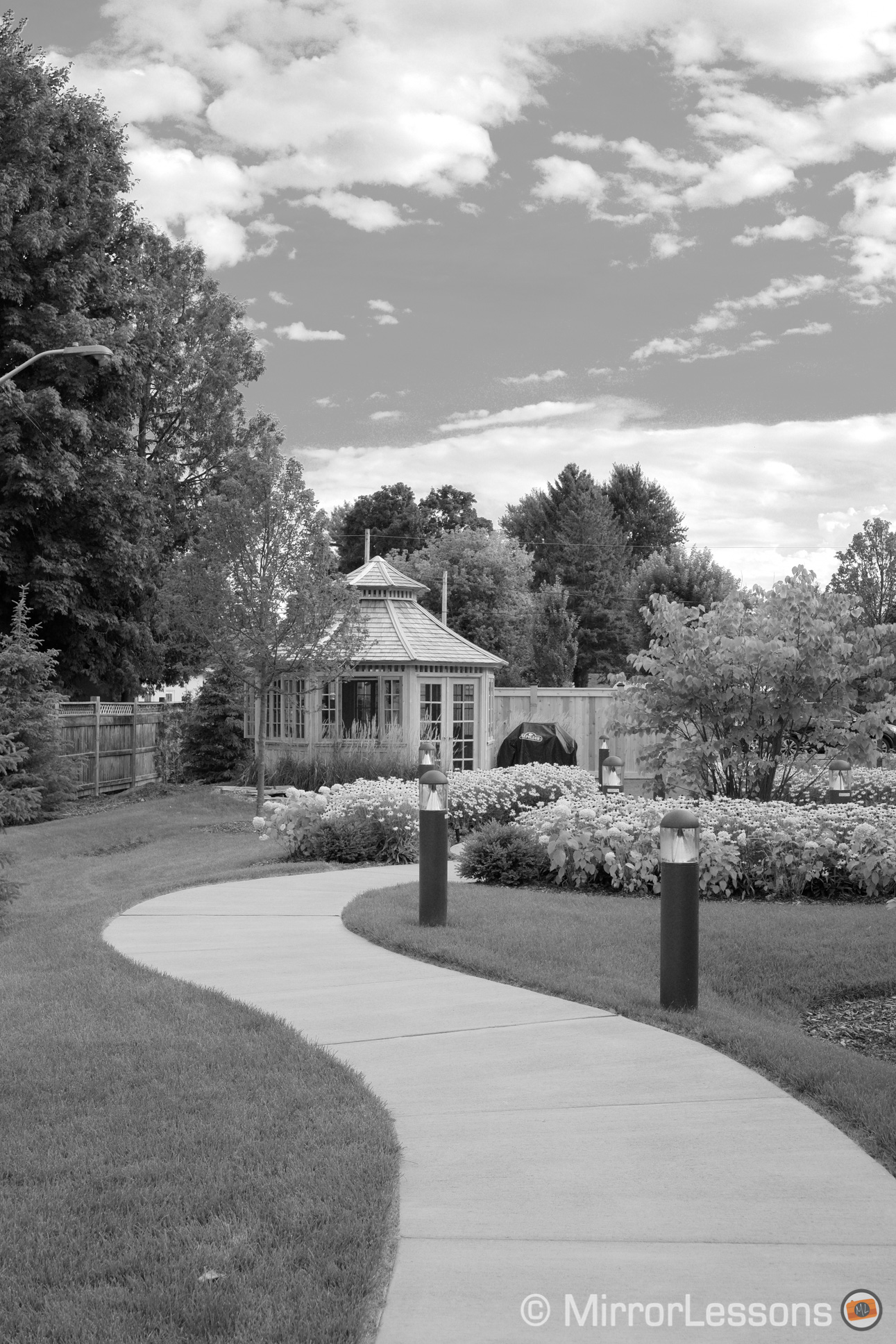 On the X-T20 you have the choice between uncompressed RAW files and lossless compressed. The X-T100 by comparison only offers standard RAW files which are considerably larger (approx. 43MB) compared to the lossless compressed files of the X-T2 (approx. 29MB). The X-T20 outputs 14-bit RAW, as does the X-T100 according to Imaging Resource.
---
Single and continuous autofocus
The X-T100 and X-T20 both use a hybrid autofocus system that consists of phase detection points at the centre and contrast detection points everywhere else. Both feature a total of 91 points on a 7×13 grid, which is expandable to 325 points on a 25×13 grid on the X-T20.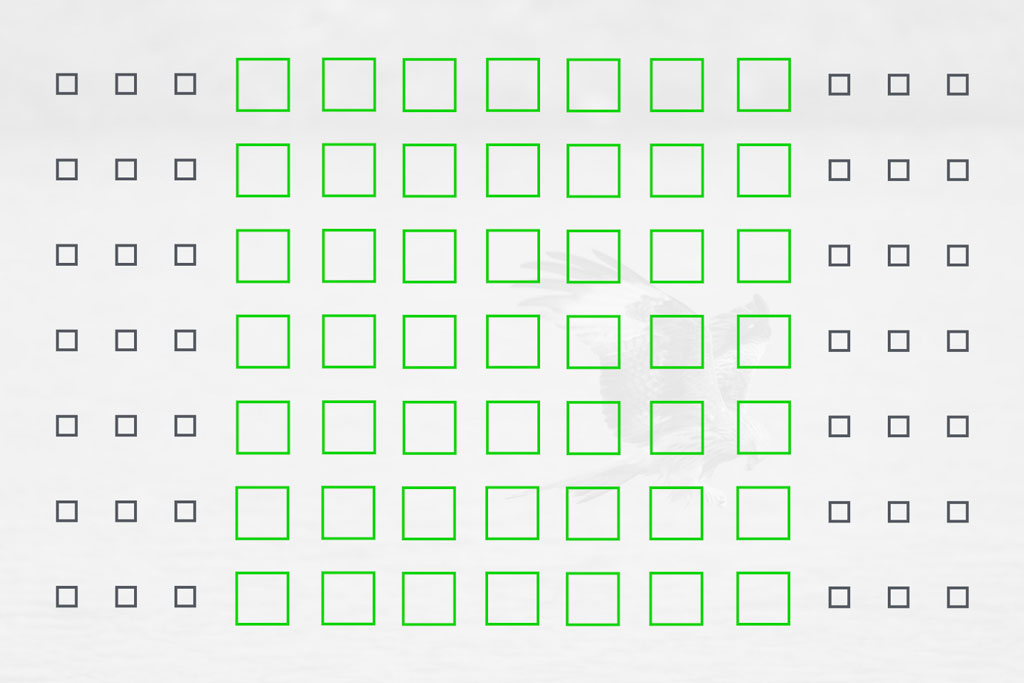 In single point mode, there are five different AF frame sizes whereas in Zone AF, you can choose between a 3×3, 5×5 or 7×7 grid. There are up to 18 areas available in Wide/Tracking mode.
Although the X-T100's autofocus specifications look very similar to those of the X-T20 on paper, we found that it wasn't nearly as capable of following moving subjects as its mid-range sibling. This corroborates our experience with the X-A5 earlier on this year whose AF system is identical to that of the X-T100.
Below you can see two sets I took of Mathieu running towards me with the XF 18-135mm f/3.5-5.6. In both cases, I used Zone AF in C-AF at their respective maximum burst speeds (8fps on the X-T20 and 6fps on the X-T100). Whereas nearly every shot taken with the X-T20 was either in focus or just slightly soft, the X-T100 only delivered 2 in-focus shots out of 14.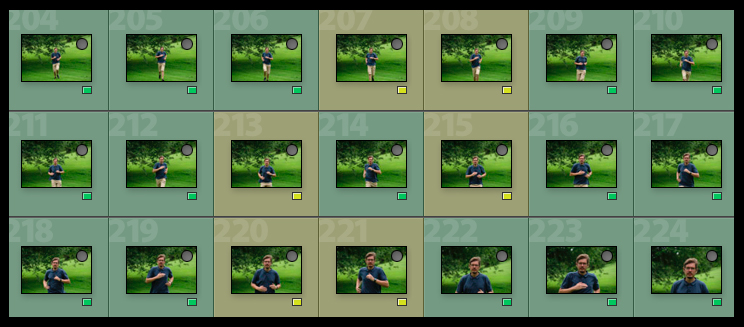 To further improve the autofocus performance, the X-T20 also comes with five AF-C Custom Settings, each of them suited to a different kind of moving subject. Set 2, for example, tells the camera to ignore obstacles and continue tracking the subject, whereas Set 4 is designed for suddenly appearing subjects. You can usually keep the camera on Set 1 (multi-purpose) and achieve good results, but it is nice that you can fine-tune the performance for specific situations.
With Face and Eye detection activated, neither camera was particularly reliable, so I'd usually end up switching back to the smallest single point if I wanted to focus in on the eye of my subject.
Although I would discount the X-T100 for action shots in C-AF, I didn't come across any glaring issues when working in single AF, so there's little cause for concern if you mostly shoot static subjects.
---
Continuous shooting speeds, buffer and shutter speeds
Just as the X-T20 has a more capable autofocus system than the X-T100, it too has faster continuous shooting speeds to match.
At its top speed with the mechanical shutter, the X-T20 can reach 8fps (CH) with continuous autofocus whereas the X-T100 tops out at 6fps (High). By activating the electronic shutter, you can reach speeds as fast as 14fps on the X-T20 while the X-T100's maximum speed remains unchanged.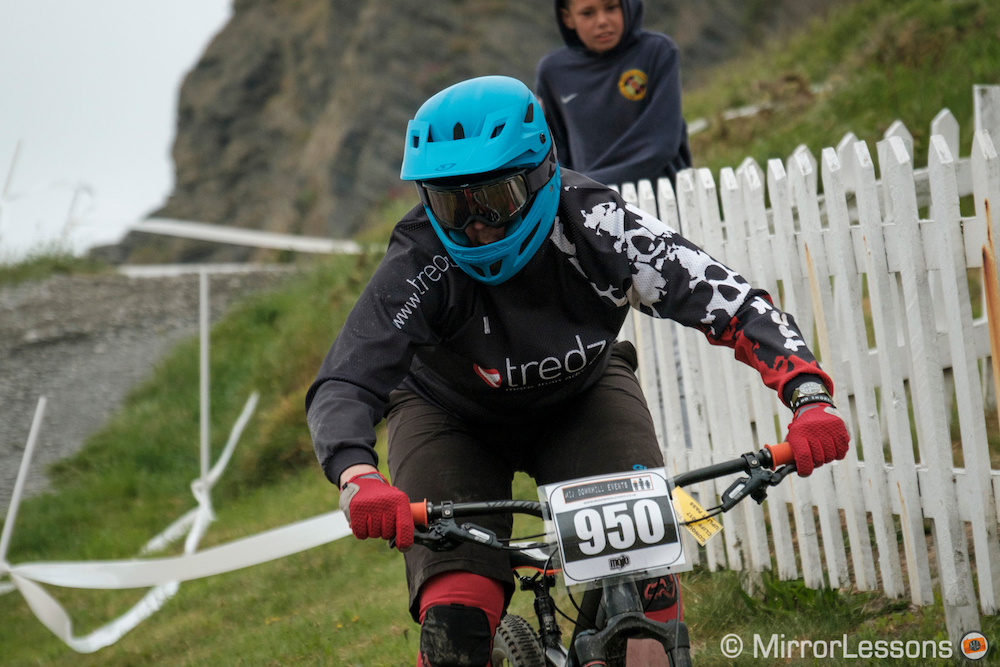 At 3fps and 5fps on the X-T100 and X-T20 respectively, you get a live view with blackouts whereas at speeds above that, you see the last image taken.
Unsurprisingly the buffer depth of the X-T20 is also much better. At 8fps, you can expect the camera to fire off approximately 62 JPGs or 25 RAW files before it slows down whereas the X-T100 can manage just 26 JPG frames at 6fps.
My tests in the real world reflected this difference – I was only able to take short bursts with the X-T100 and I'd often have to wait quite a while for the camera to write the images to the card, especially if I shot in RAW format. (This is probably why Fujifilm doesn't list the buffer specifications for RAW shooting on the website!)
The maximum shutter speeds are identical on the two cameras: 1/4000s with the mechanical shutter or 1/32000s with the electronic shutter. Neither comes equipped with an electronic first curtain shutter. For long exposure work, you have the choice between the Bulb mode (up to 60 minutes) and the Time mode (up to 30 seconds).
---
Video capabilities
The video department is another area where the X-T20 has a clear advantage over the X-T100 as we'll discover below.
Although both are listed as being 4K (3840×2160) capable, the X-T20 benefits from much more usable frame rates – specifically 30/25/24fps at 100Mbps. On the X-T100, the maximum frame rate is 15fps which is too choppy to be practical for filmmaking or vlogging.
In the videos below, you can see some footage shot with the X-T20 (compared to the X-T2) and the X-A5 whose video capabilities are identical to those of the X-T100.
In Full HD, the specifications are much more similar: the X-T20 can film at 60/50/30/25/24p whereas the X-T100 can manage 60/50/24p. The X-T100 also comes with an additional High Speed Movie mode in HD 720p that lets you record slow motion footage at 100fps.
The X-T20 and X-T100 don't crop the field of view when filming in 4K but they do apply line-skipping, resulting in footage that isn't particularly sharp and suffers from aliasing artefacts and moire. Although we weren't able to take any side-by-side video footage, our impression is that the X-T20 delivers better video quality overall, even in 1080p.
The X-T20 has a wider ISO range for video (200 to 12800 versus 400 to 6400) and once again, the autofocus performance is much more reliable in both 4K and Full HD.
The recording duration is the only area where the X-T100 outperforms the X-T20. At all resolutions except High Speed Movie in HD, the camera can record continuously for up to 30 minutes which is much longer than the X-T20's 10 minutes in 4K and 15 minutes in Full HD.
To start a recording on the X-T100, you must press the dedicated video button, which can be a bit fiddly since it is quite small and recessed. On the X-T20, there is a much better solution: you can switch the drive dial to video mode and press the shutter button instead.
---
4K modes, flash, connectivity and other features
Do you remember how we said 4K was unusable on the X-T100 because of the 15fps frame rate? Well, that's not entirely true. The real reason Fujifilm gave the X-T100 4K capabilities wasn't so much for video purposes but for the camera's 4K shooting modes.
These modes – called 4K Burst and Multi Focus – are very similar to the 4K Photo modes found on Panasonic Lumix cameras in that they allow you to save 8MP JPG stills from 4K footage shot at 15fps. Whereas the former lets you save specific photos in a burst, the latter takes a series of shots at different focus distances and you can either save the image with your preferred focus point or merge a grouping of points to increase the depth of field.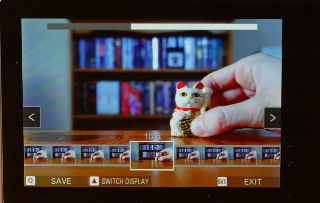 We used both of these modes extensively on the X-A5 and although they're good fun, we wouldn't use them for serious photography. The Multi Focus mode in particular can produce artifacts if you merge too many images, and the continuous autofocus simply isn't fast enough to keep up with moving subjects.
The X-T20 doesn't have these modes at the time of writing but nothing precludes them from coming via firmware update at some point if there is the demand.
Both cameras come with a built-in pop-up flash with a sync speed of 1/180s and a guide number of approximately 7 (ISO 200). Compatibility with dedicated TTL flash units is available via the hot shoe.
Concerning the various connectivity options, the X-T20 is limited to WiFi whereas the X-T100 benefits from WiFi and Bluetooth. The latter maintains a constant connection between the camera and a smart device such as your phone, and allows you to automatically transfer images to your phone and embed location data into your photos.
WiFi and Bluetooth both work fairly well, though the process of connecting your camera to the app on your phone isn't always as quick and seamless as it should be. With my Google Pixel phone for example, I found that multiple attempts were required to establish a connection. (This is a complaint I would extend to all camera apps however, not just those from Fujifilm.)
There is no shortage of extra features on the two cameras including the following:
Interval timer shooting: takes a series of images (1 to 999) at a specified interval (1 second to 12 hours) which can then be compiled into a time-lapse video in post production
Panorama: the camera stitches a series of images together to generate a panoramic view of your scene
Bracketing: five different bracketing options are available (AE, film simulation, dynamic range, ISO sensitivity and white balance)
MF assists: on-screen assists that help you pinpoint focus such as Focus Peak Highlight (both cameras) and Digital Split Image (X-T20 only)
Self timer: set a timer of 2 or 10 seconds.
Multiple exposure: combine two exposures into one image
RAW conversion: convert RAW files into JPGs in-camera after adjusting exposure, WB, sharpness, saturation, film simulation mode, etc.
Advanced filters: take photos with filter effects. Accessible from the Adv.1 and 2 positions on the X-T20's drive dial or Adv. on the X-T100's mode dial. X-T100 comes with two additional filters in comparison to the X-T20 (Rich & Fine and Monochrome NIR).
Custom settings: create, save and instantly recall up to seven sets of user-defined settings (only available on the X-T20)
---
Battery life
The two cameras use the same NP-W126S battery which according to CIPA standards, is good for approximately 430 frames on the X-T100 or 350 frames on the X-T20.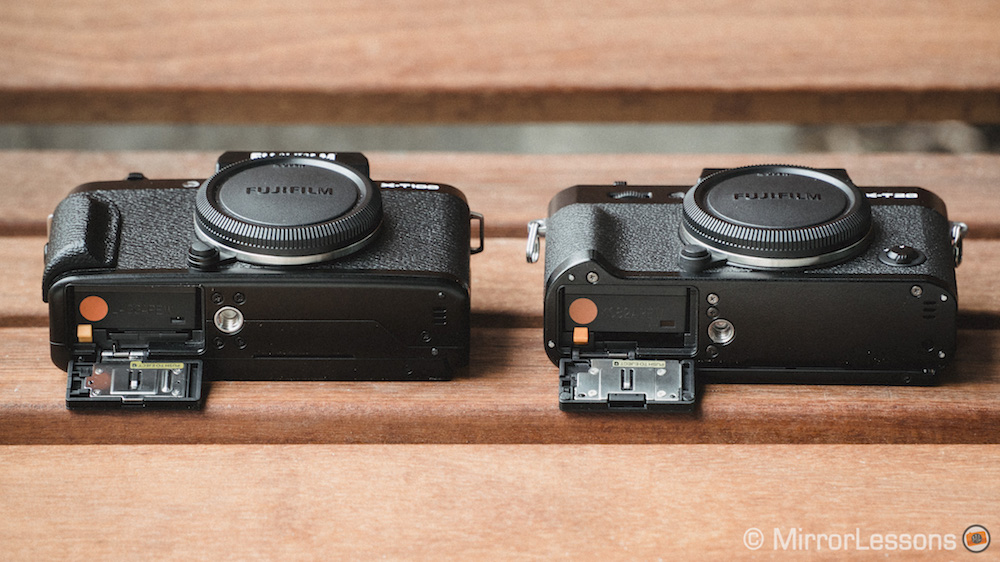 When using both for real world shooting, I found that I could get through the day with either model on one battery charge as long as I stuck to shooting stills in single shot mode. Once you start filming in 4K or taking multiple bursts, the battery life will drain more quickly. I usually carry around at least one spare, but two is ideal if you plan to do a lot of intensive shooting.
Usefully you can charge either model via micro USB but only the X-T20 comes boxed with a separate battery charger (BC-W126).
---
Price
The retail price of the X-T100 is approximately $600 US (body only) or $700 with the new 15-45mm f/3.5-5.6 zoom lens, making it $300 less than the X-T20 (body only) and $400 less with the 18-55mm f/2.8-4 zoom lens. That being said, the X-T20 is older than the X-T100, so it isn't uncommon to come across special deals and discounts.
The difference in price is a clear reflection of each camera's target audience. The X-T100 is aimed at newcomers to photography who perhaps only ever used a smartphone to take pictures or videos, whereas the X-T20 is a step below the most serious tools in Fujifilm's arsenal and shares a number of key features with them.
---
Conclusion
In my view, the choice between the X-T100 and X-T20 is fairly straightforward.
The X-T100 is a great option if all you're looking for is a stylish and affordable camera that delivers high quality images of subjects that won't challenge the camera such as group shots, landscapes or still life. The swivelling LCD screen is a nice touch for those who enjoy taking selfies or vlogging, although it is best to avoid 4K/15p for anything except the 4K shooting modes.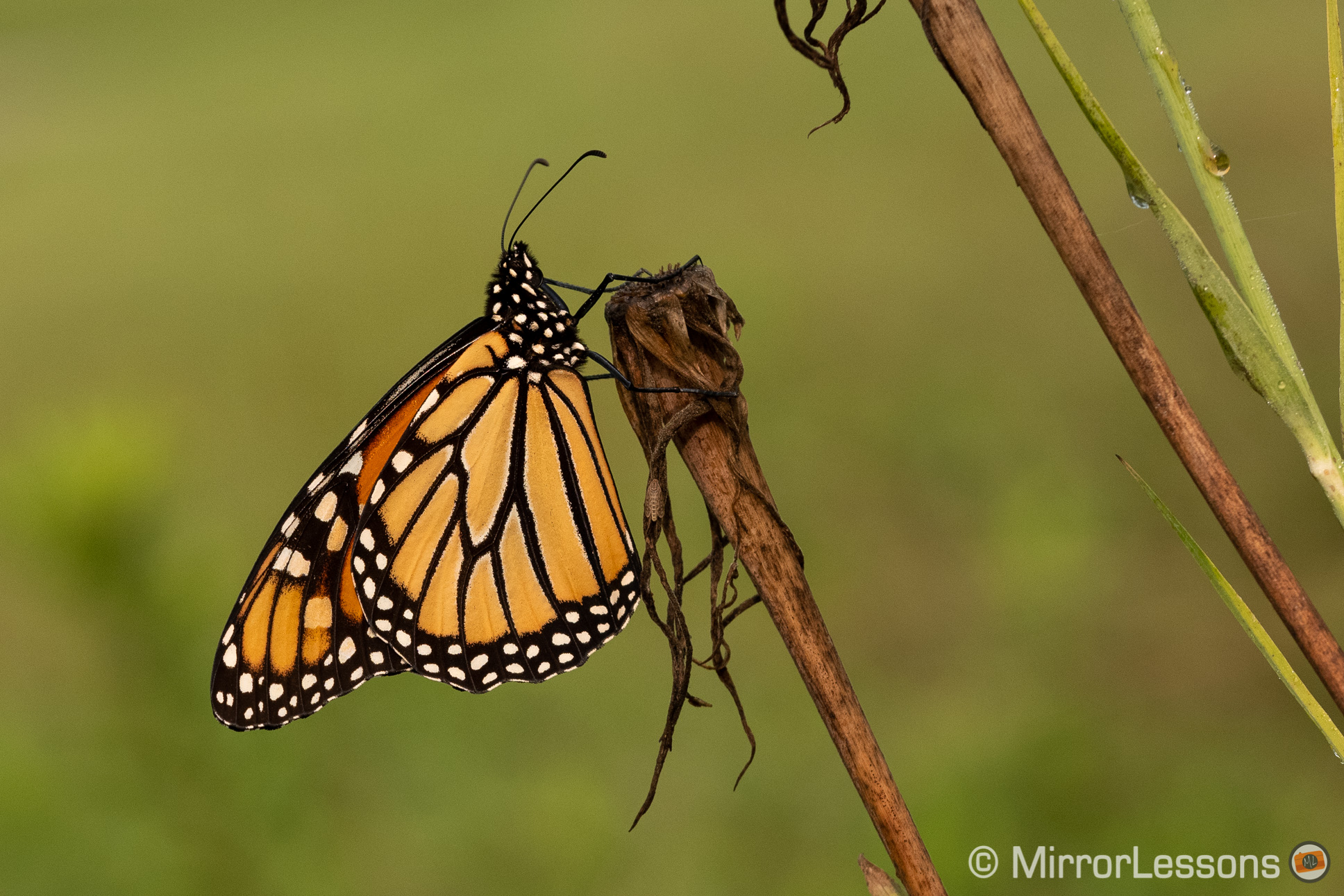 The X-T20 is definitely the more well-rounded product, especially in terms of how it deals with moving subjects. The autofocus system, despite appearing quite similar to that of the X-T100 on paper, is much more reactive, and the faster continuous shooting speeds coupled with deeper buffer make it easier to capture the perfect moment in an action sequence.
In terms of image quality, I wouldn't say that one product has a distinct advantage over the other, with the exception that the X-T100's Bayer sensor files are more easily handled by certain software applications.
Finally if you're serious about good video quality, the X-T20 is the more logical choice. The 4K footage at 30p isn't the best in Fujifilm's range but it is certainly very useable and continuous autofocus for video is just as effective as it is for stills.
Choose the Fujifilm X-T20 if:
want the best Fujifilm has to offer in the entry-level to mid-range category
plan on shooting a variety of genres including action
want usable 4K footage
Choose the Fujifilm X-T100 if you:
are on a very tight budget
mostly shoot static subjects (people standing, still life, landscapes, etc.)
don't care about shooting video
---
Check price of the Fujifilm X-T100 on 
Amazon | Amazon UK | eBay | B&H Photo
Check the price of the Fujifilm X-T20 on 
Amazon | Amazon UK | eBay | B&H Photo
---
Sample images and additional content
You can look at various sample images and download original files by visiting the two galleries below:
You might also be interested in the following articles: