Hearing the words 'special effects' in reference to a lens will either make you rejoice or sob into your microfibre cloth. Whichever category you fall into, it is impossible to ignore their appeal in a world where people obsess over razor-like sharpness and creamy bokehs.
One of the most popular creative effects brands is Lensbaby, whose lenses for DSLRs and more recently mirrorless cameras, transform your images into abstract works of art through creative distortion, vignetting and selective focus.
The Trio 28 is one of Lensbaby's most recent products, and the subject of our comparison today. Why a comparison, you might ask? Well, because the Trio 28, as the name suggests, comes with not one, not two, but three selective focus optics, each with their own signature look.
---
Ethics statement: The Lensbaby Trio 28 was loaned to us by Lensbaby. We were not asked to write anything about this lens, nor were we provided any other compensation of any kind. Within the article, there are affiliate links. If you buy something after clicking the link, we will receive a small commission. To know more about our ethics, you can visit our full disclosure page. Thank you!
---
Build quality and design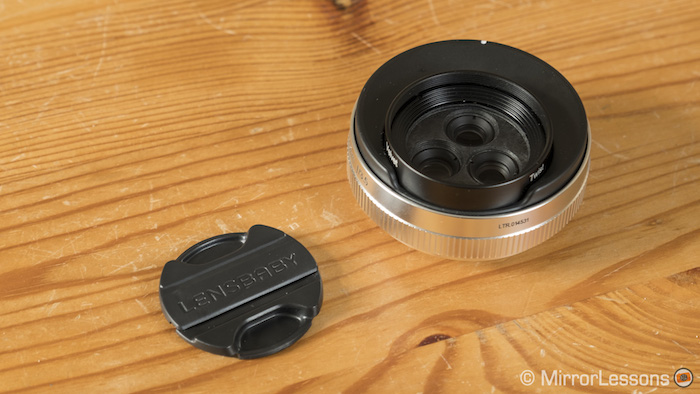 The Trio 28 features a 28mm focal length (35mm format) with a fixed 3.5 aperture, and has been designed especially for Micro Four Thirds, Fujifilm X and Sony E mounts. The field of view varies depending on the sensor size: it is a 28mm on full-frame Sony E-mount cameras, the equivalent of 42mm on APS-C (Fuji X and Sony E), and the equivalent of 56mm on Micro Four Thirds. Note that for this comparison, we used the Micro Four Thirds version on the Olympus OM-D E-M1 and Panasonic Lumix GX85.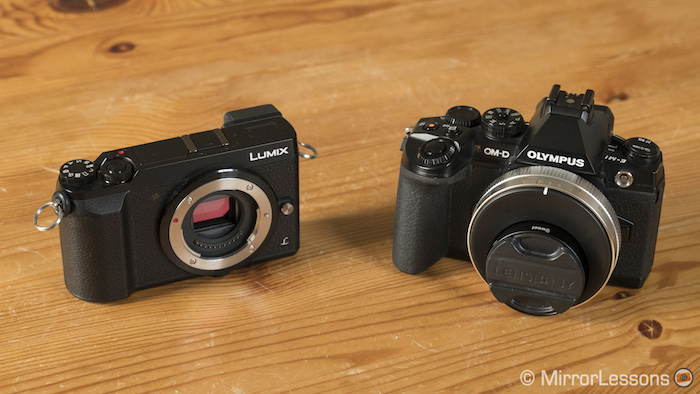 Like all Lensbabys, the lens is 100% manual, so you'll need to rely on your camera's manual assists to achieve focus. In the case of the two Micro Four Thirds cameras, I used a mix of focus peaking and magnification and had no trouble focusing whatsoever.
The lens itself is quite compact, especially if we consider that it is home to three optics. It does extend below the base of most mirrorless cameras but all this means is that the camera won't rest evenly on a flat surface. Surrounding the barrel is a chrome-finish metal manual focus ring complete with a distance scale. Thanks to its ribbed design, it is easy to grab and turn.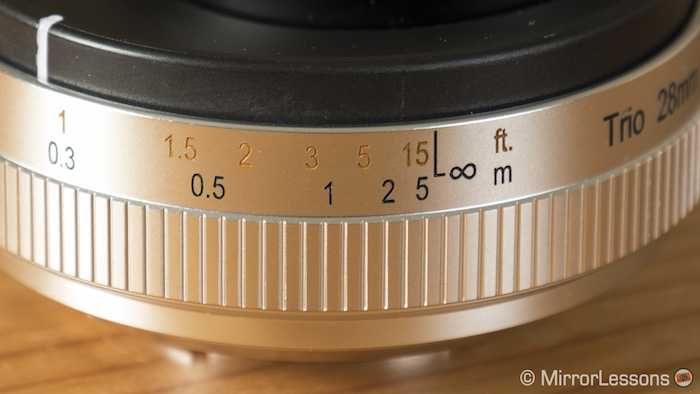 Pop off the lens cap and you'll notice immediately notice the three optics, arranged in a triangular formation similar to that of vintage 8mm movie cameras.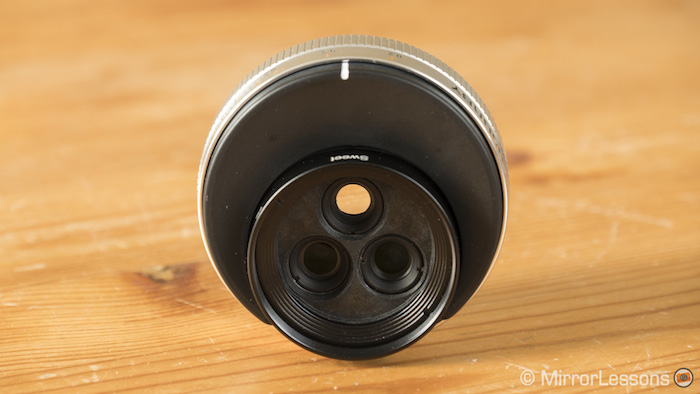 Sweet delivers great sharpness in the centre which progressively falls off towards the edges. This effect draws your attention to the subject at the centre of the frame.
Velvet takes inspiration from the Velvet 56mm f/1.6 in that it imbues your entire image with a soft, dream-like appearance.
Twist produces a swirly effect around its sharp centre. It is modelled after their own Twist 60, a Petzval lens with a twisty, swirly bokeh. Like the Sweet optic, it draws your attention to the centre of the frame.
All three optics have a full-sized counterpart within the Lensbaby line-up.
To switch between the optics, all you have to do is rotate the turret. Personally, I feel the turret could have benefitted from a ribbed design like the focus ring, as its smooth surface makes it somewhat fiddly to turn, but it works well enough.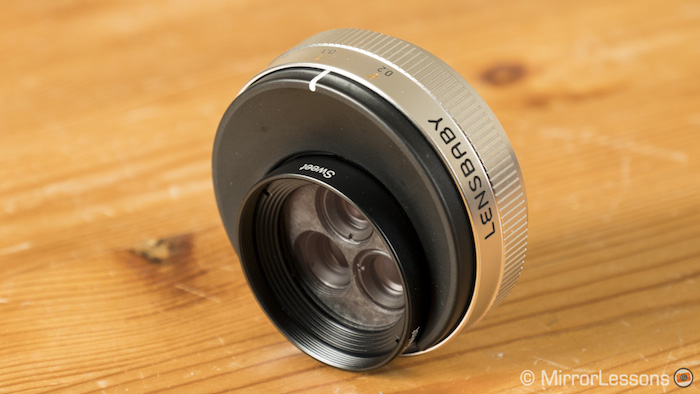 Because the aperture is fixed at the relatively fast value of f/3.5, it is important to check your focus every time you change your composition. You may also find the f/3.5 value limiting in very bright sunlight if your camera's maximum shutter speed doesn't exceed 1/4000s.
---
Sweet vs. Velvet vs. Twist
Now it's time to see how the three optics compare to one another by looking at both individual images taken out in the field and side-by-side shots of the same scene.
Ease of Use
Of the three, Velvet is the most challenging to use because the entire image, even the semi-sharp central area, is masked by an ethereal glow. I admit that I wasn't particularly happy with the results I got with this optic, partly because I lack experience with creative lenses but also because the soft look doesn't really suit my style of shooting. I also found it difficult to select subjects and backgrounds that suited the dreamy look.
By contrast, Sweet and Twist are both quite easy to use: simply find an interesting subject, frame it at the centre, and shoot. The only downside is that the sharp "sweet spot" is locked at the centre of the frame.
Sharpness
Sweet is the sharpest of the three optics, closely followed by Twist. Either optic can be used to draw attention to the subject at the centre, though the effect produced at the edges differs.
Velvet is also fairly sharp at the centre (though not nearly as sharp as the other two optics) but once again, it isn't as easy to tell due to the ethereal glow across the frame.
In situations where there isn't a distinct background or the background is far removed from the subject, it can sometimes be difficult to tell the difference between Sweet and Twist, whereas Velvet's distinct glow almost always gives it away.
Bokeh
The out-of-focus rendering of the three lenses is quite different.
That of the Sweet optic is closest to what you might expect from a normal lens. The bokeh is fairly uniform and the bokeh balls have the appearance of bubbles, with a noticeable outline and some light fringing.
Velvet's bokeh balls are quite unique due to the points of light that often appear at the centre. The out-of-focus areas tend to be the creamiest of the three as long as there aren't too many bokeh balls to mottle its appearance.
Twist's out-of-focus rendering is what you'd expect from a Petzval lens. With a dark and busy background featuring lots of foliage, you can clearly see the swirl effect and how it stretches the bokeh balls. The effect is less evident in bright scenes or compositions that lack foliage.
Flare
I only came across one relevant example of flare during my testing period while taking a portrait of Mathieu in extreme backlight. Though heavily influenced by each optic's individual creative effect, its appearance is more or less the same on all three: a green ghost flare (or two) at the edge accompanied by a streaky purple/yellow flare close to the light source.
---
Double Exposures
Something you'll only notice if you leave the dial between two effects is that you can create some pretty funky "double exposures" – which are actually one exposure taken with two lenses. I'm not sure whether this was actually intended to be an extra feature of this lens, but the fact remains that some of my favourite images were taken using this method!
---
Conclusion
When it comes to lenses, I'm much more of a stickler than I'd like to admit. I like pin-sharp results and my bokeh to be pristine – which is probably an unwanted side effect of being a gear reviewer!
That said, I did have fun using the Lensbaby Trio 28 and I can see the appeal of the simple yet creative ethos behind it. Indeed, it was while using this lens that I turned my camera's mode dial from M to P for the first time in ages, threw technicalities to the wind, and strictly focused on producing fun and creative compositions – and who can complain about that?
The Lensbaby Trio 28 is available for approximately $280 US or £250, though the price tends to vary depending on the retailer.
Check price of the Lensbaby Trio 28 on
Amazon, Amazon UK, B&H Photo and eBay
---
---
Sample Images