Updated on: August 15, 2017
Not all photographers enjoy using a camera strap, but those who do understand the importance of having one that is comfortable, reliable and easy to use. However, so varied is the choice these days that settling on one strap is no walk in the park.
Mathieu and I have tested numerous straps since starting our family of mirrorless websites, many of which were excellent and deserving of a high recommendation, but the truth is that when we aren't carrying out a review, we always return to our Peak Design straps.
In this article, we're going to be comparing the three products we use the most: the Slide, Slide Lite and Leash. Hopefully, by doing so, we'll also be able help you decide which is the best match for your camera!
---
Ethics statement: Peak Design provided us with the Slide, Slide Lite and Leash for review purposes when they were first released and we've been using them ever since. We were not asked to write anything about the straps, nor were we provided with any sort of compensation. Within the article, there are affiliate links. If you buy something after clicking the link, we will receive a small commission. To know more about our ethics, you can visit our full disclosure page. Thank you!
---
[toc heading_levels="2″]
---
Article Updates
August 15, 2017: we added information and feedback about the new version of the Leash strap
---
Anchor Link system
The reason we prefer Peak Design straps to others on the market has mainly to do with the brand's innovative Anchor Link connector system. It is used on nearly all of their products, including the Slide, Slide Lite and Leash.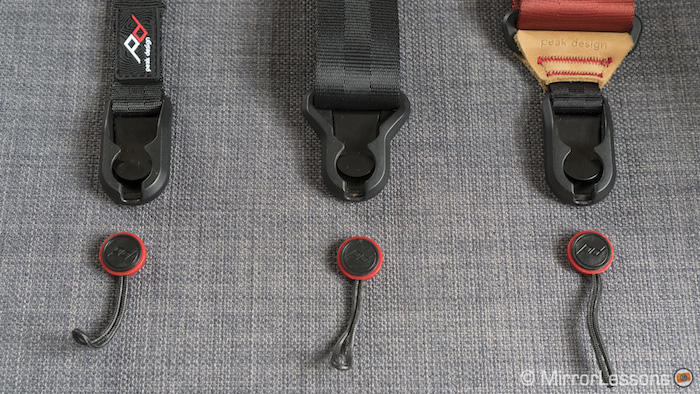 Anchor Links are small plastic discs with nylon cords that tether to your camera's eyelets. They may look a bit silly, hanging like dangly earrings from each side of your camera, but they are strong enough to withstand up to 200lbs (90kg) which is enough for even the heaviest of professional bodies with a long telephoto lens attached.
The Slide, Slide Lite and Leash all come bundled with four Anchor Links, which is enough for two cameras. If you require more links, you must purchase them separately.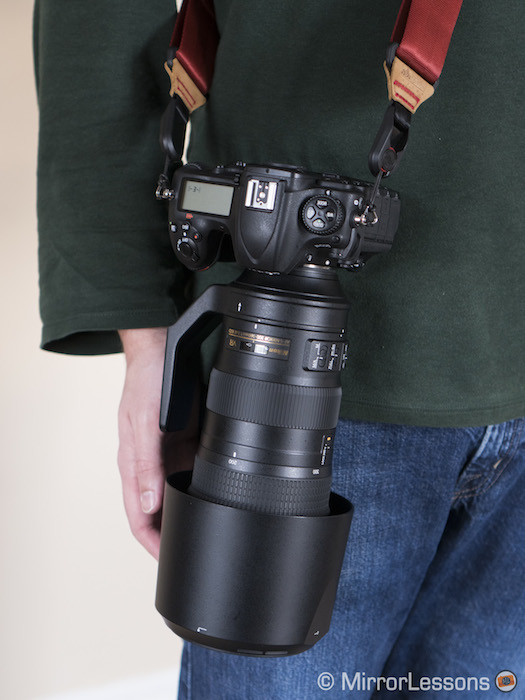 To attach any of Peak Design's straps, all you have to do is slide the Anchor Links into the quick connectors on each end of the strap and click them into place. Removing the strap is just as easy: you simply push down on the disc to disengage it and slide it out.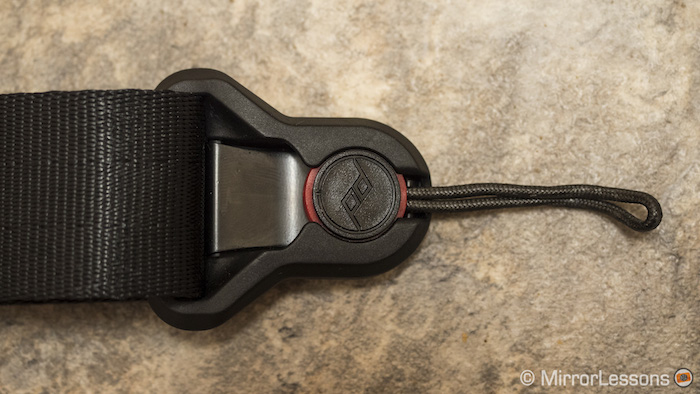 Secure as it is straightforward, this method allows you to use one strap on multiple camera bodies as long as they are equipped with Anchor Links. This is a massive advantage for us personally because we are continuously receiving new cameras to test, but it can also be helpful if you own more than one body or prefer to remove your strap when storing it inside a bag or placing it on a tripod for example.
Note: The new generation of Anchor Links is much more resistant to fraying than previous generations thanks to the three nesting layers of Dyneema®. These new Anchors have warnings of when you need to change them. The outside is black, while the outer core is yellow and the inner is red.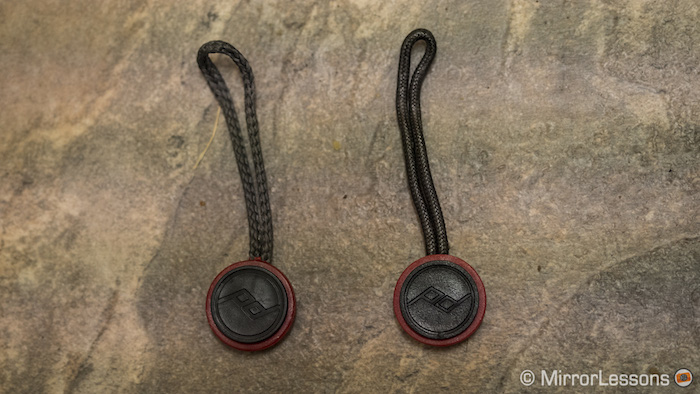 ---
Build quality, design and ease of use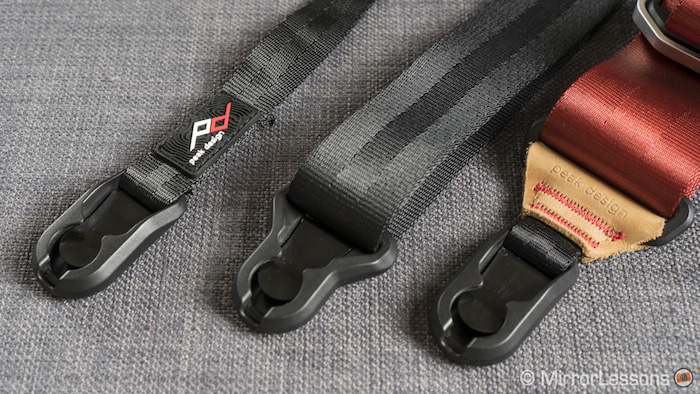 The build quality is another reason we have a soft spot for Peak Design straps. Made of smooth and flexible seat beat-like webbing that glides without resistance along your shoulder or neck, all three straps do an excellent job of distributing the weight of your gear and never cause discomfort – although the strap you choose must naturally suit the size and weight of your gear as we'll discover below.
The original Slide is the largest and thickest of the three straps. Available in black (Classic), navy/tan (Summit edition 'Tallac') or red/tan (Summit edition 'Lassen'), it has been designed for use with large mirrorless cameras and DSLRs and is the only one to feature a thin layer of padding in the middle to provide extra support.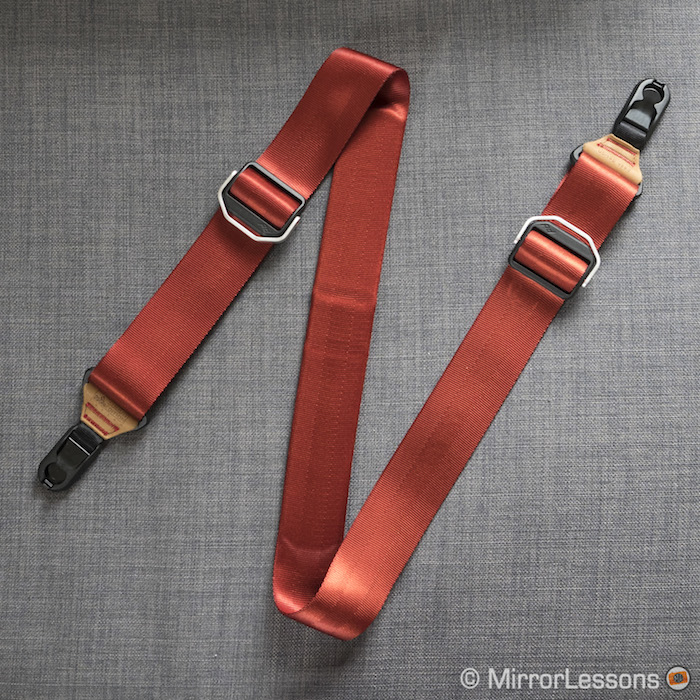 The Slide Lite is a thinner version of the original Slide. Designed mainly for mirrorless systems or small DSLRs, it lacks the padding of the Slide and only comes in black at the time of writing.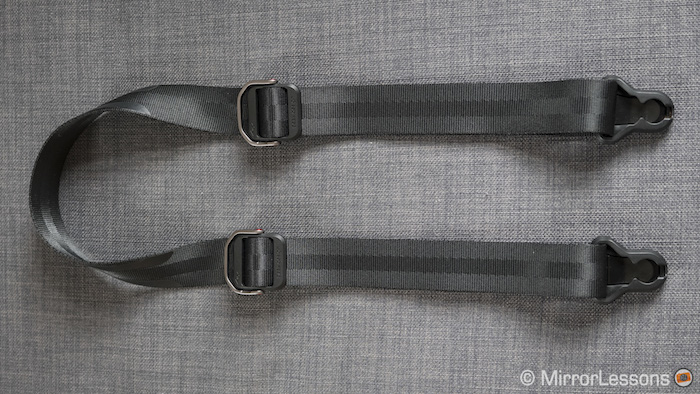 Both straps feature two aluminium buckles that are easily adjustable even when wearing the strap: simply pull up or down on the silver quick-adjust handle and lock it into place when the length is right.
They also share the same grippy silicon strips on one side to keep the strap in place when you don't want it to slide around freely. While they do create some additional slip resistance, we haven't really found a big difference between the two sides during real-world use.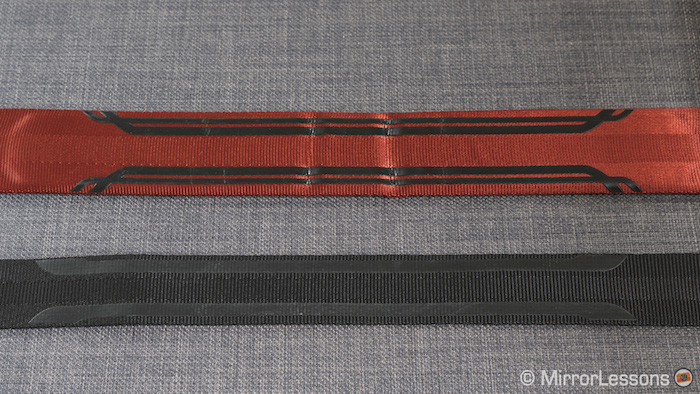 In the case of the Slide Lite, it is possible to slide the buckles over the silicon strips to shorten its length but doing so isn't advisable as it can wear the silicon down over time. This isn't possible with the Slide because the padded mid-section impedes the movement of the buckles.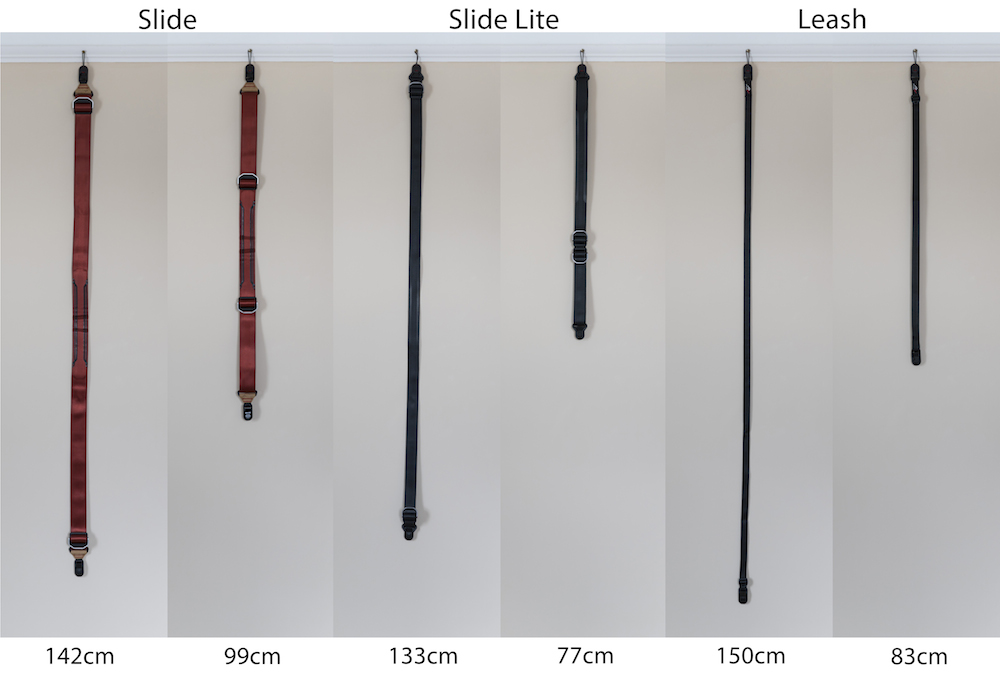 Between the two, the Slide Lite is easier to pack and store, not only because it is thinner but also because the lack of padding makes it more pliable. We've found that the best way to pack the Slide is to fold it in three, whereas the Slide Lite can be wound into a roll (as can the Leash, which we'll be discussing below).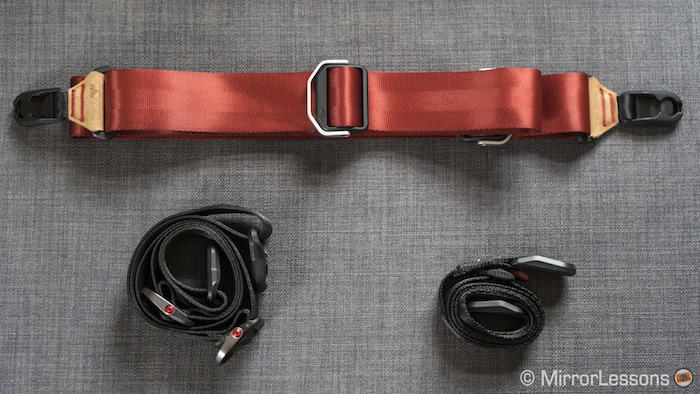 The slimmest and lightest strap of them all is the Leash. It best suits small compacts and small-to-medium sized mirrorless cameras. Attach anything heavier and the Leash will start to dig into your skin. Though it is made of the same seatbelt-like material and uses the Anchor Link system, it differs from the Slide and Slide Lite in a couple of key ways.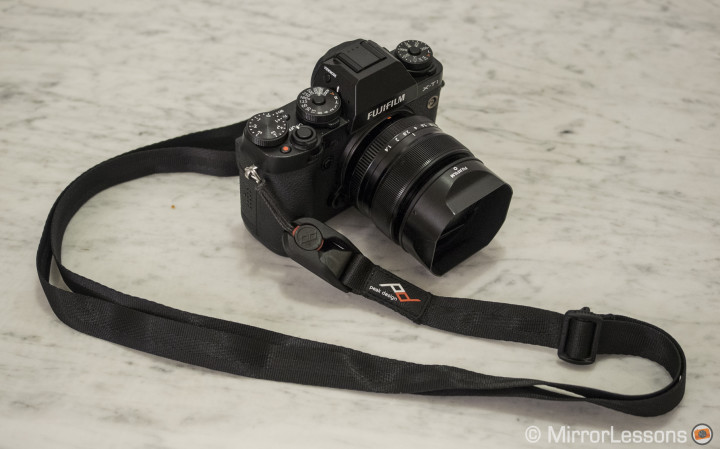 First, it only features one plastic buckle which isn't easily adjustable while wearing the strap. This is because it lacks the quick-adjust handle of the Slide and Slide Lite's buckle. However, it does feature a hole through which you can fasten an Anchor Link and create a safety tether that attaches to your belt, backpack or Peak Design Capture Clip.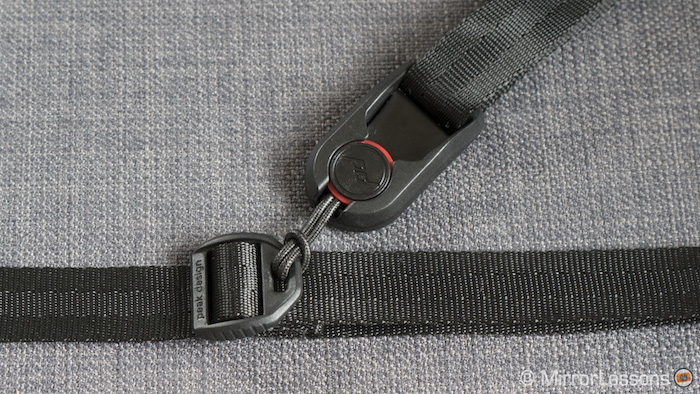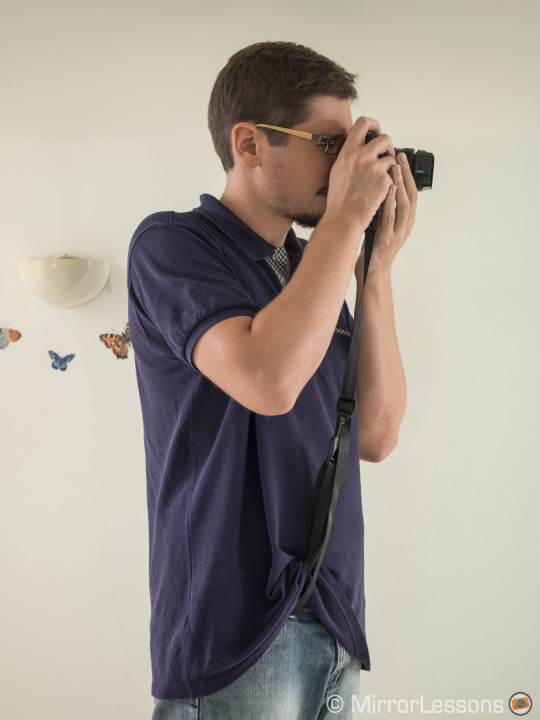 The second difference is that it doesn't feature any silicon strips but we doubt they'd be useful on a strap this slim anyway.
---
Neck, shoulder or sling strap?
The Slide, Slide Lite and Leash can all morph into a neck, shoulder or sling strap. How you choose to use them entirely depends on your personal preference.
The Slide and Slide Lite are the most flexible, as they come bundled with a standard Arca tripod plate with holes for Anchor Links in each corner.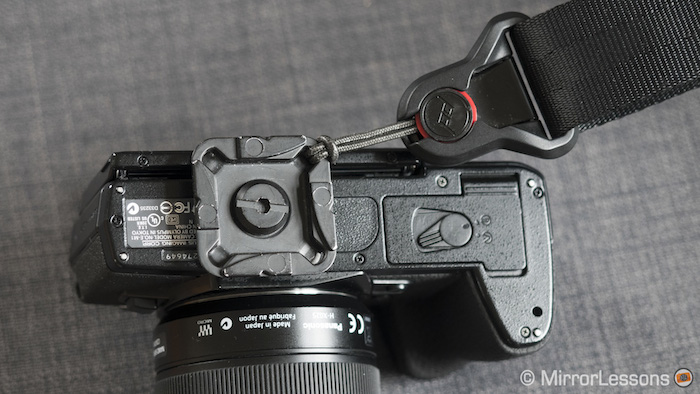 Once the plate is attached to your camera's tripod mount, you can attach one end of the strap to the plate and the other to one of the cameras eyelets to create a sling. This solution works best when carrying around very heavy gear such as full-frame DSLRs or mirrorless bodies with large telephoto lenses because it keeps the weight off of your neck/a single shoulder. Alternatively, if you have a smaller body or lens, you can opt to use the two camera eyelets and hang the strap around you neck or from one shoulder.
The Leash doesn't come with a standard plate but if you happen to own one or choose buy one separately, you can use it in the same way. However, because the Leash is meant to be used with smaller cameras, it makes more sense to attach it directly to the eyelets.
---
Update: Peak Design releases Leash II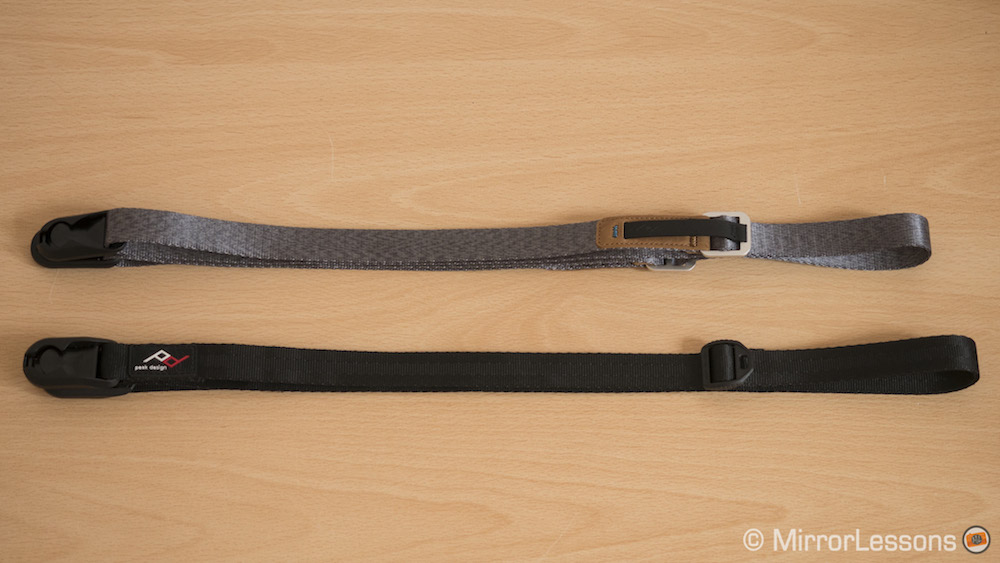 15/08/2017: A few months after this comparison was published, Peak Design released an updated version of the Leash (check price on Amazon) with a handful of brand new features that make it even more versatile than before:
two new quick-adjusters made of aluminium and Hypalon hardware that are easier to adjust than the one on the original Leash
improved nylon webbing that is smoother and more twist-resistant
updated Anchor Links with a thinner cord and angled buttons
an Anchor Mount that attaches to the tripod mount of your camera
The original Leash was only available in black whereas the new Leash comes in either Black or Ash.
---
Price
The Slide, being the largest of the three straps, has the highest retail price of $59.95 US. (Add on an extra $5 for the coloured Summit versions.) The Slide Lite sits in the middle at $49.95, while the Leash, at $34.95 US, is the most affordable. Naturally, it is also possible to find all these products second-hand now that they've been around for a while.
While the retail price is somewhat higher than what you'd pay for other camera straps on the market, the user experience and lifetime guarantee make them a worthwhile investment for any serious photographer.
---
Conclusion
We've been using Peak Design straps for over three years now and unless an even more innovative solution comes along, they will continue to be a mainstay in our camera bags for years to come.
Not only are they very comfortable and easy to adjust, but they also come with the added bonus of the Anchor Link system, which allows us to quickly attach and remove the straps whenever a new camera body comes along to review.
And even if you don't switch between multiple camera bodies on a regular basis like we do, Peak Design straps can still be an excellent solution, particularly if you prefer to keep your camera strapless when storing it inside a bag, using it on a tripod or displaying it on a shelf. The one you choose will ultimately depend on the size of your camera and perhaps even more importantly, the size and weight of the lenses you mount on it.
Personally speaking, I prefer the Slide Lite, in part because it suits my smaller stature but also because it can be used with most mirrorless camera and lens combinations and can easily be rolled up inside my bag or jacket pocket when I'm not using it. Mathieu, on the other hand, tends to use the Slide because he likes the extra comfort provided by the largest size and often use the Arca Swiss plate with larger lenses.
Choose the Slide if you:
own a DSLR or large mirrorless camera
often use large telephoto lenses
are tall/large in stature and could benefit from the extra comfort
e.g. Sony A7r II with the FE 70-200mm f/2.8 GM or Panasonic GH5 with the Leica 100-400mm f/4-6.3
Choose the Slide Lite if you:
own a medium to large mirrorless camera or small DSLR
use small to medium-sized lenses
e.g. Olympus OM-D E-M1 II with the M.Zuiko 75mm f/1.8 or Fujifilm X-T2 with the XF 56mm f/1.2
Choose the Leash if you:
own a compact camera or small mirrorless body
tend to use small primes
e.g. Fujifilm X100 series or Sony a6300 with the E 35mm f/1.8
Check price of all Peak Design straps on
Amazon | Amazon UK | B&H Photo | eBay
---
---