As the popularity of compact interchangeable lens camera systems has grown over the years, many people have started looking for smaller accessories to complement their gear – particularly flash units. After all, mounting a large and heavy flash onto a small camera such as the Fujifilm X-T20 or Olympus OM-D E-M5 II isn't particularly comfortable. For this reason, many manufacturers have started releasing speed lights that are smaller and lighter but don't compromise on performance.
Today we have a good selection, not only from the various camera brands but also from third-party companies. Nissin introduced the compact i40 two years ago before following up with the more powerful i60A. Metz released the M400 last year and other companies are following suit.
In this article, we'll be taking a look at these three products to compare their characteristics and see how they perform out in the field.
---
Ethics statement: we bought the i40 (micro four thirds version) a few years ago for our personal use. We were loaned the M400 and i60A for review purposes. We were not asked to write anything about these products, nor were we provided with any sort of compensation. Within the article, there are affiliate links. If you buy something after clicking the link, we will receive a small commission. To know more about our ethics, you can visit our full disclosure page. Thank you!
---
[toc heading_levels="2″]
---
Main Specs
Important note: some of the specifications below can vary depending on the camera brand. More info can be found throughout the article.
Metz M400
Guide Number: 40 (metres) or 131 (feet) for ISO 100 and 105 mm
Coverage: 24-105mm (35mm format equivalent), 12mm with built-in diffuser
Head: Bounce up to 90°, Swivel up to 360°, reflector card and wide angle diffuser
Exposure control: Automatic, TTL, Manual (25 steps)
Sync modes: HSS, 1st and 2nd curtain sync, slow sync
Wireless communication: Optical (Master, Slave and Servo)
Recycle time: 0.1 – 3.2s
Flash duration: 1/900 – 1/25000s
Video light: LED, 100 Lux/1m, 6 steps of brightness level
Rear digital display: Yes (OLED, color)
Weatherproof: None
Dimensions: 65 x 92 x 87 mm
Weight: 220g
Power: AA batteries
Firmware updates: via USB
Available for: Canon, Nikon, Olympus/Panasonic/Leica, Pentax, Fujifilm and Sony
Nissin i60A
Guide Number: 60 (metres) or 197 (feet) for ISO 100 and 200mm
Coverage: 24-200mm (35mm format equivalent), 16mm with built-in diffuser
Head: Bounce up to 90°, Swivel up to 360°, reflector card, wide angle diffuser and Softbox
Exposure control: Auto, TTL, Manual (9 steps)
Sync modes: HSS, Slow, 1st and 2nd curtain sync
Wireless communication: Optical (Slave) and 2.4Ghz radio (slave)
Recycle time: 0.1 – 5.5s
Flash duration: 1/800 – 1/20000s
Video light: LED, 9 steps of brightness level
Rear digital display: Yes (LCD, color)
Weatherproof: None
Dimensions: 112 x 73 x 98 mm
Weight: 300g
Power: AA batteries, external power source option
Firmware updates: via Nissin support centre
Available for: Canon, Nikon, Olympus/Panasonic, Fujifilm and Sony
Nissin i40
Guide Number: 40 (metres) or 131 (feet) for ISO 100 and 105mm
Coverage: 24-105mm (35mm format equivalent), 16mm with built-in diffuser
Head: Bounce up to 90°, Swivel up to 360°, reflector card, wide angle diffuser and Softbox
Exposure control: Auto, TTL, Manual (9 steps)
Sync modes: HSS, Slow, 1st and 2nd curtain sync
Wireless communication: Optical (slave)
Recycle time: 0.1 – 4s
Flash duration: 1/800 – 1/20000s
Video light: LED, 9 steps of brightness level
Rear digital display: None
Weatherproof: None
Dimensions: 85 x 61 x 85 mm
Weight: 203g
Power: AA batteries, external power source option
Firmware updates: via Nissin support centre
Available for: Canon, Nikon, Olympus/Panasonic, Fujifilm and Sony
---
Design and ease of use
When placed side by side, we can see that the i40 is the smallest of the three and also the lightest, but the M400 follows closely behind. The three flashes have a similar body size but the head of the Nissin i60A is longer and heavier than the other two units.
The plastic construction is good on all three products. The i40 is the one that feels the most delicate at first but it is also the one I've had the longest experience with and I can confirm it is robust. The i60A feels the most solid out of the three.
To secure the Metz onto the camera's hotshoe, there is a classic lurked nut you can tighten. The two Nissins use a quick release mechanism which is faster to operate. The three flashes have a metal hot-shoe.
Note about the Sony version
The hot-shoe isn't made of metal because of the Sony Multi Interface shoe design.
With older Sony SLT and mirrorless models that lack the Multi Interface shoe, you need the Sony Shoe Adaptor (ADP-AMA).
When mounted on the camera, I have to say that they all feel comfortable and light enough to use even on a smaller body such as the Fuji X100F. Yes, the i60A slightly unbalances the set-up because of its larger head but while using it for real world shooting, it didn't bother me too much. If I really want to nitpick, I can say that when carrying the i60A mounted on a light camera with a strap, the combo can easily flip upside-down due to the head's weight but it's not a real deal breaker.
Each flash allows you to tilt the head up 90° or rotate it up 180° to the left or right. They include a reflector card and a wide angle diffuser panel that can be pulled out. I like the Nissin solution as the two panels are not stuck together on one side so they can be pulled out individually more easily. The M400 is the only flash that doesn't come with an additional softbox.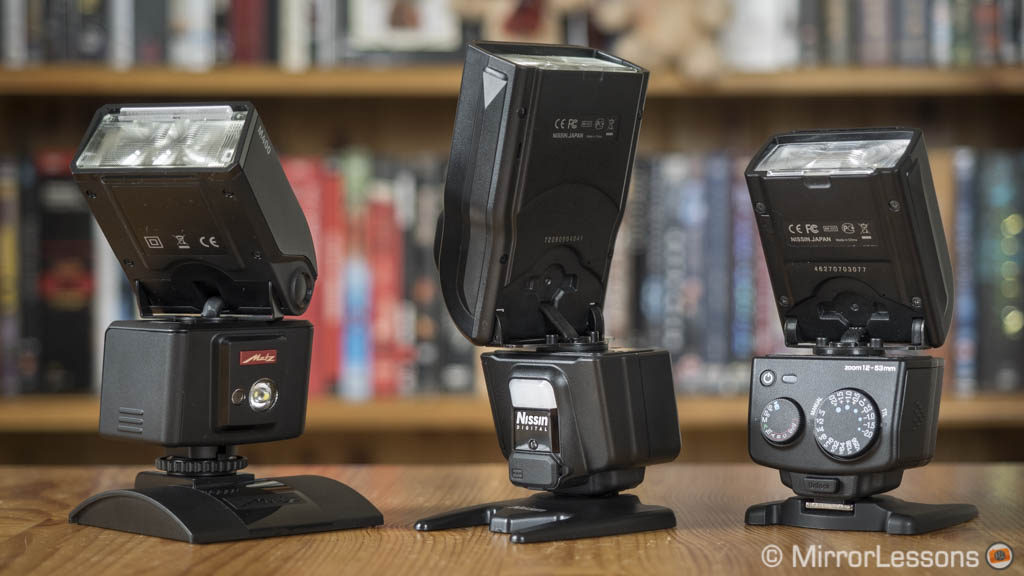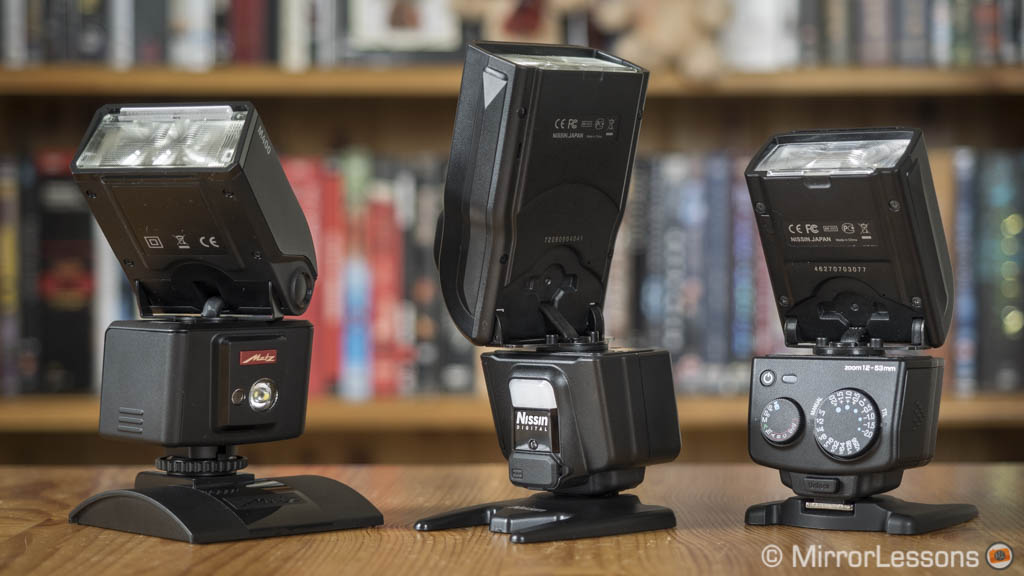 On the rear, the i40 has the simplest interface: to control the settings, all you need are the two plastic dials. The one on the right is very loose and can easily change position inadvertently. The other two speedlights have a digital screen (OLED on the Metz, LCD on the i60A) that display useful information. The Metz screen is brighter and easier to use in daylight.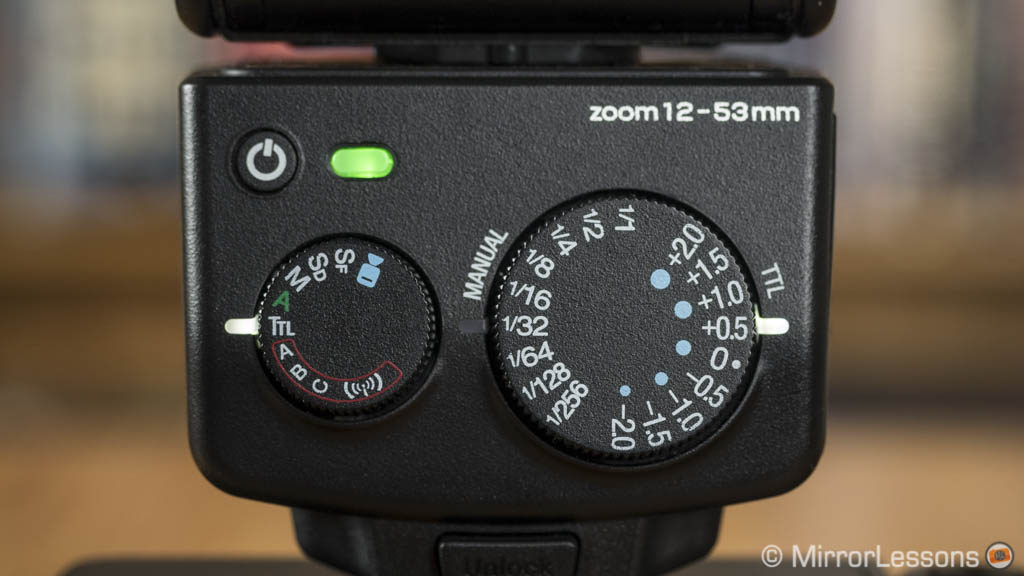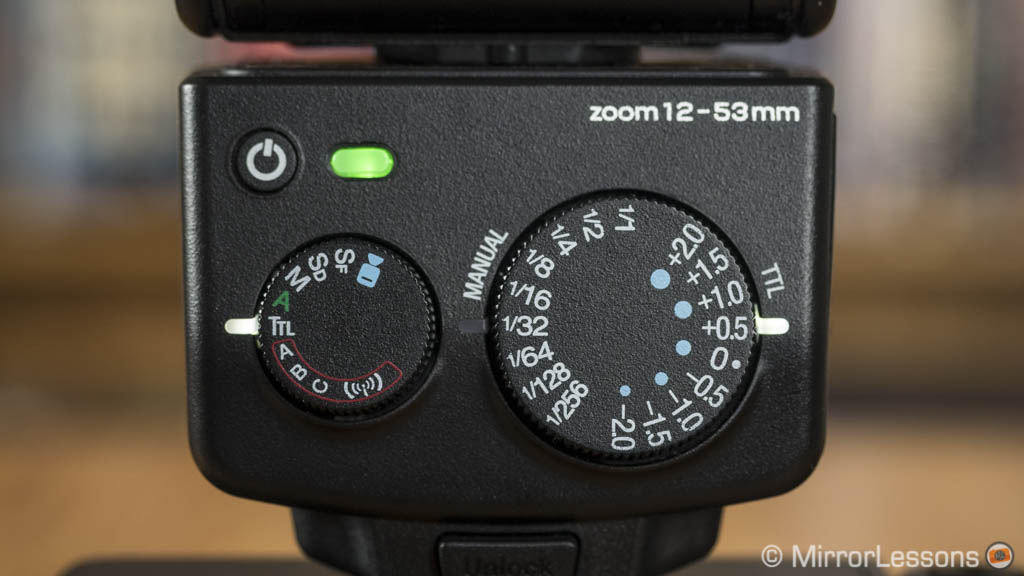 The M400 will show data such as the exposure mode used, the compensation and the distance range according to your settings (you can choose between metres or feet). Note that the distance won't show if you're working in Auto or Servo mode or if the head is tilted up or rotated to the side. The display can be used to navigate through the various settings thanks to the rhombus-shaped pad on the right. The pad as well as the on/off switch lack some sensitivity though. You can save your favourite settings in two program modes (F1 and F2) for quick access.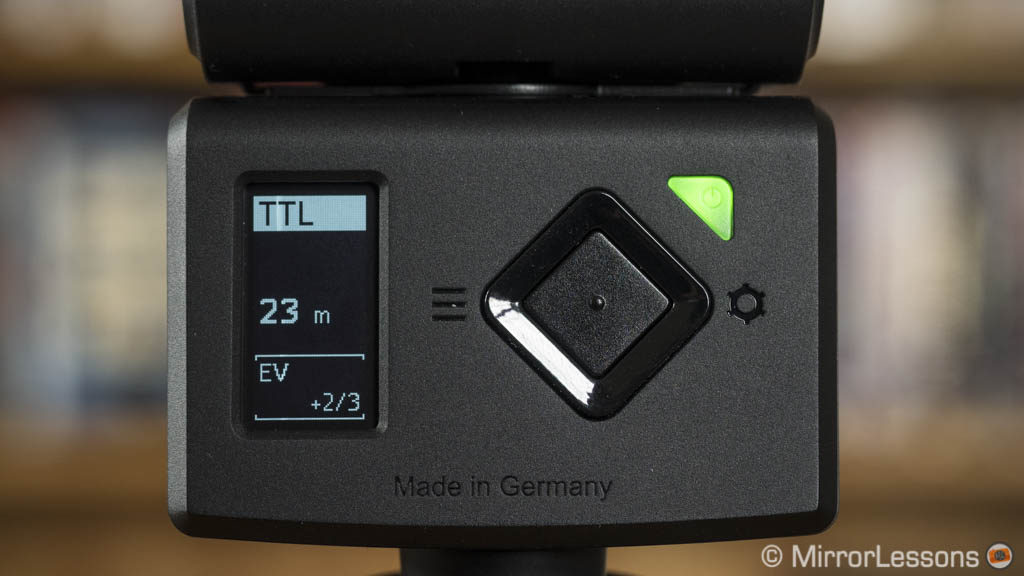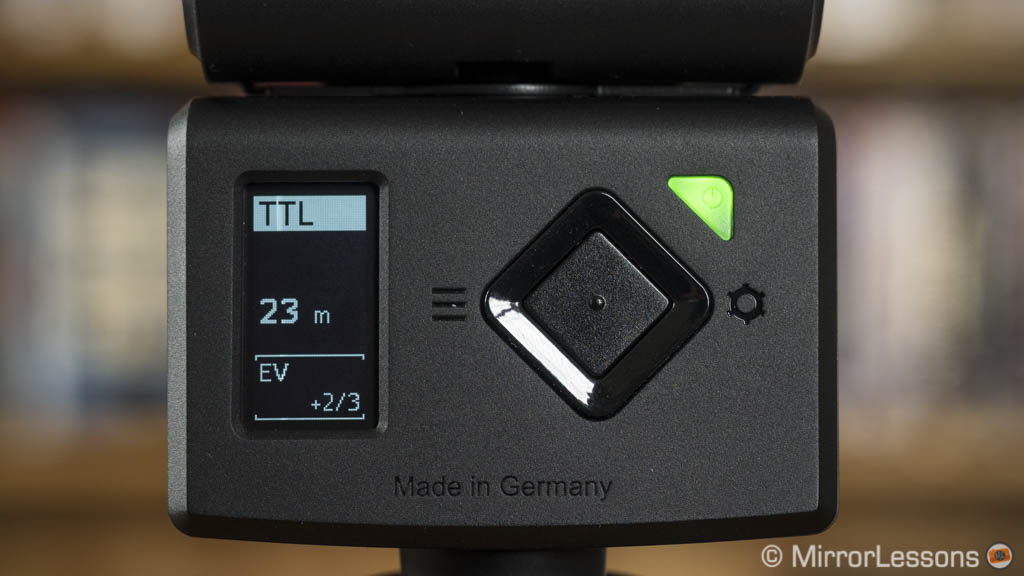 The two dials and 4-way button on the i60A are easy and comfortable to use, partly because the white markings make it easier to see exactly what does what in comparison to the Metz. The right dial is faster to use than the 4-way pad of the M400 when it comes to varying the flash output. The display is horizontal and shows basic data. There are two annoying things I've noticed about the i60A though. First there is often a lag on the display: the values don't change right away when rotating the dial. Second the flash – or at least my copy – emits a whistling sound at regular intervals when turned on.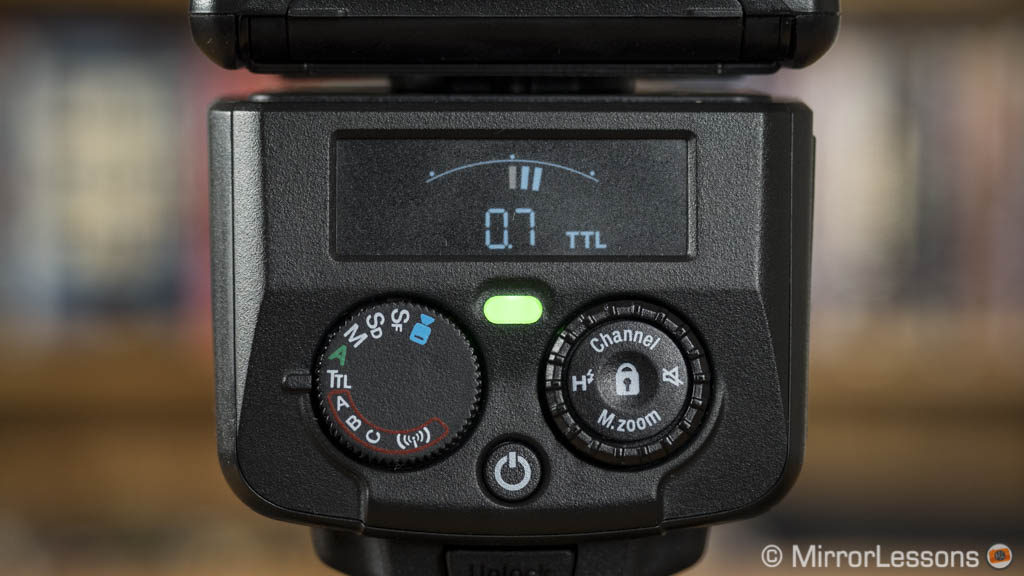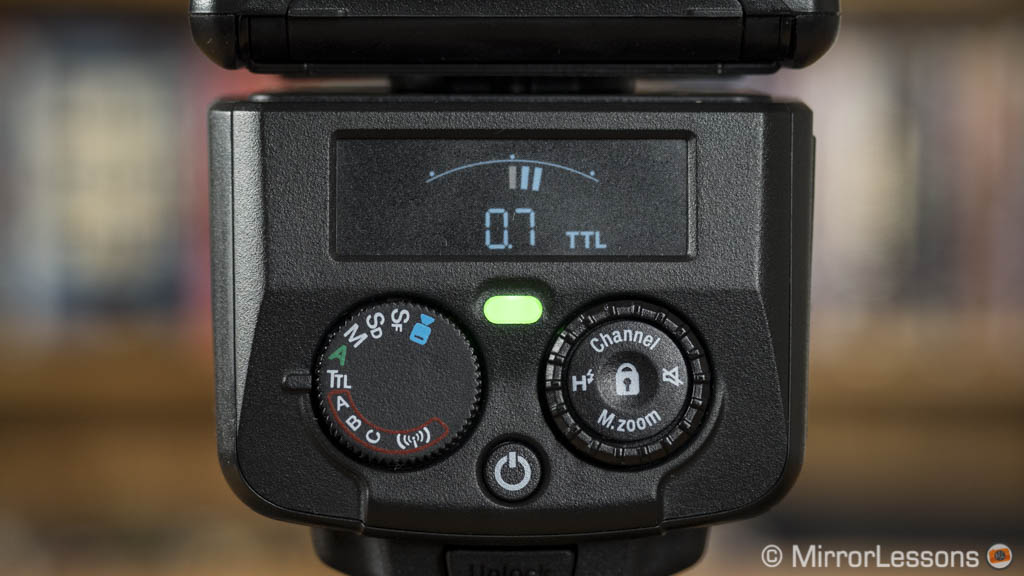 The three flashes use four AA batteries. The battery door on the Metz feels somewhat cheaper than the rest and is more annoying to open and close. Inside however you can find a USB 2.0 port for firmware updates. With Nissin you have to send their products to their service centre to receive an update which is far more inconvenient. Finally the i60A has an additional port for external power which is useful if you want to keep the recycling time fast.
---
Light output and performance
The Nissin i60A is the most powerful flash with a Guide Number of 60 metres / 197 feet and a zoom range of 24-200mm equivalent. The i40 and the M400 have a light output of GN40 and a zoom range of 24-105mm. With the wide angle diffuser, the M400 can cover a wider view up to 12mm while it's 16mm for the i40 and i60A.
The higher guide number means that if you capture a subject at f/4 and ISO 100, the i60A will give you a correct exposure up to 15 metres (at full power) and 200mm. The i40 and M400 will manage optimal brightness up 10 metres and 105mm. So overall the i60A can cover a longer distance than the other two units and can concentrate the light at a narrower angle of view as well.
Whether you need the extra power or not really depends on how you intend to use the flash. For example I've used the i40 and Olympus Fl-600r (GN36) for many of my event assignments and they worked just fine since I was mainly taking pictures of people at close distances.
However a more powerful flash can have collateral benefits. Depending on the distance from the subject, it can give you the same result by using less power which means it keeps a faster recycling rate. Placing your flash at a longer distance can help to diffuse the light better too. Finally you have more light output to work with when bouncing the light off a reflector or a wall.
Speaking of the recycling time, I ran a quick non-scientific test with the same batteries fully charged and shooting manually at 1/1 (full power) to see which speed light recharged the fastest. Here are the results:
M400: 1.2s
i60A: 2.36s
i40: 2.56s
I then did a second test by shooting continuously at full power for approximately five minutes to see which flash would slow down the most:
M400: I got 60 shots out of it. After the first minute it started to progressively slow down the recycle time to around 8/9s. After 2 minutes it also displayed the Temperature icon warning on the LCD screen.
i60A: I got 45 shots out of it with the first 25 in the first 1min and 20s. Then the flash stropped working for 23s to cool down (the LED lamp on the rear starts blinking red every 1.5s). It started to fire again for shorter sessions between 20 and 25s interrupted with cooling breaks varying between 50s and 2min.
i40: I got 44 shots but with worst recovery duration. I fired it 29 times in the first 1min and 40s, then it stopped for 2min 20s. After that it managed 15 more outputs in 56s before stopping again for 3min and a half.
The Metz is the best performer: it slows the recycle time down to around 8-10s rather than becoming inactive for extended periods. The two Nissins maintain a faster recycling time between 2 and 4s but then stop to cool down for longer (20s to 2min). The i40 stops for even longer than that (more than 3 minutes).
Of course in the real world you won't always fire at full power constantly so your flash will keep a faster recycling time but this basic test gives you an idea of the differences between the three products. Another note is that the i40 and M400 are not always ready to fire again when the light turns green: you often need to wait an extra second.
Concerning battery life, if I look at the official specs, the Metz is the winner once again with 320 flashes vs 200 on the i40 and 220 on the i60A. Now remember that these numbers can vary depending on the type of battery used.
What I noticed as well is that the two Nissins can increase the recycling time more rapidly when the battery life starts to drop (the i40 is the worst). The Metz seemed more reliable to me but remember that the i60A has the option of an external power source to keep those recycling times shorter.
Note about the i40 and i60A Four Thirds versions:
There seems to be a compatibility issue – mentioned by Nissin in their official compatibility chart – when using the E-M5 II or Pen F and the viewfinder: the camera's performance can become unstable or lock up (it's fine when using the LCD screen). Hopefully a firmware update for the cameras will solve the problem.
---
Flash modes, Sync options and Led light
The three flashes allow you to shoot in various modes including Auto, Manual and TTL. The last option is available for all the brand versions and their respective TTL modes. I tested the M400 and i60A Fuji versions and found them consistent overall when used on the X-T20 and X-T2. My i40 works very well in TTL on Olympus and Panasonic cameras. Among the Sync options, we find front and rear curtain as well as Slow sync.
Note about the i40 and i60A Four Thirds version:
The following options are available for Olympus cameras: Slow sync, slow sync with 2nd curtain (M and S mode only), Red-eye reduction, Slow Sync with Red-eye reduction.
The following options are available for Panasonic cameras: Slow Sync, Slow Sync with 2nd Curtain, Red-Eye reduction (i60A only)
Another useful feature available on the three flashes is HSS (High Speed Sync) which is also called FP (Flat-Peak). It allows you to bypass the default speed limitation of the mechanical shutter (1/180s to 1/320s depending on most cameras) and go as fast as 1/2000s, 1/4000s or even 1/8000s. The flash emits multiple light pulses instead of one single output. This becomes useful outdoors in daylight where you can use fast apertures to have a blurred background and isolate your subject and a fast shutter speed to keep the ambient light under control.
Note about the i60A Four Thirds version:
HSS doesn't work with the Lumix LX100.
Note about the i40 and i60A Fujifilm version:
X-T2 and X-Pro2 users should make sure to have the latest firmware update on their cameras.
HSS is available via an update that can only be done at an official Nissin Support Centre. If you don't own the flash yet, make sure to buy the updated version (a sticker on the box should confirm it, you can see a visual example on Fujirumors)
Finally, the three speedlights have a front continuous LED light that can be used for video or other purposes. On the two Nissins you can control the brightness in 9 steps as opposed to 6 on the M400. The Metz has the most powerful output, giving you up to a 3 stop advantage when used at full power, but the light is more concentrated at the centre (spot) and has a cooler temperature in comparison to the two Nissins. Curiously the i60A light is the least powerful of the three.
The LED light can also be used as an AF Beam light when autofocusing. You need to activate the AF illuminator in the camera's menu and it will automatically use the flash's LED rather than the built-in red light you see on most cameras.
Note about the AF Beam Light on Sony versions:
Many users have reported that it is impossible to activate the AF Beam Light with E-mount cameras. A recent firmware update for the A7 II, A7r II and A7s II enabled this with the Sony HVL-F45RM but I am not sure about other flashes. If you have more feedback, don't hesitate to leave a comment.
---
Wireless capabilities
The Metz M400 and Nissin i40 rely on optical communication. The M400 can act as a Master or Slave (TTL and Manual modes) depending on the camera system and has an additional Servo function that works in Manual mode only. With the Servo mode you can choose to sync with or without pre-flash and use a function called Learn. The latter enables automatic adjustment to the camera's flash unit for example to reduce the red-eye effect.
Note about the M400 master/slave/servo options:
Master and Slave is available on the Sony version (CTRL+ compatibility).
Master and Slave is available on select Fuji cameras but you need to update the M400's firmware to version 1.2
It's Slave only for micro four thirds cameras. Servo mode without pre-flash doesn't work on Panasonic models.
Sony, Olympus and Panasonic cameras allow you to use the built-in flash as Master to control the M400. With Fujifilm however it is not possible and you can only use the Servo function.
The i40 can only work as a slave unit and features three wireless modes. You can choose between SD – designed to work with digital pre-flash – and SF which can be used with analogue flash systems. The third Wireless TTL mode can be used with the camera's wireless remote flash system (3 groups and 4 channels) and allows you to control the flash output from the camera directly.
Note about the Nissin i40 Fuji version:
Wireless TTL is not available
Out of the three, the most interesting product for off-camera flash work is the Nissin i60A.
In addition to optical communication (with the same options seen on the i40), it features a 2.4Gz radio transmission (or NAS as in Nissin Air System) that works in manual and TTL modes and give you several advantages:
it covers a longer distance (30 metres, or 98 feet)
it doesn't need to stay in direct line of sight unlike an infrared or optical flash, which means you can hide it behind an object or put it behind your subject for a silhouette effect
it is more stable when working in bright light conditions.
To control the i60A by radio you need an additional accessory – the Nissin Air 1 Commander – which is a radio trigger that you mount onto the camera's hotshoe. There is a total of 3 channels and 8 groups available.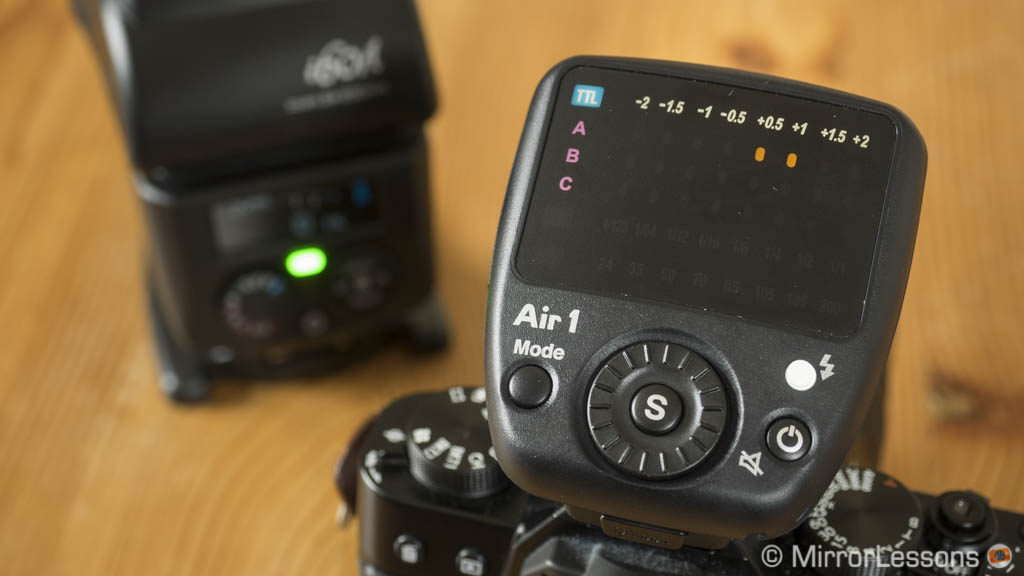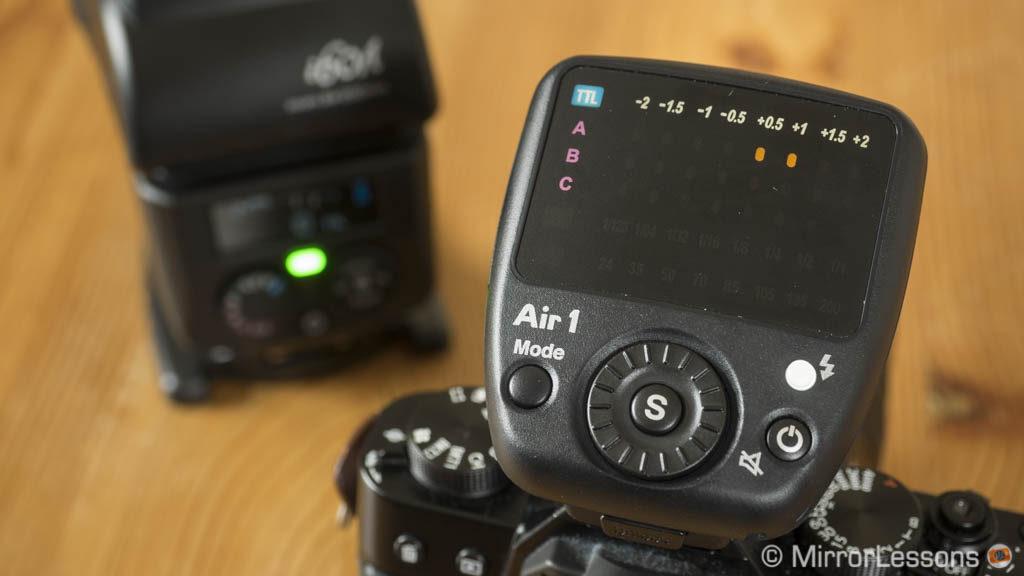 What is also interesting is that the Air 1 can control any NAS compatible Nissin flashes regardless of their brand version. So for instance I could use one Fuji i60A, two Sony i60A and one Nikon DiD700A with the same camera. This is useful if you work with multiple camera systems and want to stick with one brand when it comes to speedlights. You just need to make sure that the Air 1 version matches your camera (Air 1 Fuji with an X-T2 or Air 1 Sony with an A7 II for example).
Note about the Nissin i60A Fuji version:
Wireless TTL is not available with optical communication but via NAS only
---
Conclusion
The Metz M400, Nissin i60A and Nissin i40 are three capable flashes, each with its own individual characteristics.
If you are interested in a simple yet effective on-camera flash, my personal choice would be the M400. Despite the rear buttons lacking some sensitivity, it has a nice interface with a useful OLED screen. It can work in Master and Slave modes and includes all the useful features of modern speedlights such as HSS. Furthermore it has a faster recycling time and a longer battery life.
The i40 is less expensive, slightly smaller and lighter. For a beginner, it is a good choice and comes in a full package including a soft bag and a softbox for the head. It features wireless TTL capabilities in Slave mode (except for Fuji cameras) and HSS. It is straightforward to use although the two dials on the rear are a little bit loose, especially the one on the right.
If you are interested in off-camera flash and want something more powerful, the Nissin i60A is the best choice. It has a higher Guide Number, is easy to use and features radio transmission with TTL compatibility. Granted, with the optional Air1 trigger it becomes the most expensive option out of the three, but it is worth the investment especially if you are a Fuji user since remote control with the built-in flash is more limited than on other systems.
Choose the Metz M400 if:
you want a complete package at a good price
you want to rely on faster recycling time
Choose the Nissin i60A if:
you want a more powerful flash
you want the more reliable radio transmission to work off-camera
Choose the Nissin i40 if:
you want a lighter and more affordable option
Check price of the Metz M400 on B&H Photo
Check price of the Nissin i60A on B&H Photo
Check price of the Nissin i40 on B&H Photo
---
---