---
Privacy Policy | Cookie Policy | Disclaimer and Copyright Notice
---
Information about our use of cookies
Our website uses cookies to distinguish you from other users of our website. This helps us to provide you with a good experience when you browse our website and also allows us to improve our site. By continuing to browse the site, you are agreeing to our use of cookies.
A cookie is a small file of letters and numbers that we store on your browser or the hard drive of your computer if you agree. Cookies contain information that is transferred to your computer's hard drive.
We use the following cookies:
Strictly necessary cookies. These are cookies that are required for the operation of our website. They include, for example, cookies that enable you to log into secure areas of our website, use a shopping cart or make use of e-billing services.
Analytical/performance cookies. They allow us to recognise and count the number of visitors and to see how visitors move around our website when they are using it. This helps us to improve the way our website works, for example, by ensuring that users are finding what they are looking for easily.
Functionality cookies. These are used to recognise you when you return to our website. This enables us to personalise our content for you, greet you by name and remember your preferences (for example, your choice of language or region).
Targeting cookies. These cookies record your visit to our website, the pages you have visited and the links you have followed. We will use this information to make our website and the advertising displayed on it more relevant to your interests. We may also share this information with third parties for this purpose.
Tracking cookies. These cookies track your visit when you click on one of our affiliate links, to track any sales for the purposes of assigning commission to us.
You can find more information about the individual cookies we use and the purposes for which we use them in the list shown below. Please note this list is not exhaustive but shows are most common cookies. For further information, please contact us.
Please note that third parties (including, for example, advertising networks, Vendors and providers of external services like web traffic analysis services) may also use cookies, over which we have no control. These cookies are likely to be analytical/performance cookies, tracking or targeting cookies. Vendors are third-party advertisers who use cookies to collect non-sensitive data for the purpose of measurement and personalisation of advertisements. Visitors to our websites are able to opt in or opt out of individual vendors and data collection.
To opt in or opt out, please visit the very bottom of this page and click on Update Privacy Settings. Alternatively, go to our privacy policy page and the settings window will appear automatically.
To know more about advertising on this website, please refer to our privacy policy, chapter 11.
Note for California residents: you have the right to opt out from targeted advertisement under the CCPA bill. To do so, simply click on the grey button called "Do Not Sell My Personal Information" on the left side of the website (it is visible on every page). Please visit chapter 10 of our Privacy Policy for more information.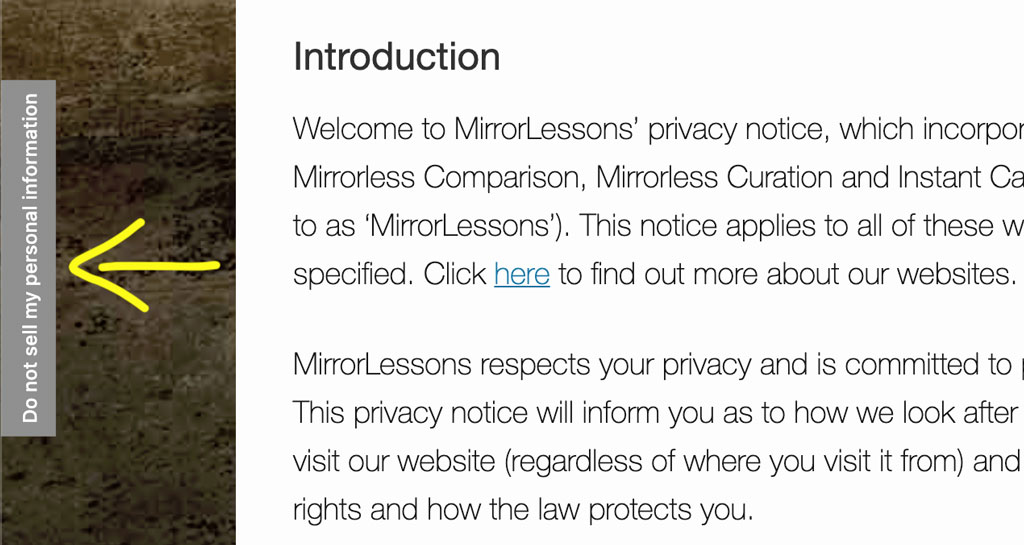 You block cookies by activating the setting on your browser that allows you to refuse the setting of all or some cookies. However, if you use your browser settings to block all cookies (including essential cookies) you may not be able to access all or parts of our site.
Except for essential cookies, all cookies will expire after the time frame shown in the Duration section.
Tracking Cookie – Google Analytics
Name: _ga, _gid, _gat, __utma, __utmt, __utmb, __utmc, __utmz
Type: Persistent and session cookies
Purpose: Google Analytics is a web analytics service provided by Google, Inc. ("Google"), to help us see how our website is used. In doing so information about your use of our website, including your anonymised IP address, may be transmitted to Google and stored on servers in the United States. The data collected by Google Analytics is used to analyse how frequently the same people revisit the website, how the website is found, and which pages are most frequently viewed. This information is combined with data from thousands of other users to create an overall picture of website use, and is never identified individually or personally and is not linked to any other information we store about you.
Duration: The longest lasting cookie expires 2 years after your last visit to the website. Others are deleted 6 months, 30 minutes and the moment you close your browser. IP addresses have been anonymised.
More information: Google Privacy Policy – Opt-out Browser Add-on
HTTP and Tracking Cookies – Disqus
Name: __utma, __utmb, __utmc, __utmv, __utmz, __qca, disqus_unique, UIDR, mc, UID, testCookie
Type: Persistent and session cookies
Purpose: Disqus set a number of cookies on any page that includes a Disqus comment box. While we have no control over the cookies set by Disqus, they appear to include a mixture of pieces of information to measure the number and behaviour of Disqus users, including information that links your visits to our website with your Google, Facebook, Twitter or Disqus account if you are signed in to one. This cookie does not identify you personally unless you are logged into Disqus, in which case it is linked to your Disqus, Google, Twitter and Facebook accounts.
Duration: The __utma, __utmb, __utmc, __utmv and __utmz cookies have the same expiration as the Google Analytics cookies. __qca expires 26 years after your last visit to a page containing Disqus, while disqus unique expires in 6 months.
More information: Disqus Privacy Policy
YouTube Cookies
Name: PREF, VSC, VISITOR_INFO1_LIVE, remote_sid
Type: Persistent and session cookies
Purpose: We embed videos from our official YouTube channel using YouTube's privacy-enhanced mode. This mode may set cookies on your computer once you click on the YouTube video player, but YouTube will not store personally-identifiable cookie information for playbacks of embedded videos using the privacy-enhanced mode.
Duration: Most of the cookies expire 10 years after your last visit to a page containing a YouTube video, although some expire sooner.
More information: Google Privacy Policy – Youtube privacy guidelines
Session ID Cookie – Essential Cookie
Name: JSESSIONID
Type: session cookie
Purpose: A session cookie is required to follow your progress through the website. It is essential to ensure that any information you enter or routes you take are remembered by the website. Without this cookie, every page you visited would treat you as a completely new visitor. This cookie does not identify you personally and is not linked to any other information we store about you.
Duration: The cookie is deleted when you close your web browser.
We engage in affiliate marketing, which is done by embedding tracking links into our website. If you click on any of the affiliate links, a cookie will be placed on your browser to track any sales for purposes of commissions. The following is a complete list of all the affiliate programs in which we participate and the duration of their respective cookies.
Amazon Associates
Amazon Associates UK
eBay Partner Network
B&H Photo Affiliate Program
Skylum (Impact Radius)
MPB (Awin)
MPB US (Awin)
The Inspired Eye
Mediterranean Photo Tours